2017 Civil War Travelogues — Civil War Institute at Gettysburg College
Welcome to my 2017 travelogue pages. This page is my report of my June attendance at the Civil War Institute, hosted by Gettysburg College. It was my seventh year of CWI. Although most previous years had a designated theme, this one did not seem to have one, although a number of the talks focused on famous politicians and generals. To see the entire list of my 2017 trips, go here.
Here is a reminder about the reason I write these pages the way I do. They record my experiences and impressions of Civil War trips primarily for my future use. Thus, they sometimes make assumptions about things I already know and focus on insights that I receive. They are not general-purpose descriptions for people unfamiliar with the Civil War, although I do link to various Wikipedia articles throughout. Apologies about the quality of interior photographs—I don't take fancy cameras with big flashes to these events. If you would like to be notified of new travelogues, connect to me via Facebook.
Thursday, June 8
I flew to Washington Dulles, on United Airlines and stayed at an airport Hampton Inn. As usual, getting to the East Coast in time for a late afternoon program start is not possible, so I had to fly out the evening before. Dinner was at one of my previous favorite spots, Don's Pizza in Sterling. I found that the Stromboli (Strombolo?) I usually order was not as good as my memory served. (I had two superior Stromboli later in the week: La Bella Italia and King's Pizza.)
Friday, June 9
Up early, I caught up on my running training by driving to the Manassas battlefield. I had run here once previously, with satisfactory results, but this time was a big exception. I guess I picked a crummy route too early in the morning because I found the traffic to be really oppressive, and I ended up running some portions on a 2-foot shoulder while 20-ton dump trucks barreled past me. I took a wrong turn coming off Chinn Ridge and wound up running on the Warrenton Turnpike (US 29) instead of the Groveton–Sudley Road. I must have been in a daze while dodging traffic because I was unaware of this until I reached the Stone Bridge! The good news is that I headed north from there and saw Farm Ford and the site of the Carter house, places I had not seen before. I had intended to run 6 miles, but with all this confusion I stopped at 5 miles and walked another two.
After cleaning up from the run, I drove to Bristow to visit my friend and cartography client Rob Orrison. Rob is the supervisor of all of the Prince William County historic sites, and the former manager of the Bristoe Station Battlefield Park. I had visited the battlefield once before, but my time then was limited and I missed out on quite a few interesting places. Rob took me for a personalized tour and we covered not only the 1863 battle, but also the action in 1862, part of the Second Manassas Campaign. And there was a Confederate encampment from 1861, with a small cemetery inhabited primarily by soldiers who died of disease that winter. There must be some unusual plant life there that I had not encountered previously because as soon as I got out on the field I started coughing like I was in a tuberculosis ward. It must have been allergies because the symptoms stopped within minutes upon my departure. The battlefield is in mostly good shape, although there is an expensive housing development encroaching. However, I had no difficulty interpreting the battle with Rob's help. Thanks to Rob for the great visit.
I drove to Gettysburg College and the program started at 4 PM with welcoming remarks by Peter Carmichael, Director of the CWI. (I checked into my hotel, the Quality Inn on Steinwehr Avenue, during the dinner break. This is not my favorite hotel in Gettysburg, but it was cheap and comfortable and its location was convenient enough.)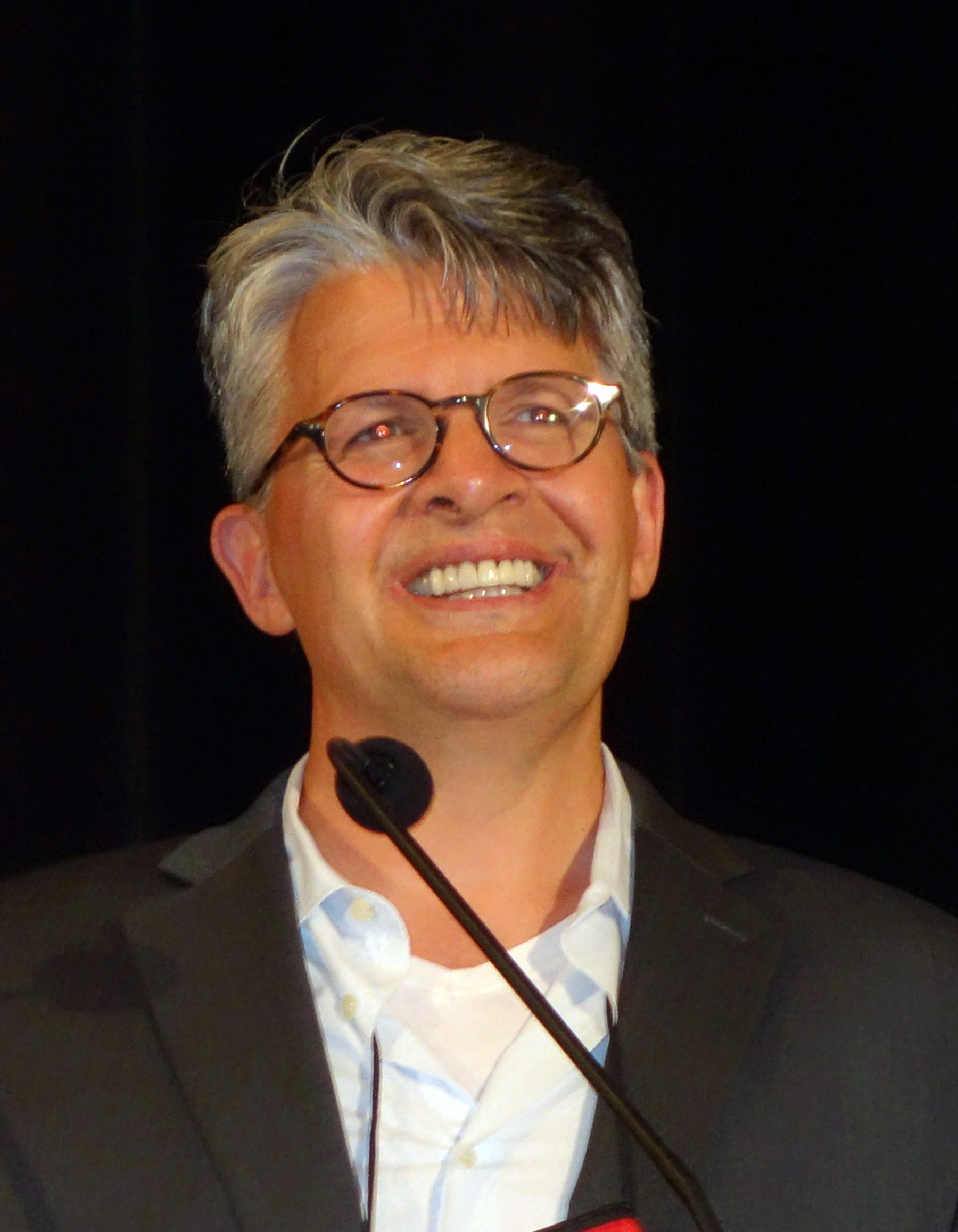 Abraham Lincoln & the Gettysburg Moment, Martin Johnson (Miami University of Ohio)
Prof. Johnson went into great detail about the writing of the Gettysburg Address. It started with about half of the speech written in DC, and most of the rest at David Wills's house in Gettysburg. William Seward helped a little, contributing the phrase "... perish from the earth…" Before the speech, Lincoln visited Lutheran Theological Seminary and the death site of John F. Reynolds, and it was apparently here that he added the passage about the "new birth of freedom." And his final touches, including "… the world will little note…," were added as he listened to Edward Everett giving his two hour address.

Toward the Age of Peoples War: The Civil War to World War I, Michael Neiberg (U.S. Army War College)
The focus of Prof. Neiberg's speech was rather nebulous, because he tried to define the concept of total war, which he admitted was difficult to define. He said the first was probably the Peloponnesian war. A total war (or what Clausewitz called absolute war) is roughly what generals would do if politics did not impose restraints on them, which seems a rather circular definition to me. He cited Verdun as an example, and Sherman's March to the Sea as another. He discussed three characteristics: (1) civilians are targeted; (2) a social revolution is involved (and he cited the case of World War I, where all four of the central empires were gone by the end of the war); (3) a space is opened for impossibilities (a point I did not quite follow). In order for a total war to be ended, young men have to stop willing to die for the cause, both sides have to come to an agreement on the story of the events, and both sides have to stop dehumanizing each other.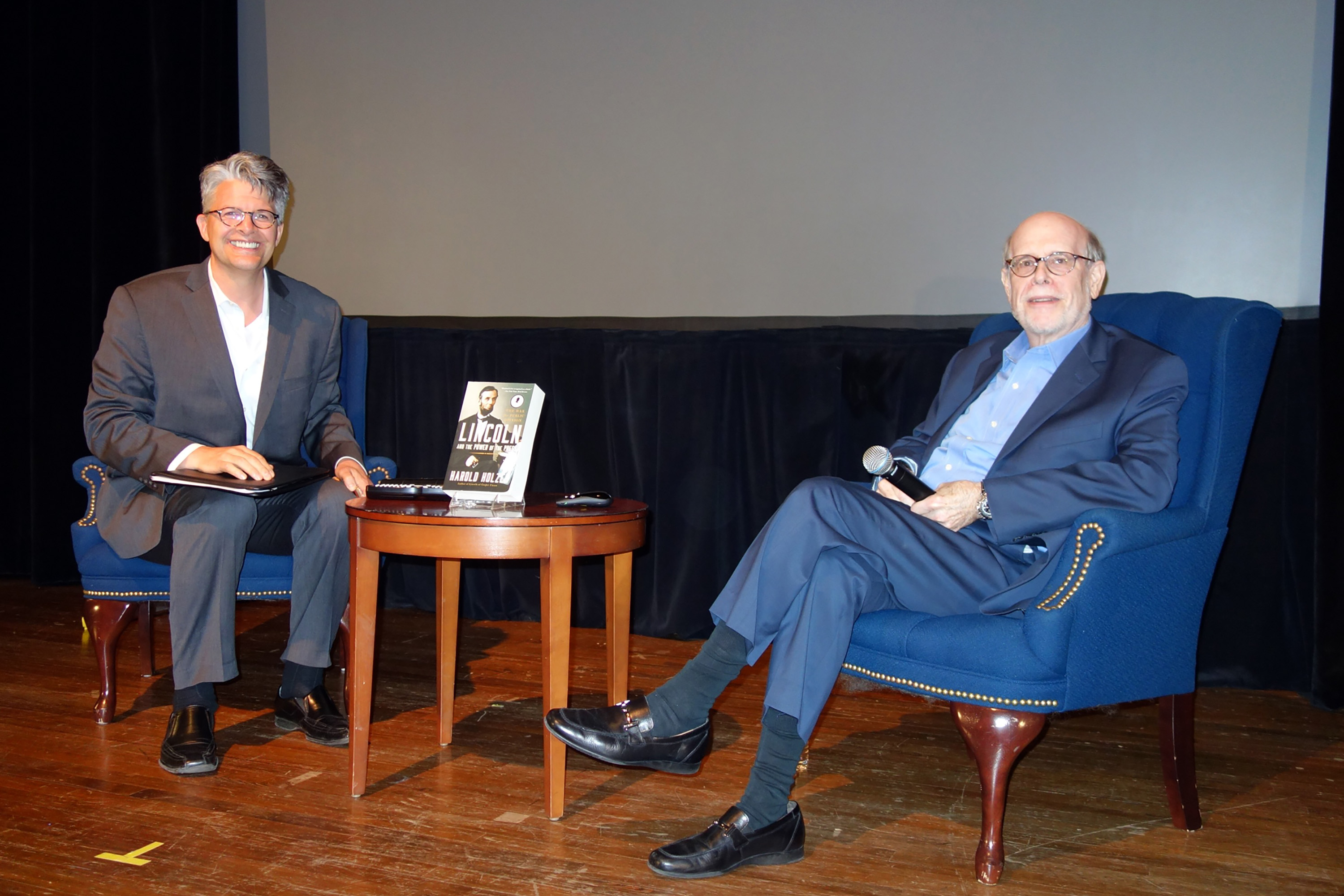 Lincoln as a War President: A Conversation with Harold Holzer
In this informal conversation, Holzer talked about Civil War iconography and said that art is not always supposed to please everyone. He thought that the recent controversy regarding Confederate monuments being torn down was a tough issue. Peter Carmichael thought that instead of tearing down the monuments, the local authority should use wayside exhibits to explain how Jim Crow became the context for some of these monuments. Holzer also told some interesting stories about being a script consultant on the movie Lincoln and how he tried to correct, to no avail, errors in the way the House of Representatives votes occur (alphabetically, not by state delegation).
Ice Cream Social
The final event of the evening was an ice cream social featuring Mr. G's ice cream, a local brand. I did not attend this because 8:30 PM is too late for me. (One of my beefs about the conference was how many late evening events were scheduled.)
Saturday, June 10

James Buchanan and the Coming of the Civil War: John Quist (Shippensburg University) and Michael Birkner (Gettysburg College)
The two professors traded the stage back-and-forth and I did not keep track of who said what. They started with a biography and also reviewed some of the existing biographies. Buchanan's priority was to protect the Democrat Party, and in his Southern sympathetic policies, he is known as a "doughface." He did not understand the Northern fervor about their opposition to the slave power and he underestimated the reaction to the Dred Scott decision. He pushed the LeCompton Constitution through the Congress, alienating Stephen Douglas, who would have been an important ally in his party. Although his diplomatic background allowed him to promote good relations with the United Kingdom, the historians concluded that Buchanan was the wrong man at the wrong place at the wrong time.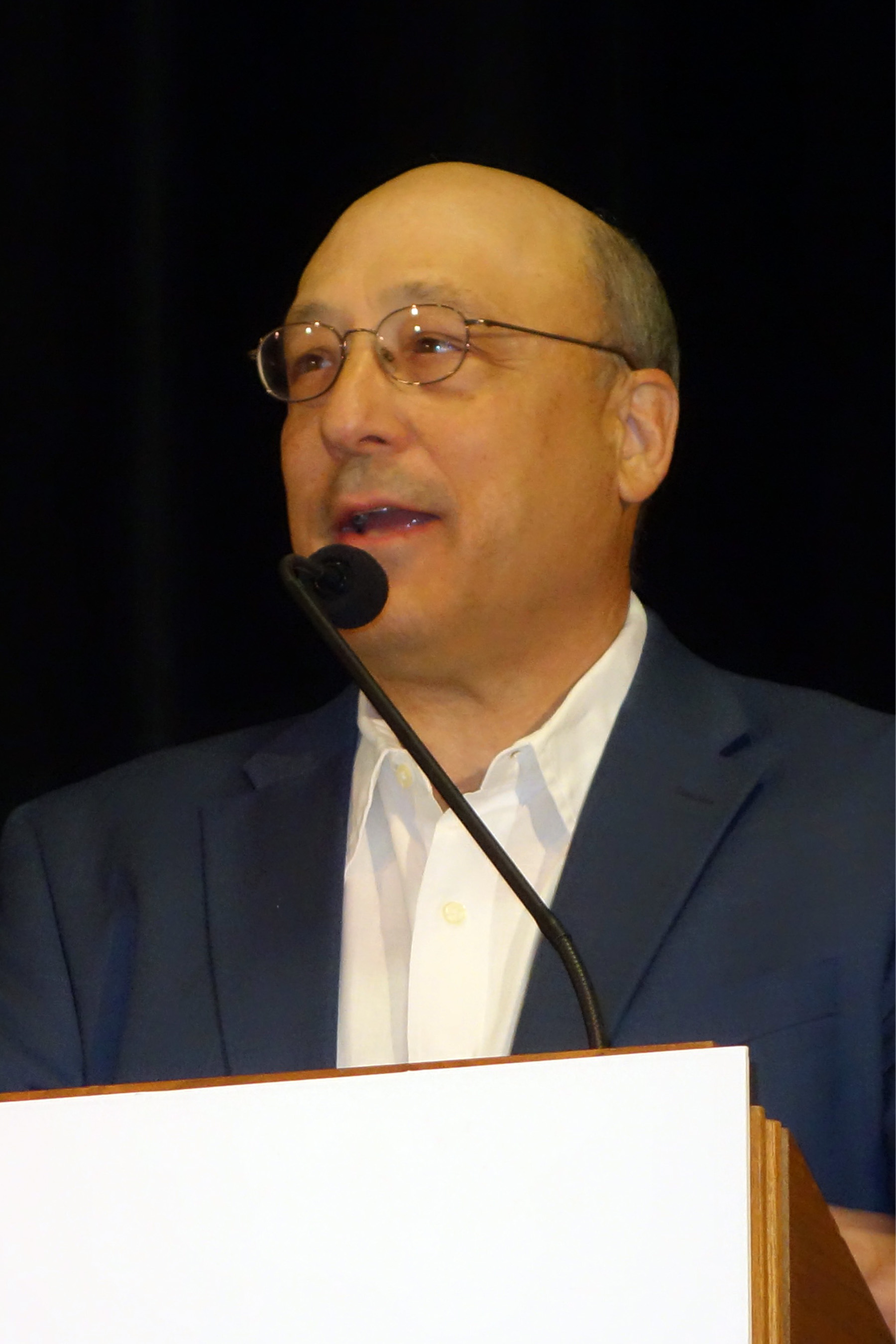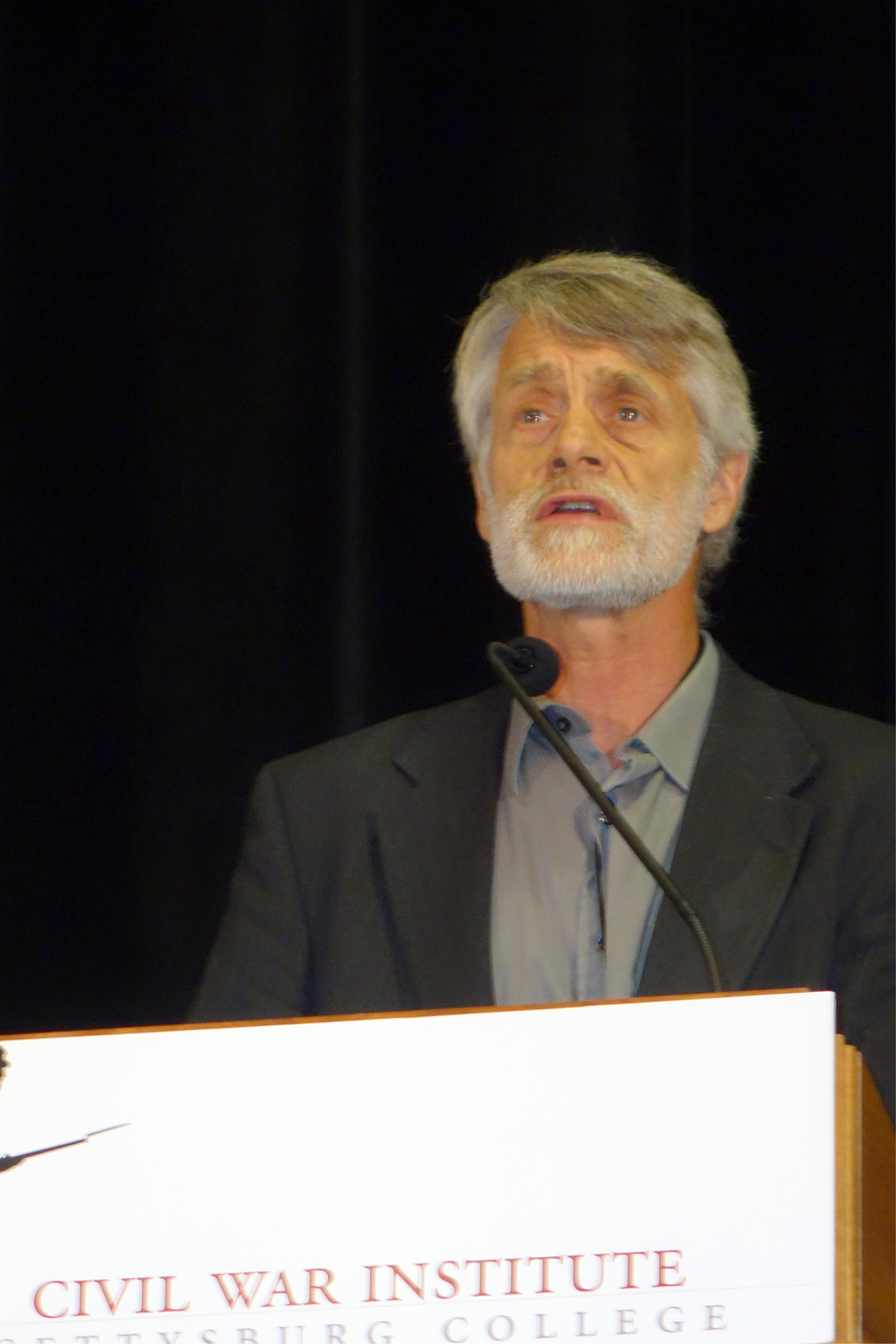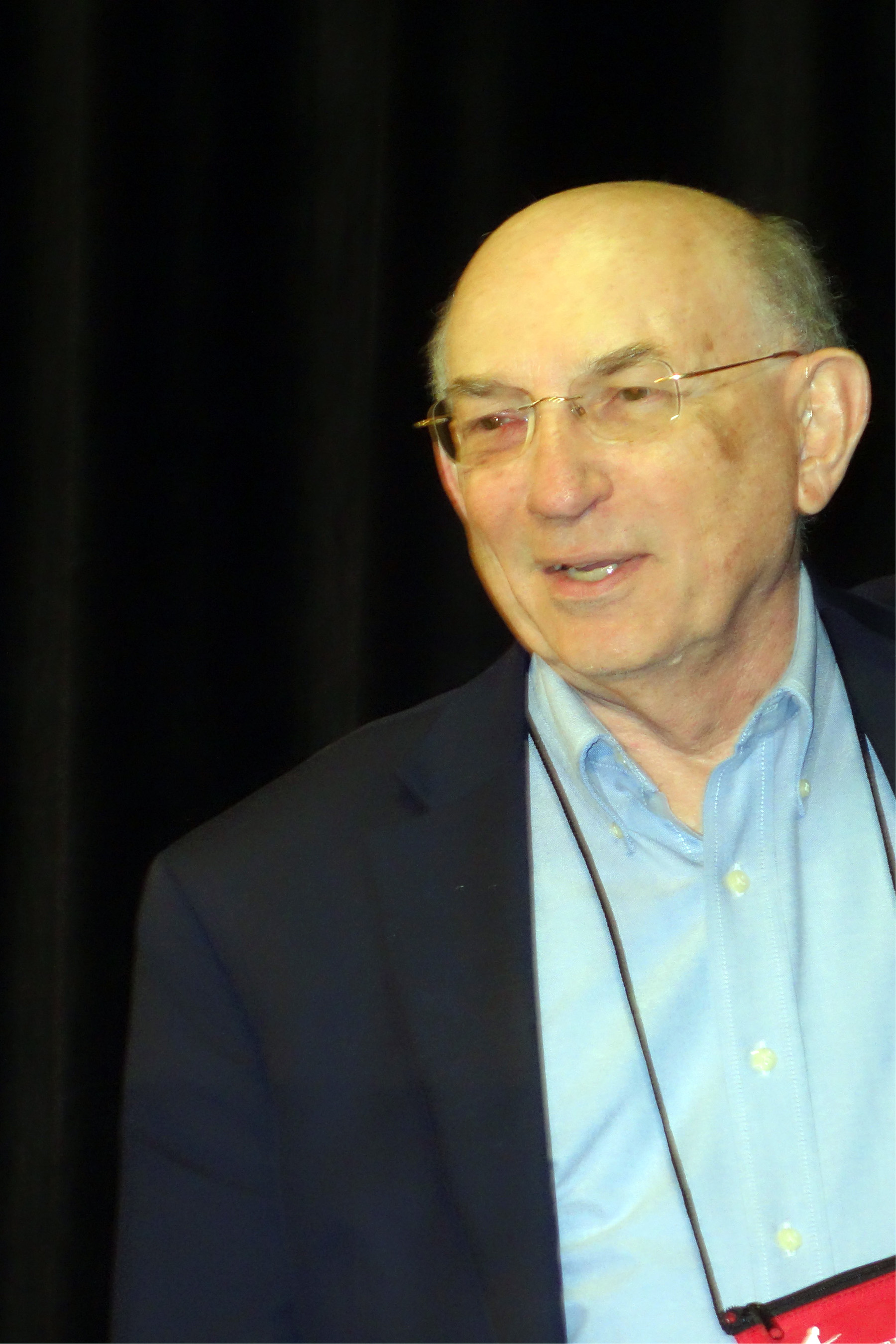 Henry Halleck, John Marszalek (Mississippi State University)
Prof. Marszalek, the noted biographer of Sherman (and currently leading the US Grant Presidential Library), said that no one was more central to the war than Halleck. Although he was widely regarded as a success before the war, after the initial year in the war, he was generally considered a failure. He discussed possible medical conditions that might have caused this, including Graves' disease, hemorrhoids (which may have been treated with opium suppositories), and finally settled on hemochromatosis, an iron-retention problem that is an enervating disease. It is unfortunate that the talk contained very little analysis of Halleck's Civil War career.
The Trials of George Armstrong Custer, T.J. Stiles
Stiles, winner of two Pulitzer prizes, gave us a full biography of Custer, from his West Point days to the bloody end. He said that Custer's actions on East Cavalry Field at Gettysburg were the defining moment of his life and he highlighted Custer's charge at Third Winchester.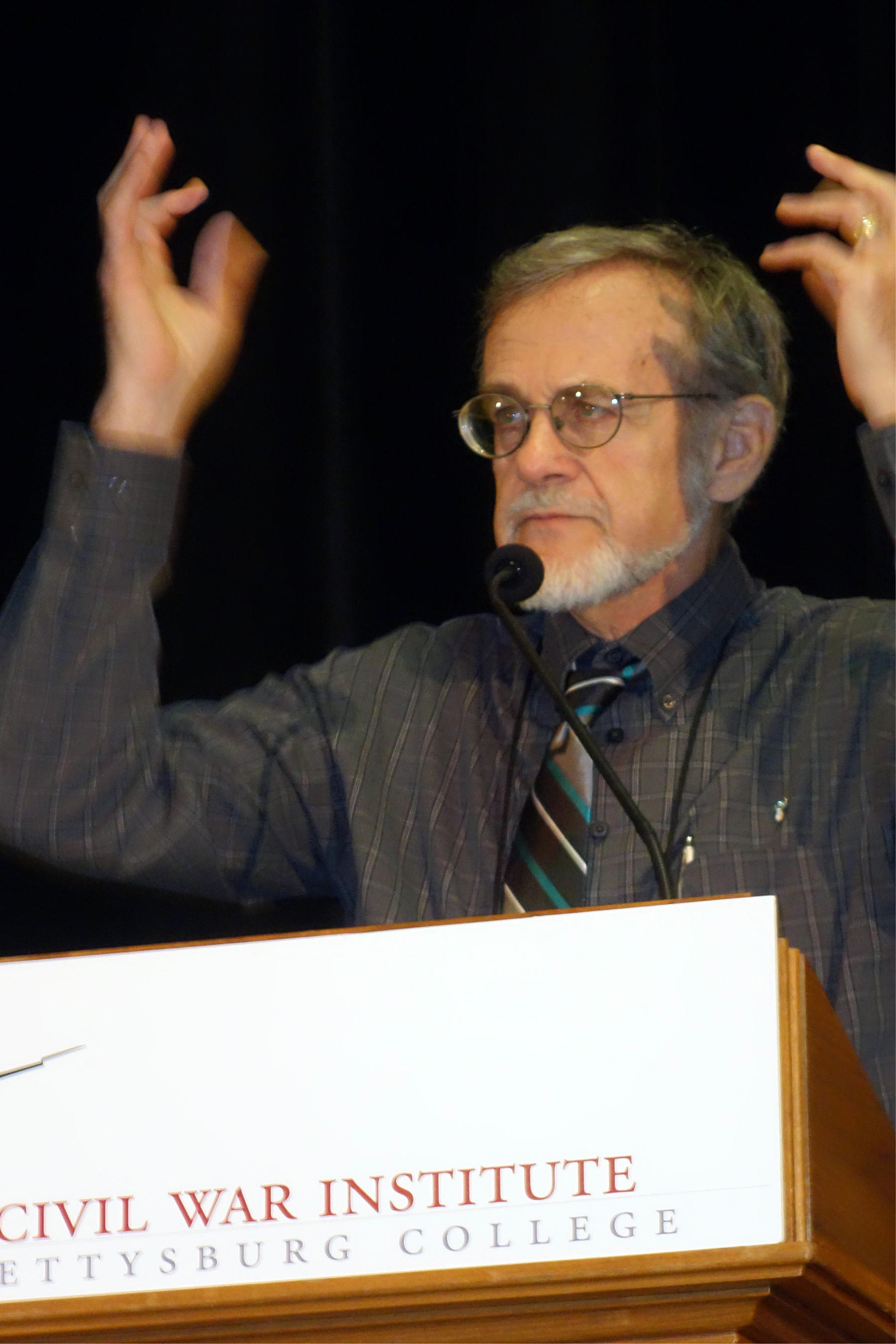 Concurrent Sessions
There were three concurrent sessions offered, and whenever this choice came up, I went with the one scheduled for the College Union ballroom (just because I jealously guarded my front row seat and figured that the largest room would have the most popular talk anyway).
(1) Rethinking Braxton Bragg, Earl Hess (Lincoln Memorial University)


(2) Mercenaries or Patriots?: Bounty Men in the Union Army, Brian Luskey (West Virginia University)


(3) Reluctant Rebels: The Confederates Who Joined the Army After 1861, Kenneth Noe (Auburn University)
I chose #1. Prof. Hess thought that most opinions of Bragg are one dimensional. He said that the general's best day was Stones River (although he has a more expansive opinion of the Confederate success on the first day of that battle than I do). Bragg's image in the Civil War had three negative characteristics: (1) he was a man killer, as evidenced by stories about him executing a Confederate soldier over stealing a chicken or pig, although he said there was no evidence that soldiers were ever executed without due process; (2) he was confused and inept, but Hess opined that he was no worse than any of the other Western theater generals; (3) he had a very negative personality, although Hess suggested he had many supporters in the Army, but few of them were willing to talk about this publicly. In discussing Bragg's subordinates, he described Leonidas Polk as a horrible guy.

Concurrent Sessions

(1) Washington Brotherhood: Politics, Social Life, and the Coming of the Civil War, Rachel A. Shelden (University of Oklahoma)

(2) Thomas Nast: The Father of Modern Political Cartoons, Fiona Deans Halloran (Rowland Hall - St. Mark's School)
I chose #2. Dr. Halloran gave a biography of Nast and showed some of his famous political cartoons. The cartoonist had a "man crush" on US Grant and some of his best work was fighting against the Tweed organization in New York.
Robert E. Lee on the Front Lines of Battle, Barton Myers (Washington & Lee University)
Dr. Myers read a paper cataloging Lee's combat encounters, focusing mostly on the Overland Campaign, and the famous "Lee to the rear" episodes.
Roundtable Discussion: Debating William Tecumseh Sherman

Moderator: Peter Carmichael (Gettysburg College), with Kenneth Noe (Auburn University), Brooks Simpson (Arizona State University), John Marszalek (Mississippi State University), and Earl Hess (Lincoln Memorial University)
Brooks Simpson thought Sherman was a master of psychological warfare. All the participants admired Sherman's wonderful letters, covering many subjects. They discussed his stress at the beginning of his service in Kentucky, saying that he "psyched himself." Earl Hess said he was a master of logistics. They discussed his symbiosis with US Grant. Brooks said that the Vicksburg campaign was his most important experience in the war, setting up the unbeatable command team of Abraham Lincoln, US Grant, and Sherman. Ken Noe talked about "destructive war" and said that during the Civil War it was a bottom-up experience, rather than top-down. The panel described Sherman's actions as "modulated hard war." They said his tactics were poor, but Earl Hess pointed out that his frontal assaults, such as Kennesaw Mountain, were actually done with only small portions of his command.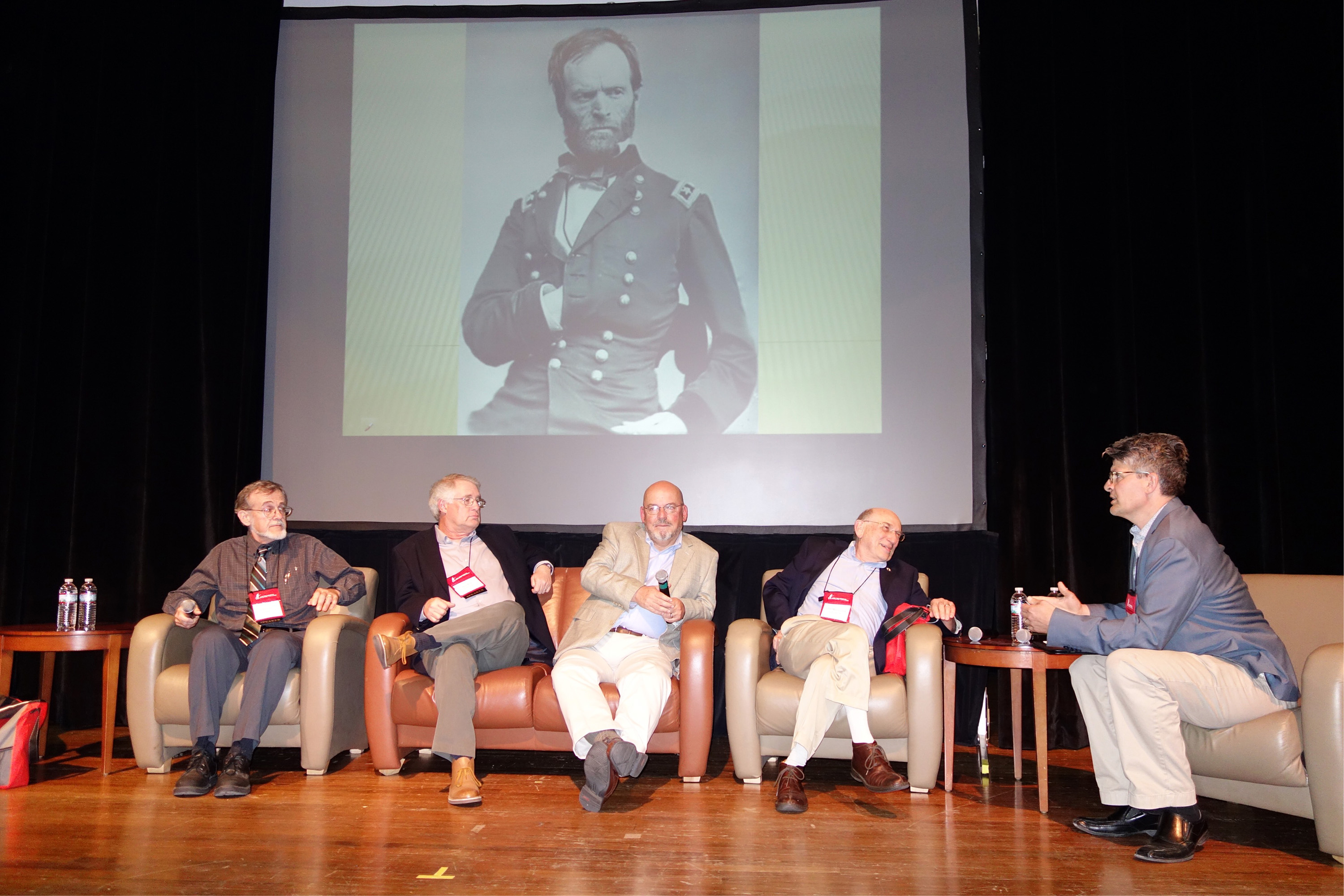 Civil War Soldiers Dreaming, Jonathan White (Christopher Newport University)
Here's another session I skipped because it was too late in the evening (and, frankly, the title did not interest me).
Sunday, June 11

Roundtable Discussion: Debating George Gordon Meade

Moderator: Peter Carmichael, with Brooks Simpson, Scott Hartwig, Jennifer Murray (University of Virginia - Wise), and John Hennessy (Fredericksburg & Spotsylvania National Military Park)
The panelists discussed how Meade has been forgotten (and note the photograph below where they showed a Joshua Lawrence Chamberlain bobblehead doll as a popular history contrast). There are no recent biographies, although Murray said she is working on one. Meade has been shunted aside because of the congressional testimony of Dan Sickles and Meade's anti-journalist activities at the Wilderness. Hennessey said that most people focus on the existential moments of the war. After Gettysburg, the campaigns commanded by Meade were more a war of accumulation. Simpson cited his managerial skills of the Army, rather than his dramatic gestures. Hartwig said that his men respected him, but did not love him, and the Army of the Potomac no longer identified with its commander, as it had with McClellan. In answering an audience question, the panel said that the Pipe Creek Line was not a contingency plan. It was a preferred defensive line, but Meade quickly adjusted to the needs of the battle as it unfolded.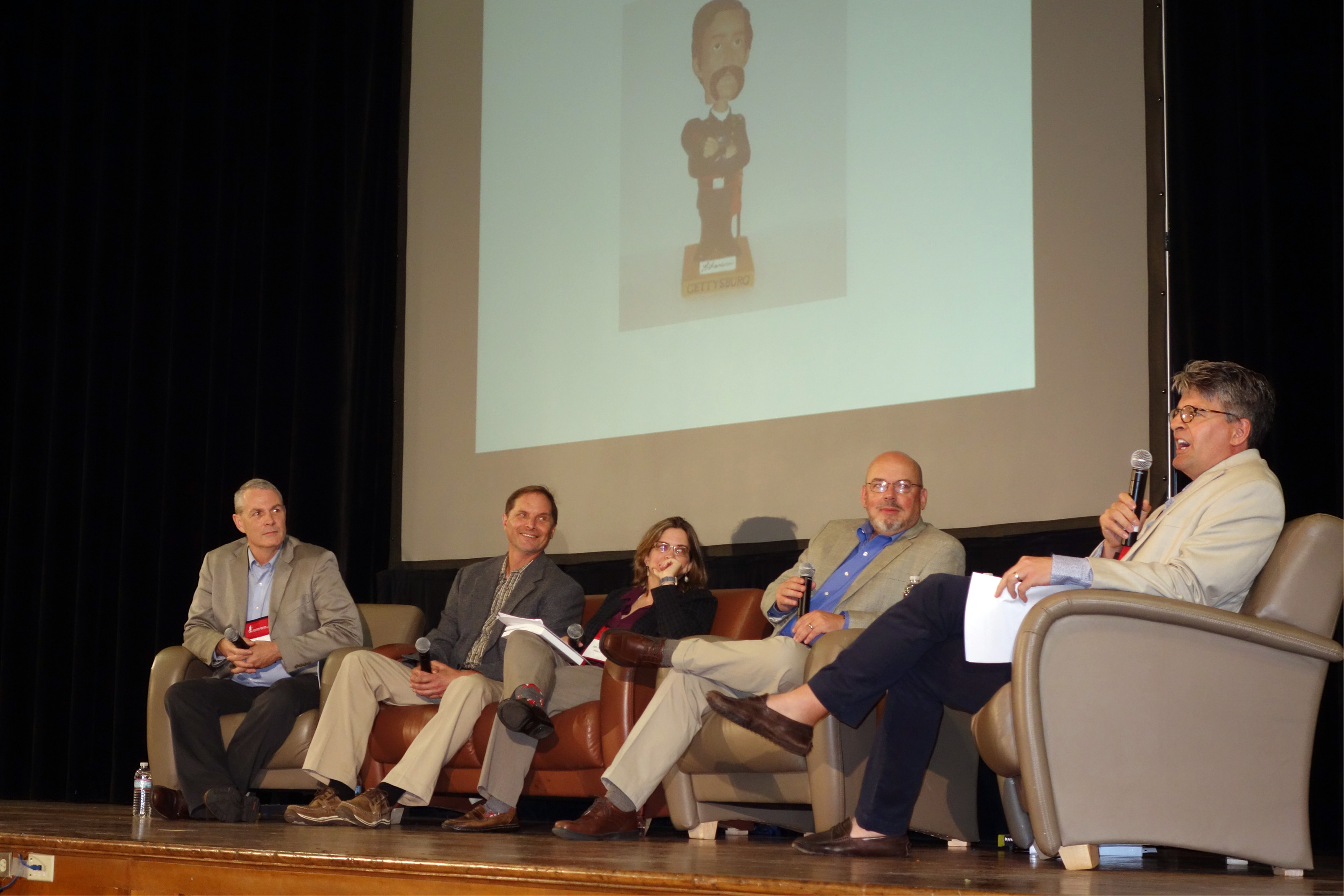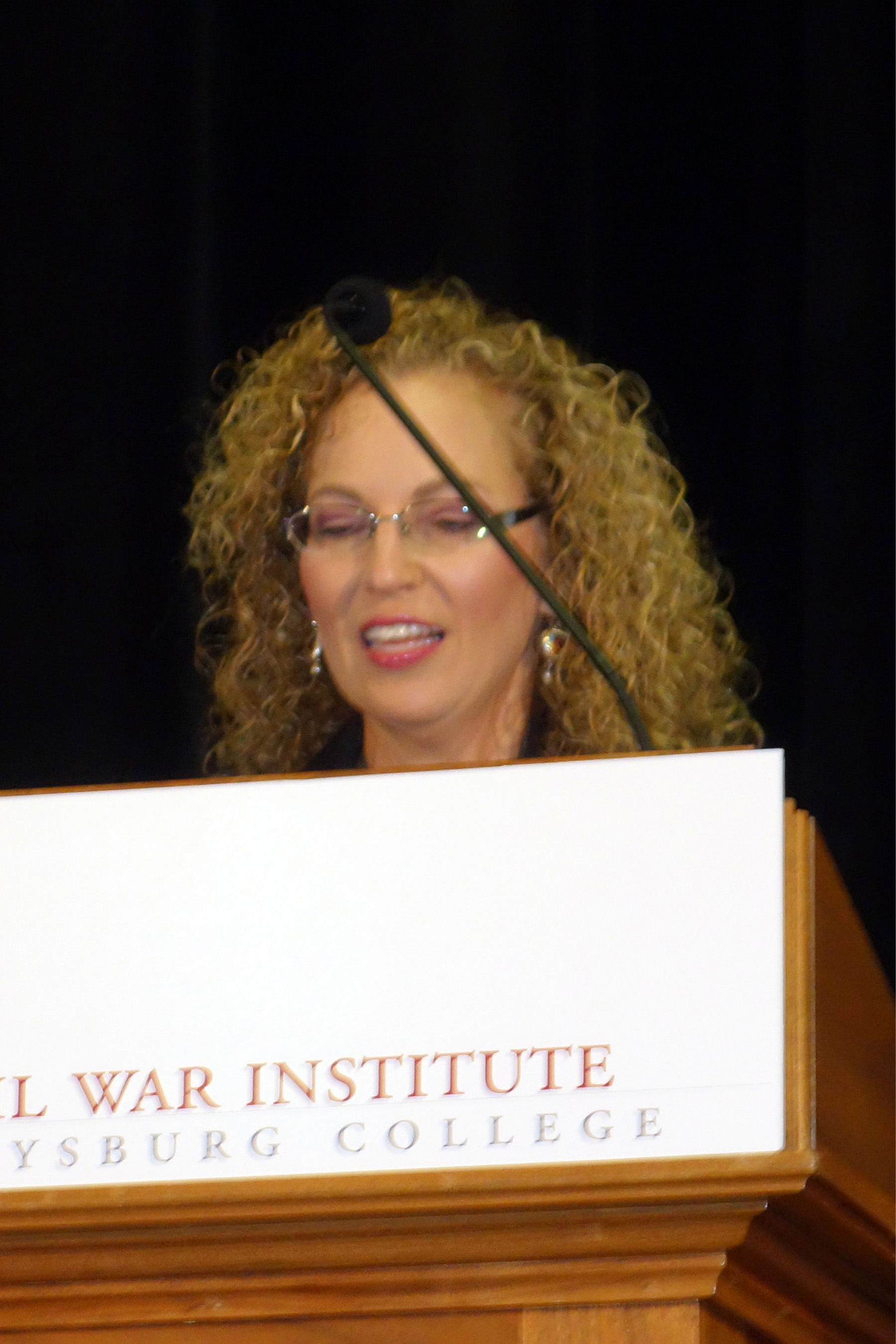 Concurrent Sessions
(1) Confederate Women and Union Soldiers in Sherman's March, Lisa Tendrich Frank

(2) Citizen-Officers: Junior Office Corps, Andrew Bledsoe (Lee University)
I chose #1. Dr. Frank read a paper about the reaction of Southern women to Sherman's troops violating gender norms, such as entering their bedrooms, tearing up their wedding dresses, etc. She focused on the elite, slaveholding women, the primary targets of the march.
Concurrent Sessions

(1) Clara Barton and the Missing Soldiers Office, Amelia Grabowski (National Museum of Civil War Medicine)

(2) Jewels from the Museum of the Confederacy Collection, Cathy Wright (American Civil War Museum)

(3) Wrecked But Not Forgotten: Civil War Ships in Hampton Roads, Laura Lawfer Orr (Hampton Roads Naval Museum)
I chose #3. I thought Dr. Orr's talk was the best delivered at the conference. She talked about the endangered Civil War naval wrecks that have been plundered by artifact hunters. She focused on two that sank in Hampton Roads, the USS Cumberland and the CSS Florida, the former sunk by the CSS Virginia and the latter a commerce raider. There was a long history of U.S. Navy indifference to these wrecks, even though the law gives all rights to their contents to the Navy, not salvagers. She had an interesting discussion about how the author Clive Cussler financed a salvage operation and got into a dispute with the Navy, following which a law named the Sunken Military Craft Act of 2004 imposes big penalties on violators. Dr. Orr brought some artifacts from the Cumberland for the audience members to handle.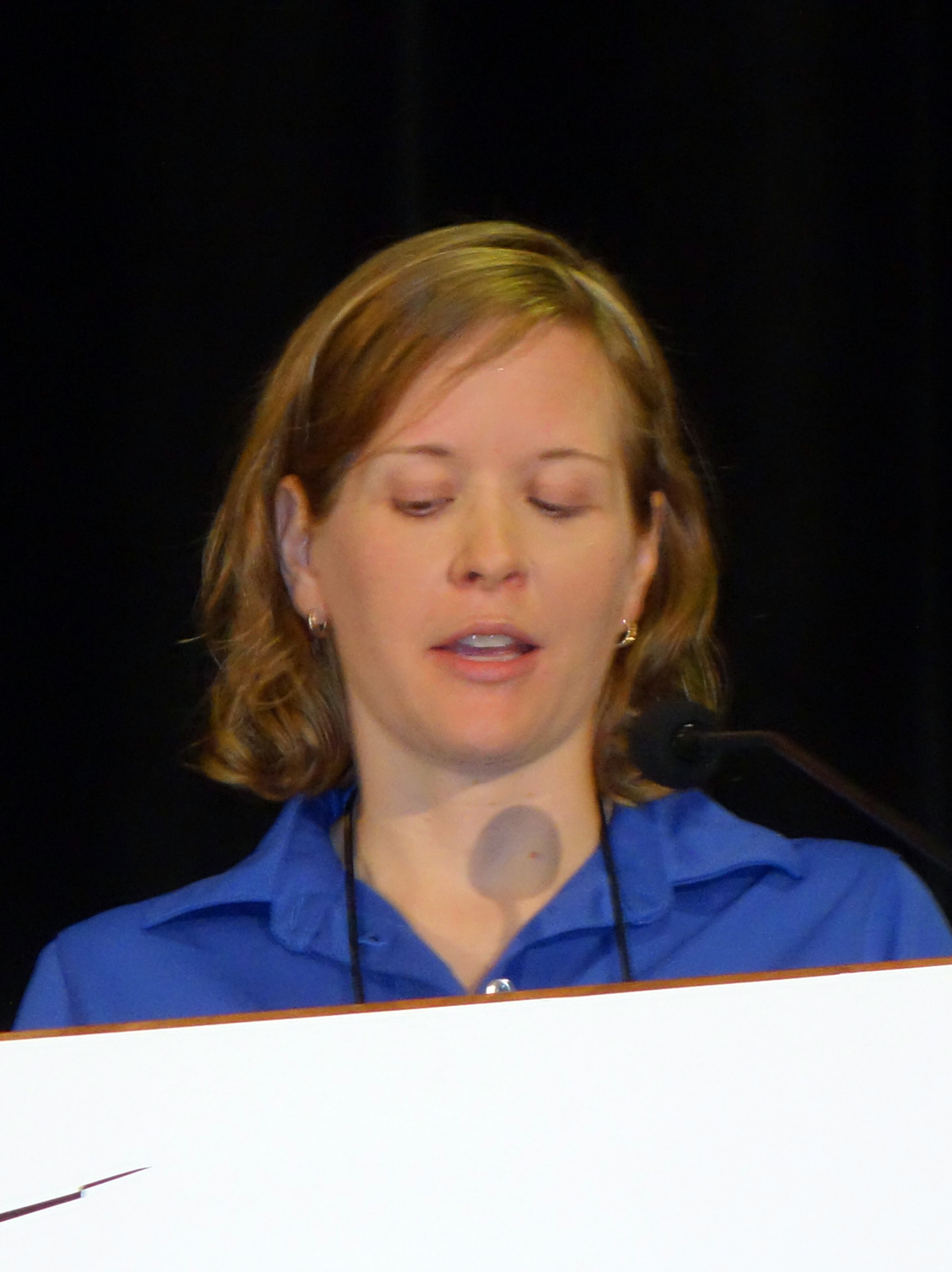 Jesse James: Last Rebel of the Civil War, T.J. Stiles
Since Stiles won two Pulitzer prizes, I guess the conference organizers thought he needed two presentations. He talked about the history of Bleeding Kansas and the start of the war in Missouri, how the Union had to fight counterinsurgency tactics against the bushwhackers. The James family was strongly pro-secession. Jesse participated in what we would today call death squads cleansing Clay County. He joined Bloody Bill Anderson. In the postwar, he was a bandit, but maintained a political focus, not simply a monetary. He described the great Northfield Minnesota bank robbery, where the political connection was that a manager was Union general Adelbert Ames.
Escaping Confederate Prisons: The Journey of Union POWs, Lorien Foote (Texas A&M University)
This was also an excellent presentation, well delivered and covering material with which I had no familiarity. It concerned Union prisoners who were transferred out of Georgia before Sherman could liberate them. They ended up escaping in Florence, South Carolina, and Columbia. Although many were recaptured, the successful ones interacted with slave networks, which caused some destabilization and the collapse of the local homefront and effective borders.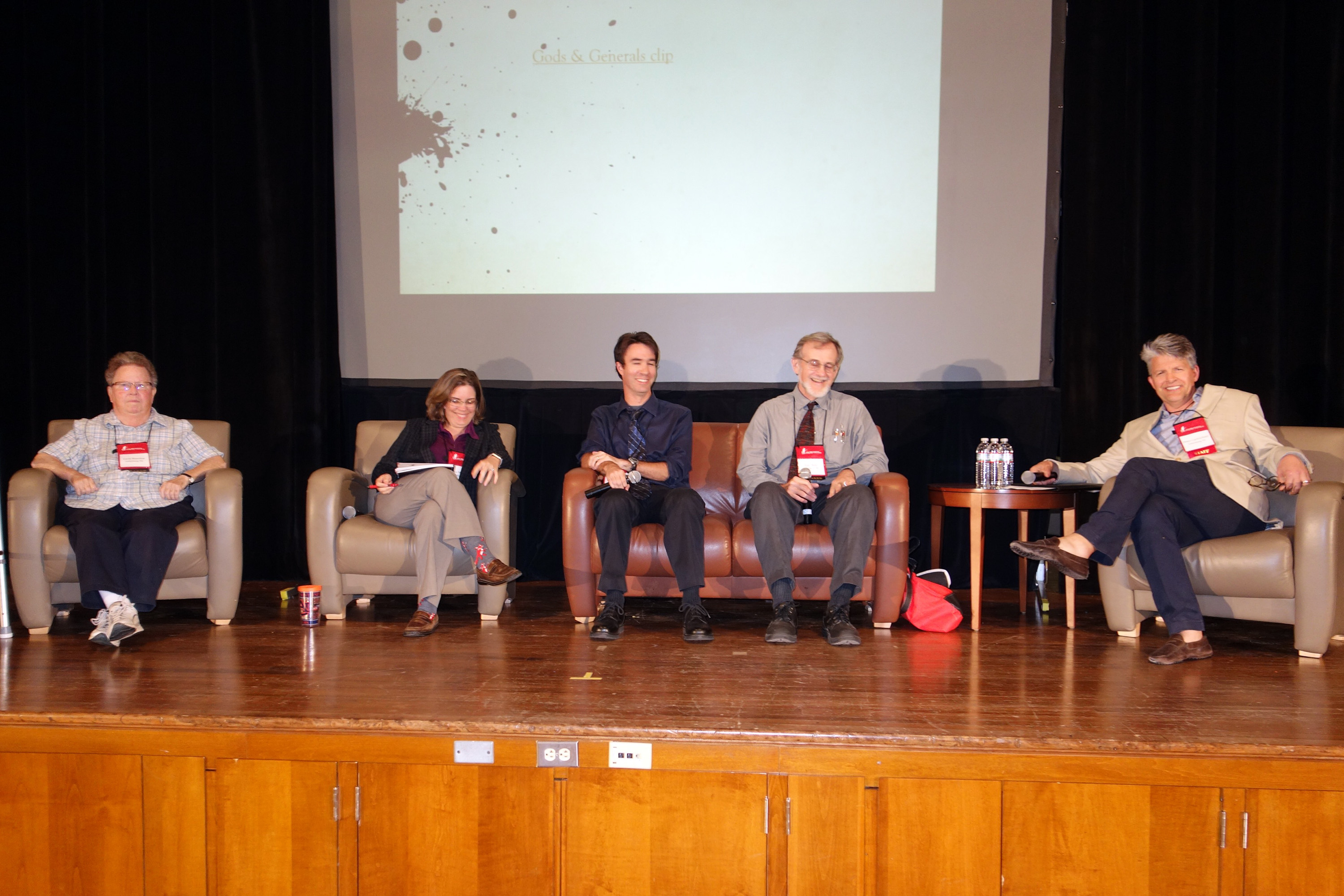 Panel: Myths & Realities of Civil War Battle Tactics

Peter Carmichael, Earl Hess (Lincoln Memorial University), Carol Reardon (Penn State University), and Jennifer Murray
This panel did not cover myths explicitly, but did talk about a variety of tactical topics. They started with a film clip from the movie Gods and Generals, showing the assault of the 20th Maine against Marye's Heights, which they all complimented as being quite accurate. Hess said that this was the only good battle scene in the movie. He jumped up to do a PowerPoint presentation on Civil War formations and maneuvers. In a discussion about rifled muskets, he talked about how the lower muzzle velocity caused training problems for the soldiers who had to deal with the parabolic trajectory of the bullets. He said that research showed that most men killed by the infantry were within 100 yards of the front line, and that the rifled musket was not a revolution in military affairs (RMA). There was a discussion of Emory Upton's tactics at Spotsylvania.
Tour Prep Sessions
In my only late-night attendance, I felt I had to go to the preparatory session for Monday's tour, which was Christian Keller's staff ride of Chancellorsville. He talked about principles of war, Clausewitz, the procedures of a staff ride, and a brief overview of the campaign.
Monday, June 12

Bus Tours:
(1) Cedar Mountain, Greg Mertz (Fredericksburg & Spotsylvania National Military Park)

(2) Mine Run Campaign, Eric Mink (Fredericksburg & Spotsylvania National Military Park)

(3) Mosby's Confederacy, Dennis Frye (Harpers Ferry National Historical Park), and Richard Gillespie (Mosby Heritage Area)

(4) Antietam, Carol Reardon (Penn State University) and Tom Vossler (Licensed Battlefield Guide)

(5) Staff Ride: Chancellorsville, Christian Keller (U.S. Army War College)

(6) Battle of Gettysburg Introductory Tour, Brooks Simpson
As mentioned, I chose #5. I was a little apprehensive because I went back through my notes from my attendance in 2015 and saw that I had taken a staff ride to the Wilderness, which is essentially the same place, and complained about the excessively long bus rides—3.5 hours from Gettysburg in the morning rush hour. This year Christian decided to take I270 to the Beltway and then down I95, which was not as bad as I had anticipated, and took only about three hours. We started at the Fredericksburg visitor center to accommodate a rest stop after the long bus ride, but this meant that we had to deal with the campaign out of sequence. We walked out onto the sunken road and described the activities of May 3 when Sedgwick finally assaulted Marye's Heights.
We drove to the first day battlefield, recently preserved by the Civil War Trust, and described Hooker calling off his offensive after he was unexpectedly attacked by McLaws and Anderson. We had bag lunches on the bus while we drove around so that we would not expend too much time. We went to Furnace Road and talked about the meeting between Lee and Jackson, followed by tracing Jackson's flanking march. Then we drove to the position of the 54th New York, one of the first two regiments in the XI Corps to be hit by Jackson's troops. We talked about Jackson's assault and how the German immigrants in the XI Corps were vilified for being routed, although they actually did a lot better in delaying Jackson's advance than most contemporaries would admit. We had an interesting discussion about the political ramifications of alienating a major immigrant population.
We drove to the Chancellorsville visitor center and talked about the wounding of Stonewall Jackson. Then we went to Hazel Grove to talk about Hooker withdrawing Sickles from this outstanding artillery platform. We drove to Fairview, but did not get out of the bus—time was drawing to a close and we were all suffering from the 95° heat of the day. After this clearing was lost, the two halves of the Confederate Army were able to rejoin and Hooker, slowly recovering from his encounter with a cannonball, ordered Darius Couch to retreat.
Our final stop was Salem Church, where we talked about the battle on May 3 and also Sedgwick's battle on May 4 nearby. Inside the church itself, we held the traditional "integration meeting" that is used to discuss our overall impressions and summarize the staff ride. We had dinner at the Fredericksburg Cracker Barrel before the 2.25-hour drive back, arriving at Gettysburg College at 9:40 PM, a really long day.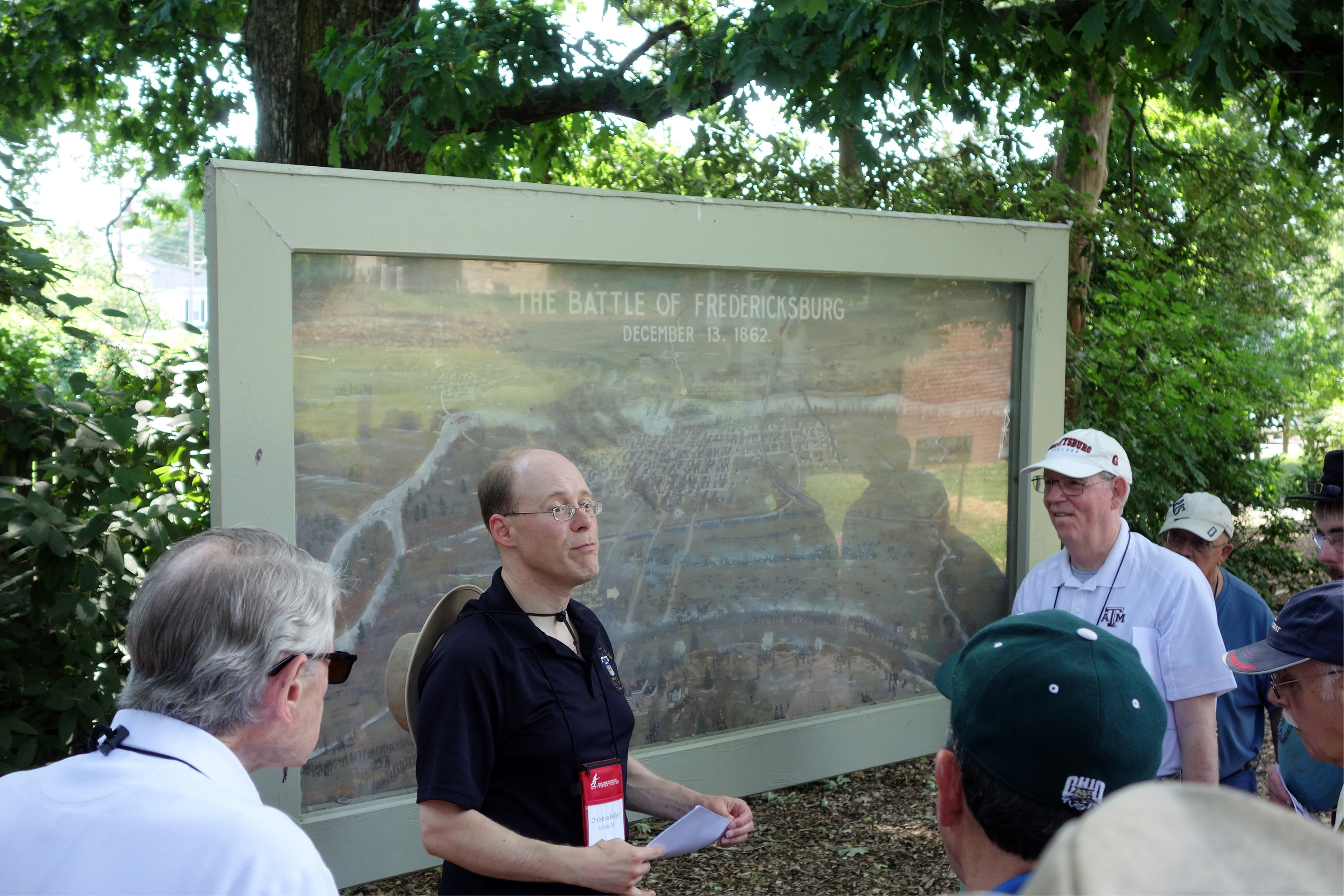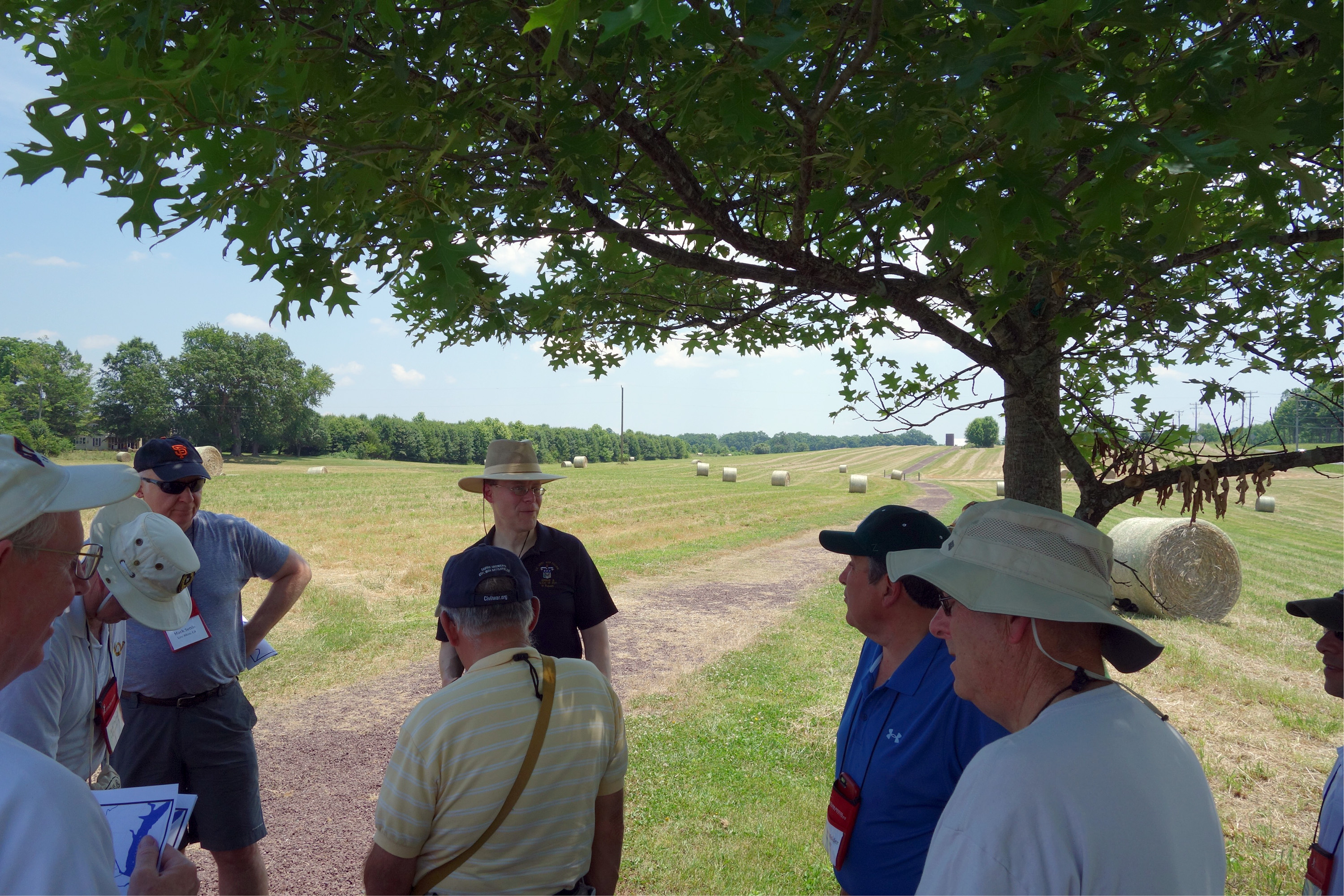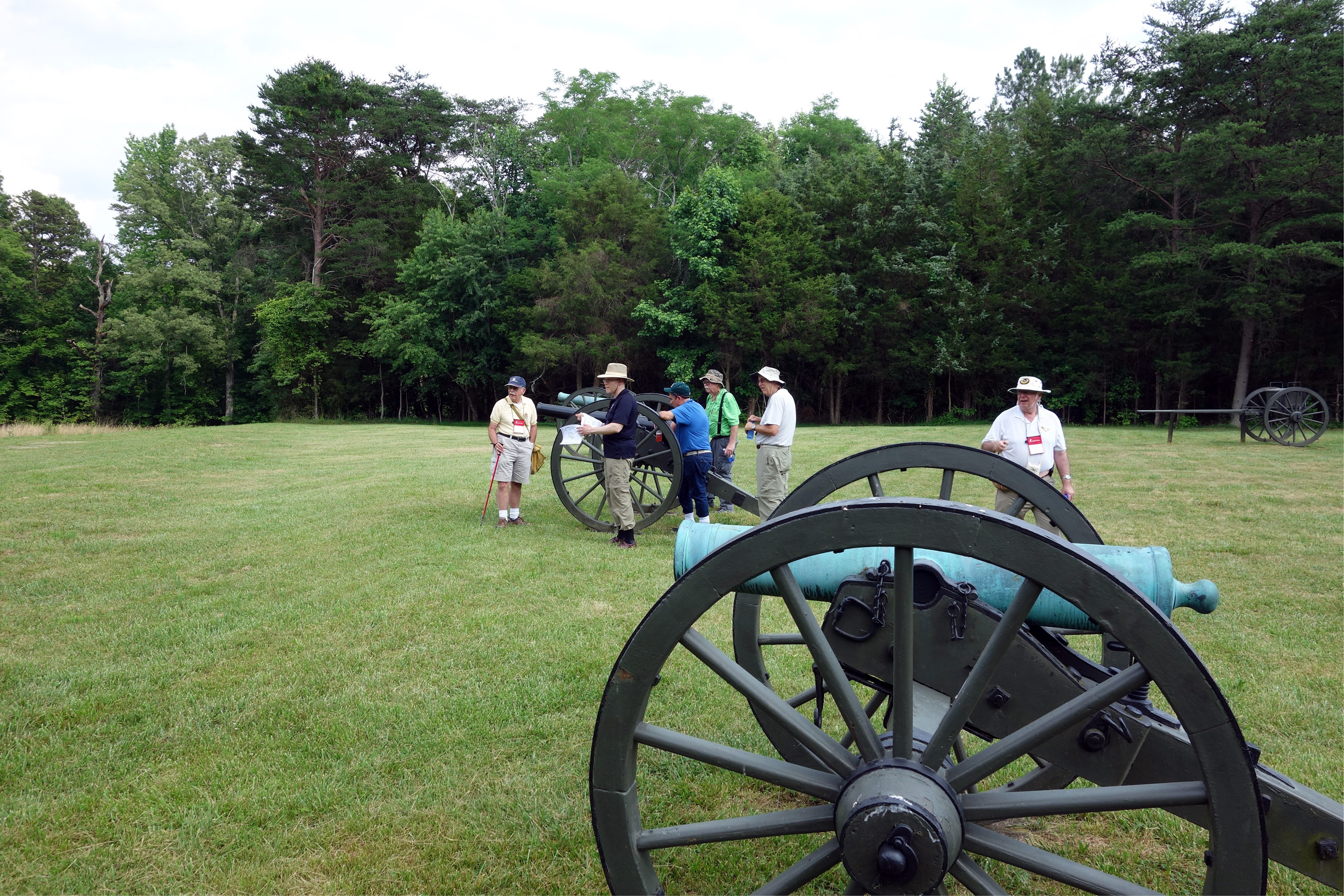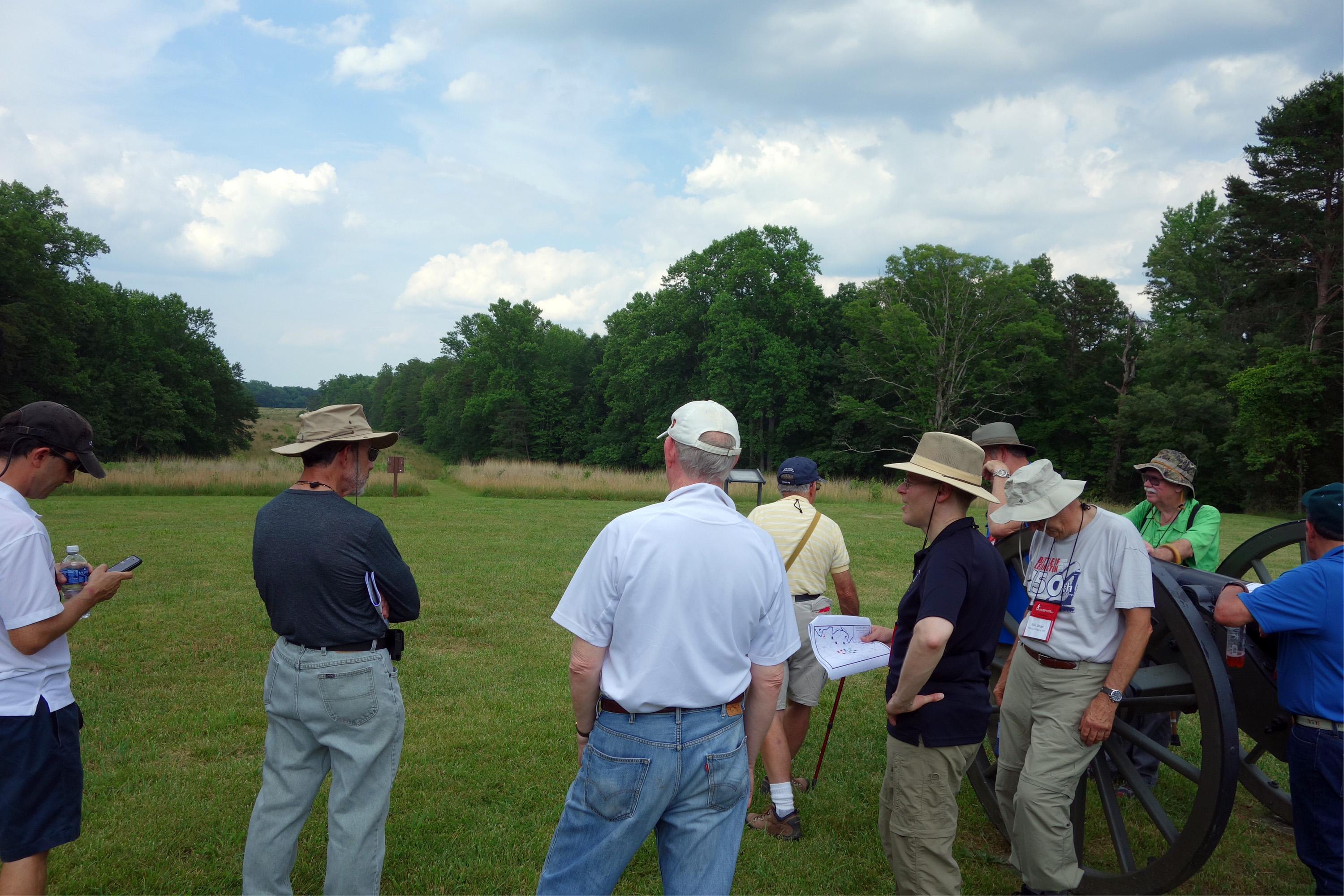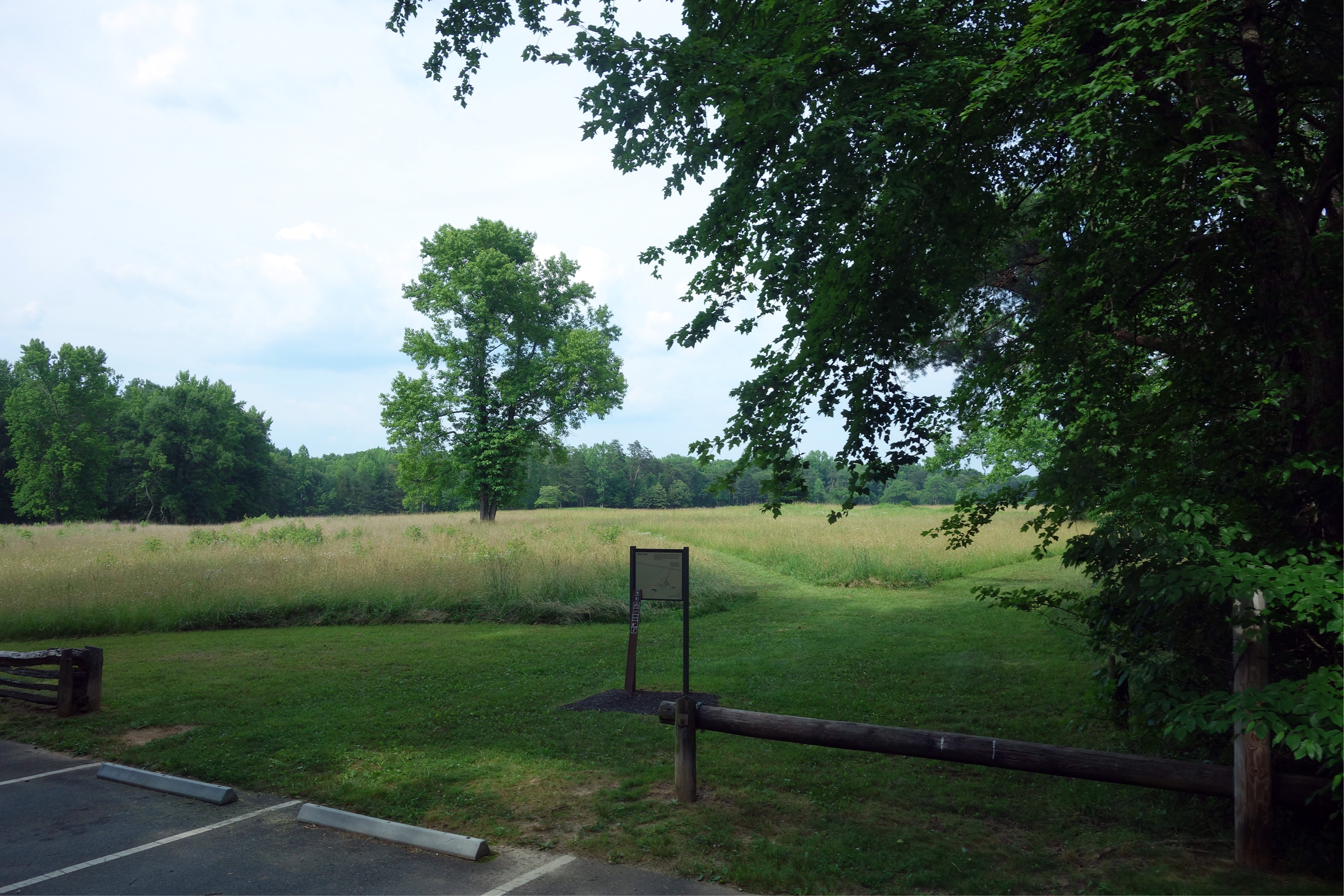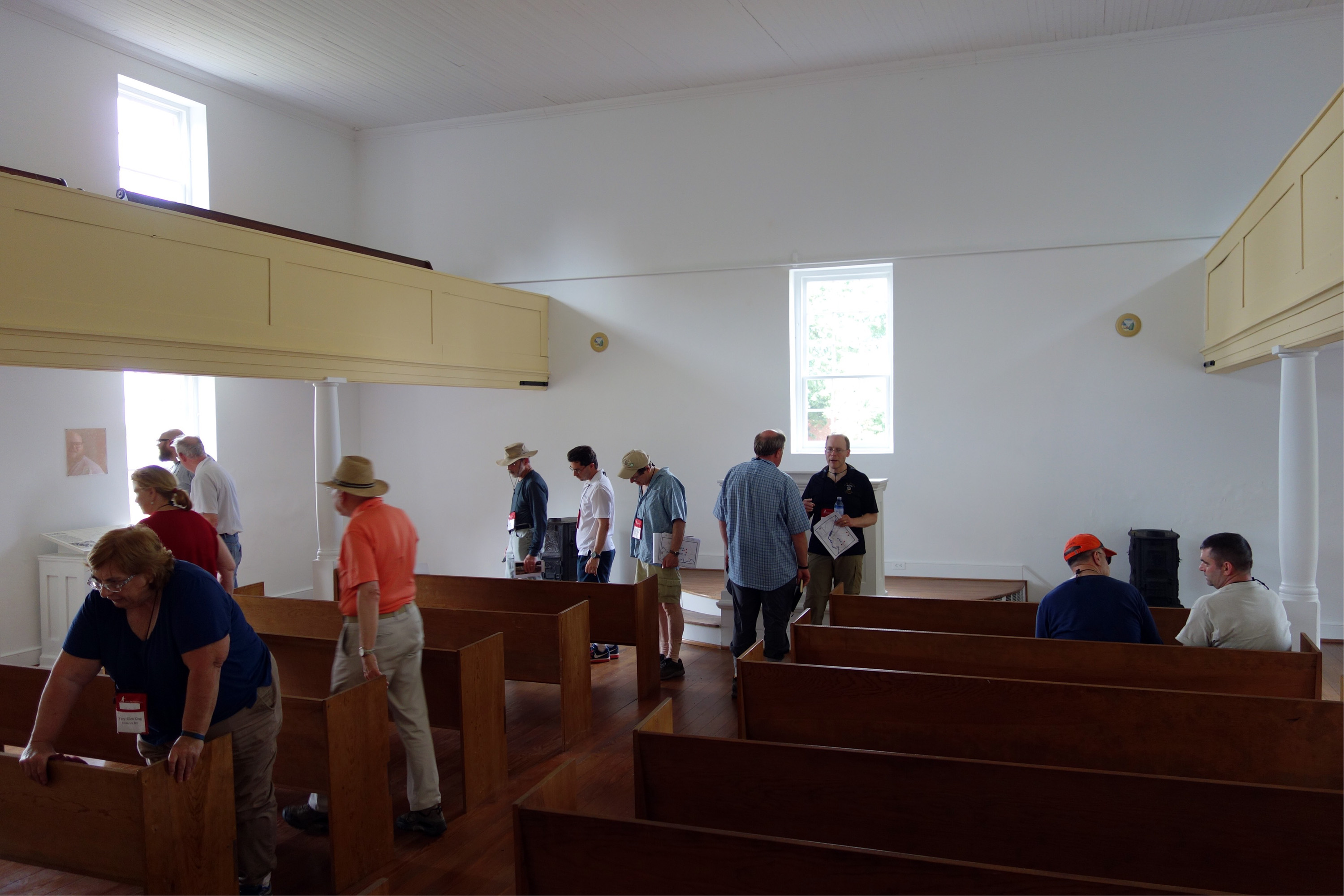 Tuesday, June 13

Tours: Gettysburg at the Brigade Level

(1) Schimmelfennig's Brigade, Chris Gwinn (Gettysburg National Military Park)

(2) Armistead's Brigade, Wayne Motts (National Civil War Museum) & Jim Hessler (Licensed Battlefield Guide)

(3) The Last March of the Iron Brigade: July 1, 1863, Jennifer Murray
(4) Zook's Brigade, Tim Orr (Old Dominion University)
I chose #2 of the Gettysburg tours. I have walked Pickett's Charge on a few previous occasions, but this was the most comprehensive look at Pickett's division I have experienced. We actually took four hours to cover the 1 mile of ground, and experienced weather conditions almost identical to the soldiers on July 3, bright sunshine and 87°. We started at the Virginia Monument. Our guys covered a background of Gen. Pickett and his three brigadiers. We walked to the location of Woolfolk's Battery, which was just in front of Armistead's left flank at the start of the assault. At the position of the 53rd Virginia, we simulated standing in a two line battle formation and unsuccessfully attempted to execute a left oblique march. When we reached the Emmitsburg Road, we discussed how formidable the fences were. Unlike the claims of the somewhat recent television program, most of the soldiers died after they crossed the road. When we reached the Angle, we talked about Armistead's final assault and his wounding. Jim made fun of the movie Gettysburg, which depicted Armistead crying about how much he regretted fighting against Gen. Hancock. Jim said that Armistead was an unreconstructed Confederate and was actually haughtily insulting to his captors. The final stop was at the Copse of Trees, where we got to discuss a little bit about the Union defense, including the heroic actions of Alonzo Cushing.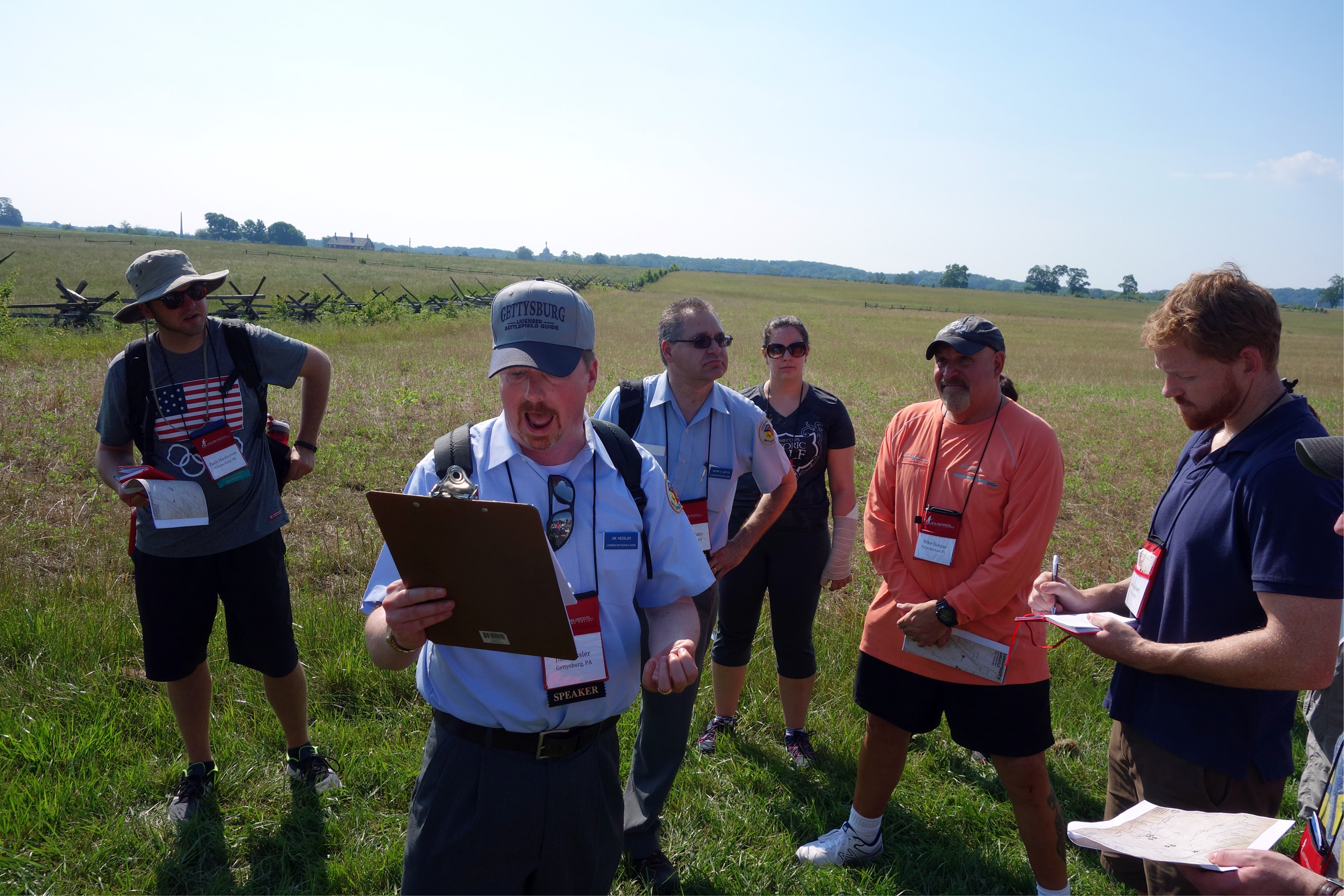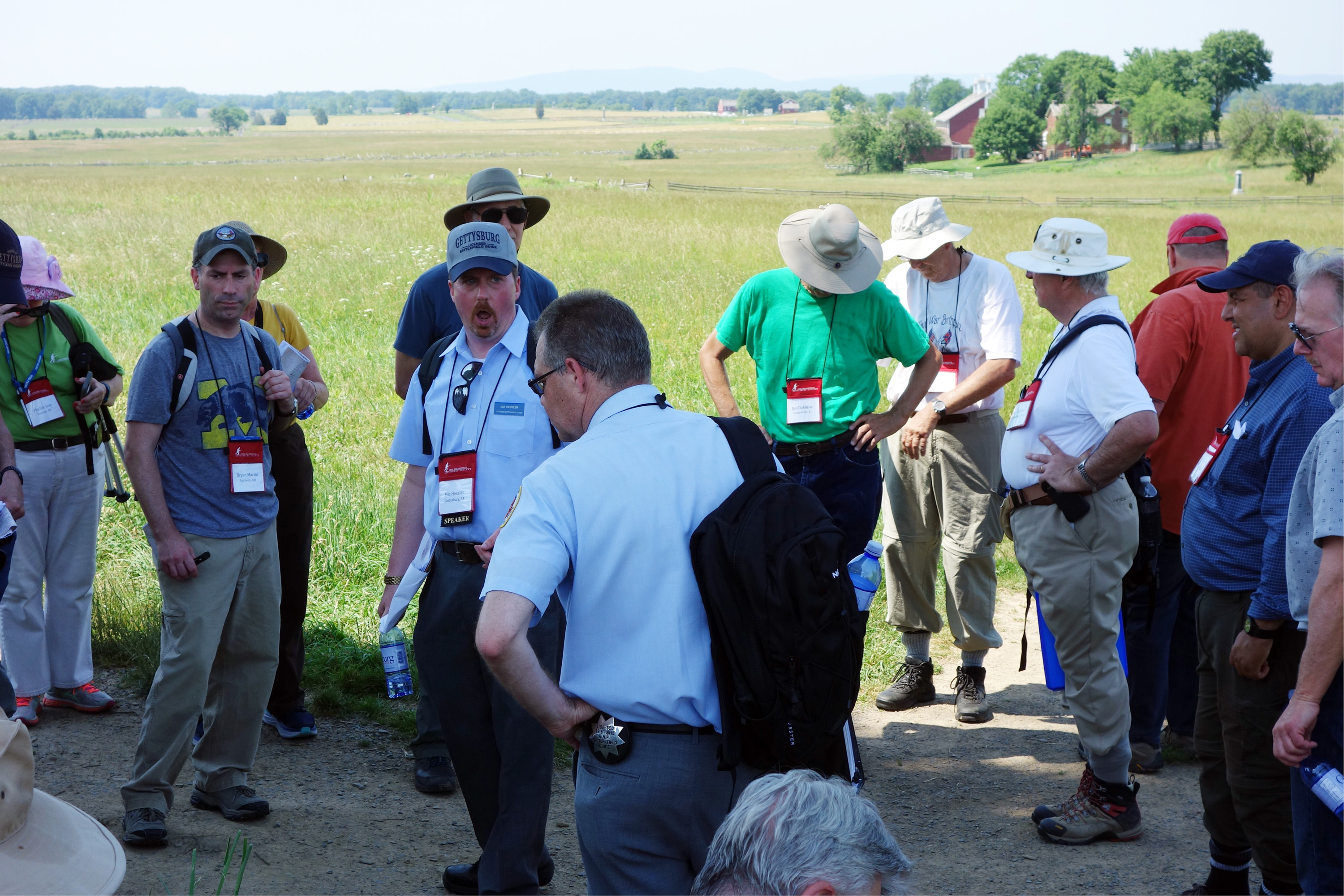 Concurrent Sessions

(1) The North's Wartime Governors, Stephen Engle (Florida Atlantic University)

(2) Apostle of Union: Edward Everett, Matthew Mason (Brigham Young University)
I chose #1. Prof. Engle has written a lengthy book about how the loyal governors cooperated with each other and the Lincoln administration. The governors traditionally had little power versus their legislatures, but this balance was changed by the war. He told an amusing story to start about Lincoln's telegram asking for state regiments arriving at the Iowa state capital on April 17, 1861. A legislator had to ride two days to find the governor working on his farm. The governor was not even aware that the war had started. Governor Sprague of Rhode Island assembled a group of governors to press Lincoln to fix the war strategy and free the slaves. The governors in general faded to obscurity after the war. Many of them lost personal fortunes as they had to dig funds out of their own pockets for various efforts.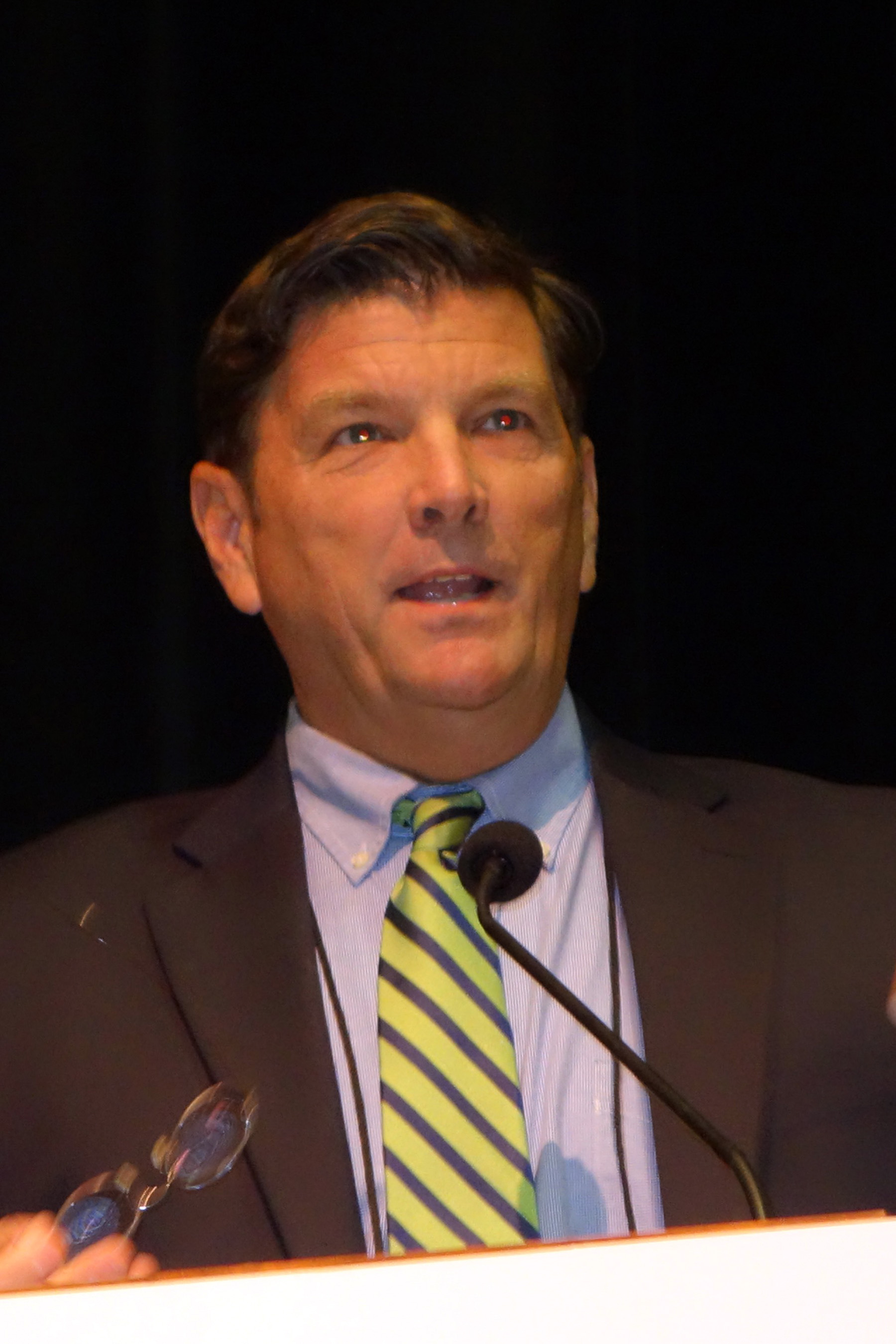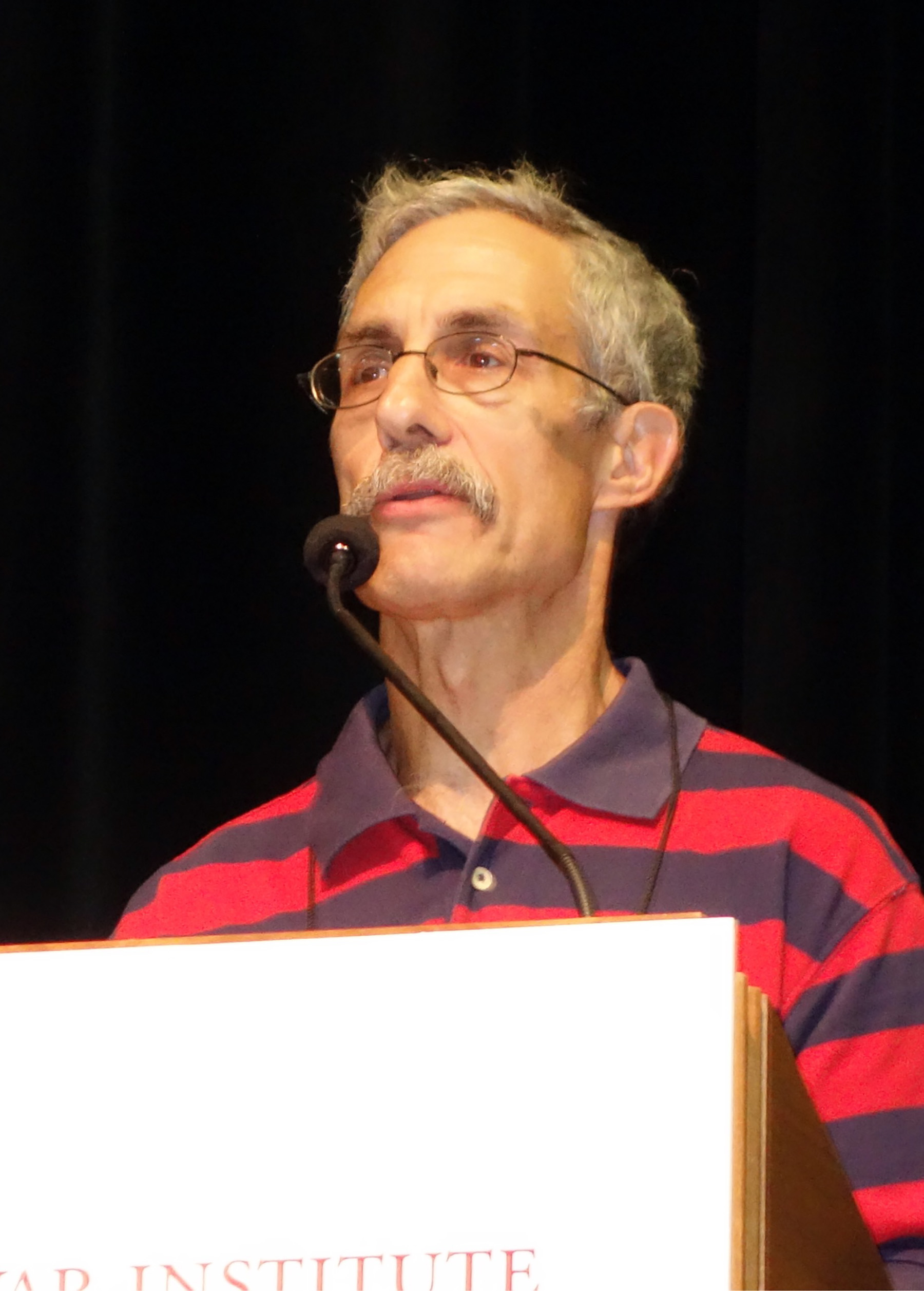 The Confederate Flag, John Coski (American Civil War Museum)
Dr. Coski had a lengthy presentation about memorializing the Confederate battle flag, as well as other Confederate monuments that have been in the news recently. He described the recent Charleston shooting as a catalyst that changed many minds in the South about the flag. He showed a presentation about heritage versus hate, much of which I had seen on previous occasions. He gave a history of the national flag and of some of the battle flags. The battle flag became a prominent symbol when it was used by soldiers in World War II and college sport teams to be used as a generic symbol of Southern pride and identity, and sometimes as a virtual middle finger to Northern sensibilities. But the Dixiecrats reestablished the political connection with the Confederacy and Jim Crow. The UDC fought back against this widespread misuse of the battle flag. He described a number of what he called "flag flaps" and said that he thought it would probably not be possible to return the innocent memorial use of the flag.
Final Panel: Open Floor Q&A

Tim Orr, Andrew Bledsoe, Brooks Simpson, Lorien Foote, John Coski, Jennifer Murray, Lisa Frank, and Peter Carmichael
I find that these panel discussions are usually the most interesting aspects of the CWI, although they cover so many topics and have so many speakers that it is difficult to take reasonable notes. Some of the topics that were discussed in reaction to audience questions were: discouraging the discussion of alternative/what-if scenarios; the reputation of Bruce Catton; why the 1864 election was a turning point (even though it was not a military event, according to the questioner); the use of digitized research material; whether Lincoln should be considered the Great Emancipator (yes, although slaves themselves played a role in their own emancipation); the use of the term "enslaved people" vs. "slaves"; the Virginia flaggers controversies; whether Robert E. Lee's aggressiveness was justified; Southern women on the home front; and US Grant's Indian policies.
I got up early on Wednesday morning and drove to Dulles for my return flight. I had an excellent time at the 2017 CWI and will consider attending next year, which is scheduled for June 22–27.