Hal and Nancy's Trip to Charlottesville, November 2012
This is my travelogue of Hal and Nancy's trip to Charlottesville, Virginia, with Road Scholar (formerly known as Elderhostel). The topic is "Friends, Neighbors, Presidents: The World of Jefferson, Madison, and Monroe." This is my eighth Road Scholar trip, Nancy's seventh.
Sunday, November 11
Nancy and I were in Richmond for the marathon on Saturday. The report of my epic fail is available here, which you should probably not read if you want to continue to respect my personal reputation. :-) So to round out the trip back East, we added a few days in C-Ville, as some call it. We did the one-hour drive and arrived downtown for lunch. We had a nice time walking up and down the pedestrian mall, quite surprised at how many shops are closed on Sunday. Lunch was at Citizen Burger, which features local ingredients, and I have to say it was one of the best burgers I have ever had. Fries were good, too. So recommended. (But don't get the "griddle-smashed Wagyu" beef variants unless you like well-done meat. Nancy found this out in their "mini" burger.)
We checked in to the English Inn on the north side of town and met the 35 other participants for introductions, dinner, and an overview lecture by Jim Wootton of UVa (and also the executive director of the Capitol Square Preservation Council in Richmond). It was a good summary of the lives of the three presidents, emphasizing their friendships and how their careers intertwined. I am not going to include much history in this report, but an interesting facet for me was that Jefferson's father, Peter, was a surveyor and he and Joshua Fry produced the first map of Virginia based on surveying data. Wow, it was still pretty crude by modern standards. It looks as if those surveyors gave up whenever they encountered a mountain range.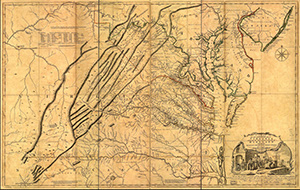 Our coordinator this week is Eileen Wells, of the College of William and Mary. Dinners and breakfasts are buffets in the hotel, which is pretty decent.
Monday
We started with a lecture by Beth Taylor, who has served as director of interpretation at Jefferson's Monticello and as director of education at James Madison's Montpelier. She is also a fellow at the Virginia Foundation for the Humanities and the author of A Slave in the White House: Paul Jennings and the Madisons. Her excellent lecture was titled "Society to our Taste" and it explored the friendships between the principals more in depth. The title refers to Jefferson's attempts to get all his cultivated friends to buy farms around Monticello.
We bused 10 minutes over to UVa and met Jim Wootton again. He showed us around the Rotunda (the building originally used as the library, the centerpiece of the initial campus Jefferson designed). Unfortunately, the exterior was wrapped in scaffolding, so the pictures here are web-harvested. Then we walked around the Lawn, which is the quadrangle lined on two sides by Jefferson's "academical village" concept. There were ten large houses (pavilions) occupied by professors, connected to rooms (hotels) for 104 students. Classes were originally held mostly in the formers' parlors. All of these had gardens in the back. We learned about the architectural history of these and related buildings on campus.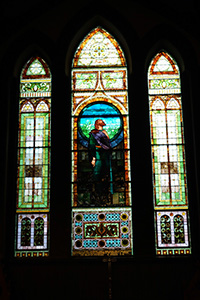 Another 15 minutes on the bus and we reached the Monticello visitor center. I had visited here a few years earlier in between some Civil War stops, but this complex was new to me—big gift shop, cafe, museum, and 15-minute movie about TJ's life. We had a box lunch and then a tour of the main house, up the hill. I was surprised to see that Bill Bergen was a tour guide there. I've known Bill for quite a while by attending Gary Gallagher's UVa seminars (such as here), but we got no time to talk in the busy touring schedule. We were impressed by the beautiful, eccentric house and its authentic contents, but also by the exhibits of the slave-operated underbelly of the place and the extensive vegetable/herb gardens. Although we shuttled up the hill, we chose to walk back down and stopped briefly at TJ's grave.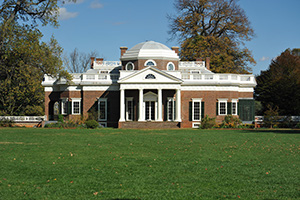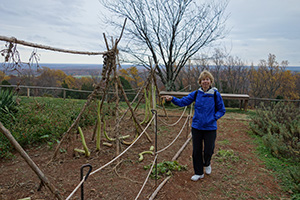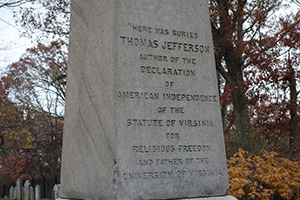 After dinner was Jim Wootton again, with an hour presentation about James Monroe. I was surprised that virtually no talk of politics came up, which I find moderately interesting, but I guess Road Scholar has focus-tested this approach.
Tuesday
Beth Taylor returned for a lecture entitled "Madison, Montpelier, and Constitution-Making." This was an interesting look at how Madison truly was the Father of the Constitution. Some modern politics snuck in toward the end and we got into a friendly argument about the validity of the Electoral College.
An hour on the bus took us to Madison's Montpelier in Orange County. (Everyone pronounces it mont-PEEL-yer, although they say Jim and Dolley probably went with the French version. The other pronunciation I learned is that the Rivanna River is RYE-vanna.) It is usually closed Mondays and Tuesdays in the winter, so they opened it specially for our group! We started with an hour in the mansion with a really excellent guide, Eileen. The property was bought long ago by the duPont family, which enlarged and modified the house dramatically, including a pink stucco coating over the bricks. It has only been a few years ago since it was restored to the original design, but the interior is still a work in progress as the staff tries to find appropriate furnishings that can be authenticated to the Madisons. Inside there's a very rudimentary exhibit about the War of 1812. It was quite moving to be in the study where Madison did all his prep work for the Constitutional Convention—almost as much as Philadephia, this is where the Constitution was born.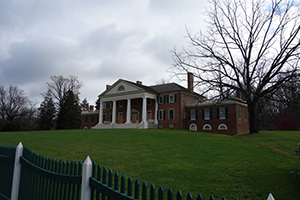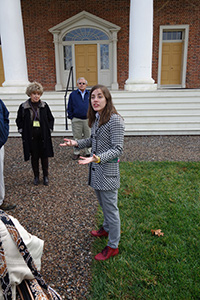 While on the grounds we visited a thoroughbred retirement farm, but the horses weren't too interested in us. There is also a gallery at the visitor center that shows the effects of the duPonts, including a relocated art deco room, looking like a Mel's Diner inside.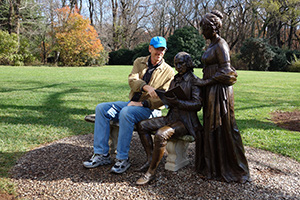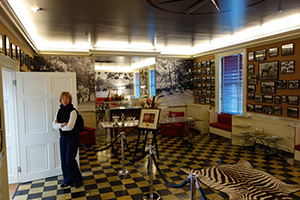 Back near C-Ville, we visited the third presidential plantation, James Monroe's Ash Lawn–Highland estate, one of two properties he owned in Virginia. This was the lesser-used one and was really quite modest, certainly compared to the other presidents'. If this house appeared in your typical suburb, you wouldn't even notice it. But he was two miles from Monticello, so he got to hang out with TJ. We took a tour of the house, which tightly packed our groups of 18 into small, crowded rooms. We also saw the kitchen and the slave quarters, along with other ancillary buildings.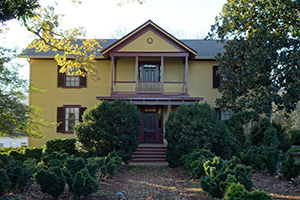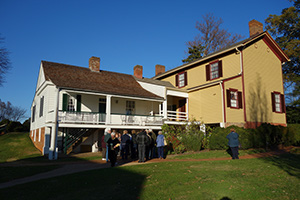 We finished the day in the hotel lobby with a fiddle concert by a woman named Su Tarr, whose full-time occupation is a Richmond parole officer (!), but who has played with the Richmond Symphony and who does a lot of performances in the taverns of Colonial Williamsburg. A really superb musician, playing lots of 18th century American and UK dance tunes. I talked with her afterward and she told me that she also performs in Civil War venues with the group Southern Horizon.
Wednesday
Today is a partial day as everyone gets ready to depart. Jim Wootton returned for his third lecture, "Silent Voices: Women, Slaves, and Free People of Color". I think his time management got the better of him because despite the title he spent the large majority of the time talking only about the history of indentured servitude and slavery in Virginia—which was certainly interesting enough—and then just five minutes about the Sally Hemmings controversy. I personally am somewhat skeptical of the claims that Thomas Jefferson had an affair with this young slave girl and sired some of her children. The supposed DNA evidence that everyone is citing is really not so conclusive because there are 25 males in the Jefferson family who could have been responsible. I read a review of the recent study by the UVa Law School that made a decent case that TJ's younger brother, Randolph, was a more likely suspect. Jim did not have time to go into all of these details and pretty much reviewed the current conventional wisdom.
The highlight of the morning was a visit by Pres. James Monroe! Reenactor Dennis Bigelow did a superb job with reminiscences of a president who had recently retired, telling amusing stories about contemporaries and more serious ones about his accomplishments. Then he took questions for 15 minutes and he ably answered mine about the future prospects of General Winfield Scott (a question I would wager he does not get very frequently). Oddly enough, no one in the group thought to ask him why he was a slave holder, because that is the subject that raised its head numerous times during the week about all of the principals. Bigelow remained in character the entire time and disappeared immediately at the end of his session, presumably to avoid getting caught in 21st-century conversations.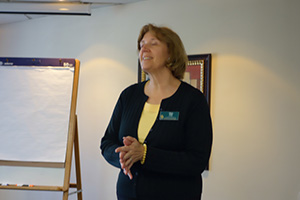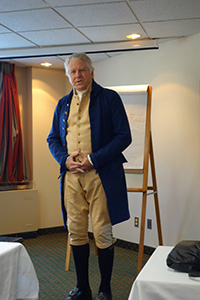 After we finished around 11 AM, we took a brief stop downtown to photograph the statues of Robert E. Lee and Stonewall Jackson. We then drove back to Richmond and had easy flights back through Chicago to arrive home late Wednesday night. It was a great three days in Charlottesville and once again Road Scholar did an excellent job balancing education and interesting touring. The program was a bit too short to justify a transcontinental trip, but in conjunction with another event or program, it was the perfect length. And kudos to Eileen Wells for a great job of friendly and very competent coordination.