Hal and Nancy's Trip to Revolutionary Boston with Road Scholar, May 2018
This is my report of Hal and Nancy's attendance at the Road Scholar program, "Boston—Birthplace of American Liberty." It was my 17th Road Scholar event, Nancy's 15th.
Sunday, May 20 — Arrival in Boston
I was in Fredericksburg for the Marine Corps Historic Half Marathon and after the race flew American Airlines shuttle from DCA to BOS, and checked into the Hyatt Regency on Avenue de Lafayette. I missed the opening night intro/orientation, but Nancy, traveling separately from SFO, covered for both of us. a lady named Debra is the logistical coordinator; later in the week a new/trainee (?) coordinator named Shannon join us as well, and she was really excellent. It is interesting to note that Road Scholar galactic headquarters is less than a block away from the hotel. I joined the group part way into the first dinner, a casual restaurant nearby named Back Deck, which had a backyard patio furniture vibe. It was pretty decent—I had pulled-pork Cuba-style tacos.
Monday, May 21 — Revolutionary Boston
Our tour guide today was Charlie Bahne (pronounced Baney), a local historian and author of a book about the Freedom Trail. We started in the hotel conference room where Charlie talked for a couple of hours about the origins of the revolution, including the Puritan experience with self government; the rebellion against Gov. Andros; the rum trade and related practices of smuggling to avoid tariffs; the aftermath of the Seven Years War; the Stamp and Townsend Acts; and the Boston Massacre and Tea Party.
We boarded a comfortable bus for a partial city tour, including the Common; Public Garden; the Back Bay; Fenway Park; and the final blocks of the Marathon. We traveled to Charlestown for lunch at a riverside restaurant called Pier 6, which was pleasant out on the deck, but somewhat lacking in service and food quality. Next we jumped out of chronological sequence by driving to Breed's Hill to see the Battle of Bunker Hill monument, which looks like a half-size Washington Monument. Charlie described the battle, but no one volunteered to climb the stairs to the top of the monument—no elevator. We visited the National Park visitor center, which has a nice narrated battle diorama that explains the action very well.
| | |
| --- | --- |
| | |
| Pier Six restaurant was attractive, but so-so | Battle of Bunker Hill Monument |
| | |
| --- | --- |
| | |
| Col. William Prescott, patriot commander at Bunker Hill | Civil War Memorial in Charlestown |
At the old navy yard, we visited the venerable USS Constitution and got an excellent extended tour from a bright young sailor named AJ. I conked my head only twice below decks. Then we took a ferry boat from the navy yard to Long Wharf, where we had dinner at a restaurant named Tia in the Marriott hotel. Lobster rolls, yum. Most of the group took the "T" back to the hotel—Road Scholar provided us all with week-long unlimited "Charlie" passes for the subways and buses—but a handful of us did the 15 minute walk in the nice weather instead.
| | |
| --- | --- |
| | |
| USS Constitution | Gun deck, some of the 44 guns |
| | |
| --- | --- |
| | |
| This is what my view looked like when I stood up below deck | Sailor AJ with naval artillery ammunition |
| | |
| --- | --- |
| | |
| Closer view of the bow | Heading back to Boston Long Wharf |
Tuesday, May 22 — Paul Revere
We focused on Paul Revere today, somewhat heavily IMHO. We took the T Orange Line to the North End. At the 1847 Mariners' House, we sat in a conference room for a long talk by Pat Leahy (research director at the Revere House) about Revere's family, his various businesses, his political activities, his famous ride, and his retirement. The group split in half and our half was led by a young woman named Adrienne who took us on a walking tour of the immediate vicinity, focusing on Revere's businesses. Back in the Mariners', we had a seaman's lunch of goulash and fried fish. Then we toured Paul Revere's house, which was interesting, although a bit confusing because it had architectural features and furnishings mixed in indiscriminately from the 16th, 17th, and 18th centuries.
| | |
| --- | --- |
| | |
| Paul Revere's house | Adrienne leading us through the North End |
| | |
| --- | --- |
| | |
| The iconic statue of Paul Revere with the Old North Church in the background | Detail of Paul Revere statue |
| | |
| --- | --- |
| | |
| A nice map of the riders on April 18, 1775 | Pat Leahy |
Next was Old North Church. It has a unique collection of "box pews," which were owned and decorated by various prominent citizens. A docent took us up two flights of rather precarious steps to reach the room where the bell ringers worked. There are eight bells that are played using a technique called "change ringing," which has no tune, but fast continuous pealing. The MIT Bell Ringers Club performs each weekend, Saturday for practice, Sunday after the service. To my surprise, these two sessions are two hours and 90 minutes, respectively. I can certainly understand why some of the neighbors complain about this. The ringing room is actually 90 feet below the chamber in which the two lanterns were placed on April 18, 1775. Then we went below the church to crouch through the crypt, where the remains of 1,100 are entombed. I didn't find this particularly interesting, except when I found a familiar name: Major John Pitcairn, who led the British troops at Lexington and Concord, and then was killed at Bunker Hill. We finished up with a brief visit to Capt. Jackson's Chocolate Shop next door, where a girl gave us a demonstration of colonial chocolate making and a taste of a yummy chocolate drink. There was also a young actor reenacting the son of Henry Wadsworth Longfellow, who recited a few stanzas of his father's famous poem about Paul Revere. I thought wistfully of this poor man who probably spent four years in acting school…
| | |
| --- | --- |
| | |
| Memorial to soldiers of Iraq and Afghanistan | Inside the Old North Church |
| | |
| --- | --- |
| | |
| Impressive organ | A decorated box pew |
| | |
| --- | --- |
| | |
| The bellringing room | A reenactor of the son of Henry Wadsworth Longfellow |
Colonial chocolate making demonstration
Our final stop was a speech at the Mariners' House (a nonprofit hotel and meeting place for seamen, military and commercial). Executive Director "Captain Jim" talked about the history and dangers/challenges for merchant seamen. This had nothing to do with the revolution or Paul Revere, but I guess it came with the package of lunch and meeting room in their building. Dinner was at a new place called Explorateur, a California–French combo, which turned out to be excellent, with a perfect steak-frites.
Wednesday, May 23 — Freedom Trail
Today was a partial (2/3) day for Road Scholars. We met in the hotel conference room for another lecture by Charlie, this time on the rest of the events propelling the colonists to revolution. He dealt with a number of controversies about Gov. Hutchinson, and then a very lengthy accounting of the Tea Party. I was surprised to learn of the scale of the event: 92,600 pounds of tea were dumped into the harbor from the three ships, at today's value of about $1 million. Each case of tea was about 450 pounds, including a lead lining, so they were not casually picked up and thrown overboard as we all have seen on television. Charlie continued with the Intolerable Acts and a British raid on a powder house in Somerville, and then we hit the Freedom Trail, all walking today.
We walked through the Boston Common, hearing about its history and current uses. Then the Granary Burial Ground. We stopped at graves for discussions of Samuel Adams, the Boston Massacre victims (as well as Christopher Snyder, a 12 year old boy who was the first death of the revolution, 10 days before the massacre), James Otis, John Hancock, Paul Revere, the parents of Benjamin Franklin, and a Mary Goose. The latter is mythologized as the famous Mother Goose, but those children's stories were written in the UK, not by this lady (or the second wife of her husband's).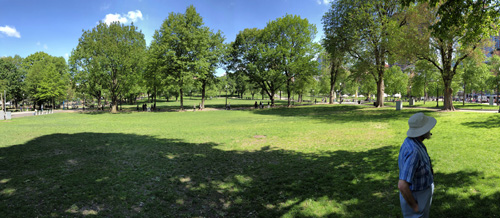 Boston Common
| | |
| --- | --- |
| | |
| Granary Burial Ground | Charlie Bahne and Sam Adams |
| | |
| --- | --- |
| | |
| Marker for victims of the Boston Massacre | John Hancock's Monument |
We passed by King's Chapel, which had the nasty history of being shunned by the local Puritans and displacing the oldest graveyard in town. We stopped at Old City Hall, which is near the former location of the Boston Latin School. We saw the statues of Benjamin Franklin (born in Boston, buried in Philadelphia) and Josiah Quincy, and checked out a nice bronze statue of a donkey, placed there in the election year of 2000. Facing it are bronze footprints with cartoon elephants stating "Stand in Opposition!" Next was the Old South Meeting House—lots of Old things here in Boston, and Meeting House is what the Puritans called their church buildings—built in 1729 and was the largest building in 1773, the site of the meeting that triggered the Tea Party. Five thousand men crammed into this one room with two balconies, and another 2,000 stood outside. Considering that Boston had a population of 16,000, this was one popular meeting. In 1775 Dr Joseph Warren delivered a fiery speech here (while wearing a Roman toga) on the fifth anniversary of the Boston Massacre. There are historical exhibits inside and I found that the 43rd Massachusetts Infantry was recruited here for the Civil War. There was also an interesting map of 1770s Boston that included all the significant buildings as little wooden models, constructed by a woman about 100 years ago. (I think I have seen maps of colonial Boston at least 25 times on this trip.)
| | |
| --- | --- |
| | |
| King's Chapel | Benjamin Franklin birthplace monument outside Old City Hall |
| | |
| --- | --- |
| | |
| Donkey and elephant markers | South Meeting House |
| | |
| --- | --- |
| | |
| Where Dr. Joseph Warren stood in his toga | Interior of South Meeting House |
The Old State House was built in 1713, the oldest public building still standing in the eastern US. It was the governors' headquarters and the seat of the Massachusetts Assembly. The Council Chamber was the location of James Otis's famous speech denouncing the "writs of assistance" policy in 1761. The building was saved from demolition in the 1880s and is now a museum, primarily of the events just before the revolutionary war. Outside is a circle of pavement stones commemorating the Boston Massacre, although it has been relocated from its authentic spot right in the middle of a busy street intersection. Charlie said that the streets and buildings (except the OSH) have been drastically altered since 1770, so it was hard for us to get our bearings.
| | |
| --- | --- |
| | |
| Hal and the ghost of some famous guy | Model of Old State House |
Old State House itself
Our final stop was outside Faneuil Hall, where Charlie described its history and then set us loose at Quincy Market for lunch. We each got a voucher good for one meal/entrée and a drink at one of the two dozen or so food stalls. Nancy and I had a sandwich and a wrap and then adjourned to Ghirardelli Chocolate for a sundae. So in a combination of Monday and Wednesday, we walked all of the Freedom Trail, with the exception of the Robert Gould Shaw memorial on Beacon Hill (RGS was the colonel of the 54th Massachusetts, the first regiment of black soldiers recruited in the North during the Civil War—we actually drove by it Monday but Charlie did not call it out), and a few blocks from Old North Church north across the Charlestown Bridge.
| | |
| --- | --- |
| | |
| Lunch at Quincy Market | Nancy in the Market |
The rest of the day was on our own. We walked along the Rose Kennedy Greenway, which is the footprint of the former elevated highway that was eventually relocated into the Big Dig. What a difference this has made to this significant section of the city! Lots of beautiful new buildings surround the lovely green parks in a long string. One interesting highlight was a series of antique neon signs that were rescued from various suburbs—motels, auto repair shops, etc. We reached the South End, where we hoped to find a lot of little funky/edgy shops, but by this time we were pretty well pooped out from 4 miles of walking in the warm weather and bailed out prematurely, having missed the correct street (Tremont) anyway. We had also planned to visit the Fine Arts Museum in the Back Bay, which has free admission on Wednesdays after 4:00, but Lyfted back to the hotel at 5 for a nap instead. For dinner we took the T to the North End, wandered in perfect weather among the really busy Italian restaurants, and had an excellent pizza at Regina's original location. Dessert was cannolis from Mike's Pastries—pretty nice.
| | |
| --- | --- |
| | |
| Part of Rose Kennedy Greenway | Signage display |
| | |
| --- | --- |
| | |
| We walked by/through Chinatown | Regina's in the North End |
Thursday, May 24 — Lexington and Concord
We started with two hours in the conference room where Charlie gave us detailed descriptions of Lexington, Concord, the British retreat on "Battle Road," and Bunker Hill. He talked about the arrival in Boston of George Washington, the capture of loyalist spy Benjamin Church, the siege of Boston, the unsuccessful Olive Branch Petition, Henry Knox's movement of cannons from Fort Ticonderoga to Dorchester Heights, and Evacuation Day, March 17, 1776. We got on the bus and headed out through Cambridge, experiencing some heavy traffic on Harvard graduation day. Charlie gave us a de facto tour of the accessible parts of Harvard, including a pointer to Mark Zuckerberg's dorm. We drove on Battle Street, known as Tory Row, where beautiful old houses were abandoned by loyalists at the start of the revolution. In Lexington, a nice little town, we wandered around the Green to see where the first conflict occurred between the militia and the regulars heading to Cambridge. We had a sandwich lunch at a decent restaurant named Via Lago, and then topped it off at the frozen custard store next door. We went to the town visitor center, where I was pleased to see that the recent books in the Emerging Revolutionary War series (for which I did the maps) were on sale. (This was the only place all week that had them.)
| | |
| --- | --- |
| | |
| Nancy on Lexington Green | Emerging Revolutionary War in the Lexington visitor center |
| | |
| --- | --- |
| | |
| Lexington diorama | Buckman Tavern |
| | |
| --- | --- |
| | |
| Minute Man monument | Lexington Green |
Famous quotation by Capt John Parker
| | |
| --- | --- |
| | |
| Monument in Lexington | Detail |
Our next stop was the Minute Man National Historic Park visitor center, where we watched an innovative multimedia presentation about Lexington and Concord. (By the way, the approved local pronunciation is the same as "conquered," not Concorde.) As we drove toward Concord, Charlie told us about the various big authors who lived there near each other—Ralph Waldo Emerson, Louisa May Alcott, Henry Wadsworth Longfellow, Henry David Thoreau—and pointed out some of their houses. (Emerson was the guy who associated the phrase "Shot Heard 'Round the World" with the battle of Concord.) We walked over the Concord River on a replica of the famous North Bridge and hit our third visitor center. This one had a good 8-minute video about the battle. On the ride back we saw Walden Pond and cruised around Lincoln, MA, which was not named for our favorite president, but looked really lovely in a leafy, remote suburb with 5-acre lots way. We had a farewell dinner at a restaurant named The Merchant, which served up a decent fish and chips and a few other choices.
| | |
| --- | --- |
| | |
| Louisa May Alcott's house in Concord | North Bridge |
| | |
| --- | --- |
| | |
| Monument and North Bridge | "Shot Heard 'Round the World" |
Friday, May 25 — Conclusion
Our final session was in the conference room. An actress named Judith Kalaora reenacted Deborah Sampson, who masqueraded as a man to fight with the 4th Massachusetts regiment in 1782–83. The show covered her entire life, and was quite interesting and inspiring, delivered at a volume of projection and with exaggerated theatrical gestures appropriate for a large theater. Of course, we were in a small room with an audience of 25, so it wasn't quite a match. Deborah supposedly has on her tombstone DAR and SAR, the only person so designated.
| | |
| --- | --- |
| | |
| Deborah Sampson | and as soldier "Robert Shirtliff" |
Nancy and I rented a car and drove to Providence to visit our aunt. I won't detail this part of our personal trip, except to explain the photograph below. In Roger Williams Park, we found a very impressive Memorial Day tribute to fallen soldiers, hundreds and hundreds of combat boots marked with the name and photograph of the owner, each decorated with a small American flag. Very moving. Otherwise, we drove around a lot and had a nice visit in beautiful weather, returning home through Boston on Sunday, May 27.

Memorial Day in Roger Williams Park, Providence