Hal's Wine Tour of Bordeaux, May 2002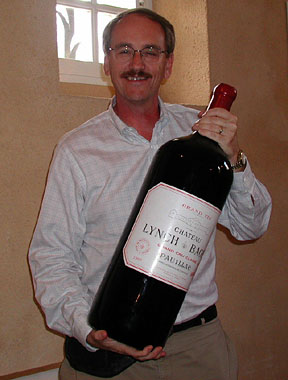 This is a description of my tour of Bordeaux with French Wine Explorers in May 2002.
In short, I had great time touring as part of a group of seven friendly folks and two expert guides. Over 5+ days we had eight elegant meals, 14 tours and tastings at wineries large and small, famed and intimate, and learned a lot about tasting and other wine and cultural topics. I have moderate expertise as a wine aficionado of 28 years. Some of the others had less, some seemed to be natural tasters with good descriptive skills, a lot better than mine. None would count as a complete beginner. (This is the reason my wife did not join me on the tour, because she doesn't really enjoy wine. She would have been bored to tears for about 6 hours each day at the wineries, and the meals were very wine-focused, too.) Lauriann and Jean-Pierre of FWE did a great job on all aspects of the tour: logistics, winery selections, tastings, and meals. And both were delightful people throughout. I'd recommend their services.
The purpose of this report is as a memory jogger for me and as a description for future customers of FWE. It isn't intended to be an introduction to wine. A general note: when I mention a wine name without further description, it was neither bad nor remarkable. All wines selected for the meals were good. Another: there are a lot of potential spelling errors in here; I haven't been careful with diacritical marks, so apologies in advance to French speakers. (Warning: If you're uninterested in wine, you'll find most of the following details very tedious.)
Sunday, May 12 - Mother's Day
UA 960 evening departure to Paris. (Mom was not neglected today.) I happened to sit next to Kenney Dale Johnson, the Silvertone drummer on Showtime's Chris Isaak TV show. He's a very friendly guy and we had a long conversation. I arrived in Paris at 2pm and checked in to the Hotel Bedford, near Madeleine in the 8th arrondisement; modest, but quiet and comfortable. (The French government rates this hotel as a 4-star, but 3 would be more accurate, in my opinion.)
I met part of the tour group, including Lauriann, our guide (sommelier-conseil) for dinner at Bistro du Sommelier near the hotel. This was a pre-arrival add-on to the regular tour. It was a great meal with five courses accompanied by glasses of wines in a unique blind tasting format. All the wines were French, but it's embarrassing how difficult this was. For example, there was one I identified as a southern Rhone because of its spicy aroma. Others thought it was a Cahors. But it turned out to be a 1997 Château Haut-Batailley, a Pauillac! During the meal, Lauriann led us through some rudimentary wine tasting drills, which were rather more comprehensive and sophisticated than the average, say, Napa Valley tourist wine tasting. Other wines were a very light Macon, an unusual 1981 Chinon, a Luberon, and a Corsican Muscat. We concluded with a tour of the cellar. This place had a large wine list with eclectic choices, all priced very fairly. I'd recommend it to any oenophile.
Tuesday - to Bordeaux and Pessac-Léognan
The full group assembled after breakfast: Lauriann, her husband Jean-Pierre, Hector (Santa Rosa, CA), Tom and Sara (Chicago), Harry and Wendy (Melbourne, FL), and Bob (Miami). We traveled by TGV from Gare Montparnasse to Bordeaux, a 3-hour trip at up to 300 km/h. Very smooth by train standards, but it was like flying in light turbulence.
Lunch was in a small cafe near the station, L'Olivier du Clavel: chicken gizzard salad, roasted chicken, red and white Bordeaux Superieures. Then we boarded our full-sized bus, much larger than needed for 9 passengers. (The tour was designed for up to 14 guests, but I'm glad it was relatively small.)
First stop was one of the greats of Bordeaux: Château Haut-Brion, in Pessac-Léognan, the northernmost part of Graves, right in the close suburbs of Bordeaux. We had a really excellent 90-minute tour of this very historic place. Most of the chateau visits over the week turned out to be 90 minutes or more, very detailed and informative. We tasted the 1999 from the barrel and it was almost ready to drink; super nose, good balance.
Next was Château Smith Haut-Lafitte, which is much smaller, but interesting because the owner himself spent some quality time with us. Daniel Cathiard was an Olympic skier and later a big retailer before the wine biz. He was happy to see Americans traveling again since "11/9." The tasting was both their red and white 1999s and I liked them both. The red, just about ready to be bottled, was well balanced with a long finish; a good value at 35 euros. (They sold wine in a small gift shop, which is slightly unusual for Bordeaux.) The white was very fragrant and pleasant. Something I've never seen before was tasting the white after the red, but the white was fragrant enough to make this work.
We checked into the Hotel du Normandie, which was pretty comparable in amenities to the Bedford, and very conveniently located in central Bordeaux, near the river. The city is a good central location to stay for wine touring because all of the interesting regions each seem to be about an hour's drive away.
Dinner at Dubern Restaurant in Bordeaux. The wines were Entre-Deux-Mers, Côtes du Blaye, and a 1993 Cru Bourgeois en magnum.
Wednesday - Sauternais
Today is primarily the sweet white wines of the Sauternes and Barsac appellations. Lovely countryside in this area.
We started at Château Reynon in Beguey, near Cadillac. 2 1998 reds, 2 1999 whites, half Graves, others Premieres Côtes du Bordeaux. All modest, but low prices. The PCdB white was under €5. Their sweet wine was my favorite.
Lunch at Le Saprien in the village of Sauternes, a delightful place with a sunny terrace viewing the vineyards. We had a white (1998) and red (1999) Graves from Château Chantegrive. The red was particularly good. (I saw it later in a wine store for €12.) Ham and duck salad, shad (alose), and cocoanut creme brulee.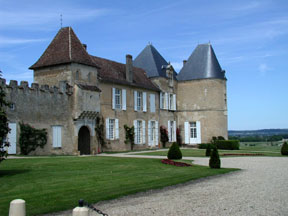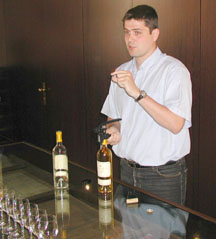 Château d'Yquem in Sauternes produces the world's greatest wine and I was thrilled to visit. In fact, when I got the chance, I waded into the vineyard and got to kiss a vine. Despite the ancient chateau (where we saw Count Lur Saluces himself, although from a distance), they have a modern and stylish facility. We got a tour from the assistant winemaker, who was quite young, knowledgeable, and articulate. We tasted the 1996 and it was superb.
Château Climens is hidden in the back roads of Barsac and is considered the best in its appellation. We tasted both the 2000 and 1998. Nice wines, but we've been spoiled by Yquem.
Dinner was "on our own." Bob and I found a sidewalk cafe for a light but unmemorable meal with a modest red Graves. The weather was great for a sidewalk café and all the ones in town were packed.
Thursday - Libournais
Today we're on the "right bank" of the Dordogne River in the two appellations near the city of Libourne. Over here the red wines lean more to the Merlot grape than the Cabernet Sauvignon found on the left bank (and the white wines aren't well known at all).
Château Angelus is a very modern building in the southern French style, like in Provence. One would think we had stumbled on a California facility. Unfortunately, the winemaker's father died the night before and the lady who substituted for him could allot only 30 minutes to us, so we ran through it very quickly. We tasted the 1996 and found it well balanced and close to fully drinkable.
Lunch at L'Envers du Décor in the picturesque village of St Emilion, including snails, "tournedo' of duck, cheese, a 1998 Pomerol, and a 1997 Château la Tour Figeac (quite nice, the second wine of guess what). St Emilion is a World Heritage Site and a nice tourist destination for wine lovers.

Château Bon Pasteur featured a very technical tour with the assistant winemaker, but all in French with translations by Lauriann. (Poor Lauriann had to really work at this, but did an excellent job. These guys in Bordeaux have accents that are difficult for Parisians.) They have used the micro-oxygenation technique since 1995 and are considered to be a leading-edge, almost experimental winery, when the government bureaucrats let them do their thing. We tasted 2000 from the bottle and a barrel sample of 2001, preblended for us in a preview of how the final assemblage might work out.
Château Perron in Lalande-de-Pomerol is a small family winery, owned by personal friends of our hosts. It was a look into the past, starting with concrete fermentation vats. The family cannot afford to live in the impressive chateau on the property, which is shuttered. (This is supposedly a common situation for small wineries. In California these places would be turned into B&Bs.) We tasted the 1998, 1999, and 2001 La Fleur, which is what we Californians would call their reserve wine.

Dinner at Jean Ramet, a Michelin one-star restaurant. I had a dish of 3 petite salades, toast de campagne, and lamb loin. The wines included 1997 Château Carbonnieux, 1997 Château Gloria, and 1997 Château Ducru-Beaucaillou. The owners of both of the latter properties happened to be at the very next table, although none of the French speakers at our table ventured over to greet them, an opportunity lost. (I was the ringleader in taking up a collection to buy the Gloria, which was a very good bargain, but above and beyond the wines supplied by our hosts. I actually liked it the best of all the wines that night.)
Friday - Haut-Medoc
Today was the first day without perfect weather; cloudy, chilly, passing showers. The Medoc is the area in which most of the mighty First Growths of the 1855 Classification reside.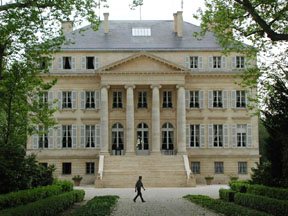 Château Margaux is a beautiful building with massive Greek columns, probably the most impressive château in all of the region. The estate director conducted the tour and the tasting of the 1999, which was very smooth and almost drinkable. I was surprised to see a property of this fame and volume (200K bottles) still using wooden fermentation vats. They mentioned that Cabernet Sauvignon was being used in increasing percentages over the last few years.
Lunch at Pavillon du Margaux, a nice hotel unrelated to the Château. The wines were a 1996 Moulis, Château Poujeaux, and a 1998 Château Lascombe from Margaux.

Visiting Château Lafite-Rothschild was another dream of mine. I got the bus driver to stop in just the right place on the road to take a photo that matches the picture on the label. The director of bottling and packaging led the very informative tour. They have an impressive roundhouse-style barrel storage room. Above it is packed 6 feet of earth where vines are planted, although this is way too shallow for quality grape growing. I was surprised to learn that their production is 600K bottles per year, 33% of them the first-label Lafite. That is really huge for such quality. They have 6 coopers on the payroll and build all their own barrels. (Haut-Brion earlier in the week had 2 coopers, but used pre-cut barrel kits from their supplier.) The staves are split on the grain, not sawn.
I asked what I thought was an interesting question: "As long as you build your own barrels, have you considered experimenting with alternative sizes, to check out different levels of oak?" Well, the guy practically had a heart attack and got very animated about "Our oak level is perfect, we have been doing it the same way for 300 years (you ignorant Gallo-swilling American)." I backed off from other questions. :-) We tasted both the 2001 Carruades and 2001 Lafite; both were too young to drink, but too good to spit, as the director said. I'm really very poor at evaluating barrel samples, but others in the group thought the 2001 Lafite was fabulous. I would have preferred to taste the 2000, but it was currently undergoing fining, and thus was filled with egg whites. (What do they do with all the left-over yolks? :-) Here we found out that the press wine was given to the Lafite staff, whereas lesser wineries use it for blending.)
Château Cos d'Estournel in St Estephe was a very unusual place, decorated gaudily with Egyptian and Asian motifs, such as elephants. (The original owner sold wines almost exclusively to India.) The main entrance was a carved door from a harem in Zanzibar. I'll bet the Rothschilds had a fit when this building went up next door. They had a commercial outlook, with a museum, gift shop, and a beautiful dedicated tasting room that had a big marble-lined spitting trough. We visited the inside of the owner's personal cellar, which was a real treat (although some of us sneezed nonstop from the mold or dust.) They had a large collection of oversized bottles, including a number of Nebuchadnezzars, which hold 15 liters, or 20 bottles worth. (They looked like torpedoes stacked up.) We tasted the 2001 Les Pagodes de Cos, and the first-label Cos. The Lafite from next door was clearly superior.
Dinner on our own, a salad and small pizza in a forgettable tiny place.
Saturday – Back to Haut-Medoc
Château Haut-Marbuzet is a Cru Bourgeois in St Estephe, the most northern commune in the Haut-Medoc. It is a very modern building with polished granite floors, immaculate barriques, and brand new wooden vats. They do no fining. Less than 10% of their 300K bottles are exported, those mostly to Europe. The owner's (Henri Duboscq) son conducted the tasting. 1999 Chambert-Marbuzet (second wine); 1999 Haut-Marbuzet was almost drinkable--light tannins, floral nose, about 40% Merlot; 2000 Haut-Marbuzet was 50% Merlot.
Lunch at Restaurant St-Julien was elegant: a sardine escabeche (like a bruschetta) and fish pot-au-feu. We drank 1998 Château Moulin de la Rose, a St-Julien Cru Bourgeois; 1998 Chteau Cos Labory, St Estephe; and a mystery wine, 1994 Chateau Larmande, a St-Emilion. (This mystery wine business happened a few times. Jean-Pierre ordered it surreptiously and we had to try to identify its grapes, location, and vintage year. I really stink at such exercises, but others did reasonably well, when coached through the steps. Bob won a bottle of Champagne for his good guessing skills at one point.)
Château Branaire in St-Julien was an uninteresting building outside, but recently expanded and very modern technically with computers, gravity-fed processes, and lots of new stainless steel. The maitre du chai came in on the weekend and gave us a very technical tour, all translated by Lauriann. In all my years of winery touring, this was the first in which they actually operated equipment for us (the automatic temperature-control fermentation vat water jackets). We tasted the 2000 Château Duluc (second label), 2000 Château Branaire (Ducru), and a preblend of 2001.
Château Lynch-Bages was one of my favorite wines in the 1970s. The complex looks more like a California high school from the 1950s than a château. Our guide was a young American woman and we were able to stump her on a few questions. They have an interesting history and a semi-museum upstairs with old wine gear. Until 1934 they stomped grapes by foot and used child labor to do it, so the touch would be light enough to pamper the grapes. Until 1974 they used wooden vats and built open fires under them to control the temperature during fermentation! Since the guide was American I felt more comfortable asking the embarrassing question about chaptalisation (the practice of adding sugar to the must to increase the alcohol content). She said, sure they do it. Lynch-Bages always goes out at 13º alcohol and sometimes nature needs assistance. 1997 Haut-Bages Averous, their second label, was awful--thin with a strong medicinal nose. 1997 Lynch-Bages was thin with barnyard aromas. They apparently are trying to deplete their tasting-room stocks of a poor year. I was disappointed.
Final dinner at Didier-Gélineau: Six courses included foie gras with three peppers, lotte (monkfish) with chorizo, filet mignon of veal with kidneys. 1986 Château Suduiraut, Sauternes, was perfect with the foie gras; 1998 Château Bois-Martin, Pessac-Léognan; the mystery wine was 1991 Château Palmer, just delightful; 1996 Château Beaurigard, a young Pomerol with the cheese. At this point, most of us were wiped out with gastro-overload and no one touched the mignardises.
Sunday/Monday - TGV back to Paris, Fly Home
After breakfast, we TGVed back and arrived 1:30ish. I returned to Hotel Bedford (because the flight I wanted leaves at 12:20). Stores are mostly closed Sunday, so I walked a lot and relaxed on a Bateau Mouche tour of the Seine. Dinner was in the Left Bank at a bistro called Le Temps Perdu and I deviated from Bordeaux to have a Burgundy, a 1996 Volnay Santenots, which was quite a change from the preceding wines, but not exactly stunning. (This restaurant was the only one that seemed to have space. For a Sunday night, the left bank was extraordinarily crowded, almost shoulder-to-shoulder in the streets.)
UA 961 flew me home on Monday. No celebrities on board this time. Now to get back to the Pacific time zone and start dieting . . .