Hal Jespersen's Alaska Cruise, September 2022
This my (Hal's) report of Hal and Nancy's 2022 cruise to Alaska on Princess Cruise Lines. We arranged this at almost the last minute because it was roundtrip from nearby San Francisco and was also pretty cheap this late in the season in a bottom-drawer cabin. It was our ninth cruise with Princess and our second to Alaska. (The first was in 2006, report, which included a significant land portion starting in Fairbanks and railroading to Anchorage. We saw a number of things a second time, but back then my photographic capabilities were much less.)
Wednesday, September 7 — San Francisco
It's a convenient drive via Lyft to Pier 27 in San Francisco where we dropped our bags with a porter and got in line. There were actually two lines—the very much longer one, over 150 people, was for those who needed to take a Covid-19 test. Lots of confusion here because Princess had announced that most cruises after yesterday required no tests for vaccinated folks, but their fine print said that cruises making a stop in Canada did require one (even though the Canada Arrivals registration app did not ask you about it). So hundreds of people were given free tests at the pier, a process that took 2.5 hours for some, and was a principal reason the ship left SF an hour late. Nancy and I were up on the requirements, so we took a test at home on Monday, proctored over Zoom by a company called Inspire Diagnostics. We were both negative, but I'll have to say it would have been super easy to cheat. I spent about hour filling out Princess's MedallionClass app with all our forms and info, and then found that the staff at the pier never looked at it and wanted paper copies of everything. Sigh.
Anyway, the whole process took less than 15 minutes and we boarded Ruby Princess. This was a last minute trip and we booked a very inexpensive window/obstructed-view cabin, but were pleased that the view wasn't obstructed at all—deck diagrams showed where all the offending lifeboats were located and I steered us away from them. They no longer have the boring lifeboat muster drills; we simply watched a video in our cabin and showed up at our muster station to check in with our Medallion gadgets and left immediately.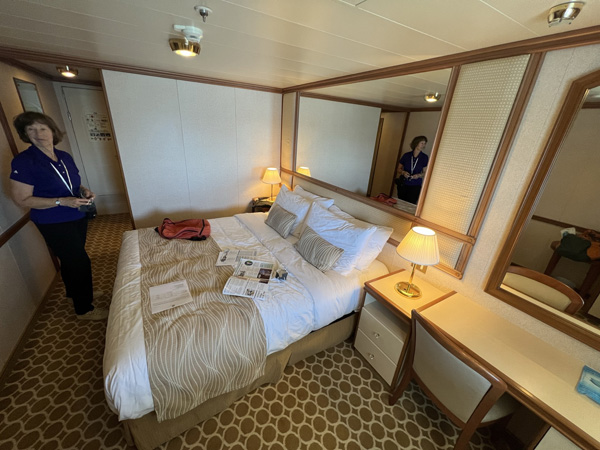 The sail away from SF was in beautiful weather, past Alcatraz and under the Golden Gate Bridge. The strong heatwave in California this week was not apparent in San Francisco Bay. We had dinner in the main dining room (one of three actually) at a table for six. You can reserve smaller tables, but usually only much later in the evening. The main show was a moderately funny comedian, Sean Kent, and we followed that with pastries in the International Café. (It seems that all Princess ships have nearly identical layouts and features across the fleet—which is why I didn't bother with any interior photos—and the IC is one we always enjoy for fancy coffees, pastries, and sandwiches.)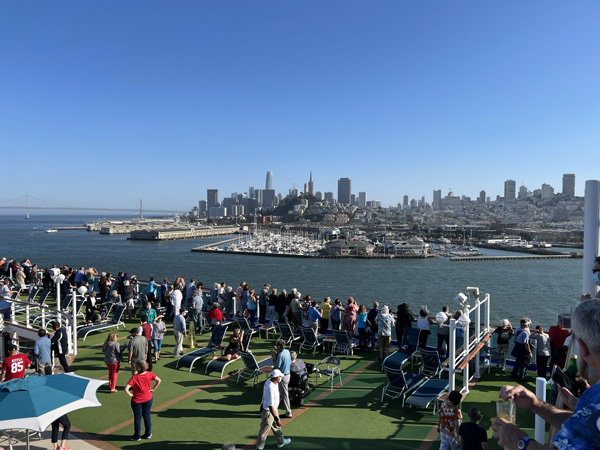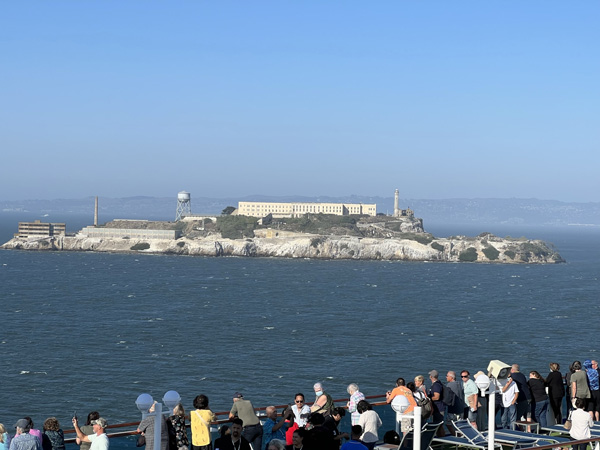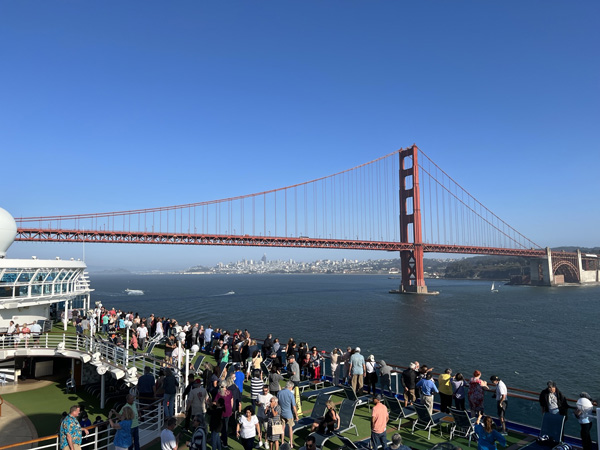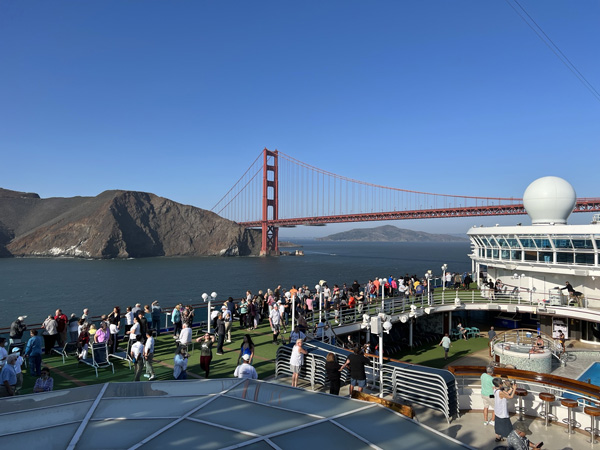 Thursday, September 8 — At sea
We awoke to gale force winds—50 knots!—and rough seas off the coast of Northern California. The Promenade deck walk outside was closed all day. The swimming pools on deck 15 had visible waves and were sloshing all over the deck. So we mostly stayed in the cabin and used Bonine tablets to avoid mal de mer. There was the first talk by the ship's visiting naturalist, which was a pretty disorganized PowerPoint with highlights of Alaska. S/he was quite an odd person, named "tess julianna" [sic]. We had breakfast sandwiches from the International Café, but there was no seating because a local guy was carving a small totem pole in that area. Our captain, who is British, announced the sad news that Queen Elizabeth just died.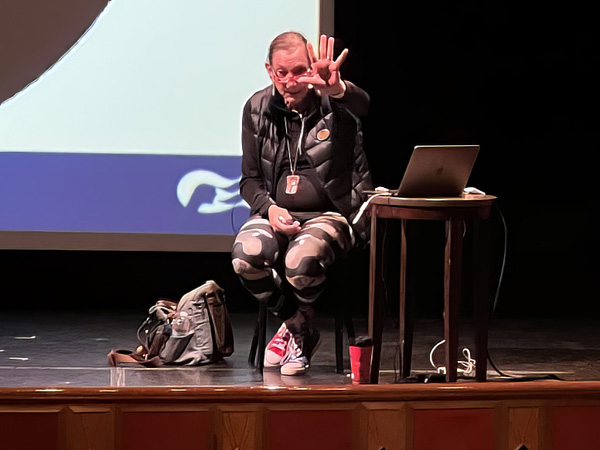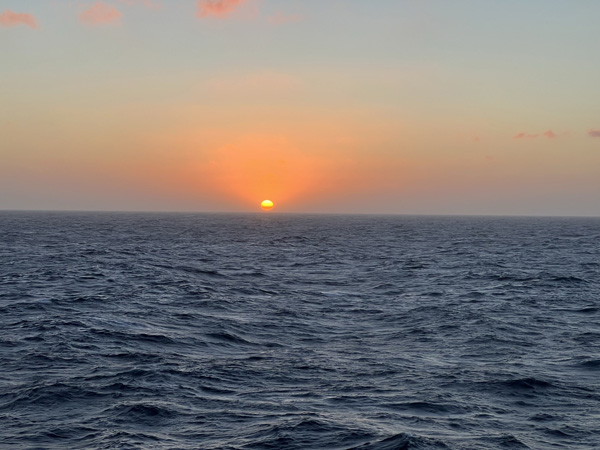 For lunch I had what was billed as a Wagyu beef hotdog, which was good but indistinguishable from a Costco dog. We tried the naturalist again for a talk on whales, but we didn't linger because of the lack of seating in the bar where it was scheduled. Dinner in another main dining room, followed by the evening show: Lindsay Deutsch, a classically trained pop crossover violinist, the founder of the group Take 3, which is one of my favorites.
The captain had a second announcement this evening: our late departure from SF and slow progress through the heavy seas meant that he was canceling our first stop, an obscure port called Icy Strait Point. We were scheduled there at 3 pm on Saturday, but now that will be another full sea day and we'll go straight to Juneau on Sunday.
Friday, September 9 — At sea
The sea is a little calmer today, although the promenade deck walkway is still closed down and the pools are still sloshing. There were two more naturalist presentations, the first on Alaskan native crafts and myths, the second on eagles and bears. (There are actually 30–40 activities each sea day, but the vast majority are too mundane to mention.)
We attended a talk by Leo Rossi called A Knight's Tale. He was a stage/tour manager for many classic rock bands, including 20 years with Fleetwood Mac. It was a very professional multi media presentation with lots of band photos and audio clips.
After another main dining dinner, we attended our best show so far, a comedian and musician named Steve Moris, who performed with The Beach Boys for 35 years. Very funny and a really impressive guitarist.
Saturday, September 10 — At sea
We awoke to see Moresby Island, British Columbia, in the distance—about 52.1°N—and continued toward Juneau. The sea was calm enough to open the promenade, but they had both ends of the ship blocked off so a full circuit isn't possible. The ship's clocks were turned back last night an hour to Alaska Daylight Time, but all my watches/phones are fed by GPS, so some mental math is needed today.
tess the naturalist had a talk about walking in the forest, which was predictably pretty boring. We went to a stage version of the TV game show Deal or No Deal with audience participation and sat through the travails of one contestant. After the usual dinner we were expecting the first big production show with singers and dancers, but at the last minute they substituted a single woman singing ABBA hits. She performed well, but the whole attraction of that group to us was their intricate harmonies. Then, in the Explorers' Lounge, the comedian Sean Kent returned and this time his set was "PG-16," which was very funny.
Sunday, September 11 — Juneau
We awoke in Juneau, the state capital, to beautiful weather. Locals said that Juneau averages 60 non-rain days per year, so we were lucky to get one of them. Two other big cruise ships were in port with us, including another Princess. We had no shore excursions pre-booked because we weren't confident about the weather in advance or the ability of the ship to arrive on time, so we visited one of the dozens of booths on the pier to arrange our day.
We took the "Gold Belt Tram" 2000 feet up Mt Roberts and marveled at the beautiful views of Juneau, the Gastineau Channel, and the tall surrounding mountains. We hiked around a little but did little else up there for timing reasons.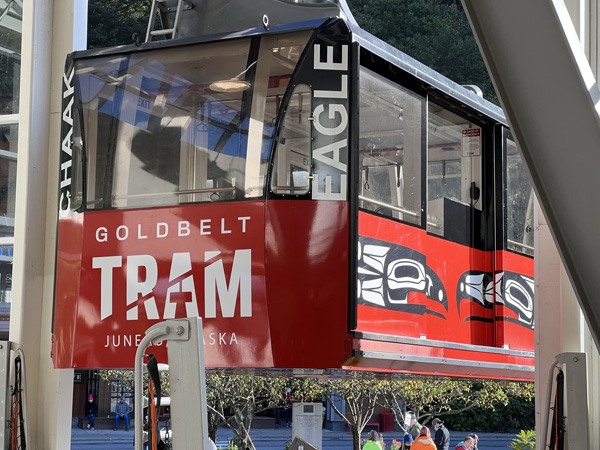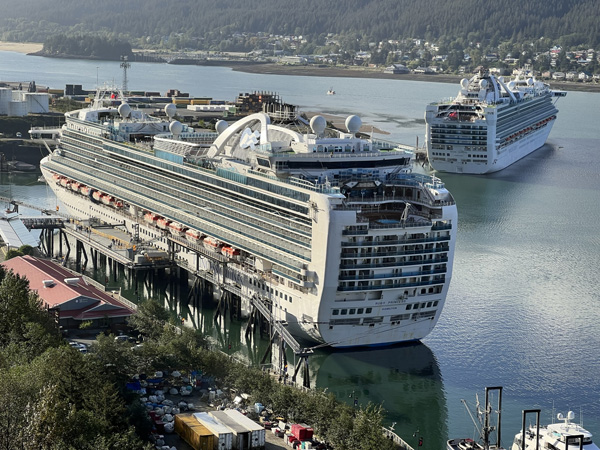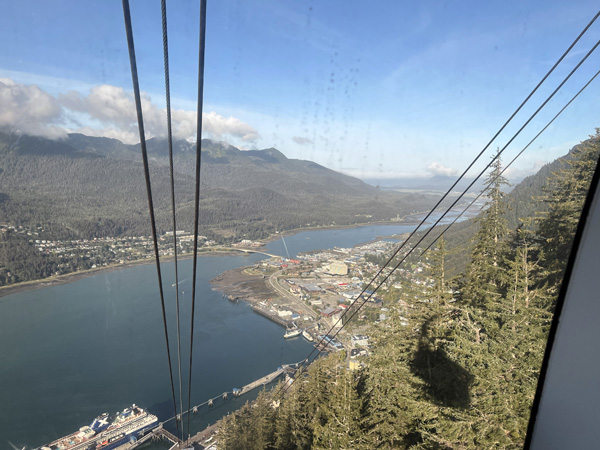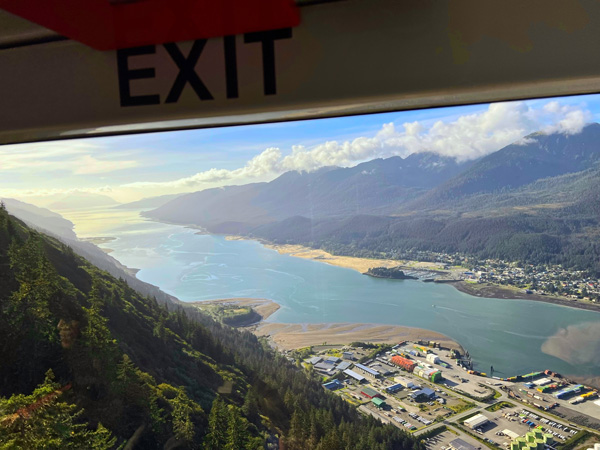 We hopped on a tour bus that took us on a narrated city tour. The highlight of downtown was the state capitol, which the driver said had been voted 50th of the most beautiful state capitol buildings. On the way out of town, we saw quite a few bald eagles, but little wildlife for the rest of the day. The big visit was to Mendenhall Glacier. Nancy and I visited here 16 years ago, but today was much nicer weather and we had great views. We took a two-mile round trip hike to Nugget Falls, which was moderately impressive. The Forest Service visitor center had some nice exhibits.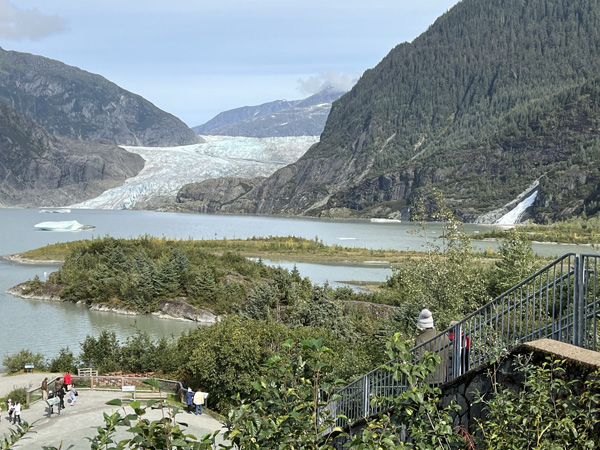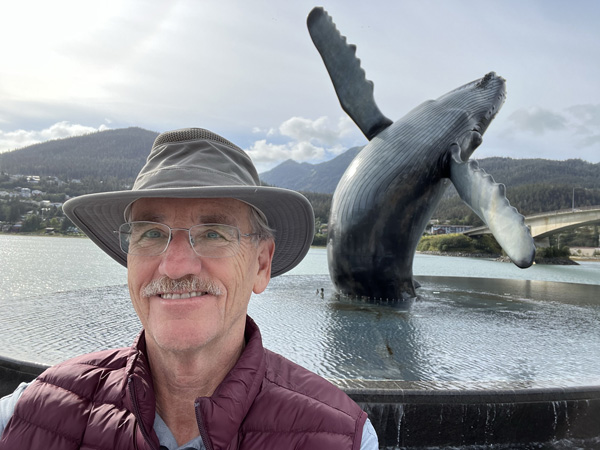 Back in town we hoped to get a local lunch at an iconic spot like the Red Dog Saloon, but a fourth ship, the immense Oasis of the Seas, had arrived and the small city (32,000) and its handful of restaurants were overrun. So it was back to the Ruby. Nancy rested up and I returned to the tram, for which we had all-day privileges. I rode to the top and planned to hike down the 2000 feet, but found the trail way too rugged, muddy, and potentially treacherous, so returned via the tram.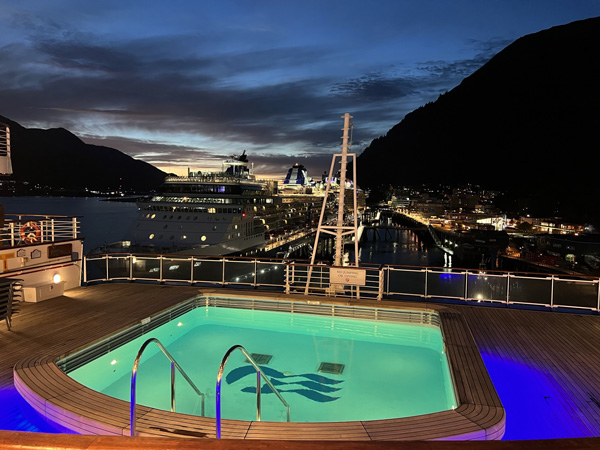 Most nights offer shows at 7:30 and 9:30, but tonight there was a special visit at 6:30 by Libby Riddles, the first woman to win the Iditarod dog sled race. We had seen a similar program of hers 16 years ago, but this one was more complete and dramatic, with lots of dog slides and a great video about the race. She is quite a unique person and athlete, overcoming obstacles that are impossible to comprehend fully. We used the change in schedule to decide to eat dinner in the buffet instead of the main dining room.
After dinner Leo Rossi returned to the theater for a 70-minute presentation on his years with Fleetwood Mac. The ship departed Juneau about 9 pm; it was so smooth we didn't even notice.
Monday, September 12 — Glacier Bay National Park
We awoke to thick fog as we entered Glacier Bay National Park, but it quickly burned off and we had beautiful clear skies. It was rather chilly in the wind—mid-30°s—but we were well prepared with layers, scarves, and watch caps. A few Park Service rangers got on board for commentary and it was a bit discordant—you think of park rangers as gruff seasoned guys, but these were girls in their early twenties—our main speaker was named Kendra—and were hardly experienced public speakers. The vast majority of their remarks could/should have been prerecorded.
Our day was essentially a straight shot northwest through the bay, taking a turn west into Johns Hopkins Inlet. We spent about an hour watching Johns Hopkins Glacier as the ship got up pretty close and did a couple of 360°s. It's a mile wide and 200 feet thick as it hits the fjord. The glacier came down from the majestic Fairweather Range in the distance. Although a lot of its surface was covered in dirt and debris, there was also a lot of brilliant blue ice to enjoy. We saw a bit of minor calving, which was accompanied by "white thunder" as the ice cracked. A number of the tiny icebergs cast off by the glacier had one of more harbor seals riding on top. We saw some otters and gulls; there were bears and mountain goats spotted by the rangers along the way, but Nancy and I couldn't see them.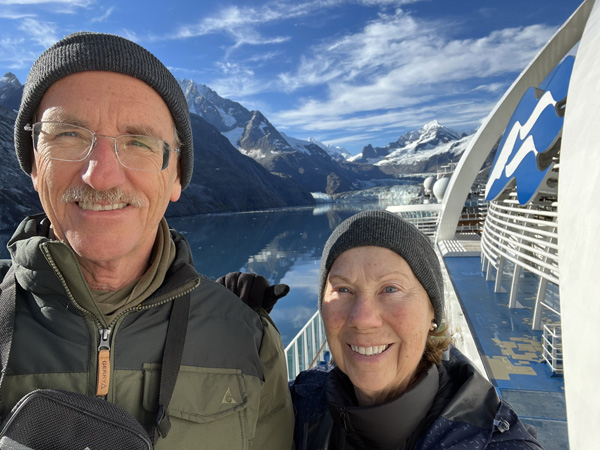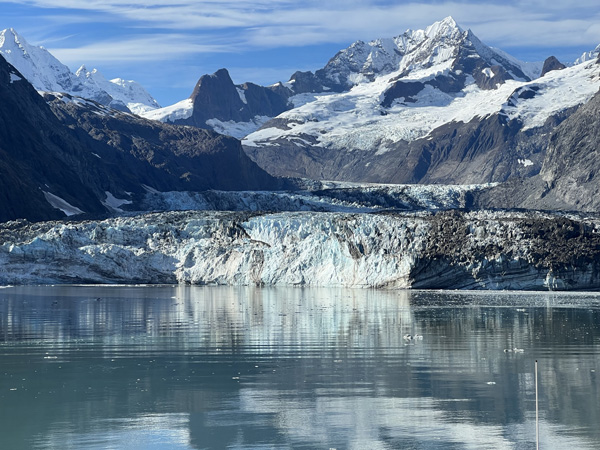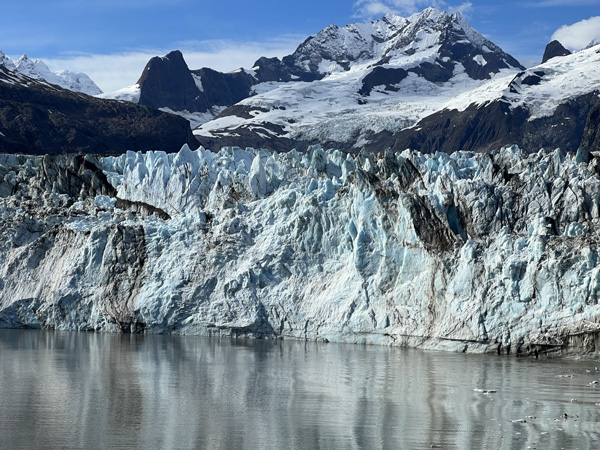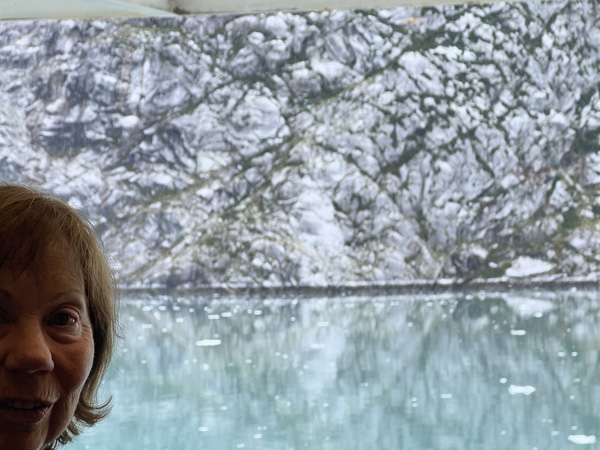 On the return leg, we cruised past Lamplugh Glacier ("Lamplugh the Blue"). The rest of the day was the southeast portion we didn't see in the night—scenic forested mountains, but no large glaciers. We skipped our naturalist describing glaciers, figuring that we know enough for now. At the International Café, I asked for coffees in to-go cups, but they were not allowed, presumably because of National Park Service "environmental regulations" for Glacier Bay.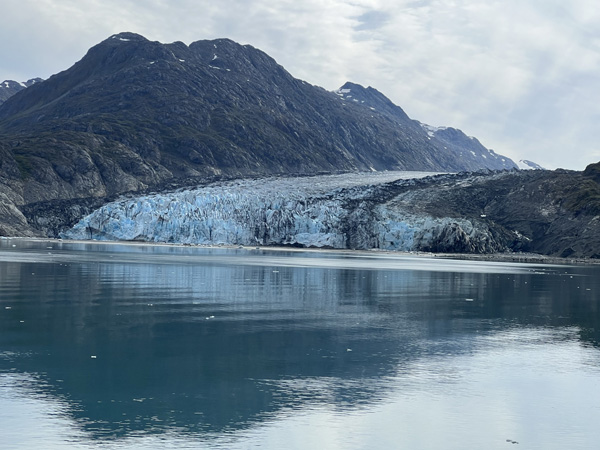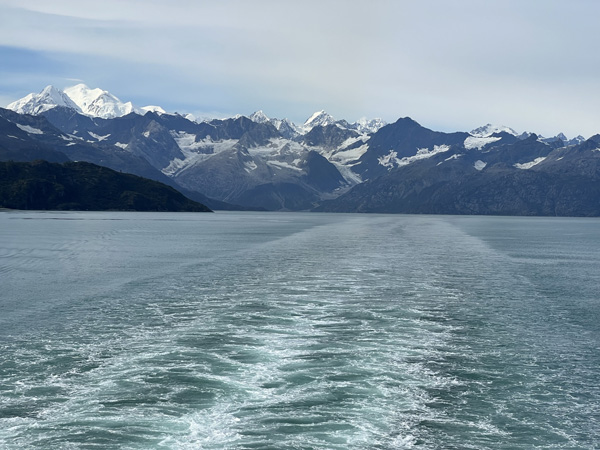 After dinner was the first large production show, Colors of the World, which was a mishmash of international music and, frankly, cultural appropriation as the libs would say. The backdrop was a gigantic LED screen and I think whoever put together the graphics extravaganza was on magic mushrooms. The cast did a good job. Afterward there was a 50s-60s music trivia contest. We got almost all the songs identified, but fell woefully short on the names of the artists; most of the groups were one-hit wonders.
Tuesday, September 13 — Ketchikan
We traveled over 300 miles in the night and arrived in Ketchikan at 8 am. This stop on Revillagigedo Island is our southernmost in Alaska. Continuing our lucky streak, the weather is beautiful, warm and sunny. We took an early Duck Boat tour. Unlike some we've enjoyed in the past, this did not appear to be a war surplus DUKW, but a modern knock-off. Our tour guide was very entertaining with about a joke a minute. We drove around town and then into the harbor to see fishing boat marinas and buildings jacked up on huge log pilings; the tide here varies twenty feet twice a day.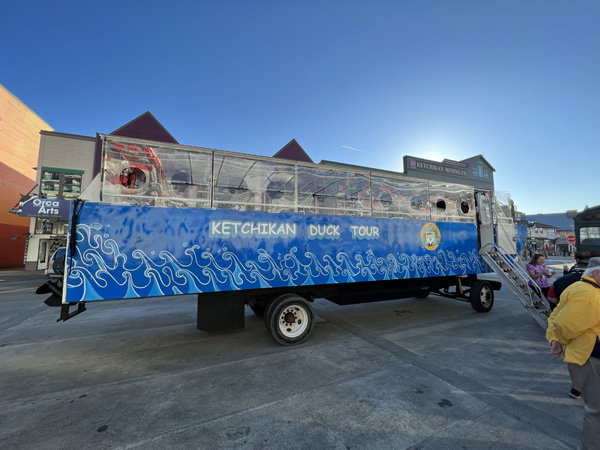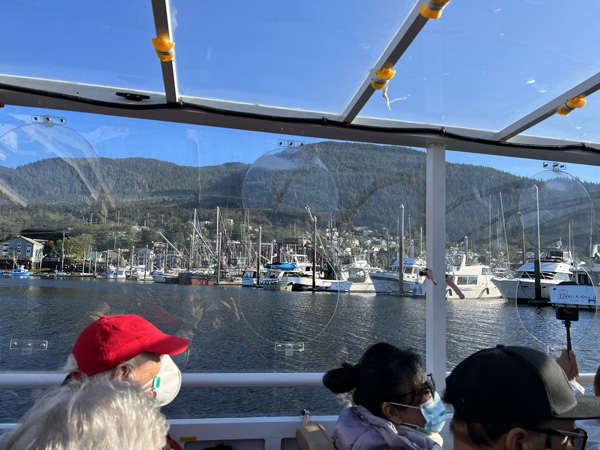 Then Nancy and I took a lengthy walk, starting at the touristy Creek Street, "where men and salmon both come to spawn " the site of Dolly's, the most famous whorehouse in town. We watched the poor salmon struggling mightily to get up the town's creek, through a strong waterfall and a fish ladder. Lots of dead bodies along the way. We reached the spawning ground and saw thousands of the stronger ones thrashing around in the very shallow creek, doing the fish hokey-pokey and then dying. No bears or eagles around this late in the season, although perhaps the former come out at night. Our tour guide told us she's had three bear encounters with her trash cans this month alone. (She said one of the bears' favorite targets is used diapers. Yum!)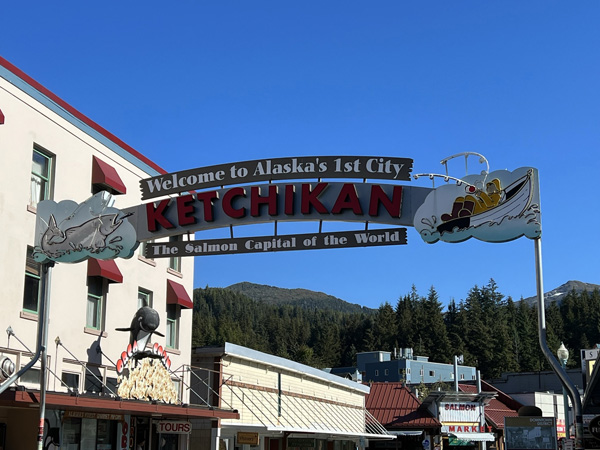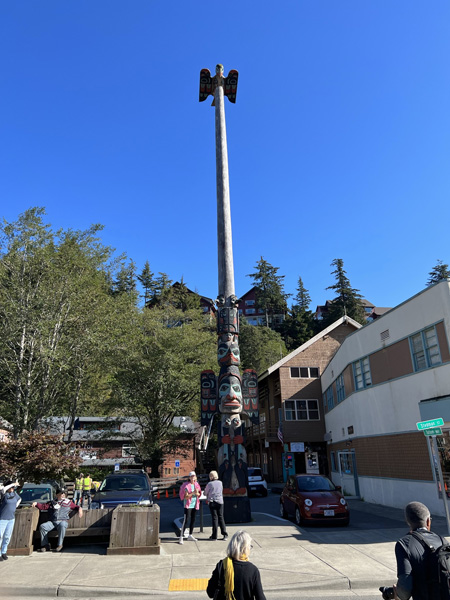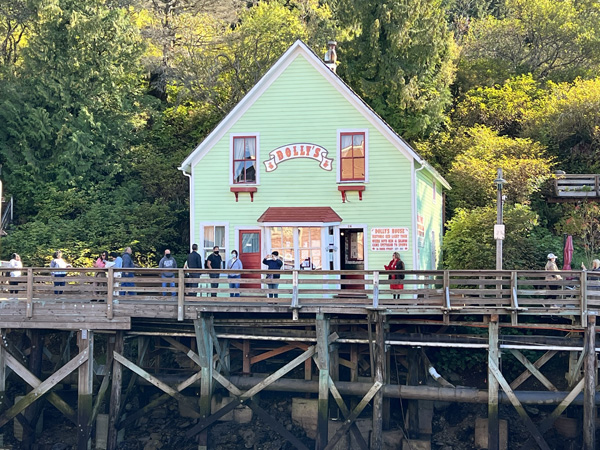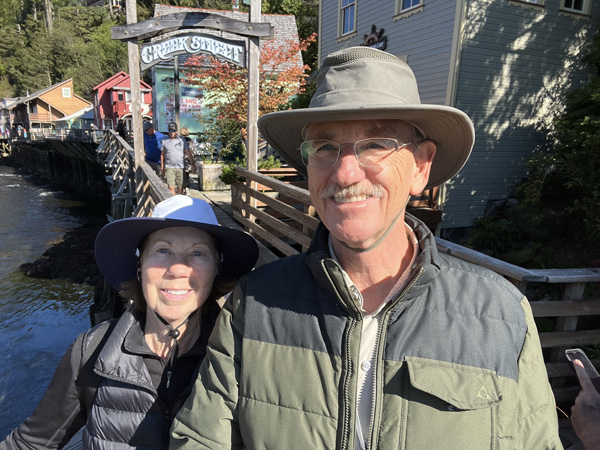 Lunch was at the Alaska Fish Company a few blocks from the ship, where we had delicious grilled fish "burgers," one salmon, one halibut, allegedly caught nearby. After an afternoon of leisure, we dined in one of the ship's specialty restaurants, Sabatini's, overlooking the aft of the ship. It's a multi course menu and we enjoyed the starters and early courses, but the pasta and mains (secundi) fell short. The show was a comic/magician named RJ Cantu. Moderately funny.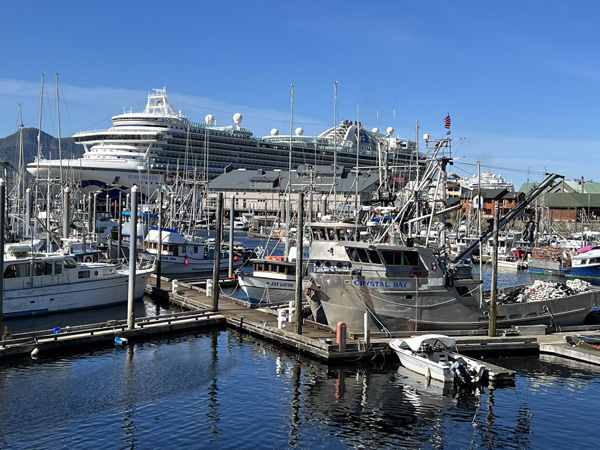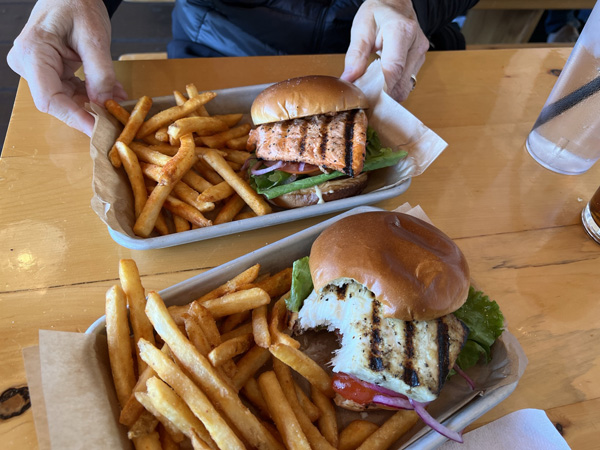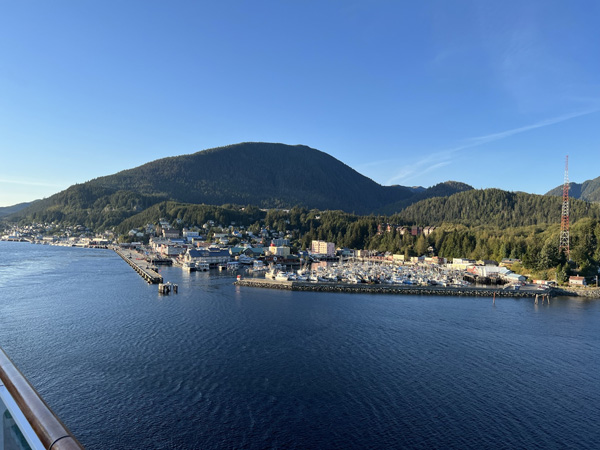 Wednesday, September 14 — Prince Rupert, BC
We awoke to foghorns and dense fog that didn't lift until about 10. We're back on Pacific time and visiting Canada for a day, the source of a lot of administrative hassles—Covid tests, special apps and QR codes. To my chagrin, after hearing constant pressure for the last two weeks to register with the Arrive Canada app, there was no one at the terminal to check our passports, vaccinations, tests, or QR code from the app.
Prince Rupert is a rather blah small town on Kaien Island, British Columbia. The only reason we stopped here is presumably because of the 1920 Jones Act, which requires at least one foreign port visit for foreign flagged ships stopping at multiple US ports. It is the deepest natural port in North America and is closet to Asian ports, so beaucoup western Canada agriculture goes through here. The big freight port facilities are away from downtown, so all we saw were some very busy crab boats in Cow Bay. They also call themselves the Halibut Capital of the World.
We didn't have any shore excursions booked—the ones offered were way expensive for what they promised—so we wandered. There is a tiny Japanese fishing boat that drifted here from PR's sister city, Owase, after its owner failed to return from a solo fishing trip. It was repaired and is on display in a small park. The Northern BC Museum was small, but had a number of interesting native craft items from the Coast Tsimshian tribe—garments, baskets, etc. We went into the local Walmart for curiosity's sake, to see how regular folks live north of the border. I was able to find Smarties candies, which used to be common in European airport shops, but I haven't seen them in years. Finally, the local visitor center had some interesting maps and videos that explained the shipping industry.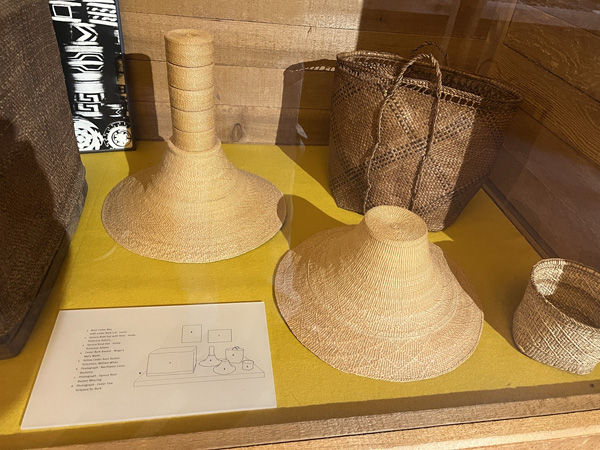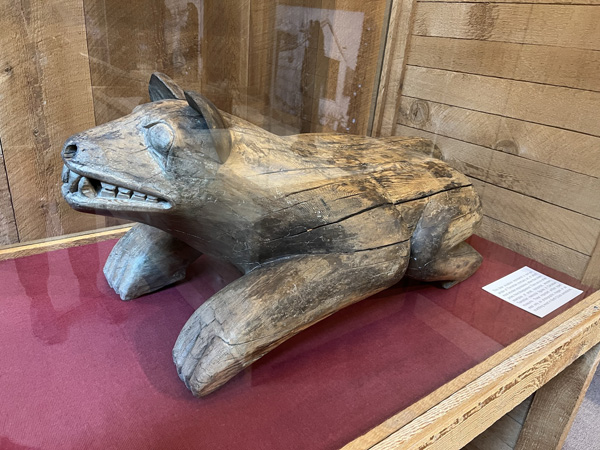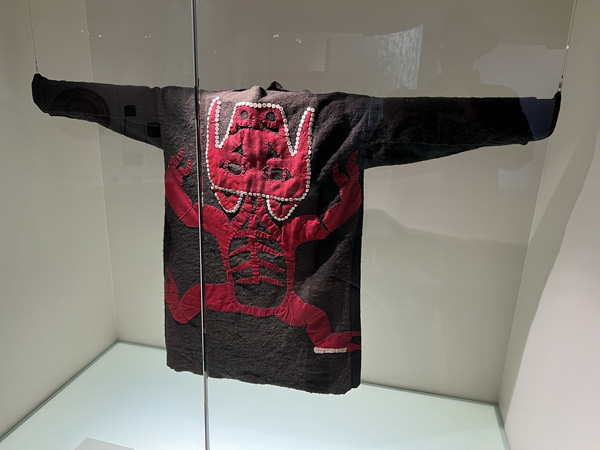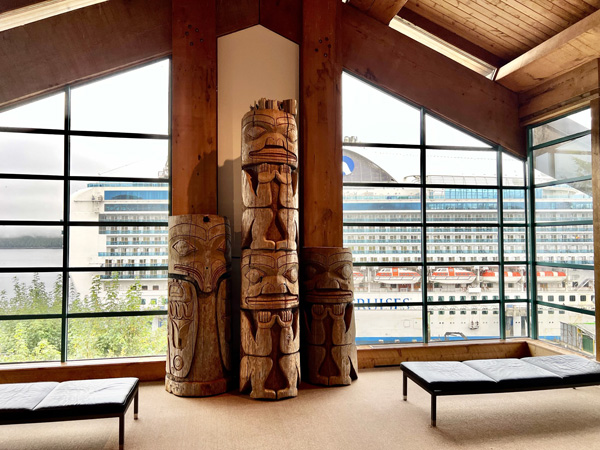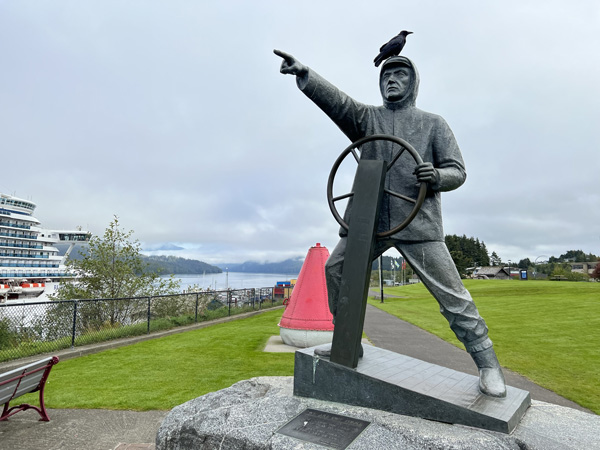 We ate lunch on the ship and relaxed for the afternoon. Departure was about 4 pm under sunny skies, which we watched from deck 17. A couple of hours later, just north of Stephens Island, Nancy spotted some water spouts and we saw humpback whales bubble-net feeding. Unfortunately, it was too far away to take useful photos or videos. Immediately after that the pilot boat rushed up and we disembarked the pilot, preceding to our turn south into open ocean.
I am starting to get sick—brief instance of sore throat, mild fever, and later a cough and runny nose. I am interpreting this as a mild seasonal cold rather than a more serious case of Covid, treating myself with Aleve and antihistamines. (But see Saturday, below.) I am not trotting down to the medical center to see what they think about it unless it gets noticeably worse. Because of this I'm masking more and avoiding shared tables in the dining room and the crowded theater. A general word about the Covid situation: the crew is fully masked, although some of the mask wearing is rather careless. About a quarter of the passengers are masked most of the time, heavily weighted to Asians, who are a relatively large percentage of the passengers. The Lido deck buffet is fully self serve. We haven't heard any announcements about Covid outbreaks.
Thursday, September 15 — At sea
We awoke with Vancouver Island off our port side, leaving us about 1000 miles to go by Saturday. It will be a quiet day in the cabin as I self-quarantine and recover from my cold. Nancy went to see the naturalist presentation but bailed out when she found the topic to be poetry. In the afternoon, she went to another Leo Rossi talk, this time about his work on The Beach Boys' 50th anniversary tour. After dinner she went to a show by a comedian, which she said was pretty funny. Tonight was one of two formal nights, but we didn't take advantage of that to preen in one of the fancy restaurants or attend a special captain's reception for frequent cruisers.
Friday, September 16 — At sea
A beautiful sunny day off the California coast (although not within sight of land), but I was still self-quarantined for the remainder of the trip, with sniffles turning into coughing. Nancy is coming down with similar symptoms, but not enough to keep her locked up. She saw the third Leo Rossi show, this time about his dealings with a number of famous female performers/divas.
We packed up Saturday night, but didn't put our bags in the hall because our disembarkation option was walk-off/roll-your-own.
Saturday, September 17 — San Francisco
We arrived at Pier 27 about 7 am. Despite being a major city, San Francisco is pretty dark before dawn, so watching us cruise in was not all that interesting. Since we selected the option to roll our own bags off the ship, we were out at 7:30, among the very earliest passengers; some other options offered departures as much as three hours later. It took about a half-hour to line up a Lyft ride, but we were home at 9 am. Nancy, who has been showing more and more symptoms similar to mine, decided to take a home Covid test and it was positive, and mine was positive as a well, so it turned out to be more than a cold. However, it was pretty mild and most of the negative symptoms started going away on Sunday.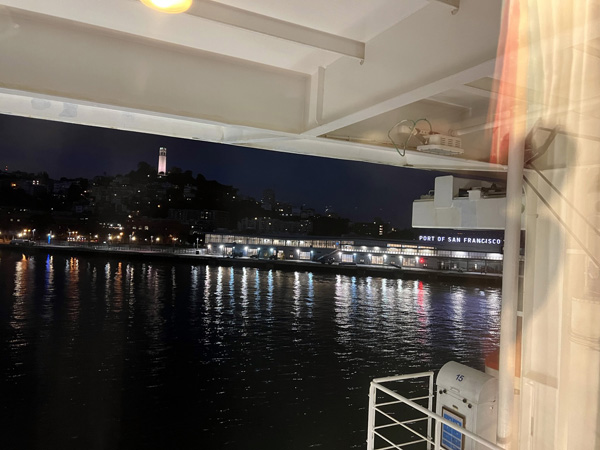 With the exception of our illnesses in the final third of the trip, and rather sluggish Wi-Fi, we had an excellent time on the Ruby Princess, and may look for other San Francisco cruises in the future.