Princess Alaska Cruise Tour, 2006
This is my travelogue of the cruise tour we took to Alaska on Princess Cruise line, on land and sea (Sapphire Princess). Nancy and I are veteran cruisers, so to speak, and this was our tenth cruise (fifth on Princess), which we arranged for our 30th wedding anniversary. Unlike my previous cruise reviews, I have decided to forgo the detailed descriptions of meals and wines consumed because I found that few were interested in them. Short description: we had a great time on both the land and sea portions of our two week vacation and I have reevaluated my reluctance to take any more Princess cruises because we were happy with the services, entertainment, and food onboard.
Sunday, July 30 — To Fairbanks
We flew on Alaska Airlines to Fairbanks through Seattle, arrangements made by the cruise line. This was a journey about equivalent to San Francisco to New York, via Chicago. At Fairbanks there was a very organized luggage and check-in process. In fact, virtually all of the logistics of this rather complicated trip proceeded like clockwork for the two weeks. Why did we select Princess? If you have read my previous review of our Southeast Asia cruise, you will see that I did not plan on rebooking with Princess because I felt that the quality of the meals and service had declined. However, doing some research on Alaska revealed that there are only two cruise lines that really specialize in the land-sea cruise tours and at the time that I booked, we had no experience with Holland America Line. And, Princess seemed to have an advantage in that it owned a series of lodges up and down the state, whereas HAL used different hotels.
We were essentially unfamiliar with the format of the land arrangements for these cruise tours. They are not truly like a cruise because you change hotels/lodges somewhat frequently and you are responsible for your own meals. But, all of your luggage transfers are arranged and Princess did an excellent job in providing hotel room keys and all essential tickets and paperwork long before you arrived at a lodge. (We have never taken a traditional bus tour—"seven cities in seven days"—but the experience is probably similar.)
The Princess Fairbanks "Lodge" was essentially an airport motel, comfortable but not too interesting. We had dinner in the hotel bar and it was unexceptional. We found that many of the staff members seemed to be college students and we worried about the state of the Republic, given their inarticulate, Valley-girl communication skills. We also worried about weather reports showing rain every day for a week.
Monday — Fairbanks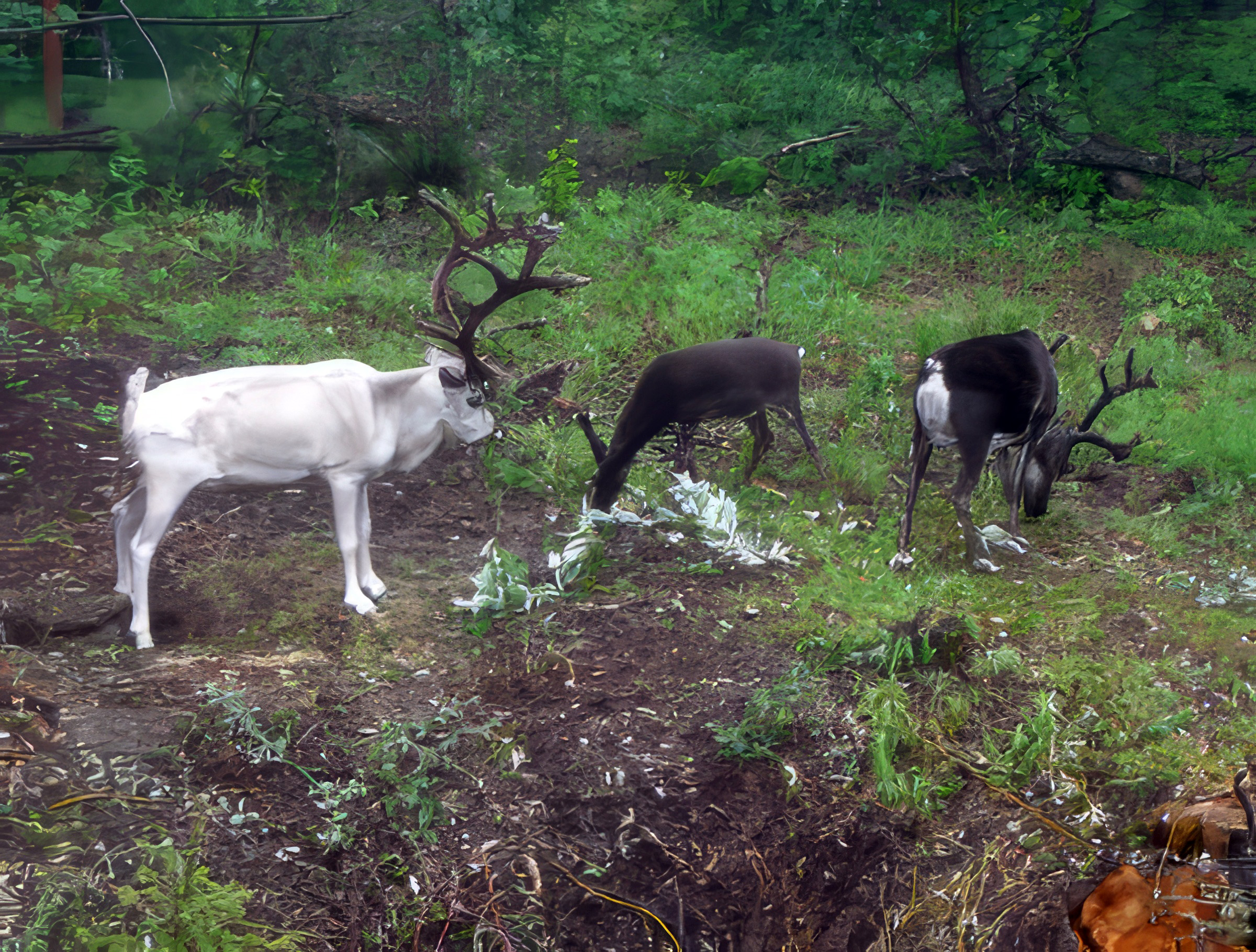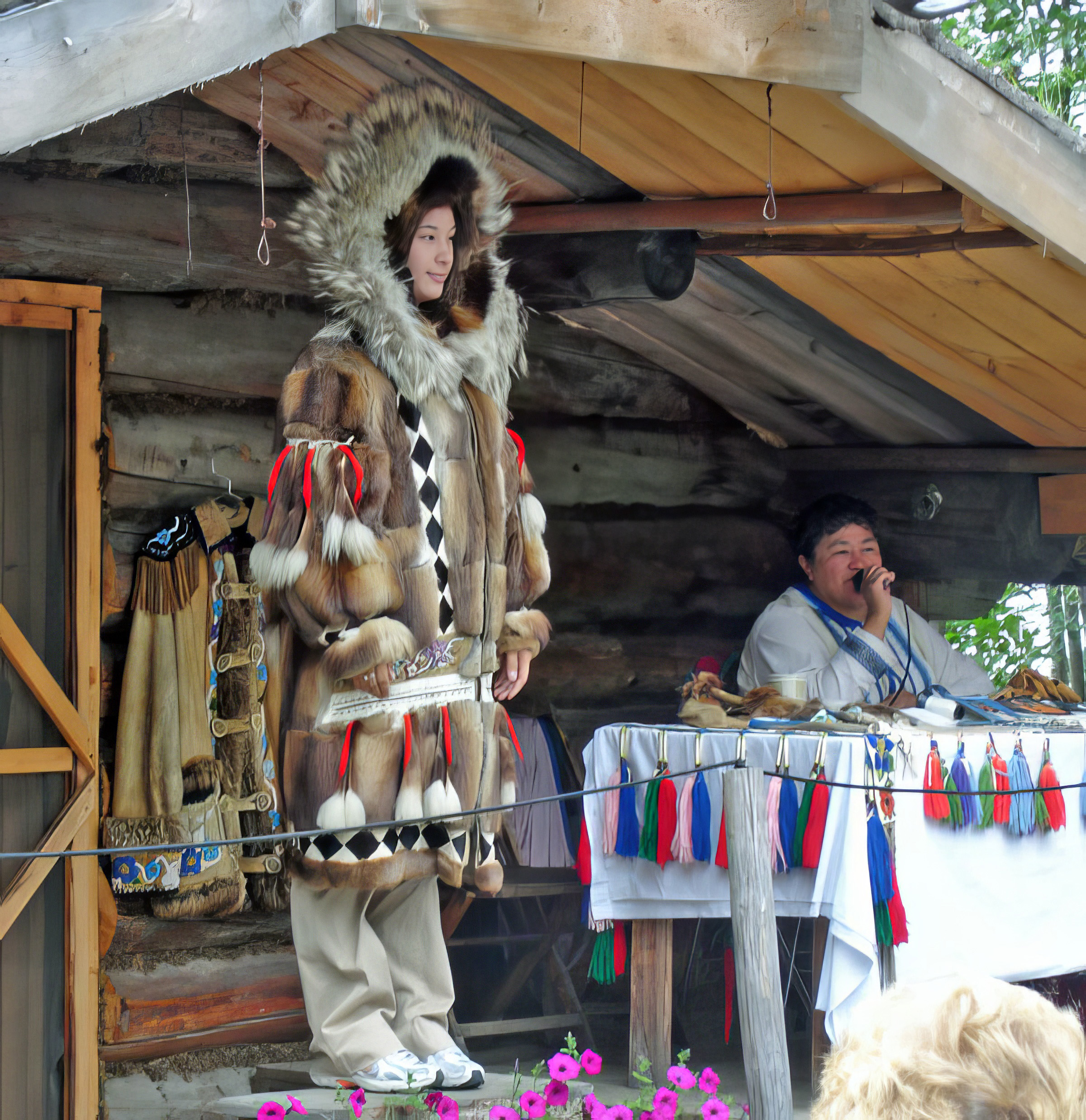 Our first day started with two tours that were included as part of the package. The Discovery Riverboat tour was a morning sternwheeler ride on the Chena and Nenana Rivers. The tour company is owned by the Binkley family, from which patriarch John is a current Republican primary candidate for governor. A heavy fog burned off by 10 a.m. The river was calm like glass, although it was opaque and gray from "glacial flour," the microscopic-grained silt that is created by glaciers grinding down rocks over the decades. There were plenty of nice homes on the banks, many log cabins, and many of those seem to have airplanes parked in front. We pulled up to Susan Butcher's dog training camp. She was a four-time Iditarod dog sled race winner; we were later saddened to hear that she succumbed to leukemia on August 8. We heard about life with the dogs and saw a team frantically and enthusiastically pulling an ATV on a dirt road at high speed. Some pilots gave demonstrations of their 1951 Piper Supercub airplanes in wheeled and float configurations. We saw them take off in about 150 feet on a 900 foot runway. We stopped by the summer camp of Dixie Alexander, a genial Athabascan Indian, who demonstrated a fish wheel salmon-catcher, and how to prepare salmon for smoking. On tiny Chena Island we visited an Indian camp with four stations: living conditions at 40°F below; Dixie Alexander's handiwork in creating parkas, one of which was commissioned for display at the Smithsonian; more sled dogs; and animal furs. At the latter, I was surprised to find that an ermine is the same animal as a weasel.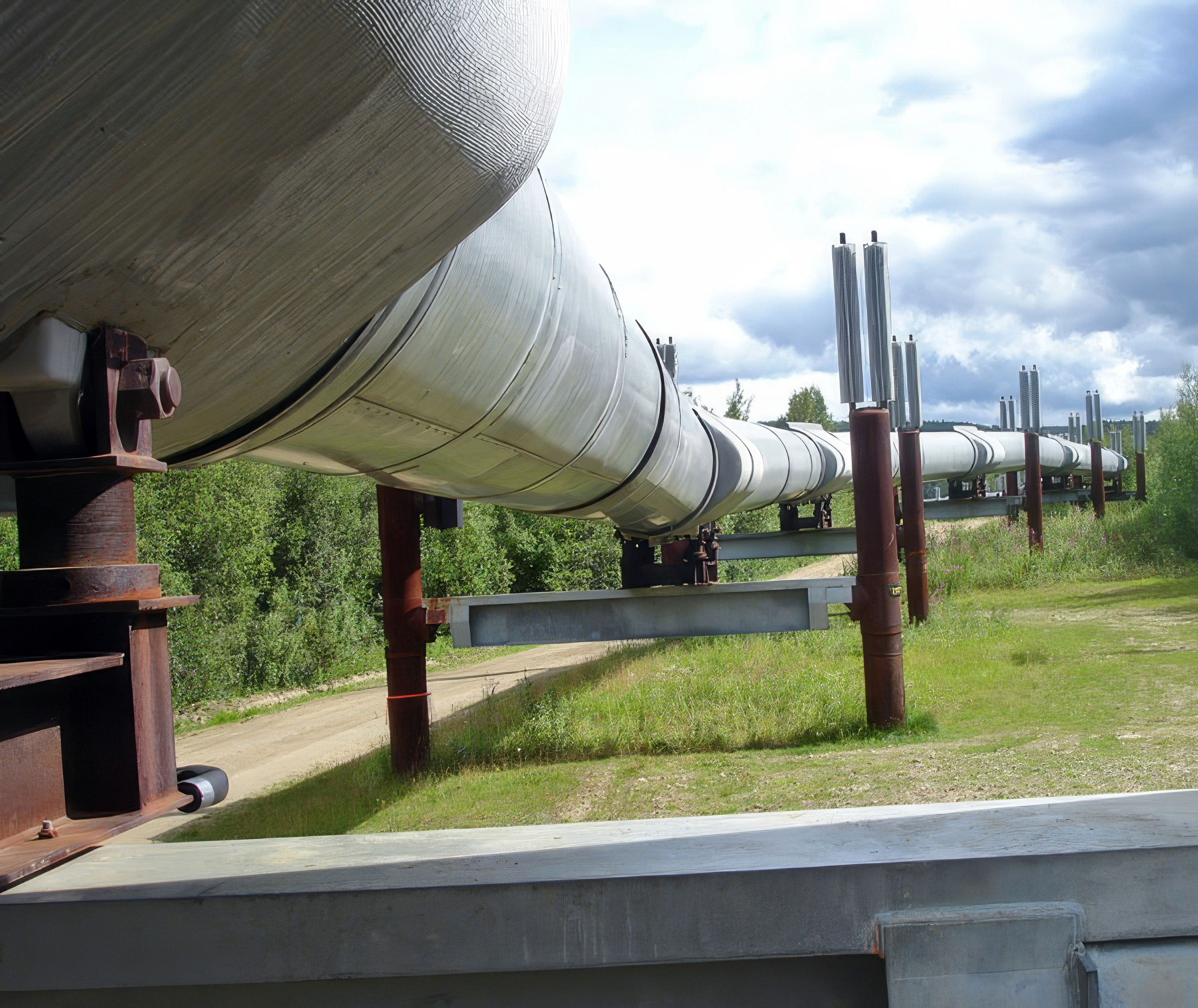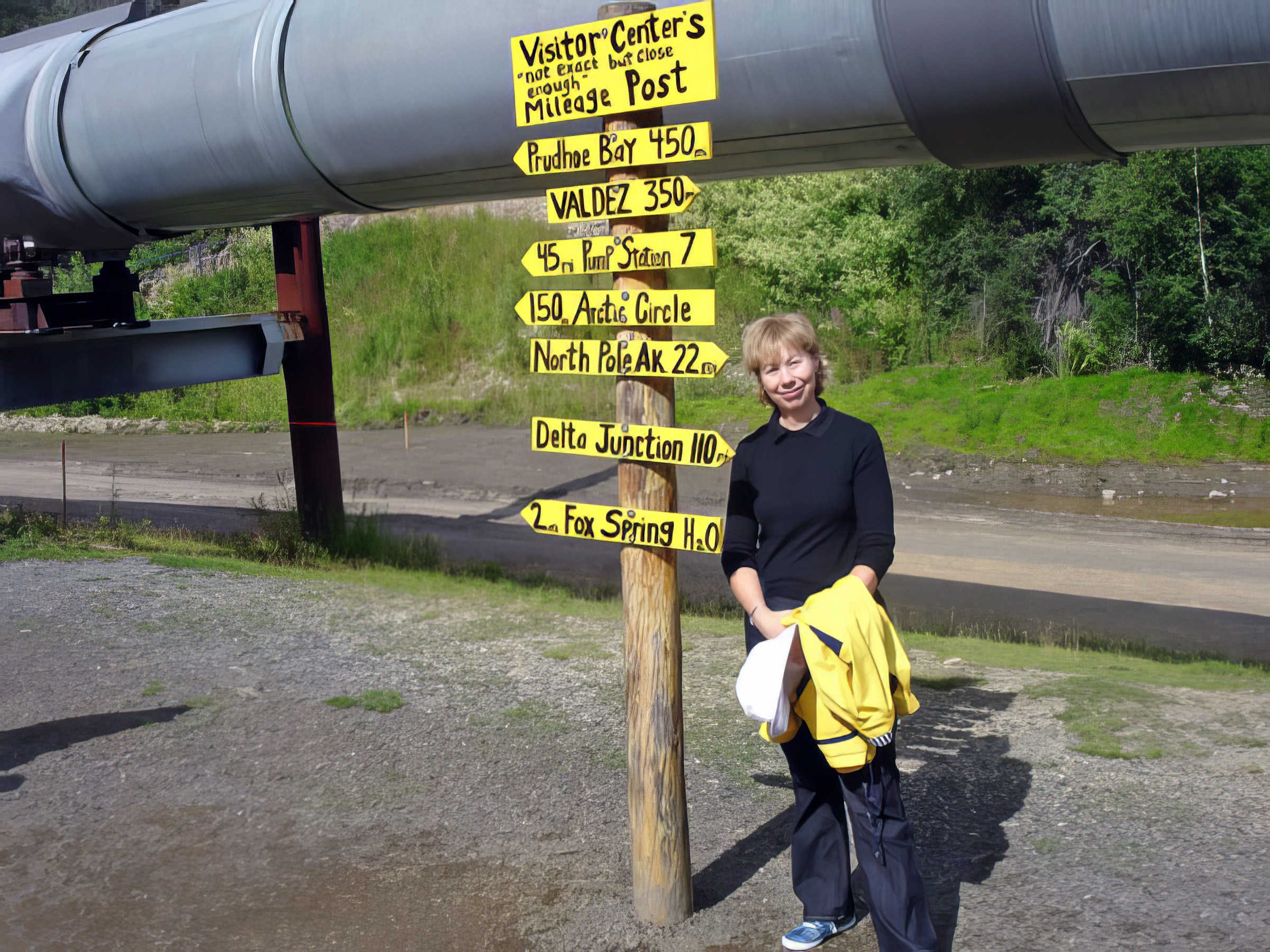 On the "City of Gold" tour that afternoon, we took a bus ride through the city of Fairbanks, which is the second largest city in Alaska, but has a population of only 25,000. The "metro area" has about 85,000, which makes it a little bigger than Redwood City. The temperature extremes are remarkable: Summers can reach 100°, winters routinely drop to -50°. Driving out of town, we stopped at the visitor center for the Alaska Pipeline, which goes from Prudhoe Bay to Valdez. The engineering was quite interesting. They had to take elaborate precautions to prevent leakage from earthquakes and to avoid damaging the permafrost. The main event of the afternoon was visiting the El Dorado gold mine. We saw an elaborate demonstration of a working mine, which culminated in a panning exercise that yielded a few tiny gold flakes. Nancy got about six, but suspected they were planted in the bags of dirt provided to us. It turns out that the mine is also owned by the Binkley family and the Disney consultants they hired made this a very professional performance in all aspects. They did force us to spend a bit too long in the gift shop, but that sort of goes with the territory on tours. Free coffee and cookies made this portion tolerable.
Dinner was at the hotel's nicer restaurant -- salmon on potato salad.
Tuesday — To Denali
We boarded the Alaska Railroad for the 117-mile trip to Denali National Park and Preserve. The railroad schedules passenger service from Fairbanks to Anchorage and back each day; the full trip is about 12 hours. Princess and Holland America both charter a number of fancy domed observation and dining cars for the trip. As luck would have it, Princess booked us into a HAL car on this leg because of overflow. The Princess format has tables for four in the observation area, whereas HAL uses seating reminiscent of an airline. (We actually preferred the latter.) In both cases, the dining is downstairs, using shifts because there are insufficient seats for all passengers to dine at once. All very comfortable, although rather bumpy. We had a nice breakfast in the dining room. The first part of the trip is relatively un-scenic, although we got to see the giant antimissile radars at a remote Air Force Base. But there was spectacular scenery in the final hour, approaching Denali through a steep canyon. The Princess Denali Lodge was picturesque and a lot nicer than the Fairbanks Lodge. It is the largest hotel in Alaska, with numerous small buildings. We happen to be assigned to the new building, Canyon Station, which was much more like a traditional hotel. It had a beautiful setting in a valley between huge peaks, just a couple of miles from the entrance to Denali National Park. We started with lunch at the Lodge's Lynx Creek Pizzeria; pretty decent.
We took a shuttle bus to the Park Service Visitor Center for a dog team demo. Larger dogs are used for patrolling the park in winter than we saw previously in the racing teams. (I was surprised to learn that Alaskan huskies do not look like the big hairy Siberian huskies we typically see in movies. They are smaller and sometimes look significantly different from each other. They are actually mutts, not a true breed.) We tried to pick up the back of a sled and found that they are hugely heavy. Five dogs raced around a gravel track pulling the sled and a ranger. Some dogs had a problem obsessively chewing rocks, so they had to be caged up, but the others were out chained to their little huts and pettable. The dogs are excessively enthusiastic about running and the ranger told us that sometimes the only way to get them to stop is by tipping over the sled and digging in a snow anchor.
For dinner, we went to the "Music of Denali" dinner theater, which also seemed to be included in the tour, although final judgment will have to wait until my credit card statement arrives. The family style barbecue food was simple and we watched a fun show with singing and dancing about the history of climbing Mount McKinley. (Although the National Park has been named Denali since 1980, the mountain is officially named after Senator, later President, William McKinley.) The music was forgettable, but well performed by enthusiastic actors, who were also the waiters.
Wednesday — Denali National Park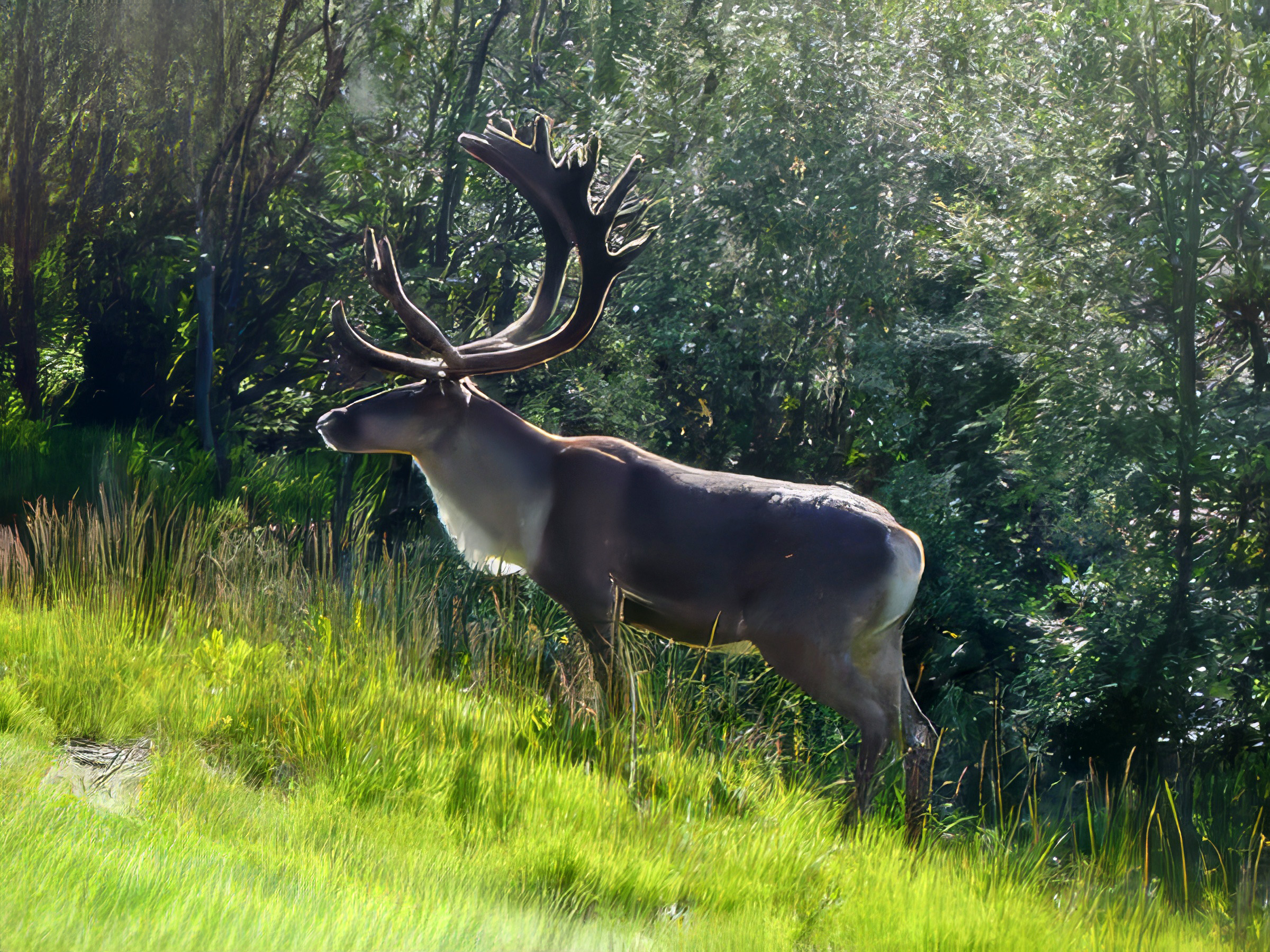 Another tour that was included in our package was the Natural History Tour at 7 a.m., driving 17 miles on the only road in any Alaska National Park. The park, at 6 million acres, is bigger than Vermont, so we saw only a tiny slice. We had beautiful weather, chilly but clear, Mount McKinley clearly visible and gorgeous from 80 miles away. Normally only 20% of visitors see it at all, we were told, so our tour guide, Mary Jane, was very enthusiastic. (I have a theory that tour guides deliberately make all previous tours sound dismal just for our benefit.) Surprisingly, Denali is not a big wildlife park. There are more moose within the Anchorage city limits, and only 300 bears. But we saw a caribou with magnificent antlers running across and down the road, next to our bus, and a female moose munching vegetation right off the road. We also saw Arctic ground squirrels, ptarmigans (the state bird), and hares. An Athabascan woman told about life in their villages, and she sang a native song. The chilly weather was cut by the hot chocolate we were served.
After lunch we hiked more than a mile down a steep slope to Horseshoe Lake and saw a large, impressive beaver dam.
Dinner was at the Summit Restaurant at the Lodge. I had my third portion of the salmon this week; excellent. Good inexpensive winelist.
Thursday — To McKinley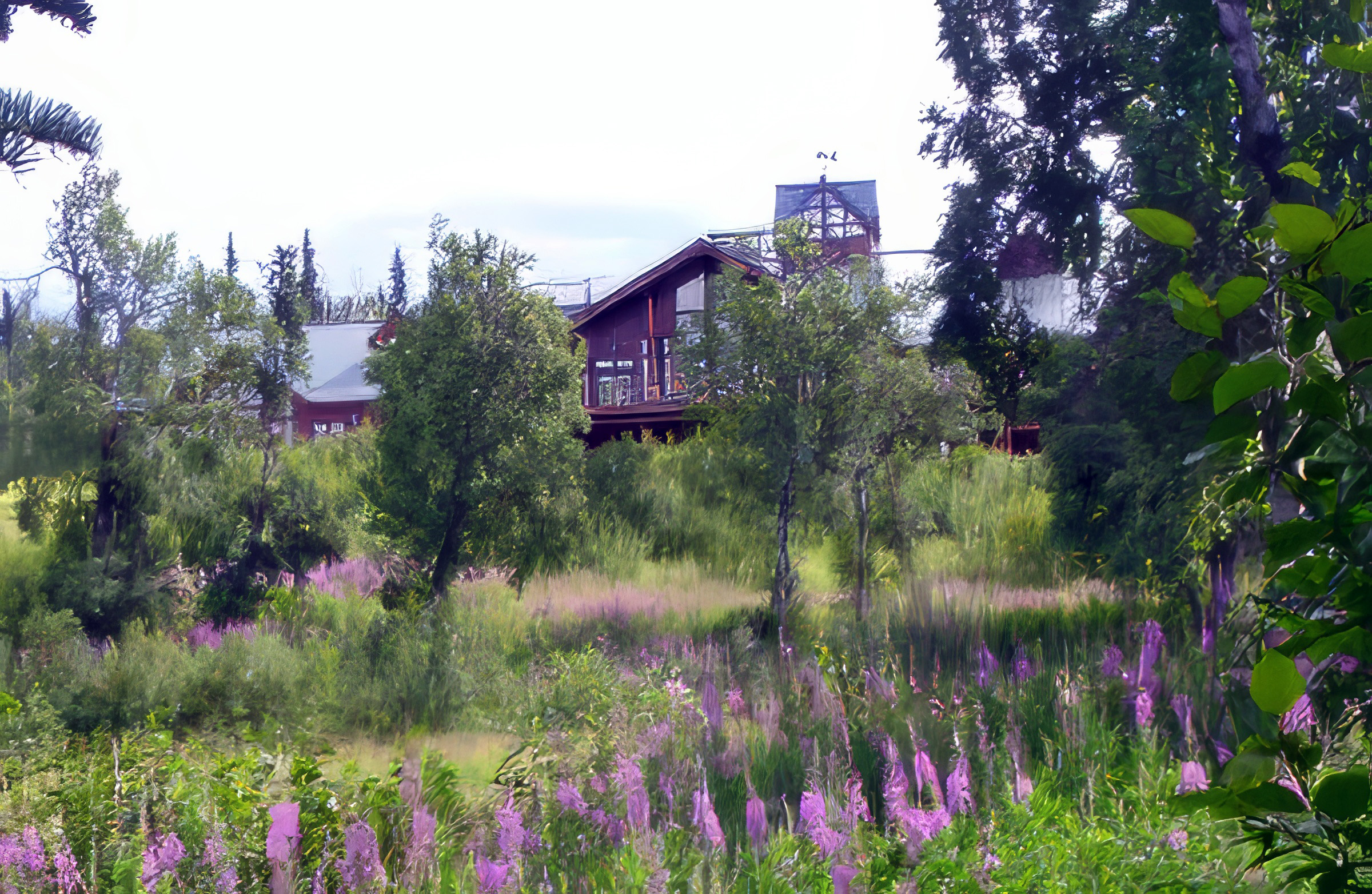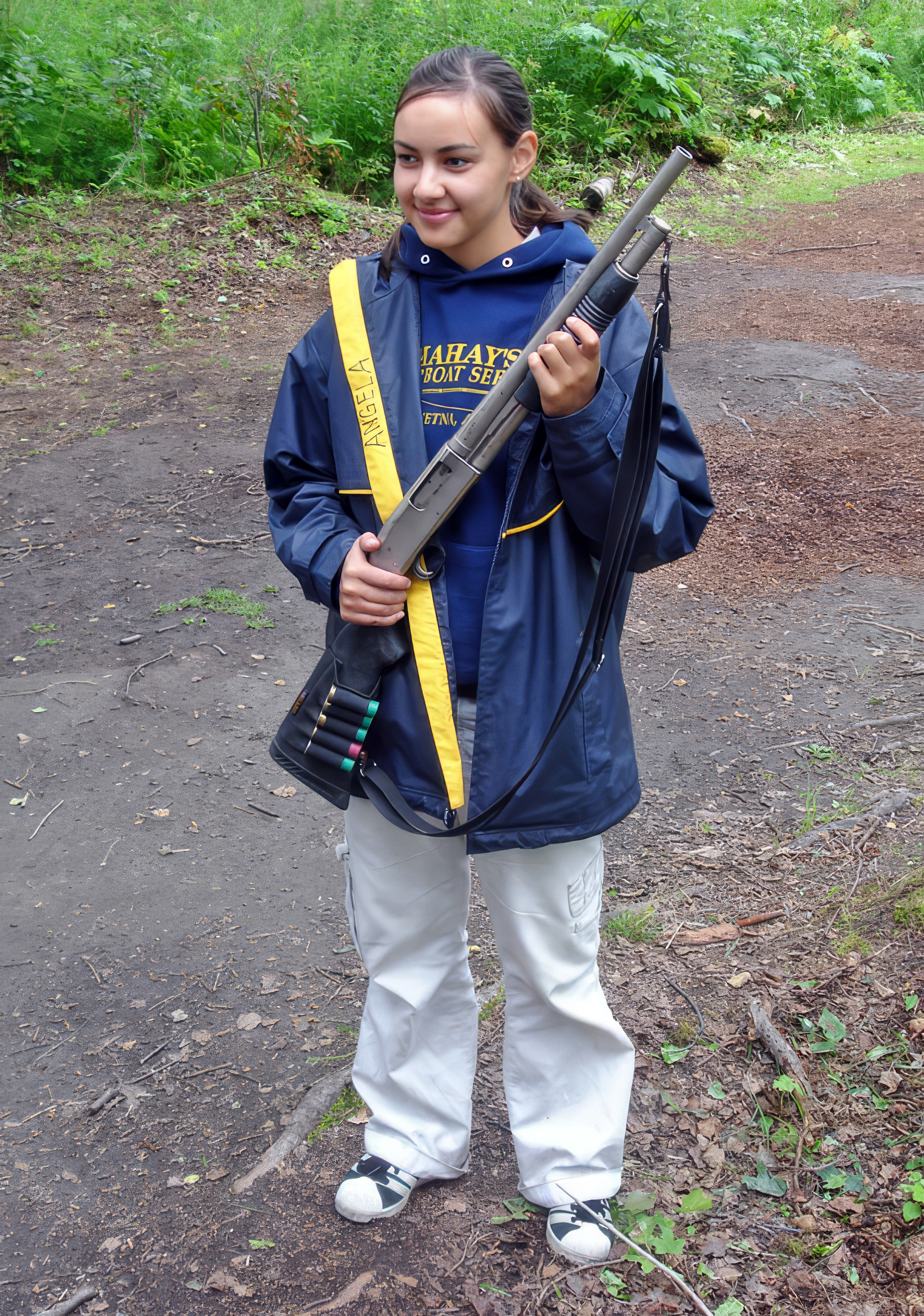 We had no excursions scheduled today, so we took an early shuttle to the Visitors' Center and saw the brief film, "Heart of Denali." Very nice bookstore. Back at the Lodge, we attended a multimedia presentation by a Mount McKinley climber. The mountain has a vertical rise of 18,000 feet, higher than any mountain; Everest, for example, is only 9000 feet above its base. The mountain is treacherous, with winds that can exceed 200 mph and temperatures down to -150°F.
After lunch we hopped on a bus for the 120 miles to the Princess Mount McKinley Lodge at the south end of Denali State Park. The weather was starting to get overcast, and the base of the mountain was visible for a few minutes only, effectively negating the value of this lodge for the day. At 35 miles away, it theoretically is the best view of Mount McKinley, but there is nothing else there. We walked a nice easy hiking trail overlooking the Chelitna River and attended a talk about salmon by a State park ranger. Dinner was at the casual Twenty320 restaurant (named after the height of the mountain in feet) and it was very good.
Friday — Denali State Park
We bused to Talkeetna, 50 miles away, a sleepy little town reminiscent of Cicely, in Northern Exposure. There were little restaurants, coffee shops, gift shops, and other advanced tourism. Our excursion was the Wilderness Jet Boat, a 55-passenger shallow draft boat that zoomed around and careened at high speed. We saw a bald eagle flying from its nest, and got a glimpse of a young bear. We visited a faux trapper village and saw a trapper shelter and a number of pelts. Our tour guide carried a shotgun in case of bear attack.
We boarded the train at Talkeetna for the remaining journey to Anchorage, this time in a Princess car. It featured not very interesting scenery, but dinner with a friendly couple we met kept our attention for the 3.5 hour trip. I had Jambalaya with sockeye salmon. The Captain Cook Hotel in downtown Anchorage was quite nice, but we saw very little of it or the town due to an arrival after 9 p.m.
Saturday, August 5 — Anchorage and Embarkation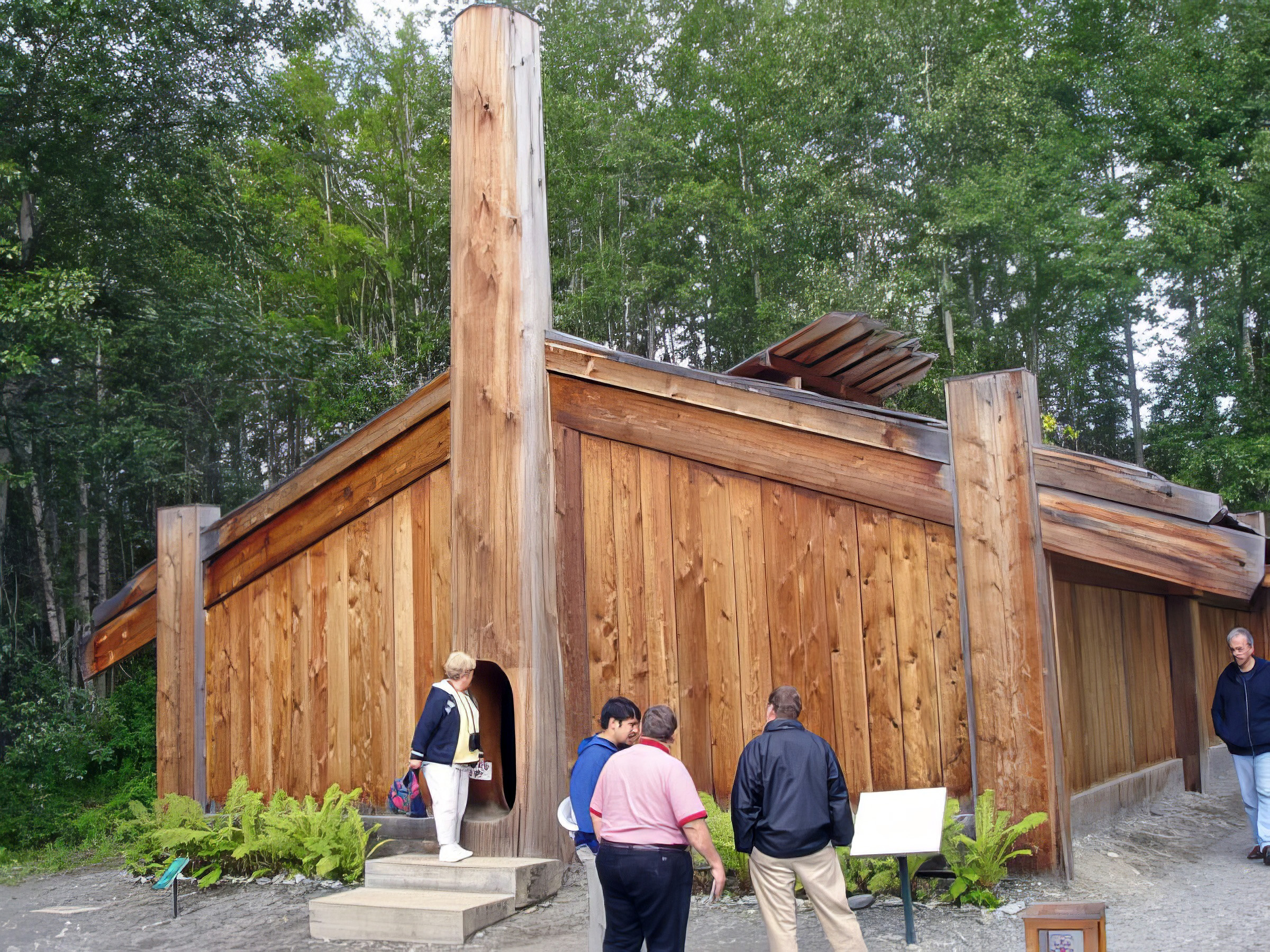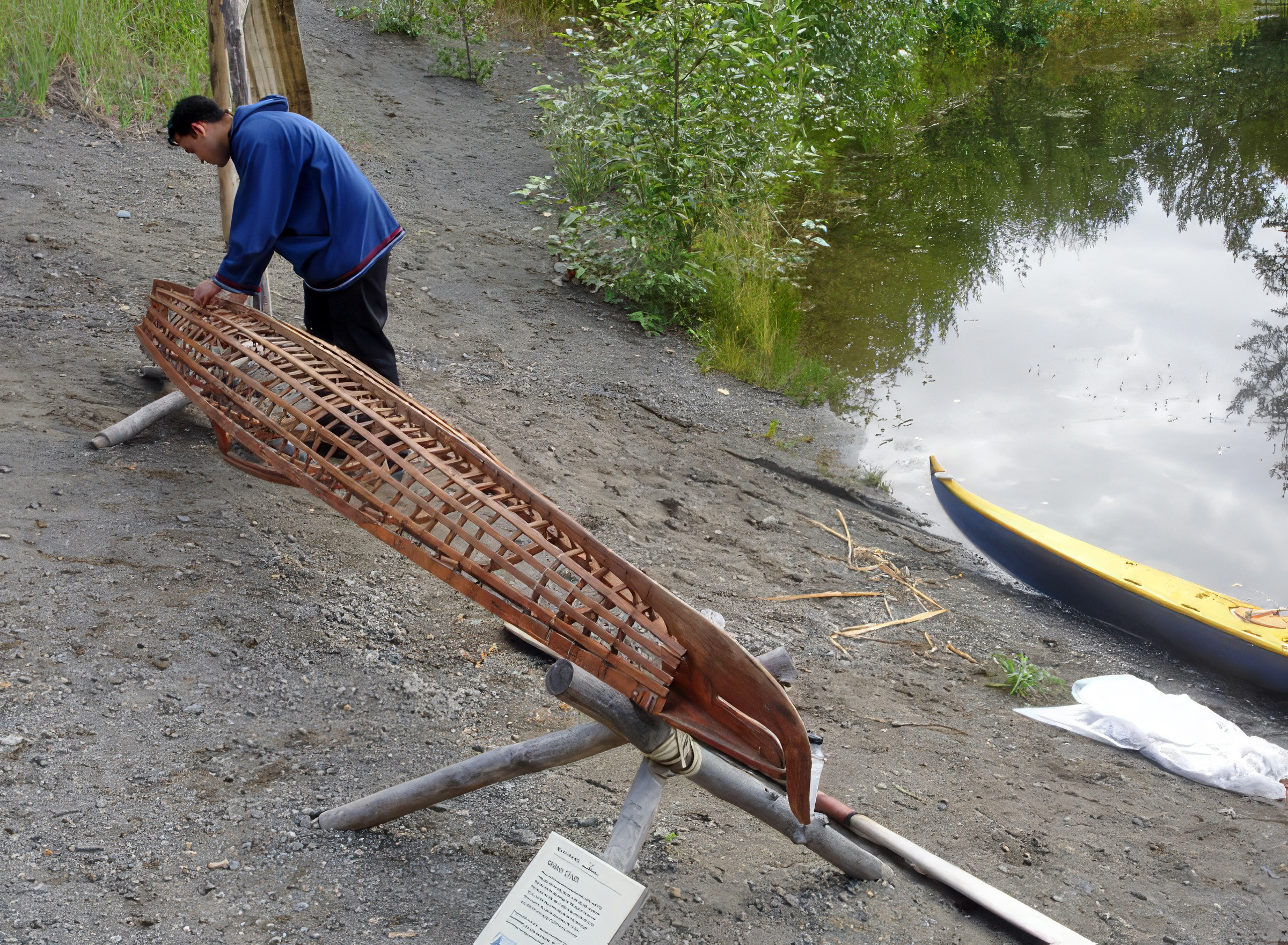 The hotel breakfast restaurant was overflowing and the buffet looked gnarly, so we went to the Snow City Cafe down the street. Nancy had the best oatmeal I've ever tasted. Our bus ride to Whittier had two stops: the Native Cultural Center, just outside of town, was actually more interesting than I had expected, with outdoor-living exhibits of all the cultures (tribes) and a movie about boat building; the Wildlife Conservation Center, with orphaned big-game animals, such as musk ox, bears, moose, bison, and caribou. The latter was unscheduled, according to our congenial driver. Along the highway we spotted a bald eagle, dall sheep (perched unbelievably high on tiny cliffs), a moose, and a bear cub. Beautiful drive along the Turnagain Arm (a channel through which Captain Cook thought he was finding the Northwest Passage, but had to turn around again). Just before we reached the ship, we had to wait our turn to enter the 2.5-mile tunnel, longest in North America, whose one lane was shared by buses, cars, and trains.
Check in for the ship at 2 p.m. was very efficient—no more than 10 minutes before we were on board. Sapphire Princess is huge, with over 2600 passengers and 1100 crew. The mini-suite we booked is the largest we've ever had in cruising, complemented by a large balcony. We wandered around in a daze through the many public areas. There were lots of buffet lunch choices; we had a decent thin-crust pizza at a poolside bar.
We didn't bother visiting Whittier, a desolate World War II port noted for its isolation and 90% cloud cover. Dinner was at the Pacific Moon dining room. (The ship has five dining rooms. The "International" is where the fixed-seating guests eat. Four other rooms have differently themed decor and one specialty menu item beyond the standard menu, and that's where we "Anytime Dining" people can select their own times. There are also two premium dining rooms with surcharges. It is possible to make reservations at these restaurants three days in advance and we never had any difficulty getting what we wanted.) We saw the introductory show in the Princess Theater, singing/dancing and a "standup ventriloquist" who was pretty lame. Late departure was even later than planned (11 p.m.) due to a late-arriving flight with 42 passengers. (We later met some of them and the cruise representatives had been so anxious to get them to the ship that they won't get their luggage until Skagway on Tuesday.)
Sunday — College Fjord
Hidden in the Princess Patter nightly schedule was the fact that we would reach College Fjord at 6 a.m. and spend less than three hours there, so we couldn't sleep in. It is a small inlet in northern Prince William Sound, very close to Whittier. The glaciers were named during the Harriman Expedition of 1899 after eastern universities, segregated by male versus female (now coed). The biggest one we saw was Harvard, impressive but dirty. Sailing out through Prince William Sound showed no effects of the famous Exxon Valdez oil spill. The weather was nice with broken sun, but much colder than expected. We dressed for the forecasts we had read—highs around 70, lows mid-50s. It was 45 this morning and felt really cold in the wind. We quickly made a trip to the gift shop for a fleecy jacket, wool hat, and gloves, feeling like chumps since we had left all those things at home. We also bought a very informative book ($20) that described our route and all the stops. There was an hour-long slideshow by naturalist "Pat" on glaciers and whales. We lunched in the International Dining Room, seated with six others. It was a decent multicourse meal, but a bit more time than we normally want to spend.
We just relaxed in the afternoon, getting ready for a busy evening. Dinner was at the Savoy Dining Room, at which we were seated next to a nice couple celebrating their 35th anniversary. They live 10 miles from the Shiloh battlefield, although they seemed to have little interest in Civil War topics, so I simply had to imagine the interesting conversations I might have had. (come to think of it, a couple at the Denali dinner theater lived near Vicksburg and they didn't have any Civil War knowledge either). The big song and dance show at the Princess Theater was "Undercover," about TV and movie spies and private eyes, and was really very good, probably the best I've seen afloat. We stopped in one of the many giant lounges for big band music, but then went to another lounge for a show by a comedy juggler, who was very funny and charismatic. Aside: due to the casual nature of Alaska and the problem of packing sensibly, this was the first cruise in which I did not bring my tuxedo for the two formal nights, opting for a dark suit instead. I fit right in—I estimate fewer than 20% of the men wore tuxedos and that number declined on the second formal night.
Monday — Glacier Bay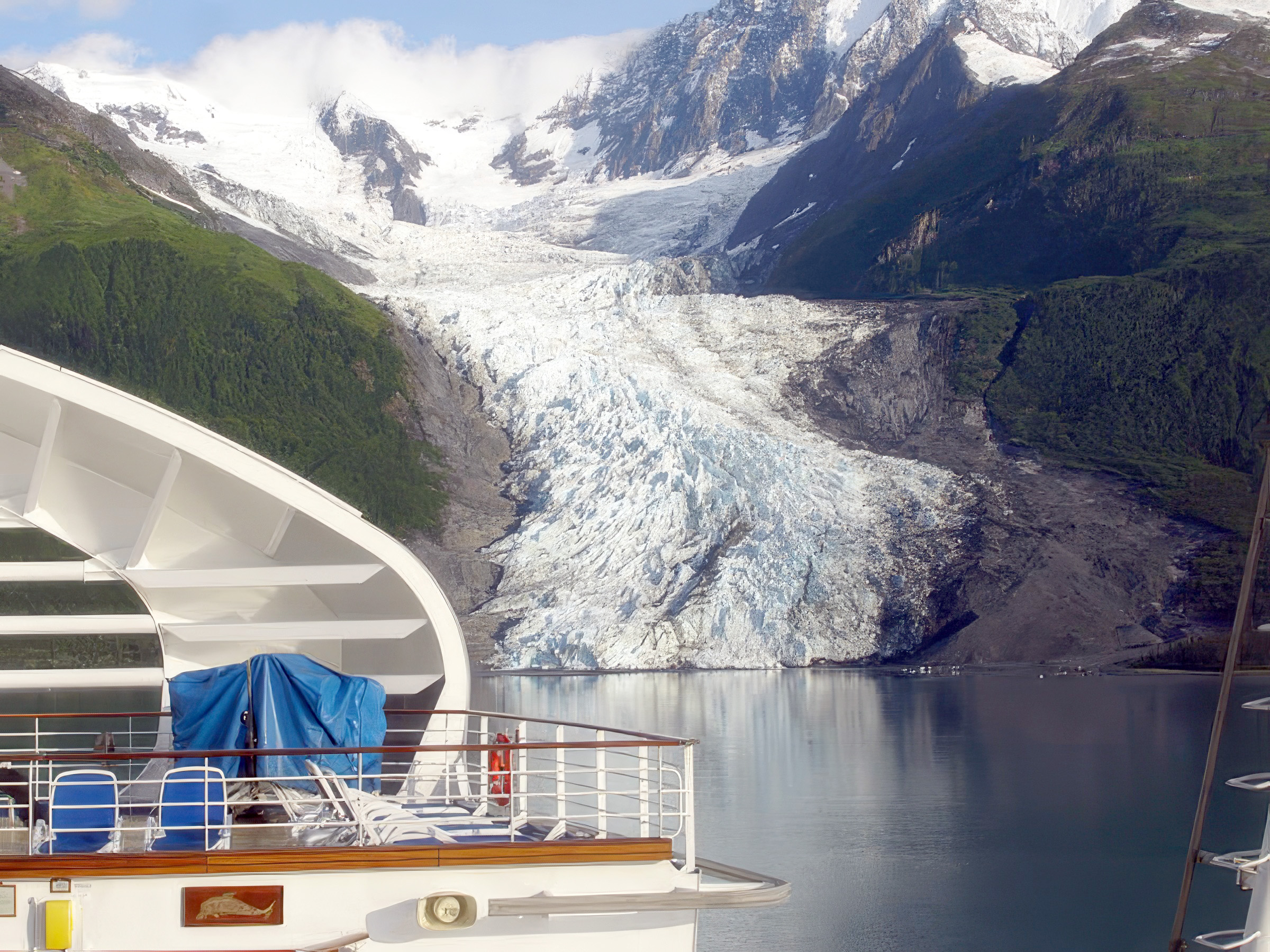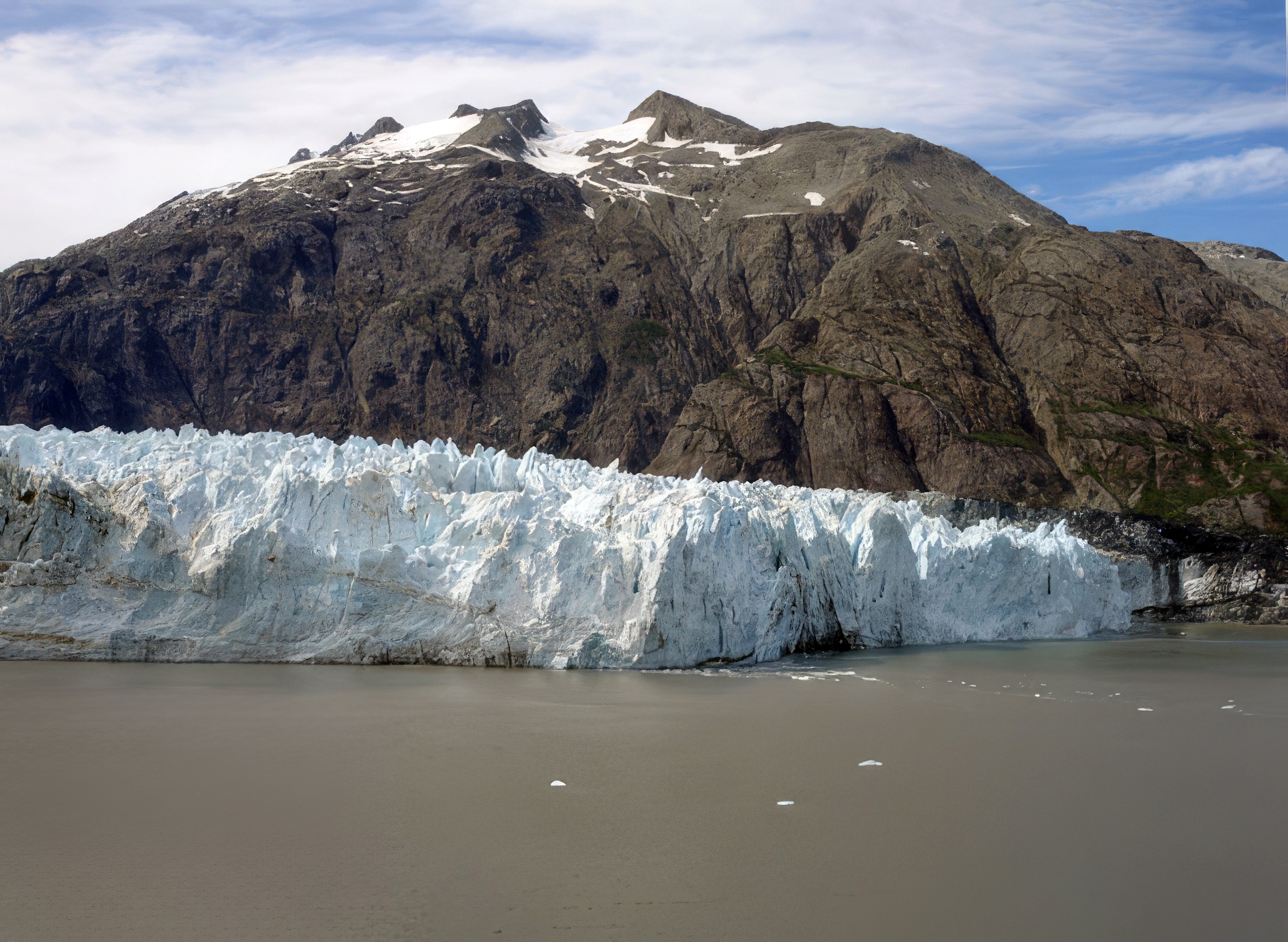 Our 30th Anniversary! Our stateroom entrance was decorated with balloons by our friendly steward, Angostinho. (Nancy started referring to him as Langoustine and it was difficult to shake that habit.) We awoke to beautiful, sunny weather for Glacier Bay National Park. (A park rangerette told us that this was the first nonrainy day in two weeks! Three rangerettes came up our rope ladder and spent the day with us, giving speeches on the PA system.) The bay/fjord is not quite what I expected, being mostly green-forested with only a handful of glaciers, but was quite impressive nonetheless. We inched up very close to Margerie Glacier, which was half jet black and half brilliant blue-white, and watched for almost an hour, hoping to see some calving. We did see some, but the falling pieces were very small. The sound of the ice striking the water was reminiscent of thunder. The Grand Pacific Glacier, largest of all, was like a big river of mud in appearance. We also saw Lamplugh, Johns Hopkins, and Reid Glaciers. The glaciers have receded quite dramatically since 1794, when George Vancouver came through and found the entire bay was deeply covered in ice, and 1879, when John Muir explored. And it was nice to hear none of the usual handwringing about global warming. It turns out that seismic activity had a good deal of the responsibility for breaking up the glaciers. (And at least two of the glaciers here are actually advancing. They really don't know what causes this activity and are willing to admit that.)
Dinner at Sabatini's, the premium ($20pp) Italian restaurant. This was an excellent, many-course meal that was like a tasting menu. You chose the main course ("Secundo") and all the rest was served in tiny portions. Probably a dozen appetizers, three pastas, soup, salad, three desserts, plus a nice anniversary chocolate mousse cake, which we had delivered to our cabin's tiny refrigerator for later in the week.
Tuesday — Skagway
We awoke in Skagway to drizzle and three other giant cruise ships tied up. None was a big as Sapphire, but still overwhelming to a tiny port. (By the time we reached Ketchikan, there were four other giant ships accompanying us.)
The Eagle Preserve Wildlife River Adventure shore excursion was a 45 minute ferry ride to Haines, and a 30 minute bus ride to the state Eagle Preserve. We had a nummy meal of hot dogs that we cooked on a barbecue ourselves, then an hour tour in an open boat, 20mph in driving rain. They provided waterproof blankets, hats, and gloves, but it was really a miserable experience, cold with rain-smeared glasses. There was no opportunity to photograph in that weather. We did get to see two eagles, three nests, two trumpeter swans, and a moose with two calves. We got our timing mixed up and didn't visit the town, a hotbed of jewelry and T-shirt shops. We met a couple at dinner who enjoyed the Yukon and White Pass Railroad excursion they took.
Sterling Steakhouse for dinner, the other premium restaurant ($15pp), oddly carved out of part of the Horizon buffet on the Lido deck. Nice steaks, but way too much food. We skipped the clam chowder in a bread bowl and caesar salad and still filled up. The entertainment in the Princess Theater was a Las Vegas style singer, Donnie Abraham, who sang well, but was exceedingly schmaltzy.
Wednesday — Juneau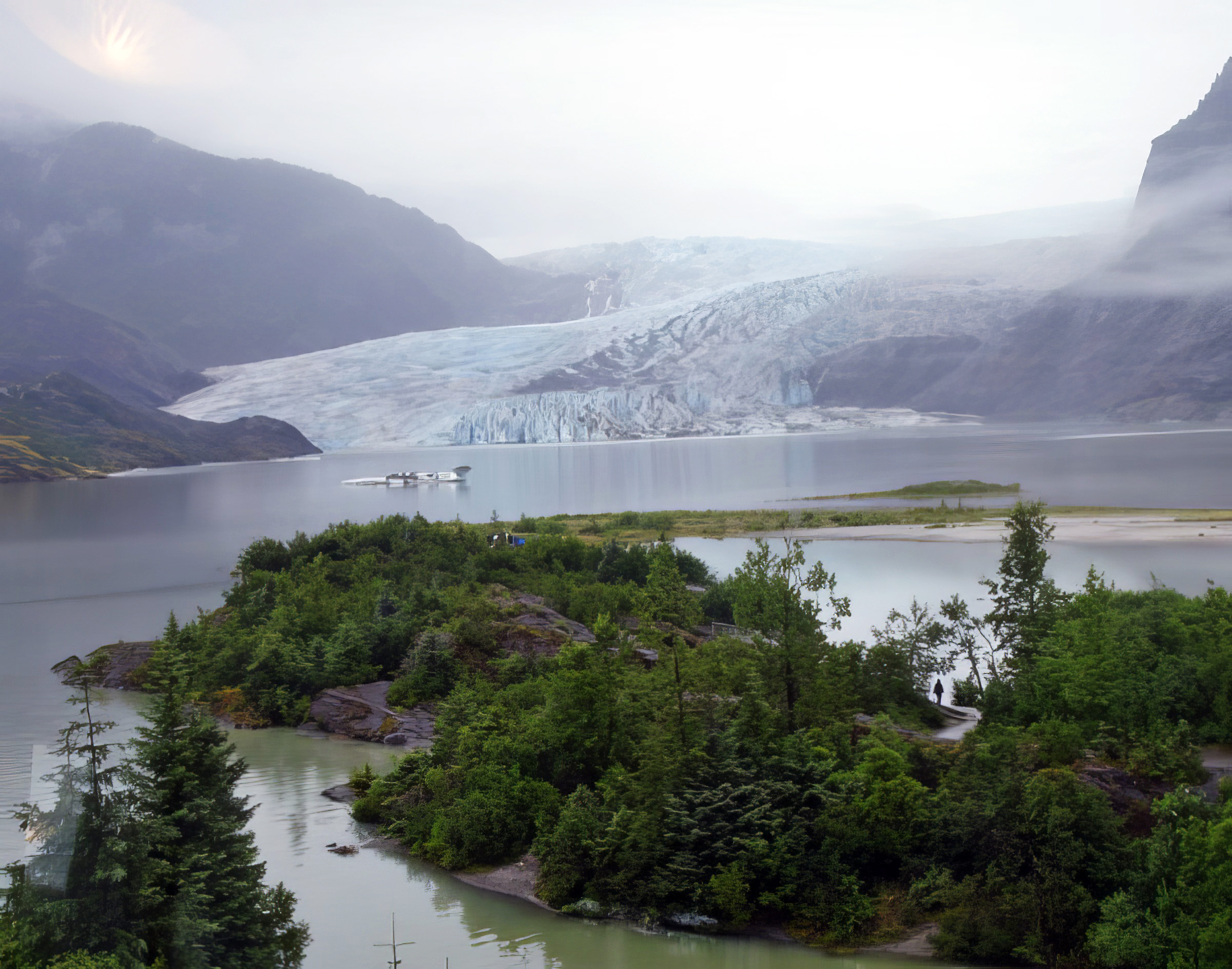 Another rainy morning. We had an early departure for the "Mendenhall Glacier and Whale Quest." We rode a bus to a catamaran and had a 2+ hour tour. The rain stopped and we saw numerous humpback whales—about 40 tons and 50 feet long, although they don't look that big from the portion you can see above the surface. Breaching is rare in Alaska, we read. Also eagles, sea lions, and harbor seals. Then a short bus ride up to Mendenhall. The glacier was beautiful, although drizzling weather prevented good photos. The nature trail led us around streams jumping with salmon. Black bears were supposedly in the area, but we didn't see any. Back on the ship, we attended an interesting slide show with Libby Riddles, the first woman winner of the Iditarod race (1985). And another slide show with our naturalist, Pat, about brown bears.
Dinner in the Santa Fe dining room. The specialty dish here was fajitas, but I just didn't trust this crew of Eastern European waiters to understand Mexican food, so had a delicious fresh halibut instead. Garry Carson, a Las Vegas magician/comedian, was very funny and inventive. The song-and-dance "Piano Man" show was pretty good in the Elton John and Billy Joel segments, less successful in Barry Manilow and Neil Sedaka, downright surreal in Liberace.
Thursday — Ketchikan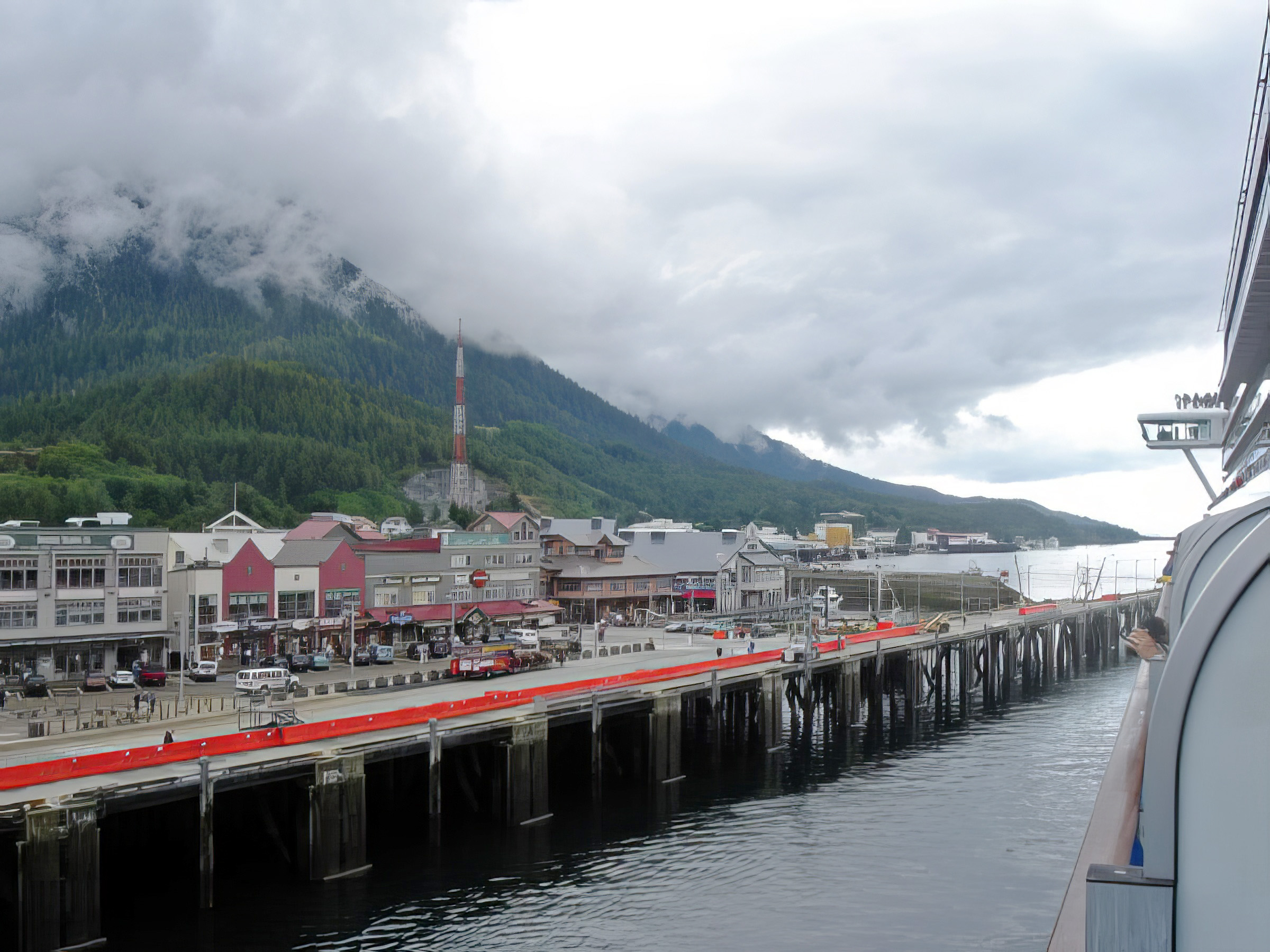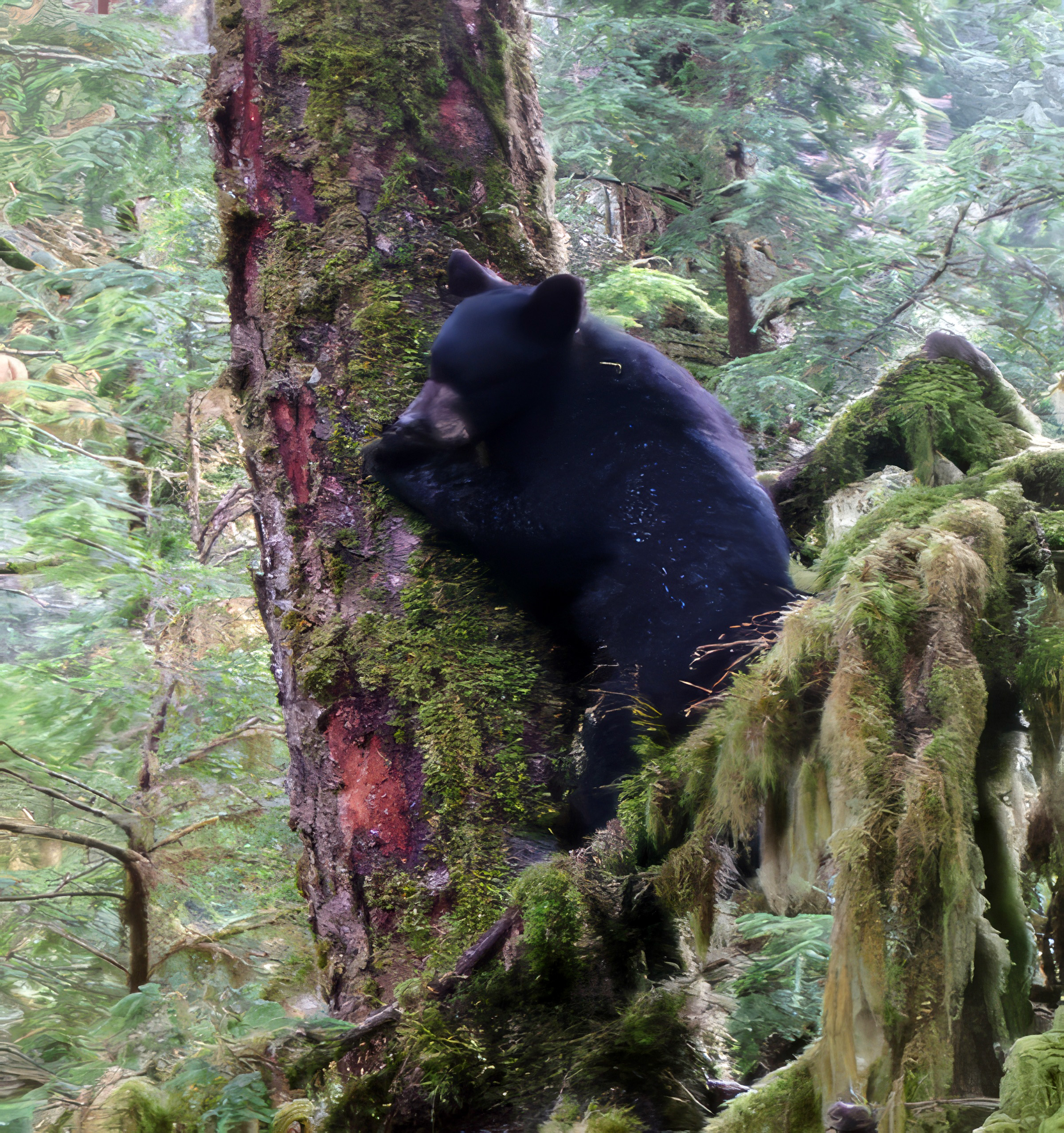 Finally some good weather. It started off heavily overcast, but cleared by afternoon. Ketchikan is a delightful little town, very prosperous because of fishing, but also tourism. We took the "Rain Forest Wildlife Sanctuary" tour, which was a walk through the woods on a prepared path and a boardwalk. A bit too much about lichen for my taste, but we got to see a black bear cub in a tree just off the path, which made our tour guide nervous because Momma might have been nearby. We also saw lots of salmon and bald eagles. No moose in this region, we were told. At the end of the walk we got to feed some reindeer, walk through an abandoned sawmill, and talk to some modern totem pole carvers. (They get from $500 to $3500 per foot, depending on how fancy the job is supposed to be.) We returned to town and walked around through the heavy tourist district and had the best fish and chips I've ever had--both halibut and salmon. We walked on Creek Street, a pier over a salmon creek, which used to be the red light district "where men and salmon both come to spawn." And we watched a show of lumberjack competitions: sawing, axing, pole climbing, log rolling. All a lot of fun.
So we said goodbye to our last port of call in Alaska. Discounting some drizzly weather on two days, it was a great place to visit, with fantastic scenery and really friendly people. I am surprised to say that I never saw one mosquito in almost two weeks.
Back on the ship, it was the second formal night. (The other five nights are called "smart casual" and there were, unfortunately, a number of jokes I could have made about the interpretation of that term.) We attended a cocktail party for Captain's Circle repeat-sailors and had dinner at the Vivaldi restaurant. The Princess Theater was re-running Piano Man, so we went to the Explorers Lounge and saw a very funny standup comedian, whose name now escapes me.
Friday — Inside Passage
Our final day was at sea, traversing the beautiful Inside Passage toward Vancouver. In many places we were only a few hundred yards from shore. There were lots of typical cruise ship activities going on all day. We elected to walk around deck and saw a movie. We also attended a very interesting presentation that included a backstage visit to the Princess Theater. Dinner was at the Savoy dining room again because we had run out of unique dining rooms to try. The farewell show in the Princess Theater included the comedy magician, the standup comic, and the Las Vegas singer.
Saturday, August 12 — Home
After arriving at 7:30 a.m., the disembarkation procedure in Vancouver was completely different from any we had experienced before. We purchased ($15 per person) the "US Direct" option of being checked in by the airline on the ship. We had to wait for an hour in line to get our boarding passes, but then we boarded buses, bypassed the airline check-in counter and US customs lines, and went directly to the security line, not seeing our luggage at any point since 10 p.m. Friday. All this occurred only a few days after the liquid-explosive terrorist scare, so we probably ended up saving a lot of time overall by selecting this option. The flight home on Alaska Airlines went fine and our kittens still remembered us after being locked up in the house for two weeks.
Here is a logistical detail about Alaska of interest to nerds. Internet access is available in most of the lodges and hotels, sometimes free (usually WiFi near the lobby), but I was able to take advantage of Cingular GPRS service to connect my Treo PDA-phone and laptop. I had good Cingular service in all of the lodges, as well as Talkeetna and Anchorage. On the ship, Cingular service was available at all three ports. And of interest to tall people: the designers of the ship clearly did not believe there was anyone taller than 6'6" likely to board. I had to bend over in the shower and hit my head on half a dozen occasions. That was essentially my only complaint about the trip.