Training with TNT for the 2013 San Luis Obispo Marathon
This is my page about training for the San Luis Obispo Marathon, April 7, 2013, with Team in Training (TNT), which raises funds for the Leukemia and Lymphoma Society by providing training opportunities for wannabe-athletes such as myself.
This is my twelfth season with TNT (previously a half marathon in San Francisco and fulls in Portland, San Francisco, Napa, Victoria BC, Atlanta, Washington DC, Los Angeles, Chattanooga/Chickamauga, Oakland, and Richmond VA). I am not counting that last one because I flamed out with a bad muscle injury at about 20 miles, so this season I have something to prove to myself, getting back on the horse that bucked me off. As you will see, the horse was pretty ornery.
The Race
The San Luis Obispo marathon is over and I'm embarrassed to say that once again I have booted another marathon. Everything went well—training, weather, etc.—but around mile 15 I suffered the type of back injury that I have experienced in a few previous marathons. Soon I was running leaning over to the side compensating for the pain, and by mile 16 I gave up running and determined to walk the rest of the way. However, by mile 21.5, I was staggering around so badly that the medical staff intercepted me and drove me to the end. The medics in the field thought it was a dehydration problem and pumped me up with a lot of Gatorade and water. In fact, I did seem to be rather dehydrated even though I consumed a lot of water with Cytomax electrolytes along the course and had water at a number of the water stops. Although the weather was not overly warm, a steady wind blew throughout and that may have dried me out. But the doctor in the medical tent at the finish line thinks it was a muscle problem related to insufficient core strength or perhaps an imbalance in my spine that caused me to slightly favor one side over the other. I will be checking this out with my family doctor in the coming weeks. Right now I am recovering, pretty stiff, sore, and wind-burned even though I did not run (or walk) the full distance.
I am quite frustrated by this situation because my training this season went very well. I ran strong and completed a 19-mile training run only a few weeks ago, without difficulties. However, since this is a problem I have suffered in three out of the last four marathons, I think for the time being I am going to recognize my advancing age and continue my training with Team in Training, but change over to half-marathon racing. I have never had difficulty at that distance, even though I have to say it is not as mentally satisfying to complete as the full 26.2.
Update April 26: I have had a change of heart and I'm going to give the full marathon one last try. I finally came through on the New York City marathon lottery, so I have registered for the November 3 race. The TNT training season will be almost 5 months, so perhaps I can motivate myself to get my core strength or uneven spine condition corrected. Wish me luck.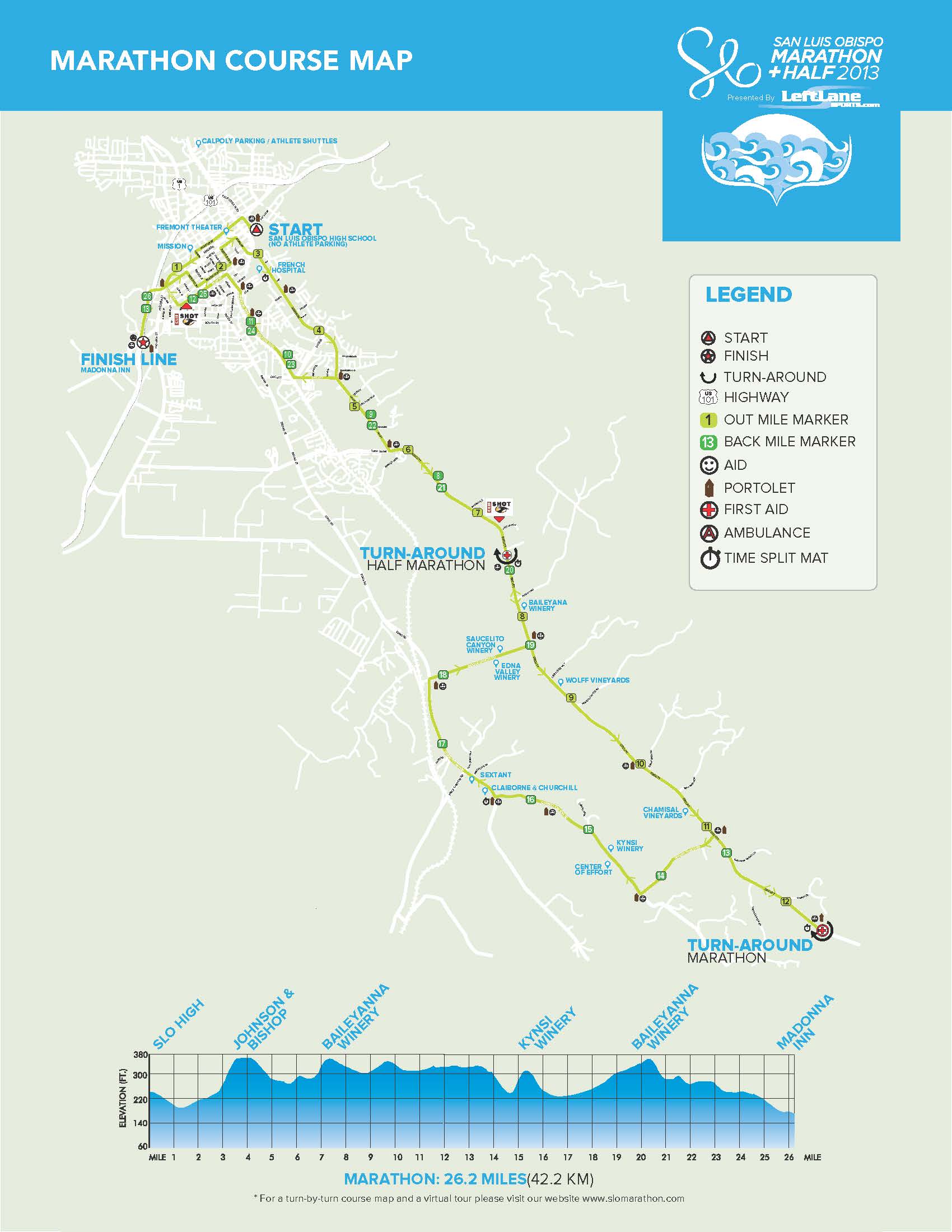 There were a few positive highlights of the weekend. San Luis Obispo is a cute little town and the marathon course is really gorgeous, with dramatic rolling hills, vineyards, and farms. The summer browning had not set in, so everything was green and lush. We ran through downtown, although I can't say I saw very much of it because the start time was 6 AM so everything was dark. The course is pretty hilly, but none of the hills individually were very challenging. The race was rather small in terms of attendance. Although they did not advertise numbers for the various races—there were also a half marathon and a 5K that weekend—it did not seem like more than 1000 people preceded me through the marathon starting gate, something that took less than a minute. The night before we had a TNT inspiration dinner and it was attended by Dean Karnazes, the Ultramarathon Man. He at one time was a TNT participant and also went to school in San Luis Obispo. He gave a brief but interesting pep talk. We also had a very moving presentation by a TNT member whose sister and friend went through really horrendous cancer treatments, but both came out okay. I think there were 176 purple shirts in the race and together we fund raised almost $500,000!
Here are some photos I took with my iPhone. Nancy met me on the course during my back pain distress and was too occupied with my physical condition to think about taking a photograph of me with my good camera. :-)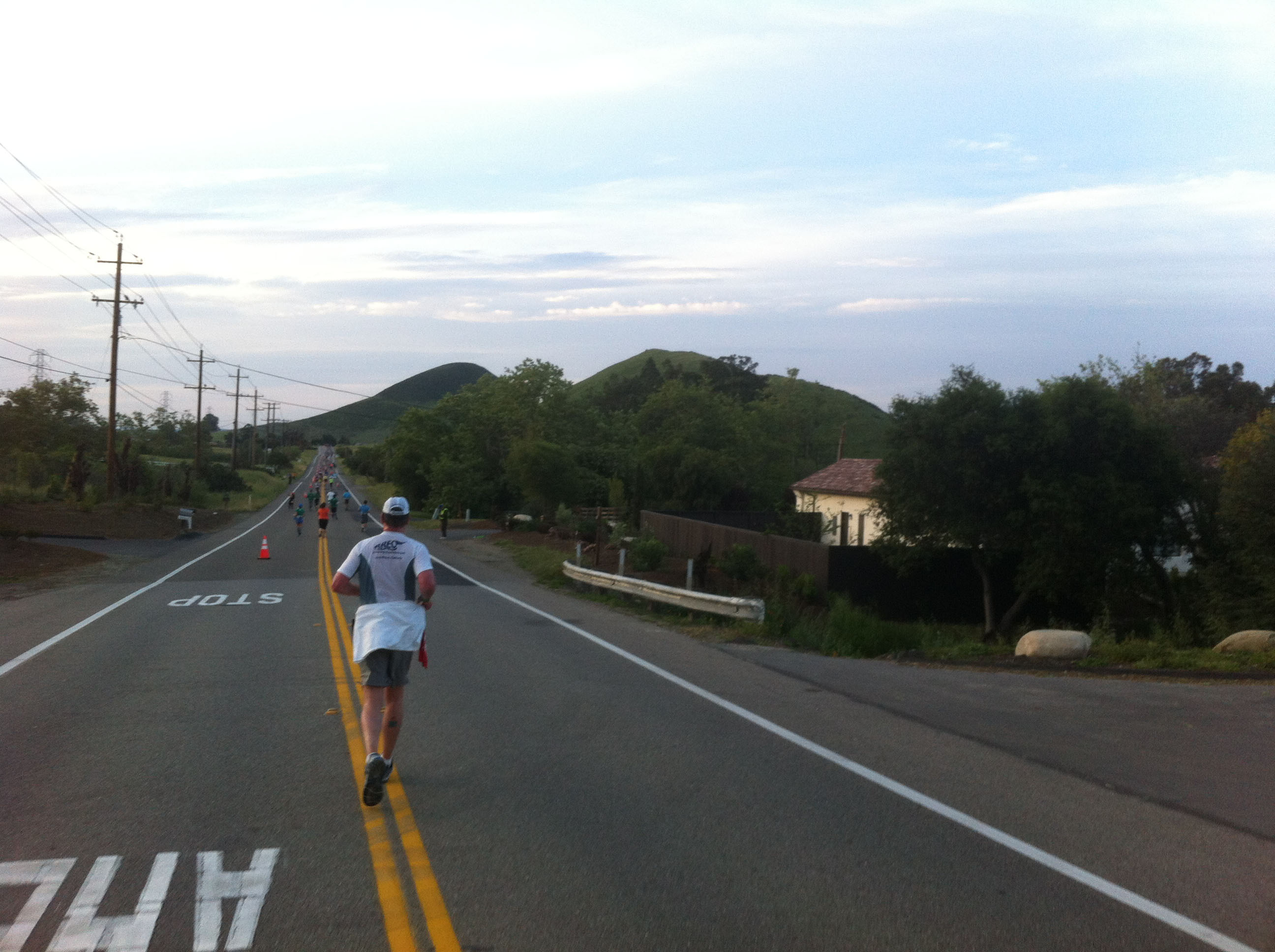 TNT Training
Weekly Training Schedule
Here is the table of weekly activities for our training, the same as previous seasons.
| | |
| --- | --- |
| Monday | Cross training (30-60 minutes walking, swimming, or aerobics and weights at the gym) |
| Tuesday | Track workout under coaches' supervision (90 minutes). A few weeks of core strengthening, a few of "dynamic drills," then mostly intervals, pacing runs, and hills/bleachers, generally 3-4 miles total. |
| Wednesday | Cross training |
| Thursday | Buddy runs: easy runs with a group at a conversational pace. Early in the season they are in the 3-5 mile range, later they get to 5-7. |
| Friday | Rest, stretching |
| Saturday | |
| (1) Distance run in scenic places, starting at 4-6 miles and increasing 2 miles every other week until you're finally at 20 miles. | (2) On Your Own (OYO) runs, although group running is encouraged. Starts at 4-6 miles, progresses through the season to 6-8. |
| Sunday | Rest, stretching |
Workout Log
Here's the training I accumulated prior to the race. I do not include Monday/Wednesday cross training or Thursday buddy runs in this list because they're pretty regular, as described in the table above.
Sat, Mar 30: Track this week was at Palo Alto High School because of the NCAA women's basketball game at Stanford. We did relatively easy intervals, eight repetitions of 400/200 and then three of 200/200. Dynamic drills, of course, but no core strength this time for some reason. It was our last track workout of the season. The weekend run was scheduled for Sawyer Camp in San Mateo, either 10 or 12 miles, but I decided to take it easy with only one week to go before my marathon, so I ran on my own 6.55 miles (which is exactly a quarter marathon), and I will taper off with little activity through the remaining week. My season mileage is 276, which is dramatically lower than last season--500.18. This time, I kept pretty close to the training schedule, rather than possibly overdoing it like last time. We'll see if that makes a difference in San Luis Obispo.
Sat, Mar 23: Track this week was threatened by rain and we received a little bit of it in the early minutes of the session. We did six repetitions of 400/200 intervals and then three of 200/200. Although we started with our regular dynamic drills, they were merciful and bypassed the core strength exercises at the end because of the weather. The long run was on our own this weekend and I did 6.5 miles on Cañada Road toward Woodside and back, taking it easy a bit in anticipation of the race coming up. My pace was 11:50 for 6.5 miles, which seems fine for this hilly course. My season total is 261 miles.
Sat, Mar 16: Track on Tuesday consisted of intervals again, this time five repetitions of 600/200 and then five of 200/200, plus the usual dynamic drills and core strength exercises. The long run was in San Francisco, all through Golden Gate Park and then down the Great Highway, around Lake Merced, and back. It was marked off as a 20 mile run, but because of a wrong turn and some other choices I made, I ended up at almost exactly 19. I was reasonably pleased with my time for this moderately hilly course, a 12:04 pace. The best news was that my pace was even better in miles 10-15 than in the preceding, but I started to run out of steam after mile 18. My season mileage is now 246. I had an interesting anecdote unrelated to this. My family doctor retired and I just had a physical with my new doctor (who is named Dr. President, oddly enough). She listened to my heart and said it was an "athlete's heart." Unlike my previous doctor, who consistently maintained that I was crazy for running marathons, my new doctor was enthusiastic about it in very happy with my physical condition.
Sat, Mar 9: Track this week was focused on recovery and therefore pretty easy. In addition to the light dynamic drills and core strength, we did five repetitions of 800 m runs in groups of three, dividing the running so that we had static recovery for one third of the laps. The Saturday run was on our own and I did two loops of Campus Drive at Stanford. Beautiful weather and a pretty good pace for me: 7.12 miles at 11:48. My season mileage is 218.
Sat, Mar 2: I'm not having a good week. I had a bad head cold on Tuesday, so I decided not to go to track and spend it sneezing, coughing, and blowing my nose. My buddy run in the neighborhood on Thursday went fine--5 miles at a reasonable pace. However, the long run on Saturday was a real blowout. It is my least favorite training exercise of the season, the dreaded Woodside Cañada Road run. The first 10 miles were pretty decent, at my regular marathon pace of 5 mph even though the roads and trails were pretty hilly, but the remainder was the terrible portion that is all hills on narrow, rocky trails, and some of the stretches I had difficulty even walking quickly, let alone running, so my pace fell to a pathetic level. I became so wiped out that I chose to turn around at the 16 mile point, ending the day with a distance of 15.77 miles at a 13:39 pace overall. Aargh. At least the weather was very good. My season mileage is 207.74.
Sat, Feb 23: I did not go to track this week because I was not feeling well (and it looked pretty likely that we would have rain during the session—wimpy of me). The weekend run was on our own and I did 7.5 miles in the neighborhood at a 12:06 pace. Starting to get a cold. My season mileage is 187.
Sat, Feb 16: Track this week was descending intervals. We started with 1200/400, then 800/400 twice, then 600/200 twice, 400/200 twice, and 200/200 three times. So that was sort of a workout, with relatively modest dynamic drills and core strength on the front and back as usual. The weekend long run started at Seal Point Park in San Mateo. This is a really nice run that is flat as a pancake and has some beautiful bay views. The weather was quite good as well, with little wind. I was quite pleased with my performance for the day, 15.84 miles at an 11:40 pace, which was a pretty consistent pace for the entire run, although I started to slow down a bit after mile 14. If only I could keep that up for a full marathon, I would be extraordinarily happy. The only downer was that I have experienced a bloody nose this week and it came back around mile 10, so I left some blood on the course. :-) My season mileage is 174.5.

Sat, Jan 9: Track took us back to stadiums again, although I have to say they went a bit easier on us. We did six laps and climbed up and down 27 flights of stairs. Then we did three repetitions of 200/200 intervals. And, of course, dynamic drills and static core exercises. The weekend run was on our own and I did 7.5 miles on the Stanford Campus Drive loop. Not a bad time for me—a 12:00 pace. My season mileage is 150.63.
Sat, Feb 2: Happy Groundhog Day. Track this week was dynamic drills, intervals, and static core exercises again. The intervals were 300/100, run as a group of four or five. We did five repetitions and then each of us did the same amount on our own. The long run was unexpectedly a group run this weekend, even though we did a group run last weekend. This time we were at Shoreline in Mountain View and it was supposedly a 14 mile course, but something went awry and the course was not laid out correctly, so we ended up doing 13.4. I was pretty happy with my performance for a change. The weather was perfect running weather and the course was flat. Somehow I was able to run faster in the final third than I did in the first third. My overall pace was 11:53! My season mileage is 137.
Sat, Jan 26: Track this week followed the familiar format: dynamic drills, intervals, and core strength exercises. The intervals were four repetitions of 800/400. The long run was in Half Moon Bay. It started out rather drizzly, so I wore my running rain jacket, but within the first mile the sun came out and it was a beautiful day. This course has a treacherous two-mile stretch of dirt trails, on which I broke my ankle a few seasons ago, so I had to run slowly and carefully on this portion, which negatively affected my timing, as did a rather strong headwind on the return leg. Overall, it was a pretty good performance (for me), 11.84 miles at a 12:33 pace. My season mileage is 116.
Sat, Jan 19: Track this week was a few dynamic drills and then 600/200 intervals, four or five repetitions. There were no static drills because time was needed for the injury clinic. The weekend run was on our own and I did 7 miles on Cañada Road to Woodside and back, a relatively hilly course. It was really cold! Another mediocre performance on my part, a 12:43 pace. My season mileage is 95.
Sat, Jan 12: Track this week introduced stadiums, which is running a lap interrupted by running up and down the stairs of the bleachers. We did six repetitions (or eight for the overachievers), but they went easy on us by limiting our stairs to only half of the bleachers, so the entire affair was 36 flights up and 36 flights down. Also dynamic drills and some mercifully light core strength exercises, followed by a nutrition clinic. The long run was in Portola Valley. Although I have run here many times, they surprised us by changing the sequence. First we ran 3 miles south on the Alpine Road Trail, which is a steady uphill climb, then 3 miles back (downhill), and then we ran to the top of the Stanford Dish and back—not the traditional loop around the top—for a total of 10 miles. It was really cold and I was rather stiff, so my time was not admirable, a 13:25 pace. My season mileage is 80.
Sat, Jan 5: Track this week was pretty difficult after a 10 day vacation and an extra 5 pounds under my belt. We did dynamic drills, relatively light intervals, and then a number of static core exercises. Because of this, I was extremely sore on my buddy run on Thursday. The long run on Saturday was at Pacifica, an 8 mile course with a significant hill. I ran fine, although a bit slowly, until about mile 7.7, when I tripped on a rock and fell down, cutting up my palms. My teammates gave me good first aid. It was not a serious injury, but it messed up my finish. :-)
Sat, Dec 29: I interrupted my training for over a week to take a holiday cruise in the Caribbean. (If you are interested in a travelogue about cruising, see my webpage here.) So that means I missed a long run of 8 miles on December 22 and the track workout on December 18. There was no track on December 25, of course. I did do some very brisk walking most days of my cruise, so I wasn't completely out of sorts, but I was concerned that it would be difficult for me to get back into the running regime. Today I did 6 miles on my own and I was not unhappy with my performance, a 12:33 pace. A little slow, but not difficult. My season mileage is now 44.2
Sat, Dec 15: Track on Tuesday night was the first of the season. The program seems to be changing every time nowadays. We did not start with a warm-up run or with stretching, but got directly into core strength exercises. Then we did a one lap warm-up followed by some moderate dynamic drills. We concluded with light intervals: three iterations of 200 m up-tempo, 200 m recovery. Satuday's long run was On Your Own (OYO) and I did 7.5 miles on Cañada Road to Woodside, which is a moderately hilly course. My pace was mediocre: 12:27. My season mileage is 38.2.
Sat, Dec 8: Today was our first track workout. Once again the training program seems to have changed and for the first time in 12 seasons we did no stretching before the run. (And, oddly, there was no mention of post-run stretching either.) Instead, we did some very light dynamic drills—a really short warm-up run and then about 30 yards each of low skipping and sidestepping. The 6 mile run north from Oracle along the Bay Trail was very nice, a little foggy but otherwise perfect running conditions. I did a reasonably good pace: 11:33. If only I could keep that up all season. My season mileage at the end of week 2 is 24.7.
Sat, Dec 1, 2012: Our kickoff meeting was in Santa Clara. I was surprised to see that the team is considerably smaller this season and they have combined the North Peninsula and the Mid-Peninsula teams. There are two coaches, two captains, and only four mentors. Most of the people that I talked to are also going to be training for San Luis Obispo. As of today, I have run only twice since Richmond. Recovery is pretty difficult.