Training with TNT for the 2012 Richmond Marathon
This is my log of training for the Richmond Marathon, November 10, 2012. Once again I signed up with Team in Training (TNT), which raises funds for the Leukemia and Lymphoma Society by providing training opportunities for wannabe-athletes such as myself. I actually fundraised for the October 7 San Jose Rock 'n Roll Marathon, which I did not run because the date conflicted with my training. The Richmond, Virginia, race was not a TNT-sponsored event, but I wore my purple shirt anyway with pride.
This was my eleventh season with TNT (previously a half marathon in San Francisco and fulls in Portland, San Francisco, Napa, Victoria BC, Atlanta, Washington DC, Los Angeles, Chattanooga/Chickamauga, and Oakland).
Marathon Weekend
Wednesday, November 7
We arrived late Wednesday evening, wanting time to acclimate. The Hilton Garden Inn on E. Broad St. is right at the starting line. It's comfortable, a converted department store building. Not much nightlife in the area; it's very much like the less desirable stretches of Market St. in San Francisco.
Thursday
We took an hour drive to Colonial Williamsburg. It's an impressive reconstructed/restored look at 1775, with about 500 buildings extending more than a mile on a broad main street. Although there are lots of shops and other buildings to visit, the best part is the little skits performed by actors who pretend it's 1775. Some are just encountered in the street as you walk around. One formal one is in the courthouse, where they reenact three minor trials. Outside a tavern we saw the receipt of news about the start of the war at Lexington and Concord. A messenger rushed in on horseback, shouting the news, and the local militia officers, politicians, and citizens argued about what to do. There was a tar and feathering tribunal of a local loudmouth who said inappropriate things about the militia in the tavern. (He eventually apologized and avoided actual tarring, but he got roughed up quite a bit.) In another episode, slaves reacted to a proclamation from the colonial governor that promised them freedom if their masters cooperated with the government. The afternoon concluded with a moving reading of the entire Declaration of Independence, followed by a fife and drum parade and tiny cannons firing. We also had interesting encounters with livestock breeds from the period, mostly oxen and sheep. By the end of the day I realized it had not been a good idea to do so much walking—easily 5 miles—and standing all day. It got pretty chilly by evening. Dinner at Tarrant's Cafe on Broad St. featured pretty poor entrees, but really good service.
| | |
| --- | --- |
| | |
| Dan and Duke the oxen, working in the Williamsburg cornfield | 18th century Devon cow breed |
| | |
| --- | --- |
| | |
| Militia officers | The news arrives from Massachusetts |
| | |
| --- | --- |
| | |
| The convicted loudmouth prepping for tar and feathering | The fife and drum parade |
Friday
Today was a take-it-easy day. We went to the expo to pick up my bib, watched the new James Bond movie (excellent!), and rested. Dinner was my traditional pre-race pizza.
Saturday
Argh! For the first time in 11 marathons, I didn't finish! We started at a liesurely 8 a.m., a block fom the hotel, so I slept in. The weather was great—cool and sunny, with little wind. The course was virtually flat, with only a few trivial hills. There were lots of pretty residential areas and some nice views of the James River, and enthusiastic spectators were all along the course. But starting at mile 16 my hip muscle (IT band?) seized up and by mile 18 I could not stand up straight and could barely walk in a straight line, let alone run. I met Nancy at this point and we decided that since we happened to be about 1.5 miles from the hotel, it would be prudent to avoid any injury and call it a day. It took over an hour to do that final walk, which passed by Jeb Stuart's statue and made me feel really bad that I let down my team--he never quit. What a humiliation for me. I did all the training, over 500 miles pre-race. I had two successful training runs of 20 miles on much tougher courses. It was simply a bad day. Maybe it was related to the travel; my previous similar wipeout was in Tennessee last year. So this marathon is not going to count and I'll be trying for number 11 at San Luis Obispo in April.
Course map—click to download PDF
| | |
| --- | --- |
| | |
| TNT folks at our hotel had this treatment on their doors when they woke up | Nancy photoed the elites starting off; I was 3 blocks back |
| | |
| --- | --- |
| | |
| Stonewall Jackson on Monument Ave. | James River view |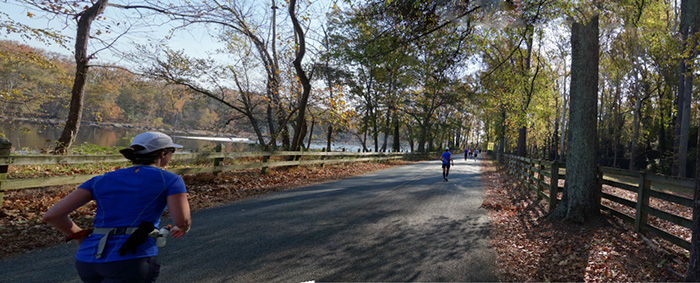 Lovely residential areas near the river, northwest of the city
| | |
| --- | --- |
| | |
| James River view from the Lee Bridge (just before I collapsed) | James River view |
Recovery was pretty rocky, considering that I ran/walked only 20 miles instead of 26.2. The hotel pool was really warm, without much therapeutic effect. We had dinner Saturday with Nancy's cousin Tom at a really good French brasserie, Can Can, in the district called Carytown. A very vibrant, young scene. But gimpy walking, headaches, and fatigue persisted through Sunday. It didn't help that the hotel air conditioning drained every molecule of moisture from the air.
We followed up the marathon with a trip to Charlotteville. My travelogue of that experience is here.
TNT Training
Weekly Training Schedule
Here is the table of weekly activities for our training, the same as previous seasons.
| | |
| --- | --- |
| Monday | Cross training (30-60 minutes walking, swimming, or aerobics and weights at the gym) |
| Tuesday | Track workout under coaches' supervision (90 minutes). A few weeks of core strengthening, a few of "dynamic drills," then mostly intervals, pacing runs, and hills/bleachers, generally 3-4 miles total. |
| Wednesday | Cross training |
| Thursday | Buddy runs: easy runs with a group at a conversational pace. Early in the season they are in the 3-5 mile range, later they get to 5-7. |
| Friday | Rest, stretching |
| Saturday | |
| (1) Distance run in scenic places, starting at 4-6 miles and increasing 2 miles every other week until you're finally at 20 miles. | (2) On Your Own (OYO) runs, although group running is encouraged. Starts at 4-6 miles, progresses through the season to 6-8. |
| Sunday | Rest, stretching |
Workout Log
Here's the training I accomplished prior to the race. I do not include Monday/Wednesday cross training or Thursday buddy runs in this list because they're pretty regular, as described in the table above. I have also decided this season to provide only one entry per week because there is so much repetition from previous seasons, and I will include my total mileage for the season each week (which includes about 80 I ran before the formal training started).
Sat, Nov 3: Another pair of five milers on Tuesday and Thursday and then Saturday was my final running day before the marathon next week. I did 8 miles on the Stanford Campus Drive loop, bringing my season total to 500.18 miles! That is the mileage equivalent of 19.1 marathons! My pace today was 12:01, which is closer to the normal from previous seasons, rather than the poor training performances I had this season.
Sat, Oct 27: Once again, with track over for the season, I did two neighborhood runs of 5 miles each on Tuesday and Thursday, both at somewhat reasonable paces. On Saturday, I did my final "long" run, 12 miles starting at Oracle and running north and back by on the Bay Trail. I was happy with my performance because it was at a pace of 11:58, which puts me back in the running for a successful (by my standards) marathon, two weeks away. My season mileage is 482. The other interesting thing I did this week was to sign up for the TNT spring season, my 12th, which will kick off on December 1 and lead up to the running of the San Luis Obispo marathon on April 7.
Sat, Oct 20: Track is finished for the season. I ran 5 miles on both Tuesday and Thursday this week. My Saturday run was at Stanford. I did a 7.5 mile recovery run at a more reasonable pace of 11:54! Maybe my curse of slow running this season has reached an end. My season mileage is 460.
Sun, Oct 14: Tuesday was the last track workout for the season. We did a two-mile run around the campus and then a mile of stadiums. The Saturday group run was 12 miles at Shoreline, and then my personal training schedule had me do an additional 8 miles on Sunday, which I did at Stanford. (Apparently, splitting a long run over two days gives approximately the same workout.) By coincidence, both runs were at the identical pace—12:13. My instructions from Coach Terry were to take it easy on the 8 mile run for the first 75%, and then run the remaining part harder, which I was actually able to do, to my surprise. I will have to say that the first half mile of the Sunday run was a pretty difficult chore because I retained some good stiffness from the previous day. My season mileage is 443.
Sat, Oct 6: I had a personal conflict and had to skip track this week! Rather unusual for me. The Saturday run was on my own and I did the hilly Cañada Road course to Woodside, 7.62 miles at a 12:09 pace, which is slightly better than I have been doing recently. Tough recovery, for some reason. My season mileage is 414.
Sat, Sep 29: Track on Tuesday was an unusual mix. We started with a two-mile run around the campus, then did stadiums at the rugby field for about 10 minutes, then went to a large open field and did stride relays. I ran pretty fast considering it had become almost pitch black by that time. Quite a workout, really. Saturday was at Sawyer camp and I did 20.2 miles—first a 3 mile out and back and then a 17.2 out and back all the way to the end of the San Andreas trail. Parts of this were pretty darn hilly and my pace was pretty bad—13:51—although I ended with a little bit of energy remaining. My season mileage just passed 400 miles!
Sat, Sep 22: Track on Tuesday was a little unusual because very few people showed up for some reason, so the coaches took it easy on us. We did Yasso 800s—800 up-tempo, 400 recovery—in five, six, or seven repetitions. And that was it. My pace for the 800s averaged out to about 4:55, which in theory says I should be able to do my marathon in four hours and 55 minutes, although that does not factor in my run-walk methodology. I reviewed my plan for the rest of the season with Coach Terry—I am not on the same schedule as the rest of the team because the Richmond Marathon is a couple of weeks later than theirs—and I still have a lot more running to do. :-) The weekend run was on our own and I did 8 miles around the Campus Drive loop at Stanford, at a mediocre pace of 12:17, but that was actually an improvement over some of my recent runs. My season mileage is 371.
Sat, Sep 15: The plan for track on Tuesday was advertised as an "adventure run," which was sort of overblown because it consisted only of about a two-mile run around the campus, then a few short stride runs/intervals, and then concluding with some core strength exercises. The Saturday group run was in San Francisco again, corresponding to the second half of the Nike Marathon—8 miles in Golden Gate Park, then down the Great Highway, around Lake Merced, and back. So this was a moderately hilly course, but we could not have asked for better weather. It was chilly and overcast for the entire morning. I did 18.75 miles, which was a tiny bit less than the advertised maximum, because I chose not to do the final masochistic out and back from the finish line. Once again I was not very fast (12:55 pace), but I felt good about the day because I ended with sufficient energy that if I had gone another 8 miles it probably would not have killed me. My season mileage is 355.
Sat, Sep 8: There was a change of pace for the track workout on Tuesday. We returned to Stanford, but the track was still closed, so we ran around campus for about 2 1/2 miles and then did hill repeats on the berm behind the softball stadium. Once again, core strength exercises at the end drained all my strength. :-) The weekend run was on our own and I did 7 miles on Alameda and Woodside, at a mediocre pace of 12:43. My season mileage is 328.
Sat, Sep 1: The track workout on Tuesday was intervals again, 400/200 x5 and 200/200 x3, followed up by core strength exercises, which are real killers after running. The group run on Saturday was the terrible Woodside Trail run. The good news was the weather was simply perfect, unlike many summers, but the bad news was my time was really awful, with an average pace of 14:54, barely faster than a brisk walk. I have been running slowly this season and this course is so treacherously rocky and hilly, I simply could not make any progress. Maybe next time…
Sat, Aug 25: The track workout on Tuesday was 600/200 intervals x5 and 200/200 x2. Saturday was on our own and I did 7 miles on Alameda and down Woodside Road and back. My season mileage is 287.
Sat, Aug 18: On Tuesday, track was back at Palo Alto high school. We did descending intervals: 800/400 x2, 600/200 x2, 200/200 x3, then finished up with smoonome excruciating core strength exercises. The Saturday long run was at the Presidio in San Francisco, mapping out a portion of the Nike women's marathon course. I can't report my pace for the 16 mile course because my GPS watch is still in the shop, but I ran it moderately slowly over some significant hills. The good news is that my recovery seems to be progressing quickly.
Sat, Aug 11: The track workout was at the Stanford Dish, five hill repeats up to the cow grate. The weekend run was on your own, so I ran 7.5 miles on Cañada Road to Woodside. My GPS watch is in the shop, so I don't know my pace, but it was a reasonable run. My season mileage is now 248.
Sat, Aug 4: Well, it was tough to recover from that cruise vacation. Track on Tuesday was intervals, 800/400, four repetitions, but this was followed by core strength exercises, which turned out to be really difficult. Saturday, the long run was at Half Moon Bay. I did the recommended 14 miles under great conditions—overcast and cool at the coast, flat as a pancake—but was disappointed with my performance, taking three hours to run the course (which was actually 13.59 miles). Coach Terry gave me a little pep talk about my discouragement with my poor progress, which boiled down to being "just think how much more poorly you'd be performing if you didn't have this program." Thanks, Coach. :-) My season mileage is now 233. Time to break out a new pair of shoes, I think.
Sat, Jul 28: No running since last week. I am on a cruise to Bermuda.
Sat, Jul 21: I missed track on Tuesday because I am traveling. Today was supposed to be a 12 mile run at the Stanford Dish and through Portola Valley, but instead I ran the Barrington, Rhode Island, bike trail, which is nice and flat and has some decent water views. I did 12 miles at an unknown pace—I did not bother to bring my GPS watch on the trip, so I'm not certain that it was exactly 12 miles either—but I am sorry to say that I felt pretty slow.
Sat, July 14: Track was held at the Stanford Dish. We did five hill repeats up to the cow grate. Fortunately it was not too warm. The Saturday run was on our own. Because I'm going to be out of town next weekend, I decided to do a longer run, 12 miles on the course leaving Oracle and running north along the bay. A beautiful day as usual and the course is as flat as a pancake. My pace was a not-so-bad 12:08. My season total of running is 198.5 miles.
Sat, July 7: Track was a little stressful after having missed two sessions, but the regime was about the same: dynamic drills, descending intervals (1x 600/200, 1x 400/200, 3x 100/100), static core strength, and a few cooldown laps. The weekend long run was at Pacifica. When I arrived, the little town was covered in fog, and it was cool enough that I wore a jacket and gloves. However, within a mile of running south, it was brilliant sunshine warmed up considerably. This is a course that has two killer hills on it—the second of which, on Kent St. that dead-ends on a bluff overlooking the Pacific, is the steepest hill in all of our TNT training—so keeping up a good pace is very difficult for me. The advertised 10 mile course only clocked in at 9.55, which I did at a 12:27 pace.

Elevation diagram for the Pacifica run
Sat, June 30: I missed track again because of my trip to Gettysburg, but I will be back next Tuesday. The long run this weekend was on my own, at one of my favorite locales, Campus Drive loop at Stanford. I ran 7.5 miles at 11:59, pretty mediocre. My season total mileage is 161 miles.
Fri, June 22: I did not attend track this Tuesday because of travel to a Civil War seminar in Gettysburg. I also missed the long run on the weekend, so I ran on my own around the battlefield. Unfortunately, it was quite hot and very humid, so I did not do very well—8.5 miles at a very slow pace, 12:45. The other factor that affected me was that since I was staying in a hotel, I did not have a breakfast before I set out to run at 6:30 AM. I had assumed that at this relatively short distance that would not make a difference, but perhaps it did.
Sat, June 16: Track on Tuesday was more of the same, except we did some 100/100 m intervals. The weekend long run was on our own and I did 7.68 miles on Alameda in my neighborhood. My season total mileage is 141 miles.
Sat, June 9: Track on Tuesday was a continuation of core, dynamic drills, and a few more 200 m intervals. I missed the group run on Saturday because I was at the Horse Expo in Sacramento with Nancy. I ran on the American River Bike Trail, which is a great running venue--flat and often scenic--doing 12 miles at an 11:46 pace. I was lucky to escape the heat, although it was pretty windy that morning. My season total mileage is 125.78.
Sat, June 2: Our track on Tuesday was an introduction to static core exercises, dynamic drills, and a few 200 m intervals. Saturday was an on-your-own run. I did my familiar Cañada Road out and back in Woodside--pretty hilly--7.8 miles at a 11:32 pace. My season total mileage is 106.67.
Sat, May 26: Today was our first group run. (I did not attend the Tuesday track session because it was a "gear clinic" that I did not feel would be useful for me in my 11th season.) We met at Oracle in Redwood Shores and did an out and back up the Bayshore Trail. I don't know what came over me, but I was able to run faster than I ever have at this distance – 6 miles at a 10:19 pace, or 5.8 mph! I am going to start including my total mileage for the season in this log. Starting on April 1, I have been running about three times a week in preparation for the season, and including today's 6 miles, I have run 92 so far. Today was quite chilly for late May, but we had a good turnout and the run was followed by a very generous buffet of coffee, chocolate milk, breakfast pastries, and sandwiches, provided by our mentors. Go Team!