Las Vegas Half Marathon, December 2, 2007
| | |
| --- | --- |
| | |
| | Finish (tiny thumbnail from the official photo site) |
This is my report on the Zappos.com Las Vegas Half Marathon, my first race since the Portland Marathon two months ago. My recovery period from Portland was pretty short and I have kept up a training regimen similar to my TNT schedule. This half marathon fit pretty well into my long-run schedule. The bad news about the event was that I experienced considerable difficulty with my IT band just a few days before departing for Las Vegas. I did an easy training run of 4 miles and when I stopped running, all of a sudden I had a lot of discomfort on the side of my right knee. I found that I could walk fairly well, but I had difficulty going up and down stairs and in sitting and rising from a chair. Anyway, the travel was booked and we could see Las Vegas whether I was able to run or not.
We left on Friday morning, November 30. The Mandalay Bay Hotel, right next to the starting line for the race, is a beautiful hotel with very comfortable and quiet rooms. It is also huge, so we put on a lot of walking mileage over the weekend just on the hotel property. I had a belated birthday dinner at Aureole Friday night; it's a restaurant noted for its four-story glass enclosed wine cellar, from which young women wearing black cat suits -- the Wine Angels -- hoist themselves up with pulleys to retrieve the wine bottles. On Saturday, we continued to do a lot of walking around and I realized that my IT band injury might not actually affect my running. That night we saw Spamalot, the Broadway musical based on Monty Python and the Holy Grail; the Wynn resort was offering a special two-for-one price for marathon runners.
| | |
| --- | --- |
| | |
| | |
On Sunday morning, I arose early for the 6:07 a.m. starting gun. It seemed like we had to walk almost a mile through the hotel and convention center parking lot to reach the starting line. It was pretty chilly, in the low 40s, and the sun had not risen yet. In an unusual twist, the race organizers decided to start the elite women runners 18 minutes earlier than the men, based on some statistical analyses of the entrants. At the end of the race, it was a woman who won the large cash prize because she came in ahead of the first man, despite running about 17 minutes slower. The main start was accompanied by a modest display of fireworks. Somehow I got almost all the way in the back of the pack and it took 17 minutes to reach the starting line. Fortunately, timing was based on chips rather than clocks; this was apparently one of the first races to use disposable RF ID tags rather than the expensive plastic chips that have to be recovered at the end of the race. When the race was over there seemed to be a lot of grumbling about inaccurate chip times and in fact my own time was 10 minutes off; I sent an e-mail to the company with a copy of my photo crossing the finish line with the clock displayed and my time was corrected by the next day.
| | |
| --- | --- |
| | |
| | The run-through wedding chapel |
There were two other unusual aspects to the race: 208 people ran dressed as Elvis, which they claim is a world record. Also, there was a run-through wedding chapel, in which over 50 couples were married as they ran through.
I started pretty slowly, expecting any minute that I would have to quit running, but found that my knee was not giving me any difficulty at all. We ran up the strip (Las Vegas Blvd.), past all the casinos. At the Fashion Show Shopping Mall, about 3 miles north, the Blue Man Group entertained us with some really frenetic, loud drumming, but there were surprisingly few other performances going on, at least for the half marathoners. The humidity was exceptionally low and I barely sweated during the entire race. It was probably foolish of me, but I only drank about half of the water/Gatorade that I carried with me. The course was as flat as a pancake, all on city streets. At about 6 miles, we were in downtown Las Vegas, which is exceptionally uninteresting, but the most interesting part of the race happened there. Nancy had been watching the race on TV in the hotel and called my cell phone to warn me about a poorly marked split, where the marathoners were supposed to run straight ahead and the half marathoners take a left turn. Apparently some of the elite half marathon runners did not make the turn and they ruined their chances for record times. When I reached that area, I found that there were no signs at all and simply a lone policeman yelling directions.
| | |
| --- | --- |
| | |
| | Heather West |
By the second half of the race I started to accelerate and made better time as we looped around and headed south on the road (Frank Sinatra Drive) that was behind all of the major casinos (just barely east of Interstate 15). This part of the run was not nearly as scenic and the pavement got a little rough in places due to some construction. During this part, I encountered a celebrity: Heather West, who was the winning contestant on the second season of Hell's Kitchen and is now running a Las Vegas restaurant. (I knew it was Heather because she had her name and the Hell's Kitchen logo written on the back of her shirt. She was running in memory of Rachel Brown, also a contestant, who recently passed away.) Returning to the Mandalay Bay, I finished at 2:31:14, a minutes slower than my personal record, which I found pretty encouraging considering my knee problem. There were lots of goodies being handed out, including fruit and Snickers Marathon bars; I read later postings by marathoners who complained that many of the snacks ran out after about four hours. This was a good format for me because the full and half marathons ended at the same point, which meant that I finished early enough so that I did not have to be treated as a laggard.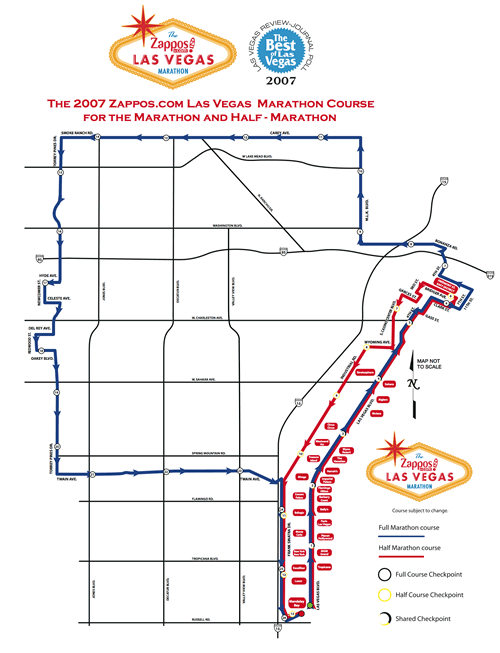 Course map
That night we went to see Penn and Teller at the Rio Hotel and found that their act is awfully similar to what they were doing 30 years ago, but we had a great time. We spent another day walking on Monday, seeing most of the rest of the casinos. We almost never gamble, but encountered an outlet of Krispy Kreme at the Circus Circus. Needing a place to sit down and eat the doughnuts, we selected a slot machine and put a dollar in just to appear busy. That dollar yielded $42.50, which we immediately cashed in, not pressing our luck. Those winnings covered our breakfast for the morning -- Las Vegas bargain meals are not as easy to find as they used to be. We flew back to San Francisco Monday evening.
Upon our return, I went to the Sports Medicine Institute in Palo Alto for a consultation on my knee and a deep tissue massage from my former TNT teammate, Charmaine. She opined that it probably was the IT band and she found a bit of tightness in it and the upper part of my quadricep; she thought that no true injury was involved because I would not have been able to even walk if the IT band was damaged. So I'm looking forward to resuming my training. My next race is a 10K on New Year's Day and then a full marathon in mid-January at Disney World, Orlando. I will need to get some serious long-distance training under my belt to get back in shape for that event.
The Las Vegas Half Marathon was a fun experience, despite some of the organizational problems that many of the runners complained about. If my knee had cooperated and my training schedule had been a little different, I think I would have been completely comfortable running the full marathon because it was a very easy course in excellent running weather.
Google Earth Race Simulation
I recorded Global Positioning System (GPS) data with my Garmin Forerunner 205 watch during the race. By opening the resulting data file in the Google Earth application (which can be downloaded here for free), you can display the race course using aerial photographs and simulated 3-D terrain and buildings. There is a Play button that follows the course of the race as if you were flying over it in a low altitude aircraft. Really cool.
The Google Earth file for this race is here.