Training with TNT for the 2011 Los Angeles Marathon
This is my report on my trip to run the Los Angeles Marathon. My description of the Team in Training training program is available below (click here). Summary: it was my worst race ever, marred by simply appalling weather, but I am recovering well and will be looking forward to my next marathon. And I simply could not have completed the race without the support of my friends in the TNT program. My apologies for the crummy photographs on this page, but the weather did not cooperate. My iPhone started to get soggy.
Friday, March 18, 2011
Nancy and I drove to LA, deciding to break up the trip with a stop overnight in Santa Barbara. The city was oddly deserted. Arriving downtown late on a Friday afternoon, we decided to check out the new movie, Battle: Los Angeles, and found ourselves in a movie theater that must've had 1000 seats and only about a dozen customers. (The movie was really pretty good. It was less about science fiction aliens than it was about a squad of Marines and the frantic nature of urban combat. Lots of war movie clichés, but very exciting and well executed. And since the movie took place entirely in Santa Monica, it was very appropriate and a surreal preview for the weekend to come.) Many of the trendy restaurants along the main street were empty. The pizzeria in which we dined had zero other customers! Perhaps it was spring break. Santa Barbara is dominated by 60s-era motels and we stayed at a place called the Sandman Inn, which was convenient and comfortable.
Saturday, March 19
The drive to LA from Santa Barbara was about 90 minutes on Saturday morning. We did not have much of a tourist itinerary in mind, so we stopped in Beverly Hills and wandered around Rodeo Drive, which was also oddly deserted. We visited the offices of the Academy of Motion Picture Arts and Sciences on Wilshire Boulevard, where they have free exhibits about movie topics. Today they had a collection of photographic portraits of cinematographers, and an exhibition of movie posters and artwork by Robert Peak. Peak was responsible for many of the iconographic posters from the 60s and 70s, such as Apocalypse Now, the Star Trek films, My Fair Lady, etc. Really dated stuff, but I certainly remembered a number of them.
View of Santa Monica pier from our hotel
We checked into the Loews Santa Monica Beach Hotel, the accommodations provided for our TNT chapter. A very nice hotel about a block from the beach and the famous Santa Monica pier. (And seemingly miles from the nearest AT&T cell tower.) The race expo was at Dodger Stadium, clear across town, but the TNT folks had conveniently arranged to pick up our race bibs, T-shirts, and goodie bags for distribution at the hotel. That evening we had the traditional "inspiration party" (a.k.a. pasta party) and we got to meet some of the 227 TNT runners, including about a dozen from my own team. TNT was the largest of 60+ charitable organizations running in the race and we collectively had raised over $610,000! We heard a very moving speech from a young woman who told about the tribulations of her chemotherapy and recovery from Hodgkin's Lymphoma.
The upcoming weather was the elephant in the room for many of us. The race organizers had sent an e-mail today that said "showers" were expected, but pointing to a National Weather Service website that showed rain, heavy at times, windy, and high surf advisory. My only consolation that night was the knowledge that the weather websites often overstate precipitation forecasts and I was hopeful that any significant rain would occur late in the day. The only good news in retrospect was that all of the weather sites were completely correct.
Sunday, March 20 — The Race
We met in the lobby at 5 AM for some encouragement from Simone and Coach Tim of the South Bay team, took a group picture, and then boarded a school bus. Like the Napa Marathon, two years earlier, the LA Marathon is a point-to-point race in which you have to take a lengthy drive to reach the starting line, giving you a good sense of foreboding about how far you are going to be running to get back. Apparently last year there were humongous traffic jams at Dodger Stadium, but this year everything was very well organized and I was pleased to see that they had numerous giant tents for shelter while we waited an hour and half to start. The skies were overcast but dry that early. We lined up in our corrals and found that the starting time had been delayed for reasons unstated, although I assume it was to obtain full traffic clearance. Unlike some marathons where they accommodate traffic breaks periodically, LA completely shut down some very significant arteries across the city. First the wheelchairs were sent off, followed by the crank-operated wheelchairs, and then the elite women runners. We had to give them a 17 minute head start because there was a prize for the first runner to cross the finish line, regardless of sex. They used an air horn to start the race, rather than a gun, because this is peaceful LA (except when space aliens are invading). I was able to cross the starting line at just about 8 AM.
| | |
| --- | --- |
| | |
| Pasta party | Simone and Tim at 5 AM |
| | |
| --- | --- |
| | |
| Group photo in the lobby, courtesy Simone. They always make me stand in the back! | Dodger Stadium before dawn |
We were able to run about a mile before the rain started and it never really stopped after that, alternating between moderate and heavy for the next 6+ hours. Despite being technically a spring race, I had prepared for cold weather and had multiple layers including long pants, two wickable running T-shirts, a throwaway longsleeve cotton T-shirt, and a hooded rain jacket. I ditched the cotton shirt at about mile 4. I quickly became completely soaked. The rain jacket kept the outside moisture away, but perspiration took its place inside. In addition to the rain, it was cold and quite windy, and by mile 13 I could barely feel my legs. In the second half of the race there were many places where we had to traverse large puddles that were 4+ inches deep. I was astonished to see how many people were running only in light T-shirts and shorts, without hats. I even saw a few women running barefoot!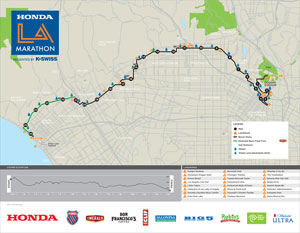 The racecourse was theoretically interesting, although when you are running in heavy rain you are not capable of much sightseeing. All you see are your feet and the puddles. From Dodger Stadium we ran into downtown LA and went through both Chinatown and Japantown, neither of which were comparable to their colorful counterparts in San Francisco. We encountered two significant hills in the first six miles, but neither one was a problem for those of us who have trained with TNT in San Francisco and at the Stanford Dish. The Disney Concert Hall was the only landmark I recognized downtown. We ran for a long way along the rather seedy Sunset Boulevard. I was encouraged to see the famous Hollywood sign in the distance and hoped to get a photograph, but it soon receded from view and I never saw it again. I was amused to see two custom billboards encouraging one of the runners at mile 6 and 8.
| | |
| --- | --- |
| | |
| A poor photo of one of the two hills downtown | Disney Concert Hall; I think that's our team manager, Jenn, in the foreground, although I didn't recognize her at the time |
We continued through Hollywood, Beverly Hills, West LA, Century City, Westwood, Brentwood, and then to Santa Monica. There were numerous attempts at entertainment along the way, although the rain ruined some of them. There was supposed to be a giant cheerleading demonstration going for a Guinness world record, but they had been dispersed by the time I arrived. I did see one tranny cheerleader in West LA. A Marine Corps band was supposed to be performing at the VA medical center, but I guess I was too slow to arrive. (I was interested at the VA to run through an underpass and see a large collection of painted military unit patches, and I was able to identify a few units in which I served, including the Ninth Infantry Division and the First Signal Brigade.)
| | |
| --- | --- |
| | |
| The cute private billboard | Hal at around mile 20, photo courtesy of Simone. Monique is to the left. |
Just before the VA, at about mile 20, I encountered my first TNT friend, Monique, who had driven down to cheer us on and she ran a couple of miles with me. (Well, by this time it was more like a shuffle.) She saw that I was having difficulty and flagged TNT Coach Pat, who diagnosed my condition as having insufficient salt, so I downed a packet she gave me. By around mile 23.5 I was in rather significant distress. My muscles—particularly my right-side glutes—had tightened enough in the cold that I was running tilted over to the right and I was starting to experience pain in my back and neck (the latter probably exacerbated by running in a hooded rain jacket). I was staggering around and not making much forward progress when some passersby saw me and called out for some assistance. A coach named Robert from the Greater LA team happened to be nearby and took charge. He helped me sit down and encouraged me to eat another Powerbar and drink more Gatorade for about 10 minutes. Then he had to help me stand up. :-) He accompanied me for a half-mile or so after that. I don't know I that I would have been able to complete the race without his help. Then, I ran into Susan, one of our team honorees, who accompanied me to the finish line. Coach Tim also checked in around this time, but saw I was in good hands. I had to walk about 95% of the last couple of miles, which were mercifully on a slight downhill slope. Susan provided a lot of encouragement and she was also instrumental in helping me finish. My chip time at the finish line was 6:24:07, which was by far my worst marathon time, but I had realized before mile 20 that I was not going to achieve a reasonable time and all I wanted to do was finish on two feet and then hide in embarrassment. As I crossed the finish line, two staff members spotted me staggering and grabbed me. Along with Susan, they helped me hobble along for well over a half-mile and then they deposited me in a medical aid station run by volunteer UCLA doctors.
| | |
| --- | --- |
| | |
| Almost at the finish, accompanied by Susan and a TNT coach (name unknown); note the "tilted" running stance | Interesting graphical presentation of my results |
The medical staff was very efficient. They got me out of my wet clothes and laid me down covered with blankets on a cot. My back was spasming and I got a few Tylenol tablets for that. Nancy met me there and we eventually got back to the hotel, still blocks away. (Usually Nancy is able to meet me at various places on marathon courses, which gives me a lot of encouragement, but I telephoned her this time to tell her that I wanted her to stay out of the terrible weather. She did end up spending about an hour at the finish line waiting for me in the heavy rain.) The LA Times ran a story the next day about the marathon and said that "thousands of runners were evaluated for hypothermia and 26 were taken to hospitals for treatment." I would guess the former number was an exaggeration, but the medical station was pretty busy. Another thing the paper said was that "an estimated 95% of the runners had crossed the finish line by 6 PM." If true, that is a staggering statistic, meaning that 5% of the runners took more than 10 hours to finish the course. When I checked my times on the marathon website, I was actually a bit encouraged, because I beat 19% of 20,000 runners to the finish line. Usually, I find myself in the bottom 10%. (I was also a little discouraged to see that one of the two men in the 90-99 age group beat me by an hour!)
There were a couple of milestones in the race. The winner was a man from Ethiopia, Markos Geneti, who had never run a marathon before, but he set a record for the fastest marathon ever in California and the second fastest this year anywhere, 2:06:35. And a 400-pound American sumo wrestler set a Guinness world record for the heaviest man ever to finish a marathon. It took him over nine hours.
After this experience, I was completely wiped and could not consider going out for dinner, as we usually do. While the other TNTers were presumably dancing at the official victory party, Nancy and I had a quiet dinner in the hotel restaurant and went to bed early.
Monday, March 21
After a good night's sleep, Nancy and I drove back to Redwood City. It is rather awesome to consider that our driving time was just about the same as my running time on Sunday. Interstate 5 was closed because of snow, so we drove back on 101, which is nicely scenic in the spring when all the hills are green.
Although this was my worst marathon ever, I am recovering pretty well. The back pain is entirely gone and I am just battling some stiffness. I probably should have taken an ice bath or gone into the hotel's outdoor pool, but I considered the entire race to be a 6.5 hour ice bath and simply could not motivate myself to endure any more of it on Sunday. I will take the rest of the week off from exercise and start up with the gym and light running next week.
I want to thank all of my friends at TNT for helping me accomplish my goal—surviving, if not excelling. Particular thanks go to Monique and Susan for volunteering to drive down and encouraging me even while they were suffering the same terrible weather I was. I have already signed up for the TNT summer season, which will be my ninth marathon.
Google Earth Race Simulation
I recorded Global Positioning System (GPS) data with my Garmin Forerunner 205 watch during the race. By opening the resulting data file in the Google Earth application (which can be downloaded here for free), you can display the race course using aerial photographs and simulated 3-D terrain and buildings. There is a Play button that follows the course of the race as if you were flying over it in a low altitude aircraft. Really cool. (Note: If you see a number of Lap markers in the map, this is because of my run-walk strategy. After running five minutes, I walk for one minute and repeat. Each of these events shows up as a single "lap," so there are well over 100 laps in a marathon by this reckoning. For some reason, this race's data does not automatically generate the fly-over simulation that my previous races did. To get this effect, go to the Tools --> Options menu in Google Earth, and in the Touring tab, select the "Fly along lines" checkbox. By the way, the GPS data recorded in downtown areas is a little flaky, so it seems like I'm drunkenly weaving back and forth, but I actually run like a straight arrow!)
The Google Earth file for this race is here. Note that there is a jumble of GPS data about 4 miles into the race, making it look as if I was dashing around like a chicken with his head cut off, but I assume this is an artifact of the couple of minutes I spent under a freeway overpass getting rid of my throwaway T-shirt.
TNT Training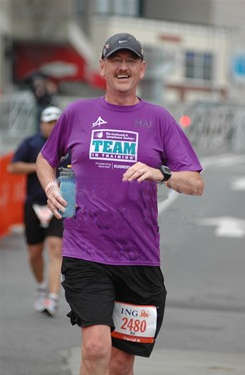 Near the Atlanta finish line,
March 2010
Here is the place for a lot of information about my TNT training program. It's the Winter season and I have signed up to train and fundraise for the Honda LA Marathon, March 20, 2011.
If you would like to make a donation to sponsor my participation and help the great cause of the Leukemia and Lymphoma Society, see my fundraising page.
Weekly Training Schedule
Here is the table of weekly activities for our training, the same as previous seasons.
| | |
| --- | --- |
| Monday | Cross training (30-60 minutes walking, swimming, or aerobics and weights at the gym) |
| Tuesday | Track workout under coaches' supervision (90 minutes). A few weeks of core strengthening, a few of "dynamic drills," then mostly intervals, pacing runs, and hills/bleachers, generally 3-4 miles total. |
| Wednesday | Cross training |
| Thursday | Buddy runs: easy runs with a group at a conversational pace. Early in the season they are in the 3-5 mile range, later they get to 5-7. |
| Friday | Rest, stretching |
| Saturday | |
| (1) Distance run in scenic places, starting at 4-6 miles and increasing 2 miles every other week until you're finally at 20 miles. | (2) On Your Own (OYO) runs, although group running is encouraged. Starts at 4-6 miles, progresses through the season to 6-8. |
| Sunday | Rest, stretching |
Workout Log
Here's the training I have accomplished so far. I do not include Monday/Wednesday cross training or Thursday buddy runs in this list because they're pretty regular, as described in the table above.
Sat, Mar 12: Well, a bad week—either food poisoning or some kind of flu put me out of action Monday through Thursday, so I missed the final track workout. The final long run was today on my own and I did about 5 1/2 miles on Alameda to Woodside Road.
Sat, Mar 5: Our final long run was on the Bay Trail, starting at Oracle. I did 14 miles at a pretty decent pace, despite my still-present cold. I was rather tired at the end, so perhaps I overdid it. We're all in full taper mode now.
Tue, Mar 1: I have been recovering from my cold, so I did not do a weekend run. Tonight at track was pretty easy. We did strides on the straightaways, recoveries on the curves. Five repetitions. Then 200/200 x8 for the LA marathoners.
Tue, Feb 22: The marathoners on the team are now officially in taper mode, although those of us destined for LA less so than the ones going to Napa Valley two weeks earlier. The track workout was pretty easy: 200/200 intervals x 12. Only a handful of people are still showing up this late in the season. The bad news is that I have developed a cold following the unpleasant weather on the Saturday long run.
Sat, Feb 19: (I missed the track workout on Tuesday because of travel. I went to the San Diego area with my wife Nancy to buy her a horse!) The long run this weekend was pretty miserable. Oof! It was on the Los Gatos Creek Trail, which is usually a nice course, but it was very cold and it rained about two thirds of the time. I did 18 miles, cheating a bit. Rather than run up the steep hill through the mud after the first mile, I turned around there and cut off 2 miles from the normal 20 mile course. To make things worse, I neglected to bring my GPS watch, so I had no sense of my pace and using an analog watch for run/walk is a real pain. I finished up cold, stiff, and soaked. Not as bad as my worst marathon, Napa Valley, but not pleasant. Four weeks to go before the LA Marathon!
Sat, Feb 12: An on-my-own run at Crystal Springs Reservoir: 7 miles, which I did at a pretty ast pace for me, 11:07/mile. (If I could do that four times, I would be a happy runner with a sub-5 hour marathon!)
Tue, Feb 8: Track tonight was intervals in reverse: 200 x4, 400 x4. (We had limited time tonight because there was a victory party for the Kaiser Half Marathon finishers, so we did not get to do 800s, as originally planned.) The odd factor tonight was that we needed to measure our times running each interval and then we had active recovery for an equal amount of time. This was convenient for me, because my walking speed is approximately 1/2 of my running speed, so I did 200 m followed by a 100 m active recovery, and then 400/200. I had my stopwatch with me, but did not really need to use it. I was interested to see that my four intervals of 400 were each within one second of each other! My 200s were 60 seconds, my 400s 2:20.
Sat, Feb 5: The group run was my perennial least favorite of the season—the Woodside/Cañada Road run with lots and lots of hills, almost completely on trails. At least the rain had stopped for a while and the trails were mostly dry, but they were still rocky and treacherous. I could have done 18 miles, but I punked out and did 15.1. Sigh. At least we have two more long runs for the season in which I can recover. Also, the weather was fabulous!
Tue, Feb 1: Track tonight was relay running. Teams of three did 800m such that two of the three were running while the third rested. Nate, Monique, and I did eight repetitions.
Sat, Jan 29: An easy 7.7 miles on my own: two laps of the Stanford Campus Drive loop.
Tue, Jan 25: Track tonight was all intervals again: 1200/400, 800/400, 400/400, 200/200 x 4.
Sat, Jan 22: The group run was in San Francisco, starting on the Great Highway across from the Beach Chalet. I did 16 miles, running most of the length of Golden Gate Park and back, down the Great Highway to Sloat Boulevard, around Lake Merced, and then back to the start. The weather was really beautiful and I had a pretty good run, keeping a very steady 5 mph pace for at least the first 13-14 miles. (I did taper down a bit in that last one and a half miles. :-))
Tue, Jan 18: Track tonight consisted entirely of intervals: 800/200 (I did four repetitions) and 200/200 (five repetitions).
Sun, Jan 16: Today was an on your own weekend run and I did 7.5 miles on Cañada Road to Woodside.
Tue, Jan 11: Track tonight was a little easier than usual, probably because of the tough weekend run. We did 200/200 intervals, six repetitions, then some dynamic drills, and finally "Indian relays," where we run single file and the person at the end has to sprint to the beginning. This one was unusual because we did one very long line instead of smaller groups. Since we did it on the track, instead of around the campus, the exercise was a bit tedious.
Sat, Jan 8: This has been a very unusual season for me because today was the first group run that I attended with the group! We did the Stanford Dish run, which includes almost 6 miles of very severe hills. It was cold, but clear. I never did warm up sufficiently and my muscles were pretty stiff throughout the run. Overall it was quite exhausting for me, and I don't know the reason why. As I became more and more fatigued, I decided to reduce the 14 mile maximum to 13, but once I reached the 12 mile turnaround the course turned to mud and I bailed out. Very disappointing performance. The only good thing was encountering a large herd of cows on the top of the hill! They did not seem to be disturbed by runners at all.
Tue, Jan 4: Track tonight was 800/400 intervals (3 repetitions), dynamic drills, and stadiums (3 repetitions). The latter stadium drill is the equivalent of running up a 27 story building! At least the very rainy weather has taken a holiday.
Sat, Jan 1, 2011: Happy New Year! This weekend was an on your own run and I did 6 miles down Edgewood Road and Laurel Street.
Tue, Dec 28: I am ashamed to say that I skipped the track workout tonight. The weather was positively dreadful. I heard afterward that they did "Stadiums" tonight and I cannot believe the daring of people running up and down metal bleacher stairs in the rain.
Sat, Dec 25: Merry Christmas! Today was an OYO run and I did 10K on Canada Road, a moderately hilly course.
Tue, Dec 21: I had a conflict with track tonight (a Christmas concert in SF Nancy wanted to hear), so I ran in the morning, attempting to duplicate the intervals experience on my own. Six repetitions of 2.5 minutes fast, 1.5 minutes slow. Plus, regular warmup/recovery on each end.
Sat, Dec 18: I felt bad about skipping the regional run today, but it was scheduled for Half Moon Bay, and I was concerned about the muddy portions of the course, where I broke my ankle a couple of years ago. So I decided to run on my own, selecting the Bay Trail, beginning at Oracle's headquarters, and had a good run of 12 miles entirely on pavement. It was cold and a little drizzly, so it was a relatively difficult run because of my muscles tightening up. Nevertheless, I did pretty well, achieving a 11:31/mile pace. Perhaps my 5/1 run/walk interval is working to my advantage at last.
Tue, Dec 14: The first track workout followed my cruise was dominated by the rain. It rained almost constantly during the workout, although pretty lightly. Only about eight runners showed up, so I felt pretty virtuous. I was annoyed to see that my "water resistant" rain jacket wasn't very water resistant at all, and I was soaked to the skin within an hour. We did the standard selection of dynamic drills and then intervals: seven repetitions of 200/400 and four 200/200.
Sun, Dec 12: Following a big interruption of my training schedule (see my report about our cruise to the Western Caribbean), I returned to a weekend schedule for an OYO run. I did 6 miles at an easy pace around the neighborhood.
Fri, Nov 26: Normally the longer runs are on Saturday, but since the weather forecast is calling for rain and today was beautiful, I went out on my own. I was supposed to do 4-6 miles, but I am attempting to deal with my frequent weekend outages—Nancy and I have a cruise coming up December 3–11—so I did 12.4 (20 km) on a neighborhood course that had a few hills (Canyon, Jefferson, Alameda, Valparaiso, El Camino, Atherton, and return). It felt pretty good at the 5/1 interval. Perhaps I was able to burn off some of those turkey calories from the day before.
Tue, Nov 23: This was my first track workout, although the second for the team. (I chose not to go to the first because I had an early morning flight to Charleston and did not need the muscle aches associated with getting back into core strength training. My bad. I also did not bother to go to the gear workshop the preceding week because I did not intend to buy any new shoes or clothing.) Since this was the Tuesday before Thanksgiving, attendance was a bit sparse. It was also cold as heck! I wore three layers of clothing and gloves for the workout. We did some moderate amounts of both static and dynamic core training: squats, planks, upside down planks, lunges, high kicks, butt kicks, sideways running, grapevines, low and high skipping, and walking lunges. It was actually not a very strenuous workout. (I am trusting that the coaches will not be reading this. :-))
Mon, Nov 22: After I returned from Charleston, I did a run on my own. Eight miles around the neighborhood, a completely flat course. After seven seasons of TNT, I have decided to change my time-tested run/walk strategy from 4 min. running and 1 min. walking to be 5/1. Perhaps I will get some better speed this season and improve upon my disappointing time in the Marine Corps Marathon. I had no difficulty adjusting to the change and found it pretty comfortable.
Pre-Season: After completing the Marine Corps Marathon on October 31, I spent a week traveling in the DC and Virginia area, which represented an eight day rest from running. I returned to find that the winter season for TNT had already started and I had missed the first group run. I did a good five-mile run on November 9 and will hook up with my team next week.