Training with TNT for the 2011 Chickamauga Battlefield Marathon
This is my log of training for the Chickamauga Battlefield Marathon, scheduled for November 12, 2011. Once again I have signed up with Team in Training (TNT), which raises funds for the Leukemia and Lymphoma Society by providing training opportunities for wannabe-athletes such as myself. The battlefield marathon is a small affair, only 700 runners allowed, which traverses the ground on which the Civil War Battle of Chickamauga was fought. (That link is to the Wikipedia article, which I wrote myself.) It is not an event on the official TNT calendar, so I have signed up instead to raise funds and train for the San Jose Rock 'n Roll Half Marathon.
This will be my ninth season with TNT (previously a half marathon in San Francisco and fulls in Portland, San Francisco, Napa, Victoria BC, Atlanta, Washington DC, and Los Angeles) and I welcome anyone who would like to make a repeat donation to a great cause!
To see a log of my training for this race, jump ahead here.
Chickamauga Battlefield Marathon
My race is finally here! All of my TNT teammates have finished their races and we had the wrap-up party, so this is somewhat of an anticlimax. Nancy and I flew American Airlines to Chattanooga through Chicago and we arrived around midnight at the hotel, the Hilton Garden Inn downtown, which was quite comfortable. Chattanooga is a very attractive small city (the actual city limits contain about 160,000 people, only twice as large as Redwood City, although the metropolitan area is about half a million) with really, really friendly people. We were greeted numerous times on the street by complete strangers. The downtown is very compact with everything an easy walk or a free electric shuttle ride away. It is not a pretentious or cosmopolitan place, everything is pretty casual.
Friday, November 11 (11/11/11!)
Friday was a day to acclimate before the race on Saturday. We took a free electric busride to the famous Chattanooga Choo-Choo, which is a railroad depot that has train cars turned into a hotel and restaurant. We viewed their model railroad, supposedly the largest in the South, which has a very elaborate layout based loosely on the local area. The details of all of the tiny businesses were really over the top in terms of detail, but also whimsy. (For instance, there was a swimming pool with an alligator climbing out of it.) The two great Civil War landmarks, Missionary Ridge and Lookout Mountain, were both there, although the scale was a problem. A real representation of Lookout Mountain, for instance, would have been 27 feet high at HO scale.
| | |
| --- | --- |
| | |
| The Chattanooga Choo Choo | Lookout Mountain in the HO layout |
| | |
| --- | --- |
| | |
| Another view of Lookout Mountain | Missionary Ridge (it is too bad you cannot see William T. Sherman's Union troops attacking that tunnel) |
We took a walk along the pretty waterfront, which was scenic and immaculate. We crossed the Tennessee River on foot over the Walnut Street bridge, which they claim is the longest pedestrian bridge in the world. On the other end is a little shopping district called North Shore and a very nice park that has an elaborate carousel.
| | |
| --- | --- |
| | |
| Walnut Street pedestrian bridge looking north | The mansion at the Hunter Museum |
Back on the South Shore, we visited the Hunter Museum of American Art, which is on the bluff overlooking the Tennessee River. There was a beautiful old mansion connected to a modern annex. The collection is enjoyable, although there are few recognizable American artists on display. I took note of James Whistler, Winslow Homer, and Andy Warhol.
Although Nancy has no interest in the Civil War matters, I took her on an excursion to the top of Lookout Mountain. I have visited there in the past, and will do so later in the week on my own, but the weather was so beautifully clear I wanted to get some better photographs. She was actually impressed with the view, so no harm done.
Chattanooga and Moccasin Bend from Point Park, Lookout Mountain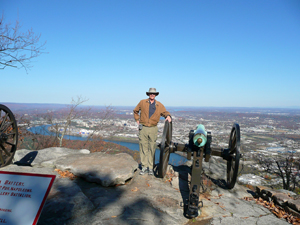 Posing at Point Park
The most famous tourist attraction in Chattanooga is arguably the Rock City Gardens on Lookout Mountain, which in the mid-20th century was advertised on the painted roofs of 800 barns all over the South. We went there with some trepidation because we were afraid it would be simply too touristy, but we were pleasantly surprised at how interesting parts of it were. It is a "city" of gigantic boulders, somewhat akin to Devil's Den at Gettysburg. They call it a city because it is reminiscent of city streets running in between skyscrapers, offering narrow passageways to navigate between tall sheer walls. Some of them were rather claustrophobic because they were so tight. I sometimes had to walk sideways and take off my hat. There was one particularly narrow one called "Fat Man's Squeeze." I wonder how many people get stuck there. There were also fabulous views from Lover's Leap, a sheer cliff that offers supposed views of seven states. (We could see for miles and miles in the clear weather, although it is arguable whether one could actually see 120 miles to Virginia, for instance.) The only really uncomfortable tourist aspects were some kitschy gnome statues scattered around, and a series of caves in which there were little exhibits of fairy tale and nursery rhyme characters illuminated with black lights.
| | |
| --- | --- |
| | |
| Autumn colors on Lookout Mountain, looking from Rock City to the northeast | Overlook from Rock City |
| | |
| --- | --- |
| | |
| The supposed seven states | Nancy descending into Fat Man's Squeeze (she had no problem) |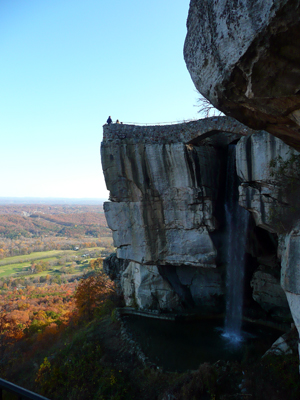 Lover's Leap
We finished up the day by driving to the Lakeview Fort Oglethorpe High School to pick up my racing bib (number), timing chip, and T-shirt. Then we had dinner at one of my favorite restaurant chains, Mellow Mushroom. (Perhaps not the optimal way of carboloading prior to a marathon.)
Saturday, November 12
Race day! Since this is such a small race, we were able to be rather leisurely in our wake up and drive to the starting line. Normally in a giant TNT-sponsored race, we get up at some ungodly hour and either march or bus to the starting line way more than an hour before the race. In this case, we were able to leave the hotel at 6:45 AM and make it with plenty of time to spare. We started at the 6th Cavalry Museum in Fort Oglethorpe, Georgia, which is only a few blocks north of the battlefield. The marathon was limited to 700 runners, although there was also a half marathon starting at the same time, so there were probably 1500 people at the starting line. For some reason the race started 20 minutes (7:50) after the scheduled time. The Confederate Army was on hand to fire a cannon, which they screwed up. (There was supposed to be a wheelchair start a few minutes ahead of time and they were going to sound a horn. Oddly enough, there was only one wheelchair participant, and the Confederates fired the cannon for him by mistake, which got everyone hot and bothered.)
| | |
| --- | --- |
| | |
| Course map | Dashing up to mile 19 |
A quick kiss and then I'm off, still in good shape
The morning start was quite chilly, around 32°F, so I had extra layers. But the weather was almost perfect for the entire race, gradually reaching the low 60s by the time I staggered in. I kept a throwaway jacket on for at least 10 miles and my gloves for 20. The only improvement would have been some overcast skies, but the constant sunshine was shielded a bit by the shade of many woodsy roads. We got off to a reasonably brisk start and I was feeling very confident for most of the race, envisioning a personal record being set. (My best marathon was in Victoria, BC, at about 5:20. Also chilly.) Alas, it was not to be. Although I was chugging along quite comfortably past the 20 mile mark, maintaining my typical 12:00 pace, I started to tire and then somewhere around mile 23 I hit the "wall," suffering a catastrophic loss of stamina. I also fell prey to a condition that has hit me primarily in rainy marathons, where some muscles on my right hip (my IT band?) tighten up, causing a lot of discomfort and changing my posture so that I am noticeably tilted to the left side to compensate. When I ran in LA this spring, this condition emerged much earlier in the race and gave me a lot of difficulty with associated back pain as well. (That race was a disaster for me, my worst by far.) So for the last 3 miles, my pace went through the floor and I was shuffling and staggering around like a drunken man. I am happy to say that at least I finished on both feet, but I was disappointed at my poor performance.
| | |
| --- | --- |
| | |
| Almost at the finish. This is what I mean about the hip-induced tilting problem. | It's even more apparent from the rear |
I finished at 5:39:24. Not my worst time by far, putting me in the middle of my career (nine) marathon rankings, but disappointing nonetheless because of false expectations from my good start. Once again, the race results put me in the bottom 10% of the runners. The only good news about that is it looks like about 200 people did not finish, so I guess I wasn't that bad. I have been trying to do a postmortem on my problem. I certainly cannot blame the weather this time. Perhaps I did not ingest enough electrolytes. I barely sweated at all. I ran with a camelback filled with Cytomax and thought I was getting close to empty, but I finished with over a liter unconsumed. I ate 3.5 powerbars along the way for additional carbs. I have a minor suspicion that my hip/back problems are related to a lack of core strength, so I will have to be more disciplined about that next season.
Despite my ailments, the Chickamauga Battlefield Marathon was a nice, enjoyable race. It was not over organized, but all of the logistics worked pretty well. From my standpoint, the biggest problem was that I was literally the only visible TNT participant, so there was no team comaraderie, and there were no friendly purple shirts to meet me near the end and encourage me to finish. Since it was such a small race, there were times when I was hundreds of yards from the nearest runner, so that cost me a little motivation as well. The Chickamauga Battlefield is a nice place to run even if you are not a Civil War buff. They have the course laid out to take mostly minor roads, so you do not get to see some of the most densely populated areas of battle monuments. It did not look as if the park was closed, so I guess they were accommodating the normal tourists, except for some traffic delays. The best areas for me were the famous Wilder monument (I'm a fan of Col. John T. Wilder and his Lightning Brigade) and running past Snodgrass Hill, where George H. Thomas received the nickname "Rock of Chickamauga." Fortunately, we did not ascend the hill and the entire course was pretty flat.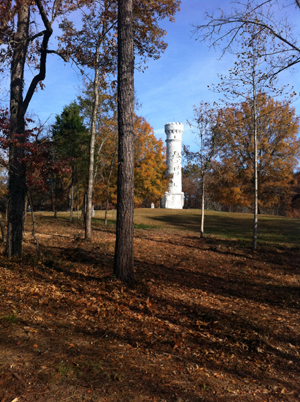 Wilder monument
| | |
| --- | --- |
| | |
| Horseshoe Ridge (Snodgrass Hill on the right) | y |
After a mile or so in Fort Oglethorpe, we entered a circular course in the Park. The half marathoners did one loop and we did two. I must say that it does take some motivation to reach the halfway point and then continue for a second lap. About a mile after I did so, a fast runner came up behind me yelling "Where's the finish line?" I thought about giving him a wise-ass response about it being at the end of the race, but then he yelled "This is my third lap!" and I realized he had missed the turnoff. The poor guy had been on track to do a sub-3:00 and this mistake added almost 2 miles to his total. I encountered the winner of the race at 2:17, passing me before I finished my first lap. His time was 2:39. No Kenyans in this race. :-)
Two friendly medical guys gave me some aid at the end of the course, and Nancy provided needed support by meeting me at mile 19 as well as the end, of course. Back at the hotel, I did some recovering in the pool instead of my more typical ice bath. We walked to dinner and I had relatively few problems adjusting.
Sunday, November 13
Recovery has been a little slow. We took a walk over the pedestrian bridge again, putting on a couple of miles, but it was a little more difficult than usual. I also feel like I might have a minor cold coming on. I took Nancy to the airport and then returned to the battlefield to do some more traditional Civil War touring. My travelogue will continue on my Civil War page. I will be in Chattanooga alone for another week on various Civil War activities.
I have already signed up for another season of TNT, tentatively selecting the Oakland Marathon in late March. If you would like to make a donation to sponsor my participation and help the great cause of the Leukemia and Lymphoma Society, please see my fundraising page.
Google Earth Race Simulation
I recorded Global Positioning System (GPS) data with my Garmin Forerunner 610 watch during the race. By opening the resulting data file in the Google Earth application (which can be downloaded here for free), you can display the race course using aerial photographs and simulated 3-D terrain and buildings. There is a Play Tour button that follows the course of the race as if you were flying over it in a low altitude aircraft. Really cool. Unfortunately, this is not the most interesting race for this aerial treatment because so much of the course was in woody areas. The Google Earth file for this race is here.

TNT Training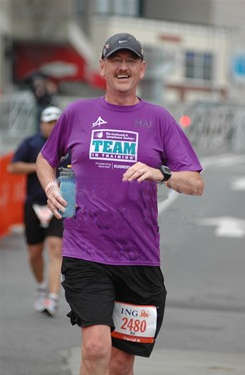 Near the Atlanta finish line,
March 2010
Here is the place for a lot of information about my TNT training program. I will start posting my log in late May. While I wait for the season to start, I have been recovering from my terrible experience at the Los Angeles Marathon, running 6–10 miles at a time, about three times per week.
Weekly Training Schedule
Here is the table of weekly activities for our training, the same as previous seasons.
| | |
| --- | --- |
| Monday | Cross training (30-60 minutes walking, swimming, or aerobics and weights at the gym) |
| Tuesday | Track workout under coaches' supervision (90 minutes). A few weeks of core strengthening, a few of "dynamic drills," then mostly intervals, pacing runs, and hills/bleachers, generally 3-4 miles total. |
| Wednesday | Cross training |
| Thursday | Buddy runs: easy runs with a group at a conversational pace. Early in the season they are in the 3-5 mile range, later they get to 5-7. |
| Friday | Rest, stretching |
| Saturday | |
| (1) Distance run in scenic places, starting at 4-6 miles and increasing 2 miles every other week until you're finally at 20 miles. | (2) On Your Own (OYO) runs, although group running is encouraged. Starts at 4-6 miles, progresses through the season to 6-8. |
| Sunday | Rest, stretching |
Workout Log
Here's the training I have accomplished so far. I do not include Monday/Wednesday cross training or Thursday buddy runs in this list because they're pretty regular, as described in the table above.
Sat, Nov 5: My final run was 6 miles at "70%" (whatever that means). I did the Edgewood/Laurel run at 5.4 mph. Felt pretty good.
Sat, Oct 29: Today was my final long run for the season. I did 16 miles running down Alameda to Stanford, around the Campus Drive loop, and return. I was a bit discouraged that I was pretty tired at the end, even though I maintained a relatively slow pace of 5 mph. Now I am in taper mode! My marathon is two weeks from today.
Mon, Oct 24: After a long weekend in the Pasadena area for a Civil War trip (see my report), I returned for an 8 mile up-tempo run at Crystal Springs. My pace was 11:03/5.4 mph.
Sat, Oct 15: I'm back from my trip to Virginia and I have done two 6 mile runs on my own (Tuesday and Thursday). Today, my goal was 18-20, but I am ashamed to say that I ran out of gas at 16.11 and had to walk to the final distance of 18.25. Sigh. My run was from Oracle headquarters north to Coyote Point pier and back. I hope this was an anomaly. I have one more long run before I go into taper mode.
Tue, Oct 4: I did another 12 miles on my own, this time on battlefield land southeast of Richmond. Details are in my Civil War trip report.
Fri, Sep 30: I am now officially off the standard schedule because of traveling and because my marathon is almost a month later than some of my teammates'. There will be no more track workouts or group runs. Today I did 12 miles on my own at the Manassas battlefield in Virginia. Details are in my Civil War trip report.
Tue, Sep 27: Our track workouts have been able to return to the Stanford track, nicely refinished. We did some core strength, dynamic drills, and rather easy intervals, eight repetitions of 400/200.
Sat, Sep 24: I missed a week of running because of my trip to Chincoteague Island. Upon my return, I did 8.5 miles on Cañada Road, 5.2 mph.
Tue, Sep 13: Tonight our track workout was back at the Stanford Dish. We are expecting the typical interval-style hill repeats, but tonight instead we did a full loop of the dish course, which is a little over 5 miles from the Alpine Road entrance. For the very first time, I ran this course clockwise rather than the way TNT usually sends us. At first I thought it was somewhat easier in this direction because the downhills seemed pretty steep and the uphills seemed more gradual, but at about mile 3 there was one killer uphill that made me reevaluate. Coach Terry later said that he thought the clockwise direction was more difficult. Here's another one of my favorite GPS elevation diagrams from my Garmin Forerunner 610. This was a particularly tiring run because we were under a time constraint before they locked the gates. I was able to do the 5 miles in one hour, which is not too bad considering the hills. If I did not have a lady security officer driving behind me in a pickup truck yelling that my time is running out, I probably would've done this at a more leisurely pace. :-)
Sat, Sep 10: It was an OYO run this weekend. I did 7.7 miles in two loops of the Stanford Campus Drive, pacing at 11:29.
Tue, Sep 6: We were at Palo Alto High School for track. We did a few core strength exercises, a small number of dynamic drills, and then some easy Indian relay running, where 5-6 runners in single file are overtaken by the final person in line, who sprints to the start, and then it repeats.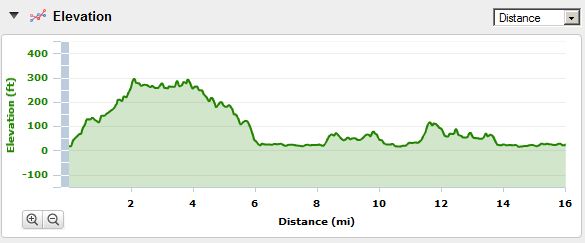 Sat, Sep 3: Starting today, I am on a new training schedule proposed by Coach Cam, designed to accommodate my travel in September and October as well as the considerably later date of my marathon than those of some of my teammates. Today's long run was at Golden Gate Park and Lake Merced and was supposed to be 16-18 miles. The coach recommended that I do 14, but try to run harder the final 3 miles. Well, I got the course screwed up and ended up doing 16 miles, of which about the last mile and half was at a faster pace than I usually do. Overall I ran a 11:36 pace, or 5.4 mph, and think I did pretty well. The weather was foggy and cool, ideal running weather. I've added another of my GPS elevation charts—I love these things—that shows the gradual climb into the park is actually just as much of an elevation gain as the initial run to the Dish (see September 13, above), although over twice the horizontal distance.
Tue, Aug 30: Hill repeats at the Stanford Dish. Three reps of 1-mile roundtrips. My new Garmin GPS watch recorded the elevation changes: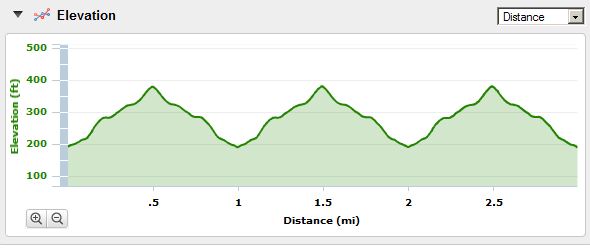 Sat, Aug 27: Based on advice from Coach Cam, I ran 10 miles on my own today, down Canyon to Jefferson and then Alameda to Menlo Park, and back. 11:31 pace.
Tue, Aug 23: I have missed ten days of running because of my trip to Yellowstone. (See my travelogue.) Great trip, but I feel out of shape already! I missed the long run on Saturday, 16 miles at Half Moon Bay. Coach Cam told me I should make it up with a solid 10 this weekend. Tonight at track we had intervals—6 repetitions of 800/400. It was pretty hot, so the coaches didn't add the expected 400/200s. I ran OK, although more slowly. This was my first outing with my new Garmin Forerunner 610 GPS watch. Worked great. I found that running in track lane 5 is about 5% longer than the expected distance. I now have the ability to record lap times much more easily. I have also changed over to a new set of running shoes this week, once again Brooks Beast 10s. The old ones were getting pretty worn out!
Sat, Aug 13: On my own weekend run, 6.2 miles on Cañada Road to Woodside at 5.35 mph.
Tue, Aug 9: We returned to Palo Alto High School for the track workout. Descending intervals: three repetitions of 800/400, 3x 400/200, 3x 200/200.
Sat, Aug 6: The long run was also at the Stanford Dish. It was pretty intense. We started on Alpine Road, ran a mile to the base of the hill, and then did a 5 mile course that had three very significant hills in it. Then back to the starting point and an 8 mile out and back. The second half was partially on paved trails, but also some rather hilly dirt trails. I got seriously fatigued around mile 9.5 and had to turn back prematurely, but when I reach the finish line I still had some juice in me, so I did enough to bring the entire workout to 13.5 miles. With all of these hills, my pace was pretty slow: 12:47 per mile, or 4.7 mph.
Downhill at Stanford Dish
(photo by Hang Cheng)
Tue, Aug 2: The track workout was at the Stanford Dish. We did seven hill repeats, each about a 1/4 mile up and back, with one really steep stretch in the middle. Oof.
Sat, Jul 30: Today was an OYO run and I did 7.5 miles at a 10:56 pace on Campus Drive at Stanford.
Tue, Jul 26: The track workout tonight was bleachers. The bleachers at the Palo Alto high school are considerably easier than those at Stanford—they are not as high or as steep—so the coaches ended up giving us two sessions. Combined, my group did 10 laps with three up and down stairs each lap, as well as four repetitions of 200/200 intervals.
Sat, Jul 23: Our long run was in Pacifica, a first for TNT. It is a very beautiful course along the ocean, mostly very gentle rolling hills, but one very challenging hill required about 10 switchbacks to get up one side, and the reverse slope was frankly even more challenging. The first hour was mostly flat and I kept up a 5.6 mph pace, but the subsequent hills reduced my overall pace for 12 miles to be 5.3. The weather was cool and a bit windy.
| | |
| --- | --- |
| | |
| Pep talk at the Pacifica starting point | View of the switchbacks from the top |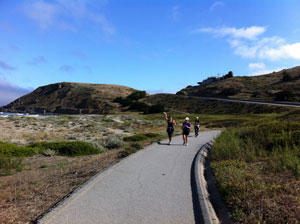 The reverse slope
Tue, Jul 19: Track tonight was intervals again, six repetitions of 400 m with 200 m active recovery, then six repetitions of 200/200. For a little bit of variety, we have been temporarily ejected from the Stanford track because of scheduling conflicts and we have started running at the Palo Alto High School track.
Sat, Jul 16: Today the long run was OYO. I did 7 miles out and back on Cañada Road, which is moderately hilly, and had a reasonable pace of 10:48.
Tue, Jul 12: Tonight at track we did a couple of laps of dynamic drills (for some reason the coaches this season think we should do these on our own as part of our warm-up) and then concentrated on intervals. My group did six repetitions of 800 m (two laps) with 400 m active recovery.
Sat, Jul 9: The group run was at Seal Point Park in San Mateo. I did 10 miles at a 10:34 pace!
Tue, Jul 5: Tonight at track was dynamic drills followed by an interesting clinic on walking techniques. I'm not sure whether the unusual walking style or the 80 walking lunges did me in, but my quads were really sore for the rest of the week.
Sat, Jul 2: I missed the Tuesday track workout because of my Gettysburg trip. I presume they did more dynamic drills. Today was an OYO run and I did 11 miles on the Bay Trail north from Oracle.
Sun, Jun 26: I could not attend the group run at Shoreline because I traveled to Gettysburg. I was able to run 10+ miles there, which I describe briefly in my Civil War travelogue.
Tue, Jun 21: I skipped track this week to celebrate my 35th wedding anniversary with Nancy at dinner. I understand they did dynamic drills (skipping, side running, walking lunges, etc.).
Sat, Jun 18: OYO 10 km, Canada Road at 5.6 mph!
Tue, Jun 14: More static core strength exercises at track. Nutrition clinic.
Sat, Jun 11: I missed the group run because I was in Sacramento for Nancy's Western States Horse Expo. But since I had time free, I did a nice 12-mile run on the American River Bike Trail. I left from Discovery Park and did 6 out to the east/southeast and then back. Flat as a pancake, moderately interesting scenery. Not too warm, but rather windy. My time was pretty good: 2:07. My "buddy run" on Thursday was at Crystal Springs and I pleased myself with a really quick pace (for me!) over 7 miles: 1:12, or 10:20/mi!
Tue, Jun 7: Core strength exercises at track, with about 4 laps of running sprinkled in.
Sun, Jun 5: On-your-own (OYO) run, postponed from Saturday because of unseasonable rain. I did 10km (6.2 miles) around my neighborhood.
Tue, May 31: This was my first track workout of the season (because the literal first was a gear clinic designed to help people select shoes, which I typically skip) and it was great to be back with the team again. There must have been 75 people at the workout. We did some warm up walking—a first for me in TNT—and then did stretching and some light core strength exercises. And, unlike previous seasons, our Hang with the Gang social event was at the track with goodies provided by the mentors, not at a local restaurant. The previous Saturday was the first long run, but I was forced to miss that because of travel to Chancellorsville.
Sat, May 21: Kickoff! All of the 2011 athletes met at the Santa Clara Marriott to pick up T-shirts and packets and listen to a series of inspiring speeches. I have spent the last six or so weeks trying to keep in reasonable shape while recovering from Los Angeles. I have been running three times a week (usually), 15 to 25 miles total. I was particularly encouraged by my run on Friday, May 20, at Sawyer Camp (Crystal Springs reservoir in San Mateo). I was able to do 10 miles at my fastest pace ever, 5.6 mph overall. Yes, that is a slow pace for a runner, but is about 10% faster than is typical for me. I will miss the next two team events because of a Civil War trip—a gear clinic on Tuesday and a 2–4 mile run at Whisman Park in Mountain View on Saturday.