Safari West, May 2008 & September 2017
Here is a travelogue of our brief visit to the Safari West animal reserve in Sonoma County. We have been twice now: May 2008 and September 2017.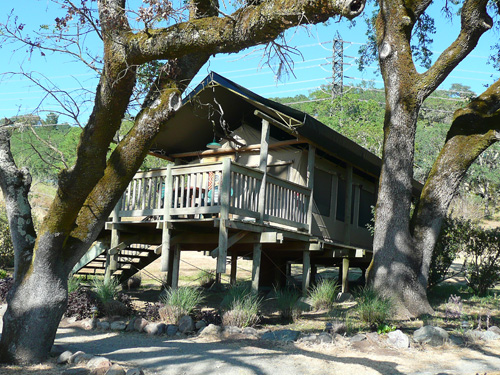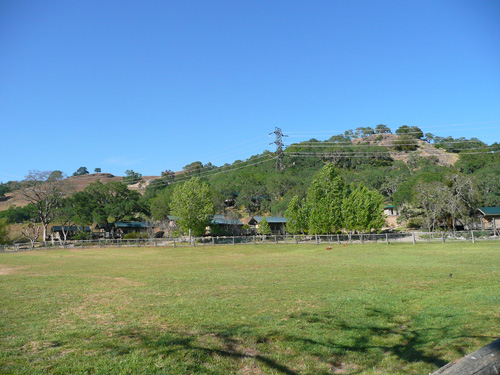 2008 Visit
Nancy's birthday was the week before, so we decided to get away for an afternoon, evening, and another half day. The park has been open since 1989 and we have wanted to visit it for quite a while, but a recent article in Sunset Magazine reminded me of the opportunity. We had no difficulty booking overnight accommodations for a weeknight with about two weeks notice. Although the park has 32 tents, I think, it didn't seem as if more than a half dozen were full on the Tuesday night we visited.
The park is a few miles north of Santa Rosa, California, and covers 400 acres of very hilly terrain, a former sheep ranch. There are a few hundred different species of African animals in residence. Most of them are out loose in huge areas surrounded by fences, which you can only access by booking a tour.
Overnight accommodations are in tents, although these are quite luxurious in comparison to what you might think. They are erected on permanent stands with nice hardwood polished floors, electricity, and plumbing. The only thing that is really tentlike are the walls and ceiling, which are heavy canvas. It is a large living space, comparable to a hotel room. At night, it got rather chilly, but they provide large space heaters and electric blankets, so there was no problem. However, the bathroom is not heated, so they advise you to shower in the evening. The only other "problem" that apparently some people complain about is that you hear animal noise, particularly early in the morning. I was awakened by the familiar calls of African jungle fowl roosters and they also had a pair of Saurus cranes that could put up a big racket. Visiting Canada geese also made their presence known. But this is part of the charm of the experience.
We arrived about 4 p.m. on Tuesday and oriented ourselves, visiting enclosures of giraffes, antelopes, lemurs, and cheetahs. At 5:30, we had a "behind the scenes" tour booked, and a nice young employee named Travis took us to places that are not normally seen. We spent some time in a large aviary feeding live worms to a variety of birds. Our favorite characters were medium-sized birds named busterds, but there were also simply gorgeous golden pheasants and a number of other birds whose names I cannot recall. There was a group of roseate spoonbills, but they did not feel hungry, I guess. We visited a kookaburra bird who is not out for public view in the colder months and got rather close up to a porcupine, who wasn't too friendly. The two highlights of the tour were some hands-on feedings. First, we got to bottlefeed two Watusi cattle calves; both had been rejected by their mother for some reason. They were extremely eager to see us and were quite aggressive in sucking on the milk bottles. (We commented that that was perhaps the reason the mother cast them aside. They had no trace of the horns that they would get as adults, which are stupendous. See the photograph on the right of the adults.) Then, we got to feed carrots to Tucson the giraffe. I really love giraffes because I have something in common with them, but they are also very gentle and friendly. As you can see from the photograph, Tucson has a really enormous head, which was sort of a surprise the first time he swooped down on us.
We had dinner out on the patio, buffet style, and the food was pretty decent—chicken, pork, pasta, strawberry shortcake. There were no exotic species on the menu. :-) We chatted with some nice people and communed with all of the large, friendly resident dogs that wandered under the tables. After dinner, we walked up to Catfish Lake, where the chef brought a number of scraps from dinner. We got to throw large chunks of chicken meat off of a short pier and watch as they are devoured by very large catfish—some were about 4 feet long, I think. I never knew those fish were carnivores. (Actually, the following day our tour guide told us that the only animals on earth that are strictly vegan are some humans. All the animals that we think of as herbivores will consume protein now and again, even if it is only insects.)
We had the opportunity to roast marshmallows, but went back to the tent to read. There is not much else to do in the evening. No televisions or stereos. They don't even have cell phone reception—let alone Internet access—so if you need to make a phone call, you have to go down to the main office and use their telephone. At night, if you have a problem with your cabin, you walk with a flashlight to the main office building and find a walkie-talkie to summon someone, or else go to the owners' house and rouse them. So bring books with you.
In the morning, there is a very nice continental breakfast provided. We booked a 9 a.m. Safari tour (a separate expense, something also accessible to people who do not book overnight stays). We met our tour guide, Milton Rieback from South Africa, a fascinating young man trained as a herpetologist. He has worked at Safari West for seven years, but he is set to relocate to the Midwest in another month. Very knowledgeable and personable. The safari vehicle is a small truck that has a number of seats built in sort of a theater arrangement, with each row higher than the one before it. There is another row of seats directly above the driver, which seems rather precarious, but the seatbelts were sturdy. Altogether it seats 12-14.
We drove around for over two hours, getting expert commentary and all of our questions answered. We saw most of the 12 giraffes on property, Watusi cattle, a number of different antelope species—I cannot remember all of their names, other than elands, impala, and wildebeests—zebras, and Cape buffaloes. The latter animal is allegedly the fifth most dangerous animal in Africa. He used to work at Kruger Game Reserve and referred us to a very popular YouTube video filmed there about Cape buffaloes, lions, and crocodiles, which I saw upon my return and thought it was fascinating: video.
We concluded our tour on foot for about 40 minutes, visiting the cheetahs, the lemurs, and another extended stay in the giant aviary. With the exception of the baby Watusi cattle, all of our experiences were strictly hands-off. This is not a petting zoo and you're not supposed to feed the animals except under supervision.
All in all, we had really great time. It's not a bargain-basement experience—the overnight, meals, and two tours that I described were about the equivalent of one day on a cruise ship—but it's one that I would recommend to any of my friends.

Here is an article that I found in the New York Times about Safari West.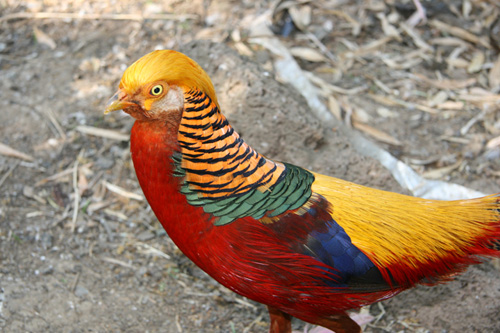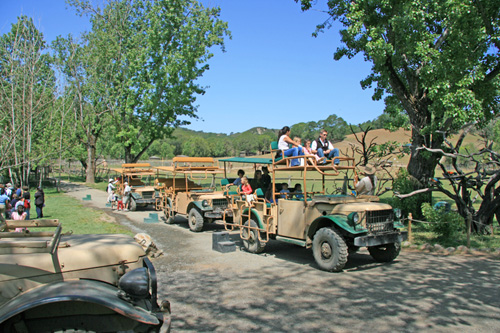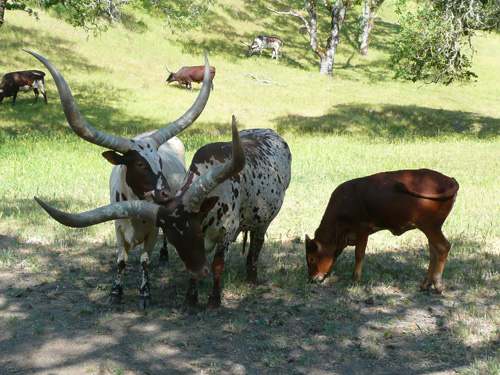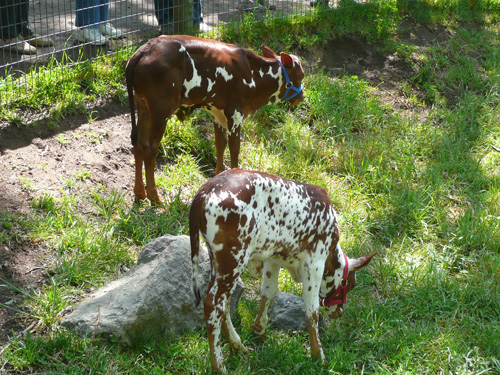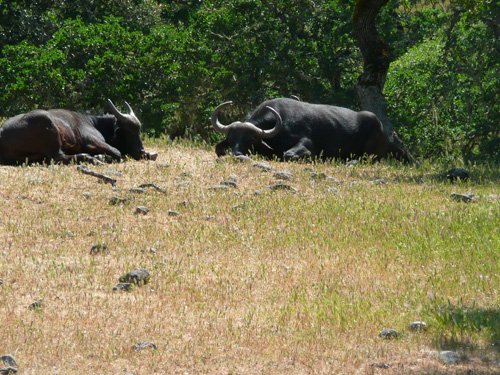 2017 Visit
Our return visit nine years later was really quite similar, so I won't bother with a description, but here are some photos. The big news is that two weeks after our visit Sonoma and Napa counties were hit with devastating fires. The largest one, called the Tubbs Fire, seriously endangered Safari West. The owner, Peter Lang, evacuated all of the guests and his employees, but stayed behind with his animals. He fought fires with garden hoses as they erupted and was able to save all of his operation (and the animals!), but he lost his own house to the flames. Safari West is closed until at least spring 2018. Here's a news article about the fires.