Hal and Nancy's Panama Canal Trip with Road Scholar, February 2019
This is my (Hal's) report of Hal and Nancy attending the Road Scholar program "Grit and Glory: Exposing the Panama Canal." It was Hal's 18th Road Scholar, Nancy's 16th. This was our second trip to/through Panama. Some time in the 90s—before I got accustomed to documenting my trips, on the web or otherwise—we took a Royal Cruise Line (now defunct) trip from Long Beach to Aruba. Transiting on a big ship is quite different than visiting the country so we wanted to return and immerse, particularly in the canal's history, and also to explore its big expansion that was completed in 2016. And besides, I lost my favorite hat in the windy canal, so I wanted a second chance.
Monday, February 11 – to Panama City
We flew United airlines from San Francisco through Houston to Panama City, about 9 hours total. There was a lengthy backup at Panama Immigration, including full fingerprinting. Uber was pretty cheap for the 30-minute trip to the Radisson Panama Canal, which is actually right on the mouth of the canal. (Panama uses the US dollar, a great convenience.) Panama City is pretty big, with lots of modern skyscrapers, but it was oddly dark at 8:30 pm. We were met with last minute instructions by Gabriel Ortiz and Abdiel Luis, our two guides, but there was no formal session scheduled for the first night.
Tuesday, February 12 – Casco Viejo
We enjoyed a nice buffet breakfast in the hotel and then came the introductory session. Our guides, both in their early 30s, talked about their ethnic backgrounds and work histories and reviewed the itinerary for the week. All 36 guests introduced ourselves and a large percentage said their primary motivation for attending was to escape the northern US weather!
We boarded two small buses for a trip to the old part of the city, Casco Viejo, a World Heritage Site. On the way we drove through a moderately depressed slum and by a park that was the site of the now-demolished headquarters of Manuel Noriega. In Independence Square, we visited the Canal Museum, which oddly was also hosting a conference on medical marijuana. The museum had a lot of details about the history of the canal (without diving into many design or engineering details), but was primarily in Spanish, so some parts were lost to us. Abdiel (who is more frequently addressed by his surname, Luis) did a running commentary, but we had to skip by a lot of possibly interesting stuff.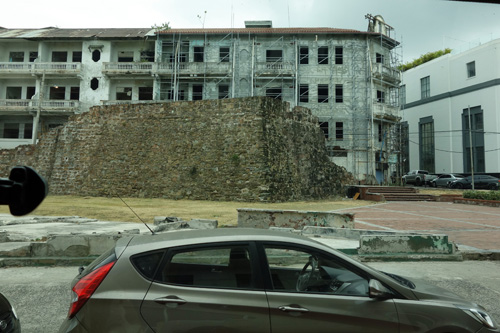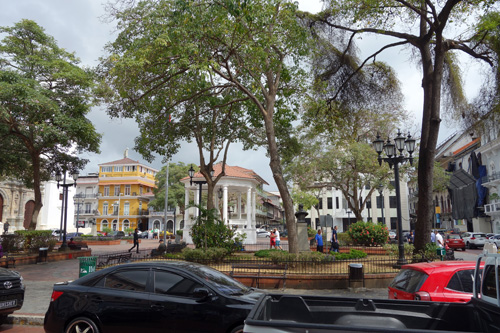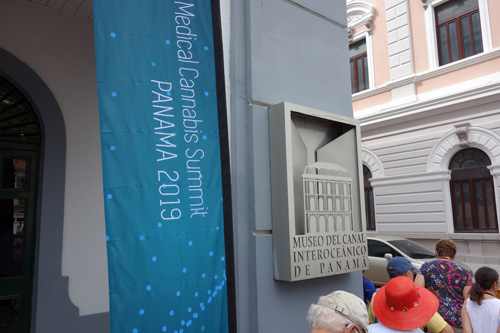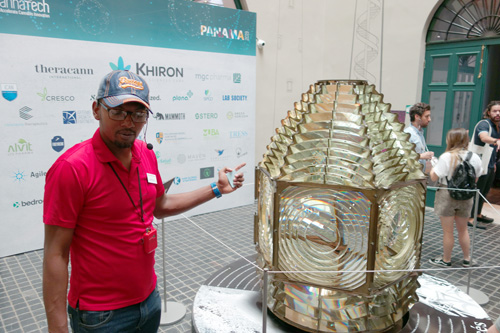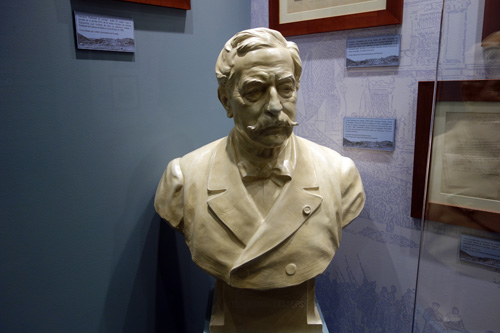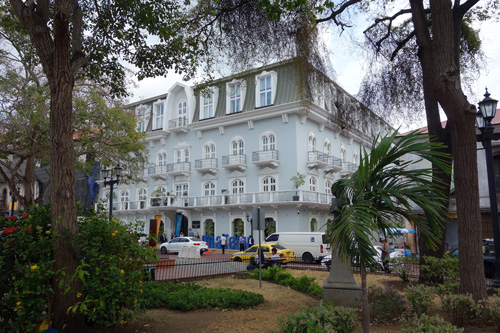 We walked over to Santo Domingo Church and saw El Arco Chato, the flat arch, which Philippe Bunau-Varilla showed to US officials to convince them that, since it had been standing since 1670, they didn't need to worry about earthquakes. (Unlike neighboring Nicaragua, which is peppered with volcanoes!) At this point we were on our own for 45 minutes, so walked around the waterfront and Simon Bolivar Square. Then a bus ride out a long causeway to Flamenco Island (formerly Fort Grant), the mouth of the canal, for a buffet lunch at the Sirena seafood restaurant, a nice covered outdoor spot with a cool breeze.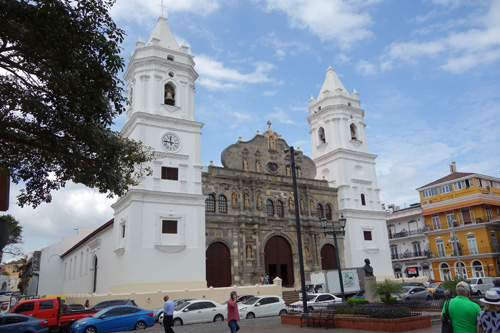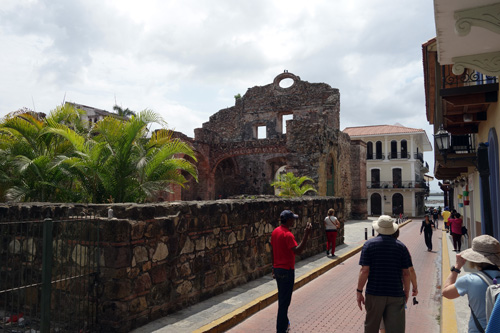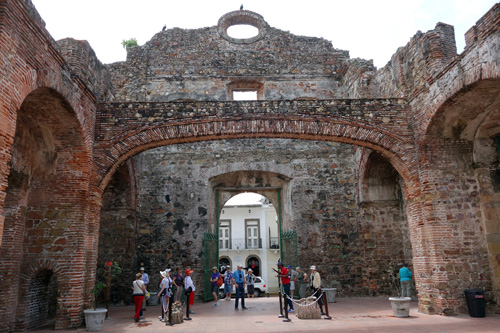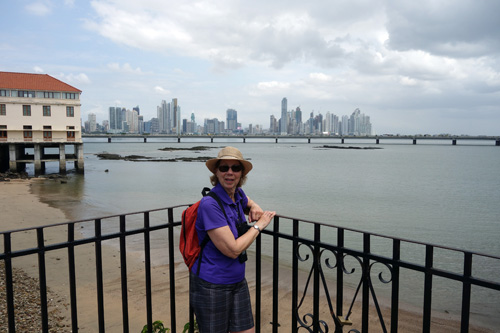 On the way back, the bus deposited about half the folks at the Biodiversity Museum, which had an interesting exterior designed by Frank Gehry, but Nancy and I decided to head back to the hotel swimming pool instead. The pool was delightful, perfect for the 90° afternoon. (Everyone here has been warning about the humidity, but I don't think it has been bad at all, at least so far.)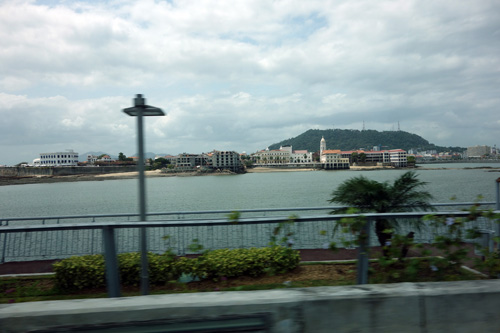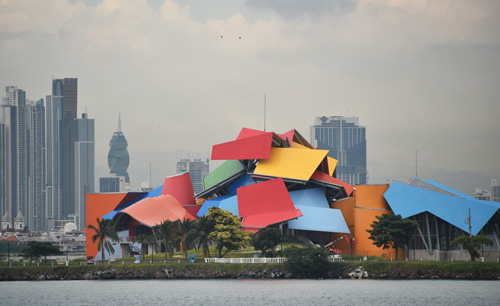 At 5 pm we had a 90-minute session with Jaime Robleto, who has worked on the canal for 25+ years, now in a public relations mode. This was very entertaining and informative. His focus, which was driven by numerous audience questions, was on canal operations (employees, prices, traffic, scheduling, etc.), but he also went into rudimentary detail on the lock engineering, including the new neo-Panamax locks. I learned a lot of interesting stuff. We concluded the day with a buffet dinner out by the pool in lovely evening weather.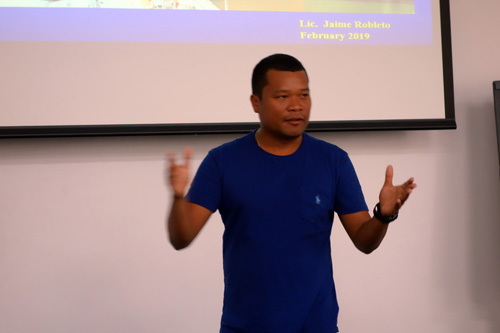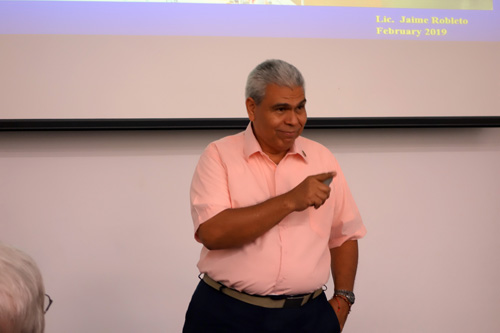 Wednesday, February 13 – Out and about
We had a long day on and off the bus. Our first stop was the Panama Canal Authority administration building, where we saw four beautiful murals depicting key episodes in building the canal. Even at 100 years old, they are still vibrant paintings. Overlooking the logistics area, we saw all beaucoup stacked shipping containers and discussed ways for containers to pass via rail or truck if the ships are too heavy for the canal, or if the shippers want Panama to juggle them onto other ships going elsewhere. I was amazed to find that the Panama Railroad is once again a single track—John Stevens had fixed that problem in 1905!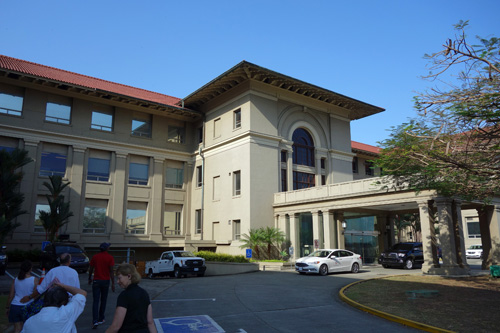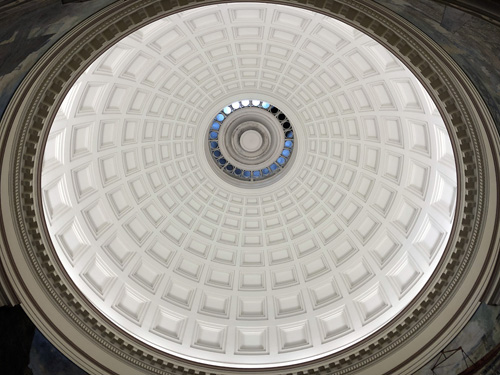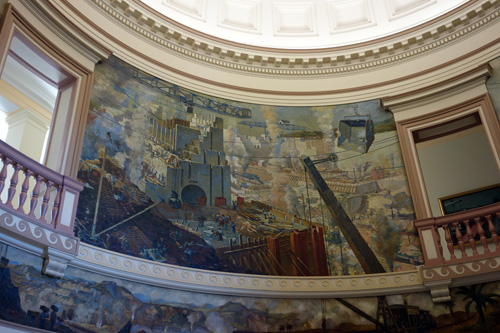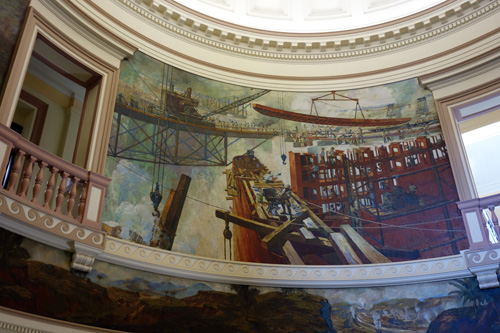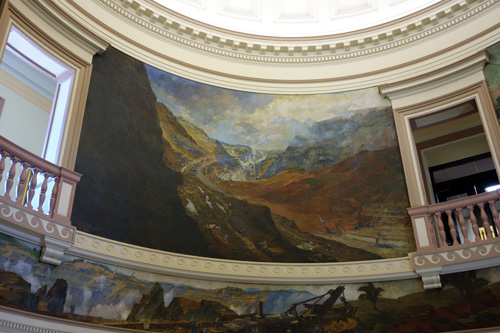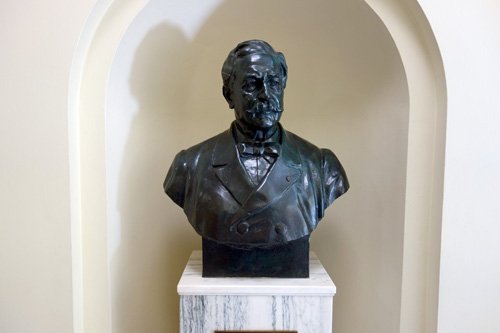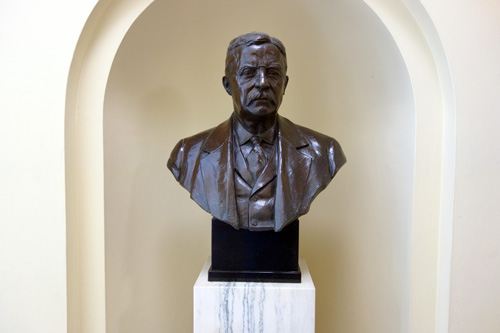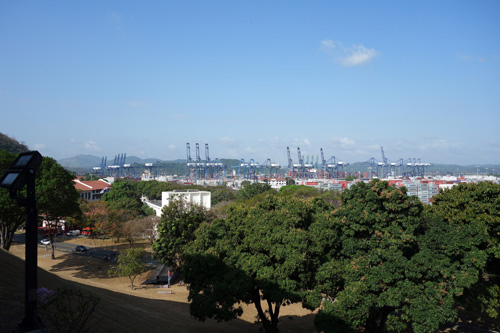 We drove over the America's Bridge, then u-turned and drove back; both sides of the bus could see a rather distant view of the Pacific locks (Miraflores and Pedro Miguel), including the Pacific Access Channel and the new expanded Cocoli locks. This bridge has a limited lifespan ahead because it is too low to allow some ships to pass under in every tide condition, so they will be building a fourth canal-crossing bridge soon, nearby, and removing this one.
To get some local flavor, we stopped at a big shopping mall and spent 30 minutes in Supermercado El Rey. It was quite modern and very upscale. Our folks bought coffee, snacks, and beer, mostly. We got some small coffee bags for gifts and some tasty plantain chips. The prices were somewhat comparable to US supermarkets, which may be why the giant store was not very busy. Nearby was another mall that Luis said had 850 stores! Lots of Latin Americans apparently fly to Panama for shopping; getting to the US is too much of a hassle.
Next was Madden Dam, which was built in 1935 to create Lake Alajuela on the Chagres River, meant as a reserve means for water supply in drought times. It was a predecessor/prototype for Hoover Dam, they say. This stop wasn't actually very interesting.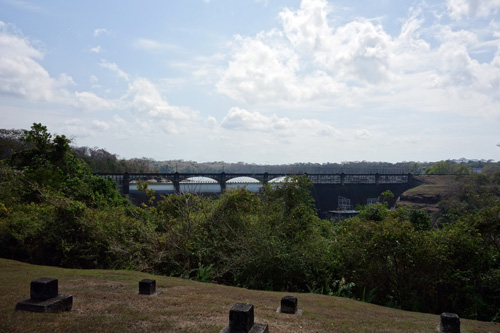 We drove through a rain forest and Gabriel told us the 16 square miles contains more species of plants than all of Europe. We got a glimpse from the bus of Camino las Cruces, the old footpath through the jungle used by the 49ers and Ulysses S. Grant in the 1850s. We passed by a minimum-security prison that once held Manuel Noriega. Then it was lunchtime, so we headed to Gamboa, which has a rainforest tourist area, marina on the Chagres, etc. We walked around the rainforest a bit, sighting a few birds. We saw part of the dam that Woodrow Wilson dynamited by telegraph to release water into Culebra Cut in 1914. Lunch was at Las Lagartos, another buffet. The place was simply inundated with tourists and we had to wait quite awhile for our supposedly reserved slot.
On the way out of Gamboa, we passed by the old and new Dredging Divisions of the canal and saw the gigantic Titan floating crane named Herman the German, which was built by the Nazis to lift U-boats. The canal uses it currently to lift lock gates for maintenance. And we drove over Centennial Bridge twice, where we got another remote view of the Pacific locks, old and new.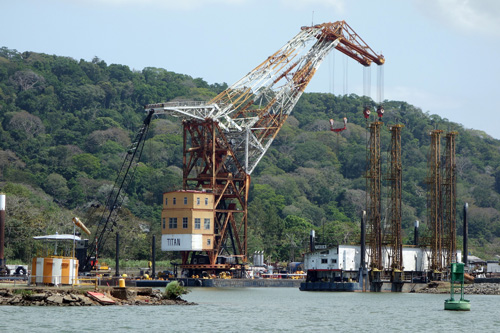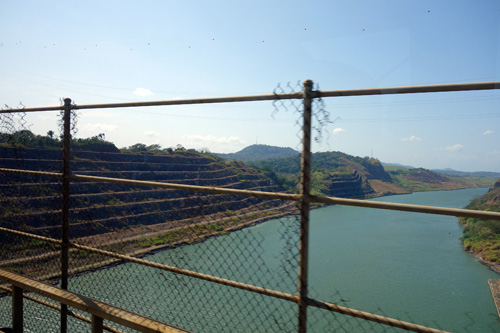 In Paraiso, we stopped at one of the French cemeteries, with a monument to the 21,000 who died in the 1880s. Gabriel reviewed the history of fighting yellow fever and malaria in the US era. He told us that baseball player Rod Carew was born in Paraiso—on the train passing through—although that's not what our friends at Wikipedia say.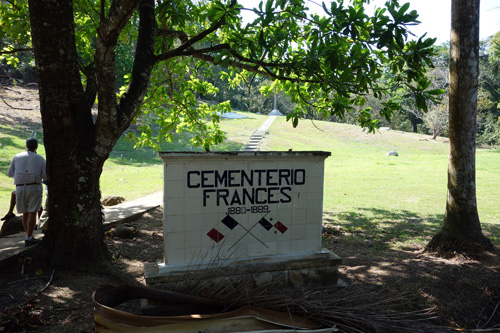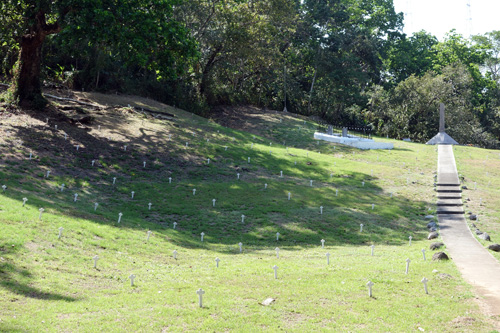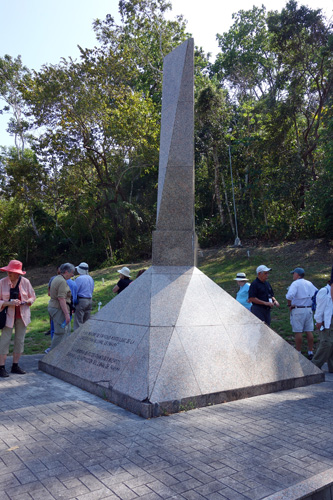 Our final, lengthy, stop was the visitor center at Miraflores Lock. We saw a completely pointless 20-minute movie about Panamanian children from the Spanish conquest through the Jimmy Carter giveaway treaty. A rather small museum had a number of interesting models and displays about building and operating the canal, including a simulator that lets you feel like you're on the bridge of a ship transiting the canal, but at high speed. There's a large viewing deck and we watched the HSL Sheffield go through heading south. We also got a lot of viewing time at dinner; the Atlantic and Pacific Co. restaurant in the same building had an excellent "neo-Panamanian" buffet. My only regret today is that we never got close to the new locks, which I really wanted to see, but we'll have another opportunity on Friday.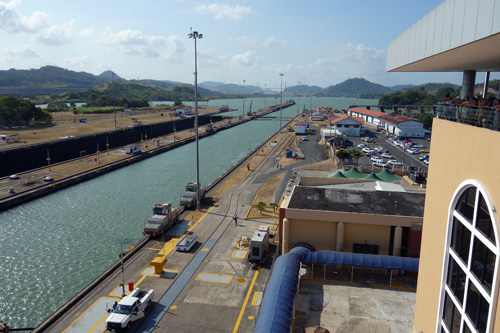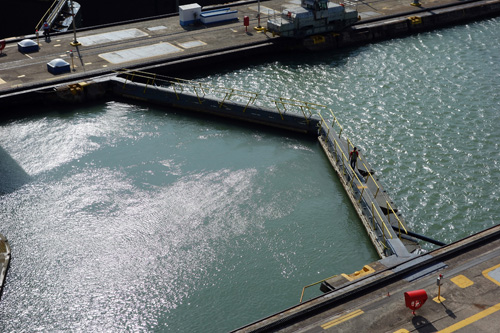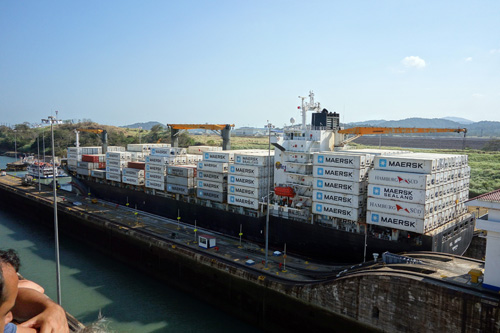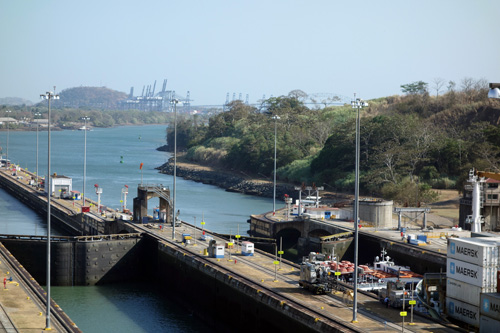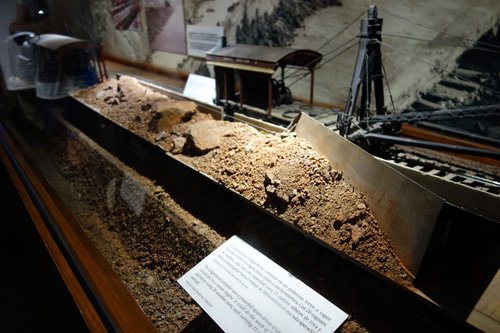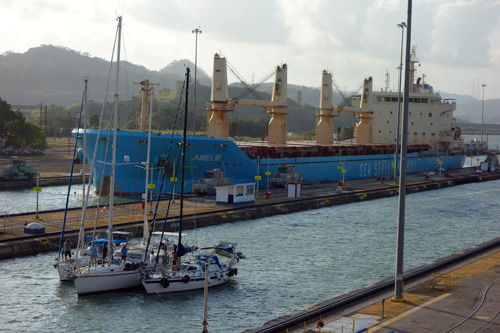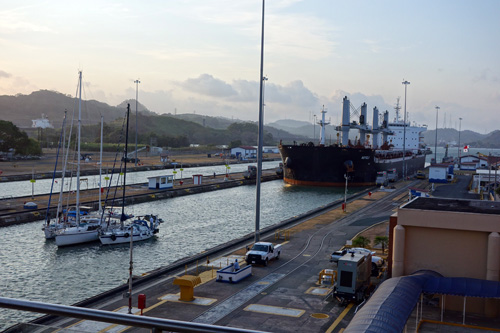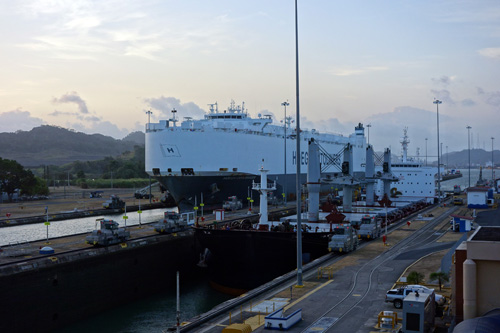 Thursday, February 14 – Full transit of the canal
Happy Valentines Day! We checked out of the hotel and boarded the bus at 6:45 for a five-minute trip to Naos Island on the causeway. We had exclusive use of the boat named Islamorada, which at one time was owned by Al Capone and used as a rum runner. It has supposedly transited the canal more than any other vessel. With space for 100, but only 36 of us on board, it was quite comfortable and a great way to transit the canal—much better than on a giant cruise ship. Breakfast and lunch were served on the trip. We had a comprehensive narration from a guy named Edwin, a current canal employee on his day off, who was quite knowledgeable, if a bit verbose sometimes when quiet contemplation was desired. He told us the boat would be paying a $2000 toll for our trip to Colón. We puttered around the harbor for a bit, ogling a giant $150M yacht named Attessa IV, tricked out with its own helicopter.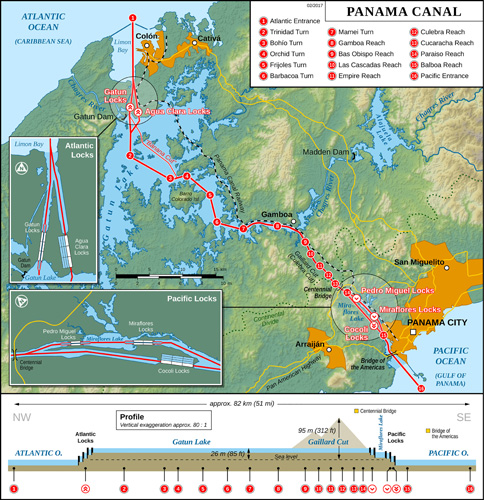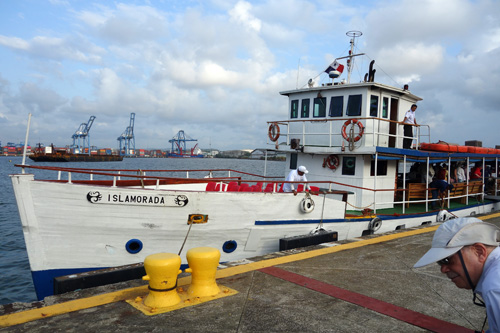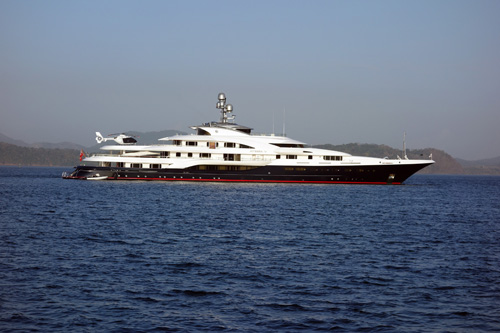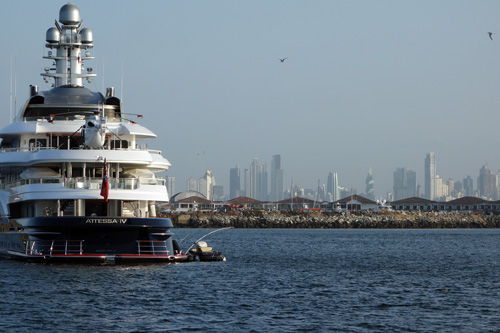 We picked up the required canal pilot and entered the first Miraflores lock at 8:50, rising up 27 feet in 8 minutes. The second lock was at 9:25, another 27 feet to reach Miraflores Lake by 9:55. In both locks we shared space with a Liberian oil tanker named Ivory Ray, a tugboat, two other tourist boats (each doing a partial transit tour to Gamboa), and some small maintenance boat. In the morning the canal operates convoy-style from the Pacific northward, so we kept pace with our neighbors. (The Culebra Cut is the narrow bottleneck that prevents large ships from traveling in both directions simultaneously. Late at night small ships are scheduled for two-way travel.) There was one more lock, Pedro Miguel, a 31-foot rise to 85 feet above sea level, the level of Gatún Lake, which we reached at 10:55.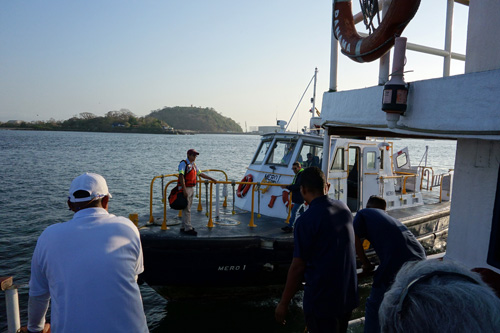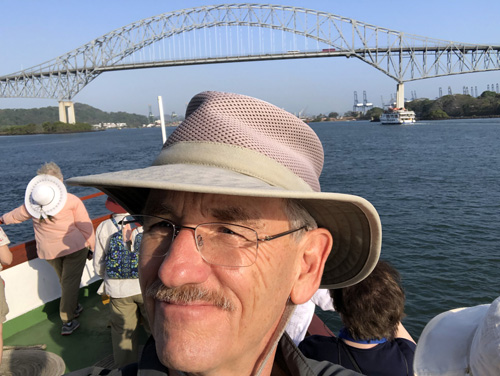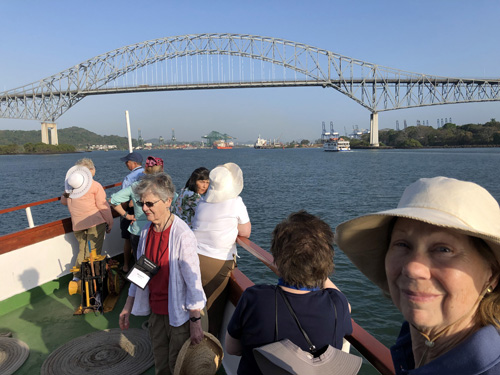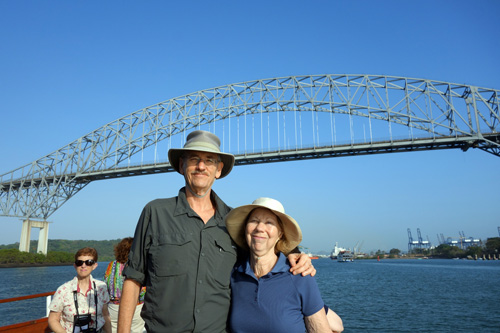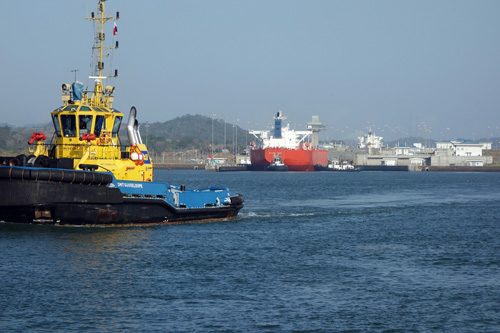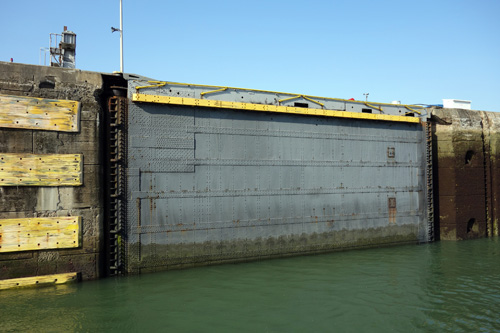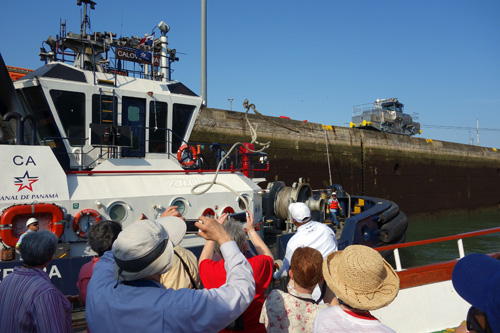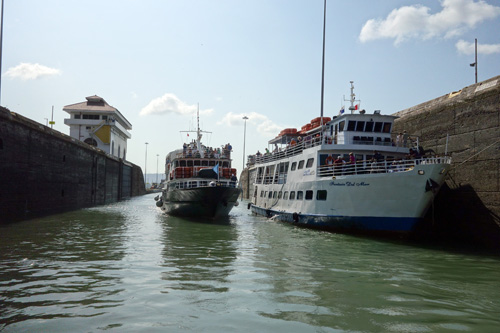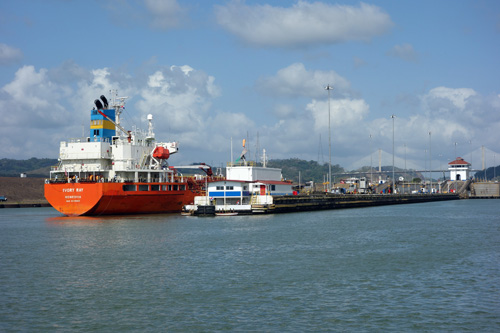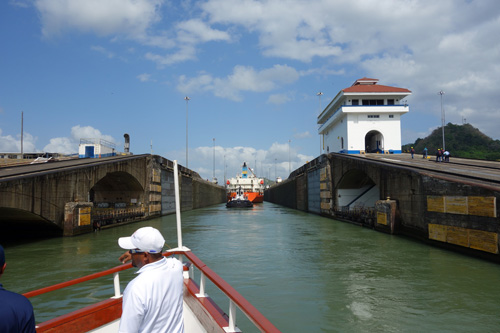 We proceeded through Culebra Cut (known to the US canal folks as Gaillard Cut), under the Centennial Bridge at the continental divide, and past the impressive Gold Hill. In my studies of canal history, I was always impressed with the supreme difficulties of digging through Culebra and fighting the terrible landslides, but the actual passage is rather anticlimactic—all of the difficulties and worker deaths are 60 feet under water—and the current terrain seems a bit narrow, but not dramatic. There are a few terraced hillsides as the only evidence of construction.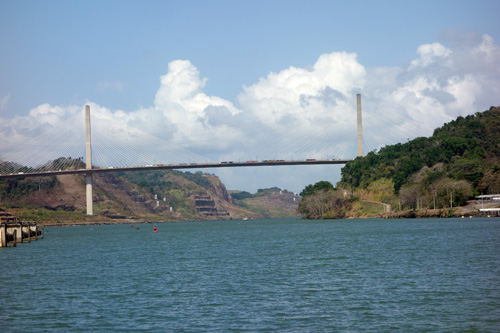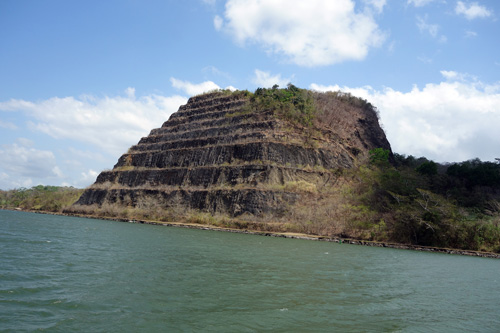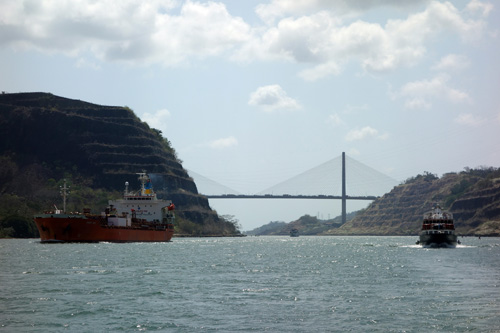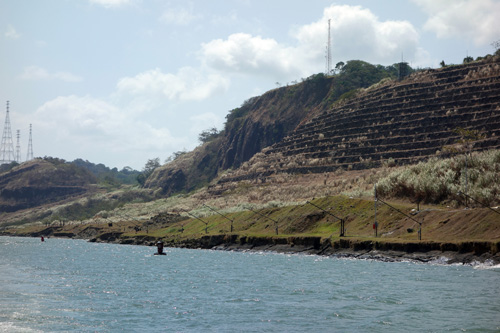 We reached Gamboa about noon, where we exchanged pilots, and saw the Dredging Division from the water side, including the giant floating crane. And we saw the first large ship heading south from the Atlantic, now that Culebra was clear. And we had a nice buffet lunch.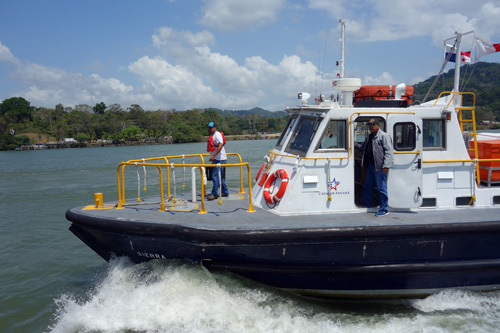 During this trip, it was my first opportunity to try the AT&T International Day Pass, with which we can use data roaming for a flat $10/day/device fee (using our normal US data plan limits). This works really well, and service throughout Panama is pretty decent, except for some spotty 3G coverage on Gatún Lake. (The Radisson hotel Wifi was also reasonable.)
We reached the Gatún/Atlantic locks at 2:10 and waited for about an hour, while for some reason Ivory Ray (which had sped way ahead of us) stayed out. We later learned that they had a wasp infestation! But the canal would not waste the water needed to send our small boat through the locks alone, so we waited. As we finally started to drop down, I was able to touch the 100+ year old concrete wall. With only two occupants to manage, the movements went smoothly and we completed our "lockage" of all three by 4:10, emerging at sea level into Limon Bay on the Atlantic/Caribbean side, crossing under the not-yet-completed Atlantic Bridge. After the fourth lock today, I must admit the process lost some of its novelty.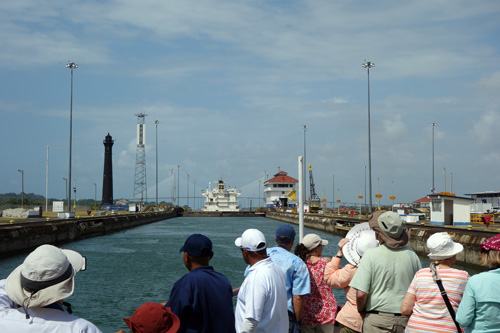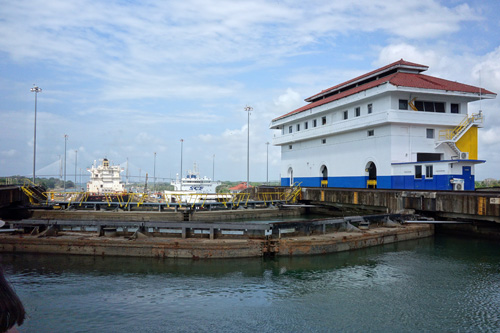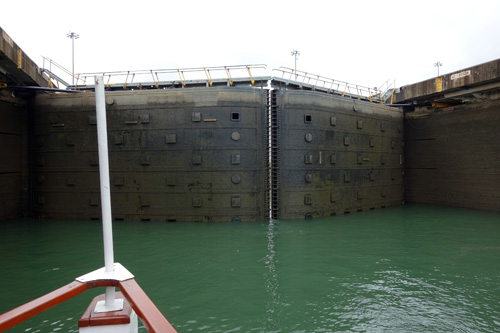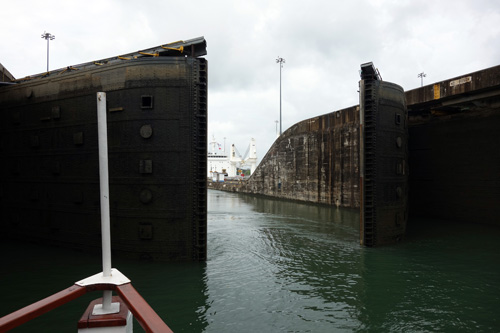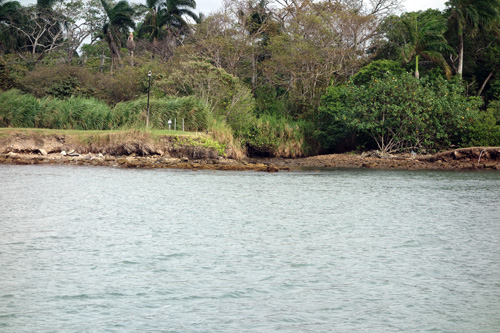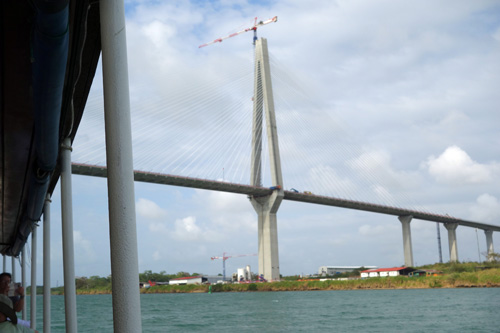 We sailed quite a way to go around the city of Colón and docked at a sad little cruise terminal around 5:30, so the whole transit took about ten hours, a bit less than it often does. The canal wasn't as busy as we expected. We saw perhaps a dozen large ships all day and suffered no non-wasp delays in the locks. Luis suggested that this is a slow, non-holiday shipping season, but it's quite busy in the fourth quarter. The weather was beautiful all day. Some of our group sat on the open bow a lot and got sunburns, but Nancy and I kept to the covered area and were very comfortable. It was in the 90°s, but a steady breeze cooled us.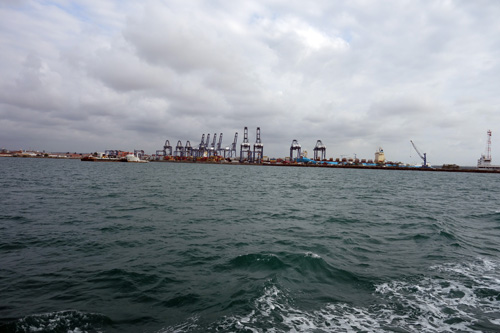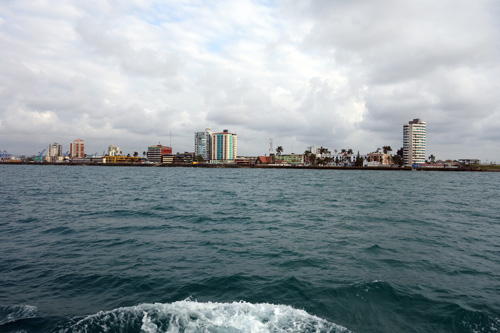 Colón City is a pretty sorry place. It looks like its port has more of the giant container-cargo cranes than the city has large buildings. Gabriel says that in the 50s it was really nice, but it has since been neglected by the government and it is now quite third-worldy. The city and port were used as locations in the James Bond movie Quantum of Solace, masquerading as Port-au-Prince, Haiti. Our hotel, the Meliá, is out on Lake Gatún, south of the city in a woodsy area, so all is not lost. Dinner is in the hotel. Guess what? A buffet. Luis cornered me to reveal that this very building was the home of the US Army School of the Americas, a CIA-inspired program for teaching anti-communist counter-insurgency courses to Latin American allied officers in the 60s and 70s, including Noriega and Torrijos, which developed a controversial reputation as a "school for dictators." This entire area down near the lake was Fort Gulick before all US forces left Panama in the 80s. The hotel is luxurious in a 50-year-old style, with an enormous set of beautiful swimming pools.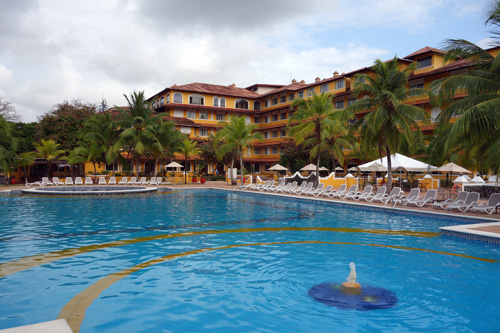 Friday, February 15 – Colón and the Panama Canal Railway
This morning is mostly an idle time with nothing on the agenda beyond sleeping/relaxing, but Gabriel organized an impromptu one-hour nature walk around the hotel grounds. He is a naturalist and good at spotting creatures. We saw some howler monkeys and white-faced capuchins, some toucans, parrots, and vultures. Alas, no sloths. We discussed the evolutionary progress of the heliconia (which looks a lot like a bird of paradise), kapok trees, bougainvillea, and screw pines, the latter two of which are not native and were imported by the US. We encountered two friendly guys with facial tattoos from the Amazon who live in a nearby village on the lake, sitting in a gazebo charging their cellphones. This was the first day the humidity was really noticeable.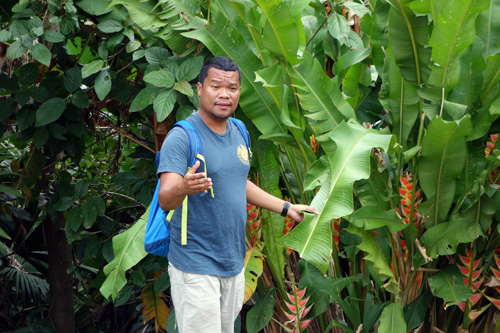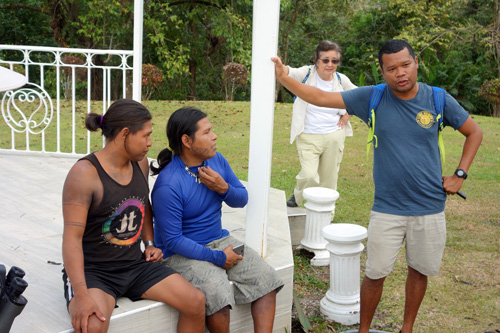 After lunch we drove to the Agua Clara observation station to see the operation of the three expanded Atlantic locks, which is what I had been waiting for all week. Gabriel had said earlier that they were boring, and I suppose that's true. They're a lot larger and the pace was languid. Plus there are no electric mule locomotives zipping around. I was a bit surprised that they don't operate all three locks simultaneously—when 1 and 3 were occupied, 2 was empty. We watched a container ship, Chicago Express, that had a capacity of 8700 TEUs. There was a 12-minute movie that showed the expansion being built. Then we bused through Colón to the train station. We drove slowly through town of Margarita, which was occupied by canal employees, and we saw the vestiges of the old gold/silver segregation. Our bus driver spotted a sloth so we screeched to a halt and tumbled out for photos. As you can see, a dark lump in front of a light sky doesn't show much detail beyond a silhouette.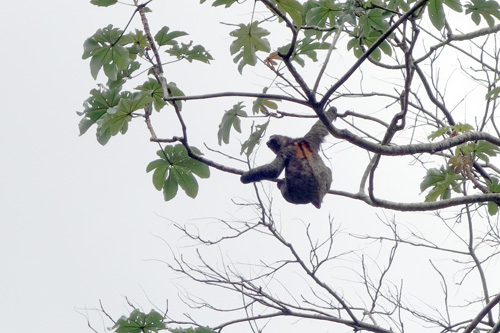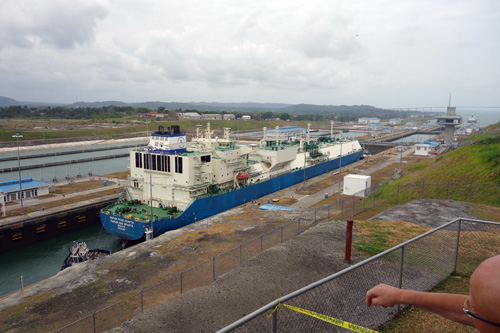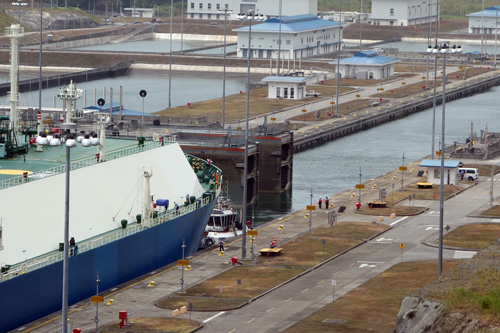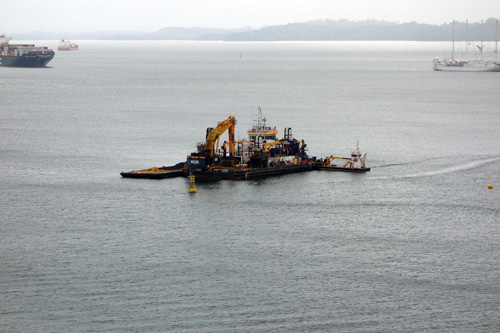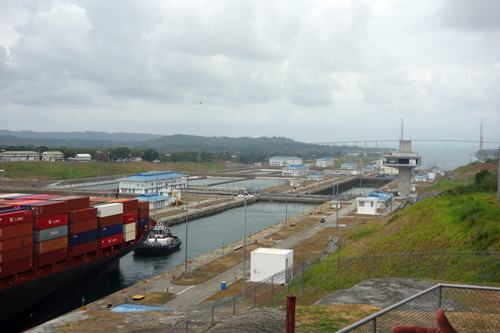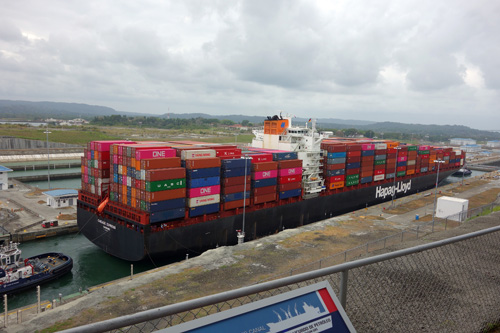 The Panama Canal Railway has one passenger round trip, from Panama City north in the morning, back from Colón in the evening, an hour each way. The rest of a day's 22 hours are filled with freight trains. We had the domed observation car for our group. The adult fare of $25 is exactly the same as when the railroad opened in 1855, although the latter was in gold. The trip is mostly next to or over the lake and through jungle, so there's not a lot to see. We did pass in view of the Agua Clara and Pedro Miguel locks, and Gamboa, but we were up the mountain as we paralleled Culebra Cut, and we didn't see any of it.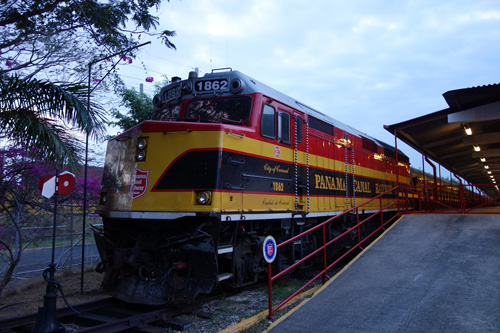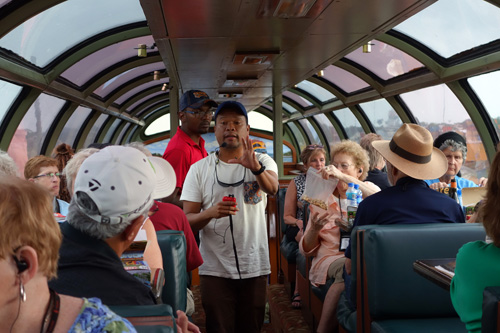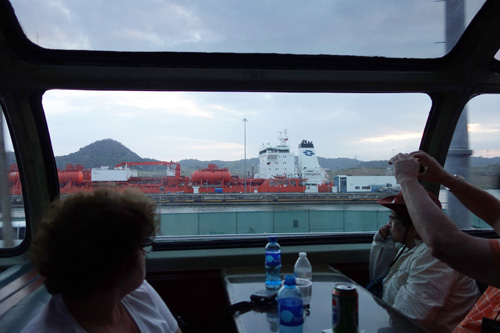 At our final hotel, the Crowne Plaza downtown, we had a farewell (buffet) dinner outside next to the pool and a lovely demonstration of Panamanian music and folk dancing. The ladies wore elaborate dresses, plentiful gold jewelry, and crystal hair ornaments that altogether supposedly can cost up to $25,000! In the last dance, they dragged about ten of us up to participate, including Nancy and me. I hope no one YouTubed this spectacle. The hotel was only pretty good—the room was quite noisy from the street and hallway.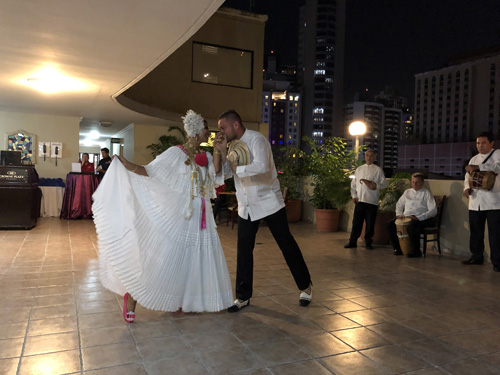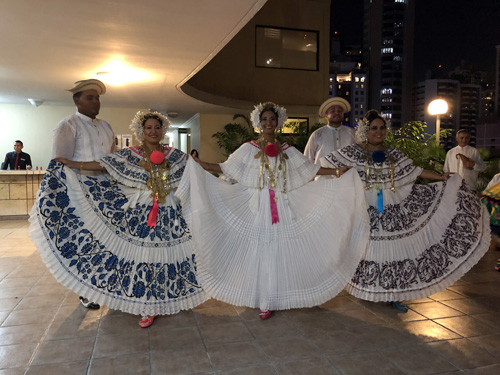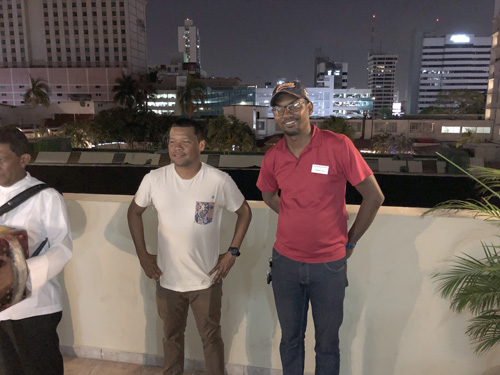 Saturday, February 16 – Departure
We took Uber back to the airport for our morning flight to Houston and were annoyed that the final charge was way larger than they quoted at the start, negating one of the key advantages of the platform in the US. (However, I submitted a complaint through the app and they refunded the difference in a few hours!)
Tocumen airport has security reminiscent of October 2001: full scanning at immigration and then again at the gate, which means you can't buy a bottle of water in the airport and take it on the plane. They made us separate our iPads and disconnect their covers. We removed shoes, belts, and even watches both times. The official time requested for arrival at the airport is three hours prior, but that was pretty excessive, at least early on a Saturday. The flight had a minor mechanical problem, which meant we left 90 minutes late, keelhauling our 90-minute connection in Houston. So with the magic of the United app, I transferred our reservation to the next available flight and secured decent exit row seats. Ta-Da! Going through immigration and customs at Houston took about an hour, 40 minutes of which were waiting for our bags at the carousel. I tried to use the official Mobile Passport app for the first time, but the agent said the app is "garbage" and wanted our physical passports.
Our experience with Road Scholar this week was excellent. Gabriel and Luis did a great job and all the logistics were handled flawlessly. The educational aspects were first rate. There were a few too many buffets of homogeneous cuisine for our taste—mostly chicken, beef, pork, and fish in various sauces—but we certainly didn't expect hamburgers, pizza, and US culinary diversity this week. Our next RS will be in October, so revisit my site then.