Hal and Nancy's America's Musical Roots Trip with Road Scholar, September 2019
This is my (Hal's) report of Hal and Nancy attending the Road Scholar program "America's Musical Roots," which took us to Chicago, St. Louis, and Kansas City, the second two by train. It was Hal's 19th Road Scholar trip, Nancy's 17th. Except as noted, all of the photographs here were taken by my new iPhone 11 Pro.
Friday, September 27 — to Chicago
A poor travel experience: a 3.5-hour flight from San Francisco to Chicago turned into an 11-hour door-to-door ordeal. Mechanical problems with the plane started a 2-hour delay. At Chicago, we waited about an hour for our bags because lightning in the area shut down the baggage handing. Then 13 miles to downtown in a Lyft took 85 minutes. So we missed about 45 minutes of the introductory Road Scholar session. Our group leader is Paula Miller, turned out to be an excellent tour director and a great gal, with opera-trained soprano skills as well. Dinner was next door to the hotel at the SideDoor pub, which was casual and quite decent.
Saturday, September 28 — Chicago
After a very nice (billed as European-style) breakfast buffet, we had a lecture by a local teacher and museum docent, Bernard Turner, on the Great Migration, the movement of blacks to the North after Reconstruction, through World War II. The Illinois Central Railroad was the prime mover to Chicago. He touched on a number of topics besides music, focusing on black personalities and businesses in the segregated area called Bronzeville. I was amused to find that a prominent figure in gospel music was named Thomas A. Dorsey, but don't call him Tommy.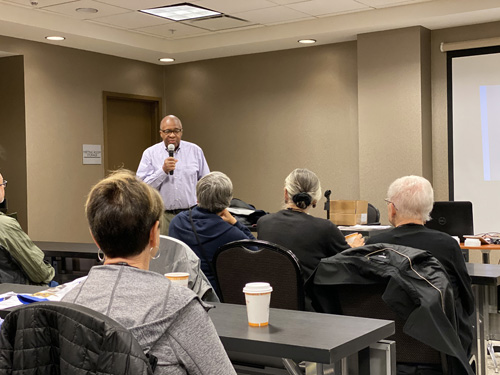 We took the Red Line subway and did some walking to the Chicago History Museum at the south end of Lincoln Park. It's a pretty good museum, although small, without space to display large numbers of artifacts. We had an hour tour by a docent, who covered the Fire, two World Fairs, innovations in Chicago architecture/building techniques, the first atomic pile at Stagg Field, the giant catalog businesses, an early El car, and the mercantile exchanges. Let loose, I saw a tiny exhibit about Abraham Lincoln, which featured the actual bed he died in. There was a small room about jazz and blues, but it was pretty sparse. Lunch was salads and sandwiches in the museum café.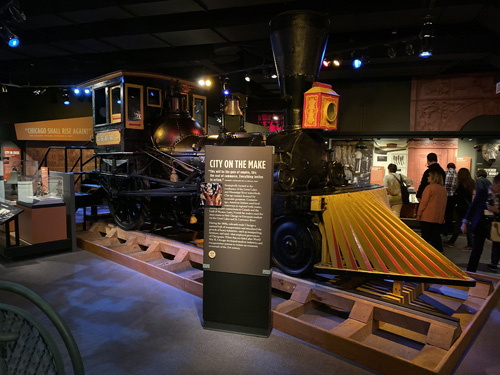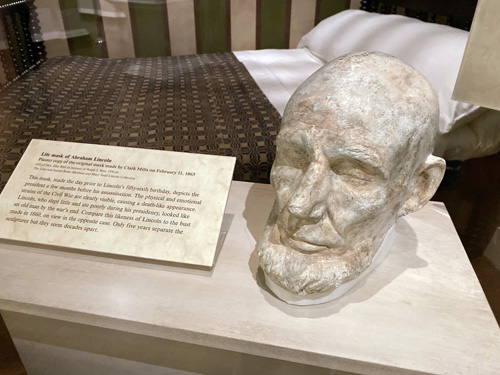 We got on a medium sized bus for an afternoon with Chicago Detours, a local tour company. Our guide Elizabeth was really excellent and she devoted everything to Chicago music history. We started in the area called Uptown, where we visited the (outside of) the Green Mill Jazz Club, the first such in the city. Al Capone had his own table reserved for him. Nearby was the famous Aragon Ballroom, which I know well from my interest in Glenn Miller music. On the bus we had videos and discussions of gospel, blues, and jazz excerpts. In Bronzeville, we visited the former location of the Sunset Café, a big favorite of Louis Armstrong, who wrote the Sunset Stomp in its honor. It's now a beauty supply store (Urban Beautique)—quite large, with thousands of exotic hair products and wigs—but it still has a portion of a large mural about jazz.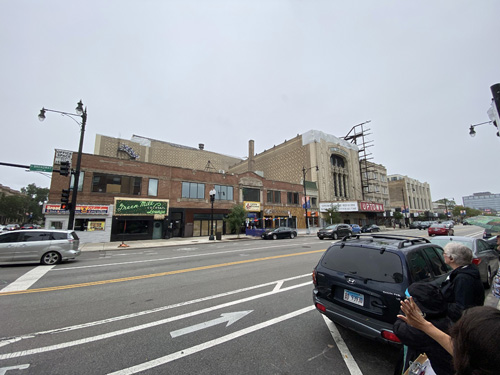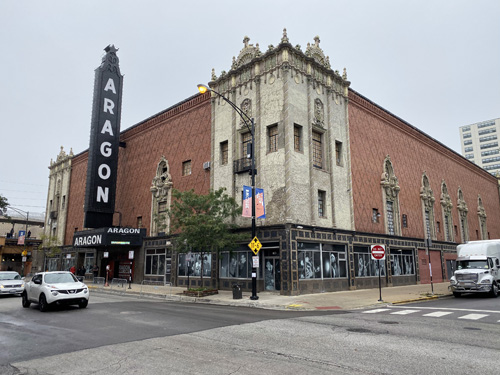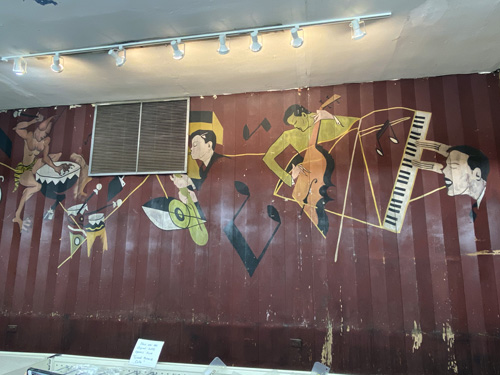 We drove by the famous Pilgrim Baptist Church (featured in the Blues Brothers, where James Brown performed, and the site of the first gospel recording, by Mahalia Jackson), but it was severely hit with fire damage and is all covered by construction gear. Then past Record Row, where Chess Records used to be, the studio where Chicago blues was first recorded. Chicago blues is noted for amplified guitars and harmonica. Minnie Ripperton used to work here as a receptionist before they found she had a 5.5 octave range. I could not get a photograph of either place from the moving bus. Then the Pilsen neighborhood, settled by Czechs, home of numerous old breweries and polka music. As we drove back to the hotel, they passed out harmonicas and we got a brief lesson from a local musician (whose name escapes me, I regret to say). At first we all did surprisingly well, but it soon got rather complicated and I was in over my head. We got to keep the harmonicas!
We walked to Andy's Jazz Club for dinner. Rajiv Halim, saxophonist, performed with a quartet. I can't say I enjoyed it too much—saxophone-heavy modern jazz, not much of a melody. The food was unremarkable.
Sunday, September 29 — Chicago Art Institute
We slept late this morning because our metro destination was the Art Institute of Chicago, which doesn't open until 10:30 on Sunday. We had an hour tour that was supposedly focused on musically oriented works and the Great Migration, but it was overly tilted to the latter. There was a ceramic "Jazz bowl" commissioned by Eleanor Roosevelt and an abstract painting that was somehow inspired by Louis Armstrong, but the rest were about non-musical African-American topics. Three notable artists were Walter Ellison, Marion Perkins, and Archibald Motley. And since we were in the neighborhood, we also saw and discussed the off-topic Wood's American Gothic and Hopper's Nighthawks. Then we were let loose on our own.
Nancy and I had a light lunch in the café and then spent some time in pre-1900 American art, the Impressionists, and the Thorne miniatures. Although I have been to the Art Institute a few times over the years, I had never seen the latter and I was really impressed. They are dozens of American and European room models at 1/12th scale, done meticulously with every detail of décor, furniture, and even the areas visible outside the windows, such as gardens. Most were 18th and 19th century, but some earlier, and a couple from the 1940s. Fascinating. It was not possible to get good photographs through the glass windows, so I have included a couple I found on the Internet. I was game to walk the 1.3 miles back to the hotel, but Nancy was ready to swoon, so we Lyfted.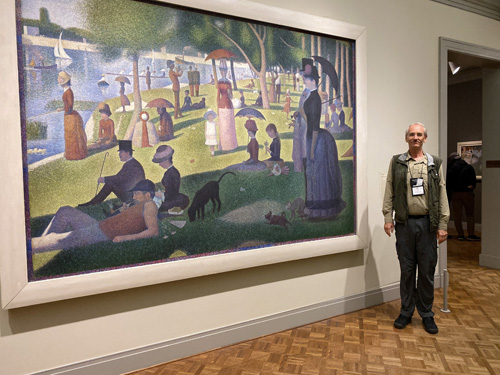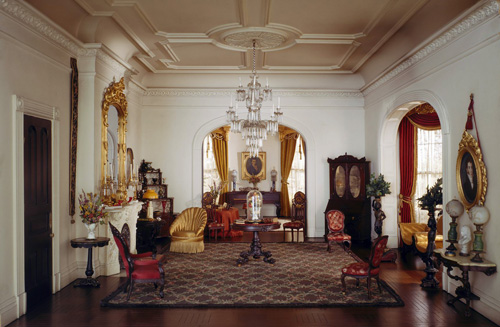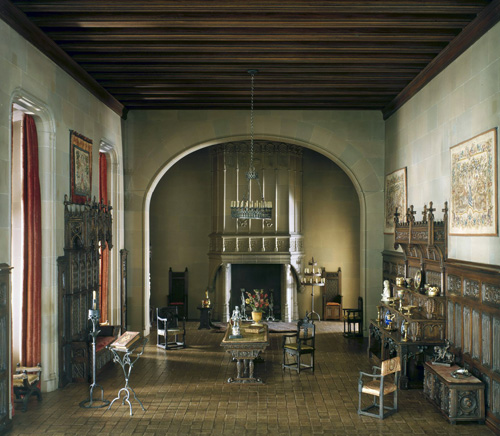 We left early for dinner, a metro ride and a rather long walk to N. Halstead St. for a small place called Sapori Trattoria, where we had a nice family style Italian meal. Just down the street is Kingston Mines, the oldest blues club in Chicago. A great guy named Linsey Alexander (who was born in the Civil War–significant Holly Springs, MS) led an outstanding blues set—the best of the week—and then it was open mike night, where various singers, keyboardists, guitarists, and other instruments joined in different combinations. Although some were better than others, I was amazed how well they just picked up the groove and gave cohesive performances together. Once again Nancy and I elected to forsake the metro and Lyfted back to the hotel.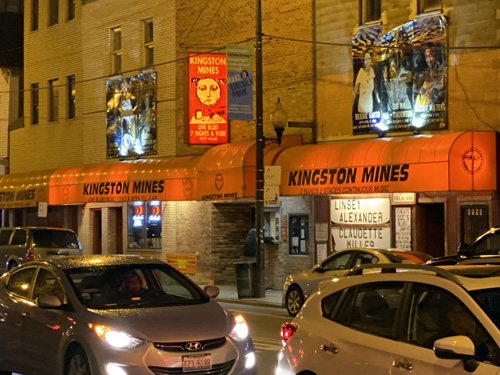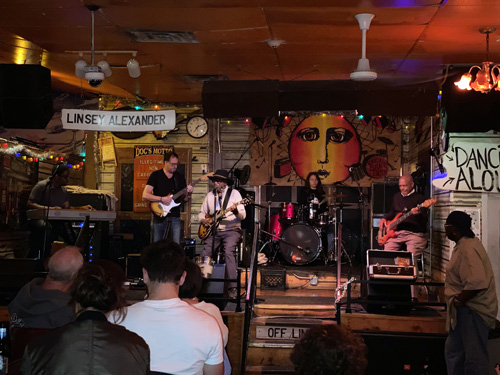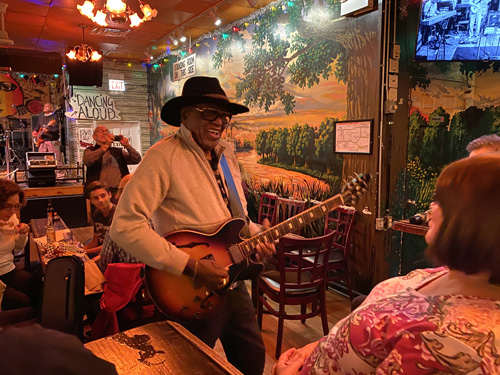 For future reference: the AC Hotel has nice rooms, a good location, and a good breakfast buffet (although I don't know how much it costs), but the front desk is a disaster. There was never a time when 5–10 people weren't lined up waiting for service and they had troubles with key cards expiring, rooms double booked, and some of our friends had their credit cards messed up with large bills and improper authorization attempts. Avoid.
Monday, September 30 — to St. Louis
We had an early breakfast and bused with our luggage over to Union Station for our Amtrak ride to St. Louis. For some reason our cautious schedulers allotted 2 hours to travel a mile or two before the train departed. We boarded as a group before the other passengers, which allowed us to find seats close together, but we did not have an entire card to ourselves, and there were no lectures or other entertainment while we rode. The ride was comfortable enough—for the folks in our car, where the air conditioning was working—and we arrived in St. Louis 25 minutes early, around 2:35. We had bag lunches provided. We got great views of the Gateway Arch and downtown from the train. Unlike chilly, rainy Chicago, St. Louis is sunny and 91°! Our hotel is the Drury Inn at Union Station, which is rather dated, but nice. It has some really cool, large train locomotive models on display. The old Union Station next door is being gutted and renovated as an aquarium, of all things, and a large Ferris wheel just started operation today. The hallmark for our group seems to be the happy hour, which offers three free drinks plus hors d'oeuvres (and quite heavy ones, too: chicken tenders, hotdogs, pasta, baked potatoes, nachos). Many to-go cups of wine and cocktails accompanied our group on the shuttle bus.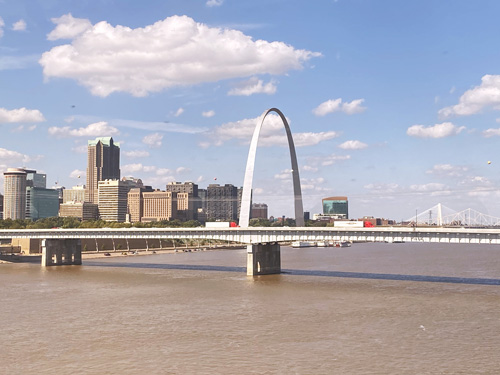 We shuttled downtown to BB's Jazz, Blues, and Soups for dinner and two shows. The first was an hour by a guitarist whose name escapes me with a keyboard accompaniment, sort of what I call light jazz. The second was a very talented guy named Terry Rogers, who performed with a band and a couple of backup singers. They billed him as blues, but he also snuck in some standard R&B, and a country and a disco! Dinner was okay, but oddly, no soup.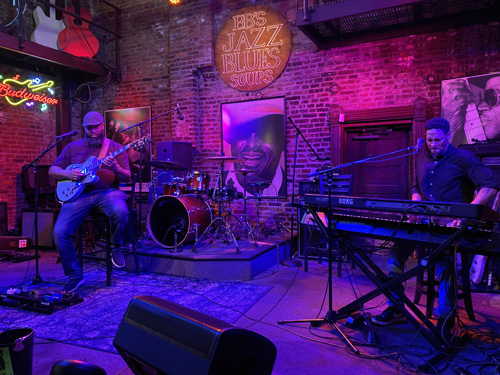 Tuesday, October 1 — St. Louis
After a decent buffet breakfast, we bused to the St. Louis Jazz Center, which is out near St. Louis University (and the site of Camp Jackson in 1861). We noticed that there is virtually no traffic on the major city arteries. Later in the day, talking to a Lyft driver, we found that commuter traffic starts and ends early, but the city sure seems dead. The center is a non-profit that has concerts, although none were scheduled tonight. Instead we had a lecture by Dennis Owsley, a local jazz historian. He said that St. Louis was known as a Dixieland town, but it was also prominent in ragtime and blues. While Chicago is known for "electric blues," St. Louis focused more on trumpets and piano. He told a number of anecdotes about local jazz celebrities, including Eddie Randall, Miles Davis, Joe Blanton, and Clark Terry, but since I knew the works of some of these guys, I got more out of the lecture than Nancy and many others did. He included a short history of the Gaslight Square area, which was packed with nightclubs from 1960 to only 1965, but was run out of town by conservative city fathers and the newspapers.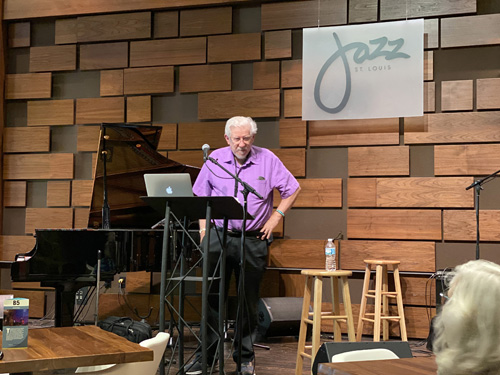 Next was the nearby Scott Joplin House, which is maintained as a Missouri state park. Our half of the group watched a video about his life and then went upstairs for a tour, in which our guide pointed out some glaring errors in the video, particularly about whom he married and when. (New historical research is always coming to light. It's overall surprising how very little documentary evidence exists about such a now-prominent figure.) None of the furnishings inside the house were known to be Joplin's, but they do claim to be period-specific. We also got to hear four of his compositions on a rickety old player piano.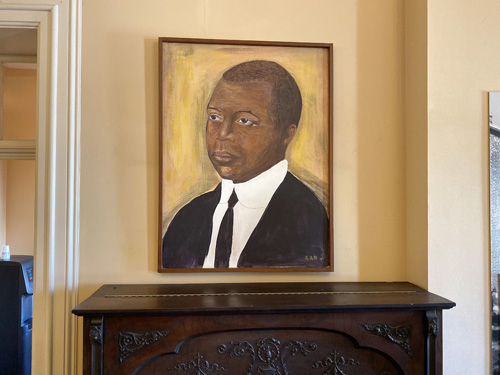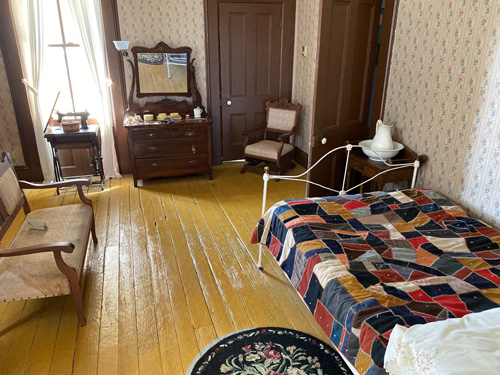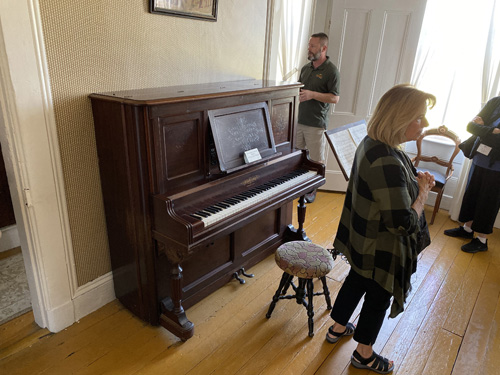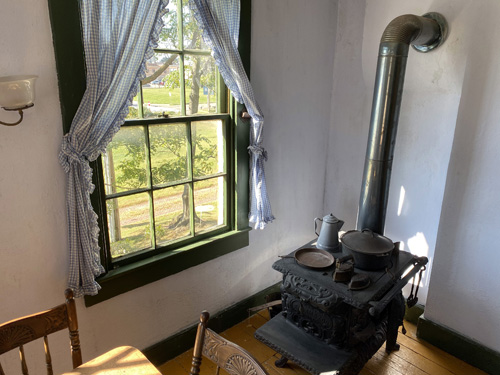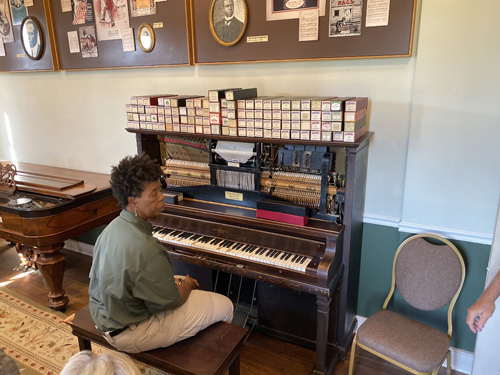 The highlight of the day was our visit to the National Blues Museum downtown. Our guide was one of the founders and he was enthusiastic and informative. He described St. Louis as the center of the Blues Highway (US 61), but that the museum is dedicated to all blues. St. Louis was known as a performance city, but had no record labels headquartered here, so has been overshadowed by Chicago in particular. There was a brief film narrated by Morgan Freeman and then we followed exhibits that traced the blues from W. C. Handy and Ma Rainey up to the present. There was a temporary exhibit consisting of dozens of guitars made from cigar boxes and a few other strange items. The museum takes an all-inclusive approach, attributing virtually all 20th century musical genres to the blues: jazz, R&B, rock, rap, country, zydeco. I guess only classical has resisted the spell.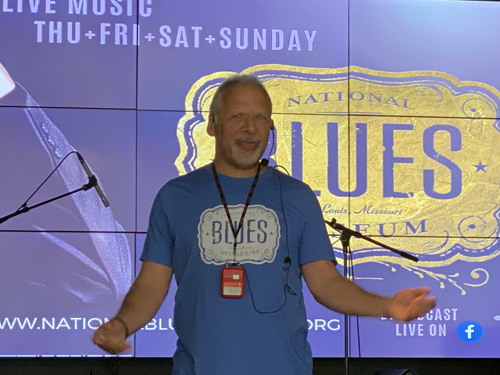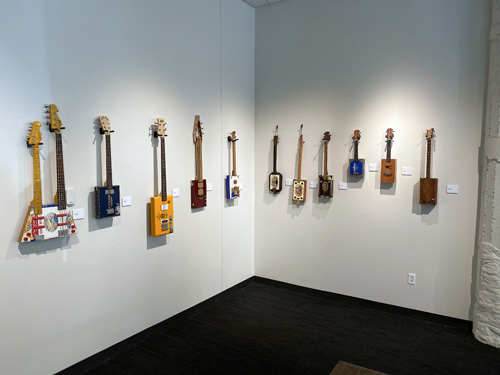 We had lunch at a Pickles sandwich restaurant downtown and then drove a few blocks to the Gateway Arch. They have a very impressive National Park Service museum to browse while we waited and then we took the tram up to the top of the 640-foot structure, where we had beautiful views of the city and the Mississippi, although they don't make it easy for us taller folks.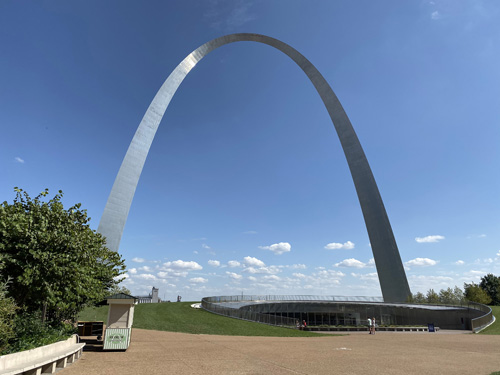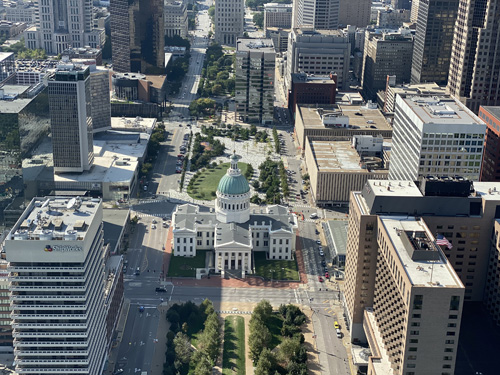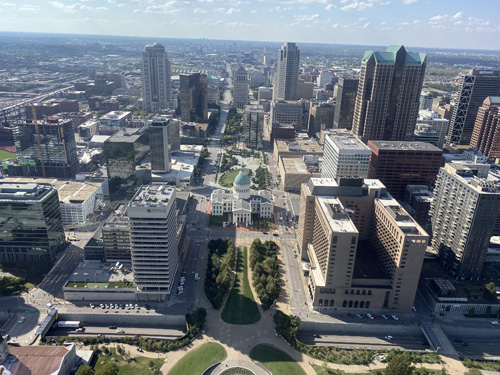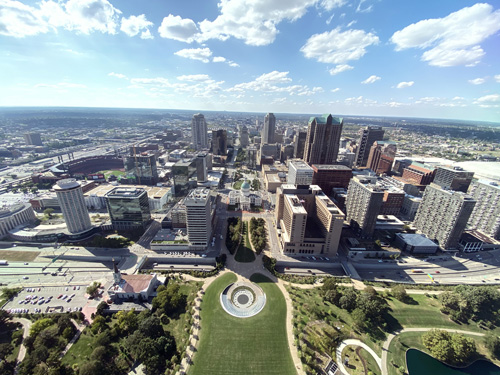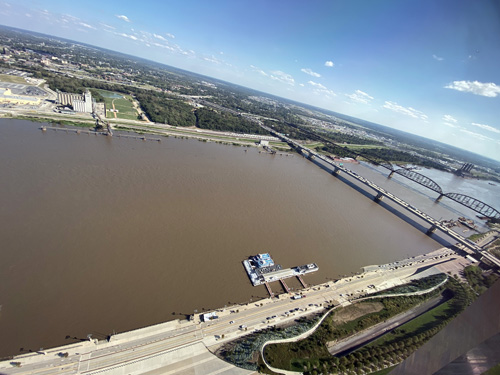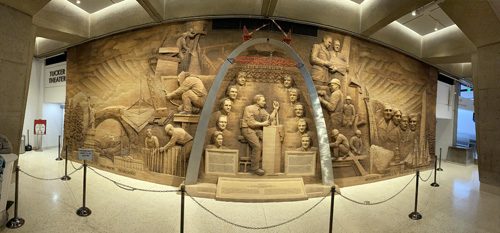 Nancy and I decided on pizza for a dinner scheduled on our own and went to π (Pi), which happened to be right across the street from the blues museum. Excellent pies at Pi; we chose a deep dish, but there were thin choices as well. Back at the hotel, we watched an hourly light show underneath the old Union Station roof. Very brief, but spectacular with big flaming jets erupting to music from a small lake. There are also a few restaurants, a carousel, a miniature golf course, and the new Ferris wheel, which is beautiful at night, and big crowds were lined up. We considered going out for more blues, but pickings were rather slim on a Tuesday night and we didn't feel like repeating BB's. I don't think many of our fellow travelers did either.
Wednesday, October 2 — to Kansas City
Up early again for our 9:15 train to Kansas City, a process that allowed us to share a terminal with overnight Greyhound bus riders for over an hour. The train was very comfortable and we managed to be on the side with good views of the Missouri River. Lunch was boxed again and I got to enjoy some cold slices of π as well. We bused to our hotel, Courtyard by Marriott Kansas City Country Club Plaza, which turns out to be right on the battlefield of the Battle of Westport, part of Price's Raid, the largest Civil War battle in Missouri. These hills were the sites of Union artillery batteries and the starting point for the Union cavalry attack. I got to make a little announcement to the group describing the Raid.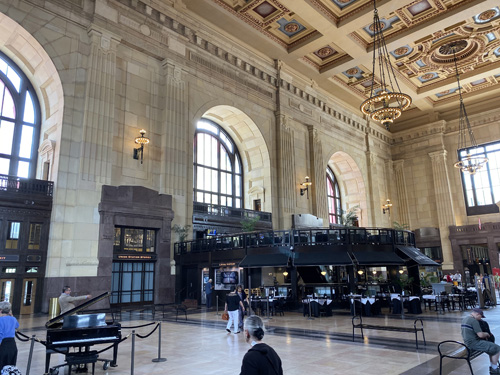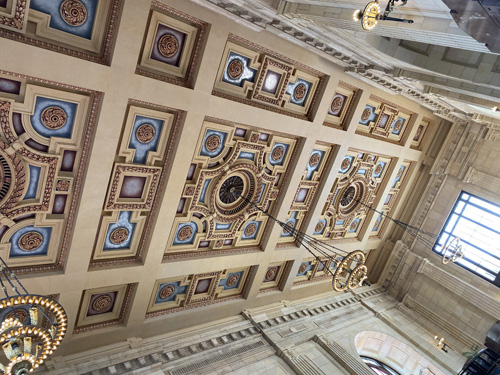 Dinner at Jack Stack BBQ Freight House, right next to the train station. It's a very nice place, one of a small local chain. The BBQ was pretty good, not exceptional. Kansas City BBQ is served with a thick, sweetish sauce. I had the local specialty, burnt ends. The entertainment tonight was at the Green Lady Lounge, a trio of organ, guitar, and drums called Ken Lovern and OJT. They played what I would call cool jazz and were quite good. (In our Thursday afternoon lecture, Marlin Cooper told us that these guys were all jazz PhD's and they received just $150 each for a four hour set.) I found out here that the new iPhone still takes pretty lousy pictures in very low light.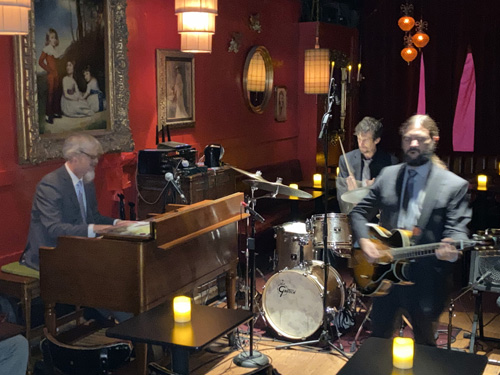 Thursday, October 3 — Kansas City
A late morning today, meeting the group at 10:30. We bused to the American Jazz Museum in the famous 18th & Vine area; the Negro Leagues Baseball Museum is in the same building, but we didn't visit that. We started with an interesting video about the social history of the area and segregation. An animated young woman guided us around for 45 minutes or so, focusing on profiles of Charlie Parker, Louis Armstrong, Duke Ellington, and Ella Fitzgerald. Oddly, she had little to say about their music. Then we were let loose to explore for an hour and found lots of interesting exhibits on jazz theory and audio stations with dozens and dozens of recordings of jazz combos, vocals, and big bands (my favorites).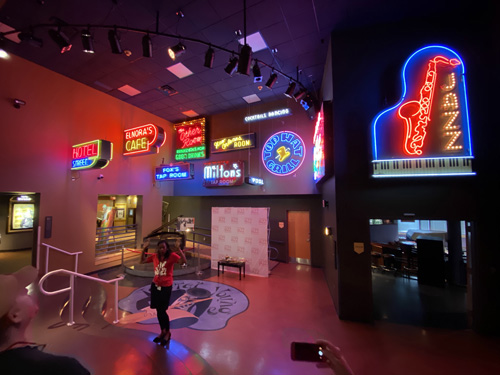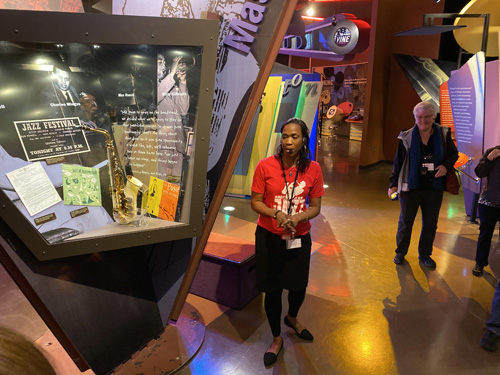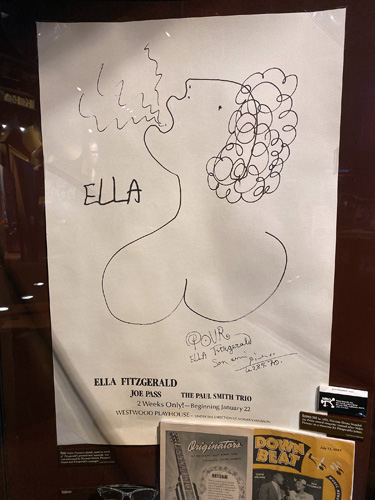 The group broke up at this point and the bus let us off at different locations. Some chose to go back to the hotel, others to a museum about artifacts recovered from a sunken riverboat, and a few of us to the National World War I Museum. We found this interesting and well done, with a few good videos, lots of weapons, uniforms, and artifacts, war posters, and two well-done animated battle maps. (Well, they weren't topographically sophisticated, and they didn't label units worth a damn, but was easy to understand.) It's too bad we had to rush a bit to Lyft back to the hotel.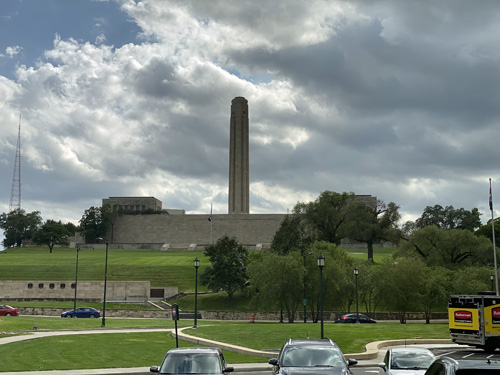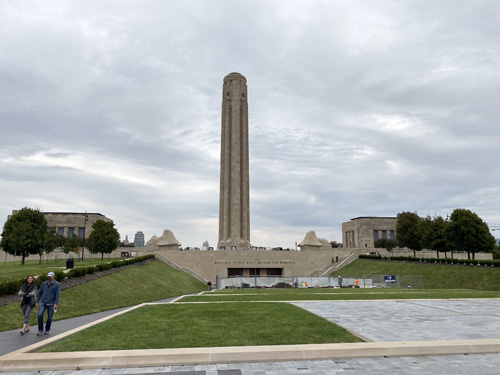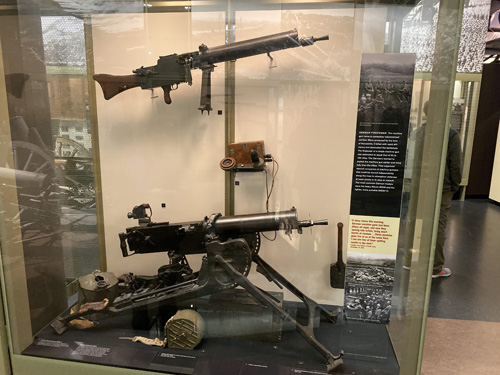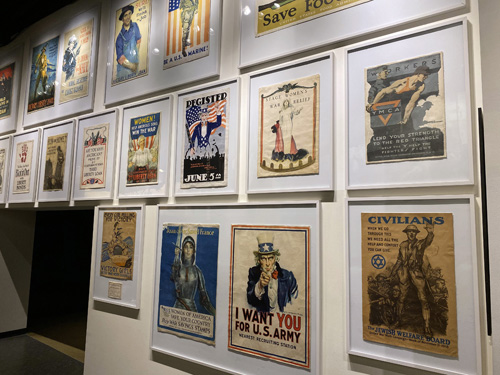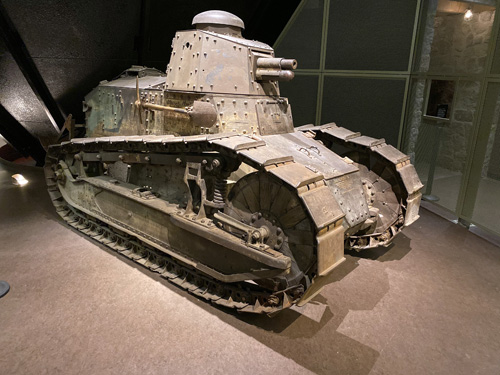 Our final lecture was by a Dr. Marlin Cooper, a college professor and professional saxophonist. This was really excellent, richly illustrating jazz concepts with examples on various of his four saxophones—soprano through baritone. He called Count Basie the father of Kansas City jazz, based on his residence here 1935–39. Kansas City had dozens of piano companies, so ragtime was big in the 20s. Dixieland was originally derived from church music, but where it traditionally included a banjo, in Kansas City that was replaced by a piano. Because of Boss Tom Pendergast and the corrupt promotion of his cement company for excessive public works, Kansas City never experienced the depths of the Great Depression and construction jobs were available. Because of that, and because the city council chose to ignore Prohibition (like a Sanctuary City), Kansas City was a magnet for performers during the 30s. Another interesting factoid: the primary driver supporting lots of big bands in the 40s was the government's sponsorship of touring for USO shows. After the war, no one could afford them and they were replaced by combos. Marlin talked a bit about Charlie Parker, imitating his style on the sax, but indicated that it was really only fellow musicians who appreciated him and his extended improvisations. In response to a question by me about blues, he went into an extended discussion of blues mechanics, which is defined by special blues notes, blues scales, and blues (chord-change) patterns.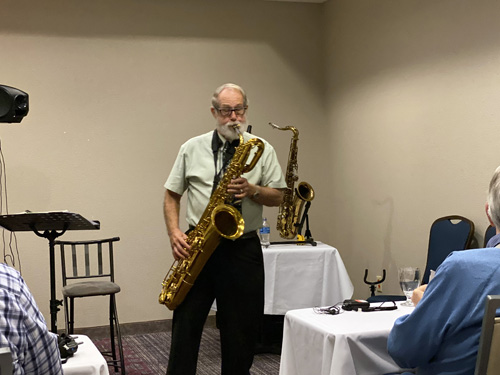 We had our farewell dinner a few blocks from the hotel at a nice restaurant called Season 52.
Friday, October 4 — Return Home
We had an early flight out, so we summoned a Lyft at 4 a.m. and were back home in California by 9 a.m.! We had a very good time on this exploration of America's musical roots and look forward to our next Road Scholar experience.
Here are some photos shared by other group members: