Hal and Nancy's Trip to Death Valley and Las Vegas, February 2018
This is Hal and Nancy's travelogue of Death Valley and Las Vegas in February 2018. The occasion for the trip was Hal's running of the Death Valley Half Marathon, but we added some sightseeing on the front and back end of the trip.
Thursday, February 1 – to Death Valley
We flew to Las Vegas on United Airlines and rented a car. Our only stop in the vicinity was Hoover Dam, where we took the "Dam tour," a $30, one hour look inside the power plant and the dam itself. This was pretty interesting, particularly the parts inside tunnels running through the dam. They warned us at the beginning of the tour not to proceed if we were claustrophobic, but I never felt that this was a problem because the tunnels were relatively spacious and well lighted. There was one creepy staircase that gave me the willies just looking at it―narrow and extraordinarily steep―but we did not actually go on it. There was quite a lot of information about the building of the dam and all of the men who died in doing so. It is an effort that could never be repeated today.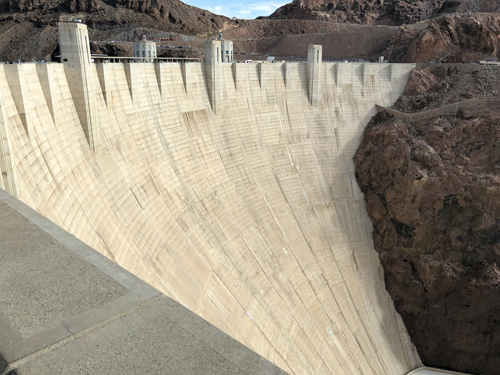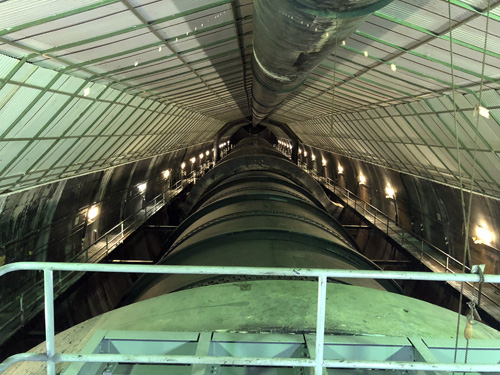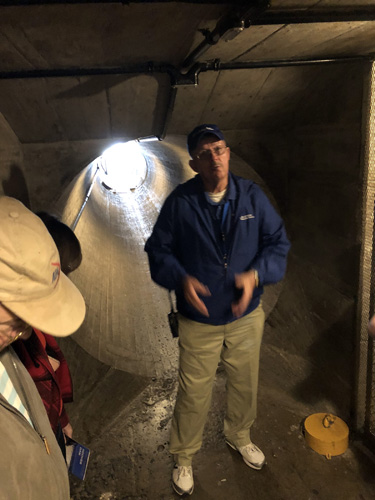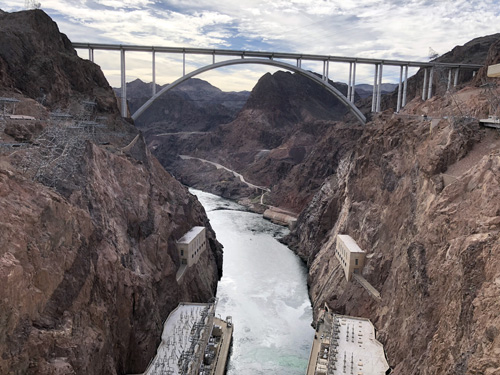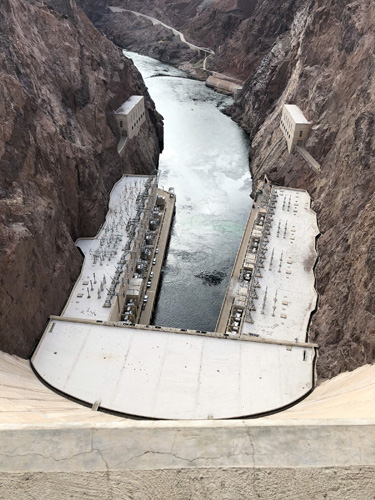 We drove about 2.5 hours to Furnace Creek in Death Valley, about 90% of the drive being rather uninteresting, but the final stretch up over the Amargosa Mountains and down into the valley on Nevada Highway 190 was pretty scenic. Our hotel was the "Ranch at the Oasis in Death Valley," the cumbersome new name for what was once called the Furnace Creek Ranch. The fancier Furnace Creek Inn is now called "Inn at ...". Both properties are undergoing significant renovations, which is not something I knew about when I made the reservations. But despite some dislocations in offices and restaurants, this was not a problem and we had a comfortable stay in the motel-like Ranch. There are currently two operating restaurants at the Ranch, the Date Grove Diner and the 19th Hole, both of which are exceptionally casual and pretty expensive. There is also a fancy restaurant at the Inn, which coincidentally reopened while we were there after a nine-month renovation. There was free Wi-Fi, but it was pretty sluggish. Cell phone coverage was 3G, but only in Furnace Creek. Everywhere else in the park (which is larger than the state of Connecticut) is a dead zone.
For our first evening, we went to the National Park Service Visitor Center a block away to attend a PowerPoint lecture on bats – pretty interesting, actually. I had hoped to take advantage of the dark lighting conditions and see fabulous views of the stars and the Milky Way, but I was rather disappointed. Part of the problem was that there was a full moon.
Friday, February 2 – Around the Valley
We drove to Zabriskie Point, which is a modest elevation and has a nice view of the valley floor. Then we drove to Badwater, where we attended a ranger talk at 282 feet below sea level, the lowest place in the United States. There was a small salt water pool, much saltier than seawater, from whence the area is named. There is a long trail you can walk to go out and see hexagonal dried salt. We heard about the local wildlife, which included a tiny snail and a small fish called a pupfish. Next was the Devil's Golf Course, which is an area covered with jagged salt formations, so rough that only the devil could play golf there. The Artist Palette Drive is a 9 mile loop that goes up into the foothills and you get a nice view of some hills that are gray, red, blue, and green. Then we drove north of Furnace Creek to visit Salt Creek, where we walked on a boardwalk next to a creek that was all of about 1 inch deep. If we had been there later in the spring we might have seen pupfish, but not today. (It was also too early in the season to hope to see the bounteous wildflowers that the park is known for, and there was absolutely zero evidence of where they might emerge.) All of the stops were within 20 miles of the Ranch.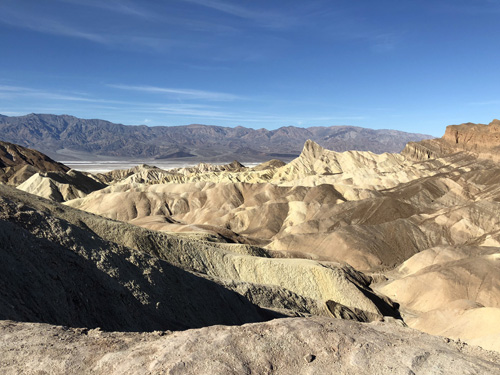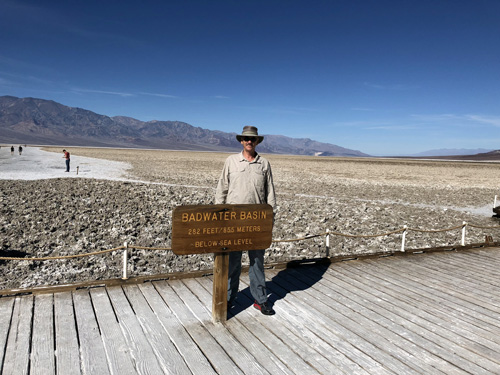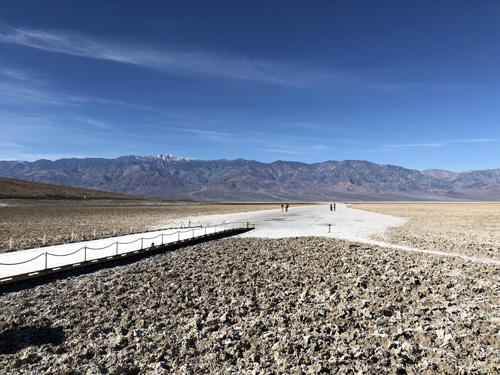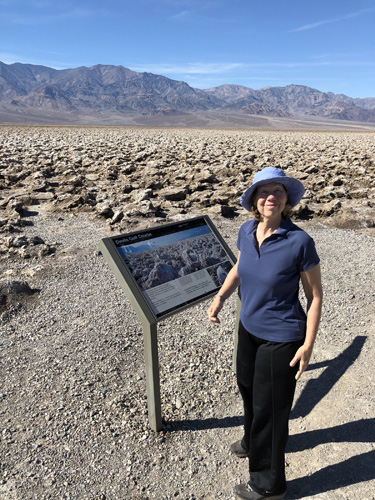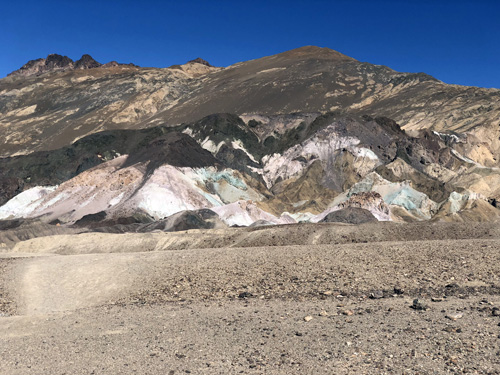 Back at the Ranch, we visited the Borax museum, which is a gift shop and a large yard with lots of mining equipment and artifacts of the 20 mule team.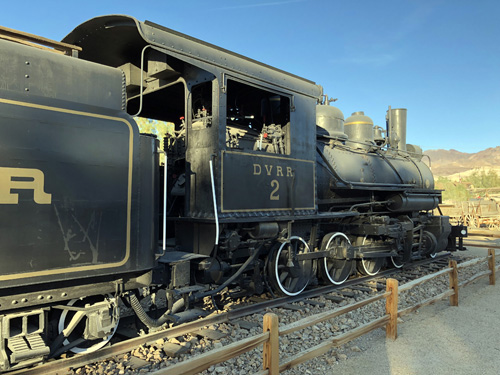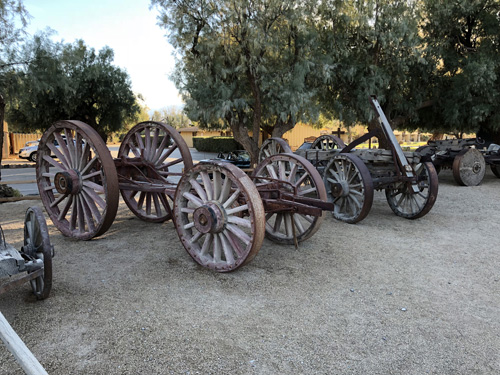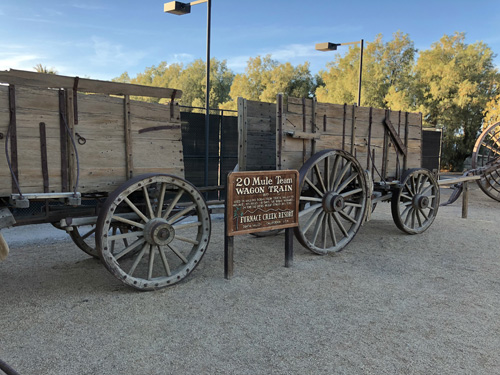 We had dinner that night in the new restaurant at the Inn. It had just opened the night before, fancy and beautiful, but so-so food; maybe the kitchen hasn't gotten up to speed yet after their lengthy closure. One of the rangers at the visitor center told us about the opening and said there was a strict dress code, including neckties, but this was certainly not the case based on the patrons we saw that evening. We went back to the visitor center for a talk on local history, which was unfortunately not as good as the bat presentation on Thursday; the young girl ranger joked about not having done any PowerPoint since high school, and it showed.
Saturday, February 3 – Half Marathon
Since this was such a small race and presumably people were coming in from miles outside of the park, we had a leisurely 8 AM start time, which meant that for the first time I was able to eat a regular hot breakfast before a race. Registration was right there in the Date Grove Diner. The start/finish line was steps away on highway 190. The president of Enviro-Sports shouted his opening remarks and race details. There was no PA system, no starting gun, corrals, bands, or even chip timing. The combined field for the marathon, half marathon, and 10K was limited to 350 by the NPS. There was some traffic control in a few short stretches, but mostly we ran on the narrow shoulder, single file, as return runners on the out and back course shared the space. The weather was excellent, starting at roughly 60° and ending up in the low 70s. I did some sweating early, but the desert air evaporated it pretty quickly. I ended the race covered in salt, just like one of those little pupfishes. I carried extra water because the water stops were three miles apart. It was a little unnerving to run without cellphone coverage. I found it very energizing to view the finish-line oasis in the distance from 1.5 miles out. My time was 2:36:02 (11:55 pace), a great time for me. I was 159th of 206 half marathon finishers, and was second in my age group! My new GPS watch said only 12.89 miles, so I don't know whether it is inaccurate or they did a poor job of marking the course. Considering that there were zero obstructions between my watch and the GPS satellites, I suspect it was a little bit of the latter. I was encouraged that I was able to keep up my energy throughout. I'm sure my recent dieting off 17 pounds helped. That afternoon we relaxed around the pool, which was very nice with warm spring-fed water.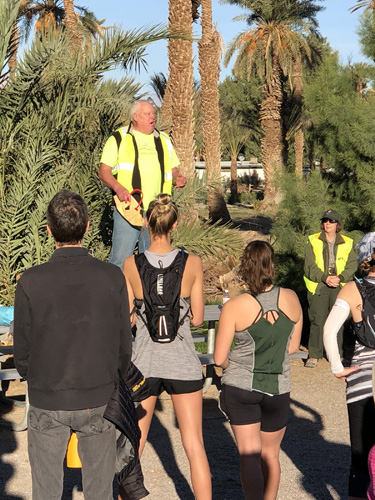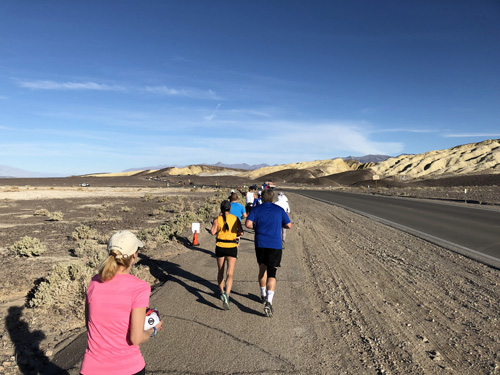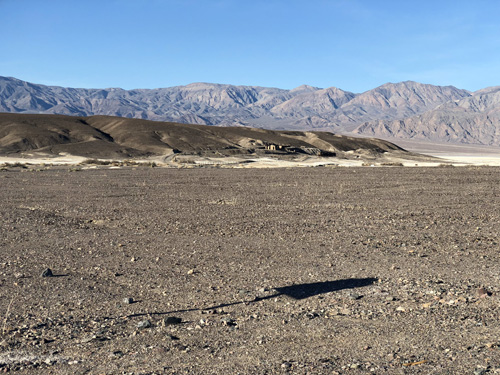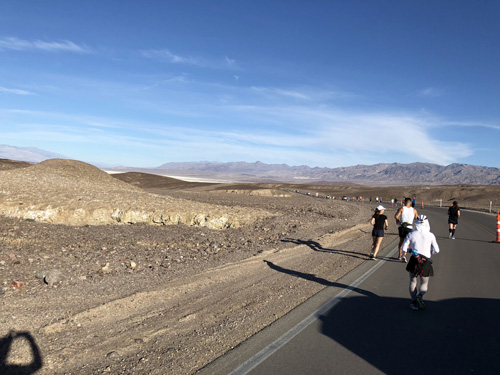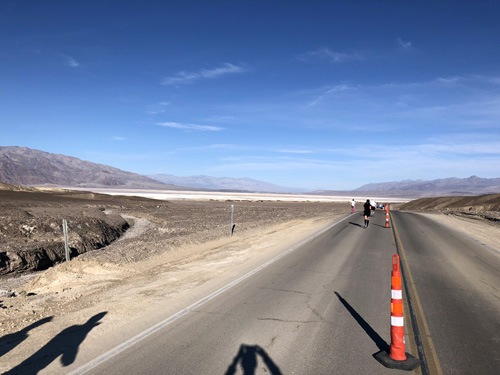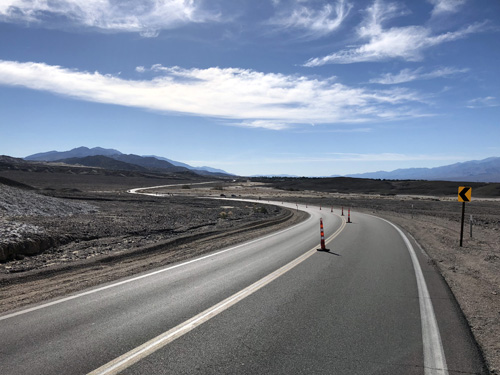 Sunday, February 4 – Las Vegas
We drove back to Las Vegas Sunday morning. Nancy went shopping at the Venetian hotel (well, mostly looking) while I drove downtown to visit the Mob Museum. Over the last couple of years I have seen a few interesting television series about gangsters in New York, Chicago, and Las Vegas, so I wanted to try this out. It is housed in the former post office and federal courthouse, and the most interesting aspect was watching a movie in the court room, the site of one of the Kefauver Committee hearings about the mob in 1951. I found the museum to be moderately interesting, although you get really overwhelmed by the sheer number of individuals who are described. There is some rather gruesome information about mob executions. The focus of course is on Las Vegas, and that is pretty interesting to see how the casinos evolved. There was a new exhibit in beta test mode that allowed you to simulate police officer training on managing lethal force (trying to figure out really quickly whether you are facing a criminal or not) but they required filling out a lengthy waiver form and I decided not to bother.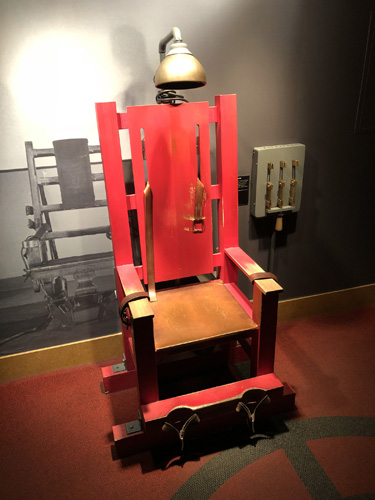 We checked into Wynn Las Vegas, which is a really beautiful hotel, selected primarily because of the show we were scheduled to see that evening. Nancy was particularly impressed with the room, which was decorated mostly in white and ivory, and had every sort of electronic control you can imagine for interacting with your environment. There is a very nice swimming pool, which during the Super Bowl was entirely unpopulated. A special shout out goes to the Terrace Pointe café, which served me the best chicken and waffles I have ever had, including a delicious maple syrup infused with cayenne pepper.
Dinner was at Allegro inside the hotel. Excellent Italian fare in a rather casual setting. When we reserved this trip, focused on the marathon, I was unaware of the Super Bowl schedule. So our dinner was at the tail end of a special Super Bowl party and we watched the last 10 minutes or so of the game while we ate. Afterward we attended the show "La Rěve - The Dream," which was sort of like a Cirque du Soleil show. Lots of swimming and diving and aerobatics. It was visually stunning and we had excellent seats. I was amazed at the technical aspects of the moving platforms, the fountains, the pyrotechnics, and the cabling/lifts. The reason I have photographs here is that the show encouraged people to take non-flash photographs and post them to social media, a first in my experience.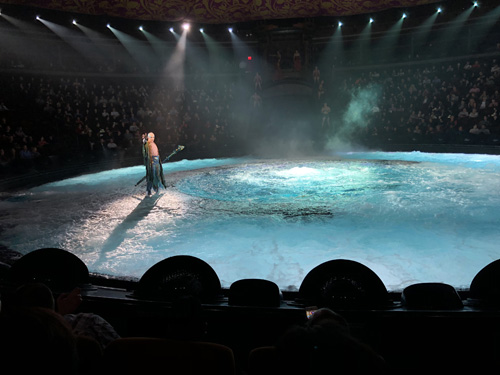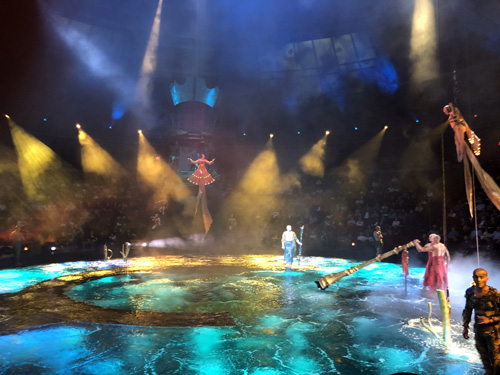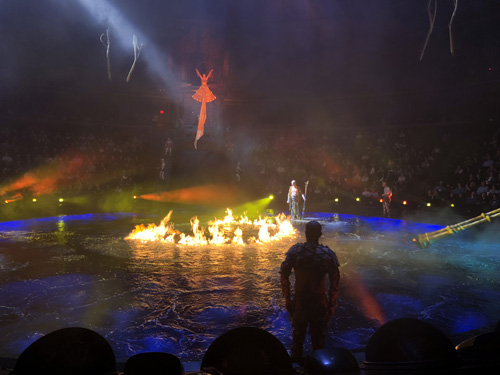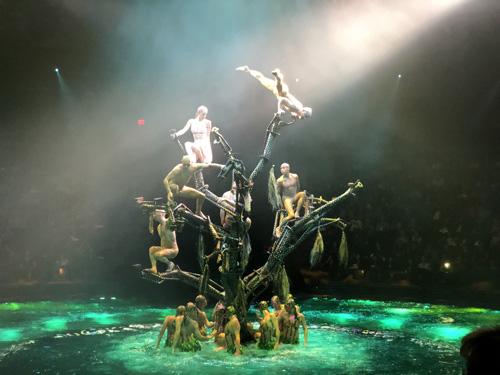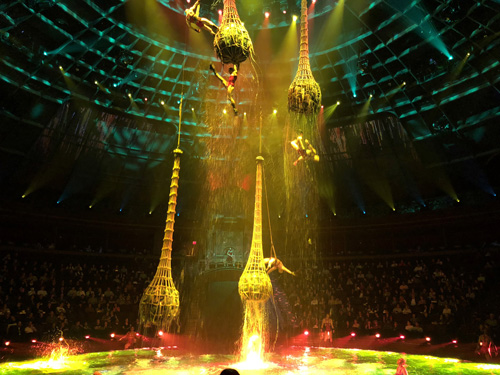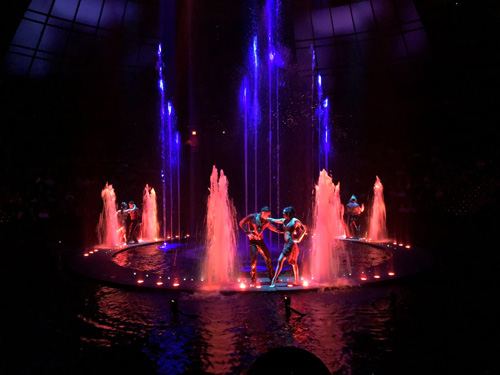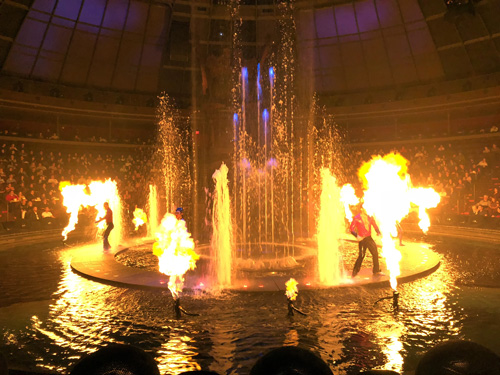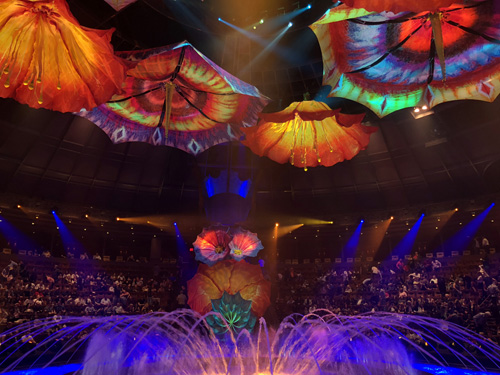 Monday, February 5 – High Roller and Home
I have made a mental note to schedule future Las Vegas trips with an early morning return flight because the city is inactive until about 11 AM. So we read in the room for a while and then went to the new High Roller Ferris wheel for an interesting 30 minute spin up to 550 feet. Each vehicle on the wheel was a room that could hold up to 40 people, but we were fortunate that only seven or eight were in our car, so there was no crowding. The views are spectacular although the experience would have been better if we had done it at night (when they do charge more for tickets). We had lunch on the Linq Promenade and then headed to the airport for our 3:20 flight back home.