2019 Civil War Travelogues — "Sherman's March and Confederate Georgia" with BGES
Welcome to my 2019 travelogue pages. This is my report on the Blue and Gray Education Society event, "Sherman's Infamous March to the Sea and a Tour of Confederate Georgia." It was my 16th outing with BGES. To see the entire list of my 2019 trips, go here.
Here is a reminder about the reason I write these pages the way I do. They record my experiences and impressions of Civil War trips primarily for my future use. Thus, they sometimes make assumptions about things I already know and focus on insights that I receive. They are not general-purpose descriptions for people unfamiliar with the Civil War, although I do link to various Wikipedia articles throughout. Apologies about the quality of interior photographs—I don't take fancy cameras with big flashes to these events. If you would like to be notified of new travelogues, connect to me via Facebook.
Thursday, January 17
I flew UA to Savannah through Chicago—no weather delays! We met at 7:30 pm at the Wyndham Wingate hotel at the airport for our introductions. There are four attendees, our historian Stephen Wise, and the BGES executive director, Len Riedel. Steve, whom BGES and I accompanied through Eastern North Carolina last January, talked about our upcoming itinerary and gave a brief overview of the Confederate Navy. I was surprised to hear that they had as many as 175 warships and 20 shipyards. There was an interesting discussion about the CS use of rifled naval cannons versus the US mostly smooth bore. Steve focused his talk generally toward Georgia and emphasized the CSS Atlanta, Savannah, Chattahoochee, Jackson, and Water Witch, plus the shipyards in Columbus, GA, and Savannah.
Friday, January 18
We checked out of the hotel and hit the road for a long day (clocking about 300 miles). As we drove, Steve gave us a comprehensive history of Georgia in the war: politicians, secession, generals, etc. He included a lengthy session on all of the confusingly named militia and reserve units. Our first stop was rather ad hoc—Clayton, GA, is the "fruitcake capital of the world," and we stopped in a shop/bakery that produces 5,000,000 pounds of the stuff annually. Everyone in the van (except for me, dieting still) bought samples.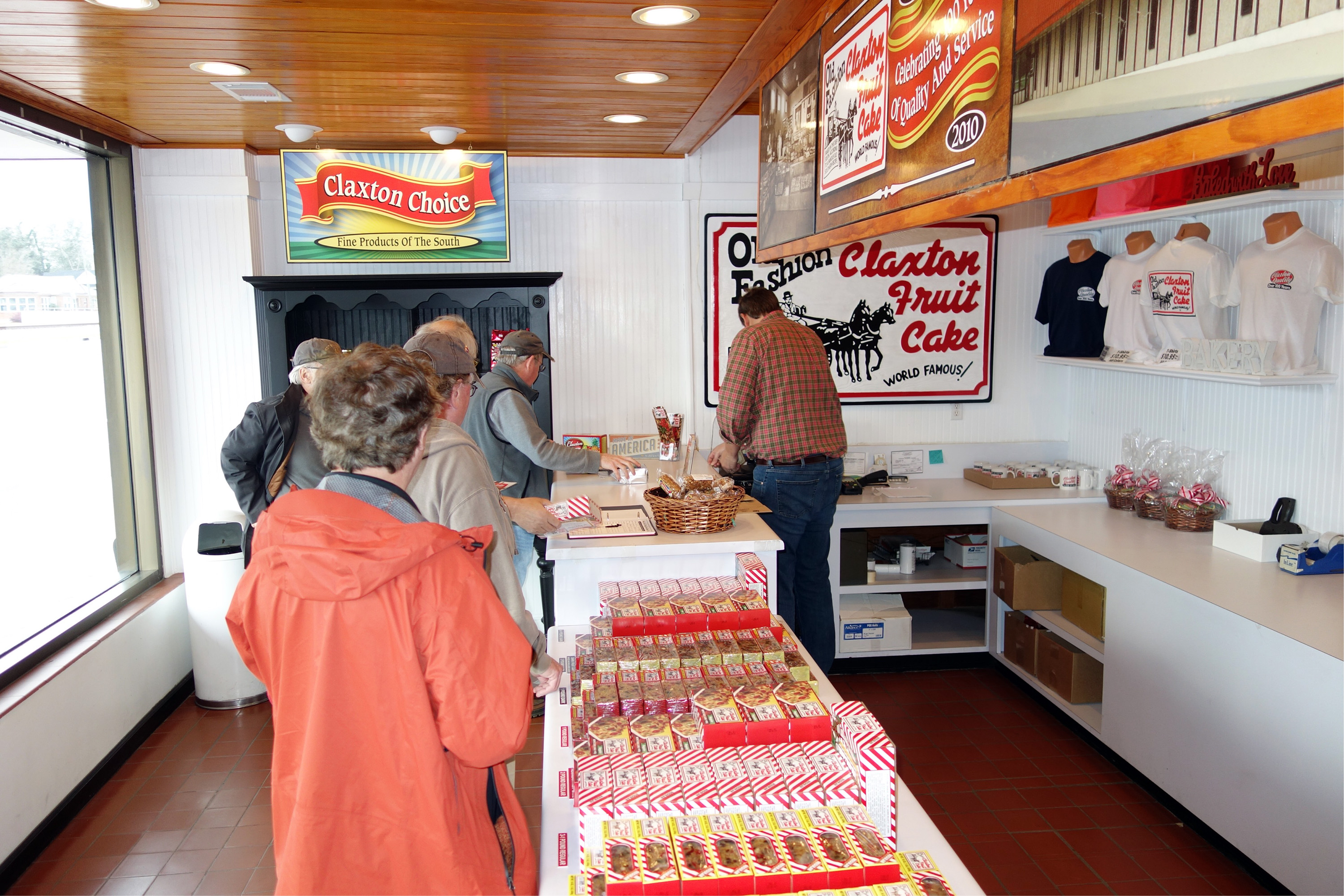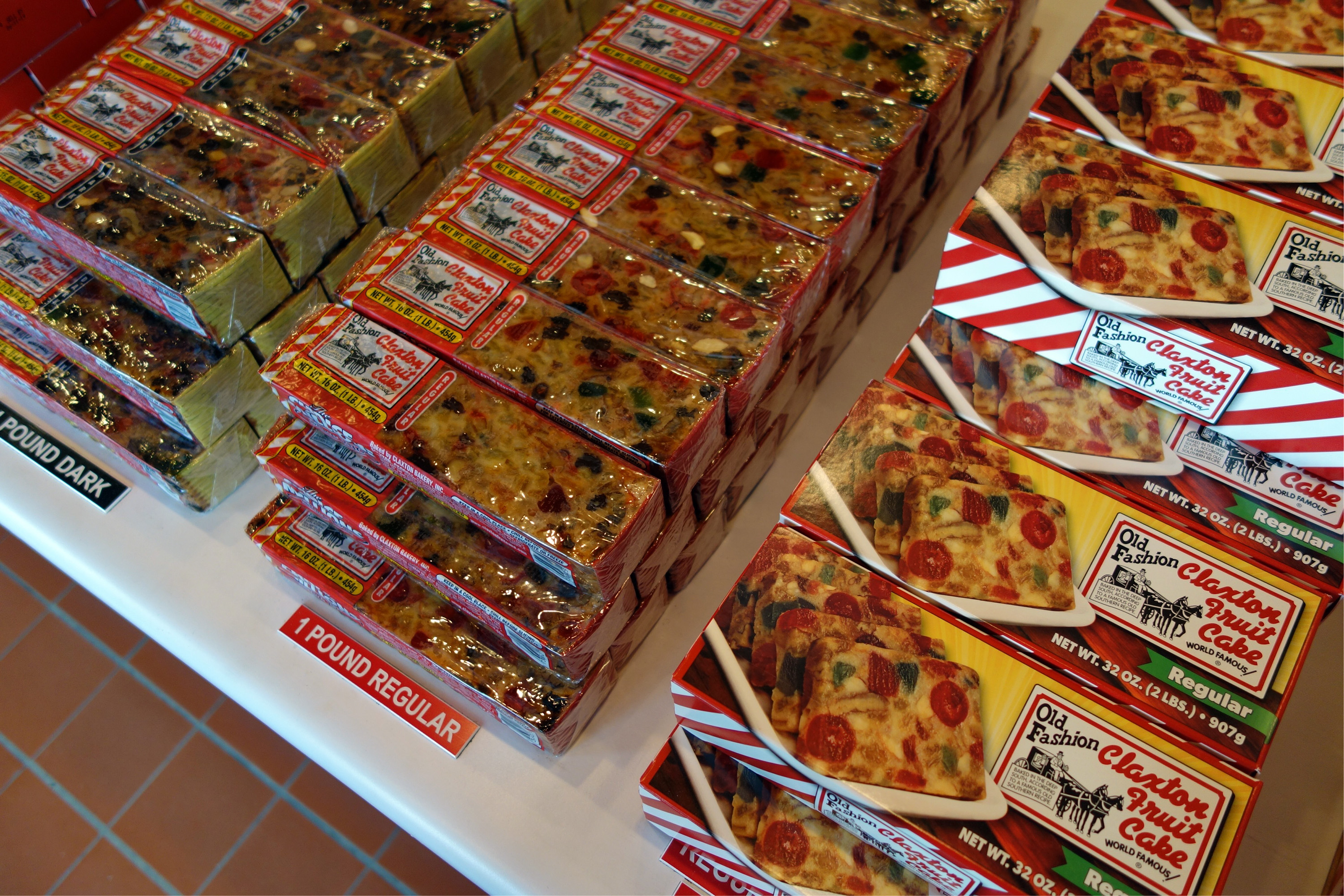 Fitzgerald was unknown to everyone on the van, but we were all impressed with our stop at the Blue and Gray Museum, which covered the history of the town. It was founded by P.H. Fitzgerald of Indianapolis in the 1890s as a "colony" of northern veterans in the Deep South, both to offer an escape from midwestern winters and to promote sectional reconciliation. There was a very good short film and the town was quite pretty and pleasant. We ate lunch at A & J Barbecue, which was very modest, but the food was excellent and inexpensive.
Next was Irwinsville, about 10 miles north. Here was where Jefferson Davis was captured by Union cavalry on May 10, 1865. There is a small museum with a good 18-minute video about JC and his flight from Richmond, and then we gathered around the monument commemorating the actual spot he was captured. Steve gave us more details and also discussed the controversial story about Davis being caught wearing women's clothes, which he agreed was in error, although Davis did have his wife's raincoat that he picked up by mistake. He thought James H. Wilson was partially responsible for spreading the bogus story.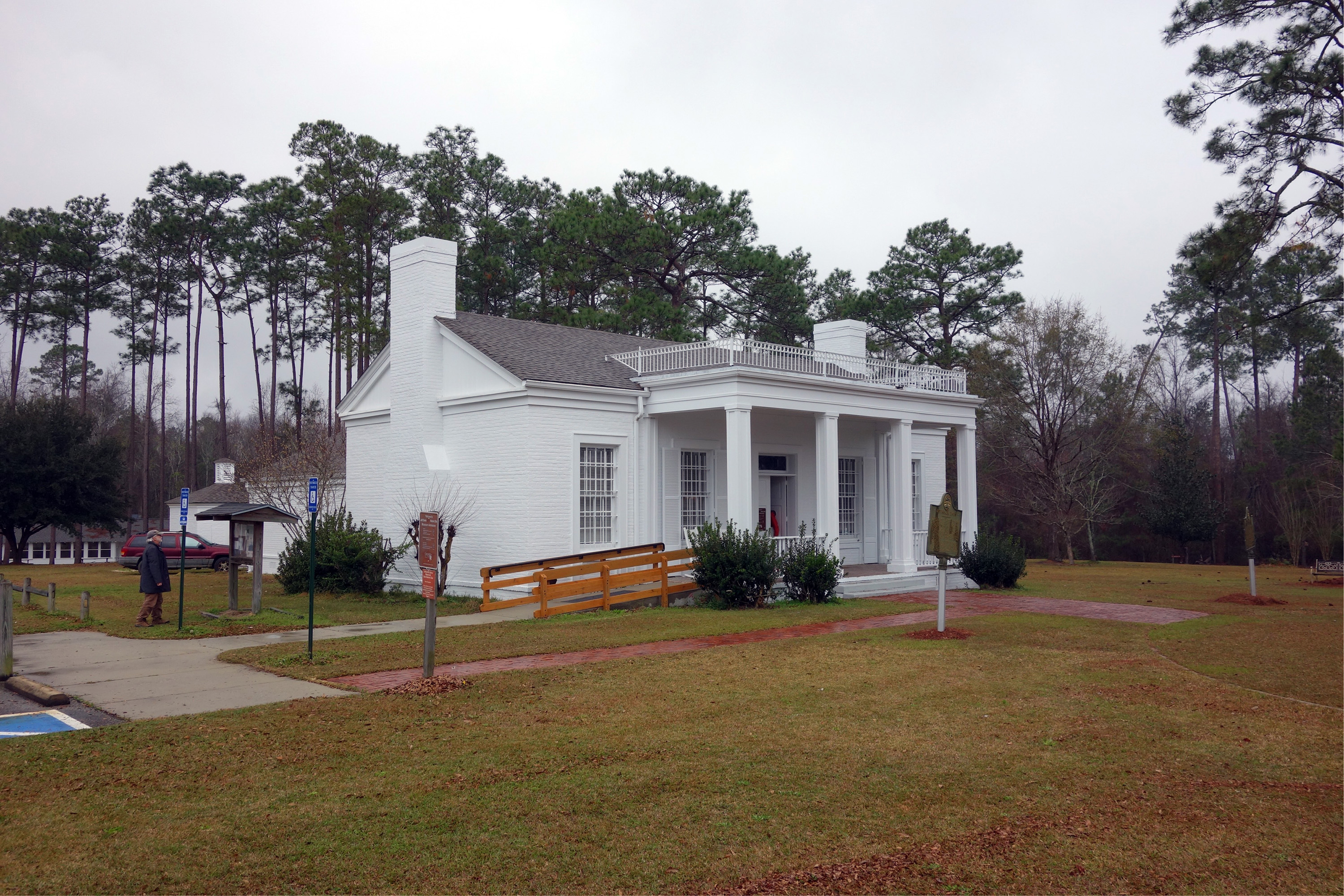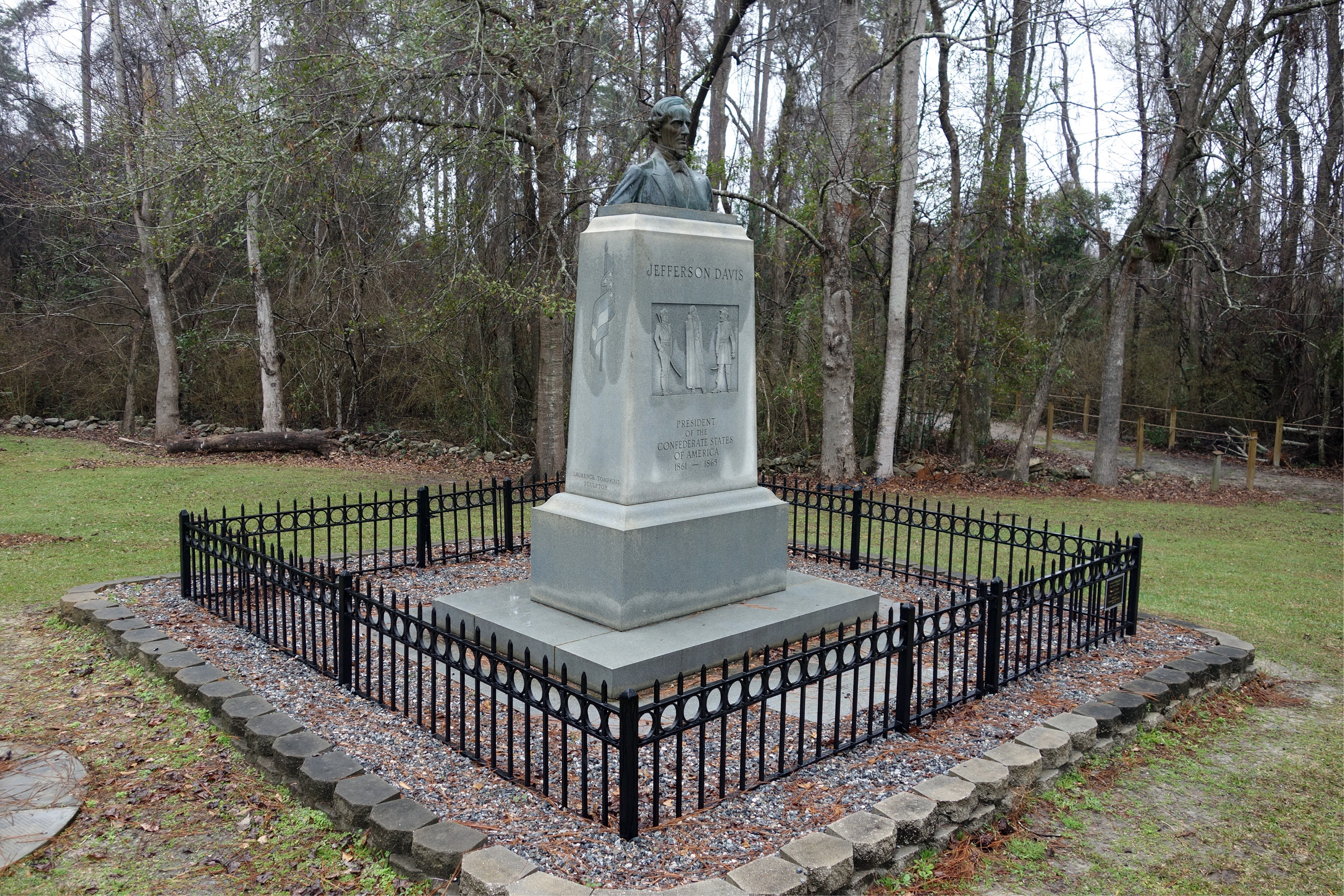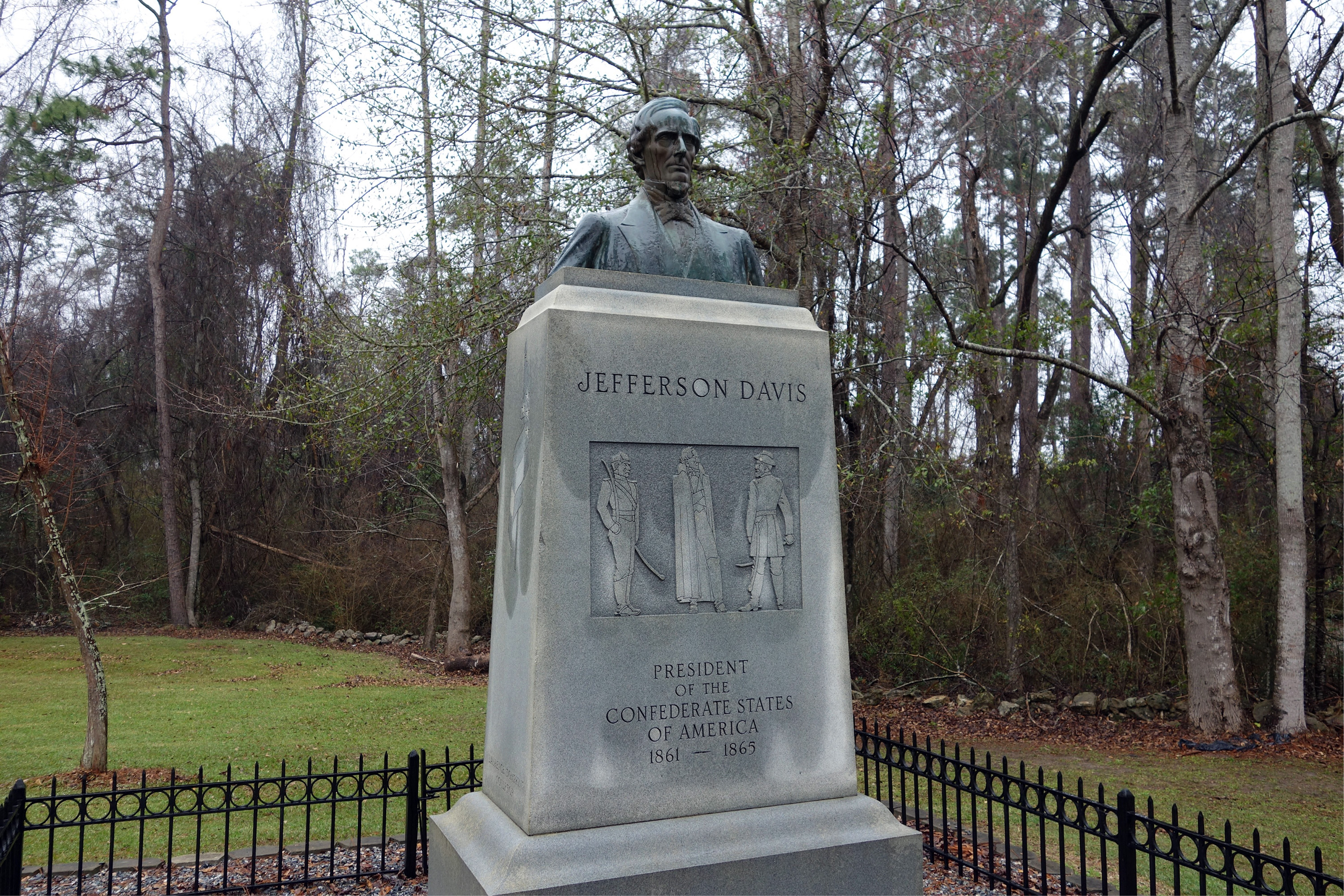 An unscheduled stop was Georgia Veterans Park, just west of Cordele, because they have a cool static display of a handful of tanks, amphibious tracked carriers, a B29 Superfortress, and a few old jet fighters. It's a lovely park with a golf course, a marina, and camping facilities. Across the street is a general store that has homemade beef jerky, and most of us bought some. I got a hot variety and it's pretty good.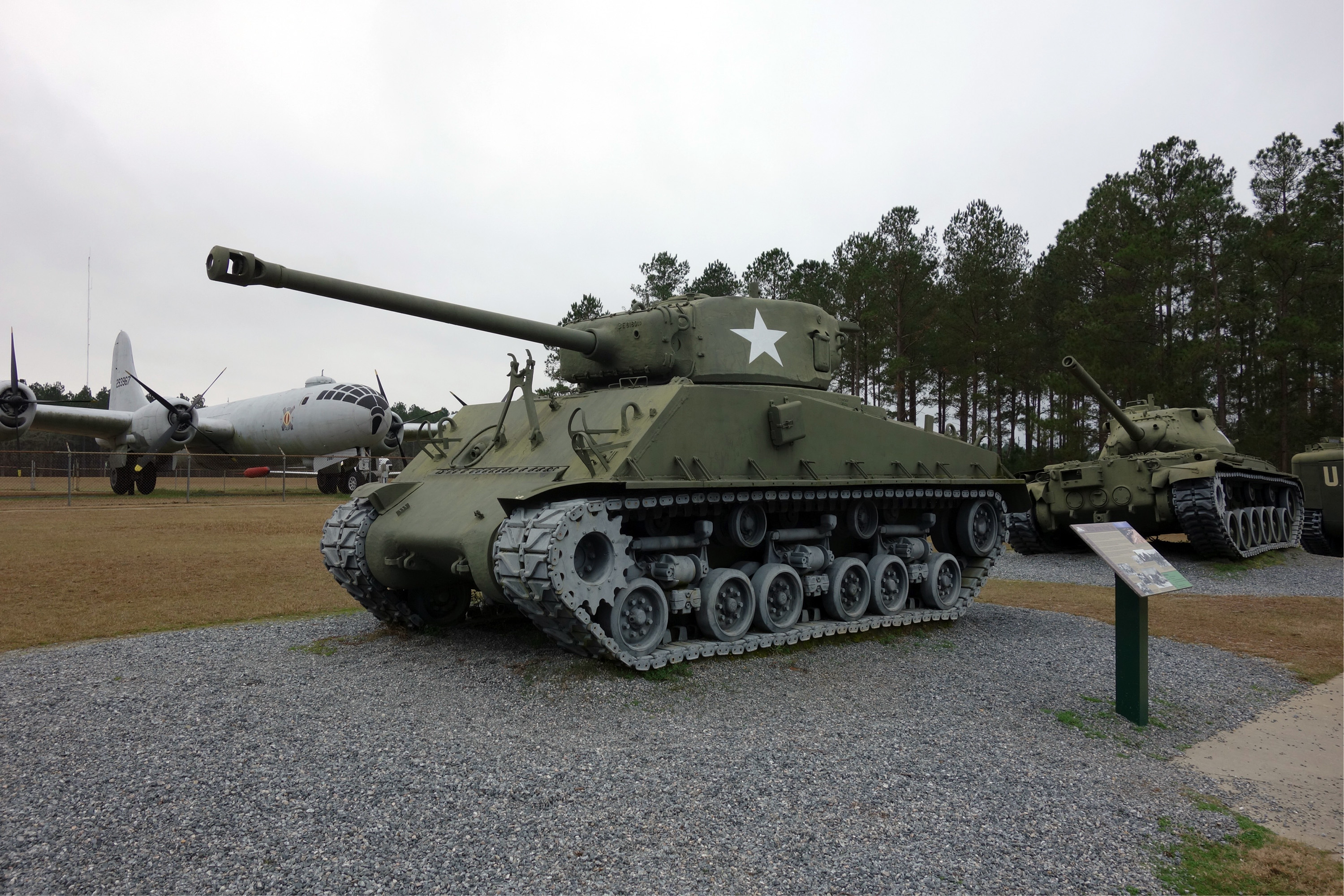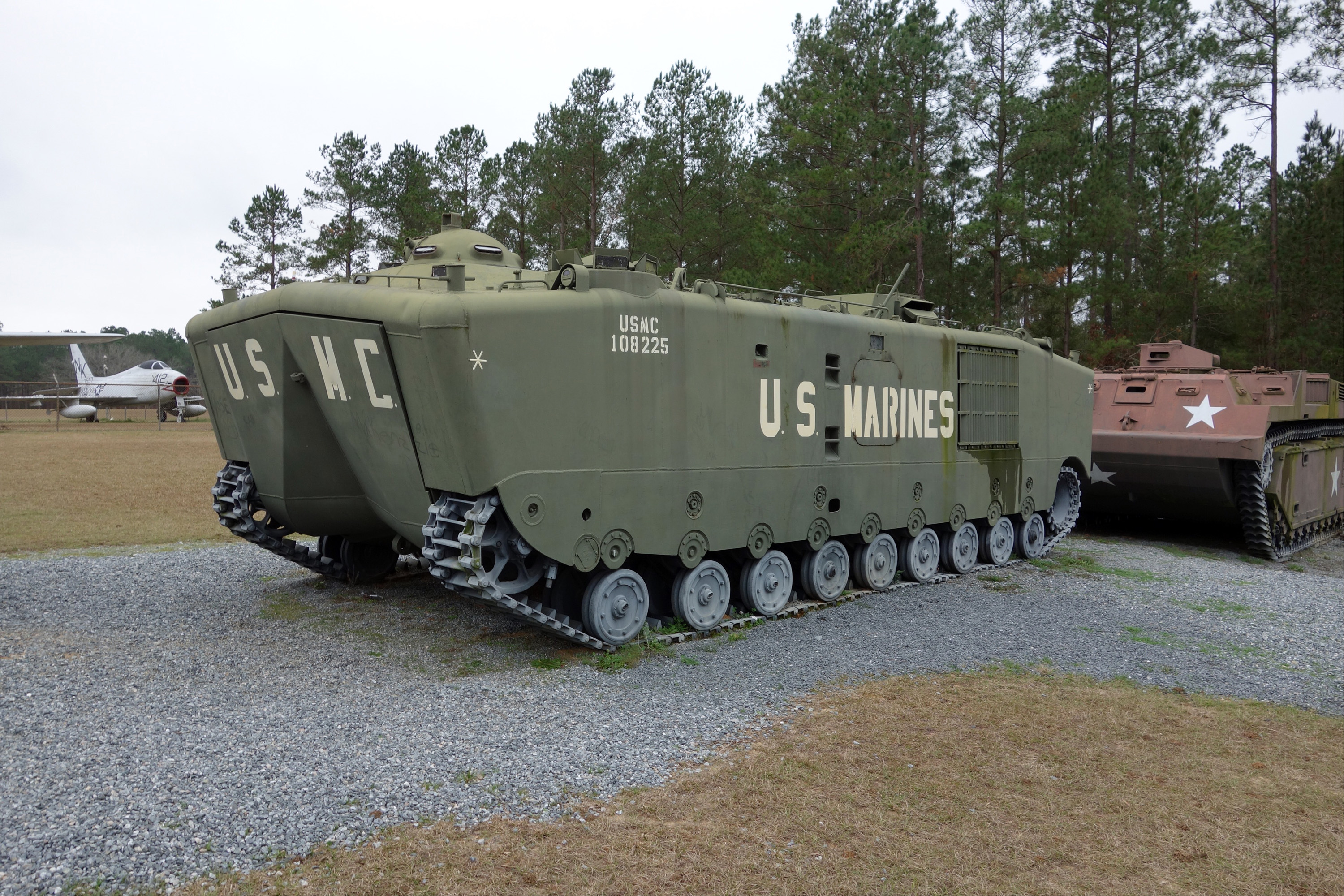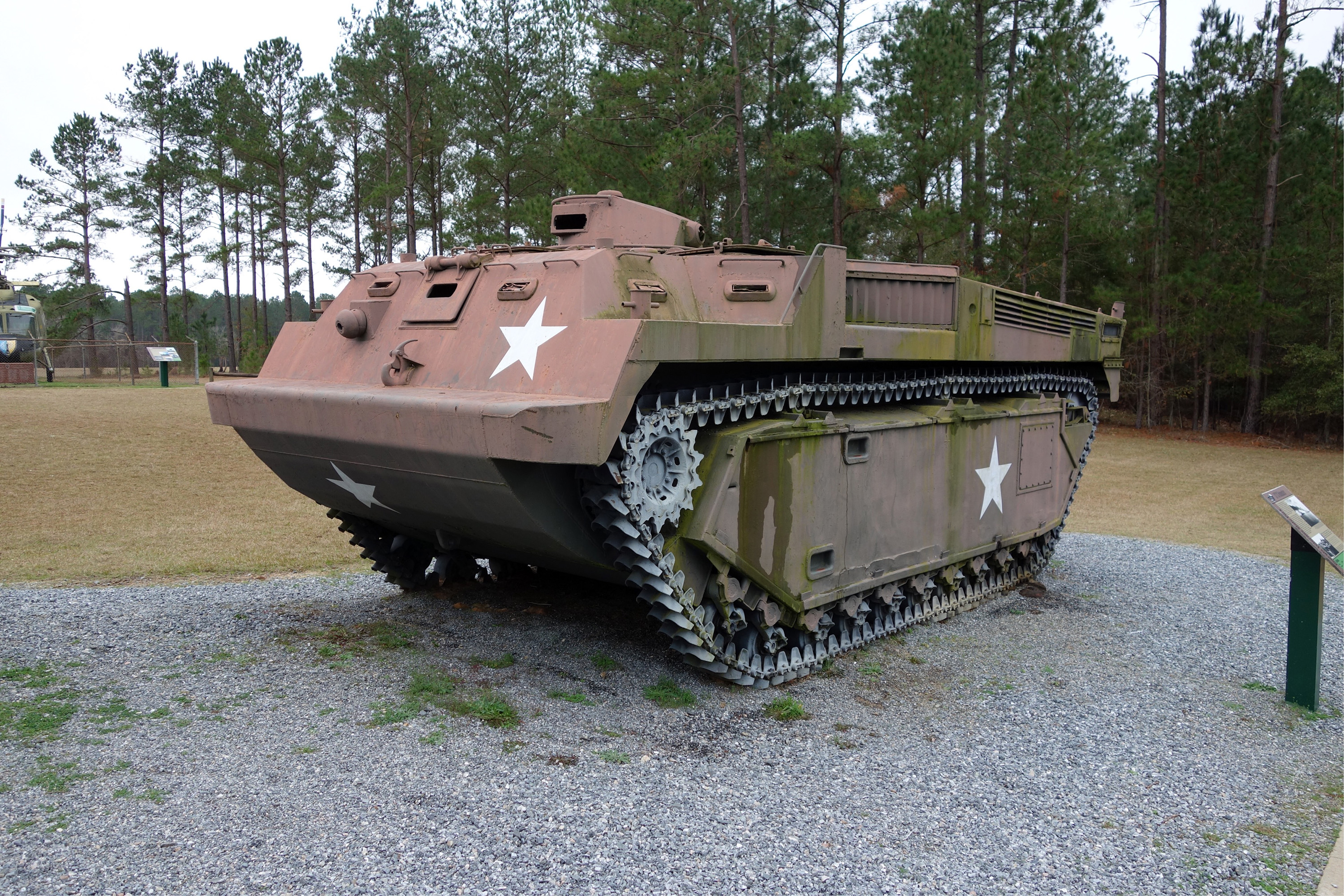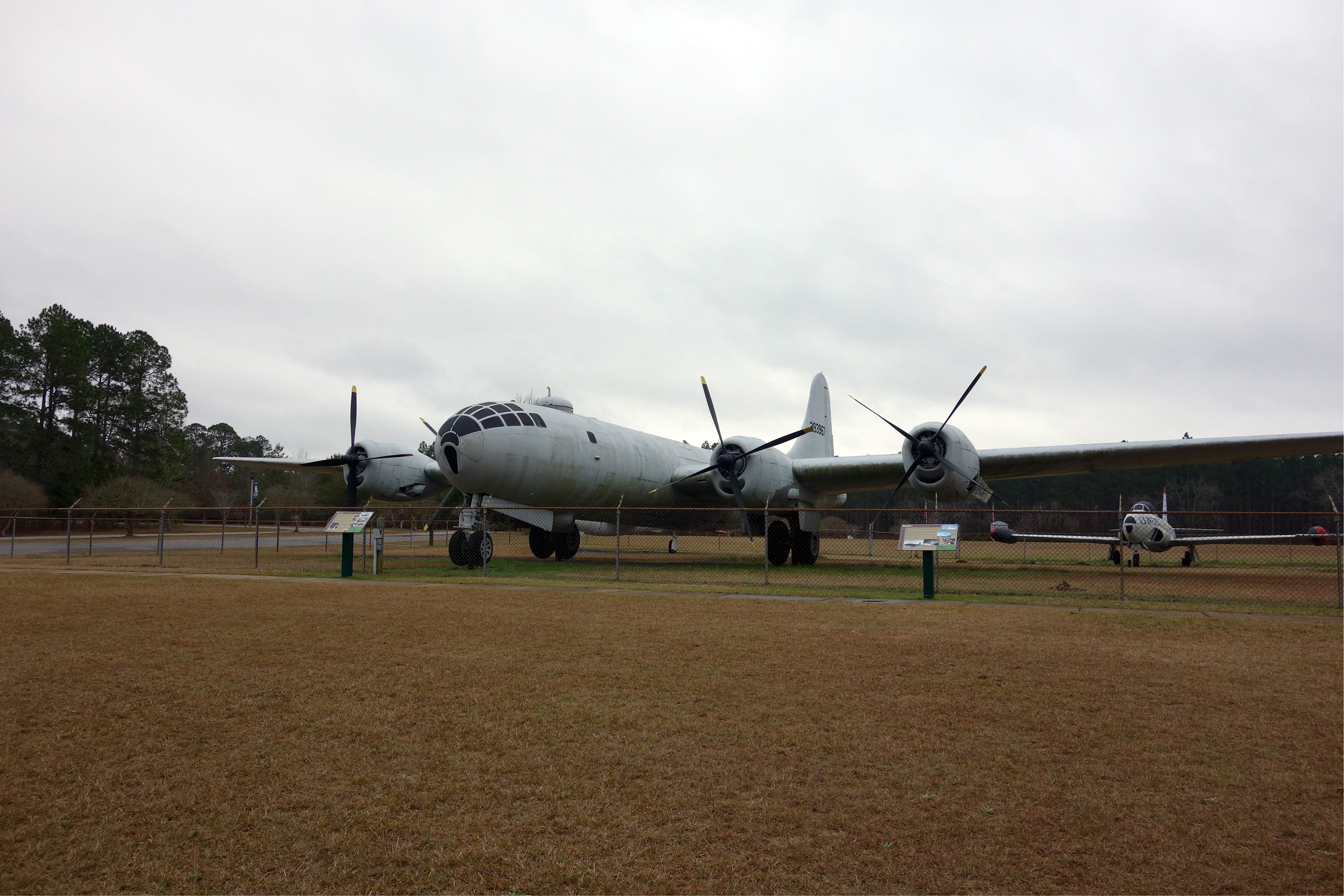 Finally we stopped at Andersonville, aka Camp Sumter, which is a place I have wanted to visit for years. Unfortunately, the NPS was closed along with the "partial government shutdown," so the gates were locked. We knew the national cemetery was open, so parked in there and snuck into the park. A ranger chased us down in his golf cart and said we had to leave in a few minutes because he was locking up the cemetery at 5 pm. He was actually quite nice about it and allowed Steve five minutes to tear through his remarks, and he also answered a few questions. We got to see some of the fortifications at the northern end of the field and got a great view of the dead line and prisoner area, but could not go down the hill to see Star Fort or any of the small buildings there. Of course, the National POW Museum was closed, but Steve said that there is not a lot of Civil War history in there anyway.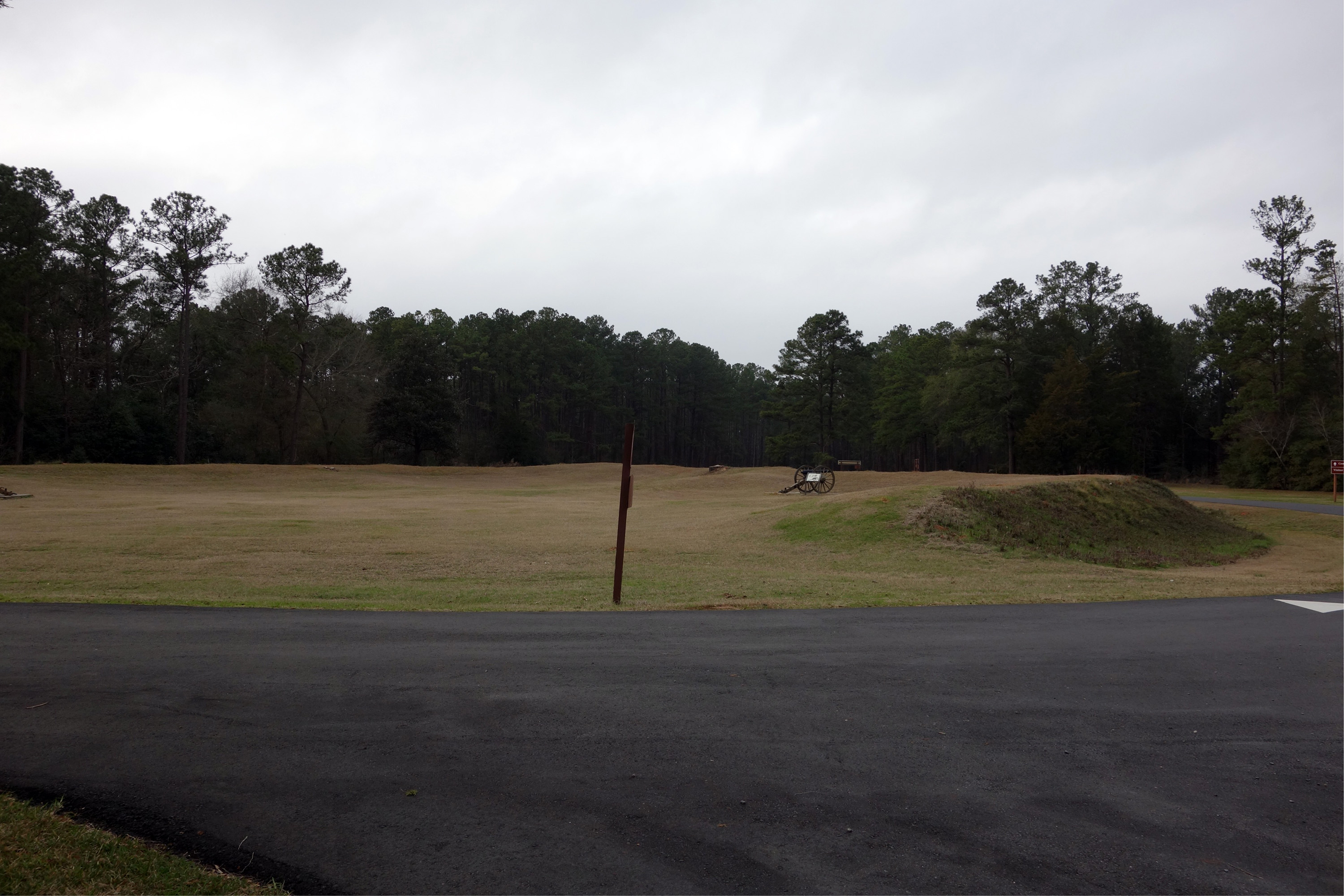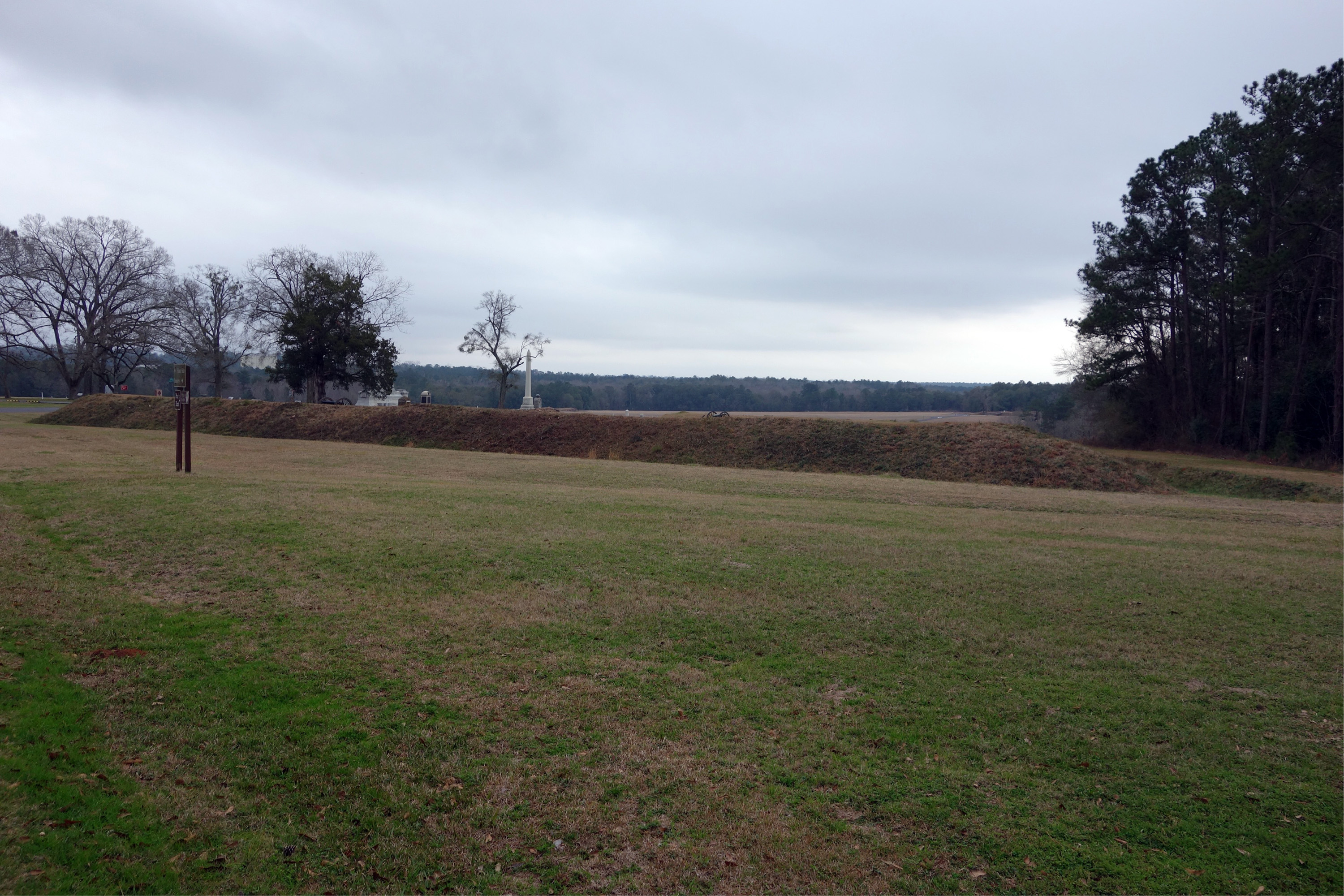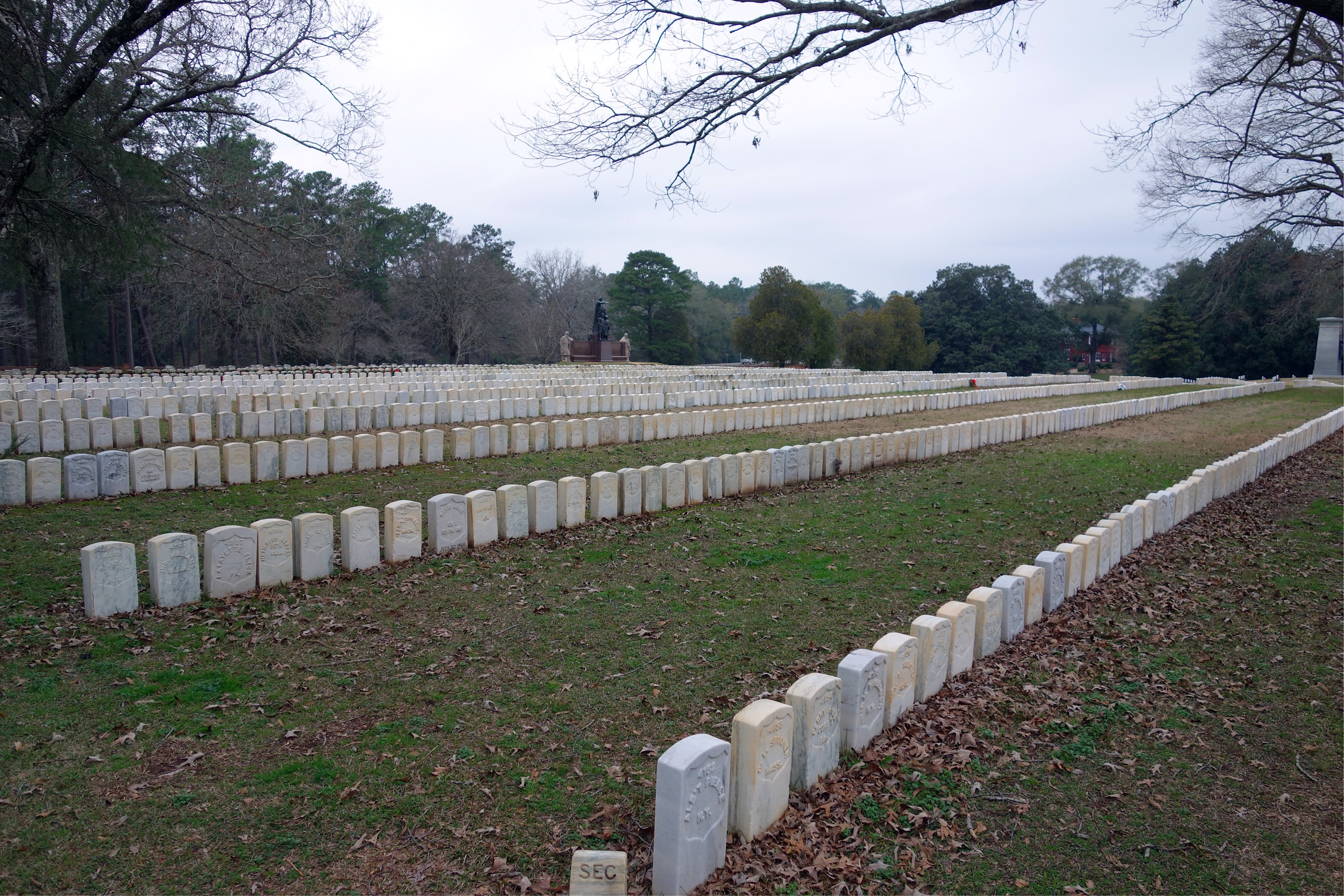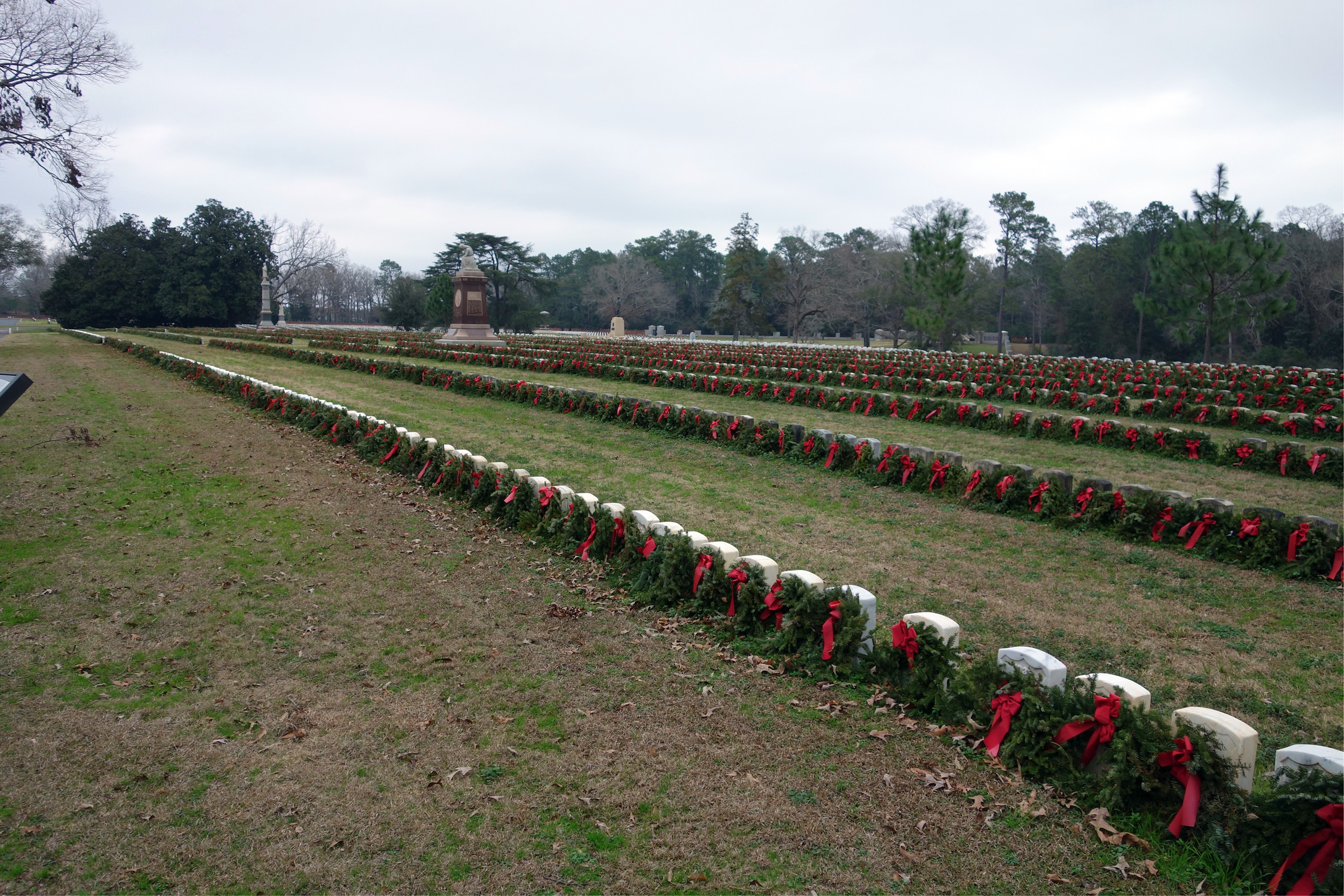 After another hour's drive, we arrived in Columbus—all the way across the state—and checked into our Best Western hotel for a two-night stay. I was amused to find that the section of town was named Nankipooh, just an extra H on the name of a Gilbert and Sullivan character, from the Mikado, my favorite. Dinner was at IHOP, believe it or not, because all of the other nearby restaurants were too busy on a Friday night. The food was fine, but we had the most comically incompetent waitress, which dominated our conversation all evening, betting on how many mistakes she would make.
Saturday, January 19
We started at the waterfront, at the eastern end of the 14th Street pedestrian bridge; this bridge was a covered wagon bridge in 1865 and a key feature of the Battle of Columbus. Steve described all the battle action, which was part of Wilson's Raid through Alabama and Georgia. Locals hail this battle as the last significant one of the war. We walked over to the site of the Mott house, which was a Unionist house used by Gen. Wilson as his headquarters. It burned down a number of years ago and there are a memorial structure and some signs. Columbus, which was the Confederacy's second-largest manufacturing center, looks to be coming up in the world, with new riverfront condos and a nicely preserved historic district.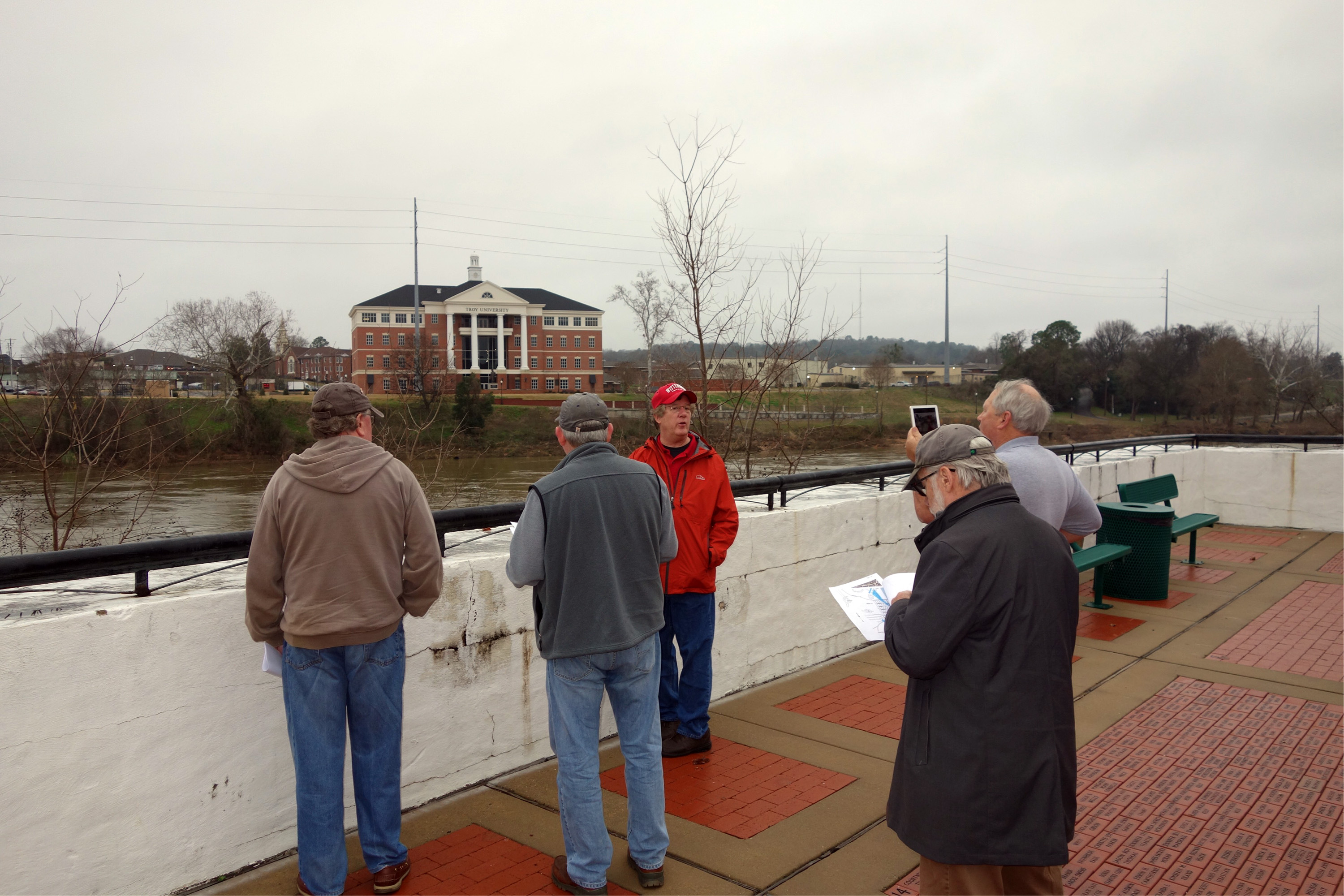 After a 45-minute drive north to West Point, GA, we visited Fort Tyler, reconstructed, a key feature of the battle of West Point. Gen. R. C. Tyler was killed here, the last Confederate general to die in the war. It is nicely preserved (rebuilt) with good earthworks and four cannons, all on top of a rather steep little hill. The odd thing is that the Alabama/Georgia state line runs right through the fort, so one half is in the eastern time zone, the other central. My iPhone got flummoxed by this and displayed the wrong time for the next couple of hours.

West Point is currently known for a giant Kia assembly plant, so there are lots of Korean restaurants around, and we visited one for lunch. This was not an Americanized place at all and there was little English in use, except for a poorly translated picture menu. I had bibimbop, which is a tasty rice dish cooked on a sizzling iron plate with lots of ingredients piled on top. Some of our party were intimidated by the supposedly spicy food, but I found it quite mild.
Then it was back to Columbus for the National Civil War Naval Museum (which used to be called the Confederate museum, but squishy political opinions are trumping accuracy nowadays). The highlight is dredged up bones of the CSS Jackson, which had been burned and sunk by Wilson's cavalry. The wreck is a lightly recognizable wooden hull with a steel skeleton outline of the missing upper portions. The ship is really large and would have been very impressive. They also have a small portion of the wreck of the CSS Chattahoochee, and (they say) the largest collection of naval flags. They have a very extensive set of display panels covering the history of naval operations; nicely done, but needing some corrections and refreshes, plus some maps wouldn't hurt.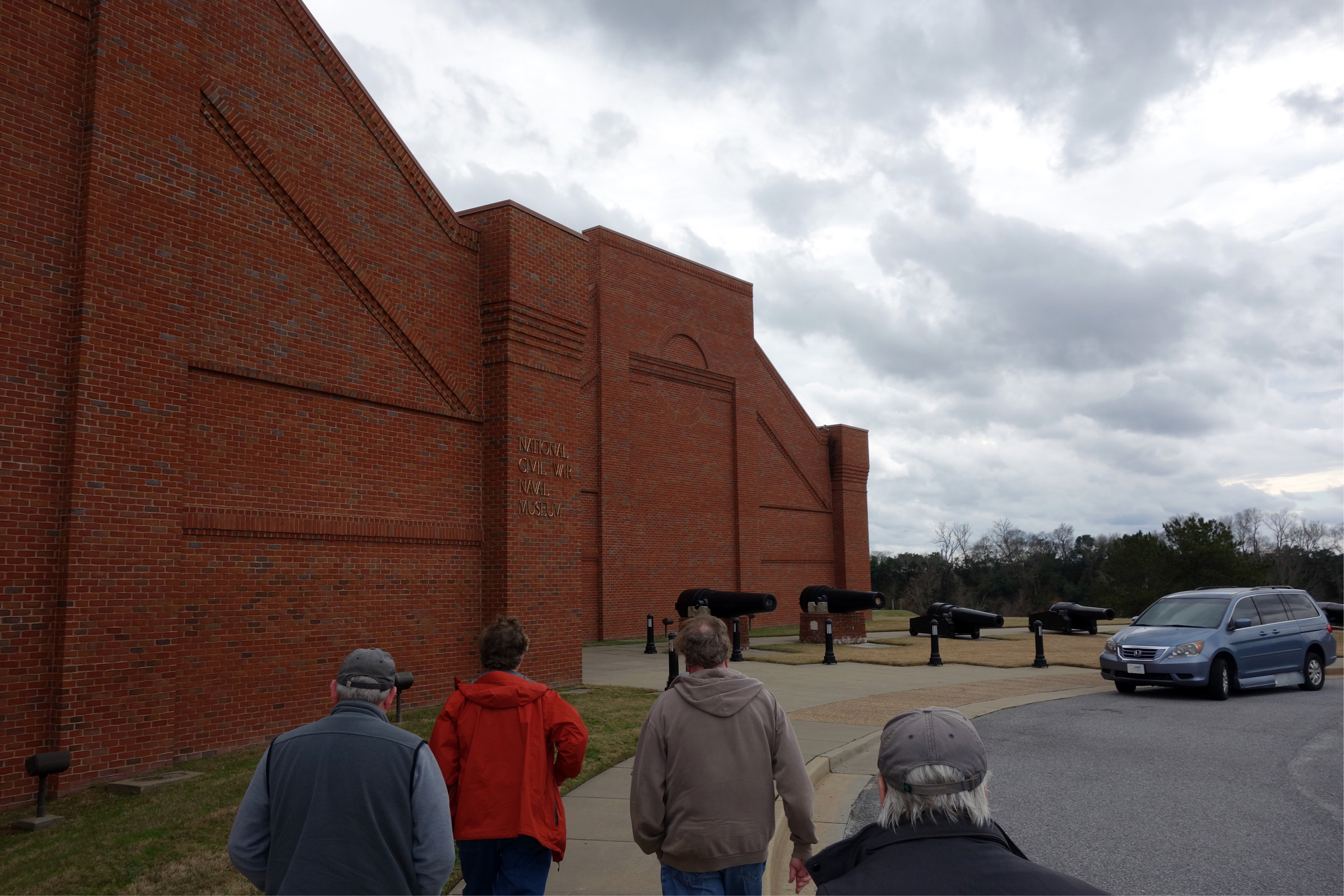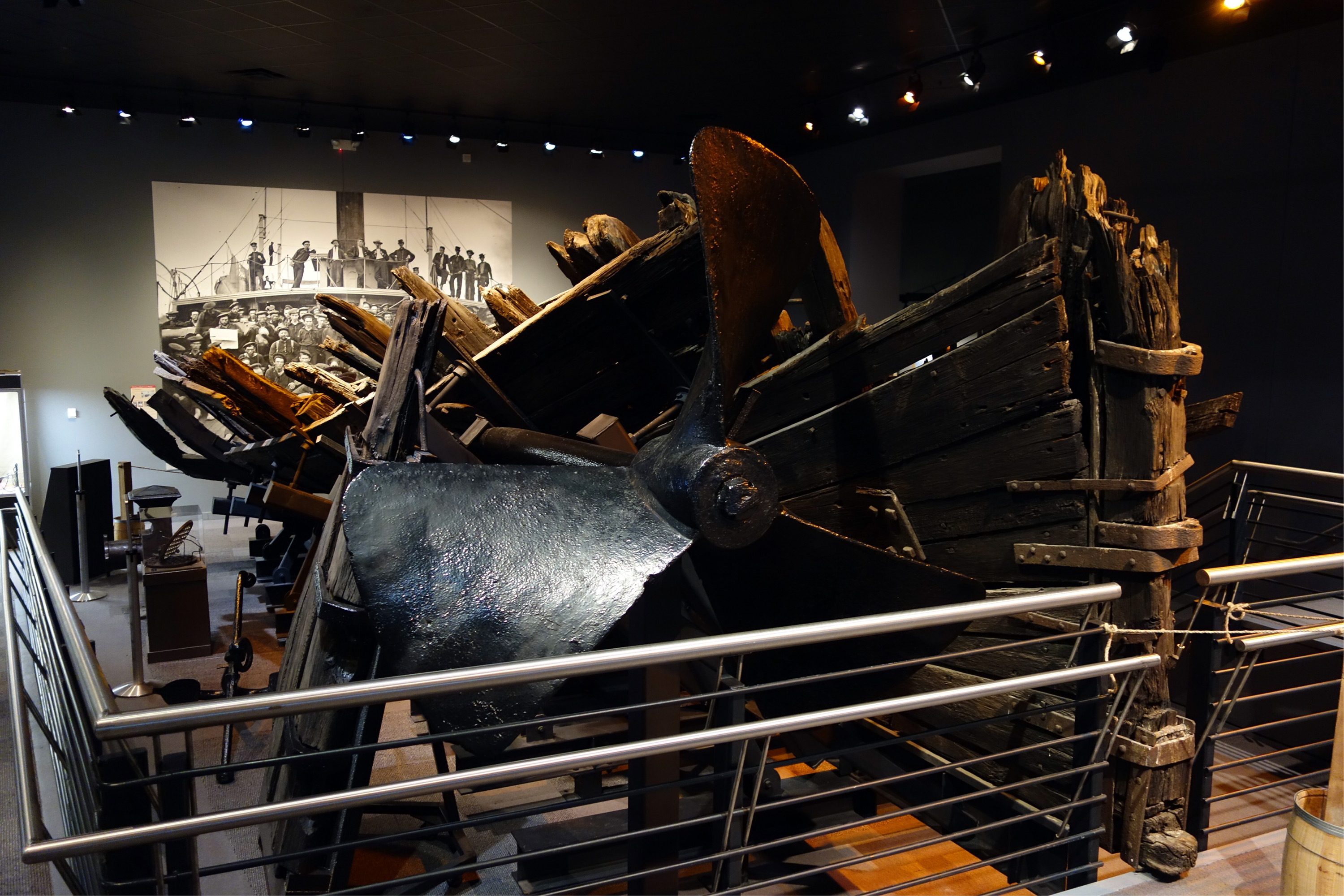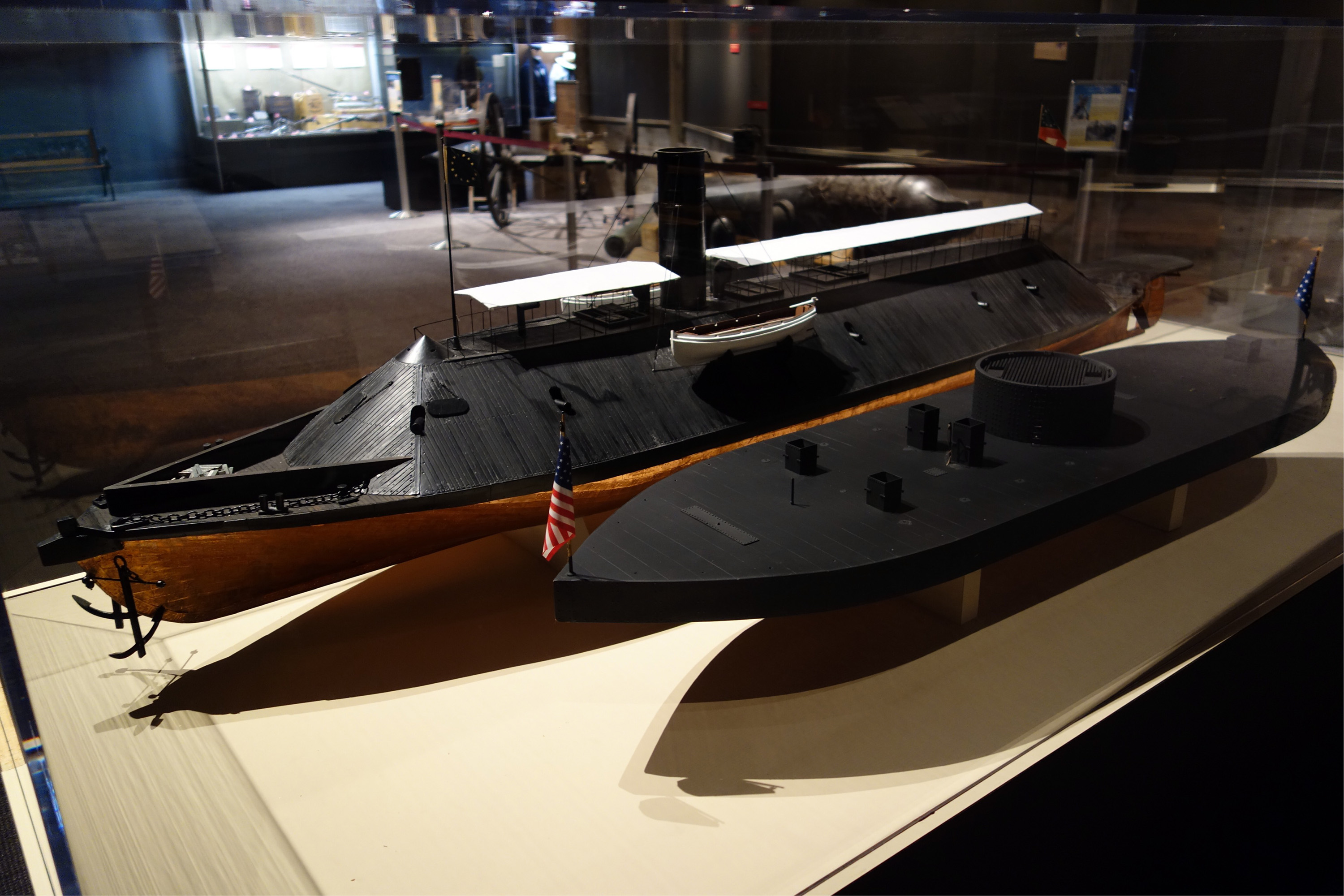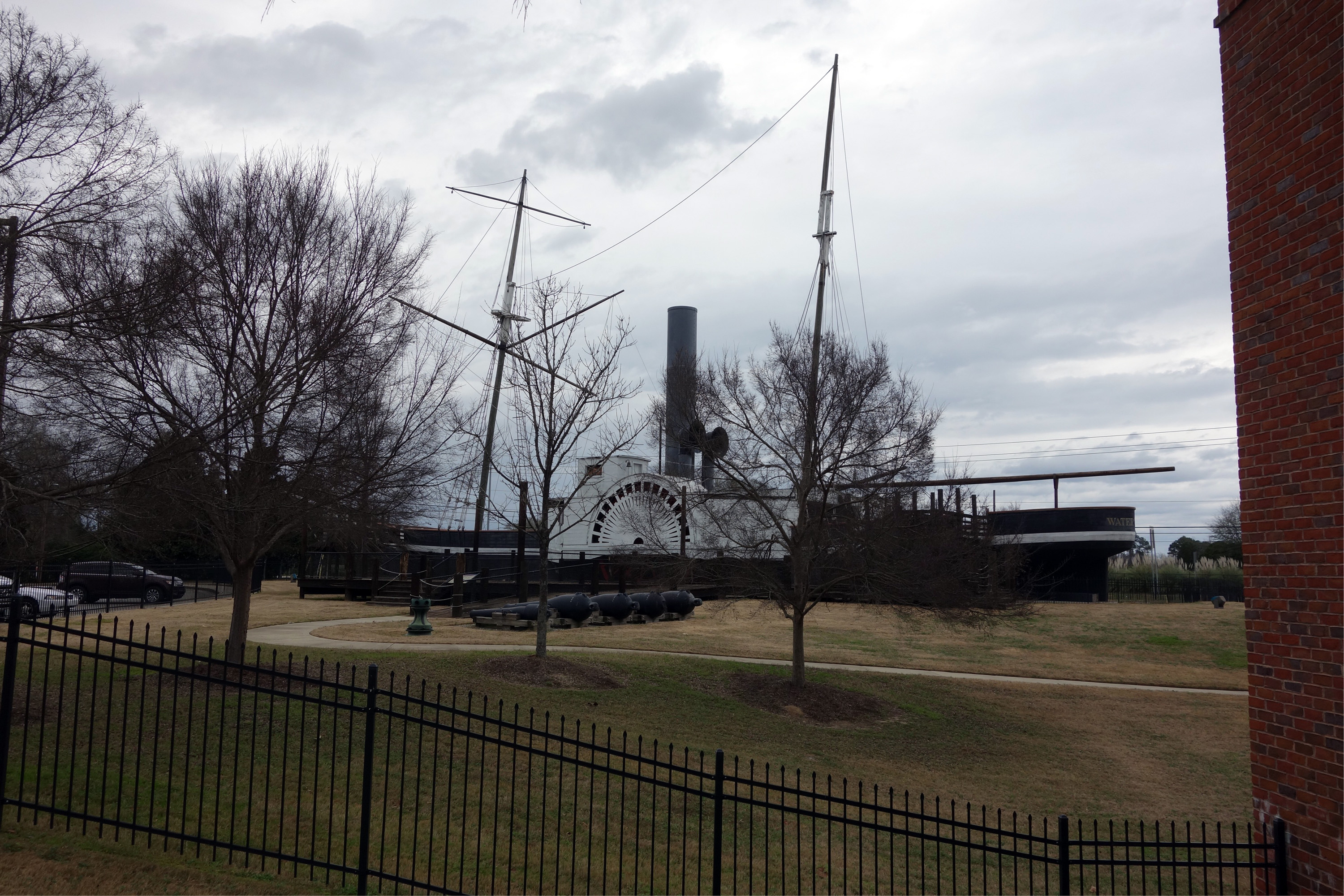 Our final stop was at Fort Benning for the National Infantry Museum. This was quite good, with some impressive full-size battle-action diaramas from a few of our wars. (For the CW, they somehow decided to show Burnside's Bridge at Antietam, not the US infantry's finest hour. I think the designer simply wanted us to walk over a bridge.) There were sections about infantry training and the fort, but the highlight for me was a series of galleries that summarized each of the major eras or our army, from the Revolution through the current day. The Mexican War was very well done, the Civil War a bit skimpy, the world wars, Korea, and Vietnam good. I didn't get to the final gallery for lack of time—a little more than two hours—and there were a number of things that I had to miss, so the place would warrant a re-visit some day. I believe there were outside displays and a mezzanine area that slipped past me. Also a movie theater. There were lots of weapons, equipment, and uniforms of course. And there is a gallery that bills itself as the Cavalry and Armor Museum! (I guess they thought that Fort Sill did an adequate job for the artillery.) I was surprised to see one of my Wikipedia maps—Tullahoma Campaign—on display in the CW section, without attribution, don't you know. We were disappointed in the gift shop bookstore, which was quite bare, but as I told Len, infantrymen aren't selected for their reading skills. :-)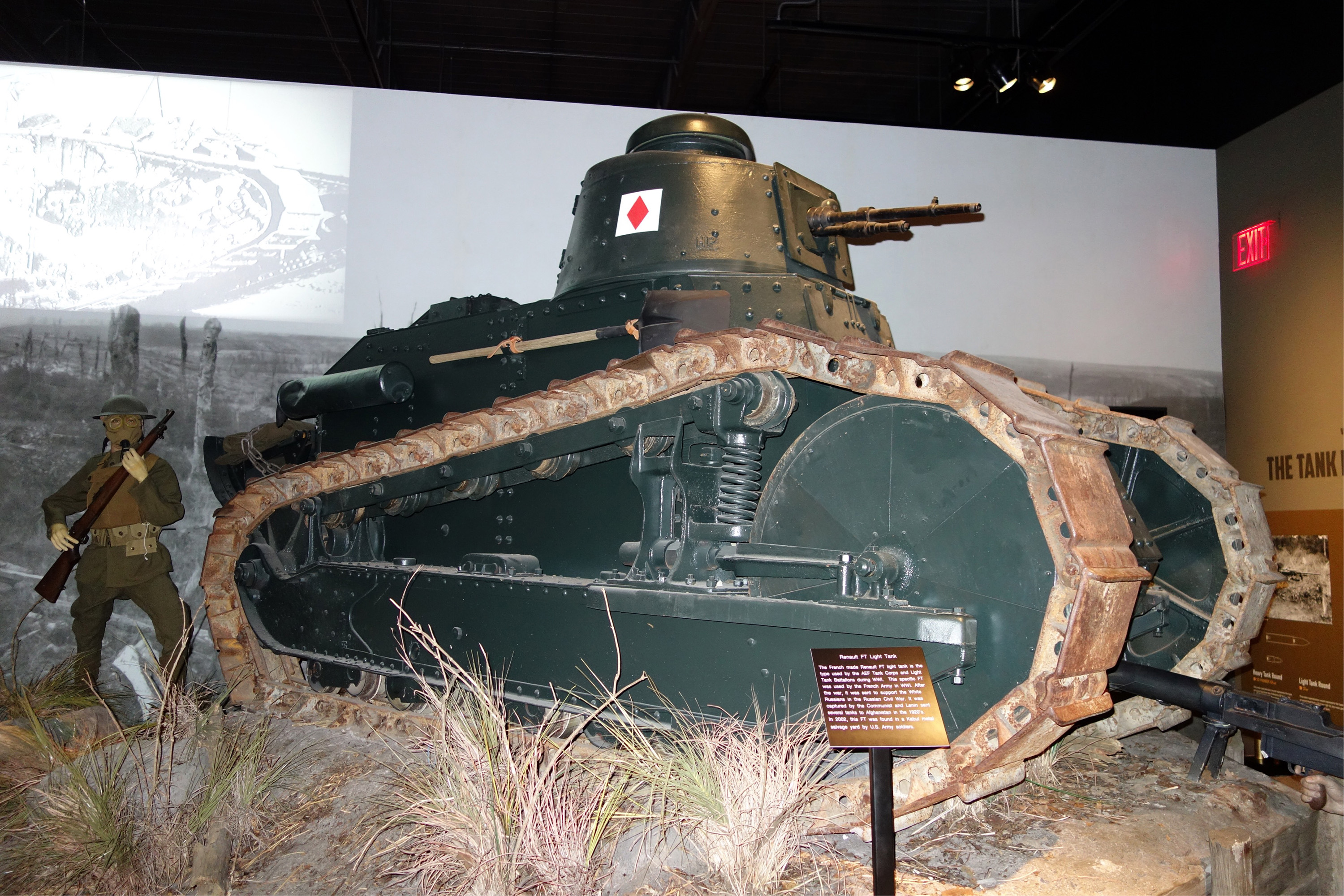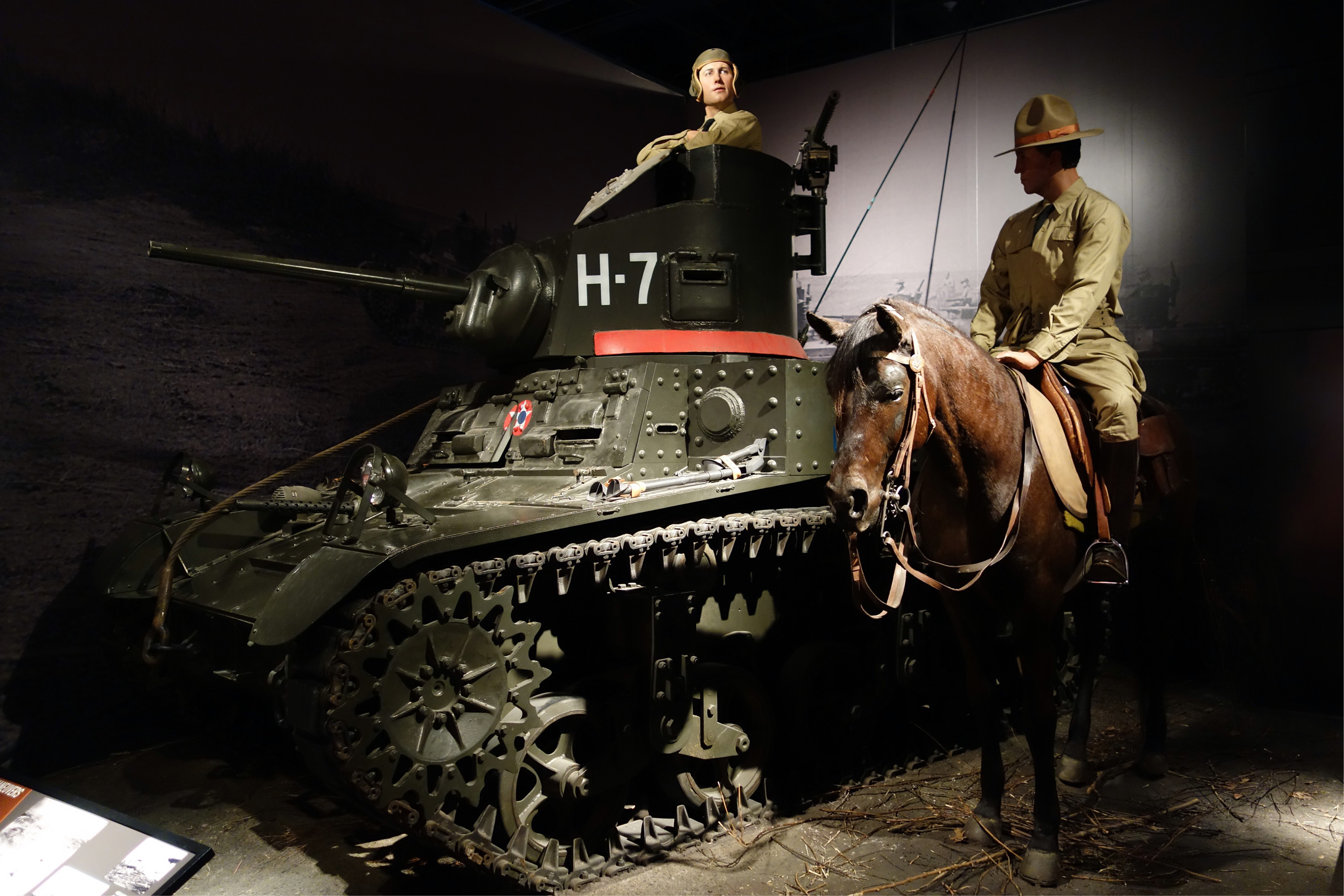 We had dinner at Caffe Amici, recommended by Steve's friend at the naval museum, which turned out to be an excellent casual Italian place with great food and service, and very reasonable prices. While we ate our cellphones were alerted to a tornado watch for this county, and we nervously listened to the heavy winds and lightning that accompanied a torrential downpour. But we were unscathed.
Sunday, January 20
Another big driving day—233 miles by my reckoning. But today is notably colder than yesterday. Time for multiple layers of coats, gloves, etc. And for jumping back and forth into different campaigns. We started In Thomaston, GA. On the way, Steve filled us in on the Nancy Harts Militia at LaGrange, a group of lady soldiers that didn't have any direct relevance, but was interesting. We were following the route of Minty and Wilson to cross the Flint River in a continuation of the 1865 Alabama-Georgia Raid. At the courthouse square was a monument from the UDC that supposedly had the first cannonball fired at Fort Sumter. Yeah, right. There was also a small marker commemorating that John B. Gordon was born in that county (Upson).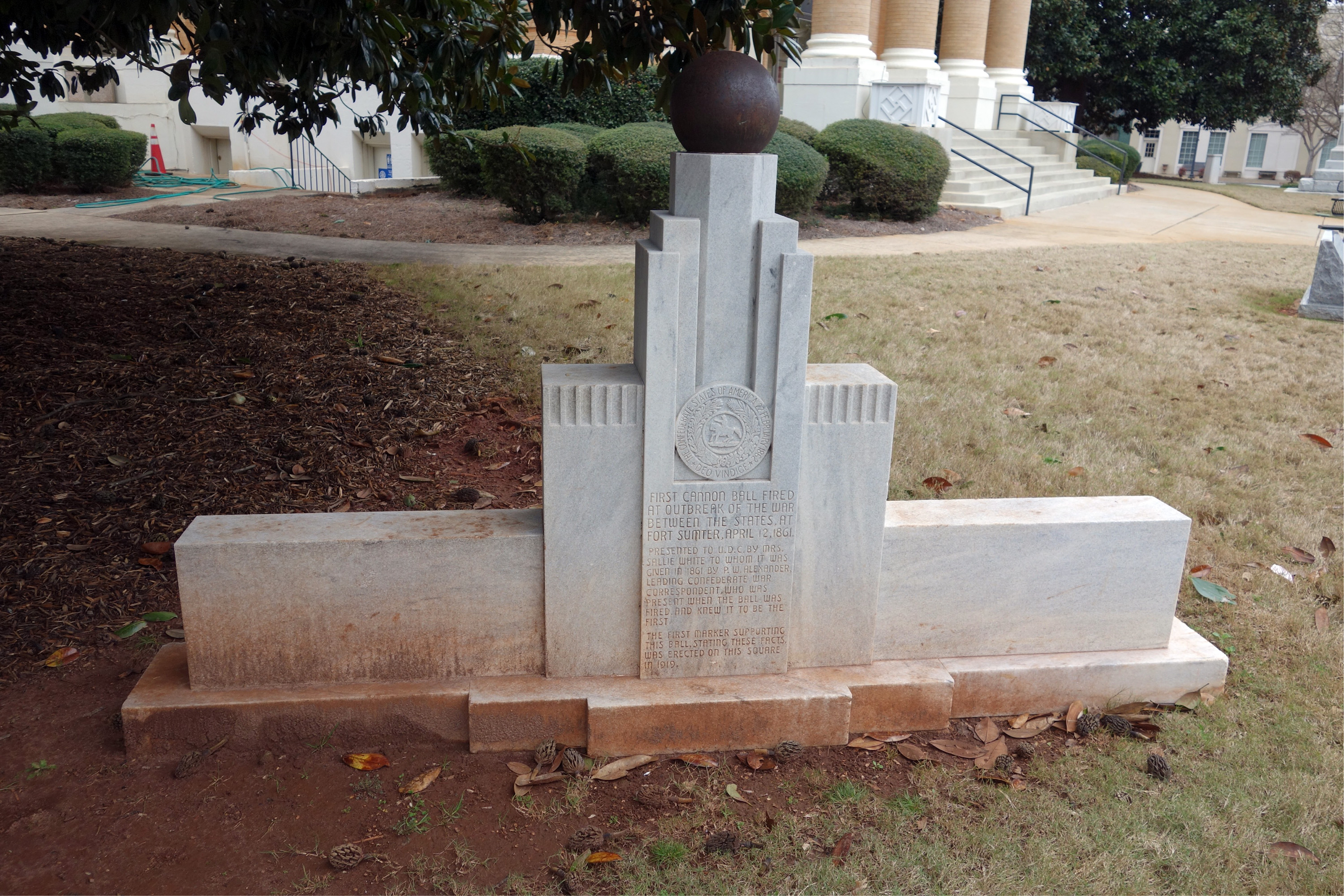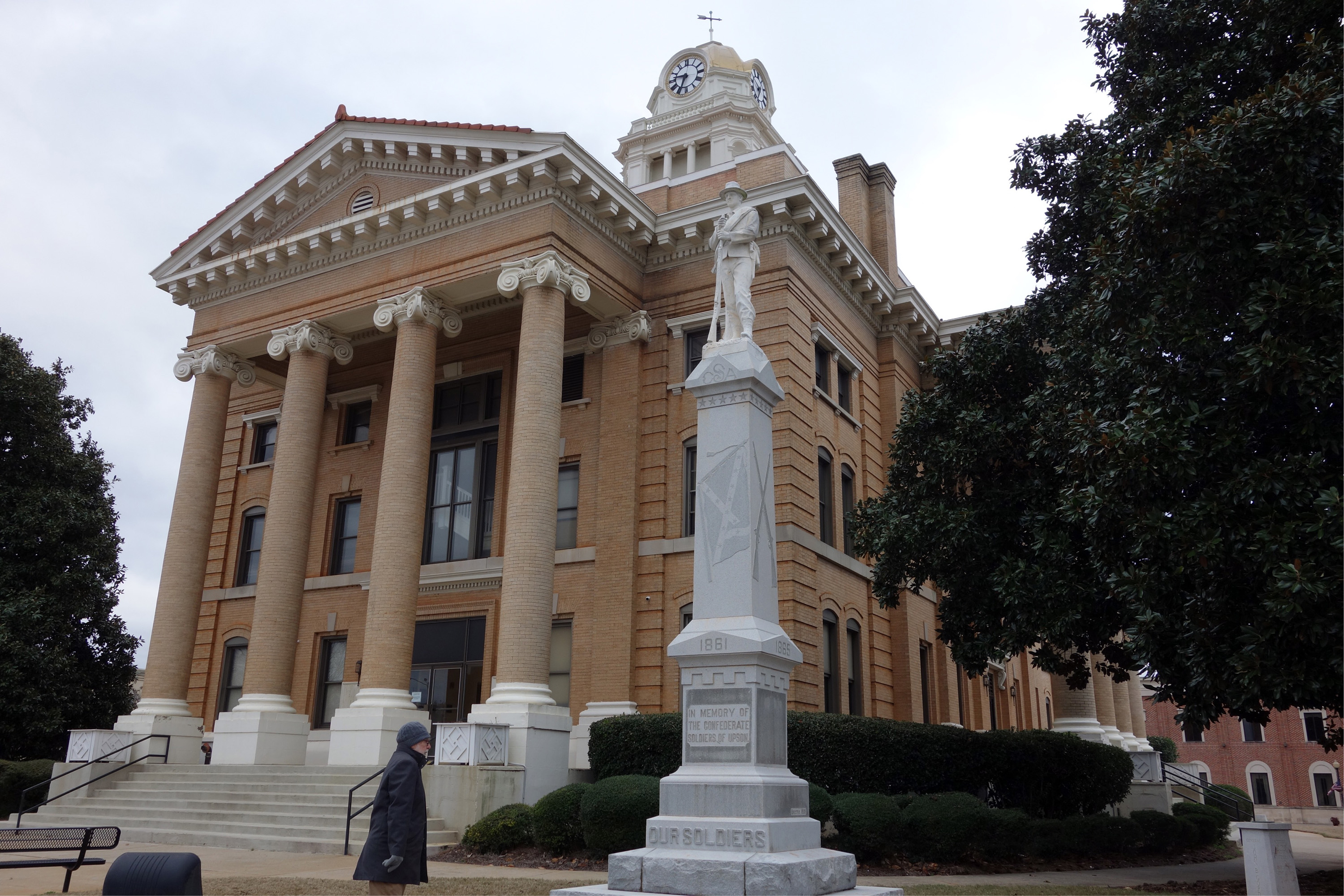 Next was the tiny hamlet of Culloden, where we found a marker describing a battle there on April 19, 1865, in which two Medals of Honor were issued. Steve told us that no current historians have any knowledge of this battle. We did not drive to Macon, but Steve described their defenses and the surrender of Howell Cobb and a few other generals. We drove through Forsyth, which hosted a large CS hospital.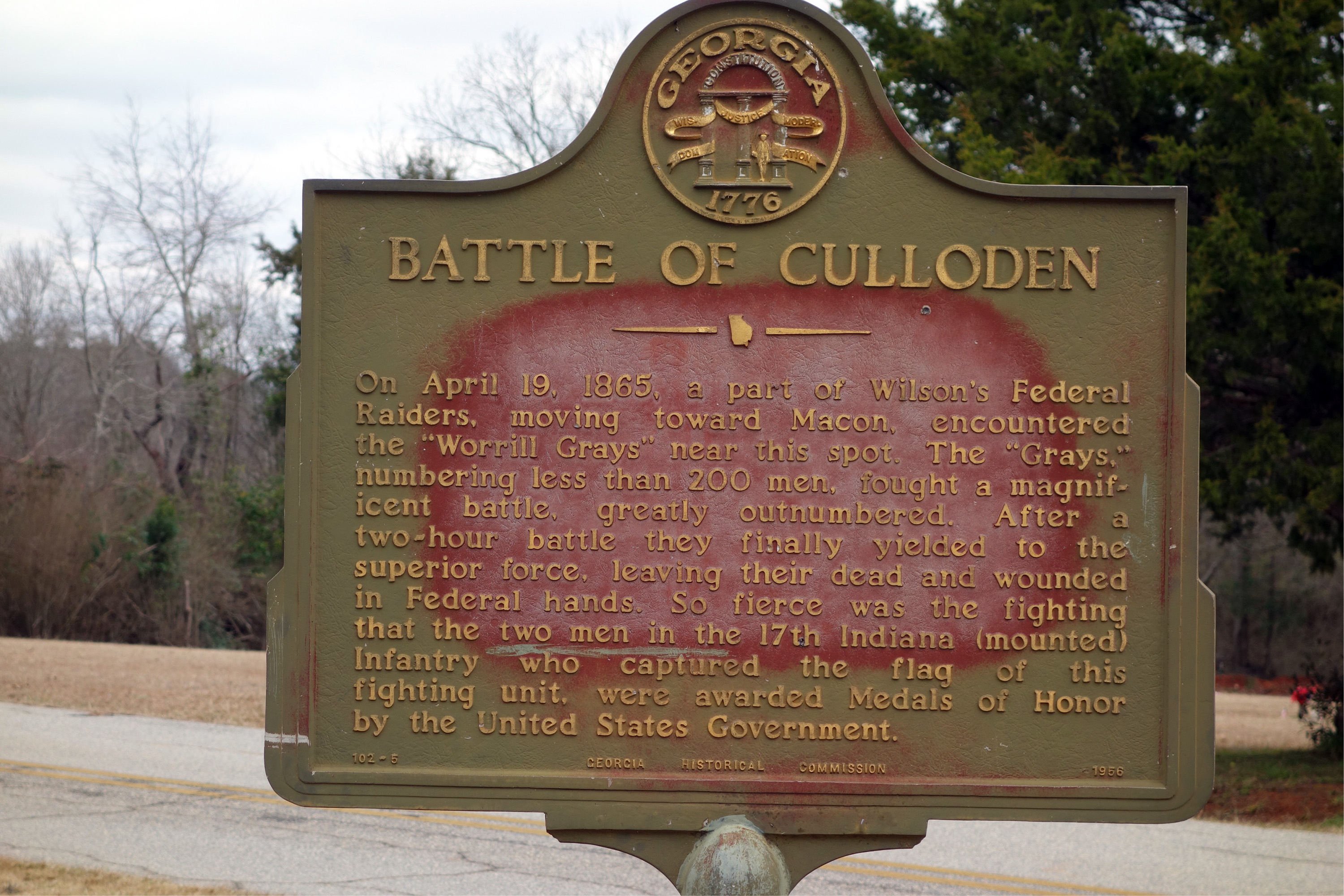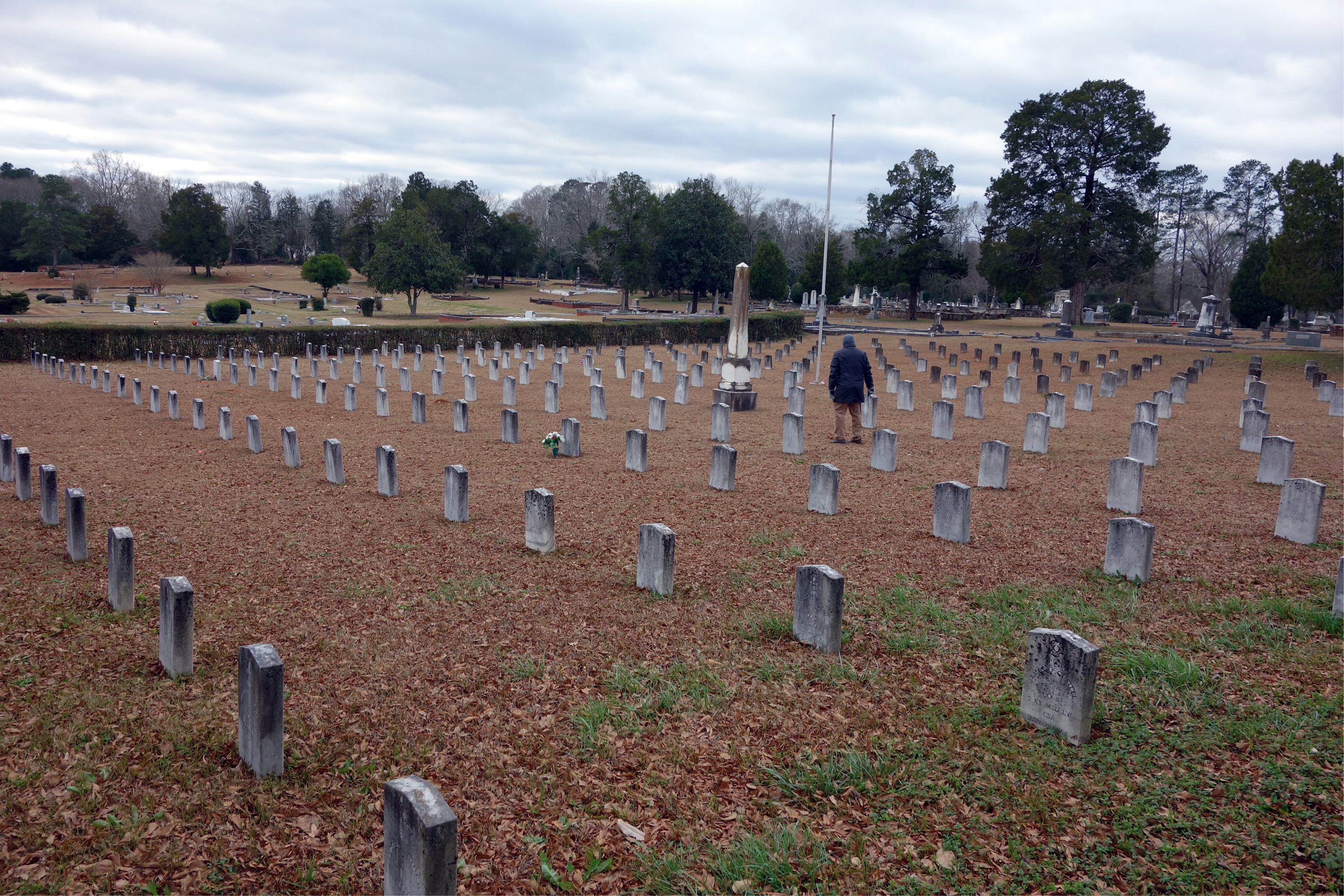 Skipping back to 1864, we visited Sunshine Church, just south of Round Oak, where George Stoneman lost the final battle of his raid to cut railroads and rescue prisoners from Macon and Andersonville, and became the highest ranking Union general to surrender. Then we started hitting locations in Sherman's March to the Sea. The cavalry and the XV Corps went through Hillsboro, and so did we. For reasons of practicality, we saw these places in the reverse sequence that Sherman did. Next were Monticello and Shady Dale, following the XVII Corps.
The XX Corps went through Madison with us. Sometimes known as the "prettiest town in Georgia" (and it was very pretty), these remnants of the Army of the Potomac treated the town leniently and there are many beautiful antebellum homes and mansions. We stopped at the Confederate monument in Hill Park and drove by the home of the mayor, Joshua Hill.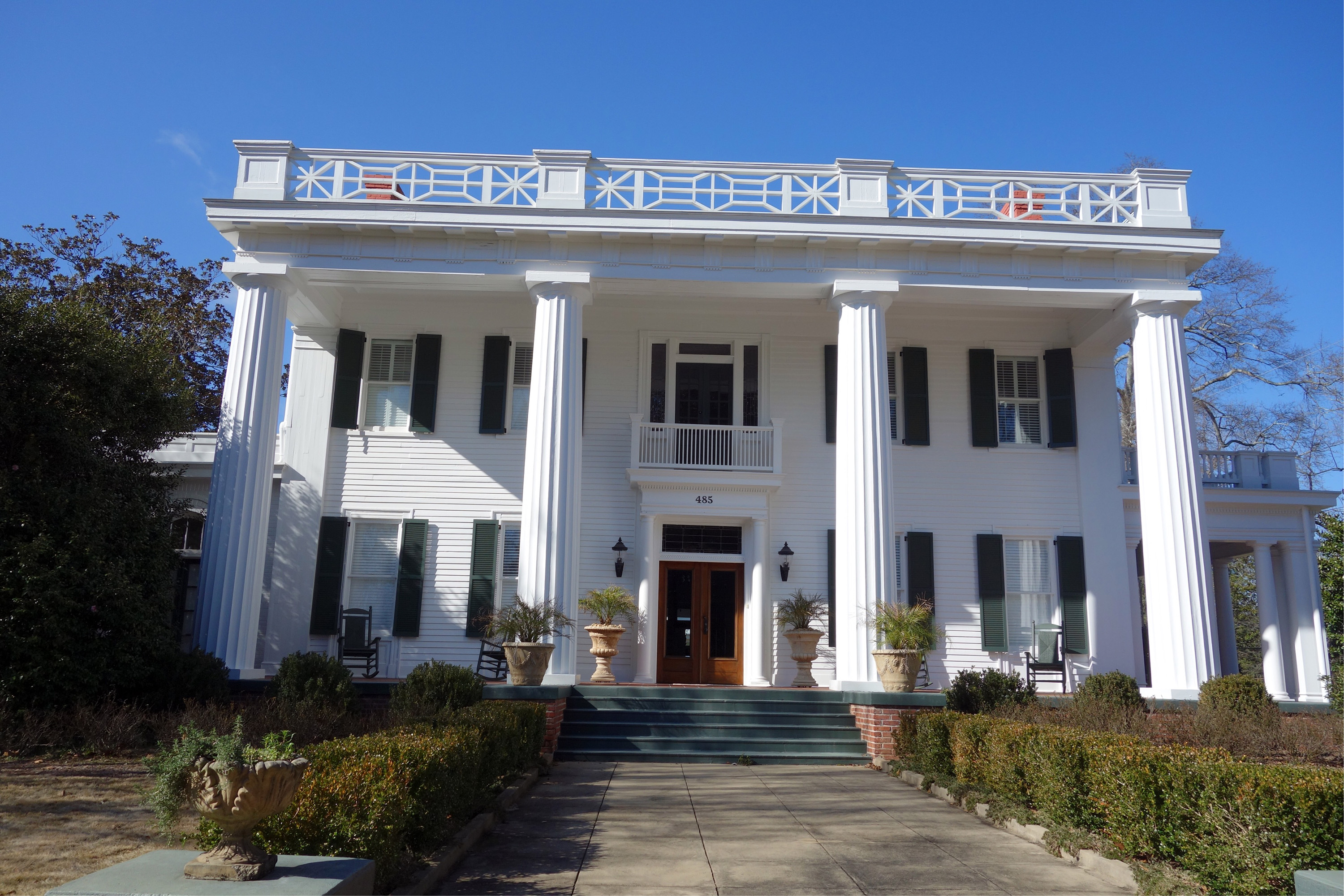 Crawfordsville was untouched by the March, but was the home of Alexander Stephens, the Vice President of the Confederacy. We arrived at his house just as a small tour started and a nice lady proceeded to describe every room, every piece of furniture, and every knick-knack in some detail. The house was completely remodeled—down to the studs, as we would say today—in 1875 and much of the furnishings are not original, but it was a very nice house. I think every room had a painting of the man himself, so I doubt that was too accurate. The library in an adjoining building was rather large, containing many ancient volumes from the Original Records. If I had tried to handle one, it might have crumbled into dust. There was also a small museum that wasn't very interesting. And boy, did they have a lousy collection of books for sale. There were only about 10 books and three of them were Ezra Warner's Generals in Blue, another was Ambrose's biography of Emory Upton.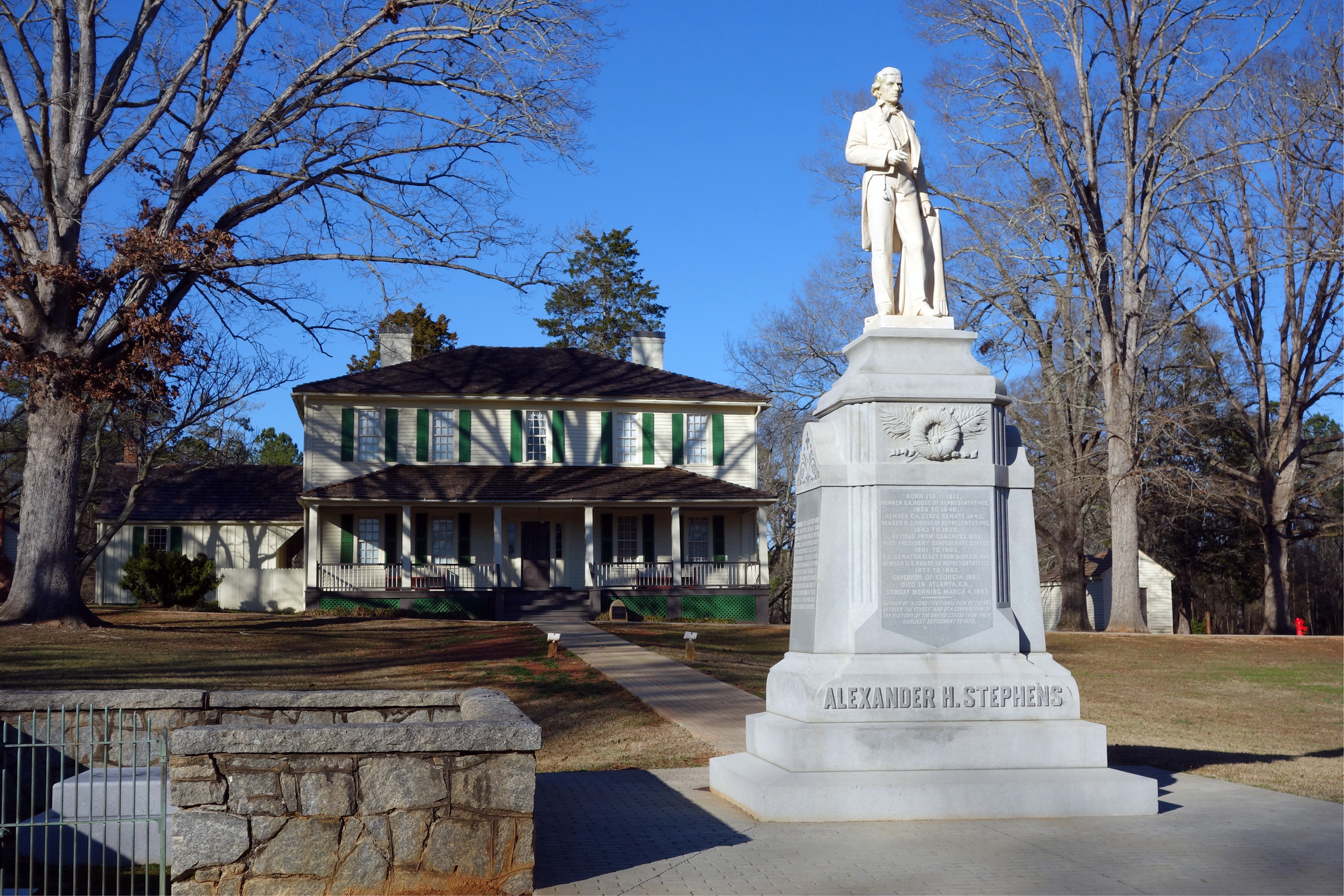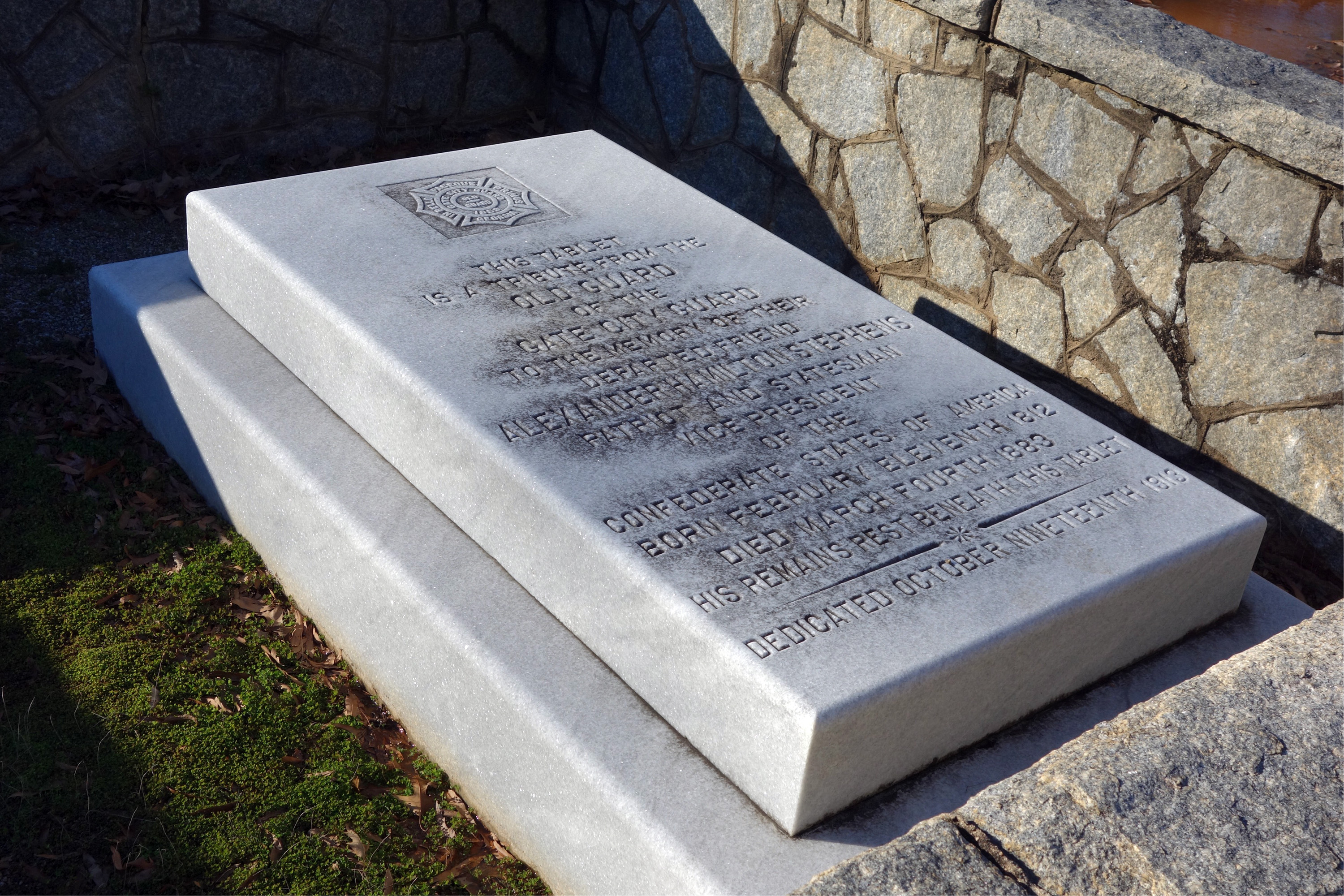 We drove through Eatonton along with the XIV and XX Corps, and then on to Milledgeville. We stopped at the Old State Capitol, which is now part of the Georgia (Junior) Military College. The original building was the capitol from 1805 to 1868, and is oddly architected with crenelated walls and towers, looking like the Citadel in Charleston. Now there are a bunch of surrounding buildings that were designed to match its style. Steve told us the familiar story of how Union soldiers broke in and conducted a mock session of the Georgia Legislature that repealed the articles of secession while getting rousing drunk. We drove by the governor's mansion and then adjourned for dinner at The Brick, a downtown pizza sports bar. We shared a "hogzilla" (pretty good)! We checked into a Holiday Inn Express north of town to prep for our final day of touring.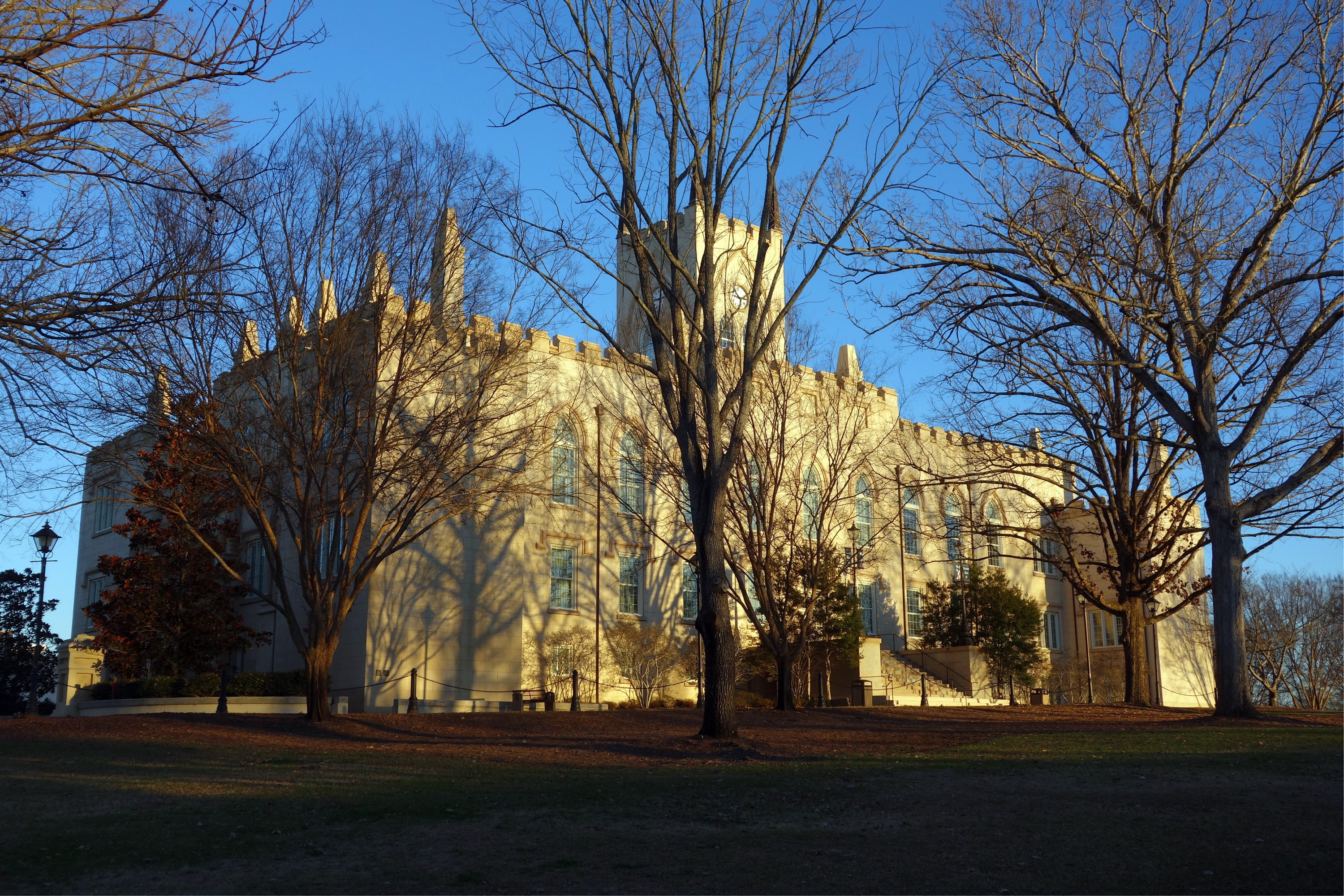 Monday, January 21
Happy Martin Luther King, Jr, Day! It's even colder! Adding another layer…
Our first stop today was the battle of Griswoldsville, the only significant action in Sherman's March. There's a small park preserved 9 miles east of Macon. Steve gave a good description and the field is well preserved and easy to interpret the terrain. Unlike yesterday, today we're going along with parts of Shermn's two columns in the correct sequence. In the town of Gordon, we stopped at the town square and found a monument to Rufus Kelly.
Next was Irwinton, as we followed the route of the XV Corps. We saw Union Church there. At Ball's Ferry, we saw where the right wing had difficulties crossing the Oconee River—Confederate defenders under Henry Wayne held the high ground on the other side. The XV Corps eventually created a rope ferry about two miles north of the park in which we stopped, while the XVII Corps crossed on a railroad bridge further north.
It was mostly driving today and we cruised through Tennille and Sandersville, the latter where the XIV and XX Corps skirmished with Wheeler's cavalry. We saw Sherman's HQ, now the Brown House Museum. We followed XX Corps to Davisboro and Louisville. In the latter, there was quite a it of destruction, but then Sherman let his men rest for a while.
Wadley was a non-CW stop, but we did have lunch there, at Popeye's. We crossed the Ogeechee River on the way to Mudville, there same place used by Sherman and the XVII Corps. We passed the extinct village of Sebastopol—no trace of it—where Union troops were concerned there may have been significant Confederate fortifications.
A few miles north of Mullen we visited Camp Lawton, supposedly the world's largest prison in 1864, which was built for overflow from Andersonville. It was in use only a couple of months, abandoned before Sherman's XX Corps troops arrived. There are well preserved earthworks for the accompanying fort and a small museum.
We followed the XVII Corps along the railroad to Scarlboro, Oliver (and the Ogeechee River defensive line), Guyton (location of Camp Davis, a big training camp, and also a hospital), and Eden.
Our final stop was Fort McAllister, southwest of Savannah, the capture of which allowed Sherman to link up with the US Navy, and which opened the door for the imminent fall of Savannah. There is a small museum and then a trail that leads to the fort, which is wonderfully preserved. (The land was once owned by John D. Rockefeller and he was instrumental in restoring it. It's now a state park.) I had been here before so there isn't a lot new to say about it.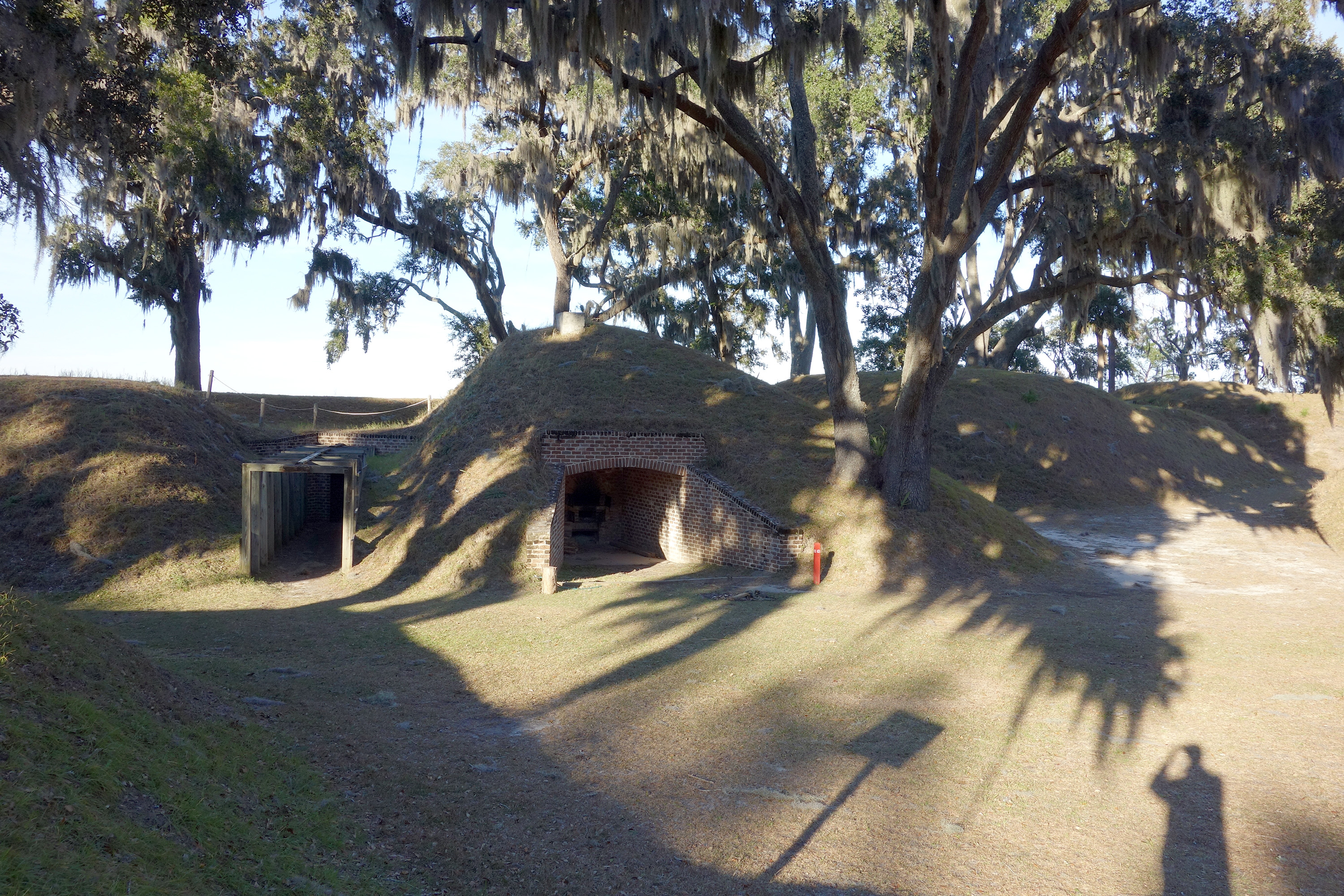 Len dropped us off at the Wingate hotel, our starting point. Most of our merry band will stay overnight and depart Tuesday. This was an excellent BGES excursion, and kudos to Len and Steve for a very informative long weekend. By my reckoning, using a GPS tracking app, we covered 844 miles over the four days, seeing lots of southern Georgia new to many of us.
Tuesday, January 22
I flew UA back home via Houston. Len was nice enough to pick some us up at our hotel and ferry us to our early flights. The stupid hotel shuttle doesn't start until 7 am! No soup for you, Wingate by Wyndham! (The best hotel by far on this trip was the Milledgeville Holiday Inn Express—brand new, extremely comfortable.)