2018 Civil War Travelogues — "On to Petersburg" with BGES
Welcome to my 2018 travelogue pages. This is my report of the Blue and Gray Education Society (BGES) "On to Petersburg" event with Gordon Rhea, headquartered in Richmond. Gordon, the preeminent scholar of the Overland Campaign, just finished his fifth and final book on the subject, and this was his first tour covering it. This was my 14th outing with BGES. My report continues with some other low-key Virginia touring and finishes up with the Marine Corps Historic Half Marathon in Fredericksburg on May 20. To see the entire list of my 2018 trips, go here.
Here is a reminder about the reason I write these pages the way I do. They record my experiences and impressions of Civil War trips primarily for my future use. Thus, they sometimes make assumptions about things I already know and focus on insights that I receive. They are not general-purpose descriptions for people unfamiliar with the Civil War, although I do link to various Wikipedia articles throughout. Apologies about the quality of interior photographs—I don't take fancy cameras with big flashes to these events. If you would like to be notified of new travelogues, connect to me via Facebook.
Monday, May 14 — travel
I flew with United Airlines through Chicago to Richmond. Our meeting hotel is the Holiday Inn at the airport. We had an opening session with logistical announcements by Len Riedel and Gordon, and then Gordon gave an extremely brief overview of the Overland Campaign from May 3 through June 3. Our crowd of about 30 folks all seemed to be aware enough about the campaign that this level of review was just fine. We concluded with Domino's pizzas and some snacks.
Tuesday, May 15 — Cold Harbor
Today was mostly on the Cold Harbor battlefield, only a few miles from the hotel. Len and Gordon warned us about all sorts of hazards and hardships and we were expecting something akin to the Bataan Death March, with heat stroke, ticks, poison ivy, snakes, and spiders. But it was a generally pleasant day—although a bit humid—and everyone survived. There was a bit of walking in the woods without paved trails, but I wasn't wearing my ballet slippers, so was fine. We saw quite a lot of well-defined earthworks, and it was well worth it.
We started between the US/CS lines where the VI Corps stood at the end of the June 3 battle and walked the Extended Loop Trail across the Middle Ravine to the XVIII Corps area. It was interesting to walk back from the front to see how many layers of earthworks were built up behind it—5 or 6 on the Union side. Next was Beulah Church, where we visited some land just recently acquired by the Civil War Trust, still in the XVIII Corps area. As we walked through the woods, we were zigzagging up and down earthworks to make forward progress. Gordon described the sequence of Union corps as they moved out of the northern area of the battlefield and contracted the lines. He also talked about Jubal Early's unsuccessful attacks against the V and IX Corps on June 8–9, the final attacks of the battle.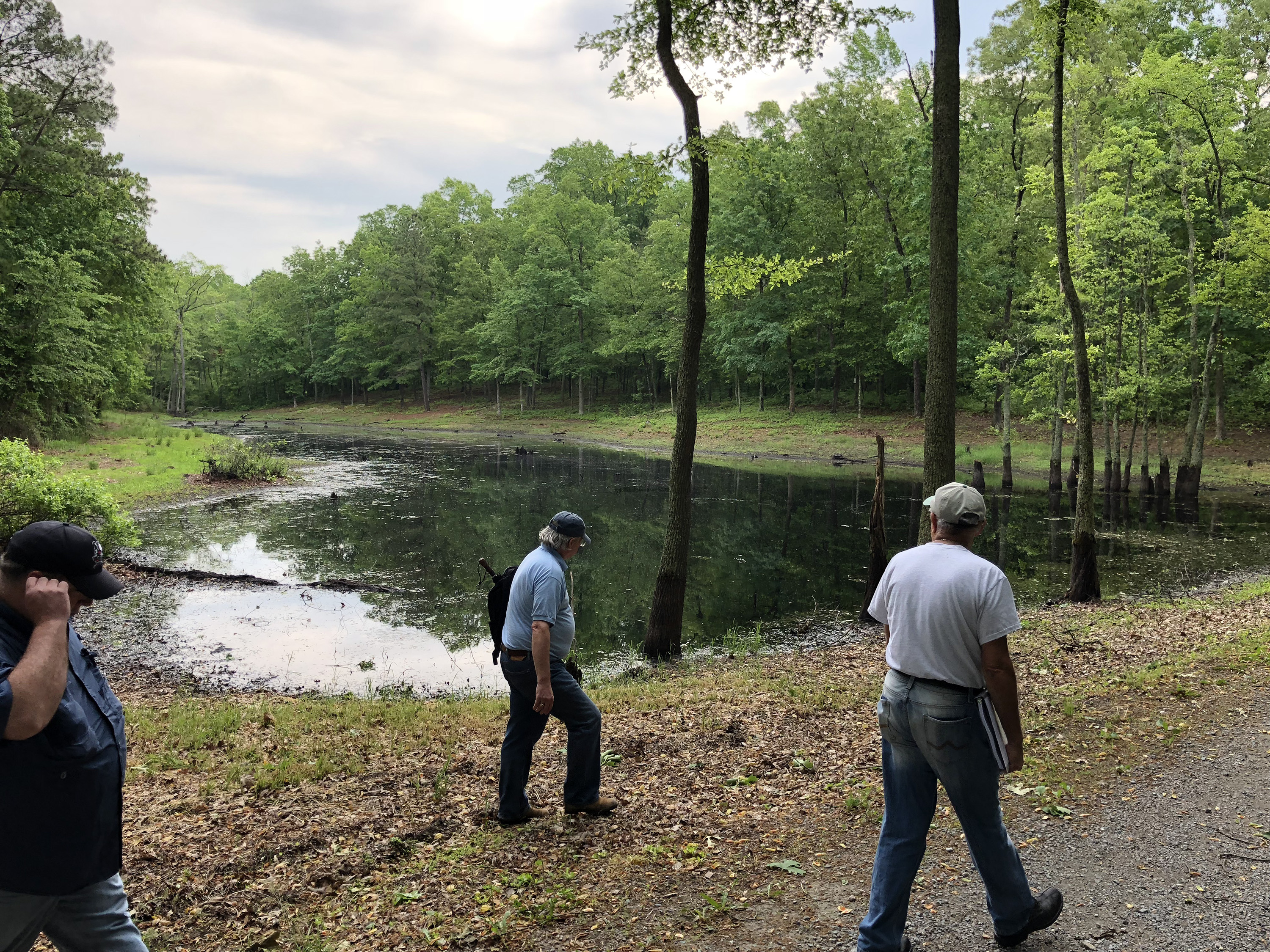 Next was Fletcher's Redoubt, an earthwork fort that was the hinge between the lines of the XVIII and IX Corps after the battle. Pretty nice works in a place the public rarely sees. We had a picnic lunch at the Garthwright House. Then we returned to the Beulah Church neighborhood to visit Burnside's line, specifically Potter's Division. This was on private property, owned by a Ken Smith, who gave us permission to be there. It was the area in which Burnside refused the flank in the secondary line, after XVIII and V departed. We drove to a new housing development and to the aptly named Earthworks Dr to see—guess what? It was a small section of works in the so-called Michler Line, a secondary line built by Nathaniel Michler in case the Confederates attacked as the Union troops withdrew.
Then we drove to the southern end of the battlefield, to the Adams Farm (private), which I had first seen years ago in a special visit with the Civil War Trust. Here we talked about Barlow's breakthrough and then repulse on June 3. There was a brief stop at a construction company parking lot to talk about Theodore Lyman and the tragically mismanaged negotiations between Grant and Lee to recover the wounded between the lines; Lyman passed through this area. Finally, we took a lengthy ride to follow Hancock's II Corps in their 24-hour march to the James. We passed over Long Bridge and eventually ended up at Willcox's Landing, seeing across the river Flowerdew Hundred, where we would resume on Wednesday. Hancock's men crossed here on boats; the famous pontoon bridge site at Windmill Point was not accessible to us, but Gordon described all the details. Part of the motivation for this visit was to impress us with how far the men marched. It seemed to be about 30-35 miles, which is pretty impressive.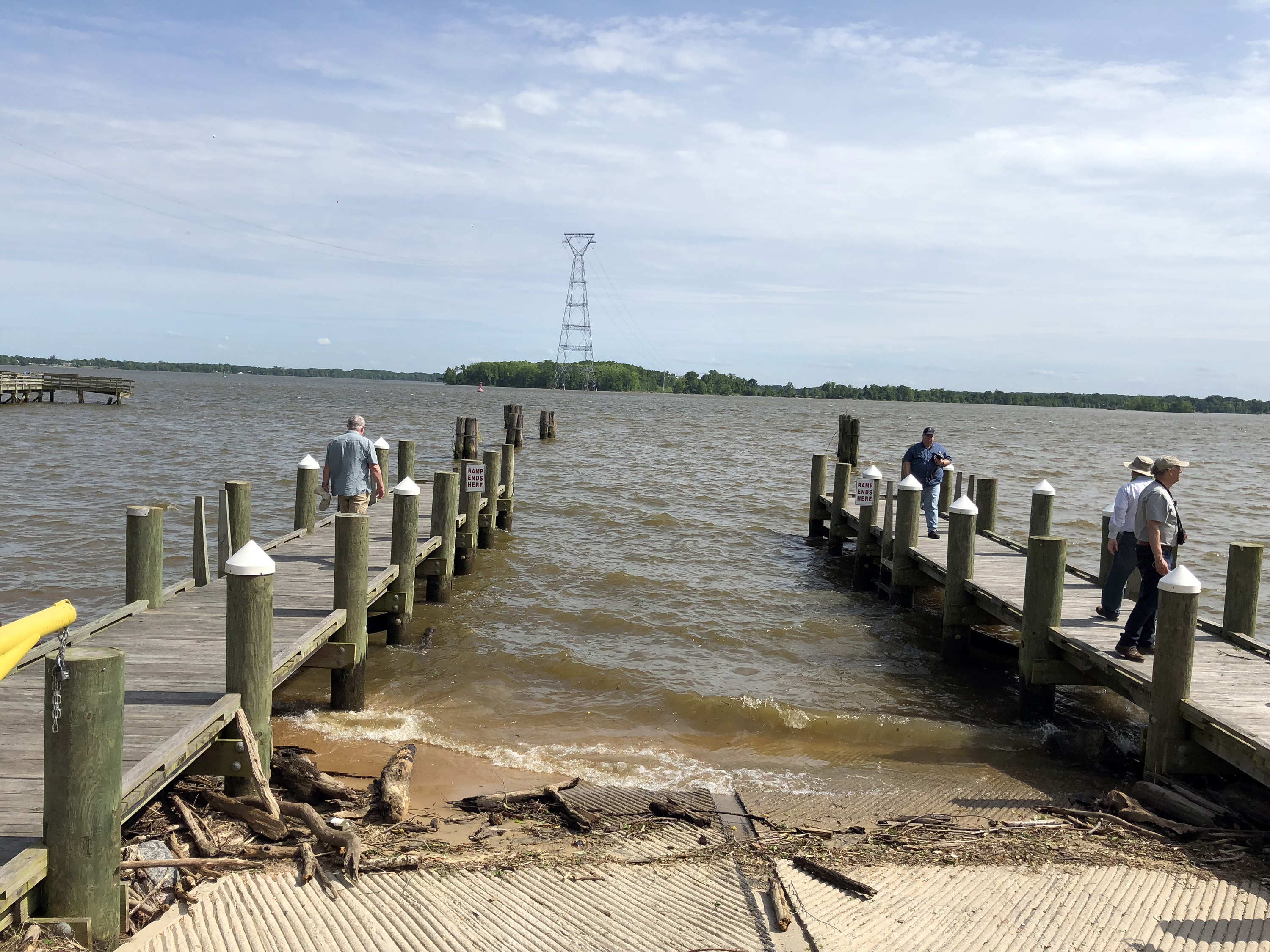 Wednesday, April 15 — Bermuda Hundred and Petersburg
Today we did what would chronologically fit into the third day—the movement from the James and the first attack on Petersburg, June 15. That was because George Pickett joined us for the morning, the only time he could be scheduled. George is the Chesterfield County guy and Bermuda Hundred expert who took us around for the anniversary trip last month. We picked him up at the Hopewell visitor center and then drove to Point of Rocks, where the XVIII Corps crossed over from Bermuda Hundred. I visited this with him last month, so there's not much new to say. He talked about the giant hospital, Clara Barton, Lincoln's visit, etc. One new tidbit was an explanation of where "Hundred" came from—the English settlers formed organizational groups called Settlements and they required 100 residents to qualify for that status.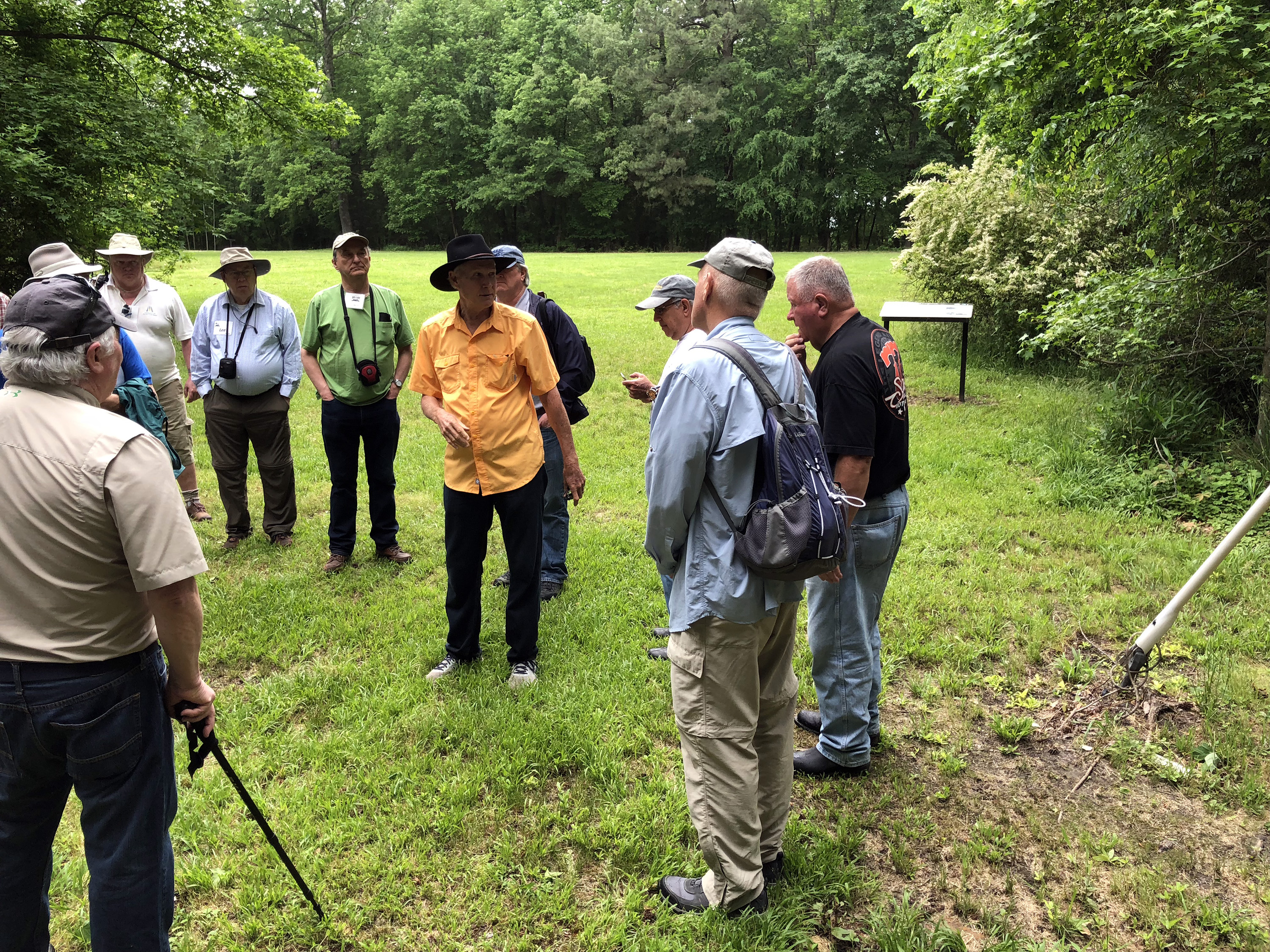 At City Point we visited the Eppes house, where there was a short video and we looked around aa bit. Grant did not reside here, preferring a little cabin outside, but Rufus Ingalls, the quartermaster, made it his headquarters. It was rainy pretty hard, so we didn't walk over to Grant's cabin, but the ranger told us only about 10% of it is the original material. The Log Cabin Syrup company helped with one of the multiple restoration projects.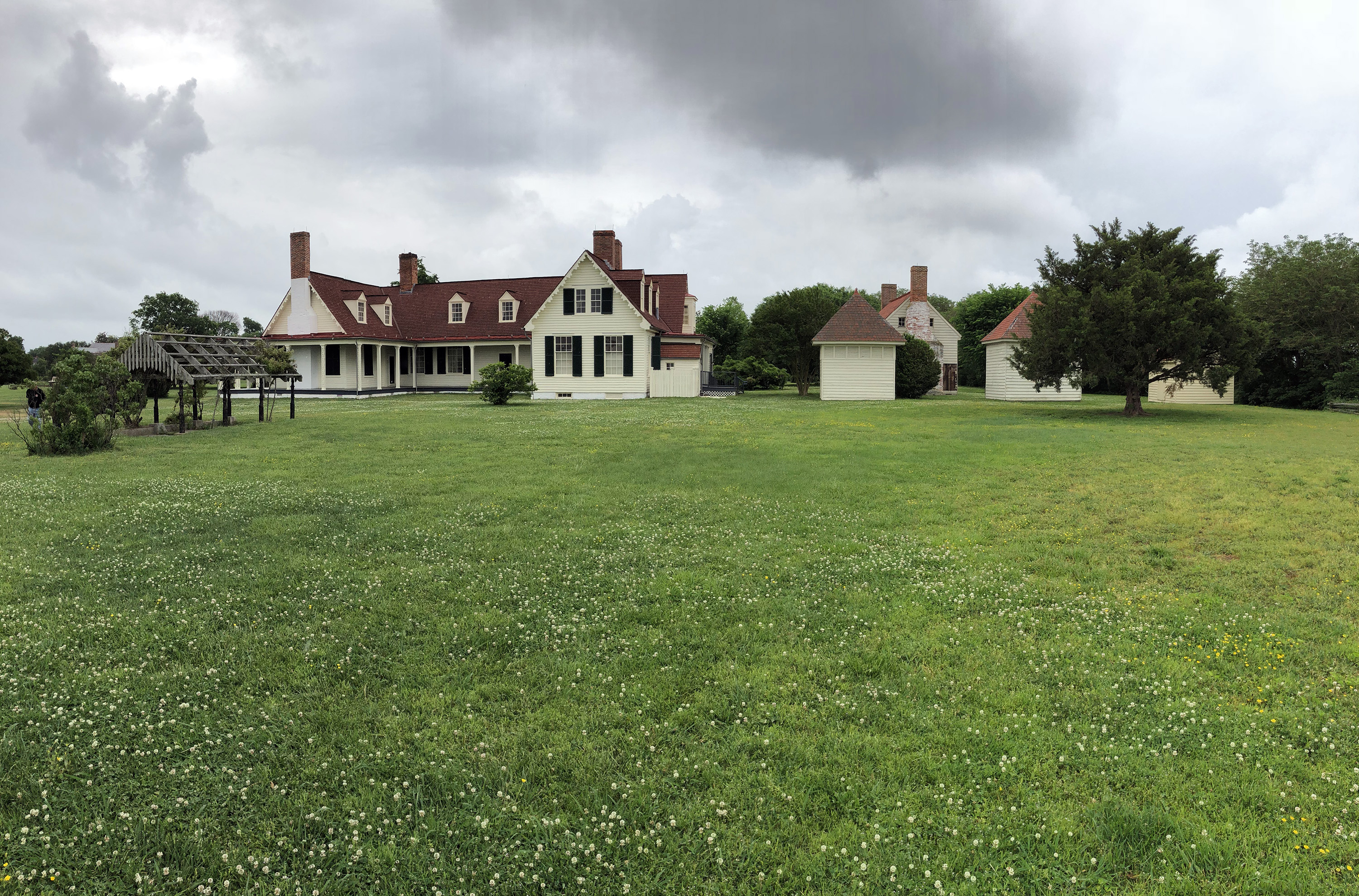 We took a long drive to Flowerdew Hundred, which is a giant mansion across the James from Willcox's Landing, and where Hancock's II Corps landed on June 15. We couldn't approach the building because it is for sale and the clueless real estate folks prohibited entry. (We heard a sale estimate of $8–12M.) The whole point of the drive was so we could drive back on the route that Hancock marched to Petersburg. Those troops must have been exhausted—it was tiring enough to ride in the bus! Unfortunately, they waited all morning on the 15th for rations that never arrived, so they marched on empty stomachs, and then got to Petersburg too late to help Baldy Smith's (XVIII Corps) failed attacks. (Well, his attacks were partially successful, but he didn't go far enough to seize the city and almost end the war. And Hancock didn't get there in time to help, nor did he know from Grant what he was supposed to be doing in support of Smith.)
We had a picnic in Dodd Park and by this time the rain had gone. We drove back to the Hopewell Visitor Center, which happens to be the site of the Battle of Baylor's Farm, where US Colored Troops in Baldy Smith's column defeated some Confederate cavalry—their first battle in the Eastern Theater—but the cost was delaying the advance a couple of hours. There is nothing left of this battlefield, which has been completely developed commercially.
The rest of the afternoon was in the Petersburg National Battlefield where we finished off June 15. We explored Battery 5 (the most impressive earthwork, right next to the visitor center) and walked the trail over to see the Dictator 13-inch siege mortar. Then we continued down the Dimmock Line. Battery 6 is almost insignificant. We traveled to an area behind the park maintenance yard and looked at the deep foundation of the Friend house, which is not interpreted, and was entirely new to me (although it is a place I have drawn on a number of Petersburg maps). Some park employees were surprised to see a giant bus cruising into their sanctuary. At the time of the battle, this house had a close-in, panoramic view of the city of Petersburg, but the view is now lost to trees. Gordon said the park is considering the cutting of a small view corridor, which would be great.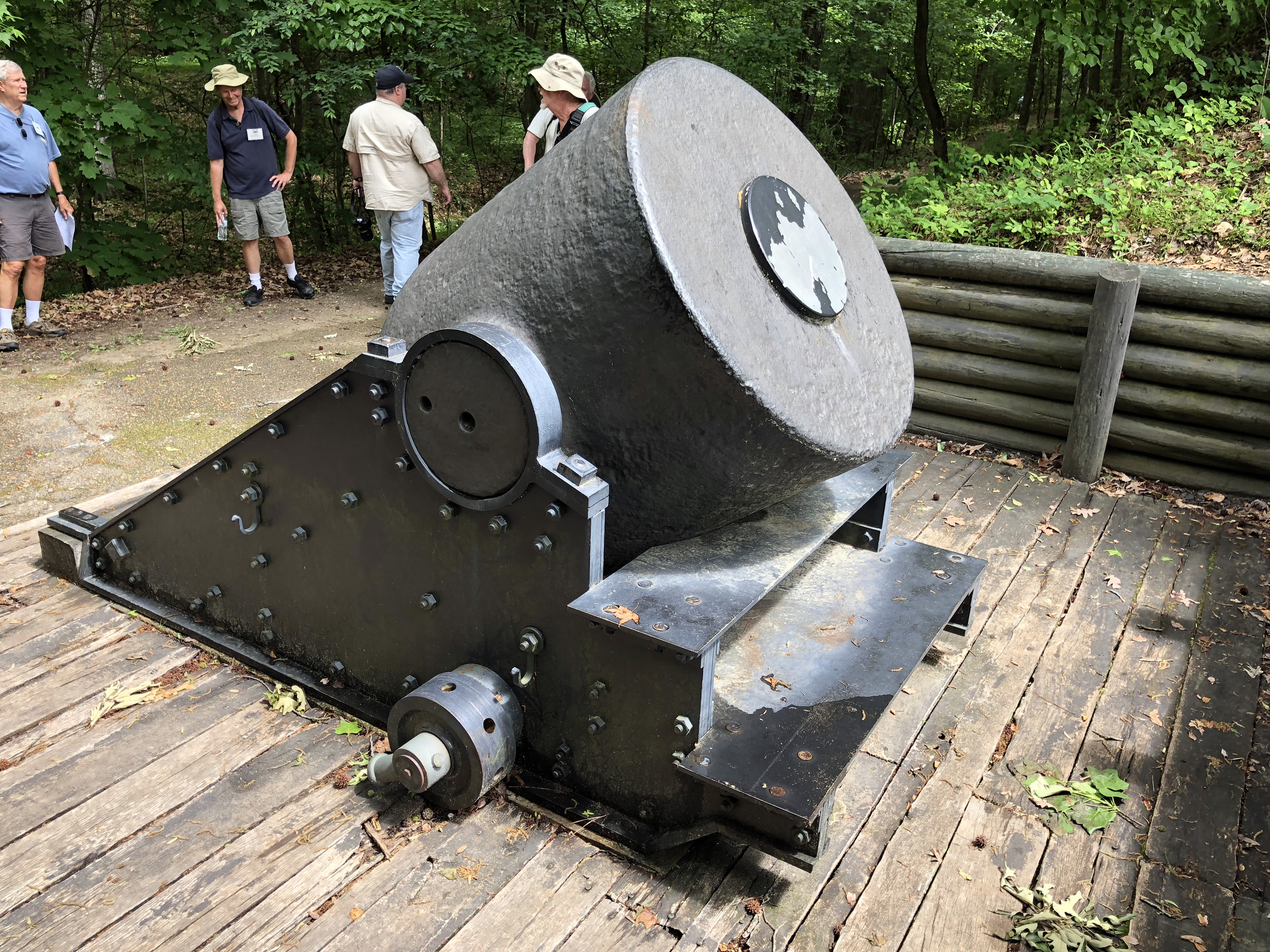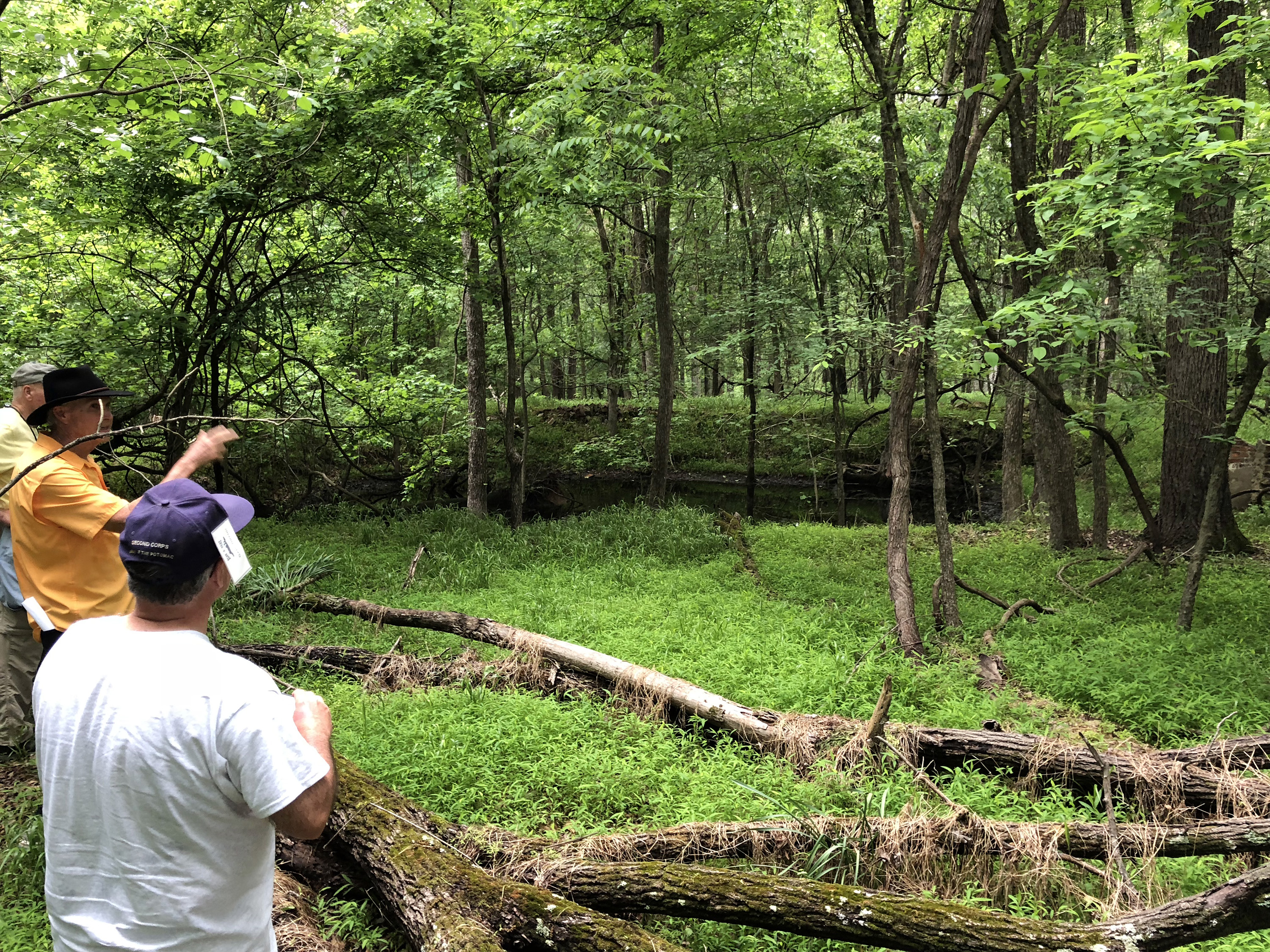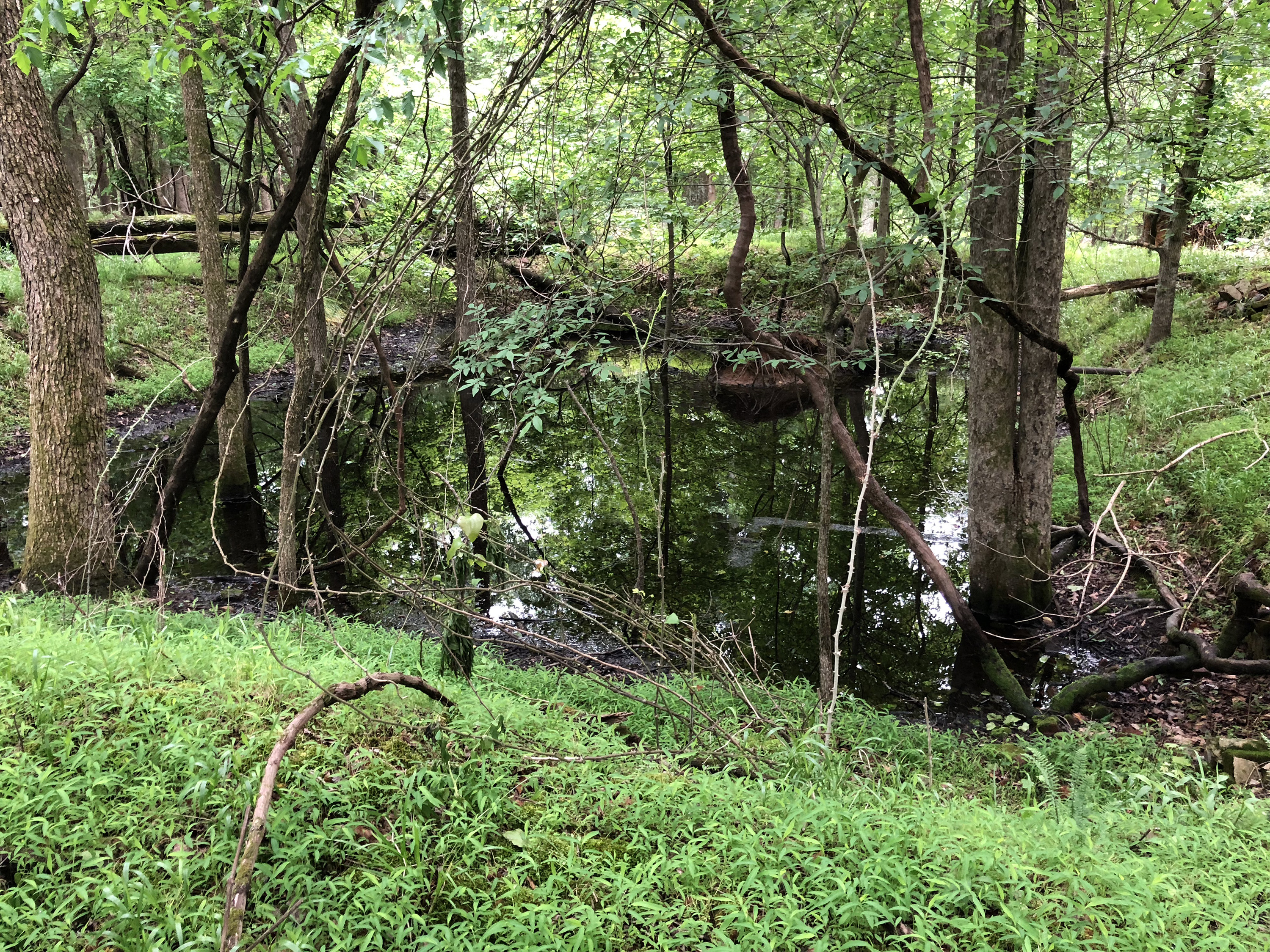 Battery 7 was next, which is very rarely visited because it is unmarked and stands between two roads, without parking or easy pedestrian access. Here the 22nd USCT distinguished itself with a successful assault against a difficult target. Battery 8 was nicely preserved and you could see where the Union troops reversed its direction after they took it; the battery was part of the 1865 defense of Fort Stedman. Battery 9 is rather tiny, overshadowed by a large reproduction redoubt next door. Some folks walked to batteries 10 and 11, but it started to rain and I retreated to the bus. On the drive back we wandered around downtown Petersburg for quite a while. I don't know whether we were touring or were lost; since there was no narration, I assume some of the latter. I had never seen some of these streets. Parts are quite attractively renovated.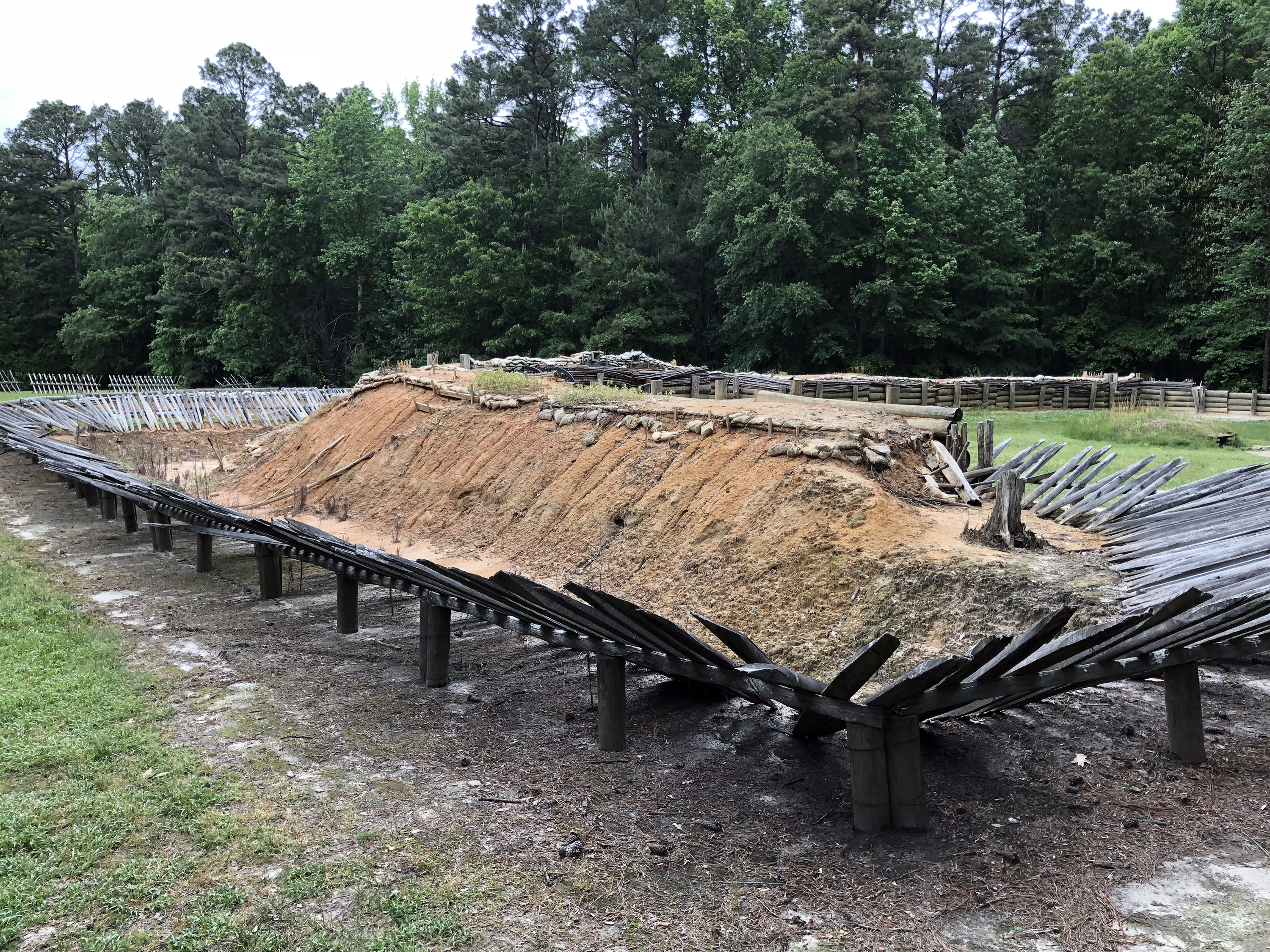 Thursday, May 17 — Routes to the James River
As mentioned yesterday, we mixed up the chronology for personnel scheduling reasons and today, our final, covered the movements to the James River. We started out on the Williamsburg Road to Long Bridge, following the movements of the V and II Corps, discussing Wilson's cavalry screening around Long Bridge. Len jumped in with a comparison of McClellan's lack of screening in the Seven Days. We passed by the site of the Maddox House, Warren's V Corps headquarters and described the running cavalry fights along the Charles City Road between US Chapman and CS Barringer. Then we turned north to White Oak Swamp, where the cavalry also fought, but also where Stonewall Jackson took a nap and essentially missed the 1862 battle of Glendale. Len gave us some highlights of the Seven Days here. At Riddell's Shop (the Glendale intersection), we discussed Lee's movements out of the Cold Harbor lines and how he sent Jubal Early off to Lynchburg, and eventually down the Shenandoah Valley to Washington.
We stopped at the Malvern Hill battlefield to talk briefly about Lee's defensive line as Grant swung around him to the James; the line's southern end was anchored at Malvern Hill and ran north to the Chickahominy, mostly just east of the Willis Church Road. Len took this opportunity to give us a full description of the battle of Malvern Hill, concentrating mostly on his hero, John B. Magruder, including his bureaucratic battles with Robert Chilton, Lee's chief of staff at the time. Then we hit the road for Charles City Court House. This is a tiny town that is also the county seat, so there's a big admin building, but little else. However, there's a delightful little restaurant called Cul's Courthouse Café, where we dined. (We had originally been scheduled for another picnic, but there were concerns about the weather. Fortunately, the threatened rain never appeared—cool, perfect touring weather—and we also got excellent sandwiches.)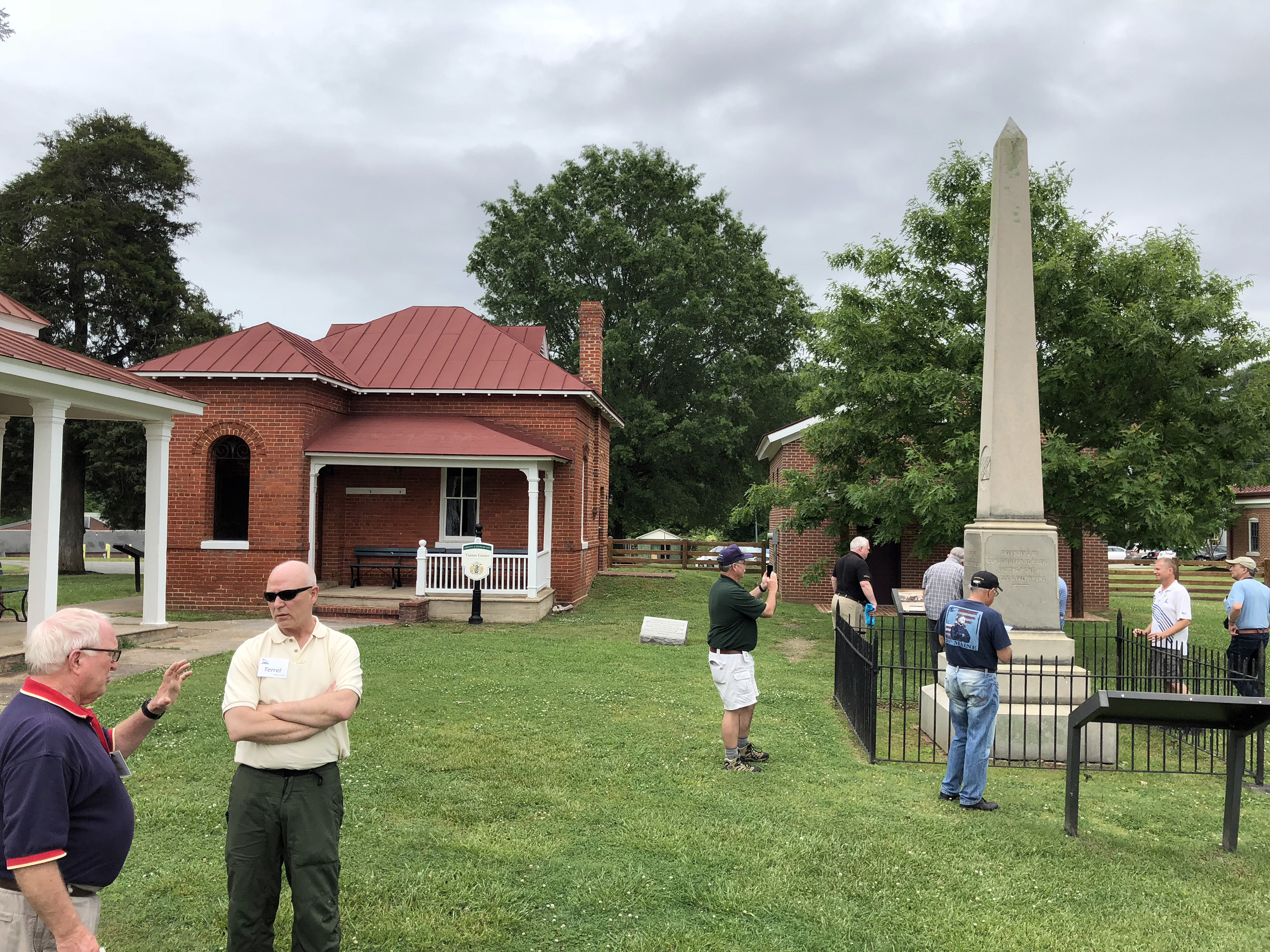 We continued to the Weyanoke Peninsula, where the VI and IX Corps camped prior to crossing the James on the famous pontoon bridge. We passed the North Bend Plantation, which is supposedly a very nice B&B, and allegedly the location of Dr Dick Sommer's honeymoon. We ran out of decent bus roadway about halfway down the peninsula and had to turn around. The actual bridging site is on private property and not accessible. (Gordon mentioned here that the painting on the cover of his book is fanciful, since Grant could not have stood on a high bluff to review the crossing; the peninsula is as flat as a pancake.) So we headed back, following in reverse the route of the VI and IX Corps, crossing the Chickahominy at Jones's Bridge and passing though Providence Ford. Once again, it was really impressive to see how far those men marched so quickly, with inadequate maps. (The guides up at the front of the bus also had their own map difficulties.) We passed the site of the Moody house, where Grant and his key generals met on June 12. And we also passed by Hopkins Mill on Black Creek, but the ride was mostly picturesque windy Virginia roads. After a brief stop at the Cold Harbor visitor center, we returned to the hotel. Dinner with friends at Bottoms Up Pizza down in Shockoe Bottom, Richmond. This is the place Gary Gallagher once said was where Abraham Lincoln stepped ashore in Richmond, but I've since found out that's not accurate. Then we drove down Monument Ave to see the great statues before the crazies can tear them down.
This was an excellent three-day event. It was revealed that Gordon will be doing a week-long event for BGES next year, covering the Wilderness and Spotsylvania, and I will seriously consider attending. (And Will Greene will be doing one on his new Petersburg book, which also sounds great.)
Friday, May 18 — Down Day
This was essentially a down day, raining most of the time. I slept late and then drove to Fredericksburg and watched a movie (Deadpool 2, violent but funny, in IMAX), then drove on the River Road to the Chancellorsville battlefield for a short, rainy visit. In the visitor center I found an interesting scale model of the Chancellorsville house and surrounding buildings, which I do not recall seeing previously—it was larger than I had thought. I then checked into my next hotel, Homewood Suites, which is right next to the starting/finish line for my Sunday half marathon, so I also visited the race expo to get my number bib and paraphernalia. Dinner was at Ledo Pizza, which turned out to be one of those hotel restaurants I usually shun, but I had a really decent Stromboli—worth remembering.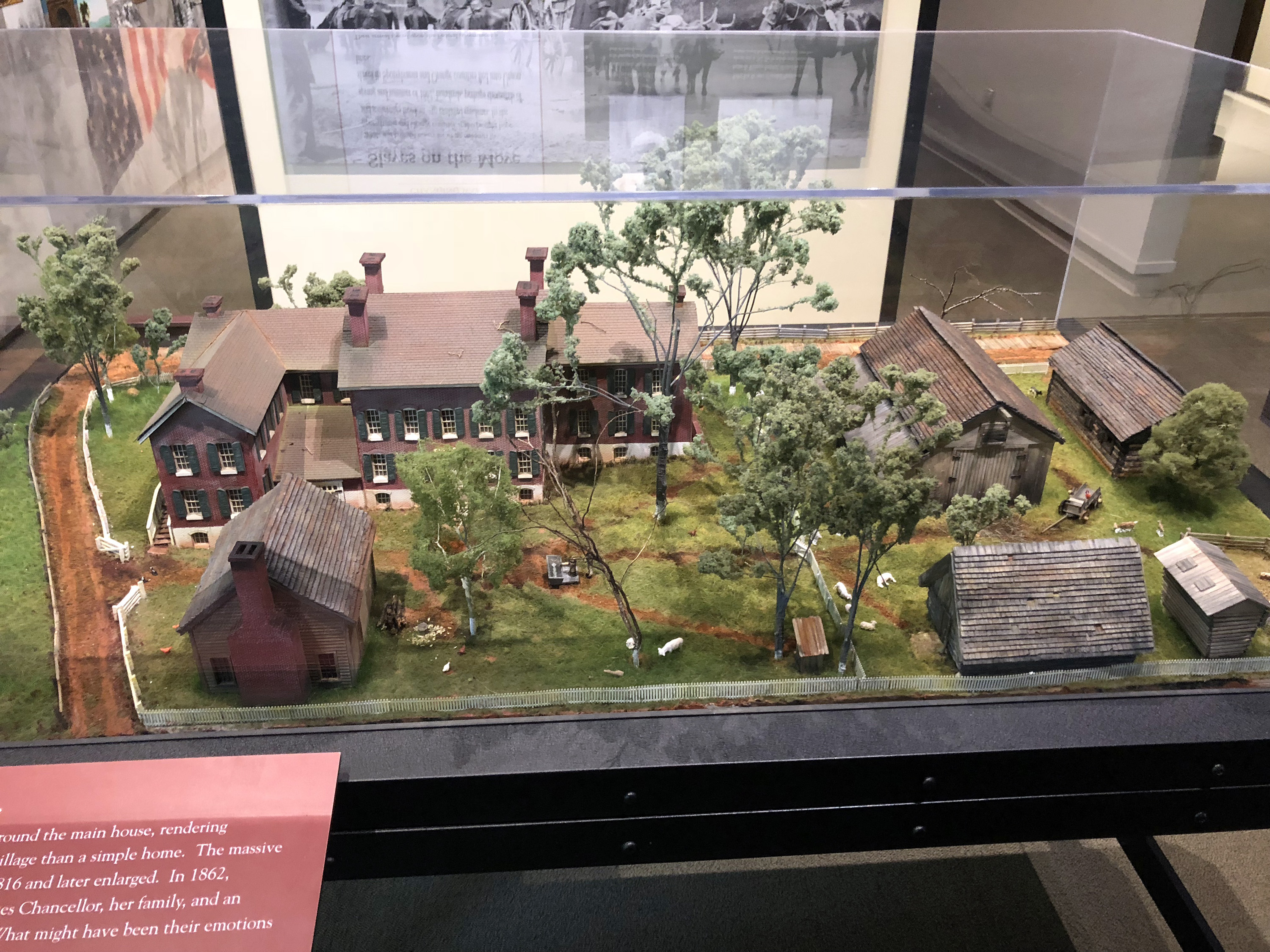 Saturday, May 19 — Marine Corps Museum
I slept late again! Shazam! Since I'll be running with the Marines on Sunday, I decided to see their museum, about 30 minutes north of Fredericksburg, near Quantico. This was really excellent. I started with their giant-screen movie, which was inspiring and moving. The galleries are chock full of vehicles, planes, tanks, helicopters, and weapons, covering in great detail all aspects of the USMC from 1775 to today (although the really recent Iraq and Afghanistan campaigns are quite superficial and they seem to be waiting for a big building expansion to explore those). The Corps didn't do all that much in the Civil War, but there was a bit of info about John Brown at Harpers Ferry (although why they didn't mention Robert E. Lee escapes me), First Manassas, Drewry's Bluff (1862—where the first Marine Medal of Honor was earned), New Orleans, Fort Sumter (1863), Mobile Bay, Kearsarge vs Alabama, and Fort Fisher. And a Marine officer accompanied Lincoln on his trip to Gettysburg. There were extensive exhibits about WWI, WWII, Korea, and Vietnam Nam, with movies and other multimedia mixed in. (For instance, in the exhibit about the Chosin Reservoir, you enter a diorama-like scene that has refrigerated air pumped in to simulate the winter conditions. And Belleau Woods had very effective tactical animations.) They have the famous (second) flag that was raised over Mount Suribachi!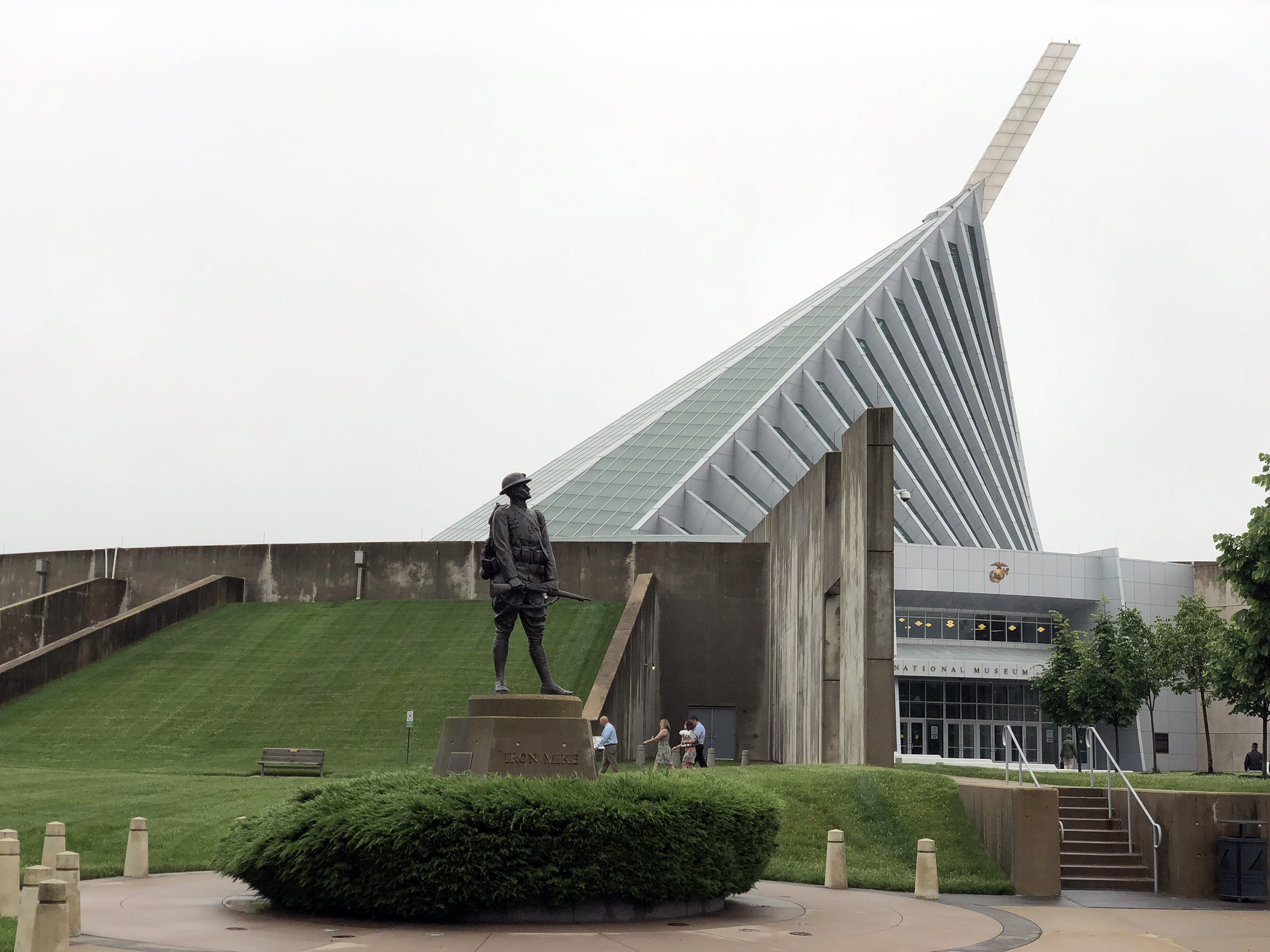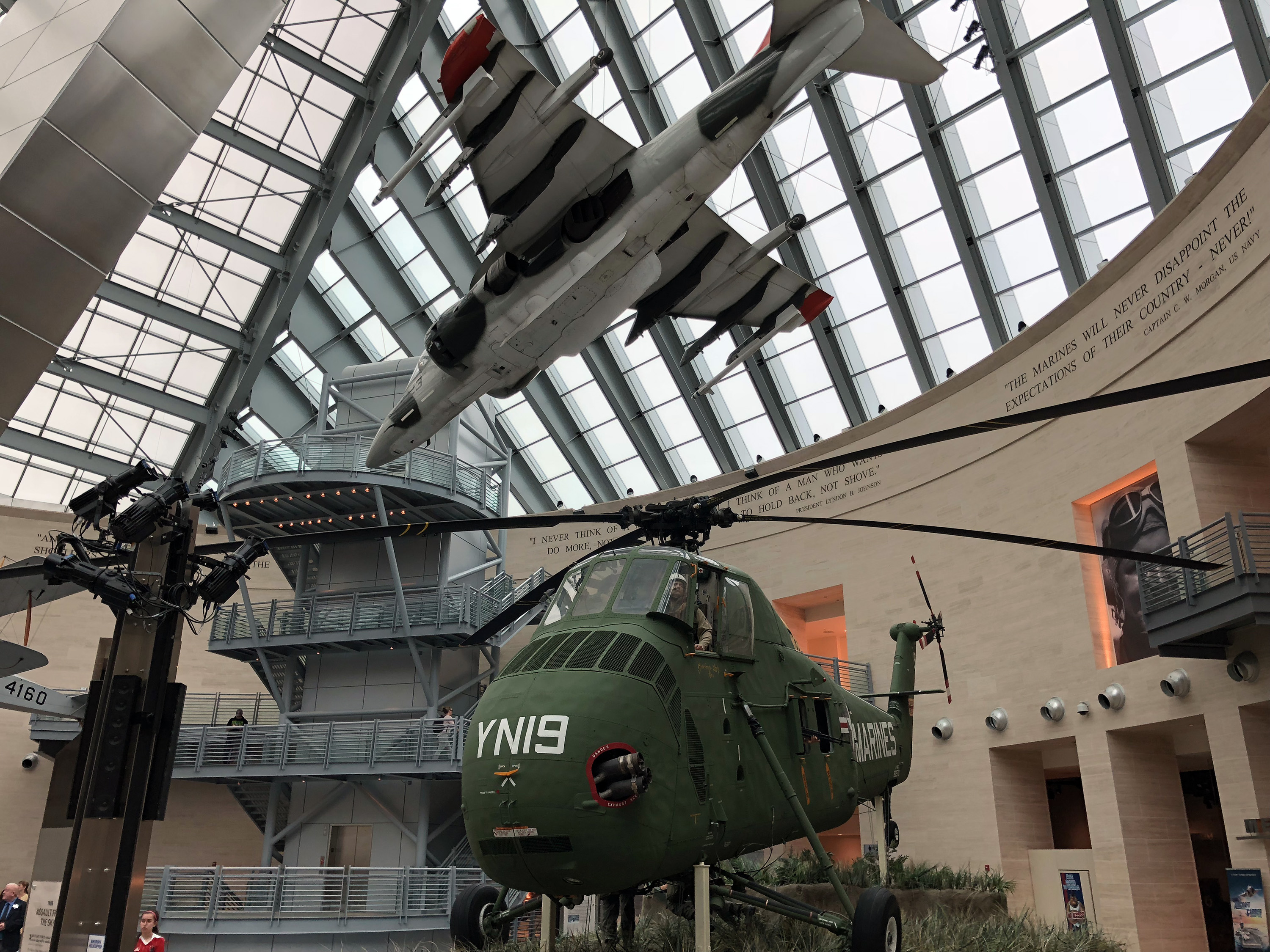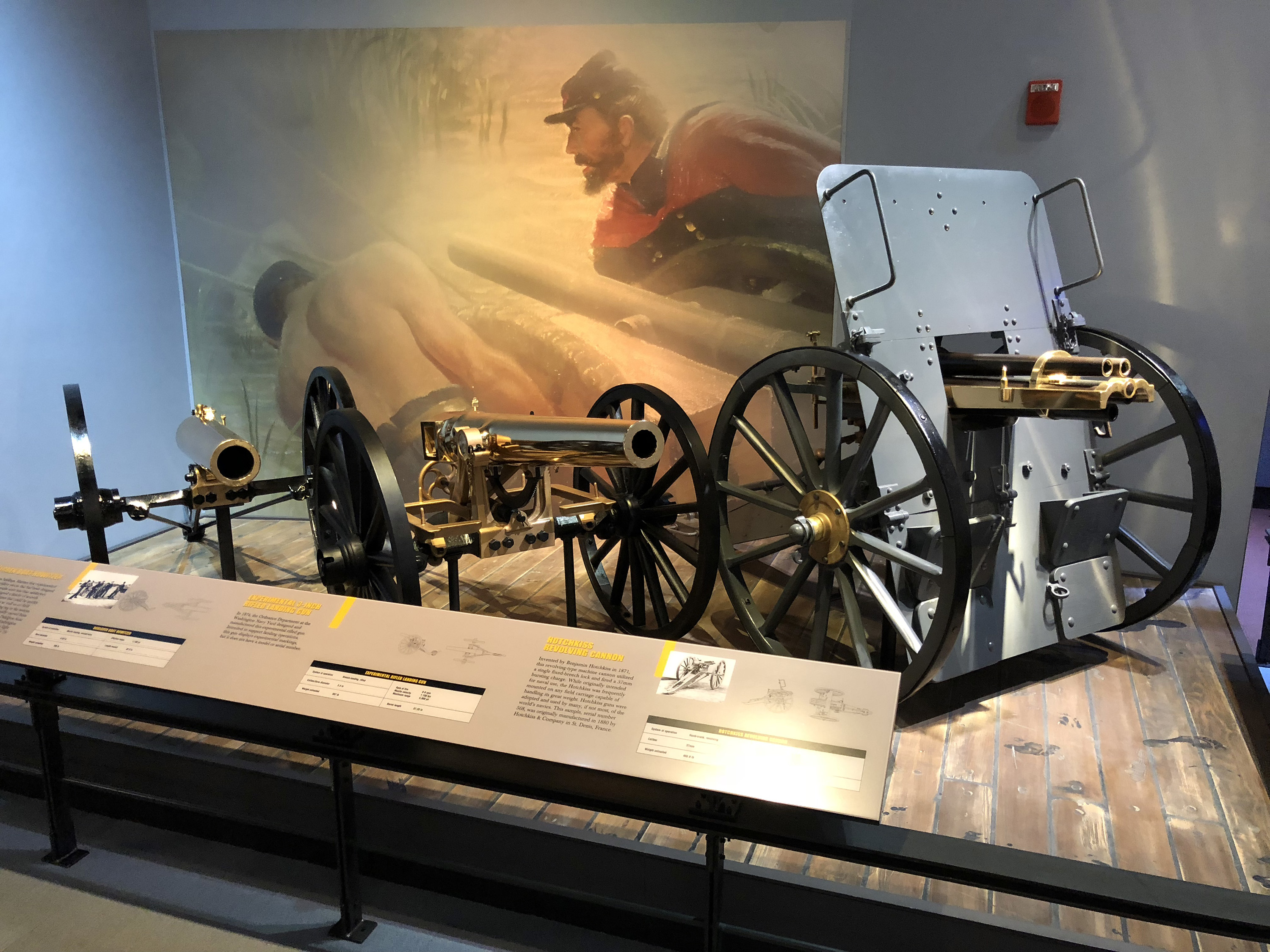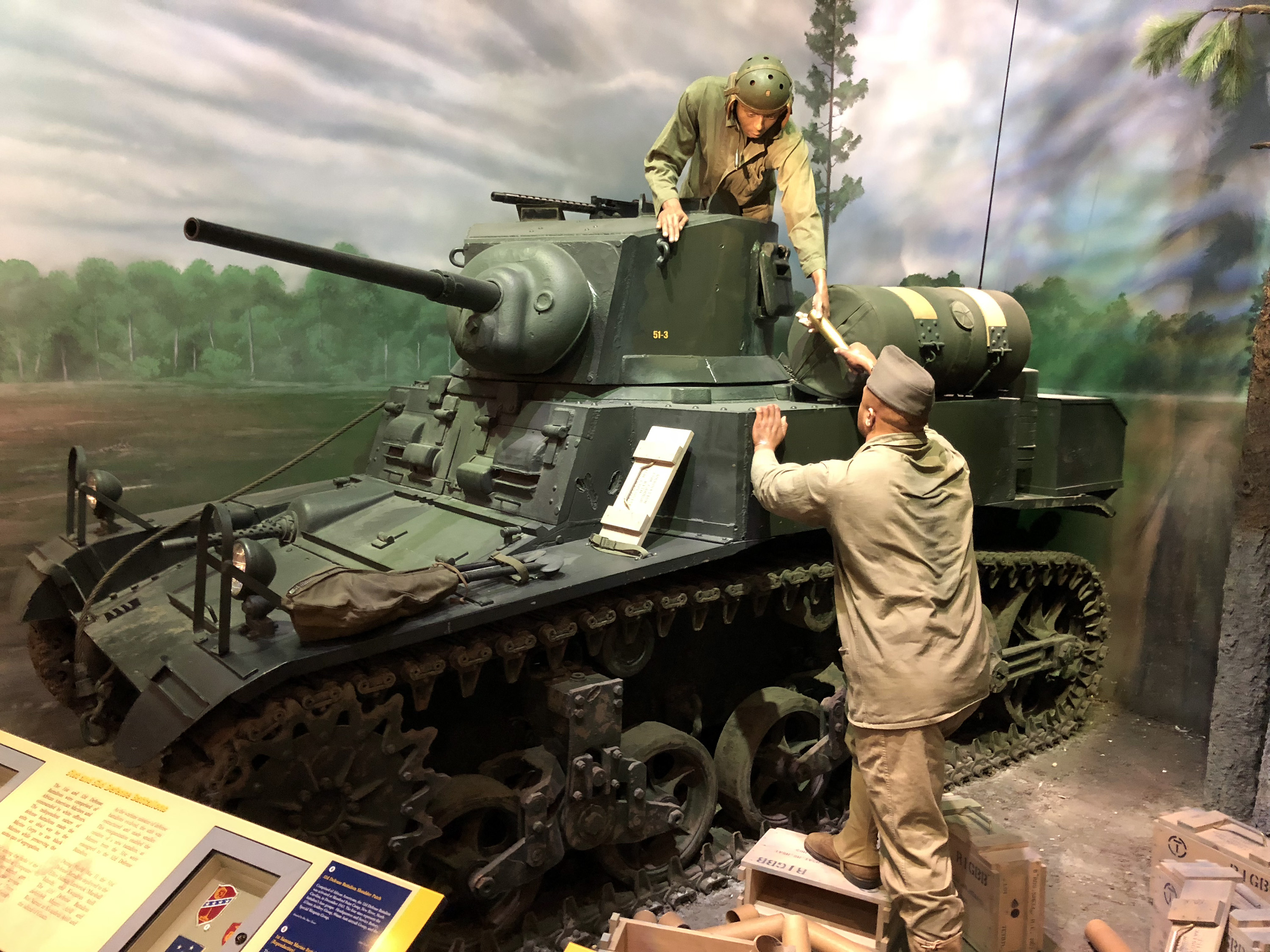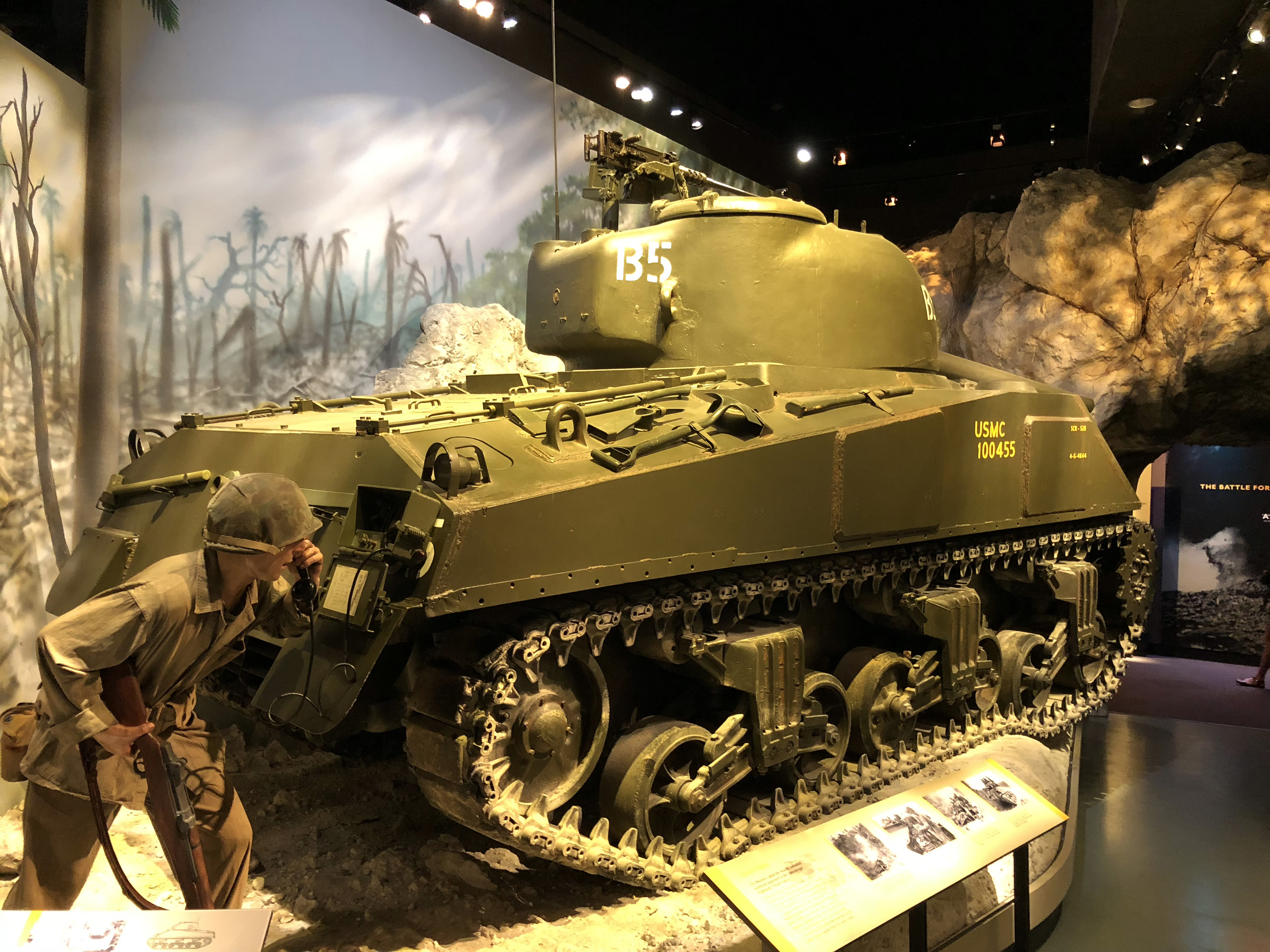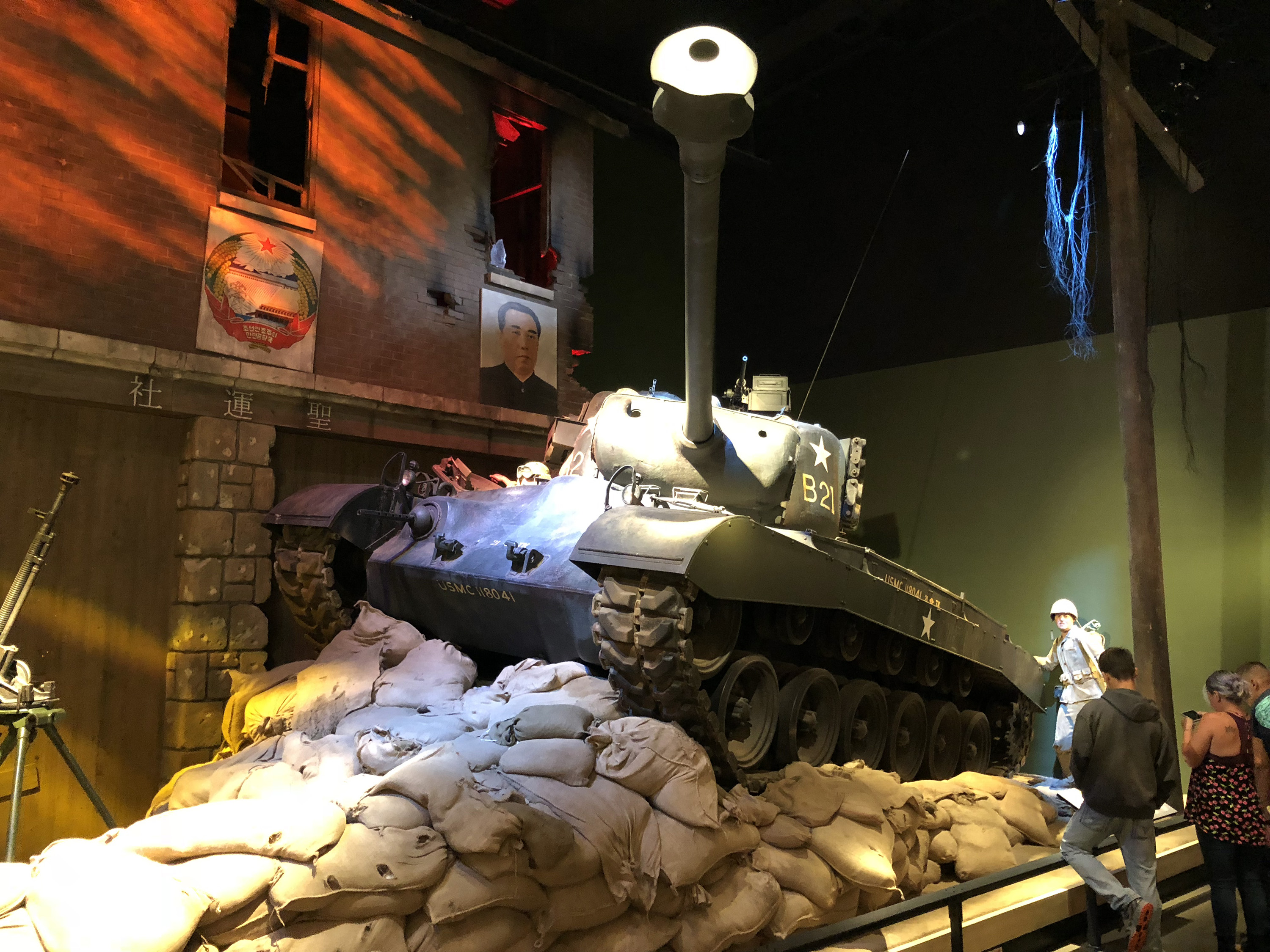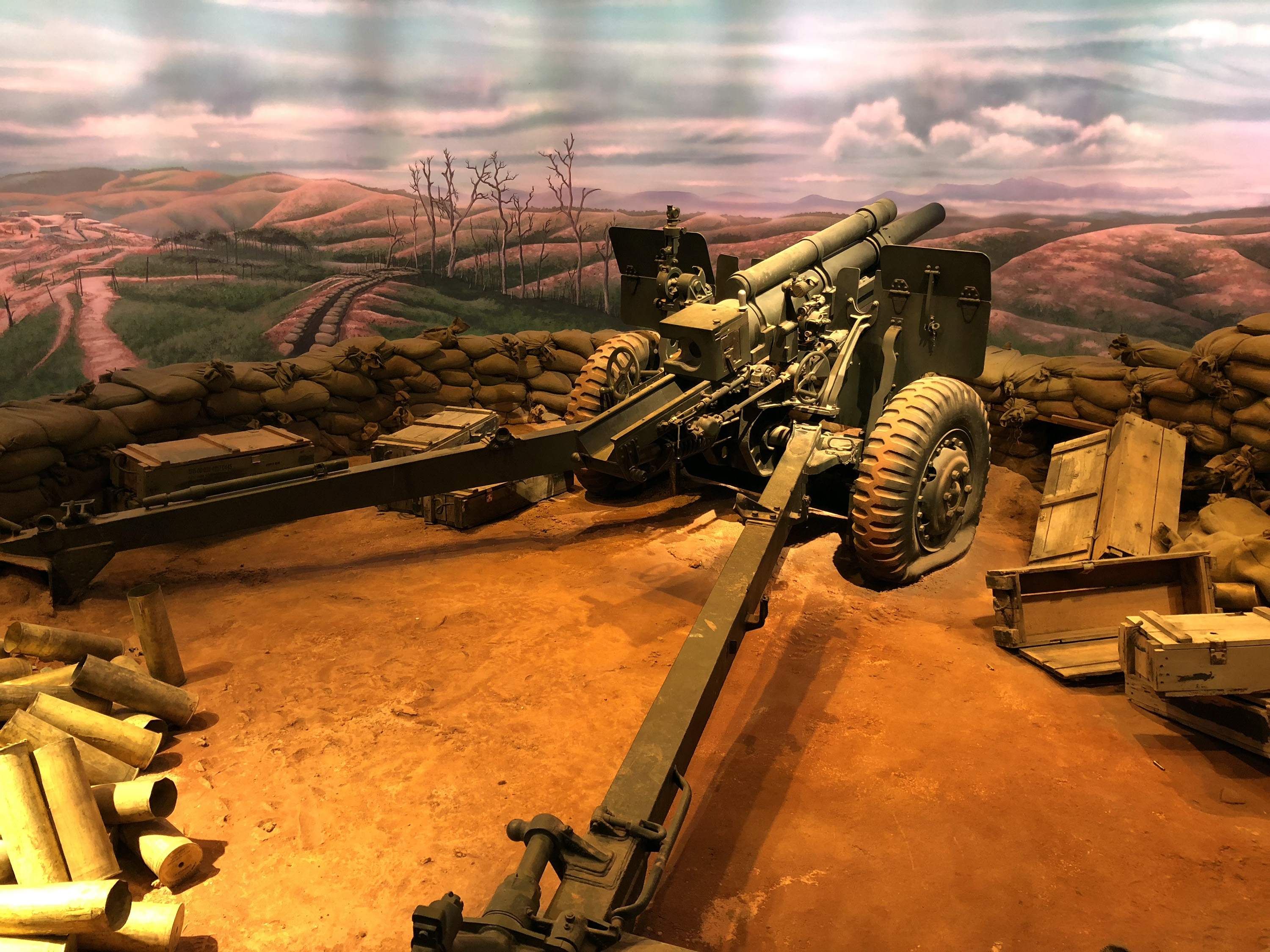 My other stop was at the Stafford Civil War Park, which I had never heard of, but I saw a sign on I-95. This is a rather compact area out in the boonies where the 1st and 3rd Divisions of the XI Corps camped for the winter after the Battle of Fredericksburg, overlooking Accokeek Creek. There are five auto-tour stops that highlight some nice artillery positions, with well-preserved earthworks and some sample cannons. At stop #5 the earthworks go for 100 yards, with a parapet 30 feet thick! There are a couple of miles of walking trails, but since it was raining I didn't walk much of them. Signage refers to the winter experience as the Union Army's Valley Forge, and I think that's overstated, but hey—bring those tourists in if you can. I found some ticks accompanied me back to the hotel, even though I walked in the woods only a couple of minutes.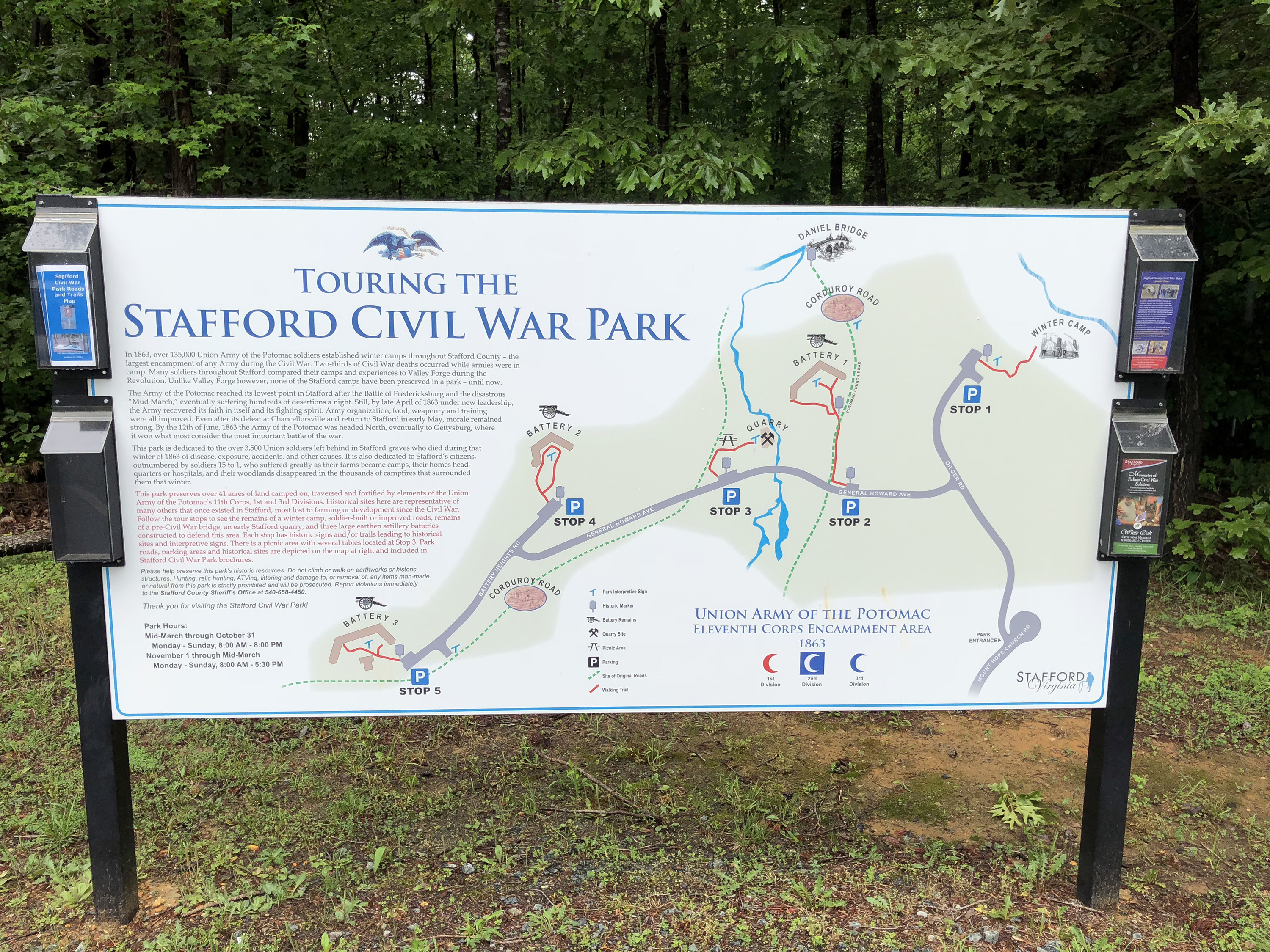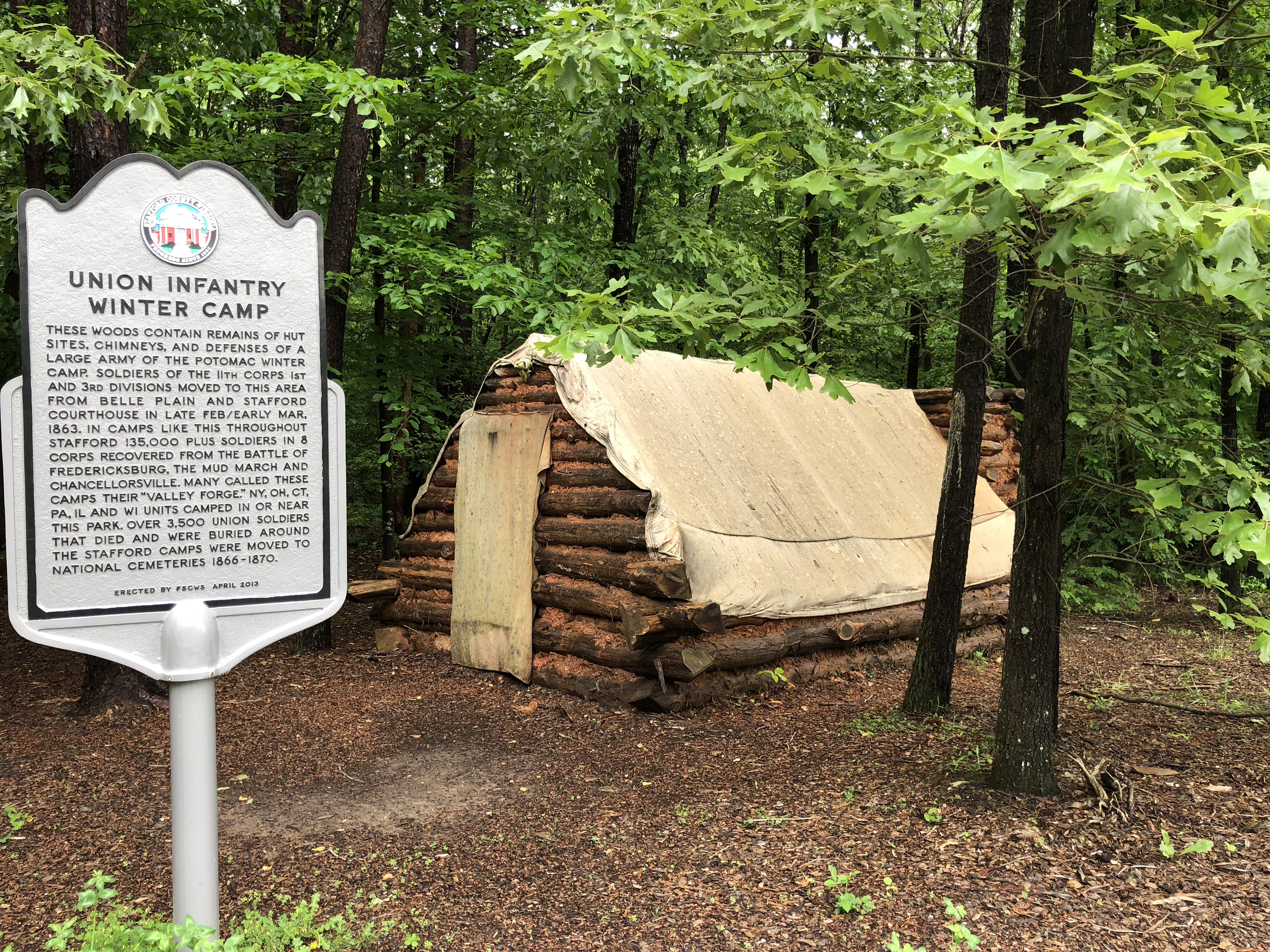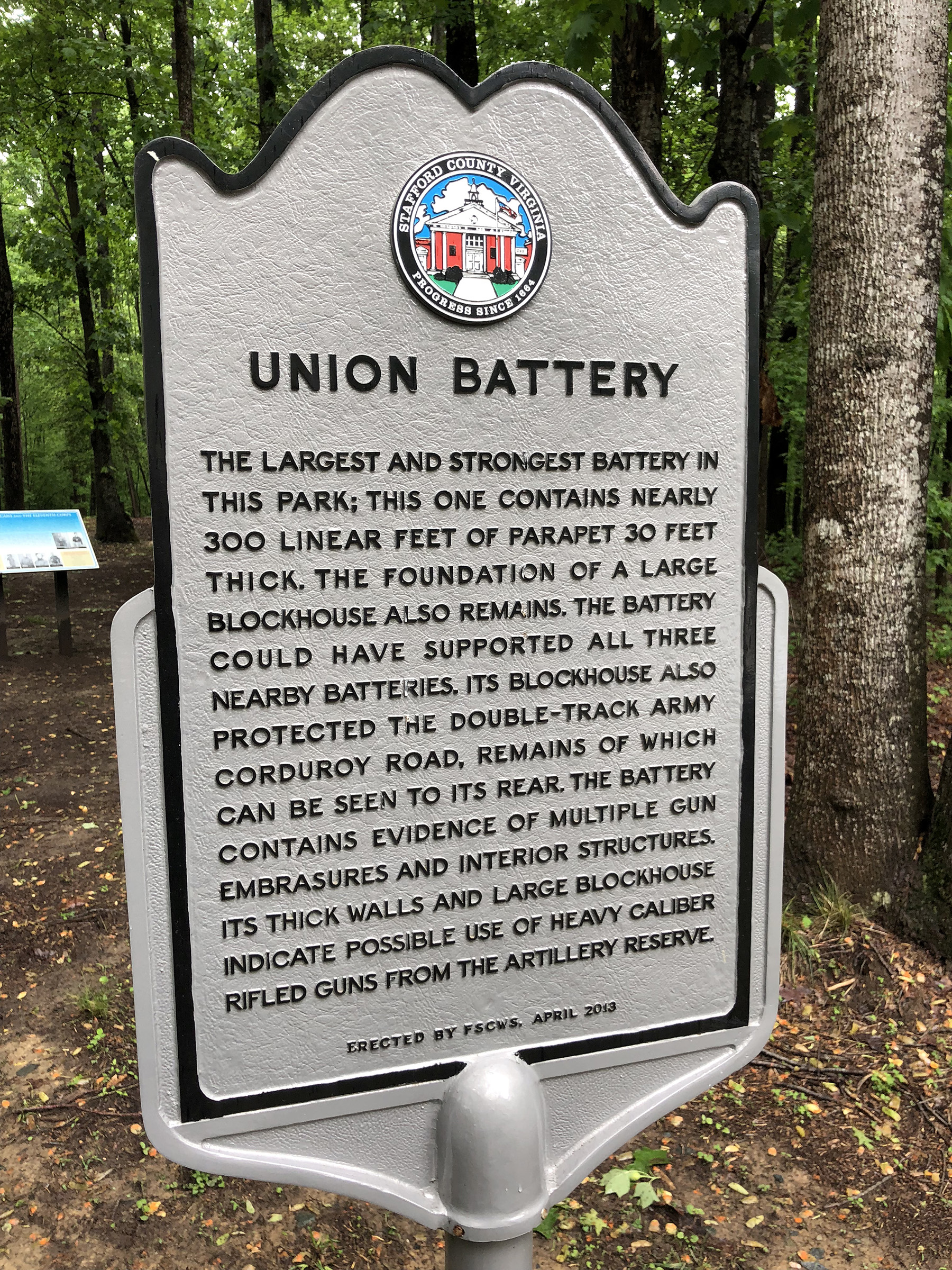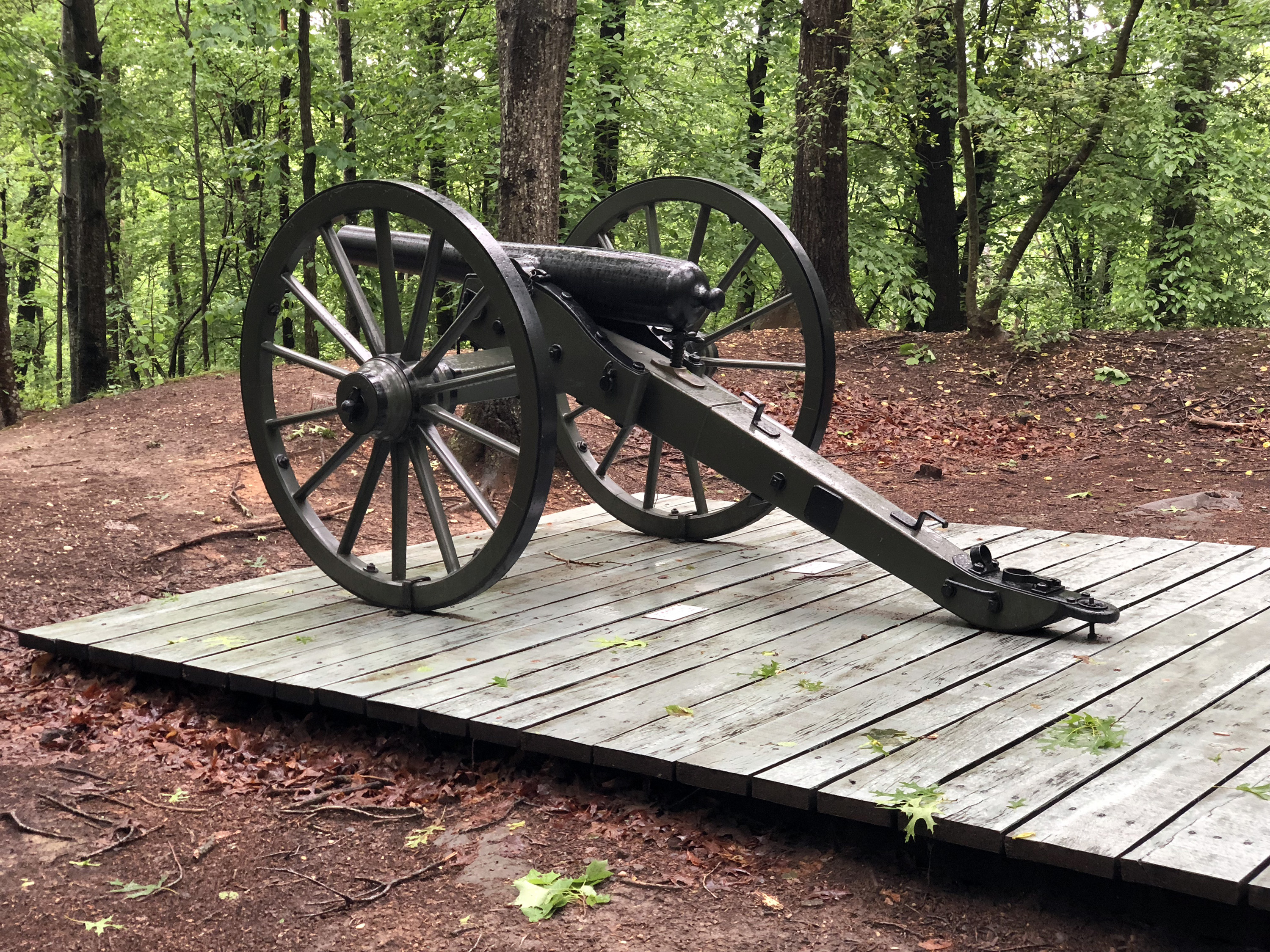 Sunday, May 20 — Marine Corps Historic Half Marathon
Today was my 18th half Marathon, and it turned out to be fun, but certainly not my best performance. In the week prior, I suffered from a moderate head cold, so I got little training in the ten days before the race. It was humid and pretty warm—mid 70s—and I ran with a cough and a mild toothache. The course was pretty hilly, although not excessively so, like a San Francisco or Atlanta. The big obstacle that had tongues wagging was Hospital Hill at mile 10, which was a gradual rise of 200 feet over a mile, and although I walked part of it it wasn't really too challenging. (Lots of walkers on that hill, and I heard quite a few complaints! One person nearby called it Heartbreak Hill because we ran by a cardiac hospital.)
The marines were out in force managing the course, so it was very well run. Of course, it was nowhere near the size of the famous Marine Corps Marathon in Washington DC, which I ran in 2010. It was compact enough that even those of us in the slowpoke corral crossed the start line in about five minutes. Lots of residential areas and some shopping centers, plus a few passes through downtown. At one point we were down next to the Rappahannock River, which was high and roiling like a flood of chocolate milk. The obvious challenge in Fredericksburg would have been to run up Marye's Heights like the Union Army tried to do in 1862, but I guess the marines didn't want to remind us of the failure of its fellow service.
The starting/finish line was about 50 yards from my hotel, so this race takes the prize for the most convenient location. I did 2:45:01, which is mediocre for me, but I was amazed to see I finished 2640th out of 4215! (I'm usually in the bottom tenth.)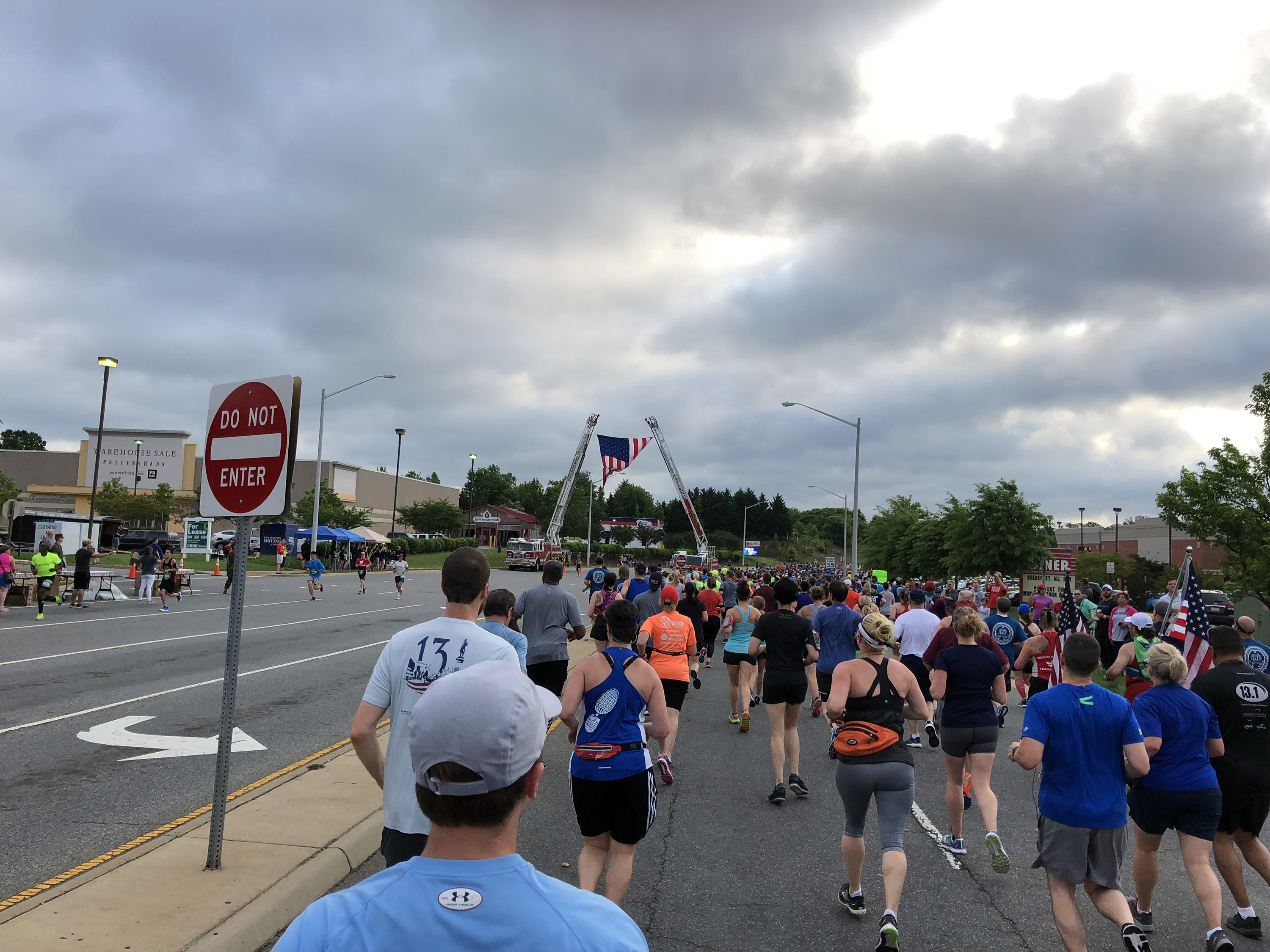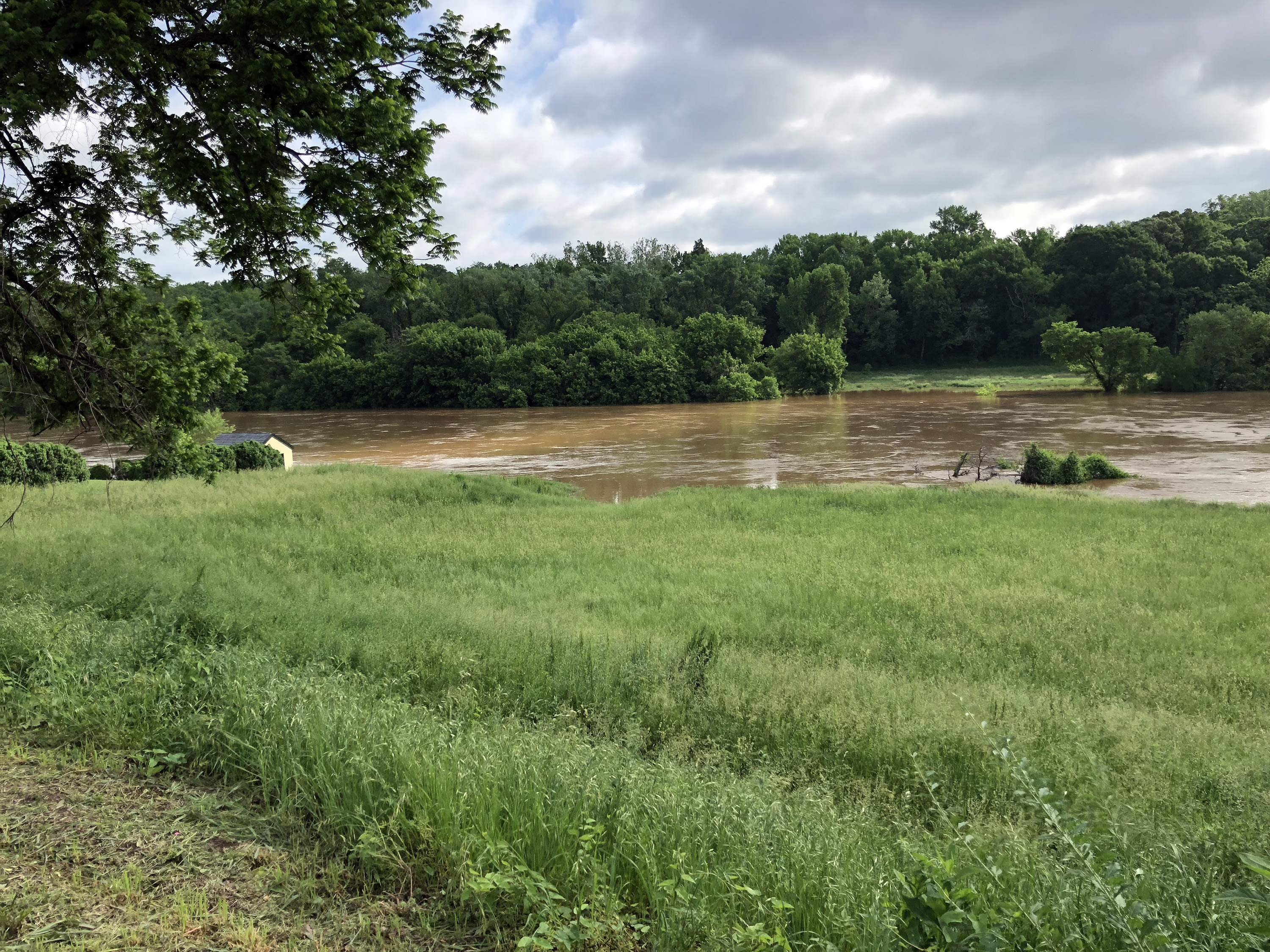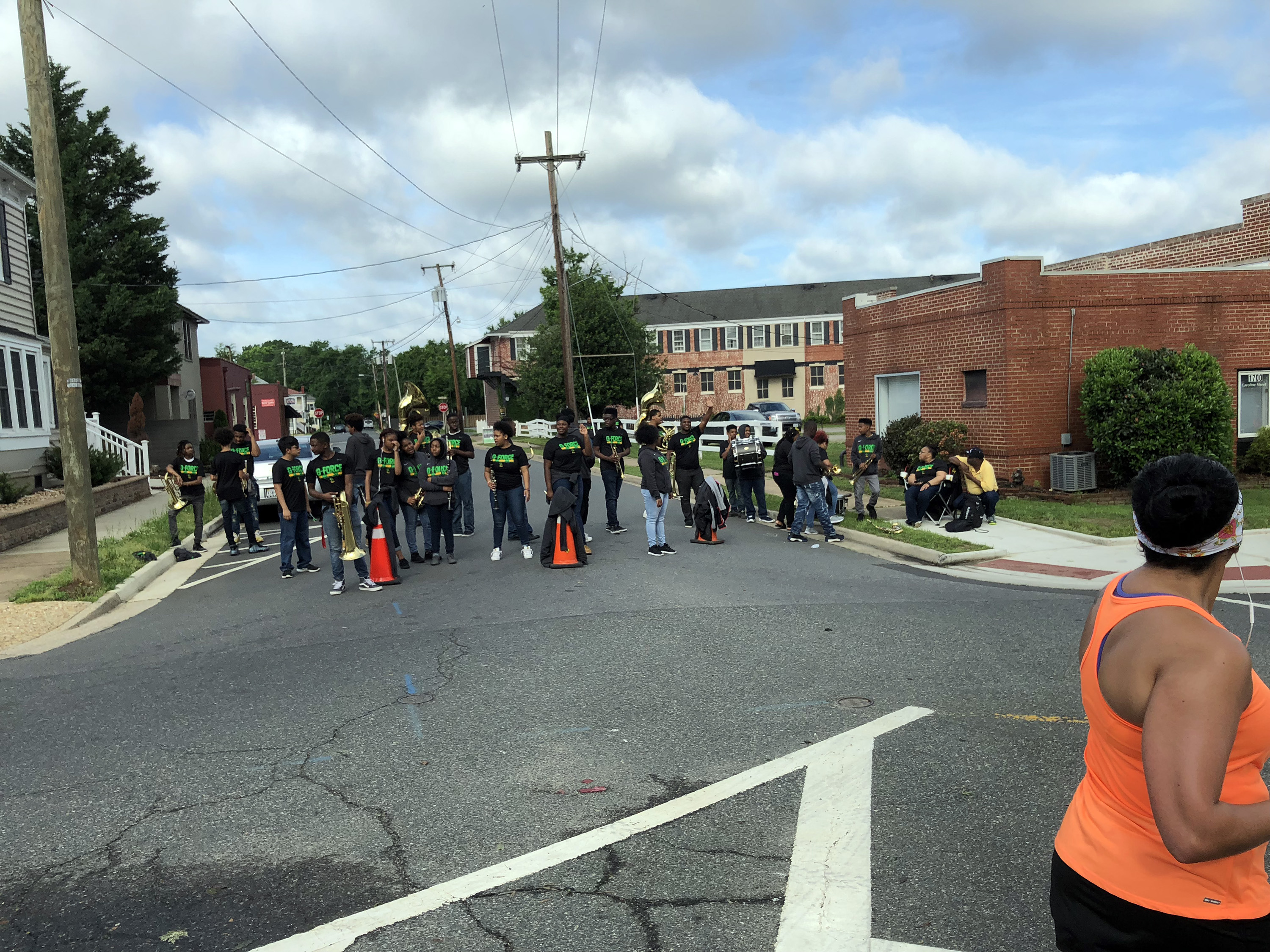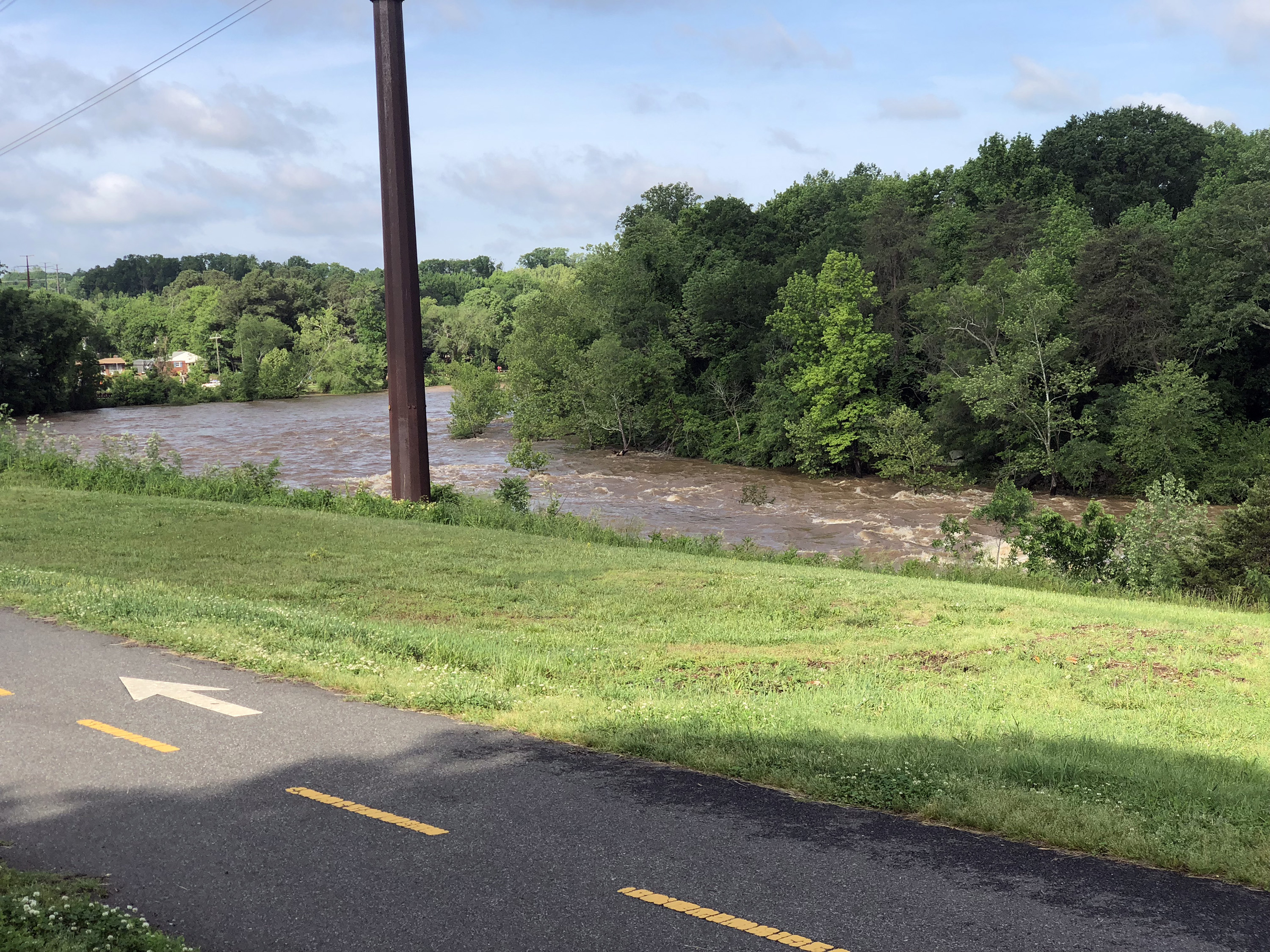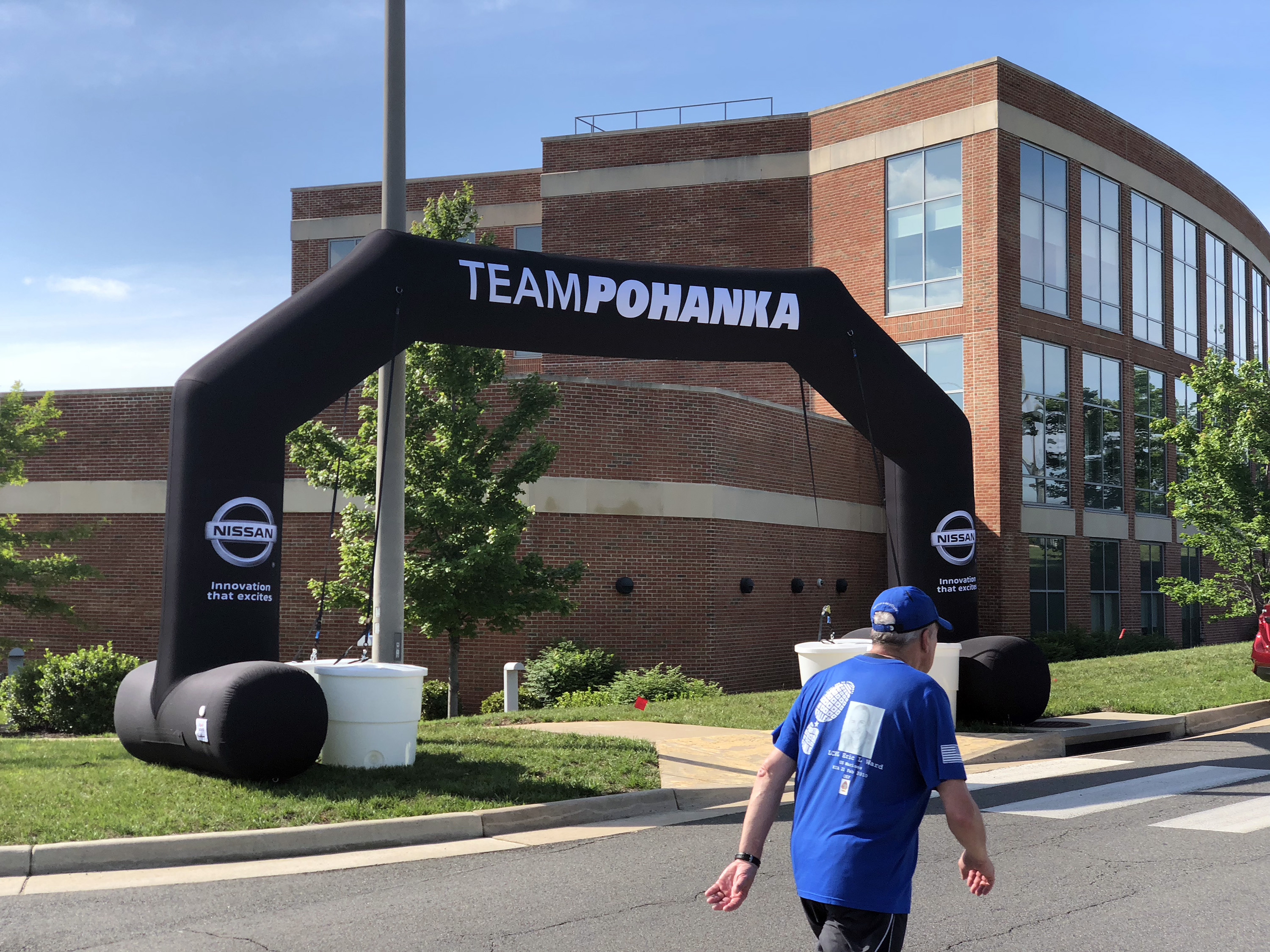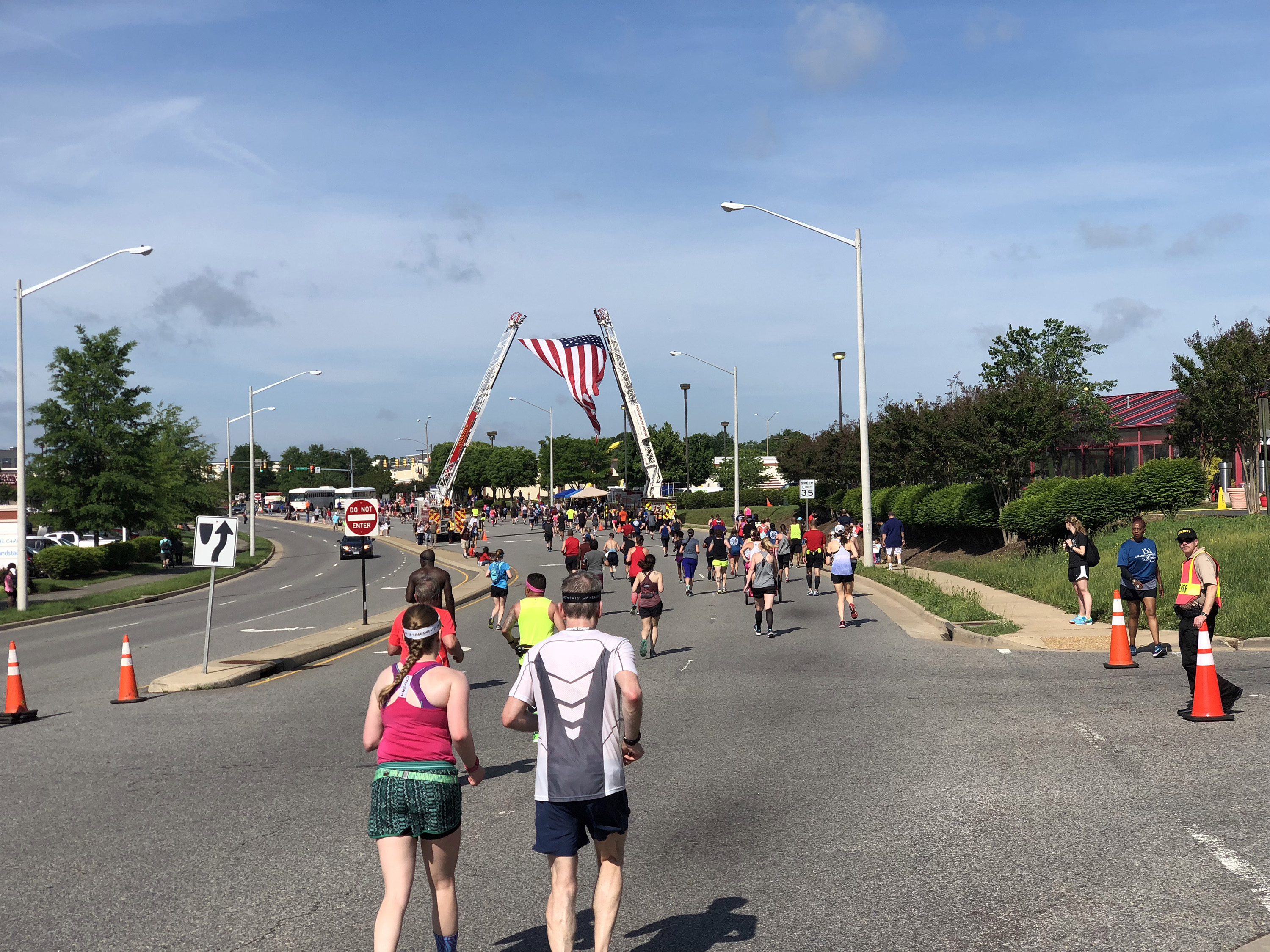 After a long shower, I took Len Riedel's recommendation of the Cracker Barrel for breakfast. Wow, what a madhouse. It was like the floor of the New York Stock Exchange in there—crowding, rushing, shouting, a constant din. Food was good, though. Then I drove to Reagan National airport for my shuttle flight to Boston and the next part of my journey, chronicled here.