2017 Civil War Travelogues — Gettysburg Half Marathon
Welcome to my 2017 travelogue pages. This page describes a trip with both running and Civil War connections. The primary reason for the trip was to run the Gettysburg Battlefield Half Marathon, but I was able to add a few additional Civil War sites and events. To see the entire list of my 2017 trips, go here.
Here is a reminder about the reason I write these pages the way I do. They record my experiences and impressions of Civil War trips primarily for my future use. Thus, they sometimes make assumptions about things I already know and focus on insights that I receive. They are not general-purpose descriptions for people unfamiliar with the Civil War, although I do link to various Wikipedia articles throughout. Apologies about the quality of interior photographs—I don't take fancy cameras with big flashes to these events. If you would like to be notified of new travelogues, connect to me via Facebook.
Friday, November 3
I flew United Airlines to Dulles and drove to Gettysburg, staying at the Comfort Suites, right next to Evergreen Cemetery on the reverse slope of Cemetery Hill, which was the location of my very first stay at Gettysburg—in 2004 this location hosted a real dump called the Econo Lodge. This visit is my 18th trip to Gettysburg. Dinner was at Bella Italia on the York Pike, my favorite Stromboli place in Gettysburg. Gotta carb-up!
Saturday, November 4
I always budget an idle day before a race so that I can recover from the airplane travel—stretching, hydrating, etc. Today, I was fortunate that the Association of Licensed Battlefield Guides had scheduled an all day class as part of their Academy series preparing folks for the dreaded guide licensing exam. I am an associate member and received a notification of this class, so I attended the session on the End of the Civil War and Reconstruction, taught by LBG Dave Donahue. The end of the war was covered in rather broad strokes—essentially the Appomattox campaign, Sherman and Thomas in the Western theater, and Wilson's raid in 1865, plus the surrenders of Lee and Johnston. I found the lengthier portion about Reconstruction to be quite interesting because I knew very little about it. The class was held at the Gettysburg Heritage Center on Steinwehr, which I had never visited previously. I did not go into its little museum, but I was very impressed with its Civil War bookstore, probably the largest selection in town.
Registration for the race was held in the NPS Visitor Center, which I dealt with during the lunch break. This race was small enough that they also offered racing bib pickup at the starting line, which is pretty unusual. I spent a couple of hours driving around the northern end of the battlefield (where the half marathon would not tread) and enjoyed seeing the newly restored Lee's Headquarters house on the Chambersburg Pike, which used to be on the grounds of a motel I have stayed at in the past. I had a rather hard time getting dinner because Steinwehr Avenue places were absolutely packed, supposedly with marathoners, so I had a takeout hero sandwich from Tommy's Pizza.
Sunday, November 5
Race day! The reason I selected the Comfort Suites was that it was only a mile from the starting line, and since I was concerned about adequate parking (I should not have been, as it turns out), I hoofed it. We assembled in parking lot number 3 at the visitor center and I got to see what a small race this was—fewer than 500 people milling around, with none of the usual starting line commotion, such as announcements or entertainment. The full marathoners left at 7 AM, starting off with an air horn, which was disappointing considering the alternatives that might have been available for a battlefield marathon. The 250 or so half marathoners started five minutes later. It took less than 15 seconds to reach the starting line! Our course was not identical to the first half of the full marathon, but we intersected for a while at our mile 8 and their 12.
The weather was really dreary, very reminiscent of my first visit to Gettysburg: low clouds/fog and intermittent light rain or drizzle. This was actually not bad running weather, except that my glasses were fogged up for most of the morning and all of the advantages of a scenic course were gone. I did not take any photographs because I had my iPhone wrapped up in a plastic bag. The course suffered from the weather in that the race organizers had trusted a forecast for dry weather and the used spray-on chalk marking to show directions through the many turns and intersections. The markings were totally obliterated overnight, and unfortunately they did not have enough volunteer staff to man every intersection. Early in the race this was not a problem because you could just follow the runners ahead, but as we got into double digits, the field was so spread out that I often could not see anyone ahead or behind. And in fact I took a wrong turn around mile 11, which shaved about a third of a mile off my total run. Although there was chip timing at the start and finish, there were no intermediate timing stations, so this would be a race that would be relatively simple to cheat.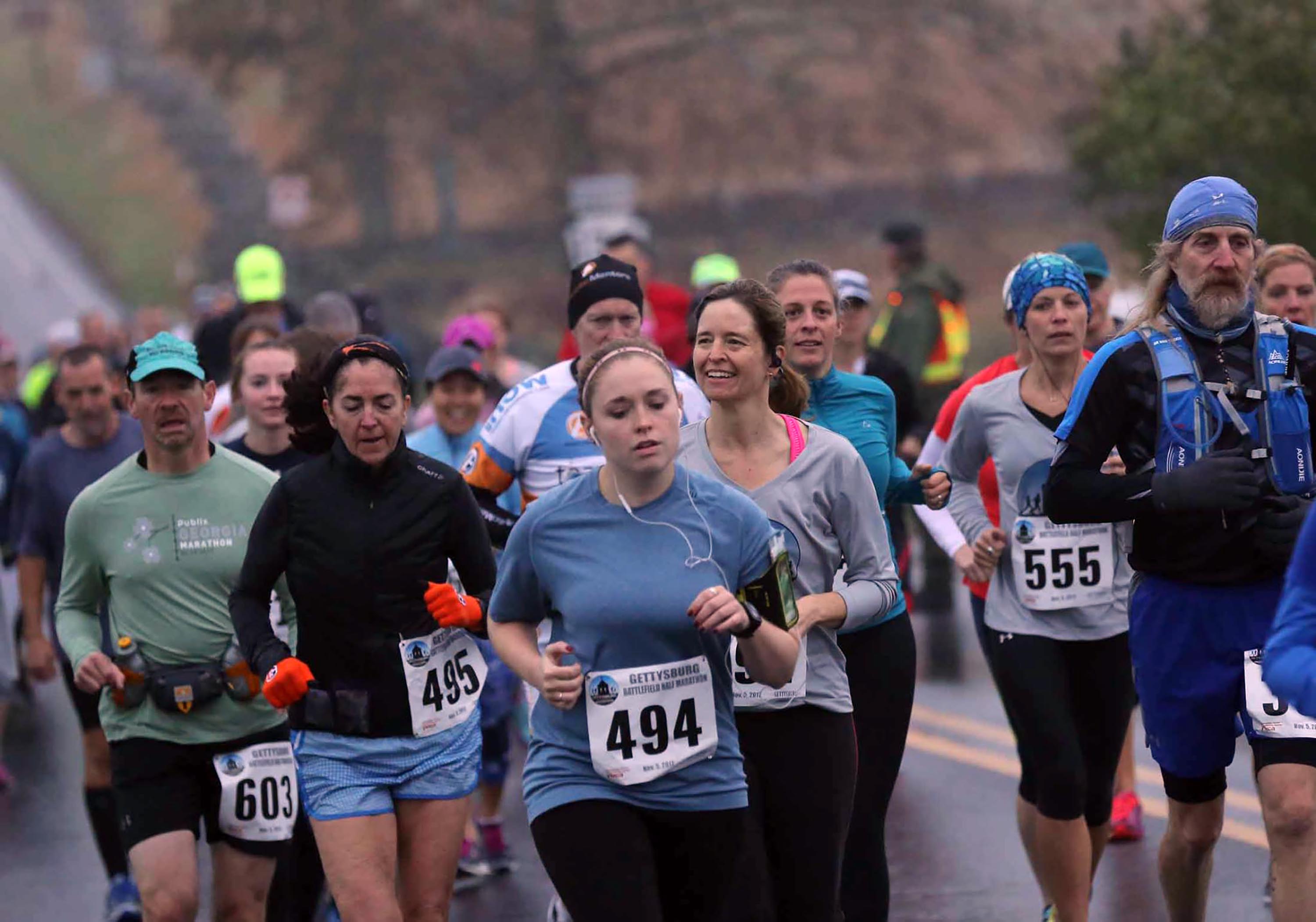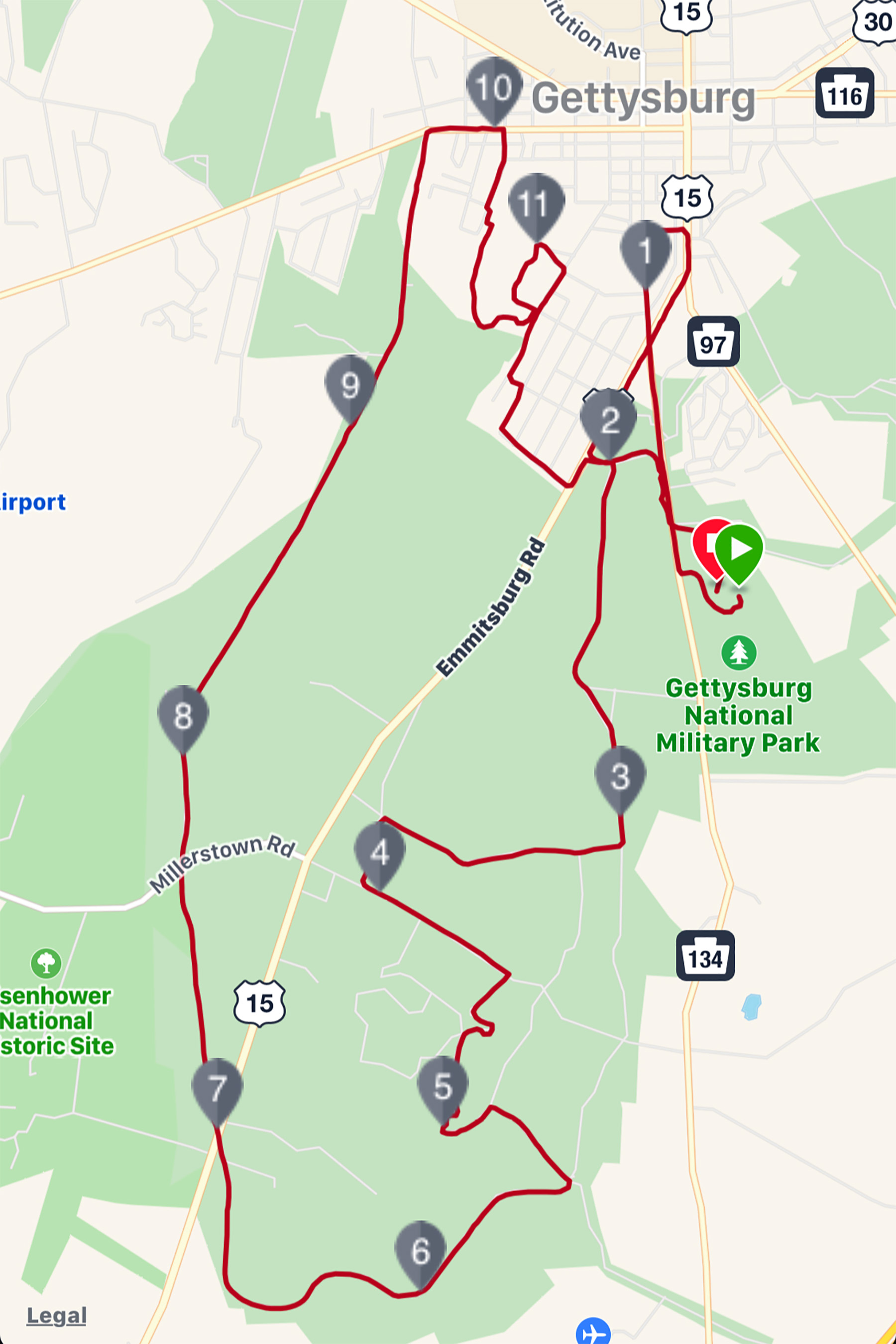 I finished at 2:39:25, which is a somewhat typical time for me, although my GPS watch said I covered only 12.63 miles. This put me as the 215th finisher out of 259. I had no difficulties during the race and ended with a moderate amount of energy. Then I got to walk back to the hotel, where I arrived completely soaked. After a brief nap, I went to the movies and then had a light dinner at the Appalachian Brewing Company on Steinwehr Avenue. (Steinwehr hosts a reasonable selection of modest, forgettable restaurants, but its biggest drawing card is that it has easily accessible free parking.)
Monday, November 6
I always schedule a free recovery day after a race before I get on a plane. Today I drove to Maryland to visit the National Cryptologic Museum, right outside NSA headquarters at Fort Meade. This is a very interesting museum with general information about cryptology throughout American history, starting in the revolutionary period, and with a lot of encryption and computer hardware on display. The biggest focus was on Enigma and breaking the Japanese Red and Purple codes in World War II, but they covered all of our wars. My only minor criticism of the museum is that they did not attempt to explain much of the modern cryptographic technology, such as public key, onion routing, steganography, quantum computing, etc.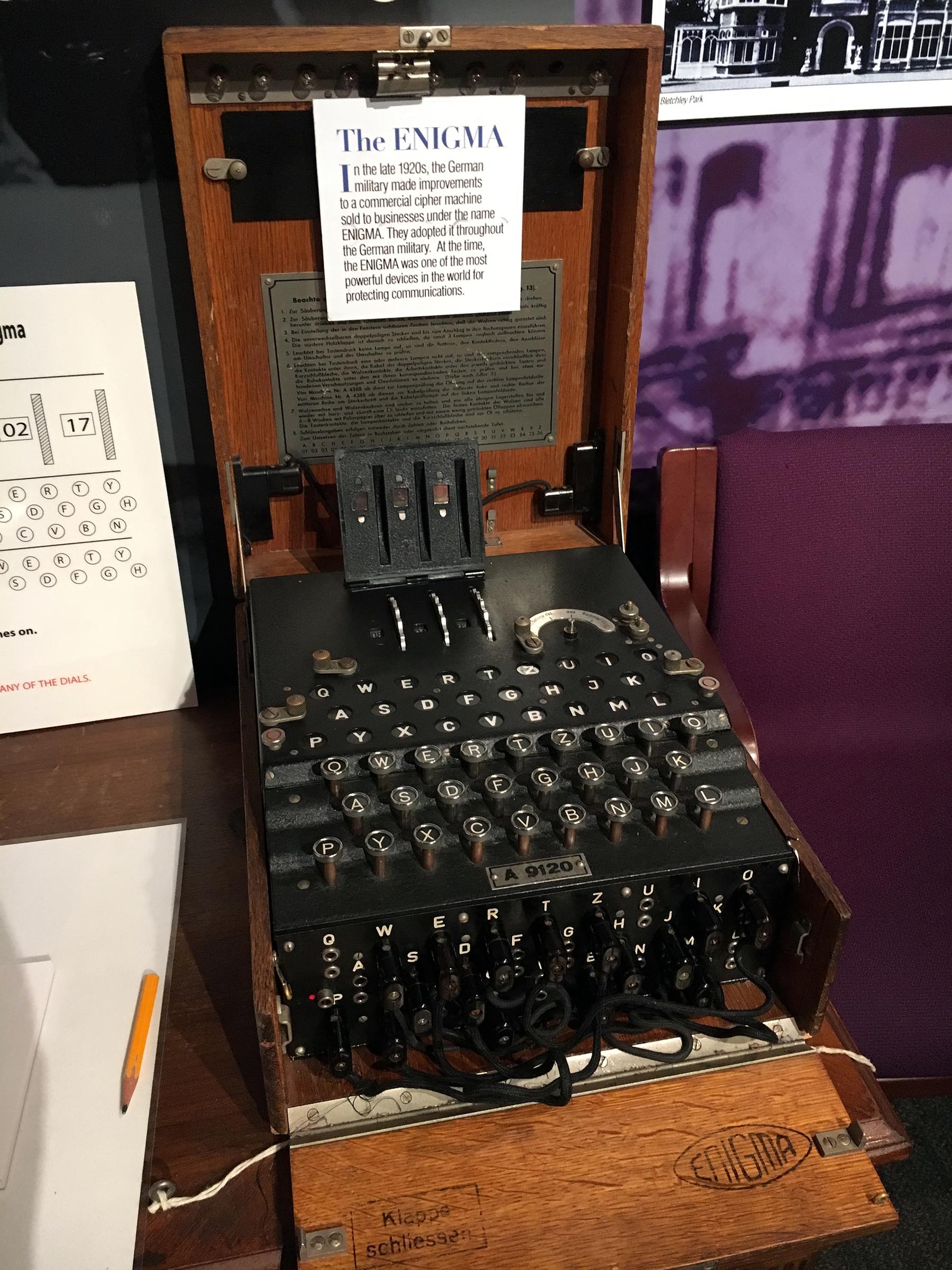 Next I drove to the District of Columbia and visited Fort Stevens, which is essentially a small park of a couple of acres with some preserved, or more likely reconstructed, earthworks, and a few cannons. It is in a dense housing district and it is quite difficult to envision what the 1864 battle must have looked like. A couple of miles away in Rock Creek Park was Fort DeRussy, which has very pronounced earthworks, completely overgrown by trees. It is accessible on a dirt trail 200 yards up a hill.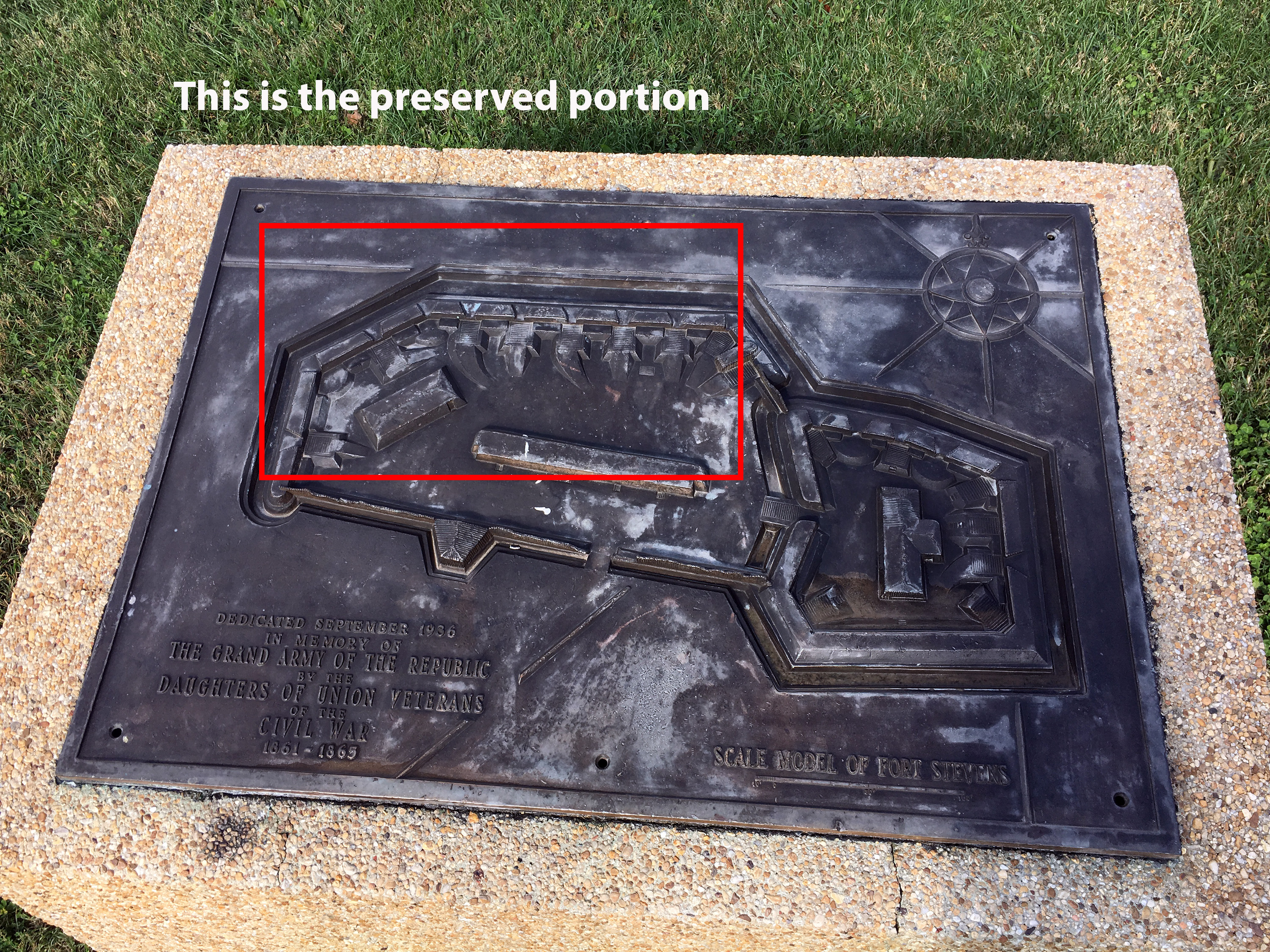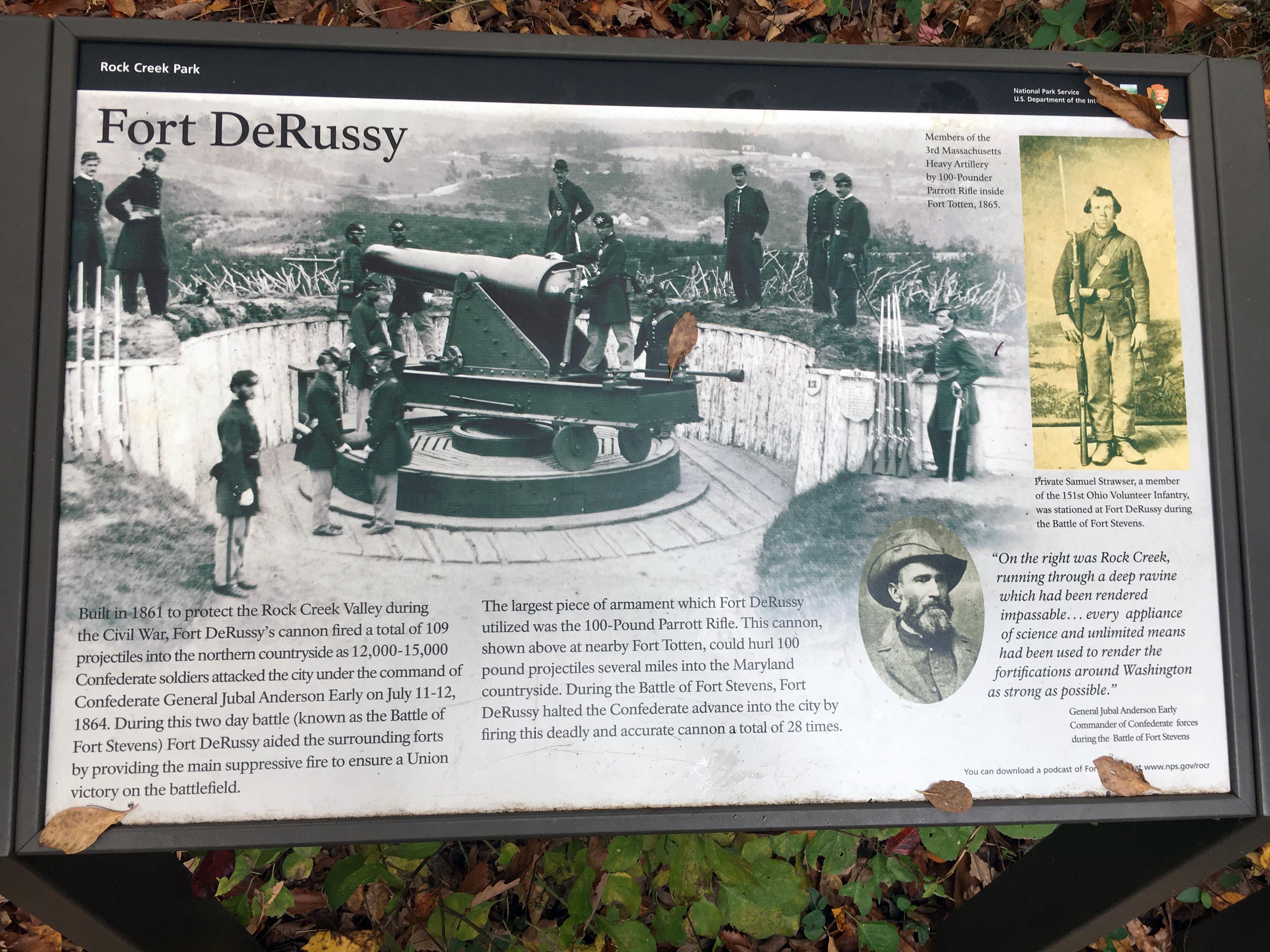 I finished the day with a return visit—my third—to the Smithsonian Air and Space Museum annex next Dulles airport. I stayed overnight at the very familiar Hampton Inn in Chantilly and drove to Dulles early the next morning for my flight back.