2016 Civil War Travelogues — Jackson's Valley Campaign
Welcome to my 2016 travelogue pages. This report covers my trip to the Shenandoah Valley to attend the Chambersburg Chamber of Commerce seminar and tour, Jackson in the Valley. It is a similar program to the one I attended with them in 2009. I am sorry to say that I am getting old and did not remember that I did that program back then until about halfway through this one. Although some of the bus tour stops were similar, the program of lectures was completely different. This is my fifth conference with the Chambersburg folks.

To see the entire list of my 2016 trips, go here.
Here is a reminder about the reason I write these pages the way I do. They record my experiences and impressions of Civil War trips primarily for my future use. Thus, they sometimes make assumptions about things I already know and focus on insights that I receive. They are not general-purpose descriptions for people unfamiliar with the Civil War, although I do link to various Wikipedia articles throughout. Apologies about the quality of interior photographs—I don't take fancy cameras with big flashes to these events. If you would like to be notified of new travelogues, connect to me via Facebook.
Wednesday, May 18
United Airlines to Dulles, overnighting at an airport hotel in Chantilly. Dinner was at one of my favorites, Don's Wood Fired Pizza in Sterling.
Thursday, May 19 – Lexington
Early drive to Harrisonburg, 113 miles. I was interested to see that there was heavy traffic on I66 coming into DC as early as 5:30. Today was the optional bus tour to Lexington, about an hour drive, hosted by Keven Walker of the Shenandoah Valley Battlefields Foundation and Ed Bearss. On the bus we talked about Stonewall Jackson's early life. We had an interesting tour of Jackson's house and walked around his garden.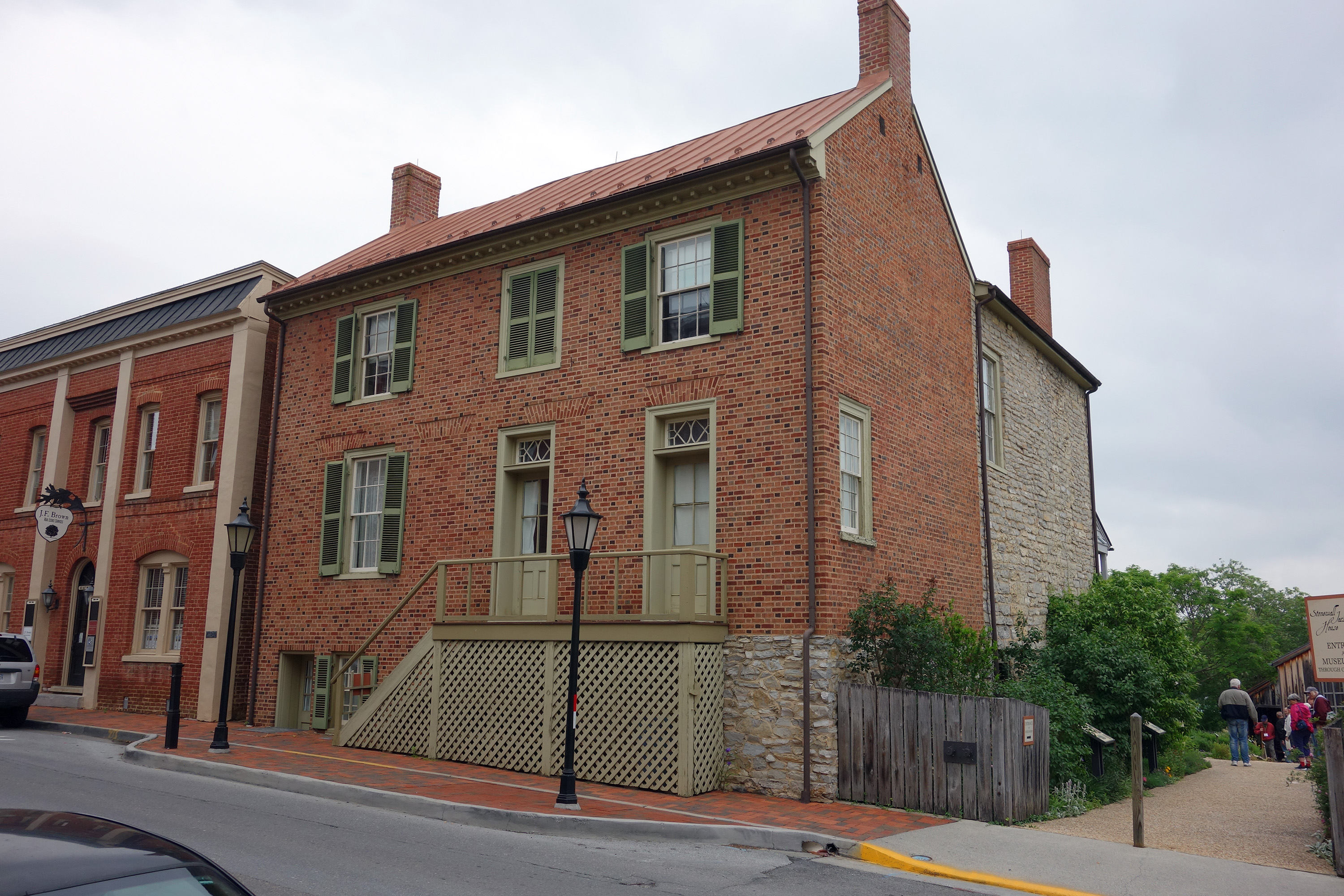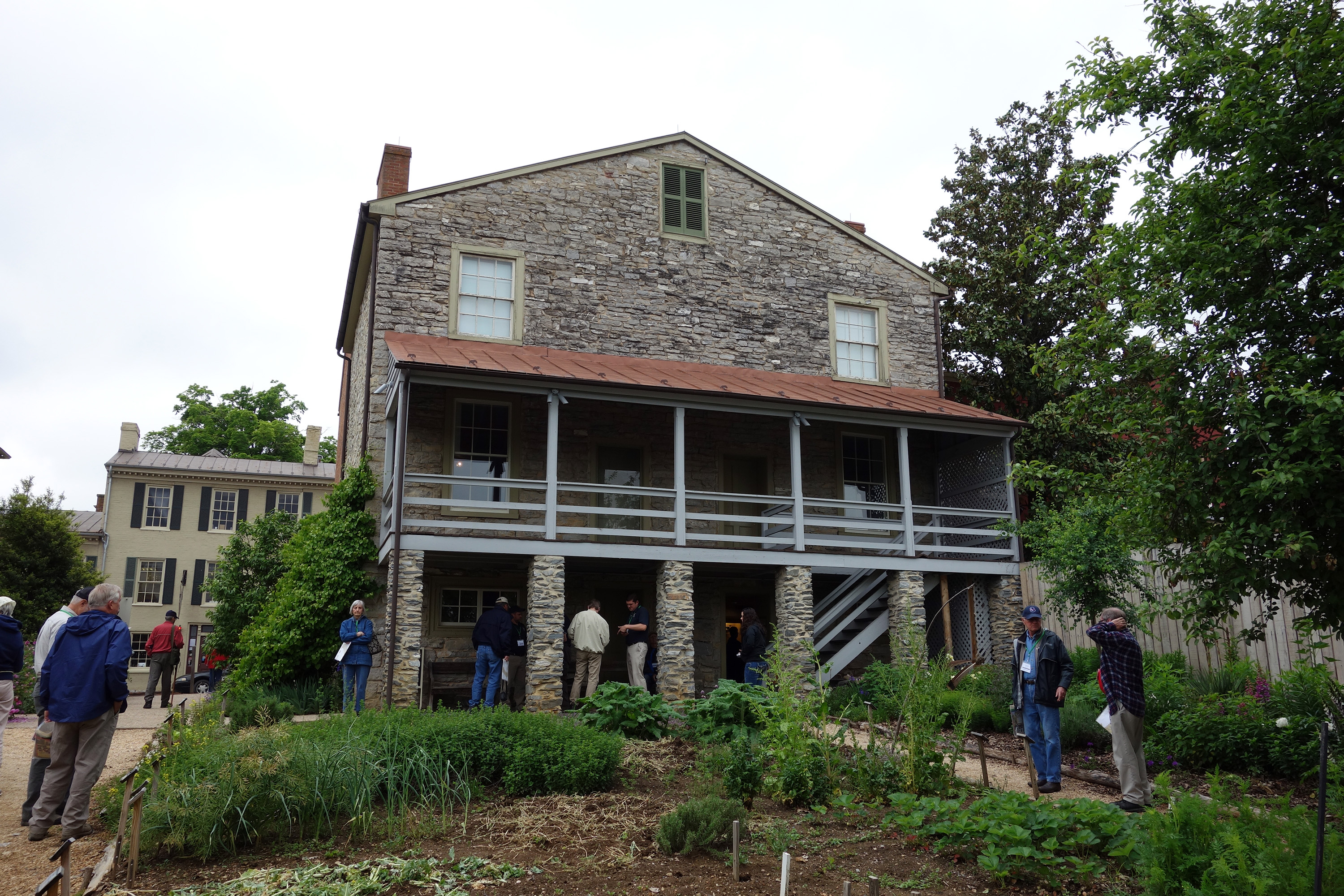 At Washington and Lee University we stopped at the Lee–Jackson House, which was the original president's house, and saw the small addition built for Jackson and his first wife. Lee Chapel is always awesome; I had been unaware that it was never consecrated, meant only as a meeting hall for the students. There were murmured discussions of why the Confederate flags were removed. I was disappointed that I had no carrots for Traveller's grave. Lee House was the replacement home for the president, built in 1868 to accommodate Mary's wheelchair. It has the open garage door left for the spirit of Traveller to wander freely.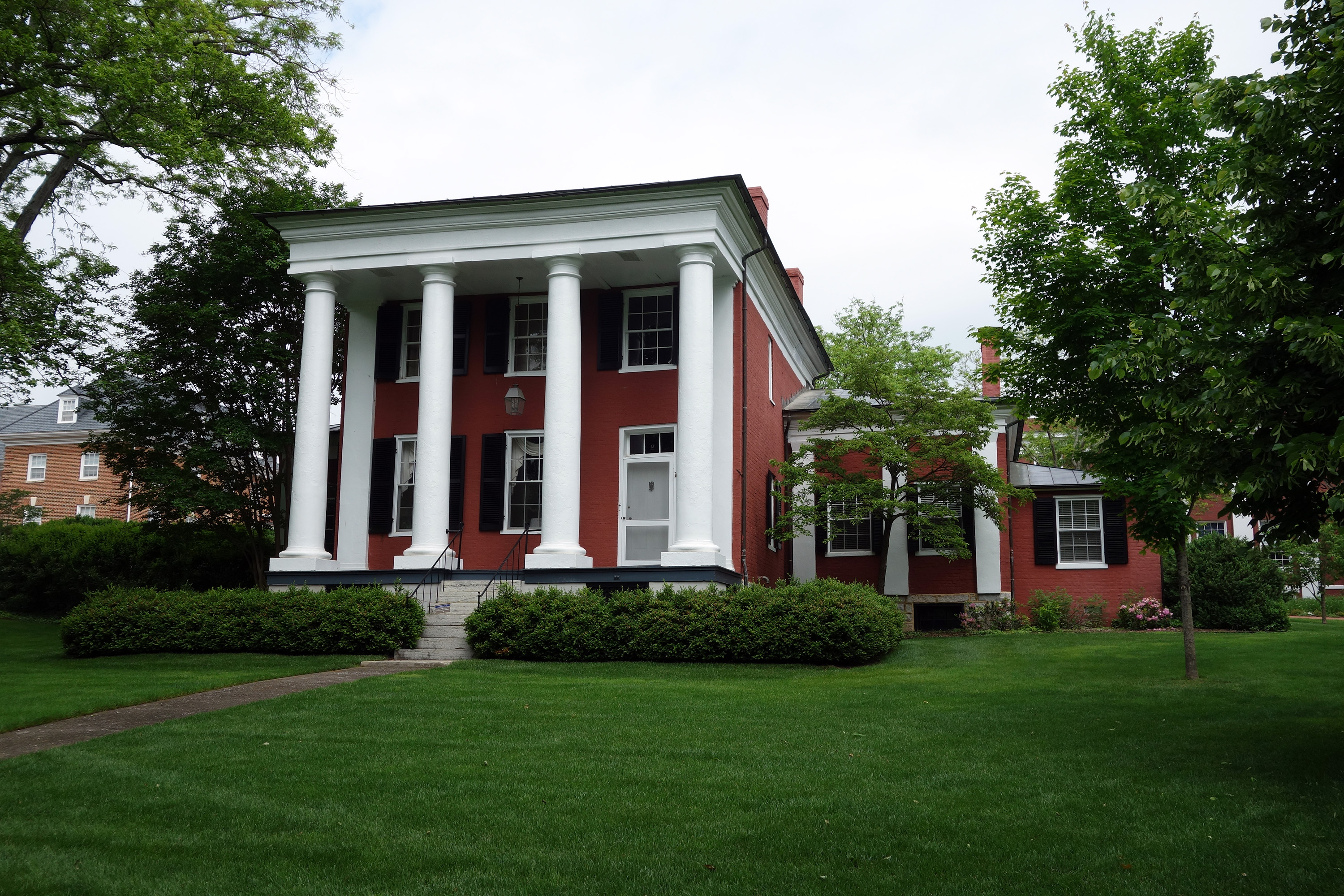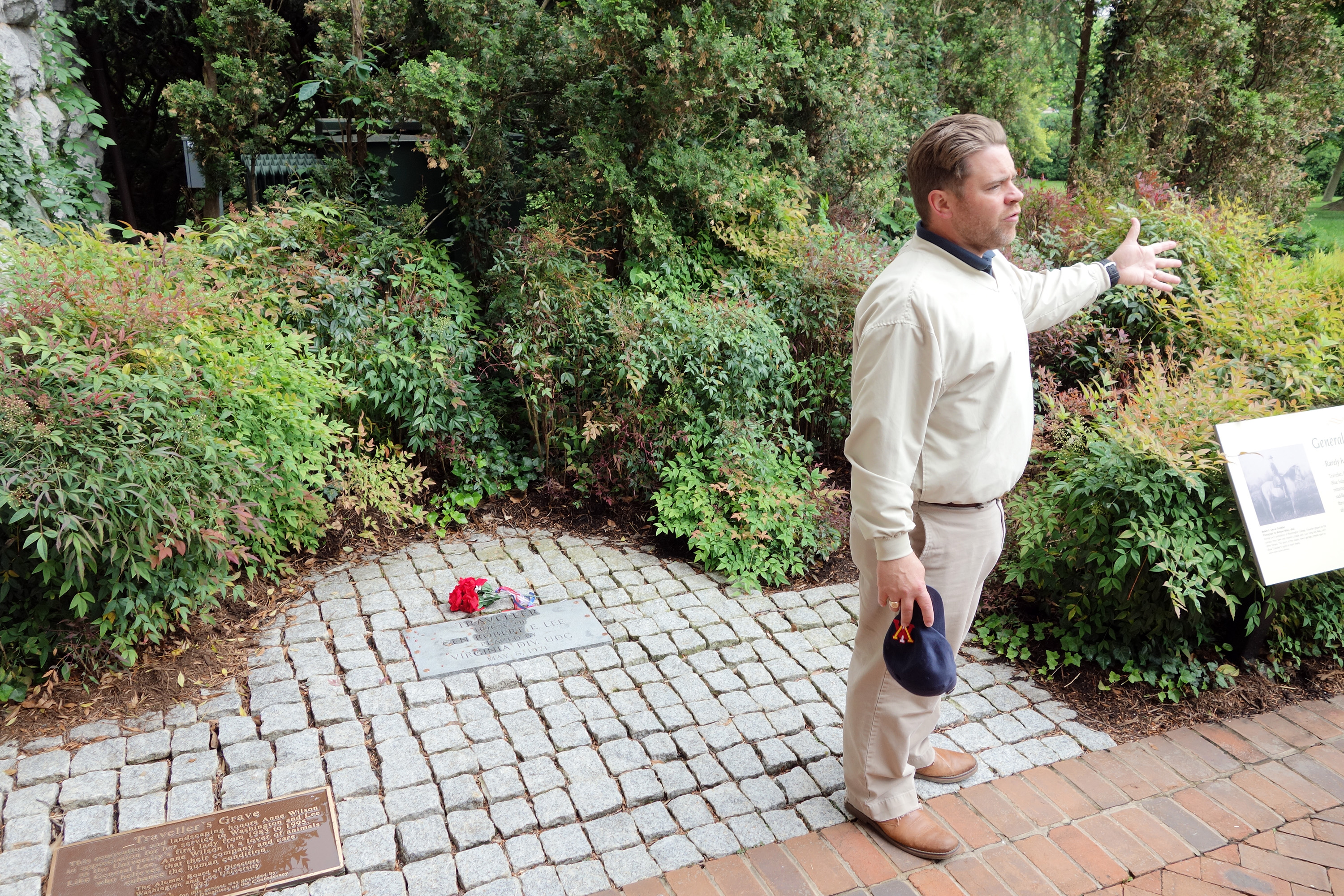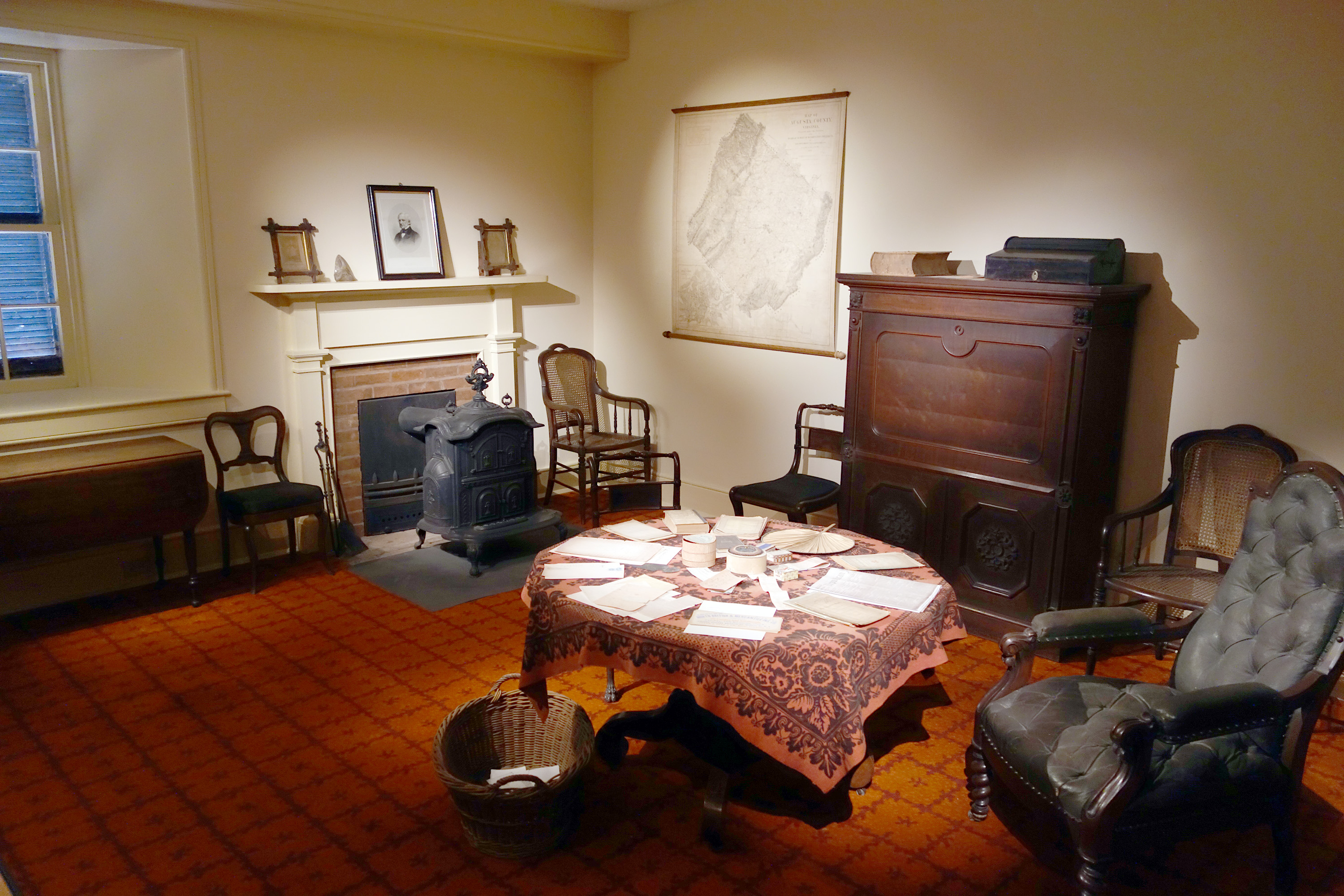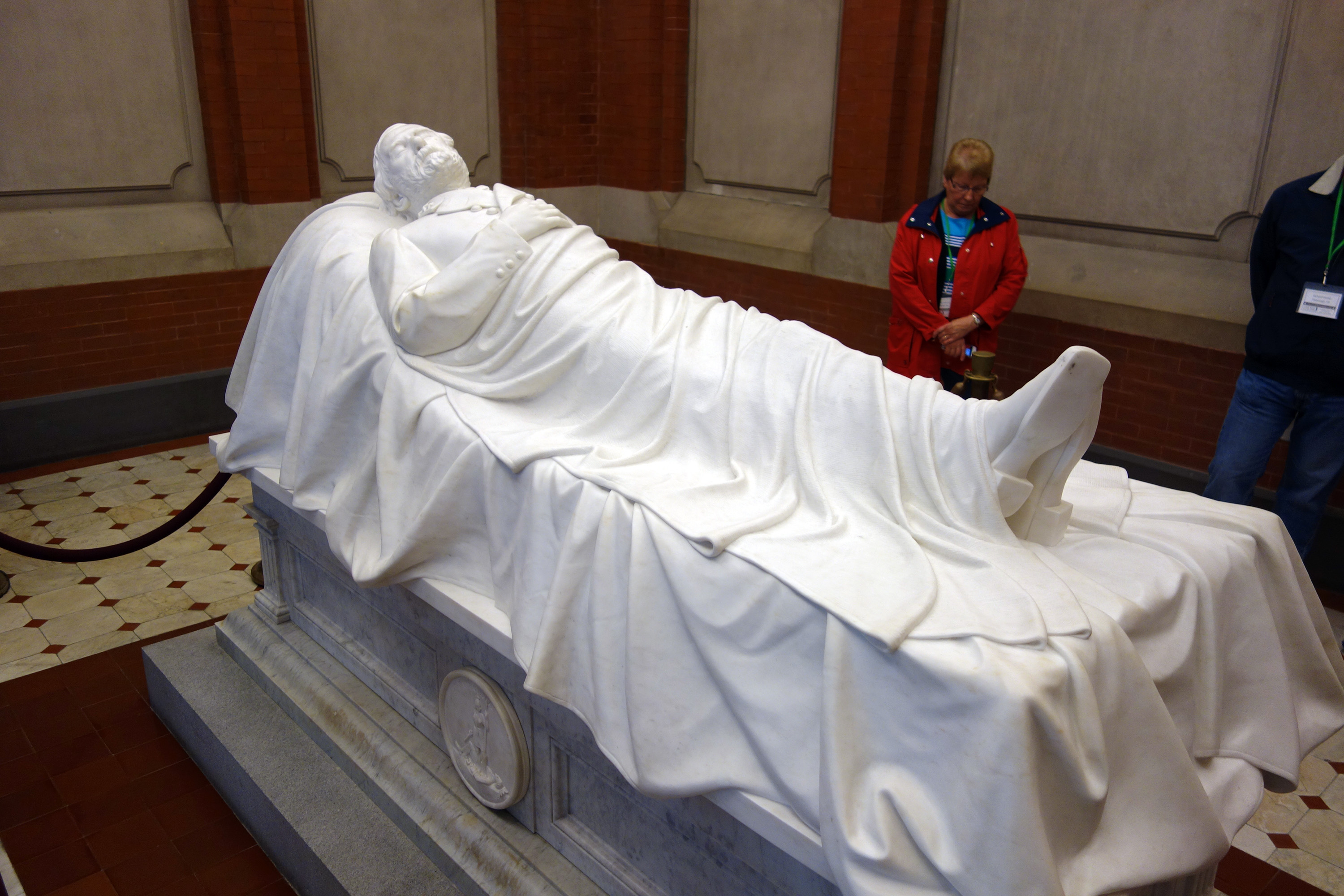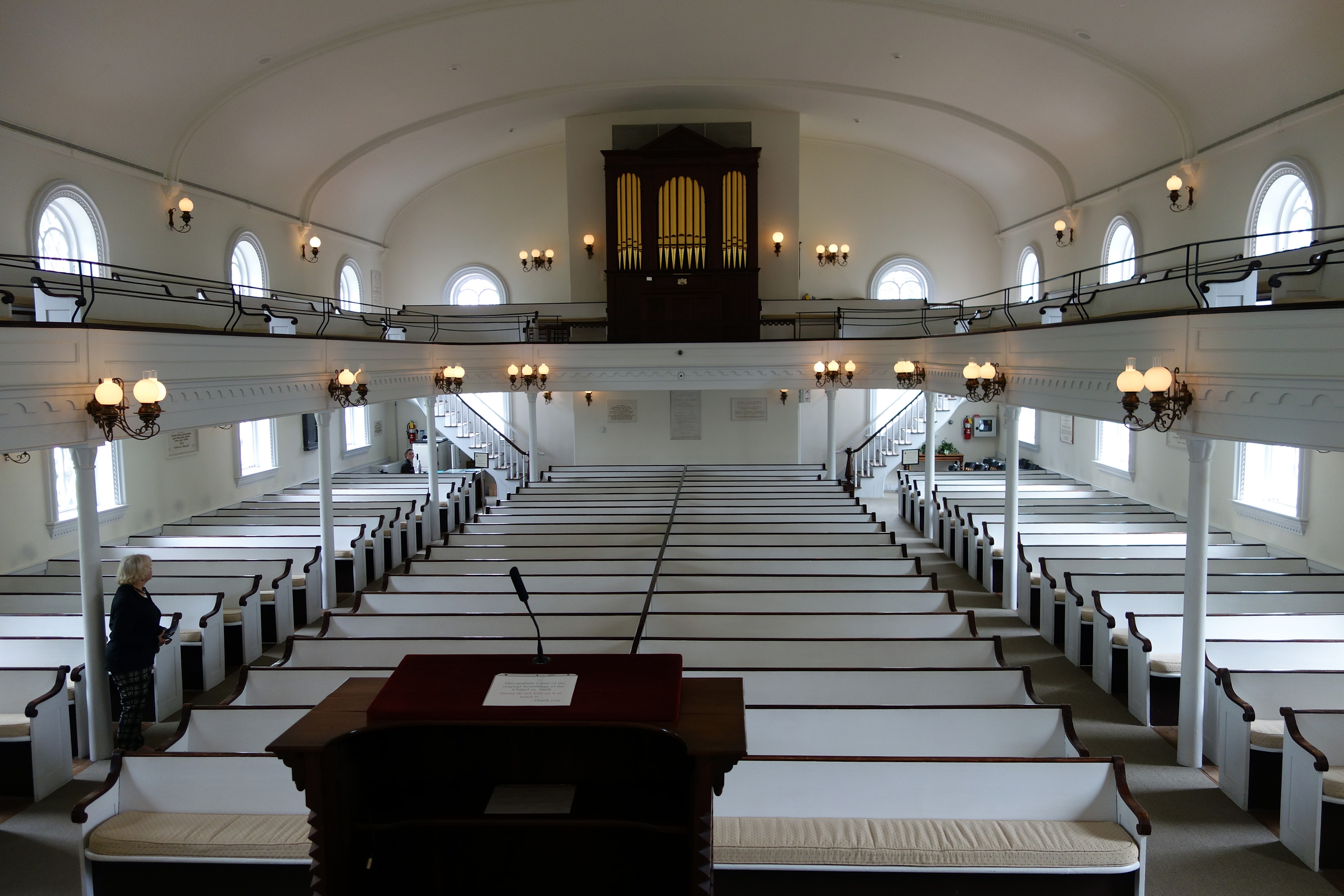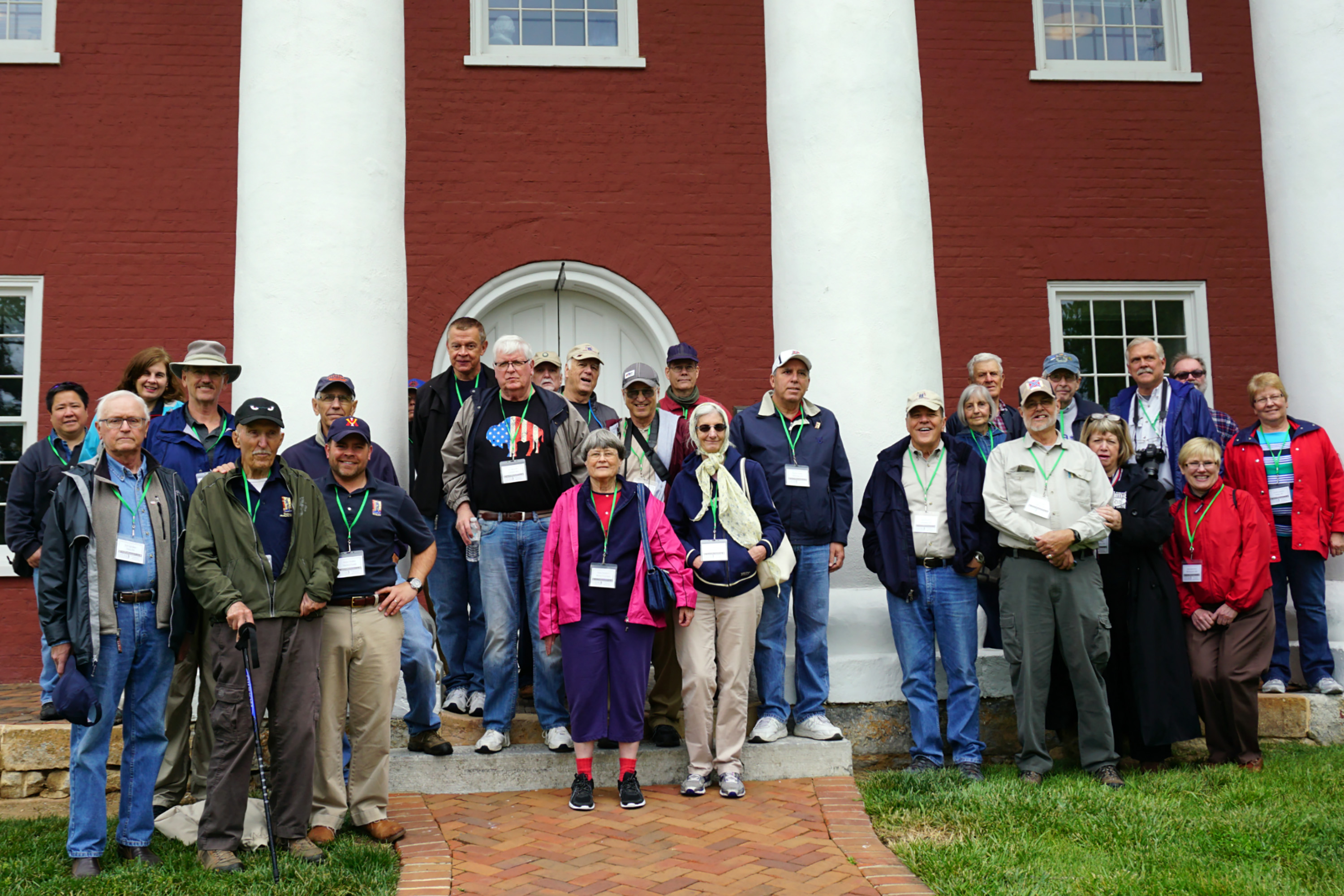 Lunch was at a modest Italian restaurant, Salerno. We had a tour of VMI led by Col. Keith Gibson. He showed us a few statues by Moses Ezekiel, who had been one of the cadets in the battle of New Market. We went into the open courtyard of the first barracks building. I thought the appearance was very reminiscent of a prison yard. We toured Jackson Memorial Hall and then the museum beneath. The highlights for me were the remains of Little Sorrel, even though poorly preserved, and Jackson's raincoat from Chancellorsville. One bullet hole was expertly repaired, but the one on the upper shoulder was prominently open--apparently they received word of his death partway through the repairs. They also had an impressive firearms collection donated by Henry M. Stewart, which had quite a few interesting revolver rifles. On the way home we passed by Jackson's Presbyterian church and stopped at his grave. His family plot with the original stones is still there, but duplicated a few yards away, around a big statue of the general.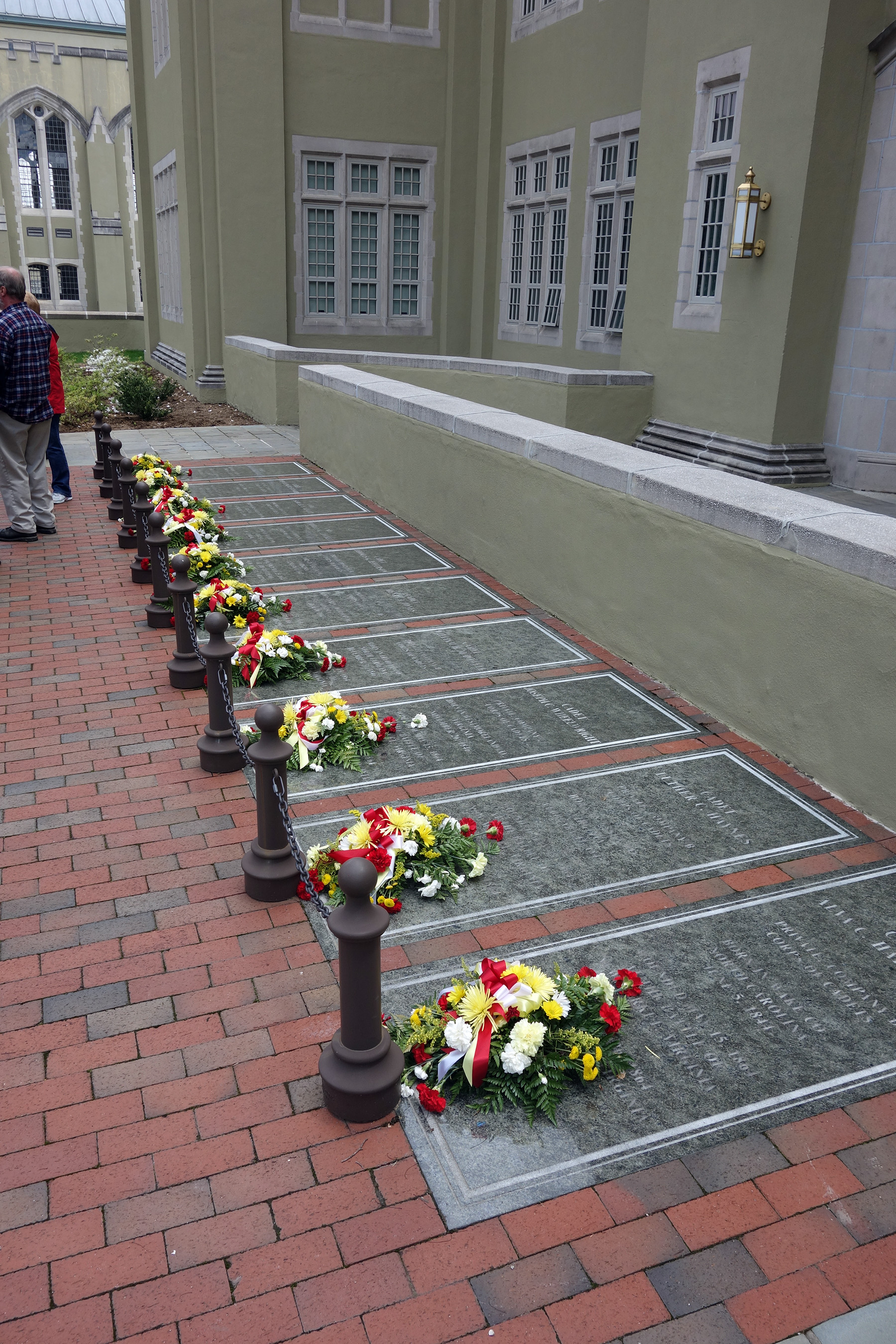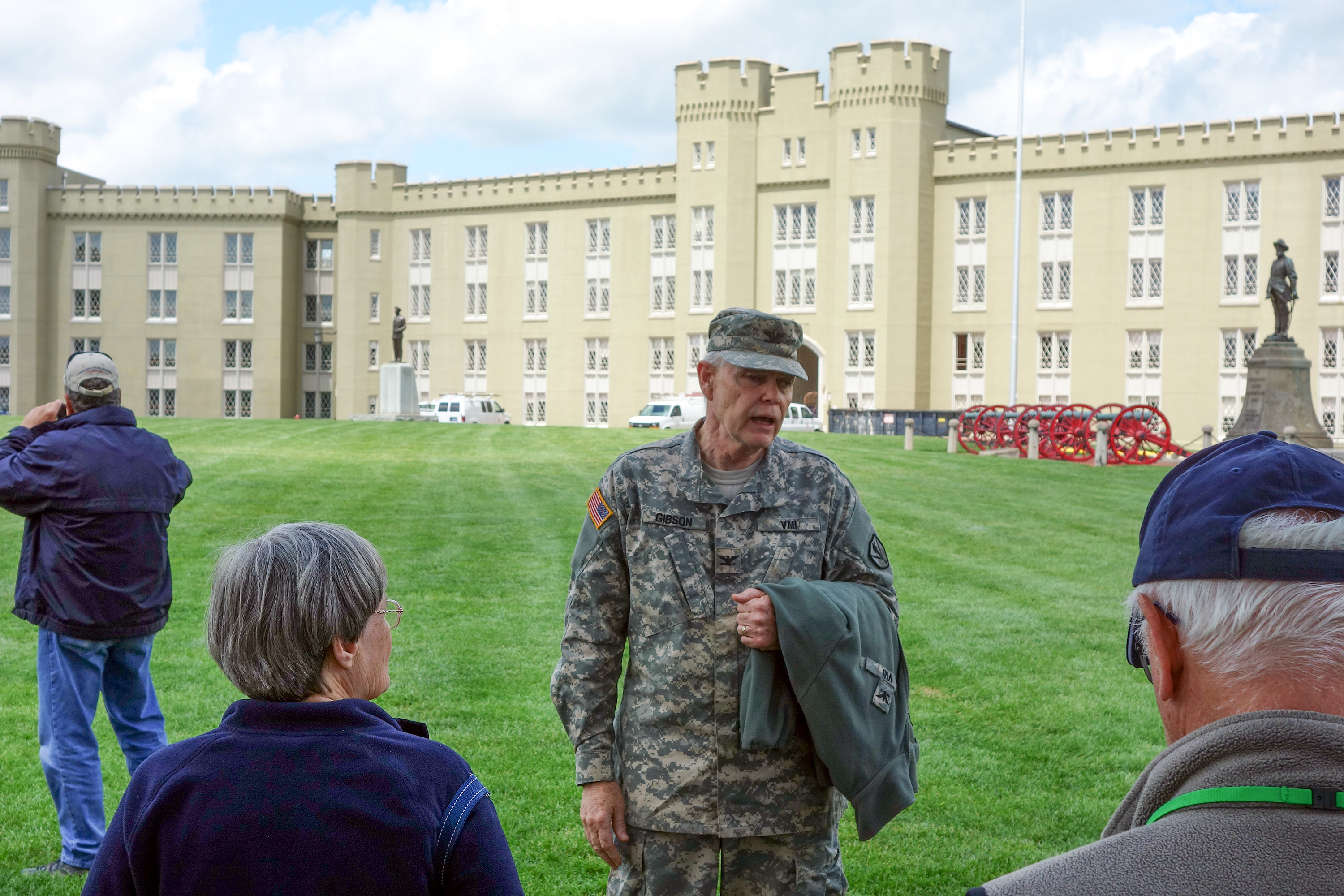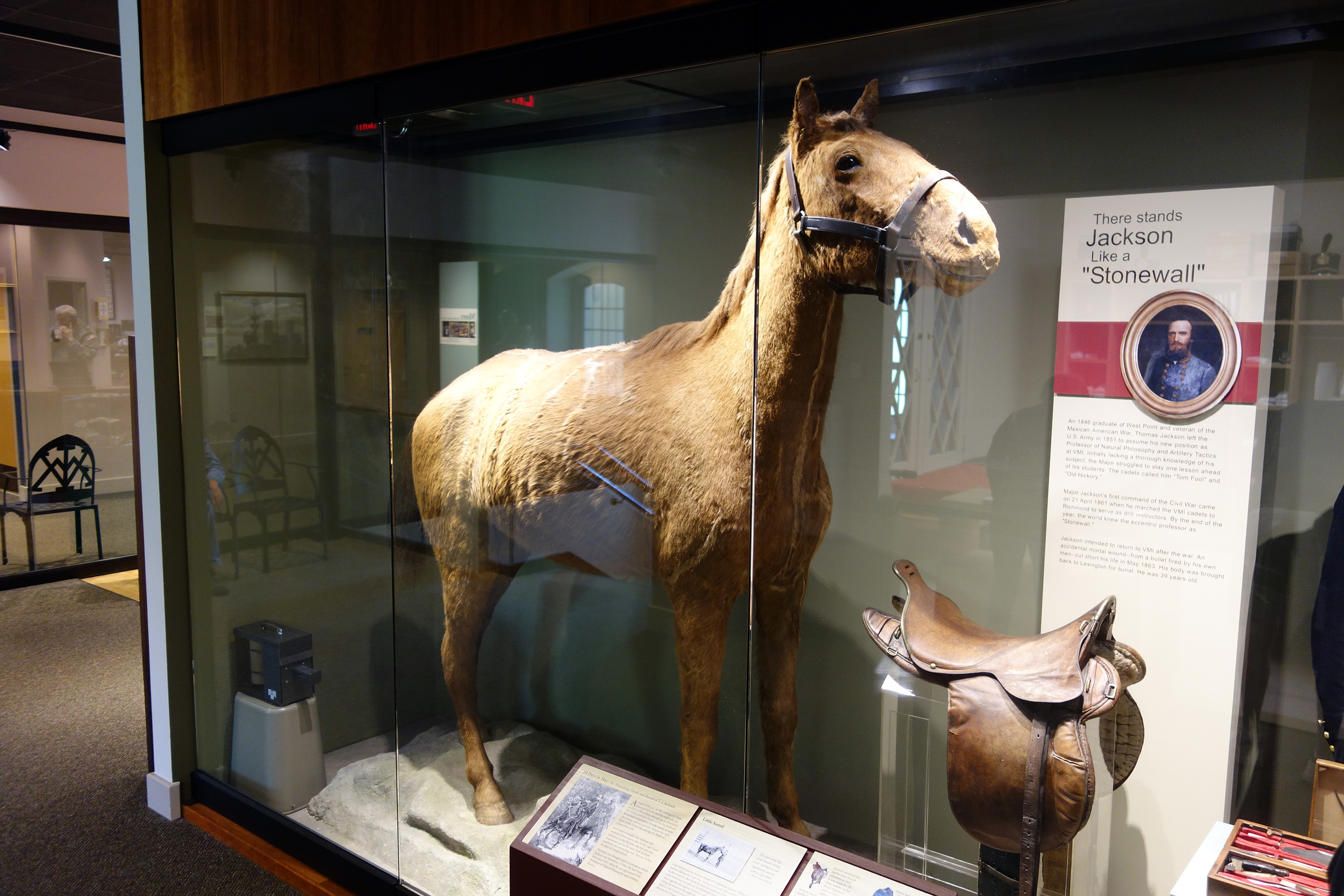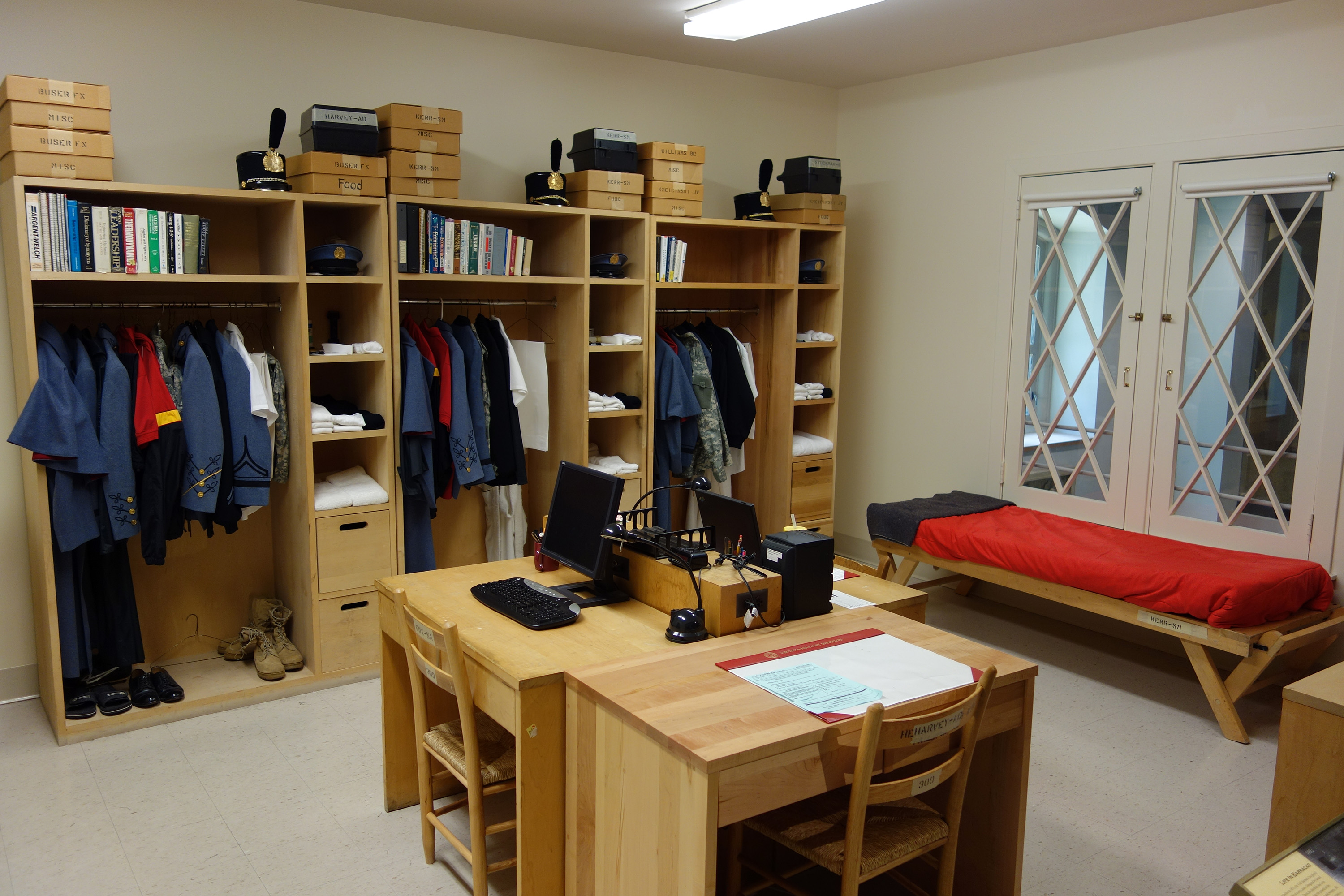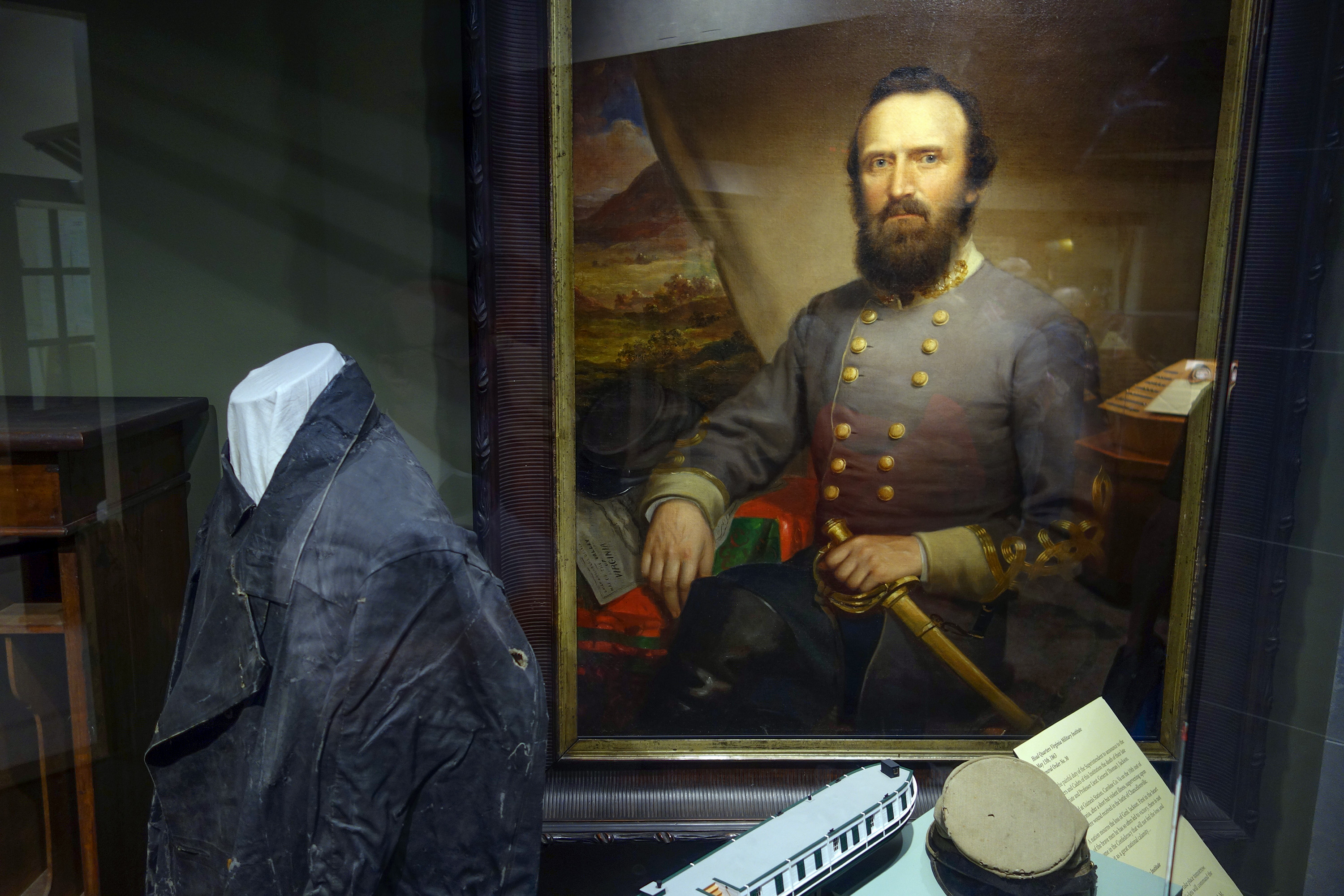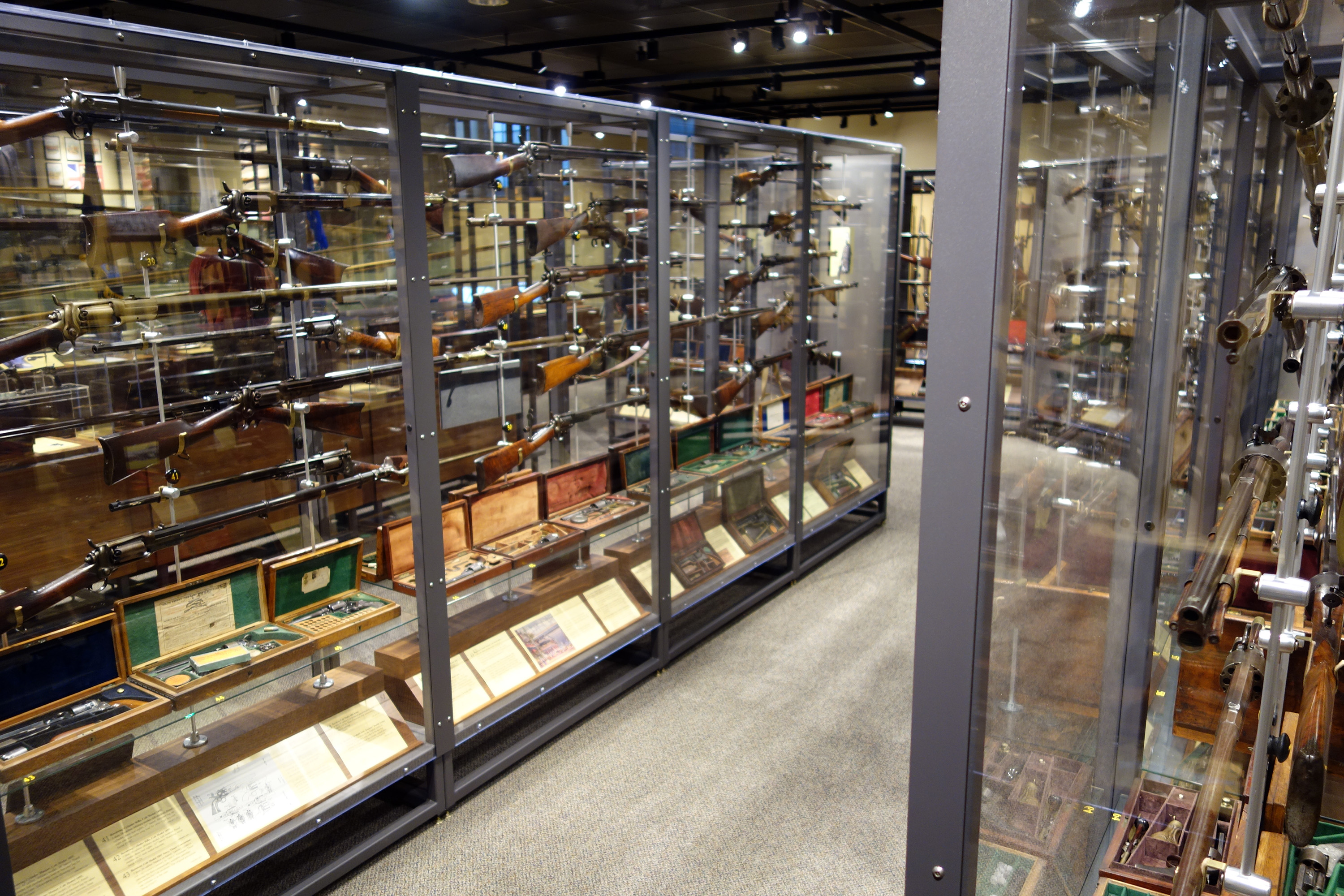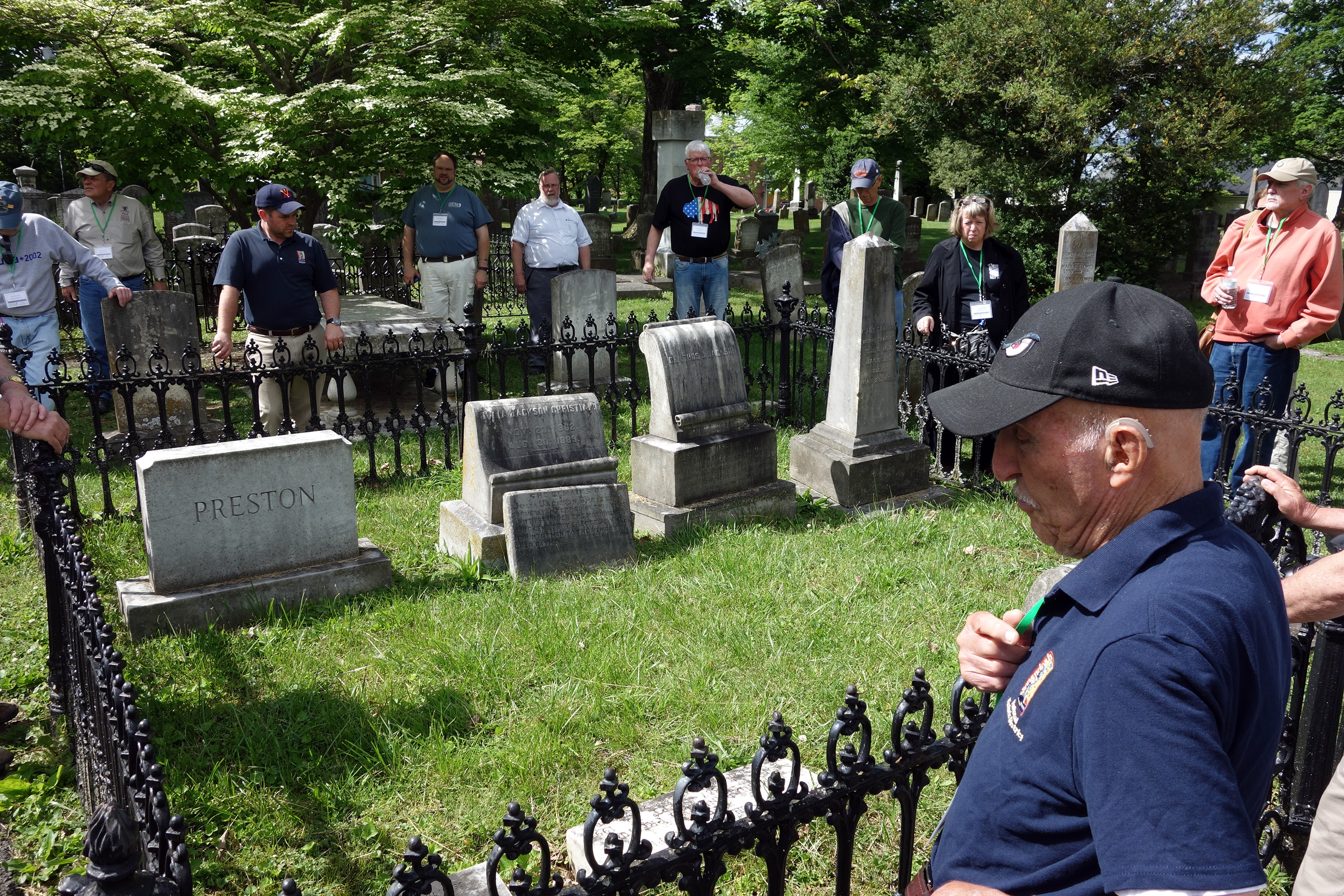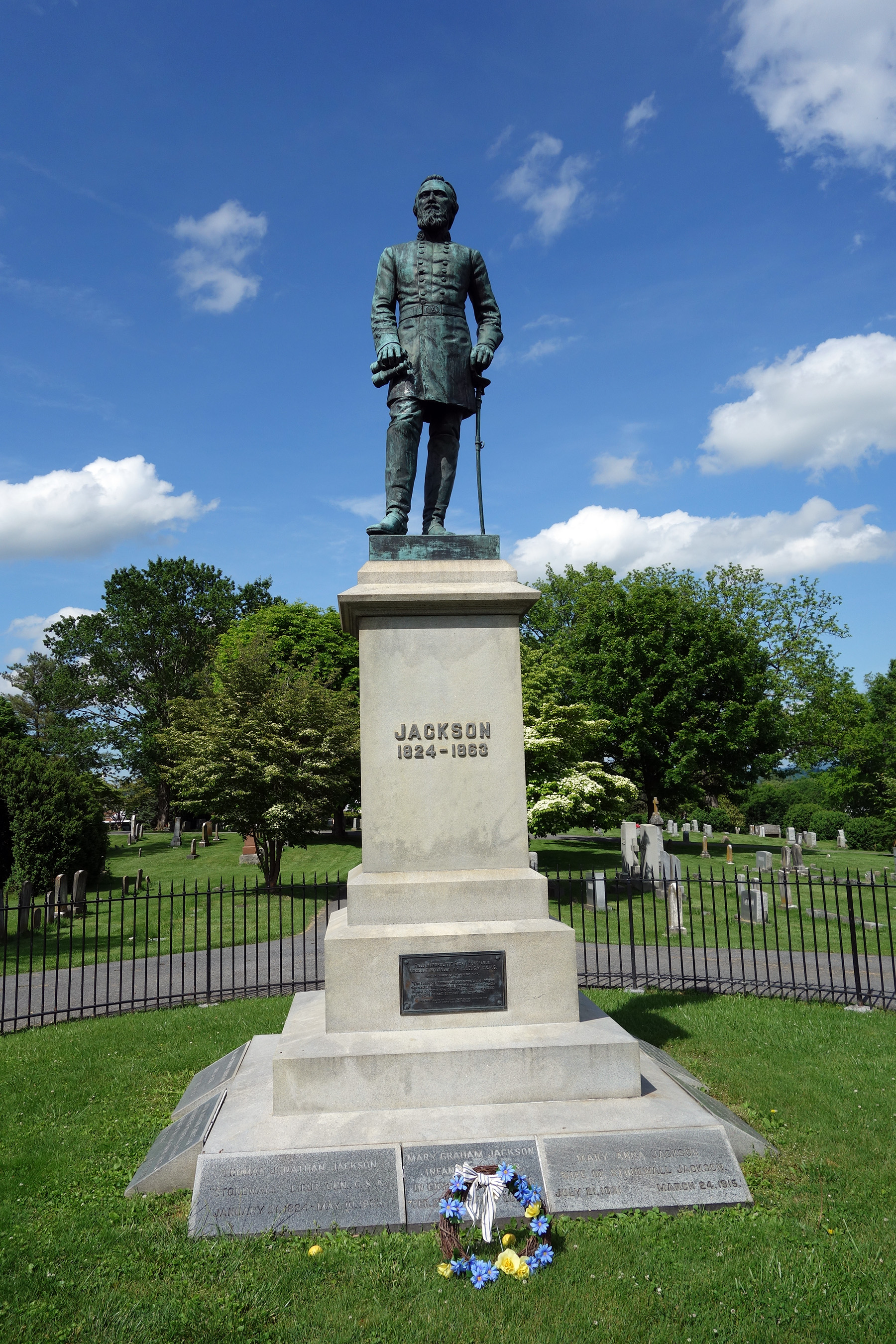 Friday, May 20 – Massanetta Springs Conference Center
Today was a conference in a local religious retreat center. First was Jerry Holsworth, speaking on Jackson in Winchester. This was ostensibly about what Lexington thought about Jackson, but it was an amiable and rambling series of unorganized anecdotes that I find impossible to summarize. He wandered around the audience in an elementary teacher sort of way that made me focus more on whether he was going to trip into my lap than on his content. One tidbit I recall is that Winchester has no places named after Jackson, believing that Lexington is the sole place that should be doing that.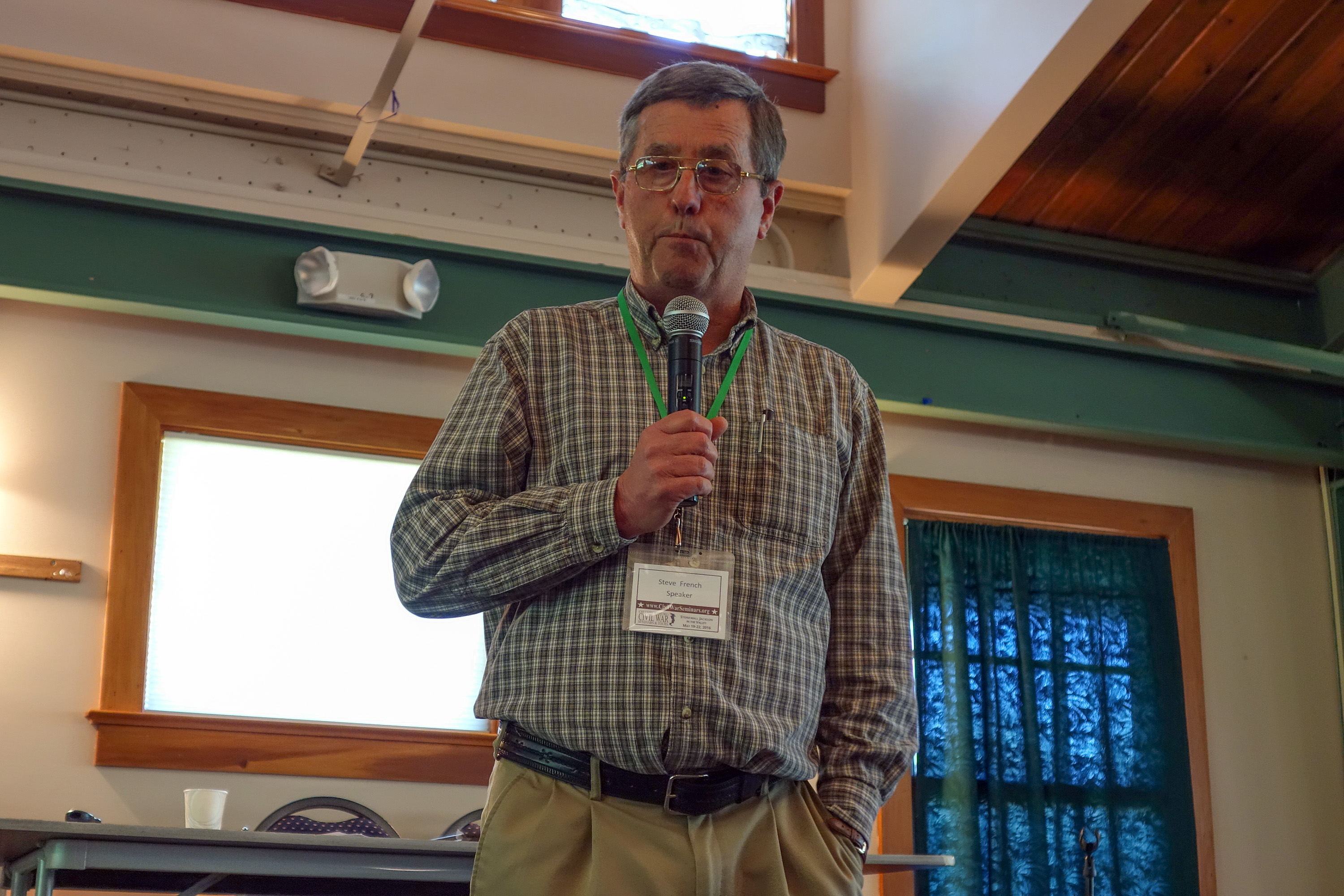 Steve French presented "Harper's Ferry to Falling Waters: Jackson in the Lower Valley, 1861." Steve talked about Jackson organizing the defenses of Harper's Ferry, meeting Little Sorrel, and the arrival of Joseph E. Johnston; plans for a black flag invasion of north; destruction of railroad bridges and locomotives in Martinsburg; and the battle of Falling Waters, aka Hoke's Run, July 2, 1861.
Panel on the Generalship of Jackson: Ted Alexander, Jeff Wert, Ed Bearss. Ted summarized the actions between Second Manassas and Antietam. Ed said that if it were not for the Valley Campaign, Richmond would have fallen, and compared Jackson to Oliver Cromwell. Jeff said that Jackson's greatness was his ability to impose his will. Like Patton, he just got things done. He was also impetuous in his zeal to kill Yankees, prompting a loss at Kernstown and almost at Cedar Mountain. Jeff recommended Gwynne's new book, Rebel Yell; Ed wryly said he had read too much about Jackson, but would check it out. There were brief discussions of Calvinism and the Romney Expedition. I asked whether the panel could find anything good to say about Jackson in the Seven Days and no one could. Ed revealed that he rode a horse bare back the day before he joined the Marines and it wore off all his inner thigh hair; fatigue was a major reason for Jackson's performance.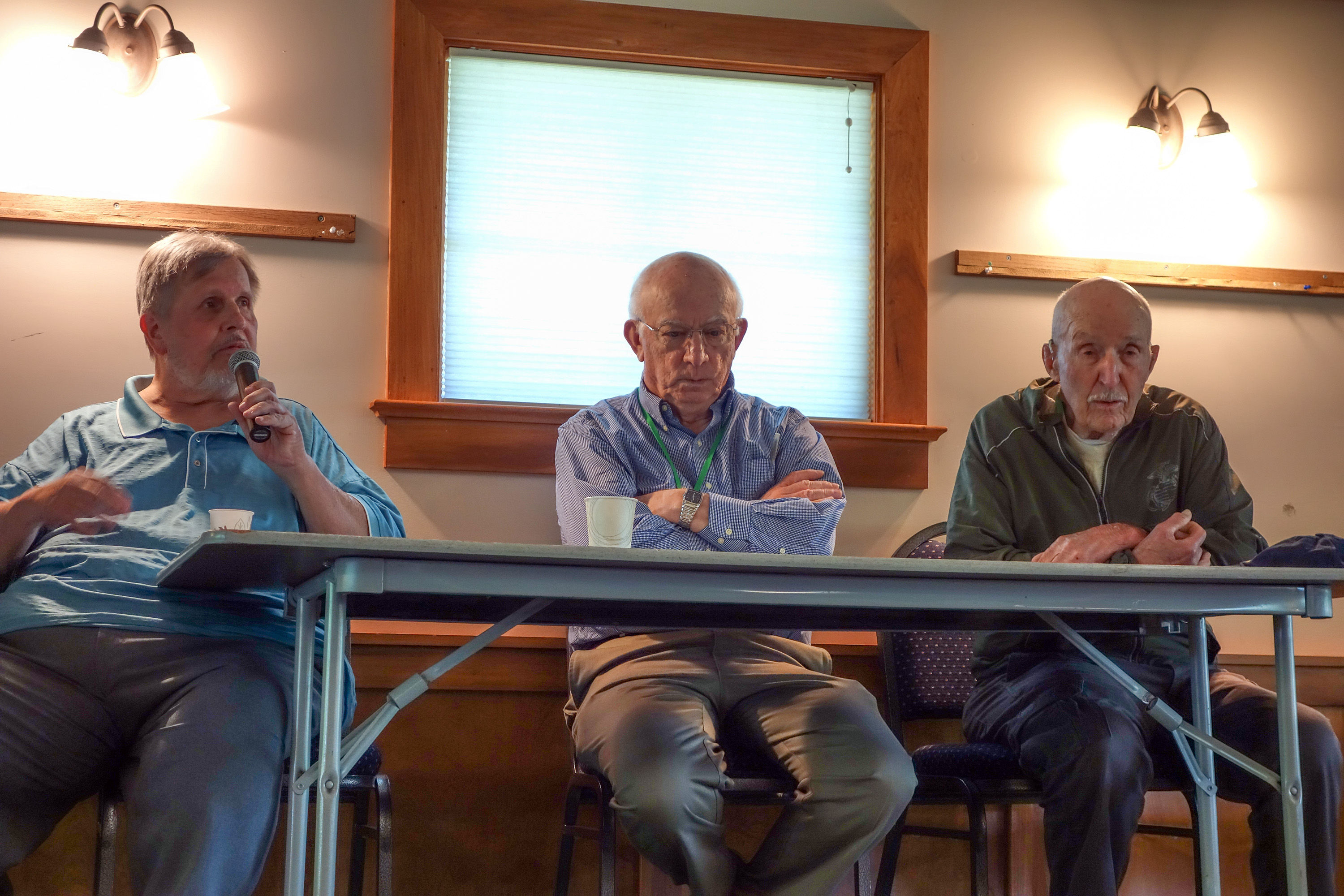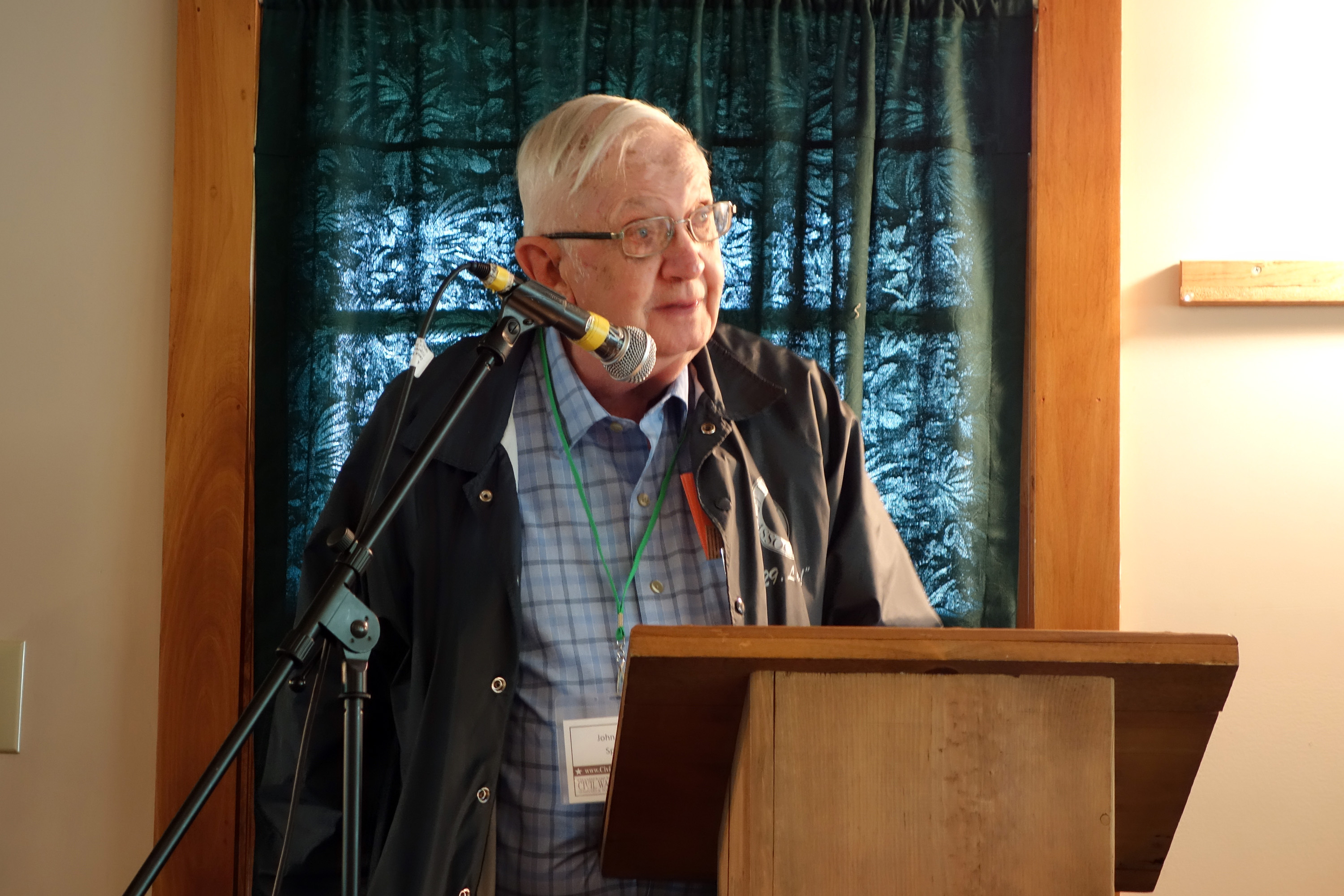 Lunch was in the conference center dining room. Janice Hannah did a brief presentation about the SVBF. John Schildt spoke on "Jackson and the Preachers." This was a discussion of the general's religiosity, his church attendance, and brief descriptions of three of his pastors in Lexington. He concluded with a mention of R. L. Dabney, Stonewall's chief of staff, and Beverly Lacy, chaplain of the Second Corps.
Daniel Toomey spoke on "Maryland Whip Maryland." (Daniel is a noted railroad historian, responsible for the excellent B&O museum exhibit I saw a few years ago in Baltimore.) This was a detailed account of the battle of Front Royal, in which the Union 1st Maryland fought the Confederate 1st Maryland. Col. Kenly of the US held off Jackson for a full day, despite being outnumbered 17 to 1. An interesting incident was that Jackson halted his entire army to bring his Maryland regiment up front to fight their US counterparts. Gary Ecelbarger, in the Q&A, opined that this delay was not directly related to moving the Marylanders, but instead was Stonewall waiting for intel. Daniel concluded with following up key players after the battle.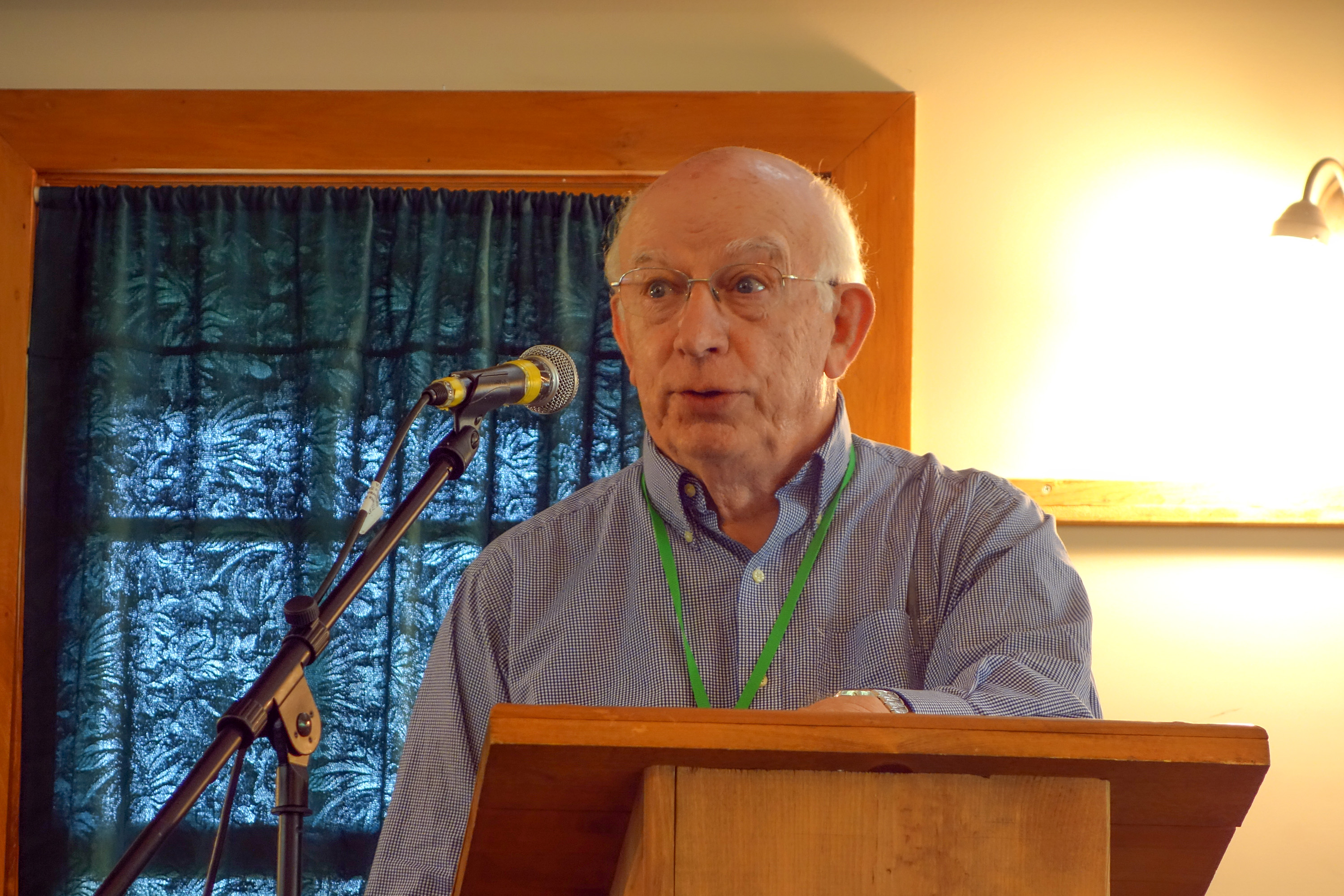 Jeff Wert presented "Stonewall's Lieutenants." This was a series of very brief capsule biographies of generals and colonels. Seven of his nine generals were West Pointers. A way to tell whether he liked one was whether that officer was a disciplinarian. Richard Ewell was his most capable general, Turner Ashby his best colonel. Longstreet had a much better eye for staff talent. Henry Kyd Douglas walked to the post office every day with a rose in his mouth.
After dinner, Gary Ecelbarger spoke on "Abe Lincoln's Blunder," about the president's intervention in the Valley Campaign. I will have to say that this was one of the best Civil War presentations I have ever seen. Gary took us through a series of telegrams going back-and-forth on May 24, 1862, helping us to understand the sequence of events that led Lincoln to make a drastic change in strategy within the space of a few minutes, reassigning McDowell's corps to go to the Valley instead of the Peninsula. This had a big impact because McDowell was scheduled to arrive on McClellan's right flank with 38,000 men and 80 cannons. The common interpretation is that Lincoln wanted to catch Stonewall Jackson, but these telegrams indicate that because of a misunderstanding, Lincoln was actually concerned that the Nathaniel Banks was in imminent danger of capture. The misunderstanding was identifying a turnpike referred to by Col. Miles, leaving Lincoln to believe that Banks was cut off by the advancing Confederates, when in fact they were on a converging, somewhat parallel turnpike to the east. And Banks was actually in no danger, reaching Winchester with only a tiny loss of his wagon train. So this was obviously a blunder on Lincoln's part, but given this background it is certainly more understandable, if not excusable. Very thought provoking.
Finally, Ted announced the new Edwin C. Bearss Award, which goes to someone doing good research in the eastern theater, reimbursing them up to $1000 for their expenses. The first winner was Dennis Frye, and Ed Bearss gave an introductory speech talking about Dennis's background, currently at Harpers Ferry, explaining that the award was given for both his preservation and public history/education achievements.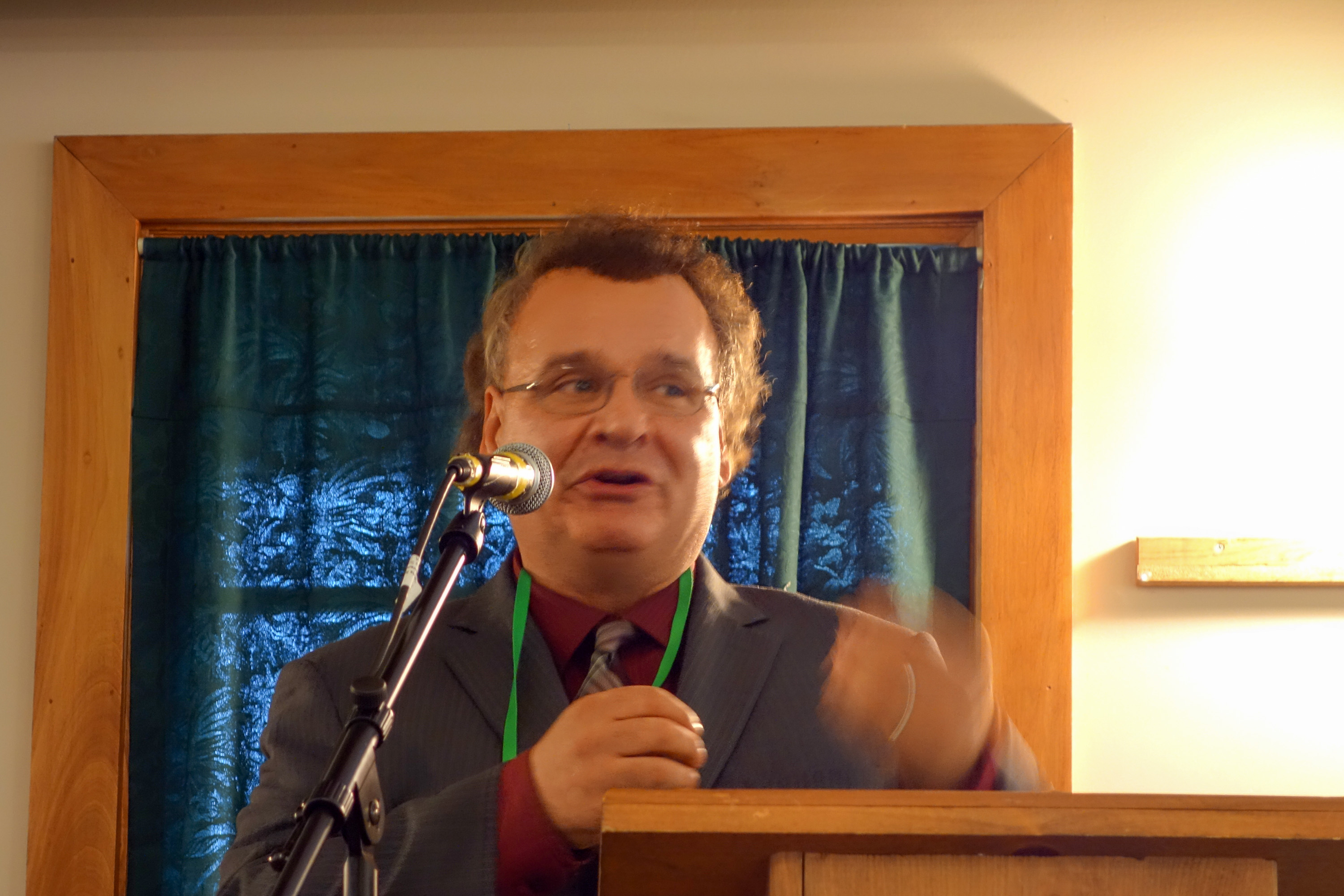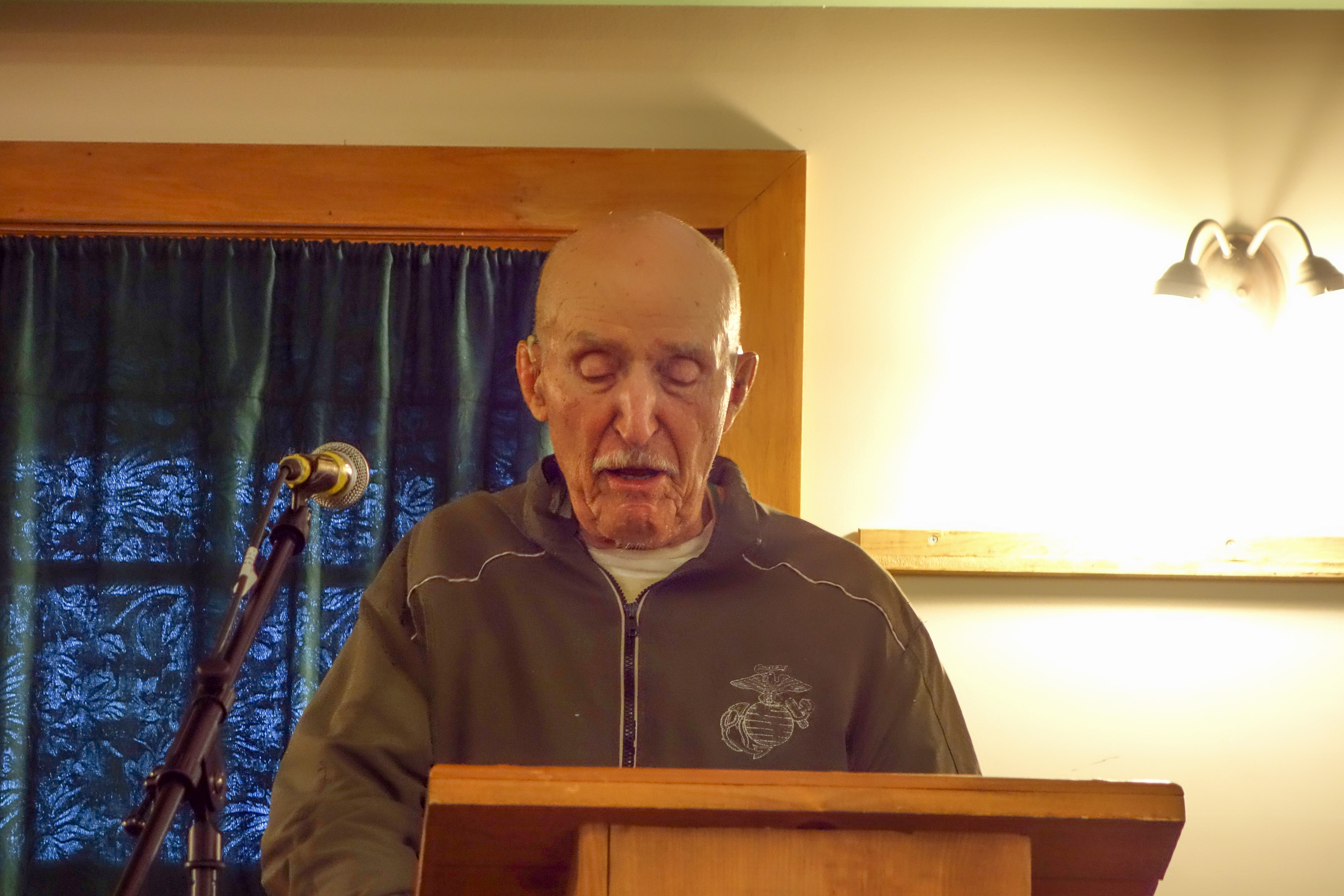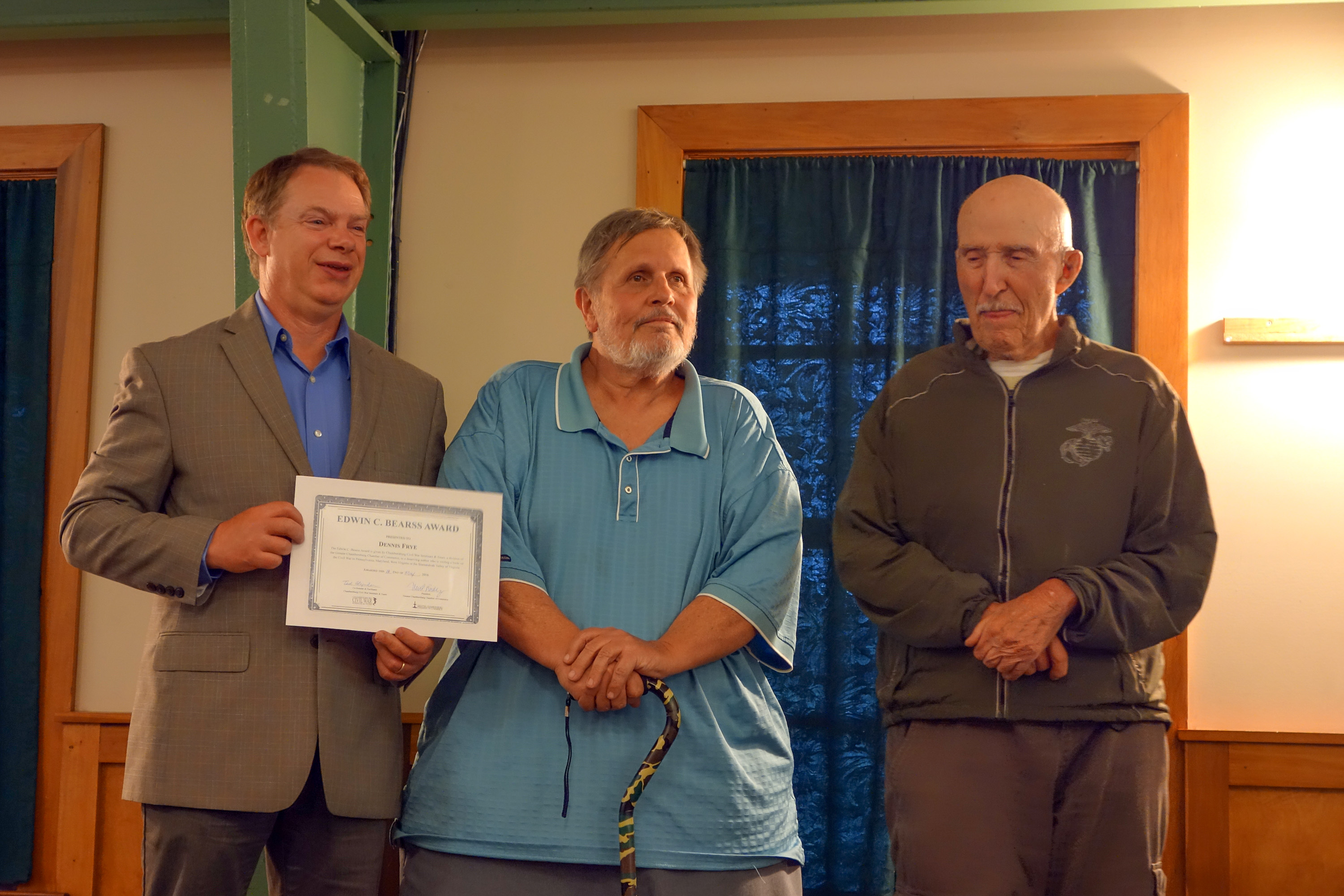 Saturday, May 21 – Southern End of Campaign
Today was the first of two days entirely in the bus. All of us were concerned about a dreadful weather forecast, but I am happy to say that after a little drizzle on the drive out, we had heavily overcast skies but pleasant-enough weather all day. Today we did the southern half of the campaign, even though some of the battles were out of date sequence. Tomorrow we will go north. We started with the events leading up to the battle of McDowell. We drove through Staunton and headed west, stopping first at a roadside park called West View, where the Confederate troops under Edward Allegheny Johnson camped after abandoning Camp Allegheny. (Ed decided that the weather was too iffy to actually go all the way to Camp Allegheny.) From here, the logical way to go to follow Stonewall Jackson was Buffalo Gap, but Ed decided that the bus would probably get stuck, so we turned north on Back Road and then west again on US 250 to climb over North Mountain. We drove through Churchville, the home of Jedediah Hotchkiss.
Our next stop was Camp Edward Johnson, on the crest of Shenandoah Mountain, and the signs said that it was also called Mountain House. It was a federal camp that was abandoned in the face of Stonewall Jackson's advance. This highway rest stop also featured a interpretive trail to reach Confederate breastworks, going up a rather steep slope, but we did not have time to hike it. In the small village of McDowell, we had a good view of Sitlington Hill, where the primary battle action occurred, and Ed gave us a blow-by-blow description of the battle. It is apparently possible to hike up the hill, but we did not have time to do that. We also did not have time (or climbing energy, I guess) to stop at the cemetery, which Ed had planned to do. Lunch was at a restaurant in Staunton.
We drove back north to Harrisonburg and visited the small park that commemorates the minor battle there on June 6, 1862, and features a stone monument marking the death of Turner Ashby. Then we drove down the Port Republic Road to Cross Keys. There we stopped at the Widow Pence farm, where we were met by the owner (and conference attendee) Irv Hess and his wife Nancy, both of whom are friends of mine from previous tours. Nancy showed us a DVD video about the history of the farm and the battle. Irv described the battle action on a large three-dimensional topographic map, which was pretty neat. Then we walked across a hayfield, dodging cow pies, to the Virginia worm fence behind which Trimble's brigade hid while the 8th New York approached. A few Marine Corps reenactors were coincidentally on hand and they graciously simulated the approach of the New Yorkers as they became gradually visible moving up the rise. The real New Yorkers were met by numerous musket volleys and suffered severe casualties.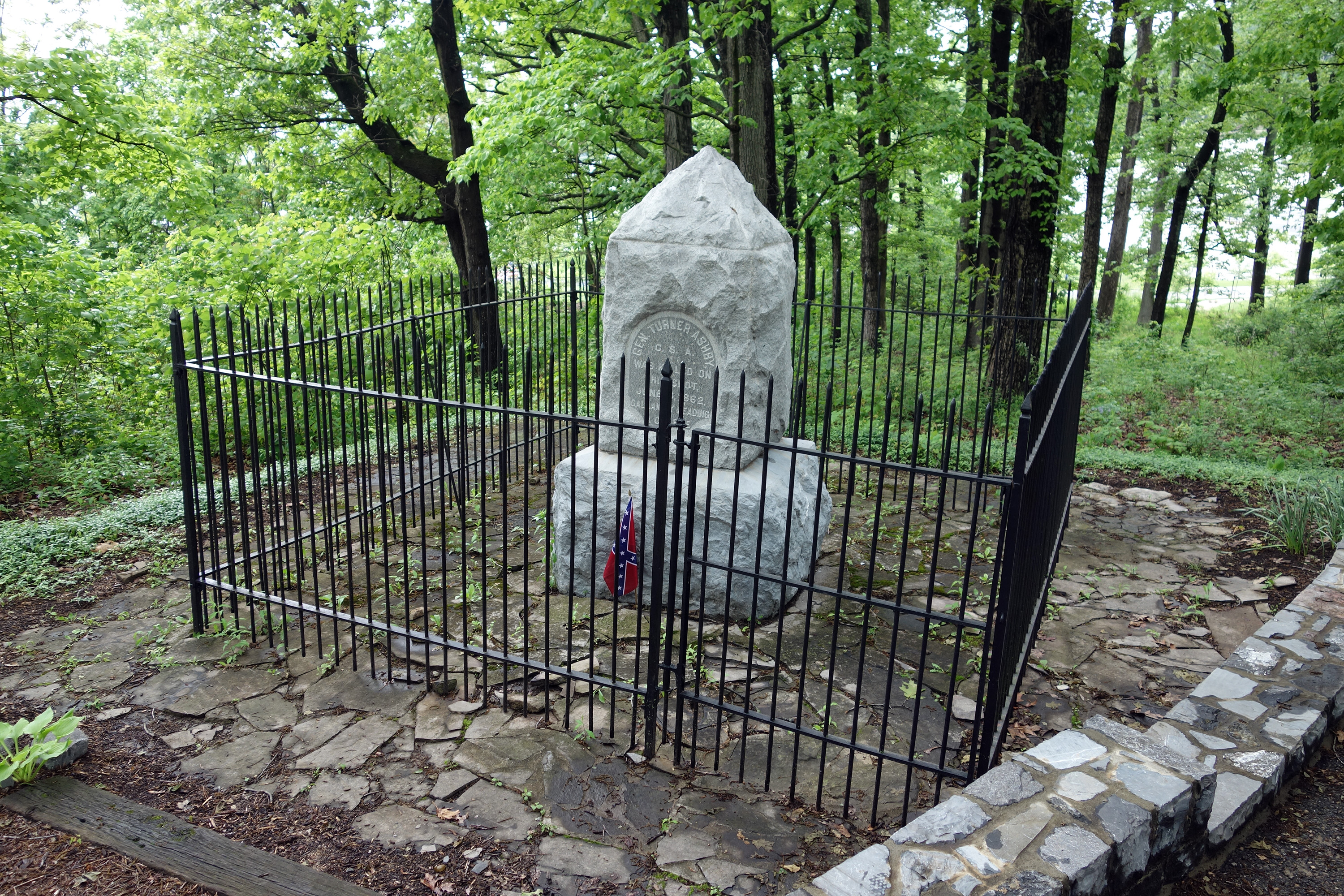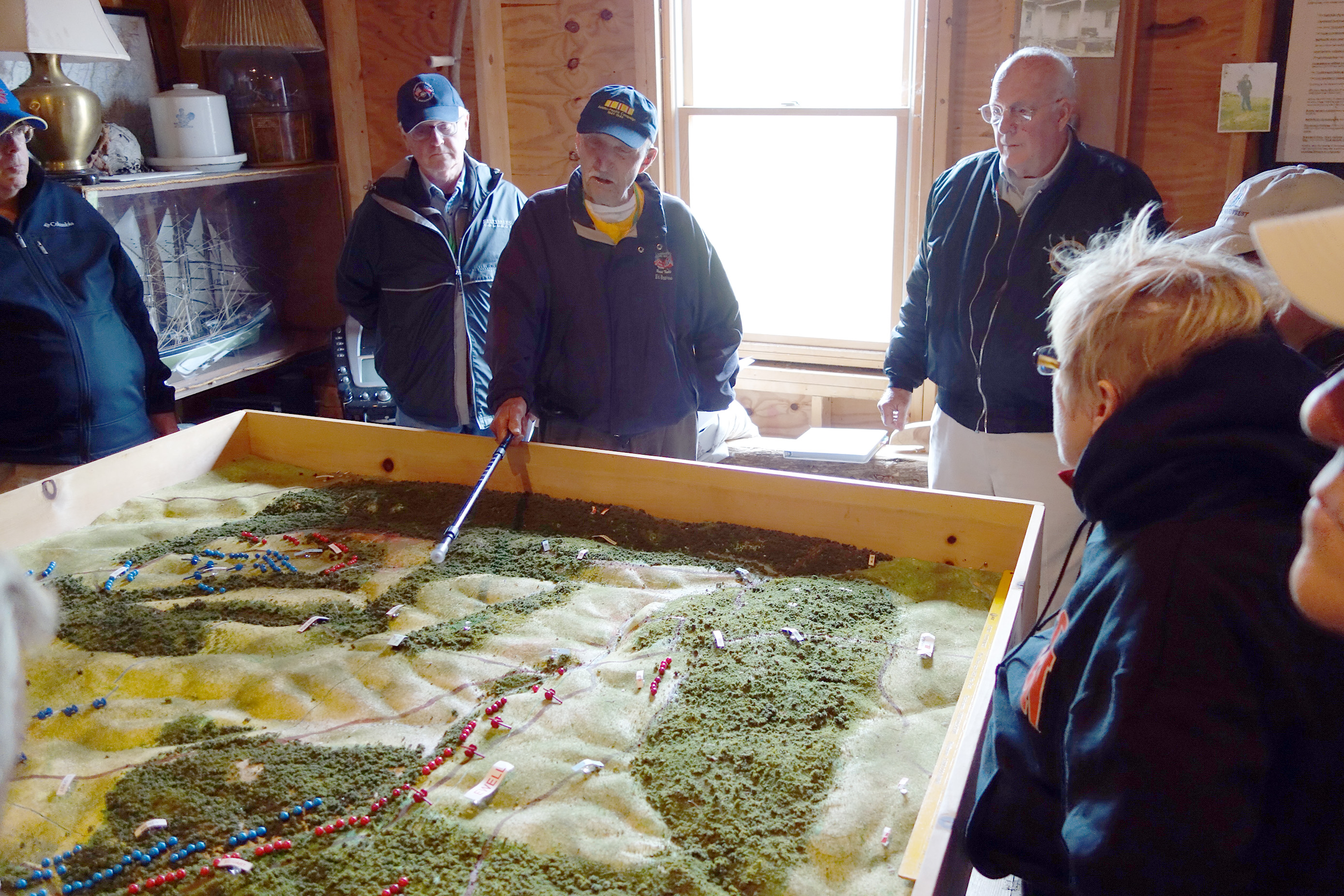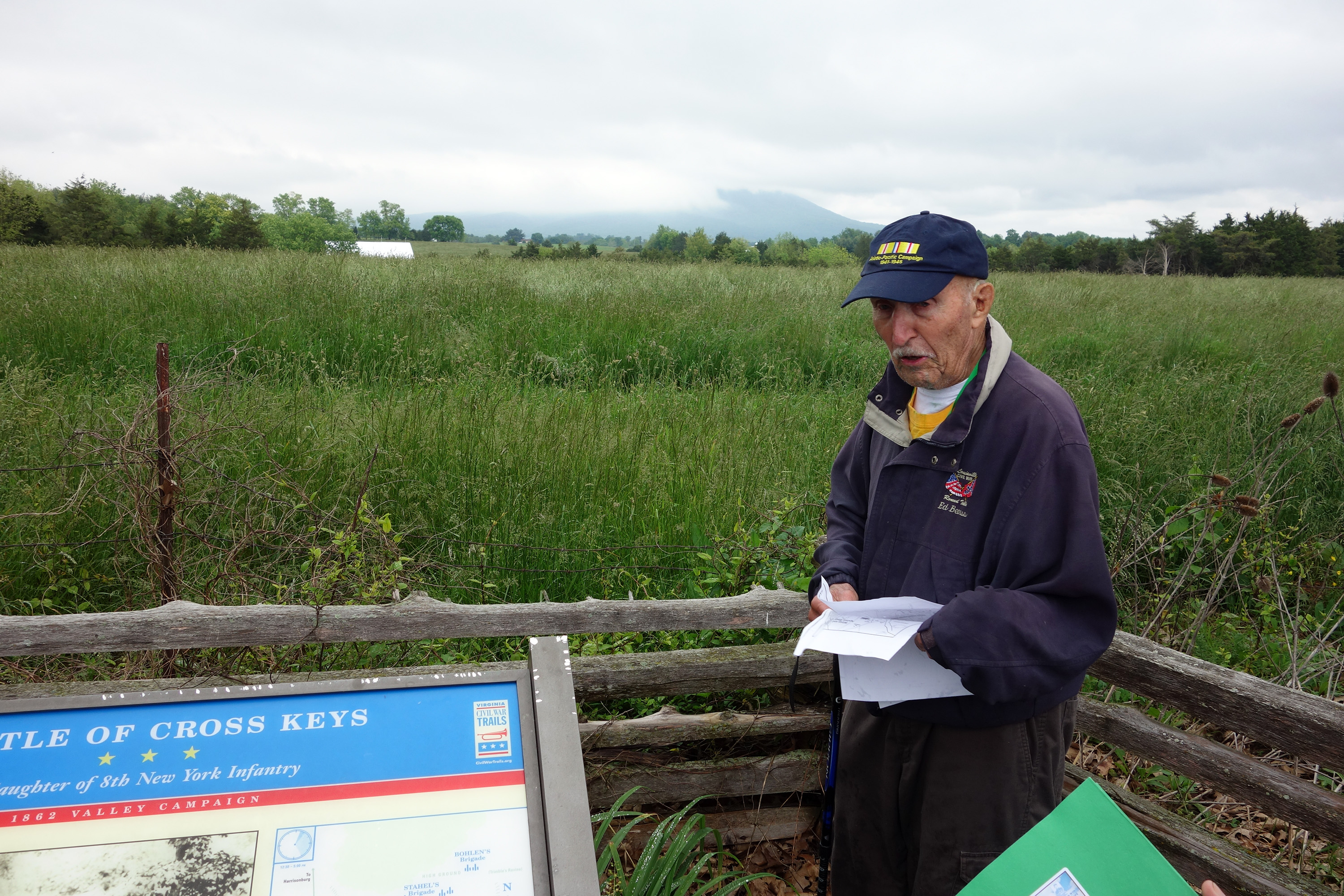 Our final stops were in Port Republic. We visited the Frank Kemper house, which is now a rather elaborate small museum, and which still features a photograph of Turner Ashby displayed in a casket, because his body stopped there on the way to his burial. We walked to the North River bridge site at the end of Main Street, where Ed described Stonewall Jackson's near capture by Union cavalry the day before the battle. And we finished up at the Coaling, a hill that affords a panoramic view of the battlefield, and Ed described the battle action. Dinner was on our own tonight and I had a hamburger at a local bar/restaurant within walking distance of the hotel. Not good enough to mention its name.
Sunday, May 22 – Northern End of Campaign
Today we encountered the poor weather that we had expected yesterday, so we did not have as many stops or interesting photographic opportunities. We drove to New Market as Ed reminisced about hitchhiking there in 1941 and some local boys tricked him into eating a persimmon. We drove on US 211 over New Market Gap, the only way across Massenutten Mountain for its 55 mile length. The panoramic view we had hoped for was covered with fog. We paused briefly at the strategic White House Bridge, and then drove north through the Luray Valley where Ed and Jeff provided commentary that included the 1864 campaign, so it got a little confusing. This sub-valley is more rugged and narrower than the main part of the Valley, so there is little agriculture. We drove on Rocky Lane to Browntown Road, which is the 19th century road. In the town of Front Royal, Jeff pointed out Warren Rifles museum on Chester Street, which he described as being very non-politically correct, but recommended for some unique items. We passed by Richardson's Hill where the Union forces camped and Rose Hill, where two of Mosby's Raiders were hanged in 1864. We attempted to pass through a narrow railroad bridge over crossing, but our bus driver shied, so we walked through to see the remains of the bridge across the South Fork of the Shenandoah River, which played a key part in the battle.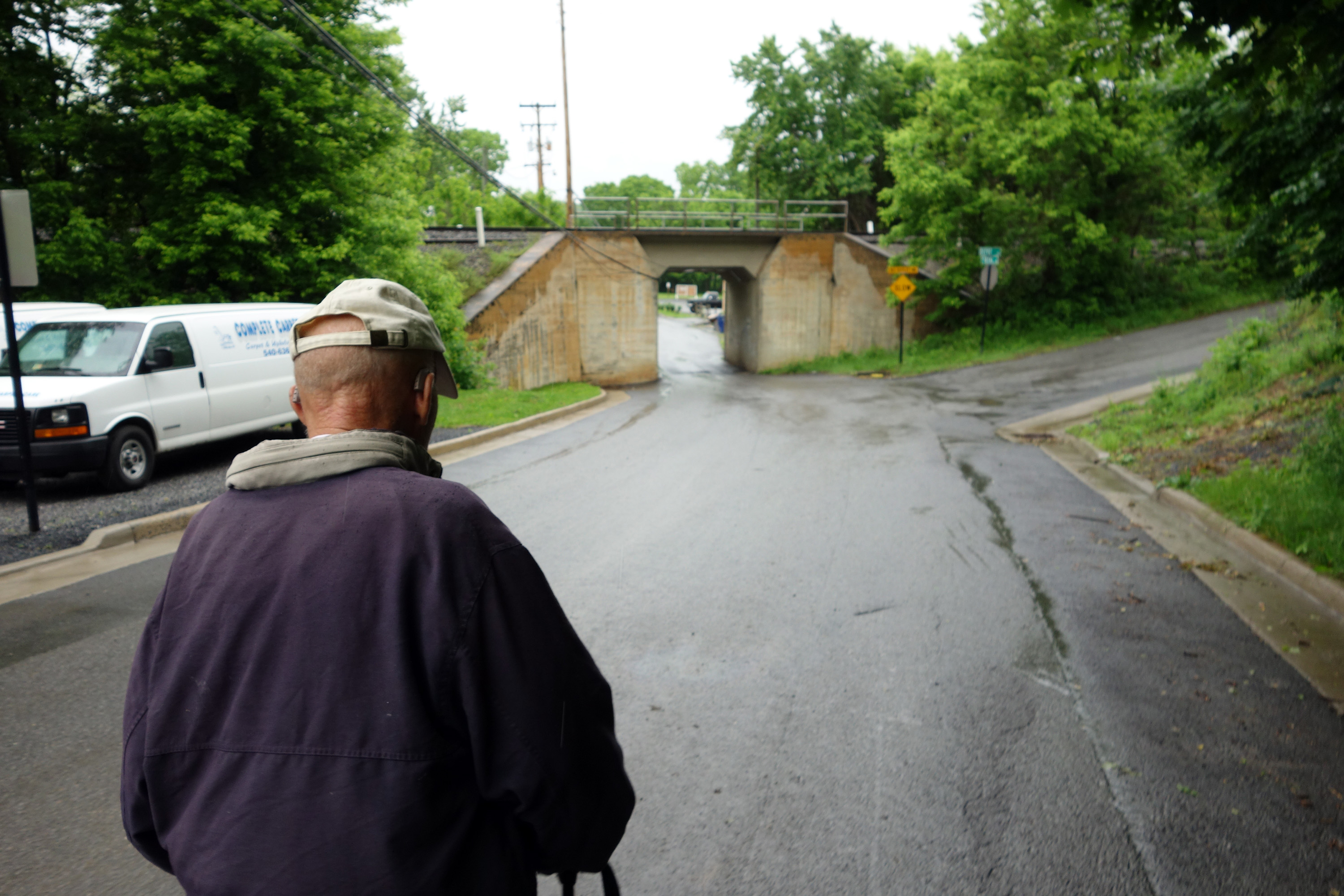 Just north, in Cedarville, we stopped to discuss Col. Kenly's defense, a small battle in which Stonewall Jackson personally led a charge of 250 and captured Kenly and 800 of his men. Along the way we had a spirited argument between bus passenger Dorothy and Ed about the value of Newt Gingrich's history career; Dorothy, from Atlanta, defended new in his role as a history professor, whereas Ed seems familiar only with his novelizations, which he called "made up history." This subject came up in the context of Nathaniel Banks, the Union general who had formerly been the speaker of the House of Representatives, and Ed compared him to Nancy Pelosi and "that fellow from Georgia." We turned on Reliance Road and headed toward Middletown, discussing Jackson's pursuit of Banks to Winchester, and also had a brief discussion of Phil Sheridan in the 1864 battle of Cedar Creek. Jeff offered an opinion that countered Gary Ecelbarger's from Friday night, saying that he sympathized with Lincoln's requirement for no-excuses defense of Washington DC.
In Winchester, we got out at Bowers Hill in the rain, which is not a particularly useful stop because the battlefield has been completely lost to development, so there was nothing to see between the raindrops. Here Ed described Richard Taylor's attack. Then we drove to the vicinity of Camp Hill, to describe Trimble's attack. Lunch was at the Golden Corral, a restaurant I have been taken to to three or four times and never really liked very much. We drove to Kernstown, at Opequon Church, and got a rainy view of Prichard's Hill, and then to Sand Ridge, which is where the main part of the 1862 battle was fought. At the property called Rose Hill, we had hoped to climb the hill to see the famous stone wall, but the property owner put up a big fuss when our bus drove up. Our final stop in Kernstown was the Prichard House, which has developed into a nice little museum, and I had a great time leafing through an original copy of the Official Records Atlas (not the common reduced-size reprint). In Winchester, we stopped at the Stonewall Jackson Headquarters Museum, which I had visited in 2009, but they have made a number of improvements, and our tour guide, Brian, did a really outstanding job. Well worth visiting. (I was actually somewhat relieved that we did not visit the museum in the courthouse yet again. I have been there three or four times and once is enough. We also did not take a traditional walking tour of downtown, and I don't know whether that was because of the weather or the time.)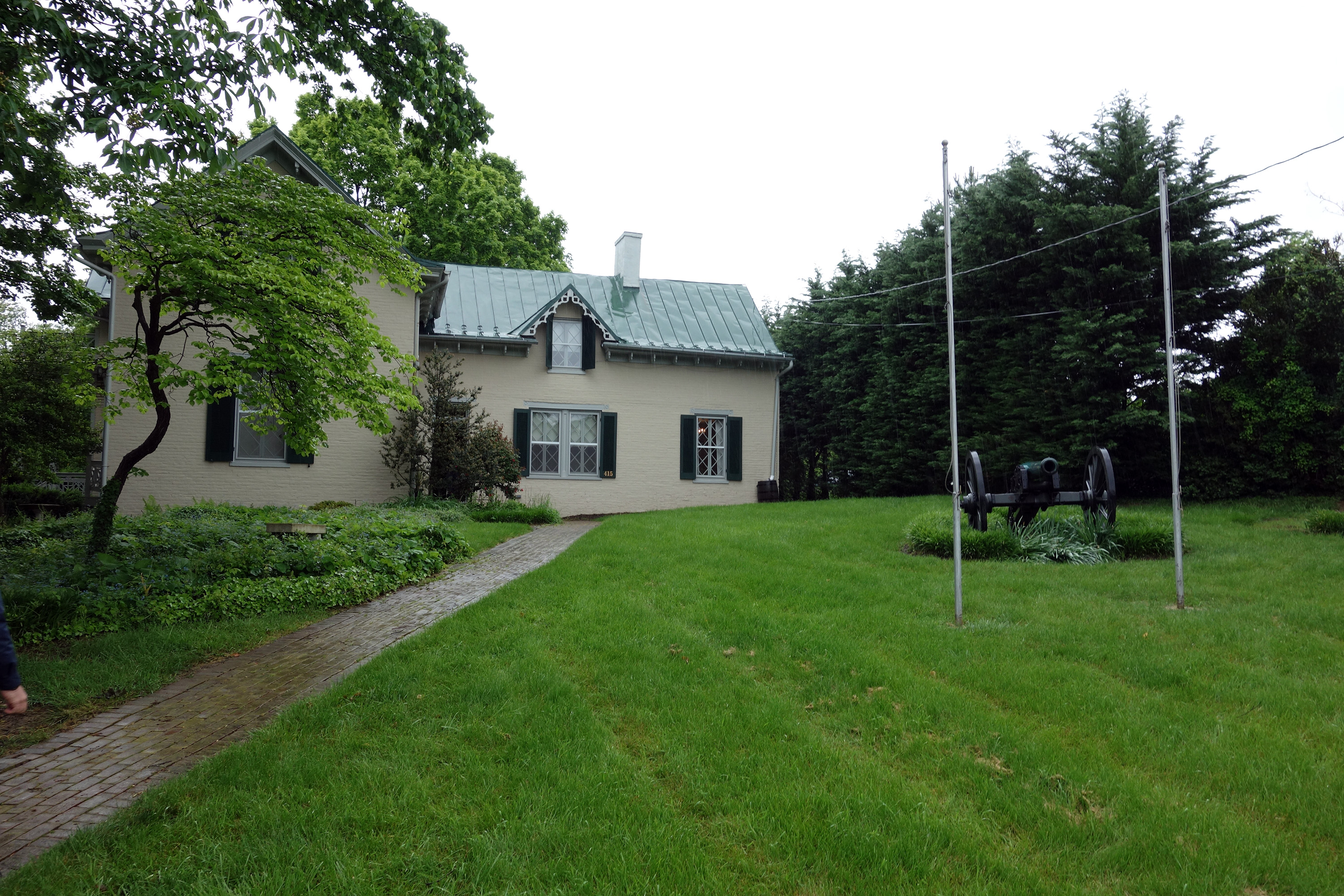 After we returned from the bus tour, I had the honor of driving Ed Bearss to his home near Washington (since I was going in that direction anyway) and he regaled me with a number of stories about the National Park Service, the Civil War Trust, and Lyndon B. Johnson. I checked back into my same hotel in Chantilly, just in time to see the latest episode of Game of Thrones. (Poor Hodor!)
Monday, May 23 – Home
I flew out of Dulles on an early flight. The TSA lines were not long, as everyone has complained about this summer, but I had a brief delay when the scanner operator thought he saw brass knuckles in my bag. :-) Once again had a good time at a Chambersburg seminar. This is probably my last East Coast Civil War trip for 2016, although check back in late October, when I am considering attending the West Coast Civil War Roundtable Conference in Costa Mesa, California.