2011 Civil War Travelogue, Part 5
Welcome to my 2011 travelogue page, commemorating the first year of the Civil War Sesquicentennial! This is Part 5 of 2011. Go to Part 1 (includes an index of all the 2011 trips). Go to Part 2. Go to Part 3. Go to Part 4.
Here is a reminder about the reason I write these pages the way I do. They record my experiences and impressions of Civil War trips primarily for my future use. Thus, they sometimes make assumptions about things I already know and focus on insights that I receive. They are not general-purpose descriptions for people unfamiliar with the Civil War, although I do link to various Wikipedia articles throughout. Apologies about the quality of interior photographs—I don't take fancy cameras with big flashes to these events. If you would like to be notified of new travelogues, connect to me via Facebook.
Chattanooga, November 11–19, 2011
Friday, November 11 (11/11/11!) – Saturday, November 12
My wife Nancy and I flew to Chattanooga for the Chickamauga Battlefield Marathon. Read the description of some initial touring in Chattanooga and the race itself on my running page.
Sunday, November 13
Nancy flew home and I spent some more time on the Chickamauga Battlefield. I have visited Chickamauga before (see my travelogue), but I wanted to return to unwind from the race and get a little walking in to stretch my legs. I have very few photographs in this section because I did a more thorough job in 2008.
I started at the visitor center and have to admit that I don't remember a lot of details from my previous visit because the exhibits seemed new and fresh to me. I have a distinct memory of the fabulous rifle collection on display, but I had forgotten some of the more detailed descriptions of the battle action. Considering that this is a very complex battle (the ranger on duty at the front desk confessed to me that he has been there for more than two years and still hasn't figured it out), I think they could have done a more thorough job of describing it using maps. There is a modest sized electric map that covers only September 20. I also watched the 20 minute video, which featured a lot of reenactor action (and it frankly could have been filmed at any battlefield) narrated by two guys playing Union and Confederate soldiers reminiscing about the battle. I thought that the movie, as well as a few of the exhibits, made a big deal about how Braxton Bragg's orders were misunderstood, rather than being willfully ignored or screwed up by insubordinate generals.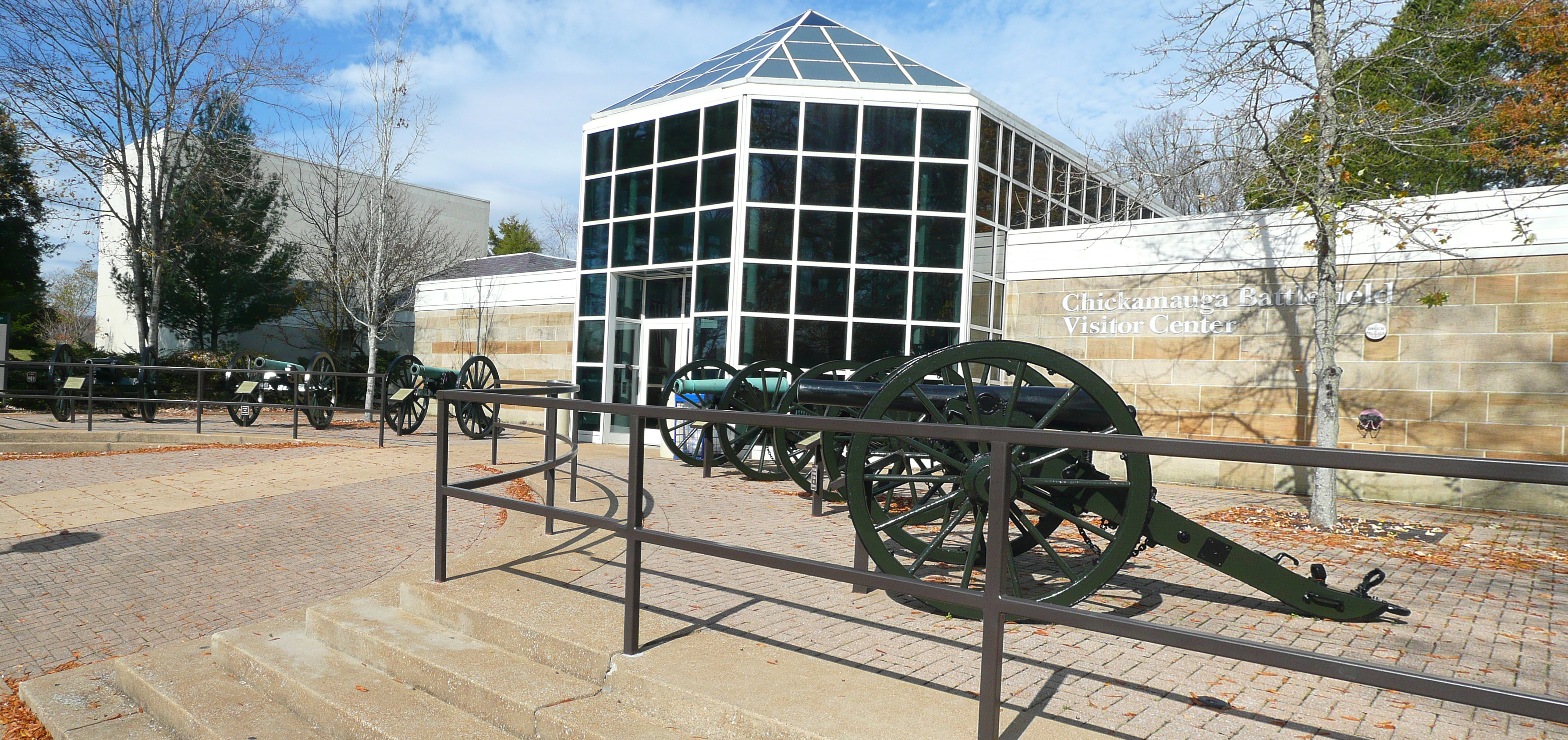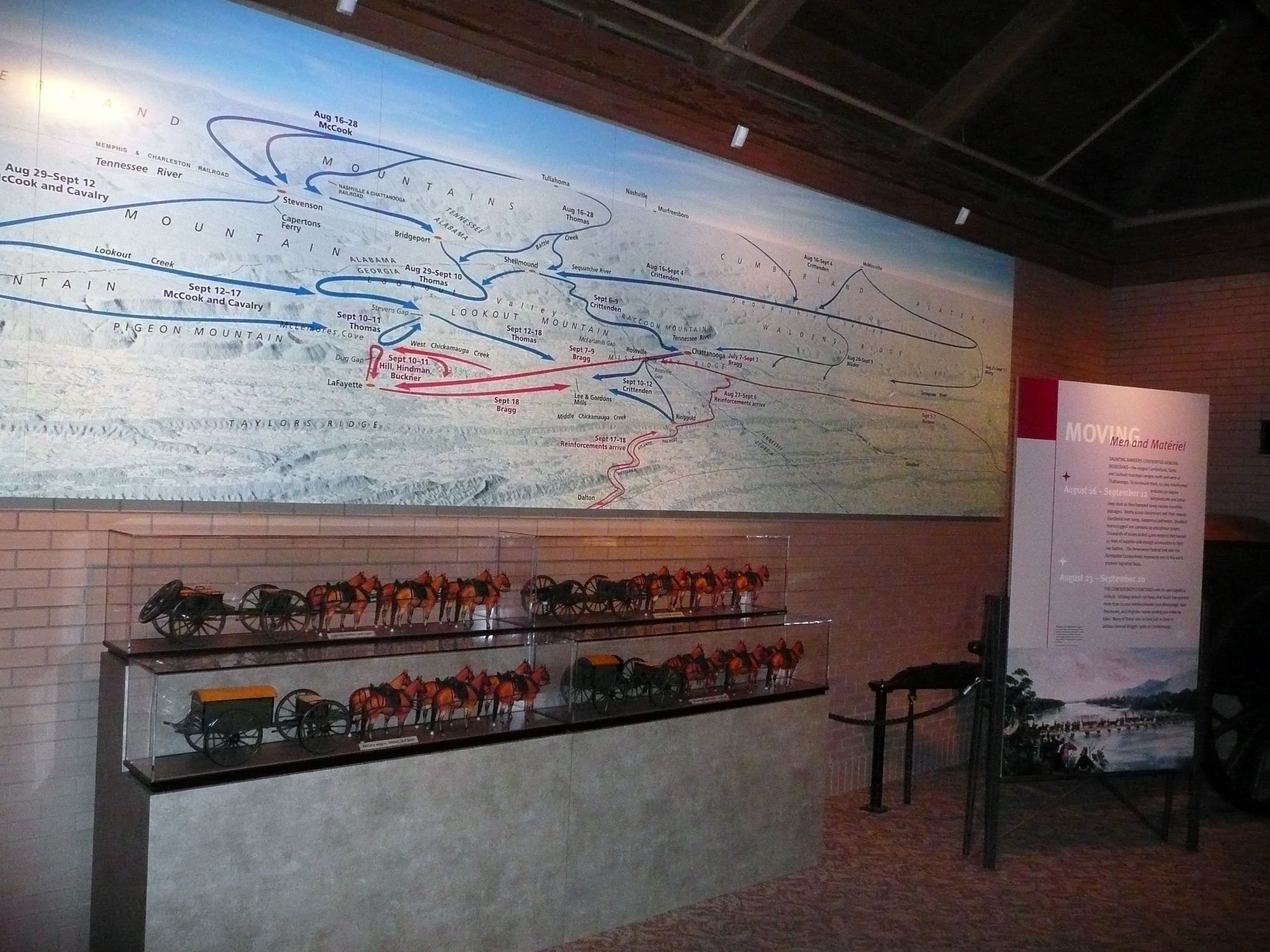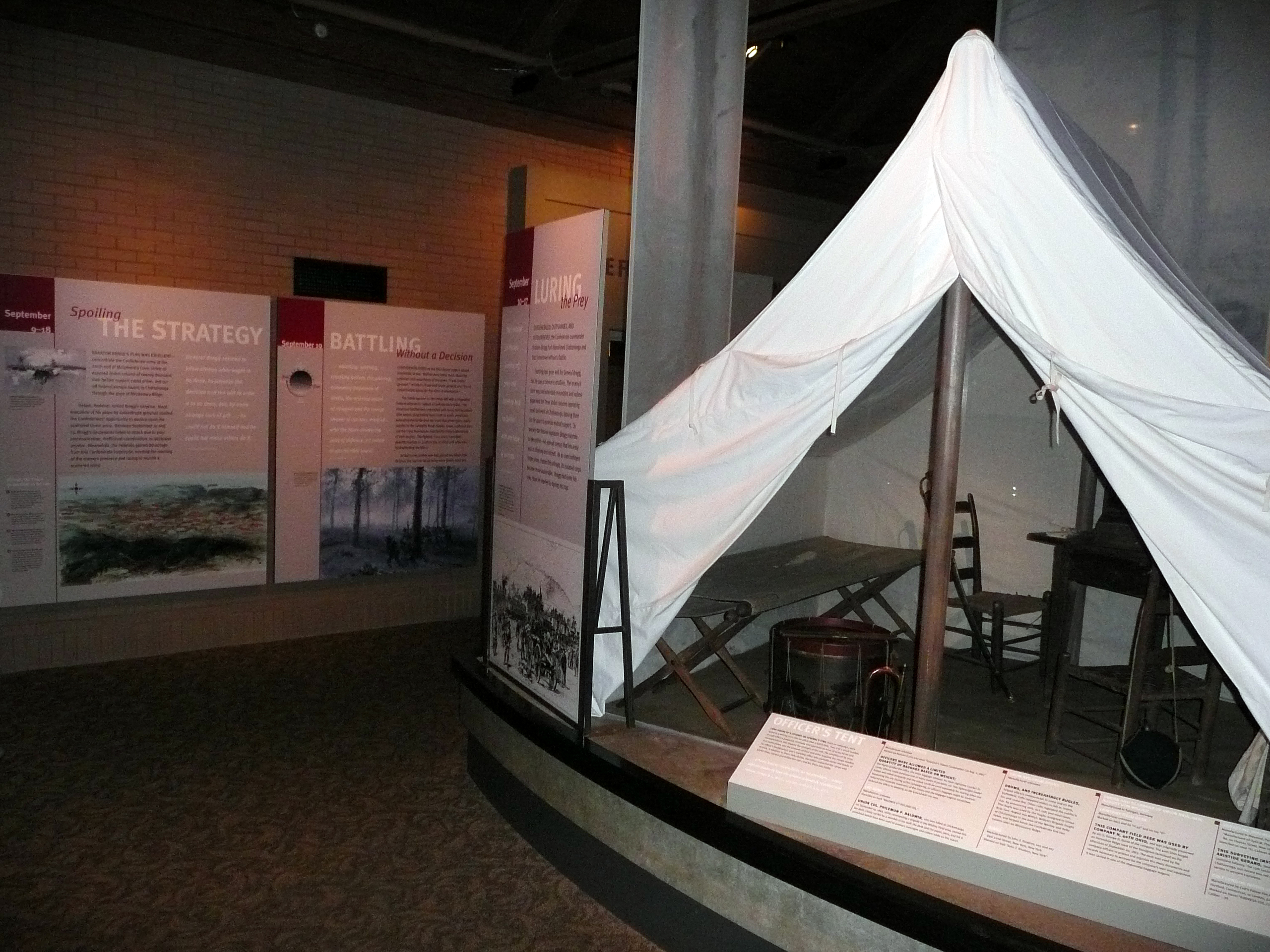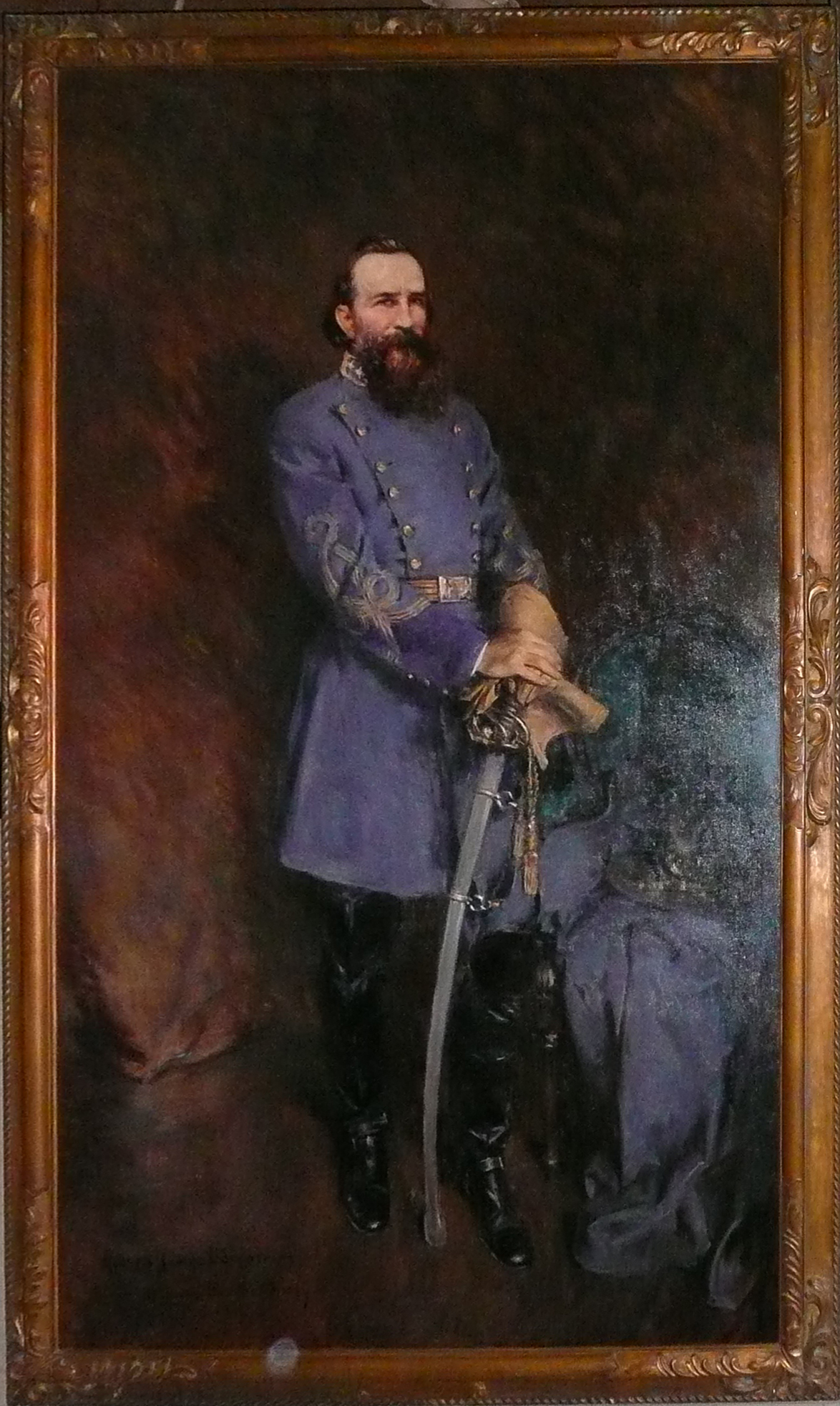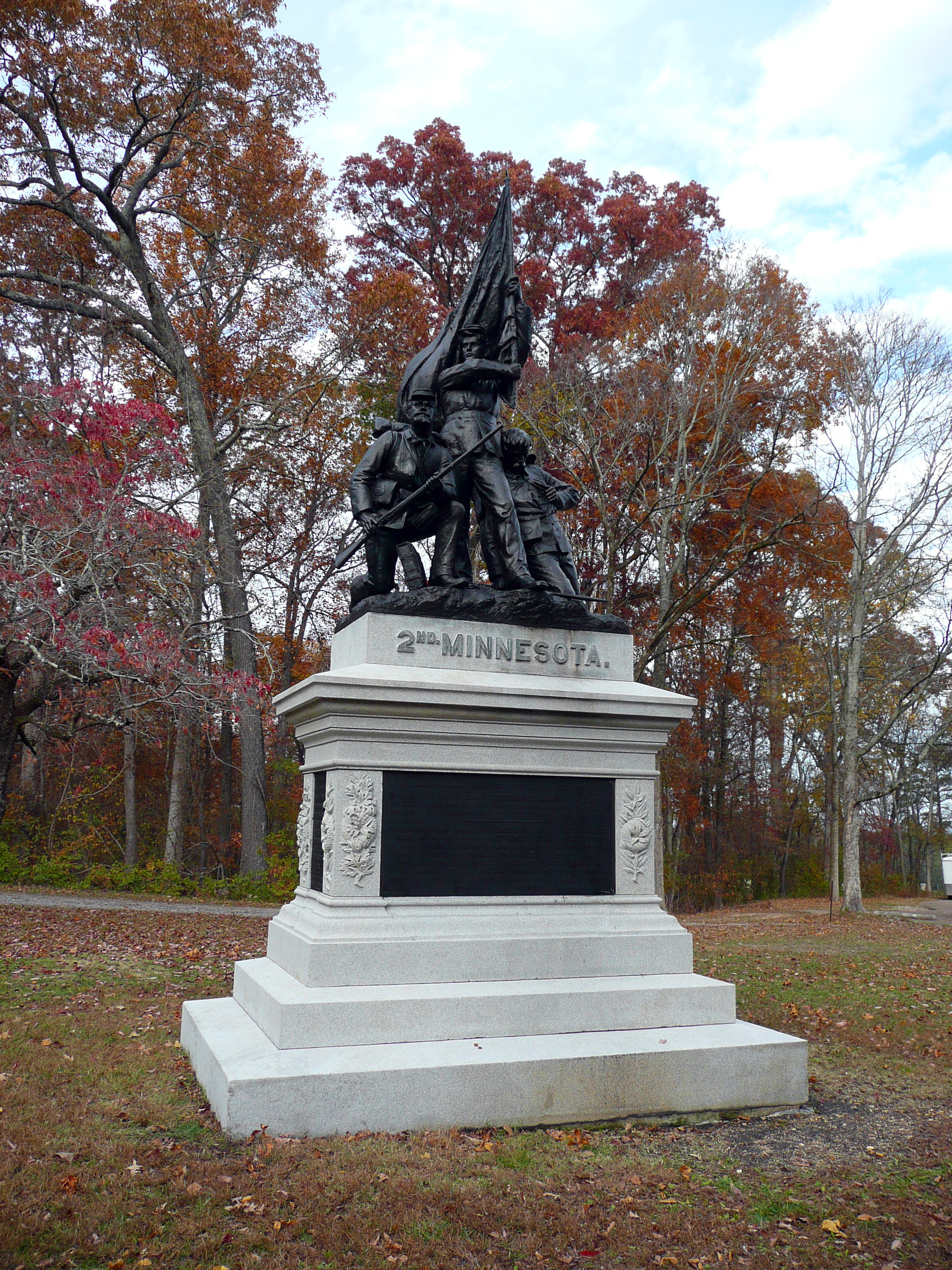 My previous visit was with a local historian, Ray Evans. This time I decided to take the auto tour, dialing in from my cellphone for audio explanations at some of the stops, and experience the battlefield as regular tourists do. I am sorry to say that I found it a bit confusing. It was a complex, multi-day battle, and the tour sometimes jumbles up actions on different days. It also neglects just about everything east of Battle Line Road (the convex defensive line on the Union left flank) and much of what happened on September 18-19. So the average tourist will probably come away with a reasonably good understanding of what happened from 11 AM September 20 to the end of the battle, but will be somewhat in the dark about the rest.
I drove to a new hotel, the Hampton Inn in Lookout Valley, just to the west of Lookout Mountain, which will be the headquarters hotel for the BGES tour starting Tuesday night.
Monday, November 14
While I wait for the beginning of the BGES program Tuesday night, I decided to visit some sites on the northern end of the 1864 Atlanta Campaign. (NB: this campaign is poorly documented on Wikipedia, so take any of the battel links below with a grain of salt. I have drawn one partial-campaign map and done a reasonably good job on the Battle of Kennesaw Mountain, but otherwise a lot of work still remains.) As a guidebook, I used Fields of Glory by Jim Miles, which seems to be very complete and well-written, although I found the maps to be pretty poor. (Jim, if you are reading this and ever decide to do a third edition, contact me to talk about significantly improved maps.)
My first stop was in Tunnel Hill, Georgia, which hosts the first long railroad tunnel built in the Deep South. The old, abandoned tunnel is directly next to a modern version. It is possible to visit inside if you arrange a tour, but I did not bother with that. I mean, what could you see? There were two battles in this area, in February and May 1864. Joseph E. Johnston made a strategic error in not blowing up this tunnel, which allowed Sherman's army to supply itself from Chattanooga as the campaign progressed. Nearby is the Clisby Austin House, Meadowland, in which John Bell Hood recuperated after his leg was amputated, and which served as a headquarters for Sherman early in the campaign.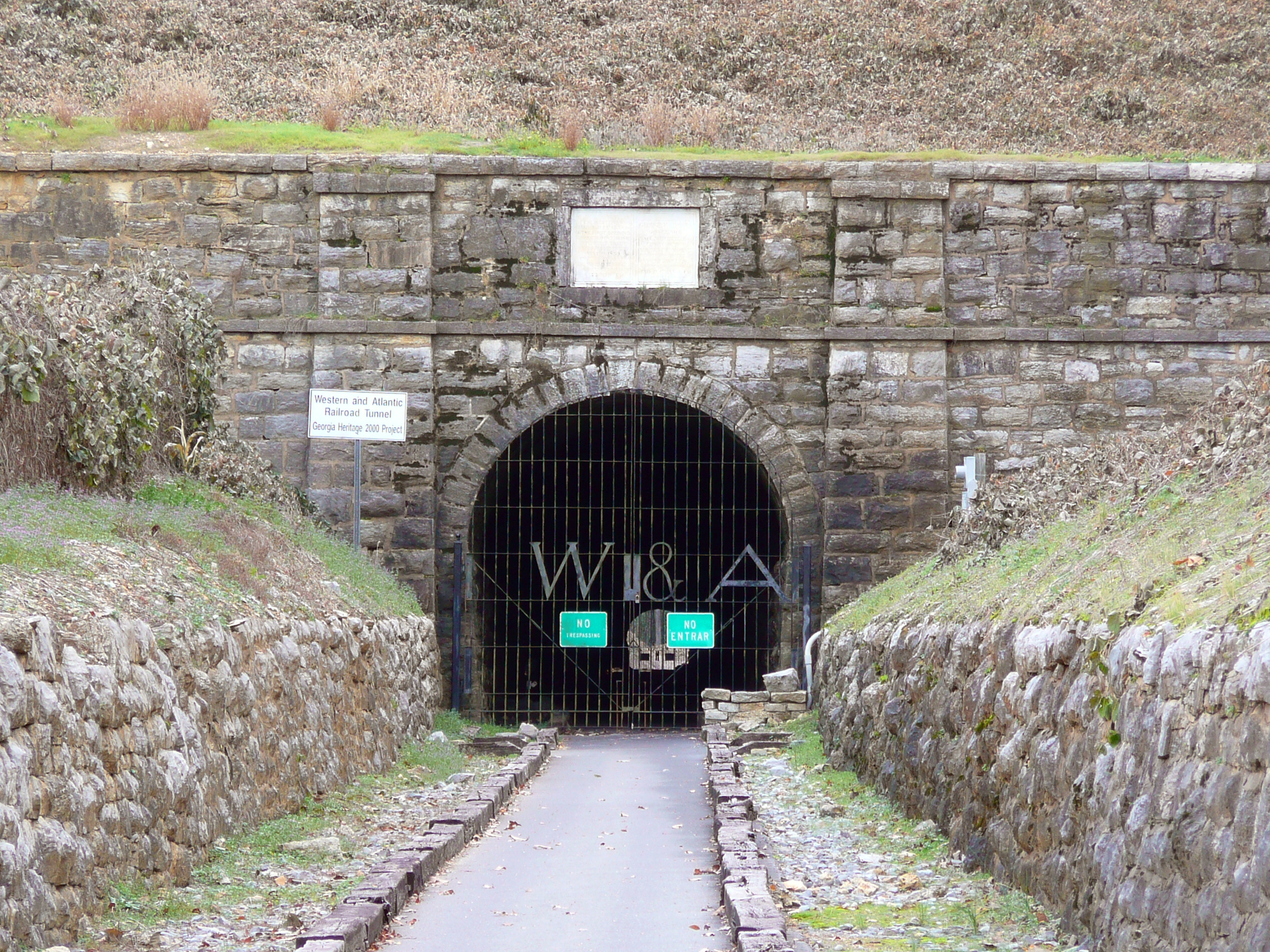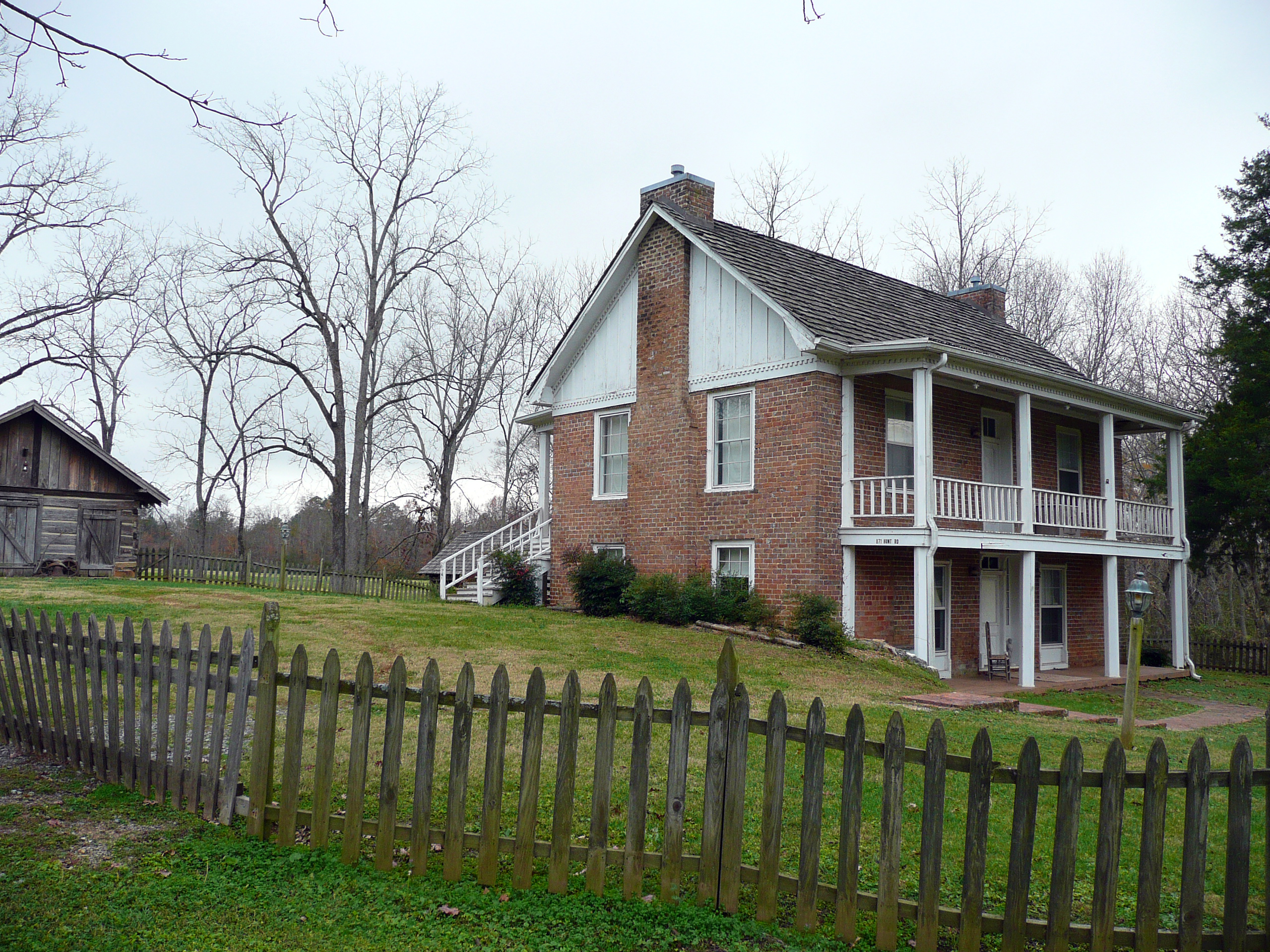 Reaching Dalton, nearby, I stopped outside the state police building where a campaign "pavilion" displayed a bronze map of the actions around Rocky Face Ridge. This was in the center of the most significant gap in the imposing ridge, Mill Creek Gap. I drove on scenic Crow Valley Road, viewing the eastern face of the ridge, which jumps up dramatically from the surrounding countryside. I followed Poplar Springs Road and encountered a landmark which has now claimed the title as my favorite Civil War geographic name—Potato Top! (I used to enjoy Sugarloaf, a local name for Big Round Top in Gettysburg, but that has now been demoted.) The Confederates used this hill as an artillery platform and he was instrumental in deflecting the Union attack. (The Union attacks were actually diversions, attempting to hold Johnston's attention while James B. McPherson stealthily marched into the Confederate rear.)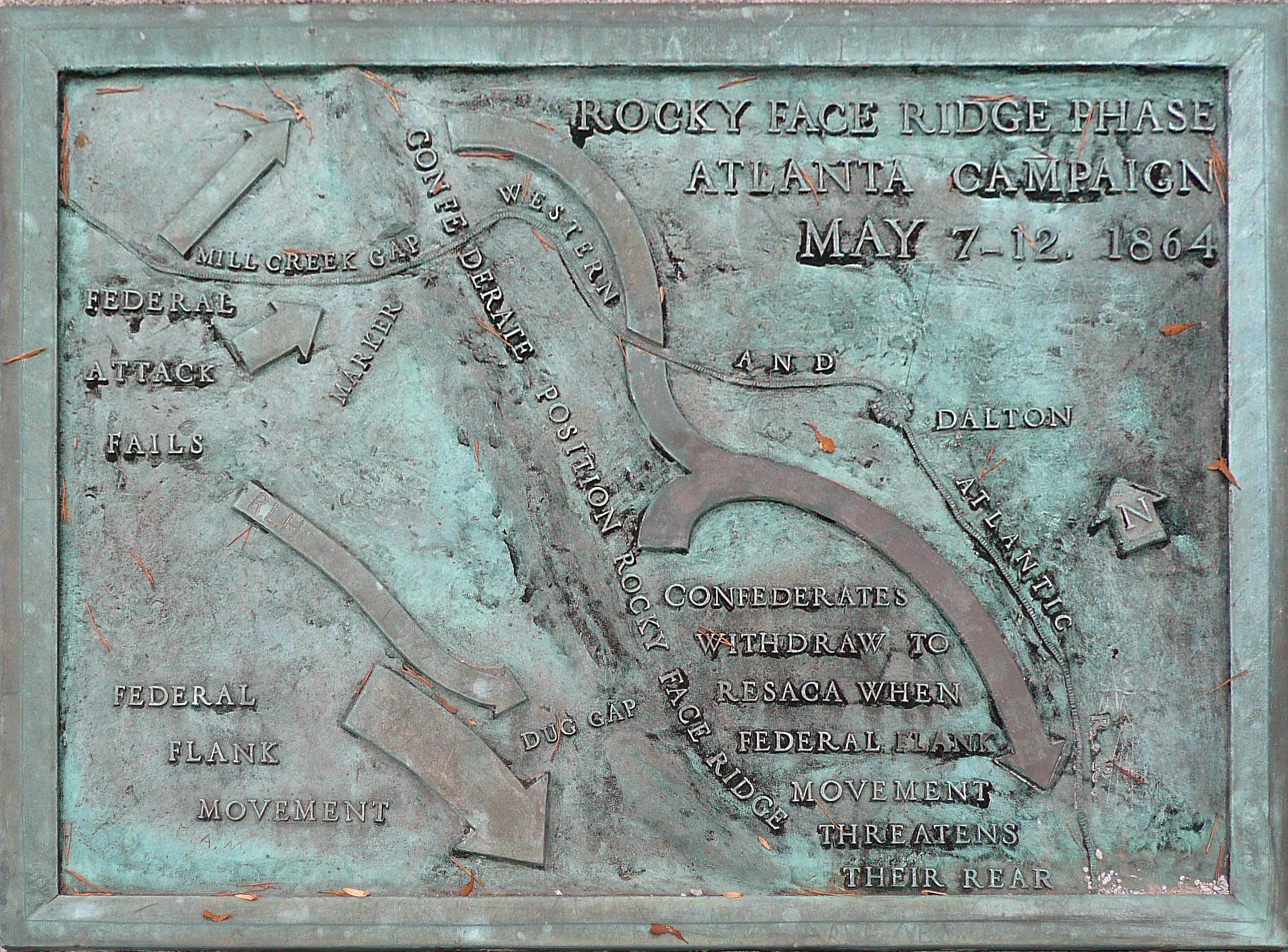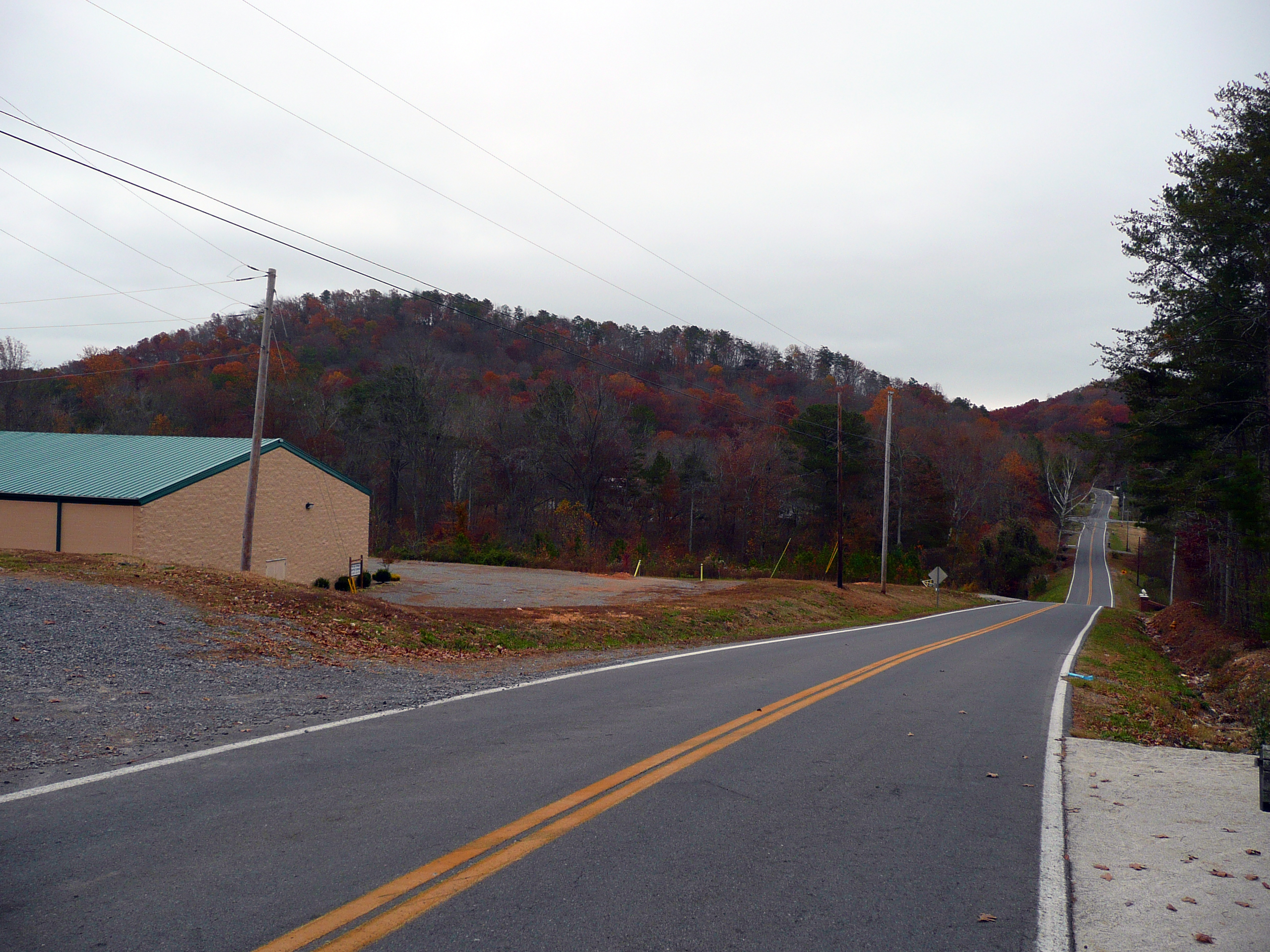 Another scenic drive was down Mill Creek Road, following a beautiful valley with a great view of the southwestern edge of the ridge. There were also numerous expensive housing divisions, which made me wonder where all the money was coming from. Although some undoubtedly commuted into Chattanooga, it is probable that many of these were owned by rug barons, since Dalton is known as the "Carpet Capital of the World." Next it was up onto the ridge to visit the Dug Gap battlefield site. The Dalton Civil War Round Table preserves and maintains this small site. The guidebook described the ridge as knifelike and I thought that was an apt description because standing up there you are very close to either side. The sides are very steep and if the weather had been clearer and the foliage less dense, the views would have been spectacular. John W. Geary's division attacked in this area and it is a marvel to think about how the soldiers made it up that treacherous, steep slope. The round table guys have preserved a long section of rock fortifications, but some very significant trees have been scattered all over the path, probably from storm damage, so I did not get to see as much as I would have wanted.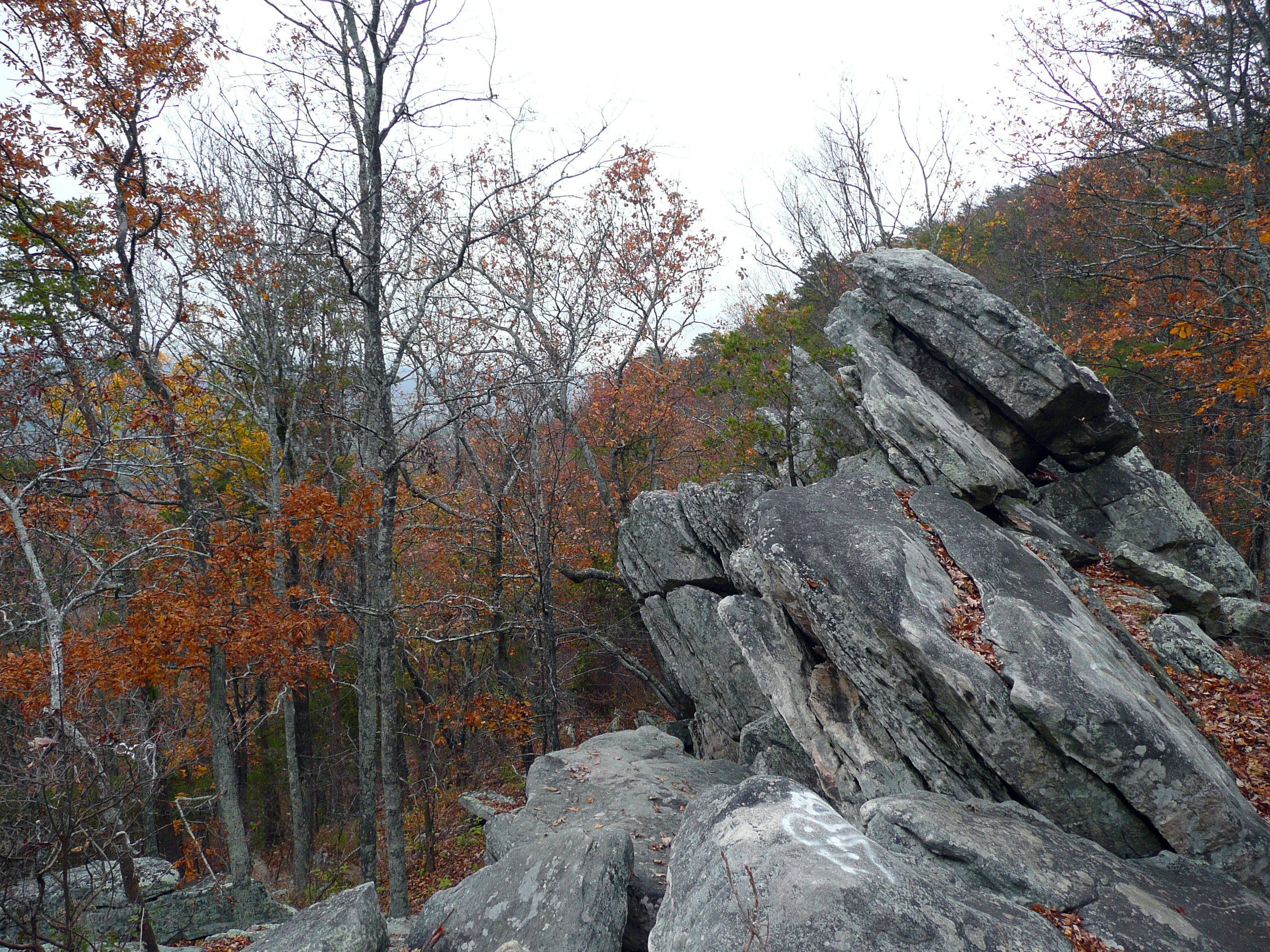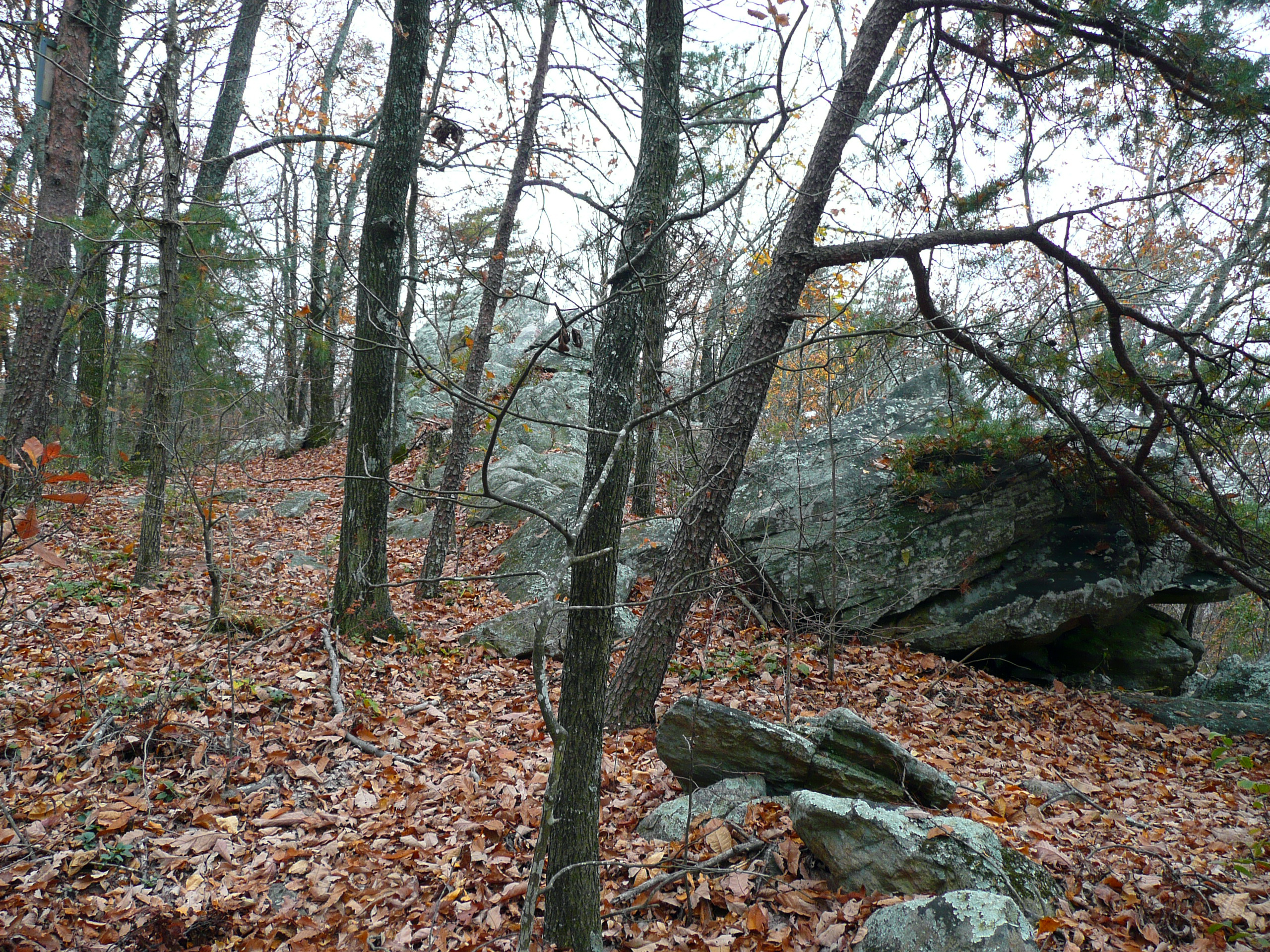 Getting closer to the town, I visited the Confederate section of Westhill Cemetery, which has the remains of 425 Confederate soldiers—mostly unknown—and four Federals, as well as a large relatively modern monument. Driving toward downtown I was impressed once again with all of the apparent wealth and what a pretty town it is. That judgment remained until I crossed US 41, Thornton Avenue, after which it became an old-fashioned, shabby commercial downtown. I visited the Joseph E. Johnston statue, which used to be the only monument to him anywhere in the United States, although it has now been joined by a similar statue in Bentonville, North Carolina. I dropped by the town visitor center in the old railroad depot and flummoxed the otherwise nice man by asking about what I could visit in Resaca, less than 10 miles away, the site of the most significant Civil War fighting in that entire area. These tourist guys are supremely focused on their own local areas, but he gave me a small brochure on Georgia Civil War Trails, which covered the entire campaign in skimpy detail. (It is a good thing that I did not have my snarky pants on because I thought about saying "Now when I refer to the Battle of Resaca, I am talking about the one in Georgia, not the one in Mexico." The town was actually named for the Mexican War's Battle of Resaca de la Palma.)
On the northern outskirts of Resaca, I drove down a road called Chitwood, which has a number of wayside signs about the battle. At the dead end, my guidebook said that some of the most significant fighting happened in these fields. This is where the Confederate corps of John Bell Hood sustained a number of Union attacks and attempted unsuccessfully to swing around and attack the Union left flank. Without having a guide along to interpret, I didn't get very much out of the experience, because it is simply fields surrounded by woods. Nearby there is another Confederate Cemetery, this one isolated out in the woods rather than integrated with a civilian cemetery. There is also another pavilion with a bronze map of the Resaca action, which is really too schematic to be very useful. I finished up my day by crossing I-75 to look at Camp Creek Valley, where a long Union line was positioned, north-south. This area is not really interpreted. Off in the distance to the northwest was supposedly Snake Creek Gap, where McPherson snuck through before losing his nerve and failing to take the town, which would have cut off the Confederate line of communications. I did not go off into that direction. The guidebook relegates that area to an appendix, which it recommends for a Saturday driving tour. Maybe someday.

On the way back to Chattanooga I stopped at an Army-Navy store in Brainerd, which I had seen advertised on a highway billboard. I remember these stores from my youth in New Jersey, but they are pretty rare in California. What a great experience to get my testosterone rejuvenated! They had all sorts of used military gear as well as modern camping equipment. I looked at a field jacket just like the one I had in the Army—I still have it, actually—which probably cost $10 back then, but is now $85! I also saw some of the huge camouflage-pattern backpacks that you see soldiers hefting around and they were almost $300! Anyway, the reason I went was to buy a new map case so that I could carry my iPad into the field along with any printed maps that might be distributed during the tour coming up. (I actually ended up with something called a messenger shoulder case.)
Tuesday, November 15
My original plan was to spend two days in northern Georgia, but I saw what I wanted to within reasonable driving distance yesterday, so I needed a new plan. Unfortunately, I failed. I tried to find some information about the Tullahoma Campaign Driving Tour, but it is not available online and the telephone number listed went to a full voicemail mailbox. I drove to one of the Tennessee visitor center/rest stops on the interstate in hopes of finding more information, but they had very little. I was interested in the Chattanooga Regional History Museum, but the visitor lady had not heard of it and when she called them, they were closed for relocation, at least for another year. I thought about driving to Tullahoma or Hoover's Gap or Winchester or Sewanee, but decided against it because of the multiple hour drive associated with them and it was raining. So I went to downtown Chattanooga, intending to go to the aquarium as a last choice, but instead went to the movies (J. Edgar, not all like great, except for a good performance by Leonardo DiCaprio). I then drove to the airport, turned in my rental car, and taxied back to the hotel. I will not need it during the BGES program. So, a disappointing start to a Civil War day.
At 6 PM the BGES group gathered for introductions and an overview of the campaign. There are 14 participants led by Len Riedel and Parker Hills, both of whom I have followed in numerous tours over the years. We spent 2 1/2 hours together, including some time for hors d'oeuvres and pizza. Parker killed some time while Len was picking up the pizzas by recounting a history of preservation at the Raymond, Mississippi, battlefield. He managed to include two scrotum stories. :-) Then he gave one of his elaborate PowerPoint presentations that covered a good part of Ulysses S. Grant's background from Shiloh through the Chattanooga campaign. He placed special emphasis on friction between Grant and Thomas and Rosecrans. Grant is actually the focus of this visit to Chattanooga, which is called Grant's Road to Destiny, Part X. He also described to a lesser extent the command turmoil happening on the Confederate side. Then he and Len talked about the itinerary for the week, which is going to be somewhat flexible based on the weather. For example, the original plan was to start with an ascension of Lookout Mountain for a visual overview of the area, which would have been completely pointless in the rain that is forecast for tomorrow. They also warned that some of the activities will be difficult and treacherous. Whoa! (Postscript from after the week: although some of the activities were certainly not ADA-compliant, there was nothing particularly difficult to deal with that went beyond climbing stairs.)
Wednesday, November 16
Today was our first of four days in the field. We had two 15-passenger vans for 20 people, so we were pretty comfortable. Parker rode in the first van and sent his commentary to the other via walkie-talkie. I rode with Len because he graciously allows me to sit in the front seat. He says I am the tallest member of BGES. We put on a lot of mileage today, concentrating on the Union approach to the battlefield. We started with a "reverse Hooker," in which we followed Joseph Hooker's approach in reverse sequence, from the Wauhatchie area to Stevenson, Alabama, crossing over the Tennessee River at Caperton's Ferry (now a bridge, of course). Stevenson is a small, decrepit, depressed town that is still dominated by the railroad. Parker attempted to give an orientation in a gazebo near the tracks and was interrupted by at least three trains going through, blasting their horns noisily. The subject was the arrival here of Ulysses S. Grant by railroad. We discussed the meeting that he had with Rosecrans (who was leaving the area after being relieved), Joseph Hooker, and Oliver Otis Howard. We went to the site of the burned-out railroad bridge in Bridgeport. It was rebuilt, of course, and it now forms the foundation of a pedestrian bridge. A new railroad bridge is directly parallel. There was an interpretive sign at the beginning that talked about the Trail of Tears (the forced evacuation of the Cherokees to Oklahoma), which oddly stated that the Union Army burned the bridge twice.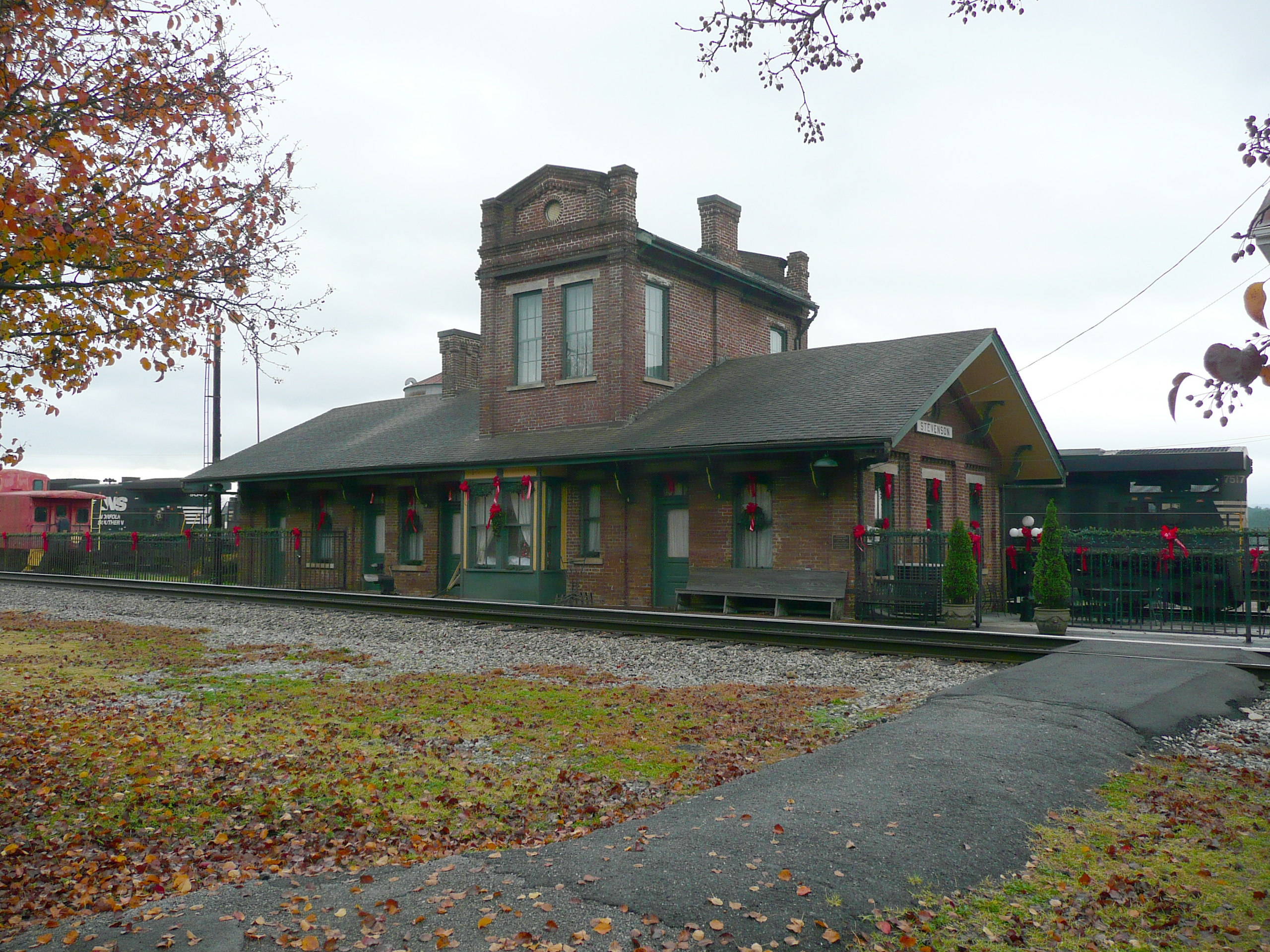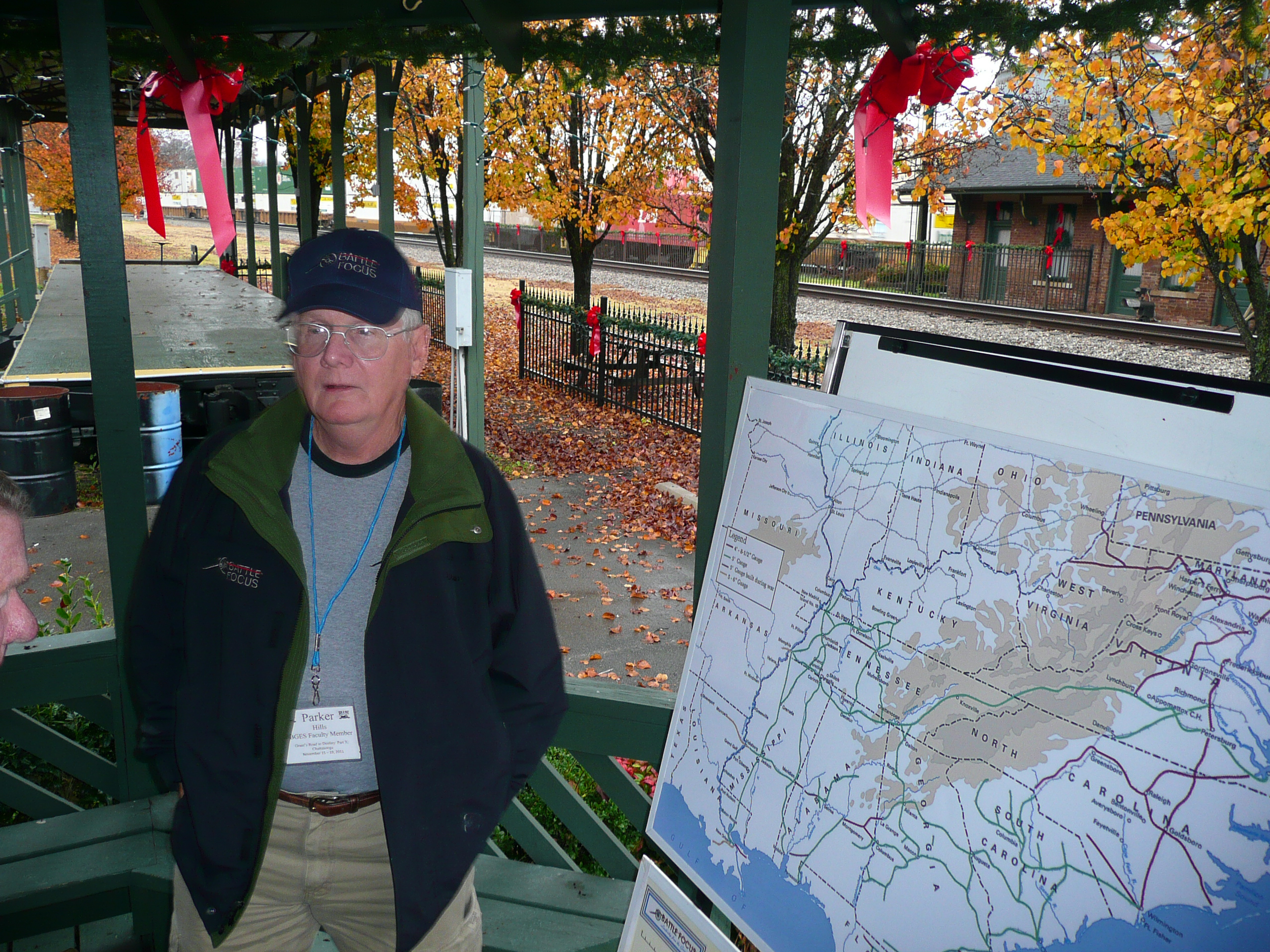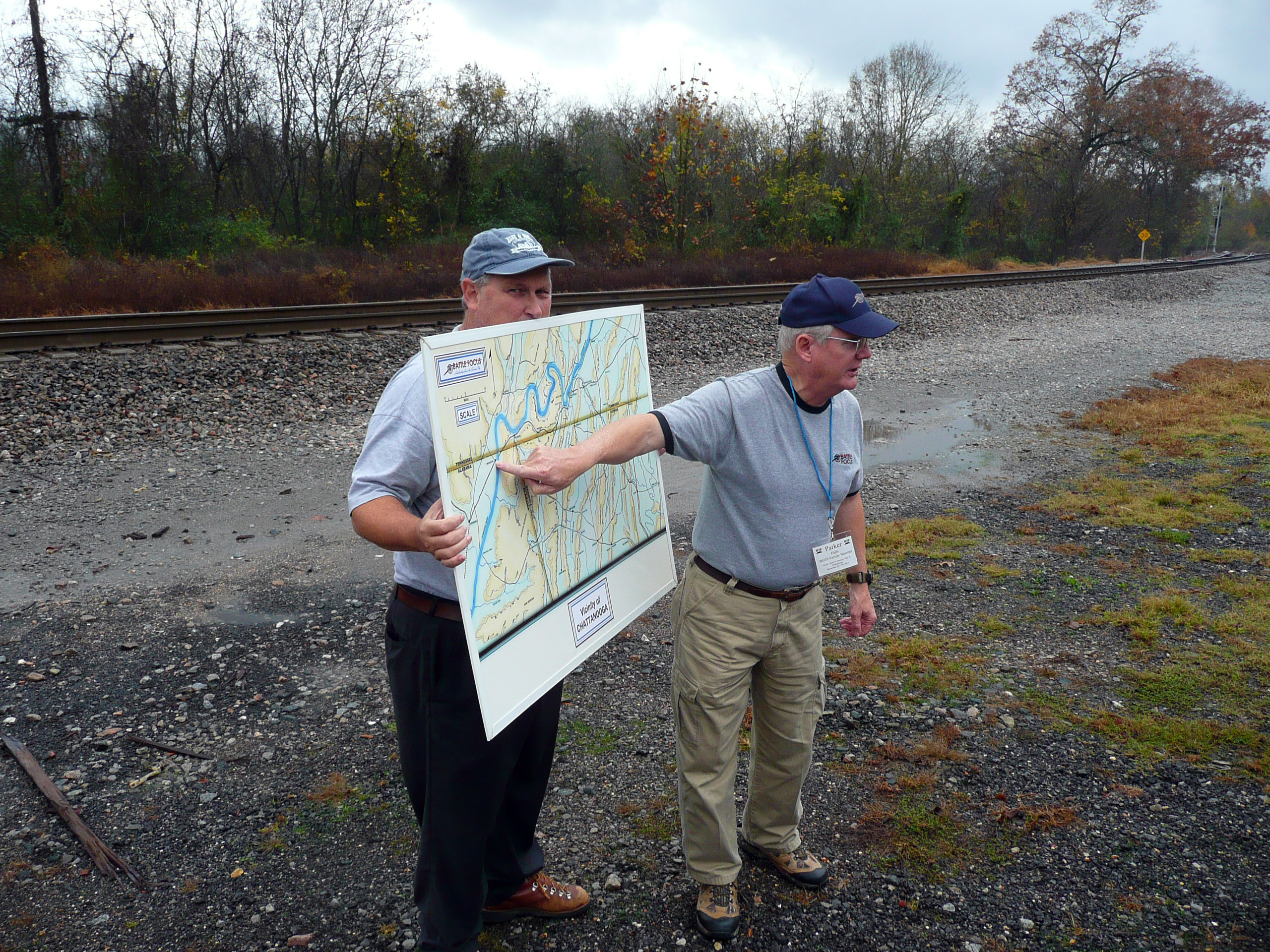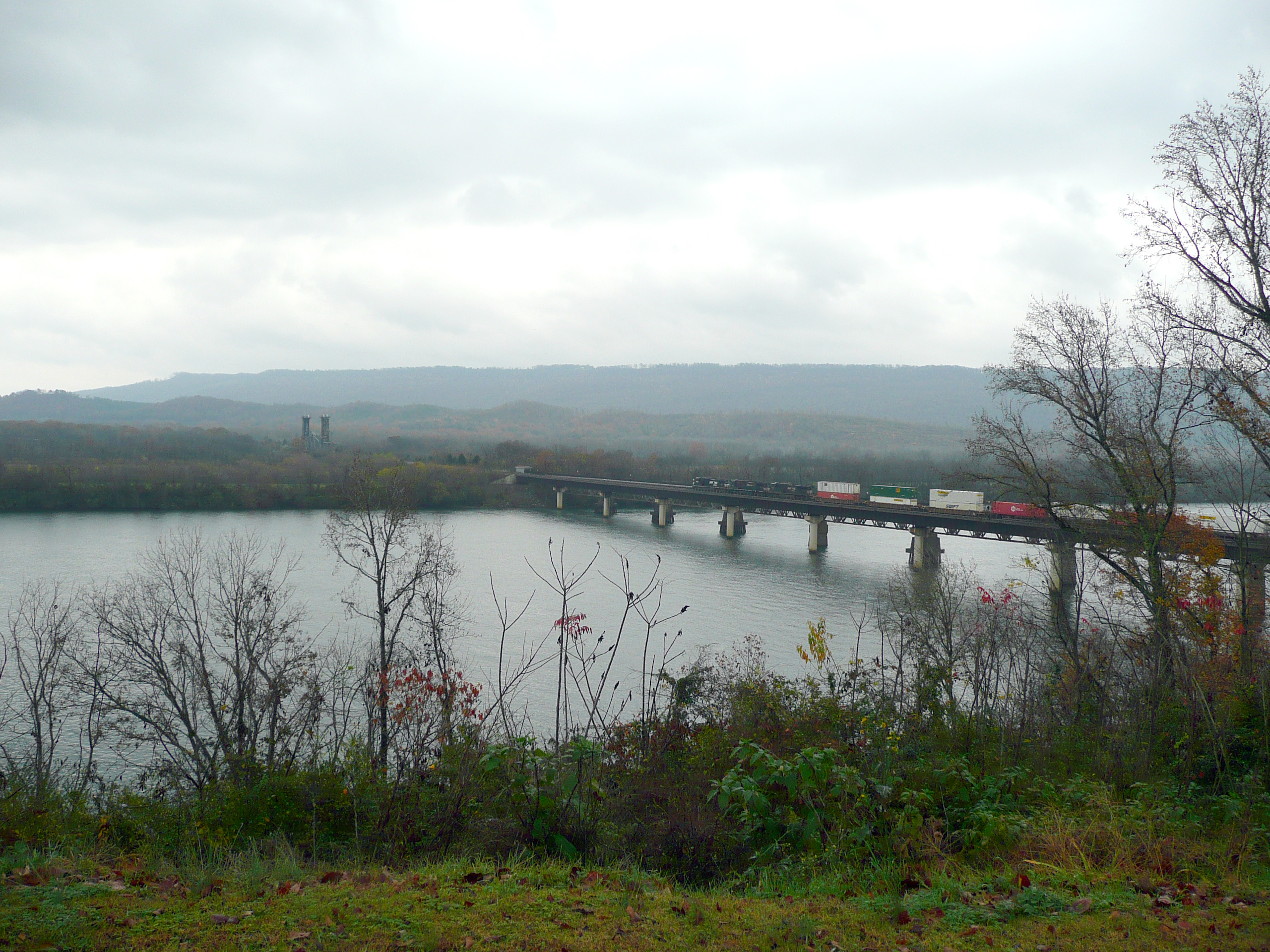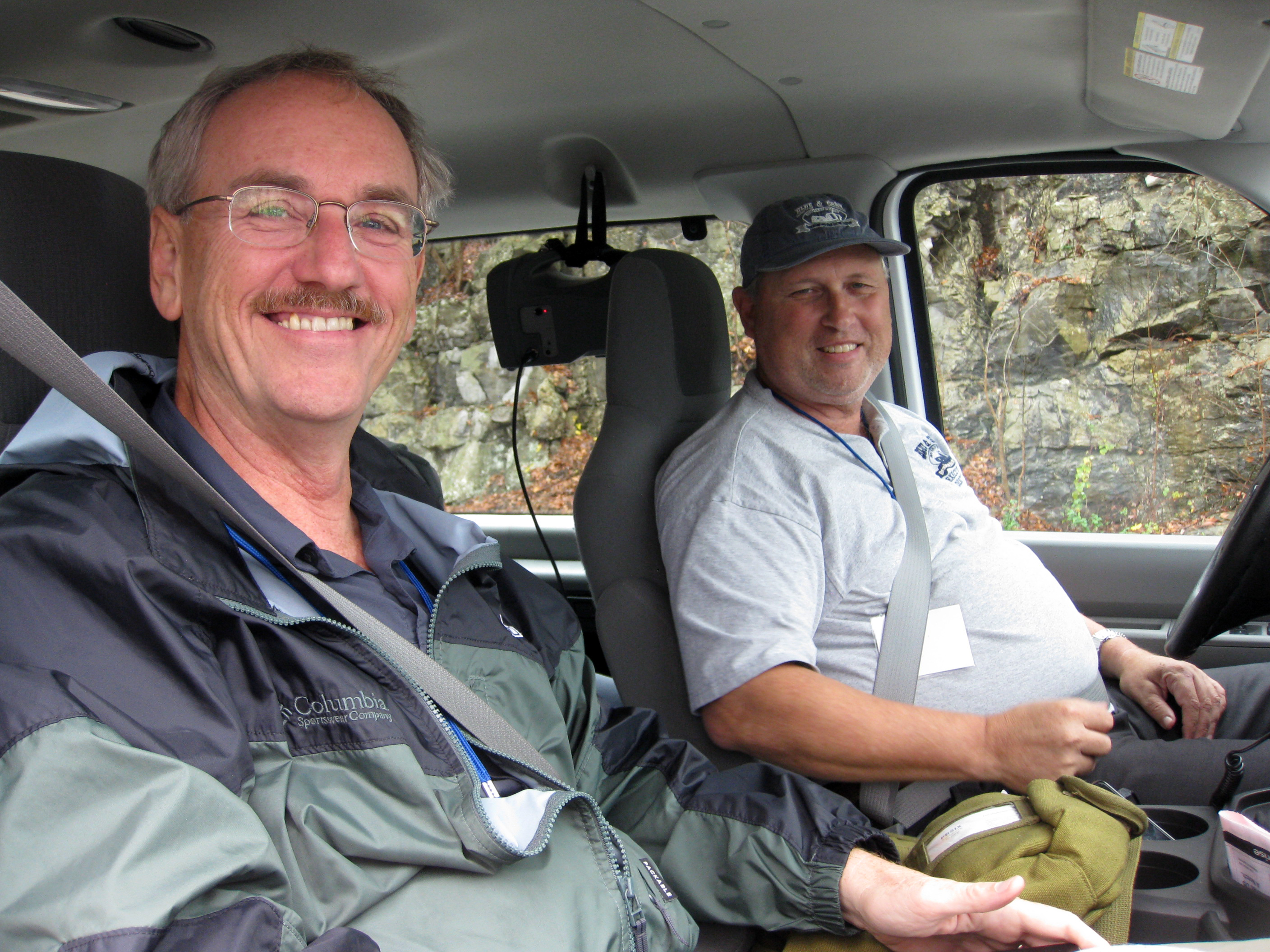 The forecast today was for a good deal of rain, but we were very lucky all day. A really torrential rain started and stopped while we were inside a Subway for lunch, but we were barely bothered at any other time. For the next couple of hours we followed the course Grant took from Stevenson to Chattanooga. Confederate pickets along the river prevented any Union boat traffic from reaching Chattanooga, so Grant was forced to take the tenuous supply line course, which went 60 miles north through the Sequatchie Valley, across Walden Ridge, and down through Signal Mountain to cross the Tennessee just north of the city. The valley was really beautiful, despite the heavy overcast. We stopped at Chapel Hill Church, which was about at the center of the destruction of one of the Union supply trains on October 2, 1863, by Joseph Wheeler's cavalry. Grant and his small party were subjected to the sights of hundreds of destroyed wagons and dead horses and mules along the way. And Grant was still recovering from a horse accident injury, leaving him in pain and requiring the use of crutches. It must've been an altogether miserable experience. He and his party covered the 60 miles in just two days. The church was also near the spot called Anderson's where the road turned east and started climbing the very steep escarpment. Once you reach the top, Walden Ridge is rather deceptive because it is an extremely wide plateau and you would never know you were on a mountain. Parts of way were occupied by ticky-tacky trailer parks, others by giant (unsold) view lots.

Back in Chattanooga, we stopped at the site of the Richardson House, 320 Walnut St, which is now a parking lot for an office building. But in 1863, it was Thomas's headquarters, where Grant arrived wet and exhausted and the Rock of Chickamauga treated him rather poorly until Grant's aide knocked some sense into him. Parker demonstrated the former floor plan by walking carefully through imaginary doors and hallways to the imaginary parlor. Then we drove to the site of Fort Wood, the only one of the city fortifications still identifiable. It is now a residential intersection on a rather prominent hill, with some large handsome homes, one of which is graced in its yard by two 30-pound Parrott rifles. Because of the rain today, all of the colorful fall leaves had fallen and we got a partial view of Orchard Knob in the distance. It was from this fort that Grant viewed Thomas's Army of the Cumberland advancing on a reconnaissance in force to Orchard Knob on November 23.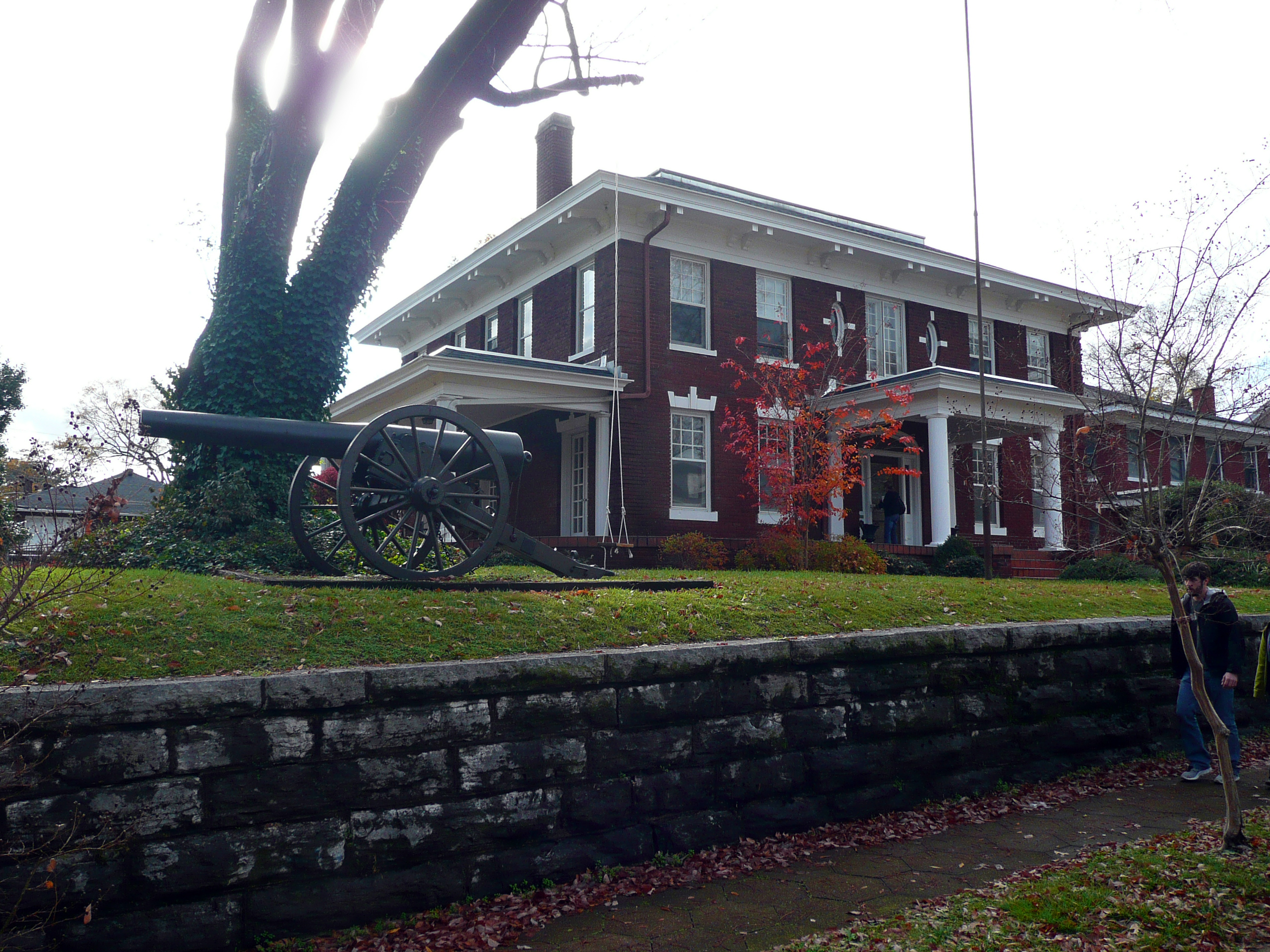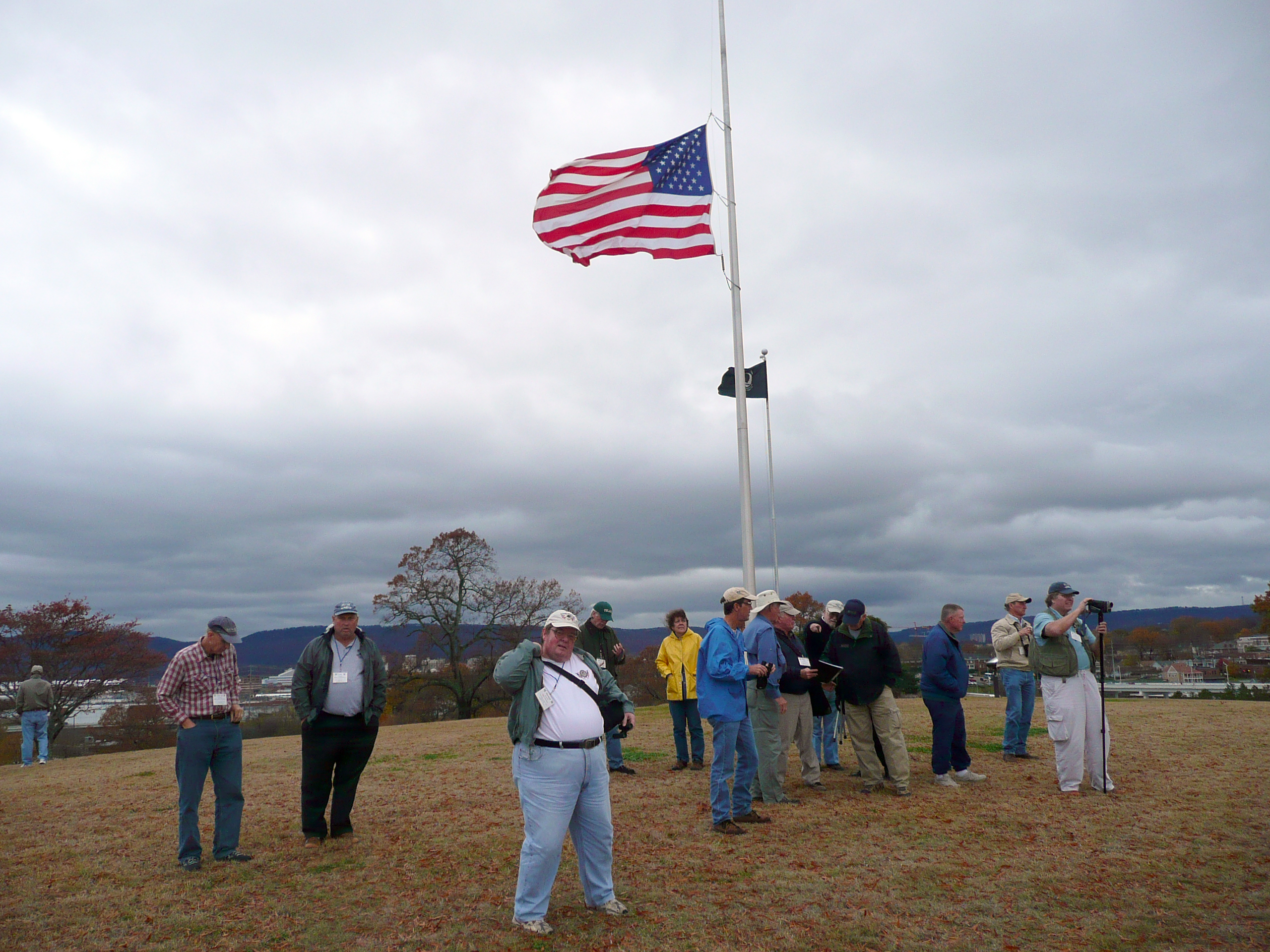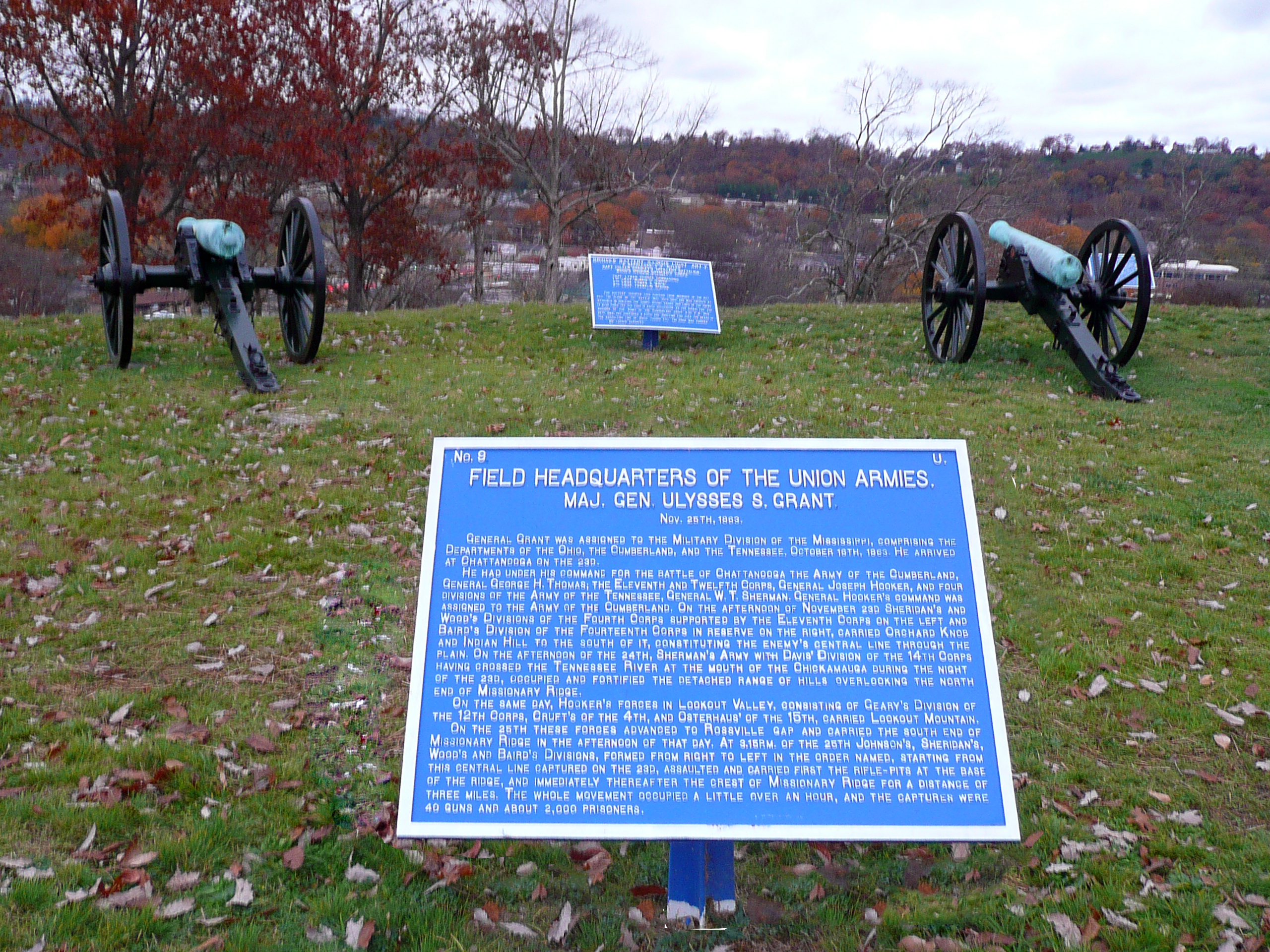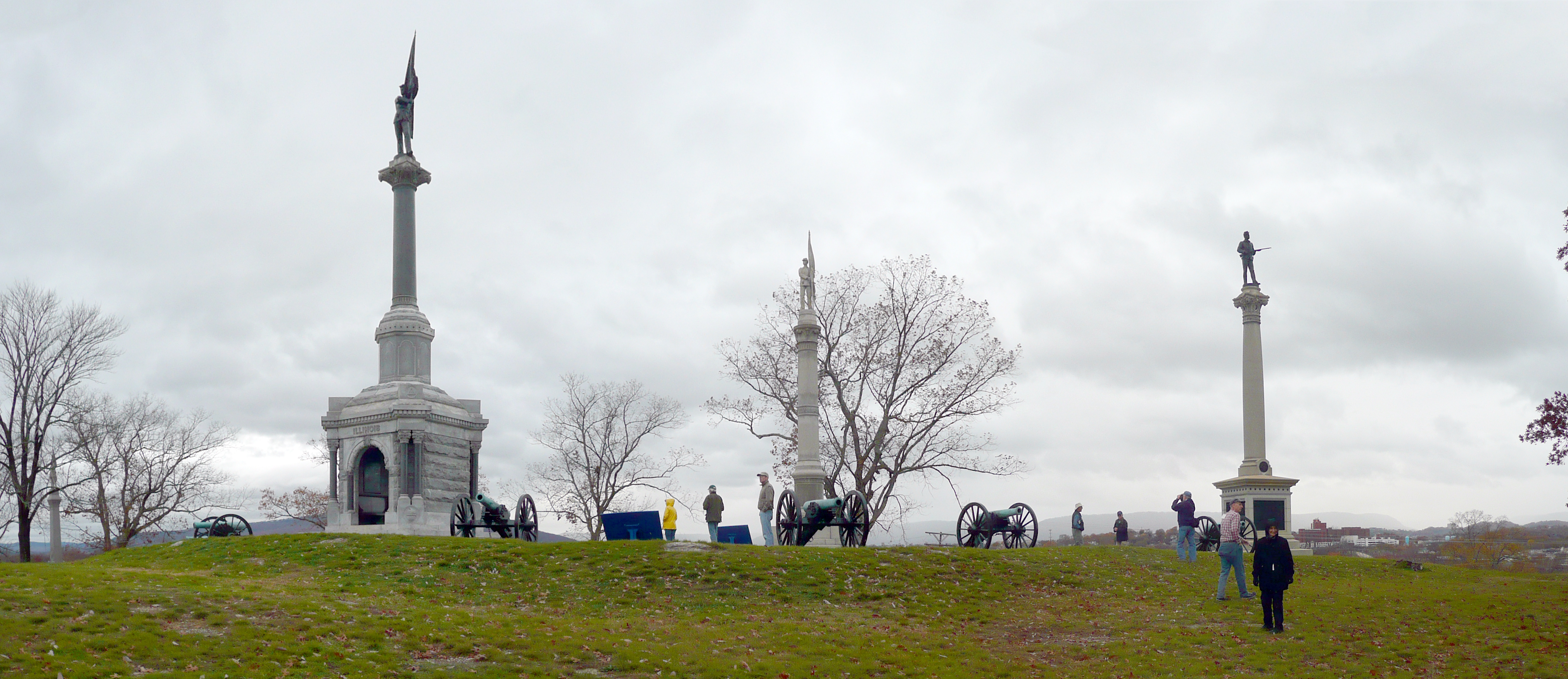 Next was Brush Knob, which now hosts the Chattanooga National Cemetery, which is a beautiful plot on rolling hills with some stupendous views of the area. We stopped briefly at the monument to, and the graves of, the Andrews Raiders, the team that conducted the "Great Locomotive Chase" in 1862. Finally, Orchard Knob, which is a rather significant hill popping up in a dodgy neighborhood. After panting up the steep slope and exploring for a few minutes, a brief rainstorm came through and we adjourned to the vans. Dinner tonight was unhosted, but almost all of us went in the vans to Sugar's Ribs, which is about halfway up Missionary Ridge in the sector that Sheridan's division attacked on November 25. I thought the ribs were pretty good, not great.
Thursday, November 17
We met park historian Jim Ogden at the hotel and he was able to spend a few hours with us this morning. Our first stop was Cameron Hill, which used to be a prominent hill downtown, but when I-24 was built, they lopped off the top of the hill to create landfill so that the interstate could squeeze between Lookout Mountain and the Tennessee River; they also moved the Tennessee River as much as 400 feet from its original course. Cameron Hill is now occupied by the modern office campus of Blue Cross, but just outside the security gate there is a small park with a view of the Tennessee River, five tablets describing the campaign, and two 30-pound Parrott rifles. Jim confessed that the carriages on which the large tubes were mounted were abnormally small because they were all they had available. He gave us an overview of the area and described the defensive situation at the beginning of the campaign. The Union defensive perimeter enclosed one square mile, and the city itself filled up only half of that. He discussed the planning process that led to the eventual plan Grant executed to open the Cracker Line, portraying the story that Baldy Smith was the primary architect as being something Smith dreamed up in his memoirs. He agreed with my judgment that William Rosecrans was not nearly as psychologically damaged and incapacitated as the conventional wisdom states, citing numerous items of lucid correspondence that Rosecrans wrote, including September 20, the day of the be defeated Chickamauga. (it is a good thing that he did not have Maj. Frank Bond writing that correspondence. :-)) As to Grant's criticism that Rosecrans had a good plan for the breakout, but why didn't he execute it, Jim thought that was disingenuous of Grant. One reason for the delayed execution was that the Confederate cavalry under Wheeler was causing trouble and the arrival of the XII Corps was delayed in order to defend the supply lines against them. He also described the importance of the artillery Rosecrans placed on Moccasin Point. At the very least, it prevented the Confederates from keeping a large force at Brown's Ferry—they could not get sufficient supplies for more troops past those guns.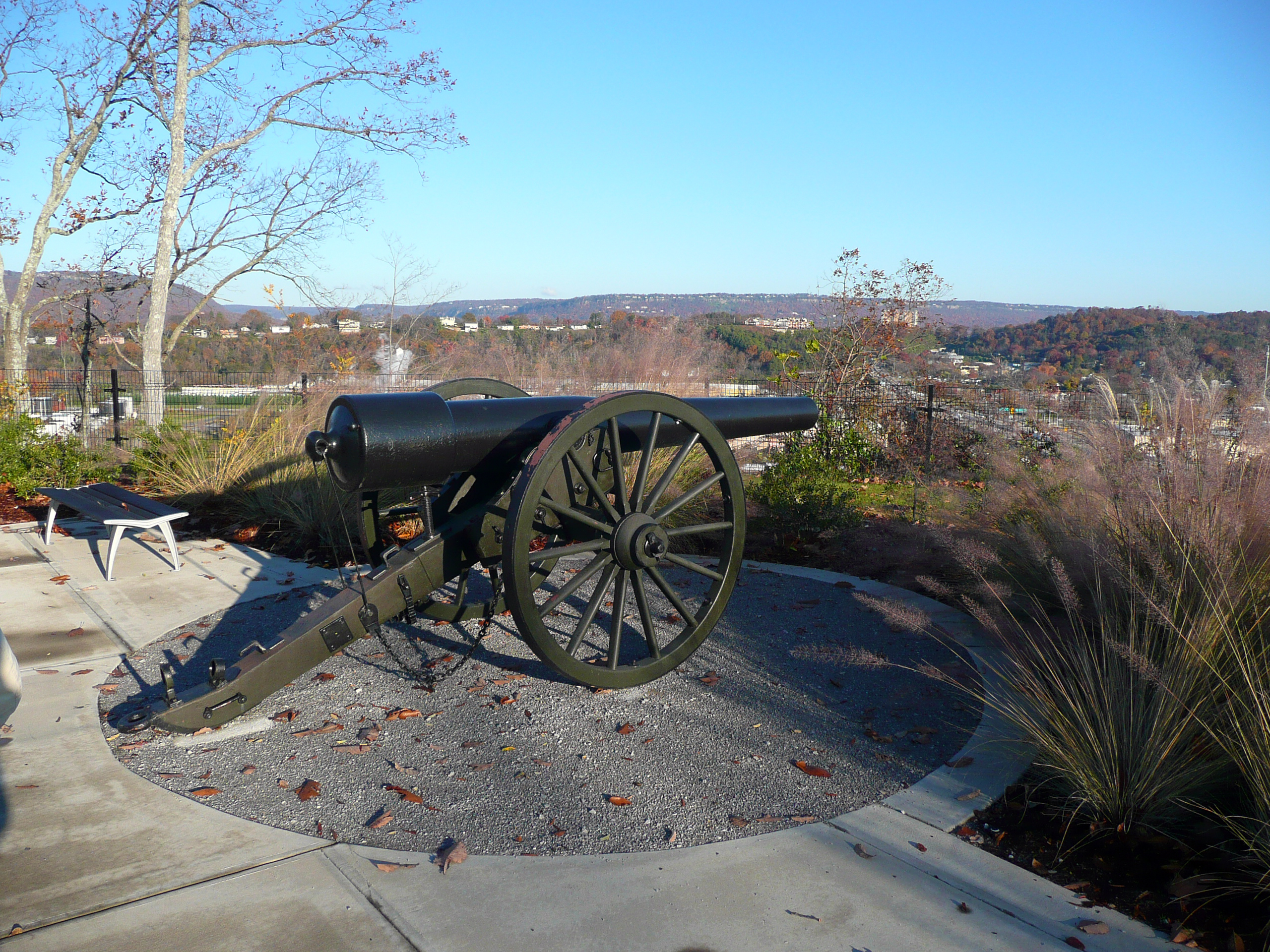 Down at the waterfront we stopped at the position that was Ross's Landing and heard a very interesting explanation of how the Union engineers built the pontoon bridges. The Army of the Cumberland had traditional bridges, but they were isolated in Bridgeport, so they had to improvise. Finding the standard design for the French-inspired pontoons too difficult to build on the fly, one of the engineers developed a new design that they were able to manufacture. The Confederates thought they had disabled the sawmills in the town by hiding critical pieces of the machinery, but as soon as they evacuated on September 9, the slaves in town felt free to tell the Yankees where the hidden pieces were. They eventually built a trestle bridge, which was essentially a series of giant sawhorses built at the appropriate heights and then planked over, and five pontoon bridges. I asked Jim about the Trail of Tears sign we saw yesterday and he said, yes, it was in error—the Confederates burned the bridge at Bridgeport, not the Union Army (twice!).
We drove over to Moccasin Bend (which was called Moccasin Point during the war), which is the location for a new national archaeological district. They have found artifacts dating human occupation to at least 12,000 years ago. Woolly mammoths also roamed the landscape, although no remains have been found specifically in Chattanooga. Jim excited us by taking us to the parking lot of the Chattanooga Baking Company, home of the famous Moon Pie, but then we turned around and left without a visit, taste, or even a smell of the luscious snack cake. (Len took pity on us and bought a whole case of them after dinner this evening.) We took a half-mile muddy walk that roughly followed the course of the Cracker Line across the peninsula, ending up at a point directly across the river from Brown's Ferry. That land is privately owned, so we merely observed it from across the river. (We had to be careful to avoid stepping onto the property of the Chattanooga water treatment plant. Jim told us that Homeland Security treats it with the same security focus as an airport.) He described in detail the interesting story of how the "commando raid" led by William B. Hazen was able to sneak past the Confederates and overwhelm the guards at the ferry. It is interesting that there were only six Confederate soldiers on duty and five of them were asleep.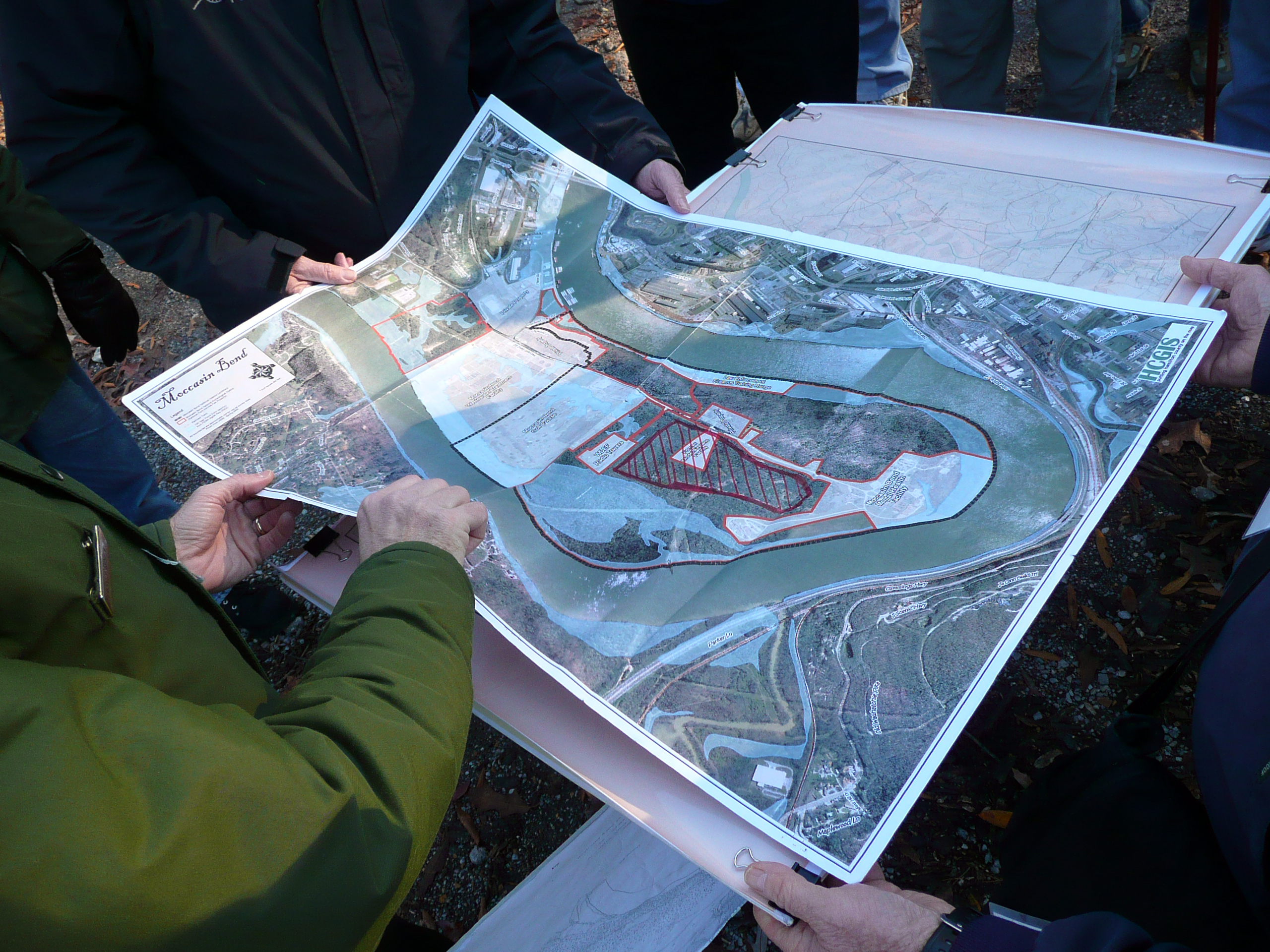 We had lunch at a Krystal restaurant, which is somewhat similar to a White Castle, but has a local connection. Parker said that the owner/founder is a billionaire who lives in a mansion on Lookout Mountain. Then we drove up the mountain and stopped at the very top at Point Park. We visited the modest visitor center and admired the James Walker painting of Joseph Hooker during the battle. (By coincidence, I did the cartography for a book of essays to be published next year by LSU Press and we are using this painting on the cover. I have a high resolution, high quality photograph that is the basis for the cover, but the view I show below is simply a snapshot I took today of one small piece of the enormous canvas.) There really is not very much else to see in the visitor center. It serves as a gift shop and a point of admission to the park outside. In front of the stupendous view of Moccasin Bend and Chattanooga, Parker got out his maps again and brought us up to speed on the campaign. We walked down a number of steps to the Ochs Museum and enjoyed the wonderful views there as well. I should mention that the weather turned sunny and crystal-clear, although much chillier than yesterday, particularly on the mountain. Inside the museum there was a modest but interesting set of photographs and some Signal Corps equipment. We heard an amusing story about Ed Bearss taking a group of Washington bureaucrats down the precarious stairs from there to the Craven House, which is a very difficult two-hour round-trip.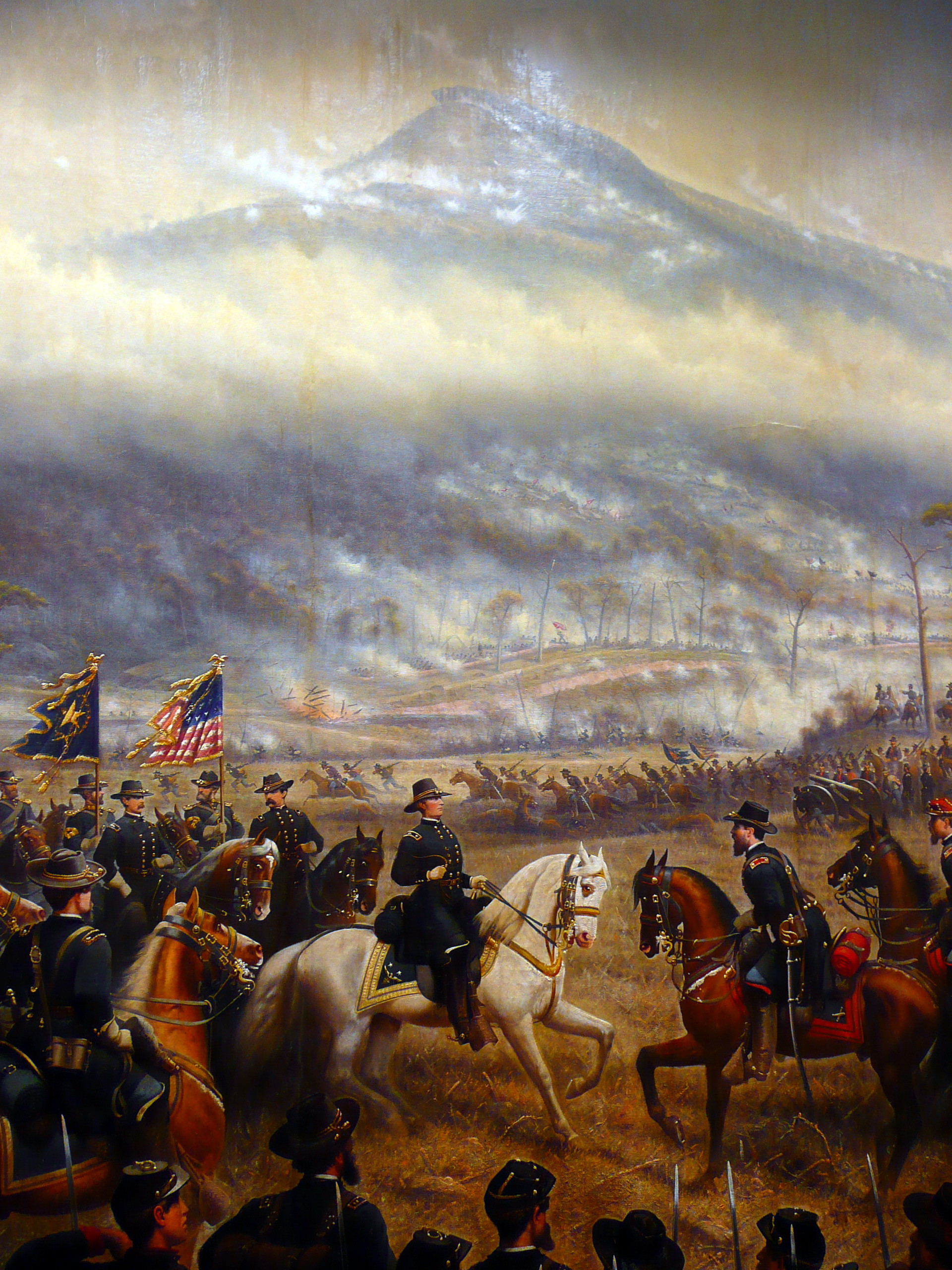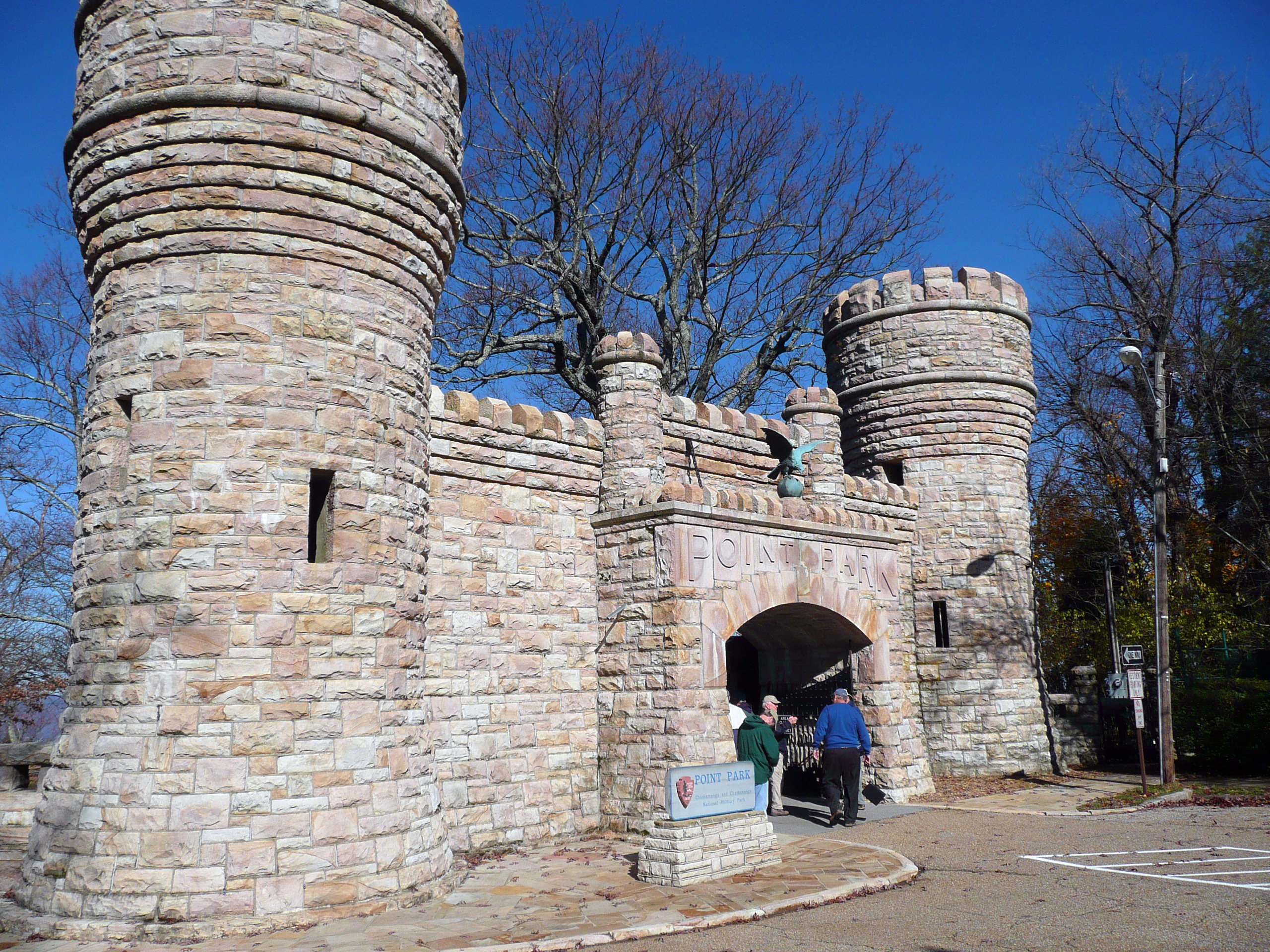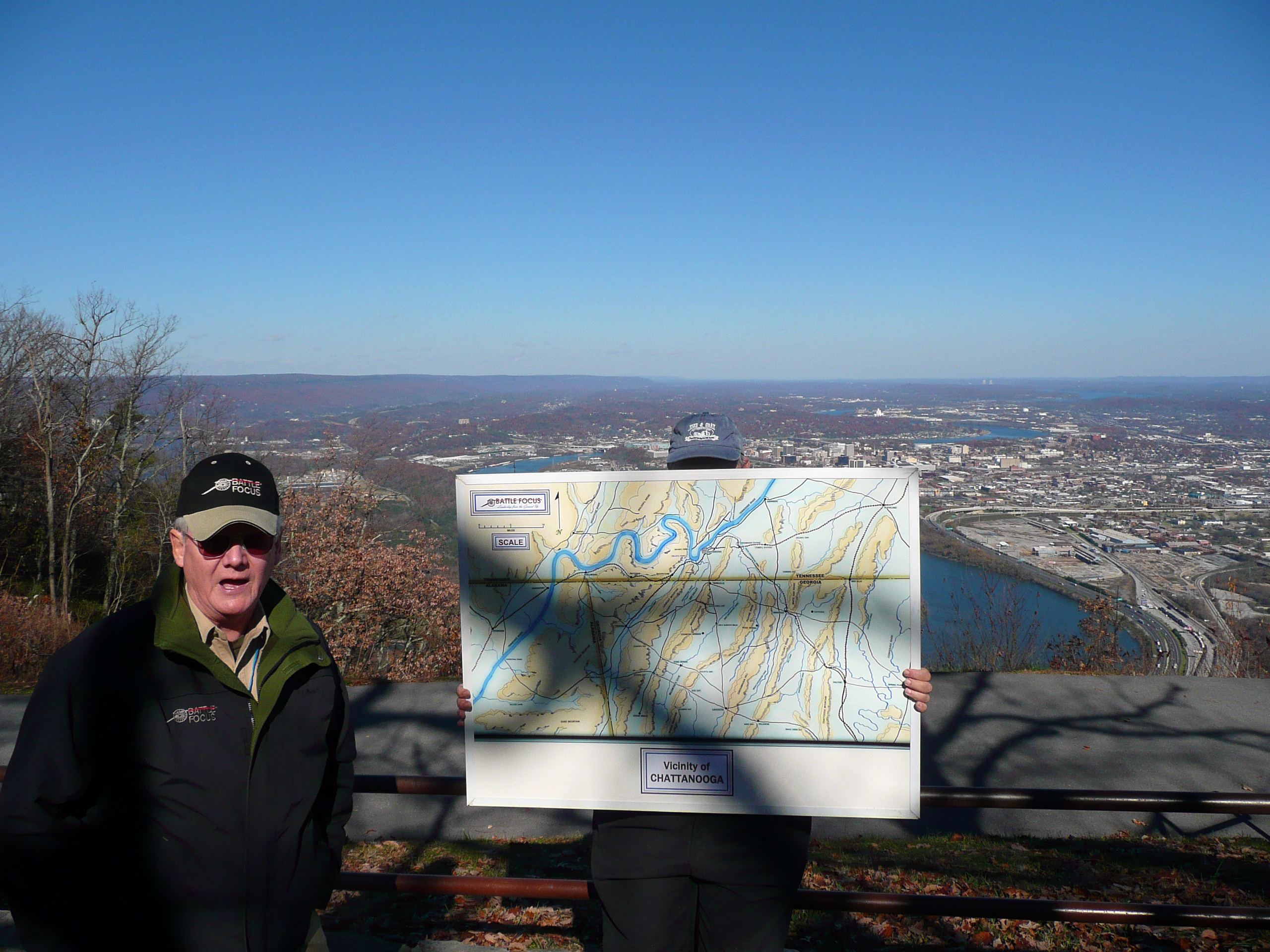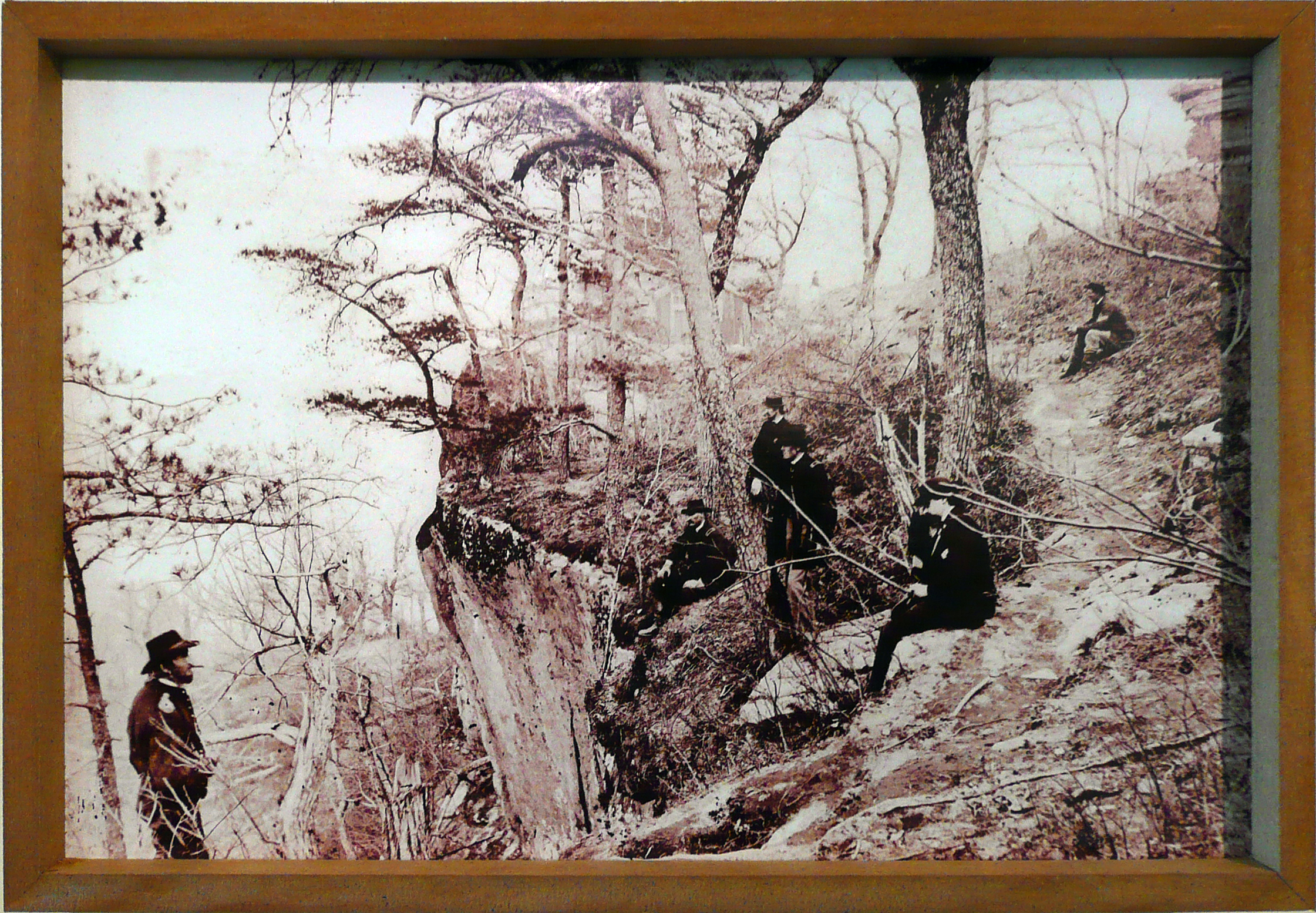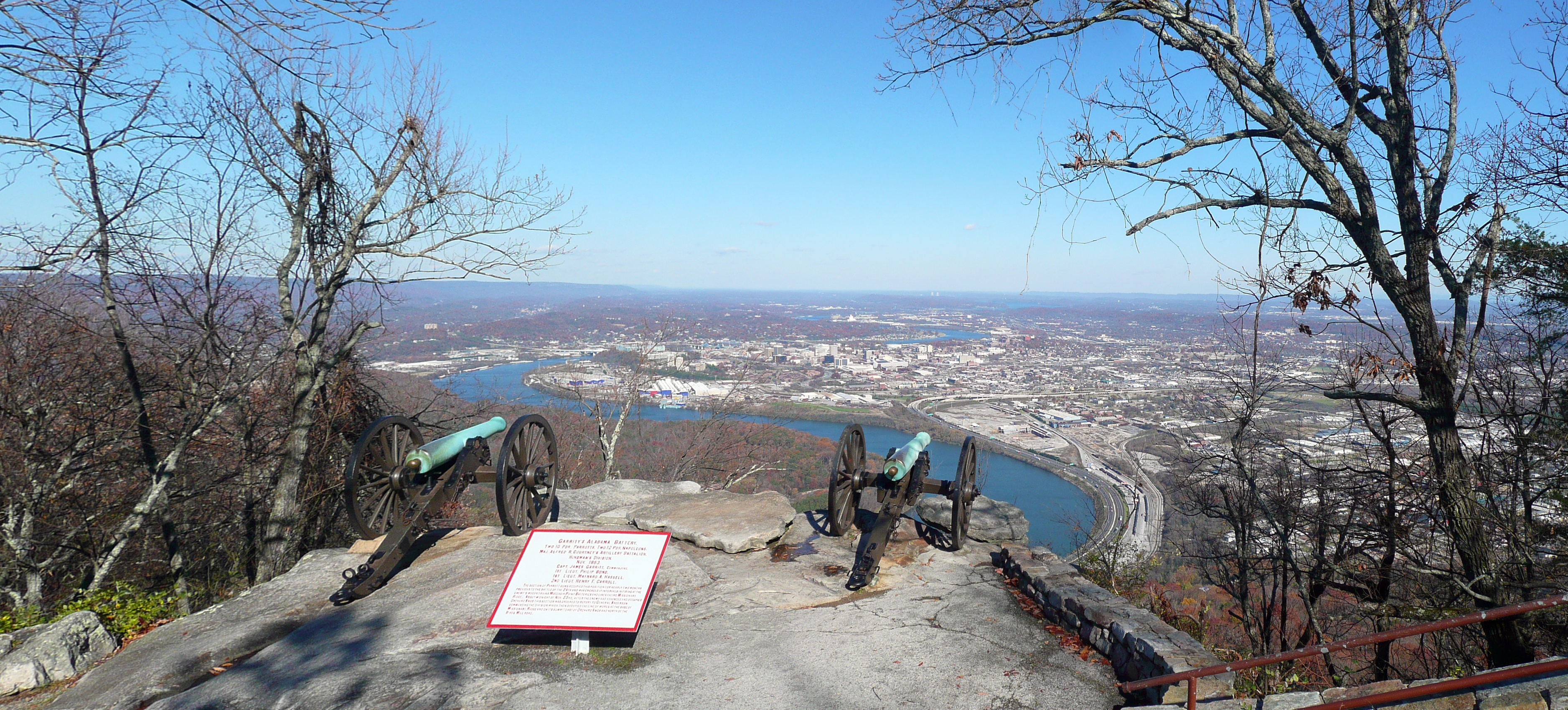 We drove a ways down the western edge of the mountain to visit Sunset Rock. It was here that Braxton Bragg and James Longstreet viewed the Union Army reinforcements under Hooker marching up Lookout Valley. It was a rather difficult descent on very uneven stone stairs, which were covered by damp leaves. Many of us complained about the strenuous 0.1-mile climb back up, but I actually thought the downward direction was more difficult because it felt more precarious. I found that the view from this rock was nice, but not substantially different than those farther north on the mountain, so did not bother with photographs. (In tomorrow's description below, I include a photo of the Rock taken from Lookout Valley.) It did give us a very good orientation to the terrain features we will need to understand in tomorrow's discussion of the Battle of Wauhatchie.
We finished up the day by completing our exploration of the Cracker Line. We drove in the direction of Kelly's Ferry, stopping along the way to visit an abandoned roadbed of the original route, noting how narrow and rocky it was. We were not able to set foot on the ground where the ferry landed because it is on private property, so we drove a bit farther down the river and had a view of it in the distance. Most of us went out to dinner together, tonight at the Cracker Barrel, a perennial favorite of Len's. (To my recollection, every BGES event I have ever attended was headquartered in a hotel within walking distance of a Cracker Barrel.)
Friday, November 18
Today we concentrated on Fighting Joe Hooker, who was the general commanding two corps from the Army of the Potomac, sent from the East as reinforcements. We started on the Wauhatchie Pike at a small New York State monument to discuss the Battle of Wauhatchie. This happened the night of October 28–29. After Bragg and Longstreet on Sunset Rock saw Hooker's troops arriving, Bragg ordered Longstreet to clear the Lookout Valley of this threat. Longstreet did an ineffective job, sending only a brigade size force for an attack after midnight. They achieved some temporary success because they were fighting only a single division (John W. Geary's) that was reduced to brigade size, but they eventually withdrew. Our position was at a hill that hosted Knapp's Battery, where Geary's son was killed. Parker described the battle as "an attack with no intent of winning against men who shouldn't have been there." If the Confederates had not withdrawn at the right time, it could have been the equivalent of Custer's last stand for Geary's division because they were running out of ammunition. We took this opportunity for a lengthy discussion of proper leadership and decried the cronyism of Jefferson Davis.
We drove on the Cracker Line up Brown's Ferry Road, as far as a dead end road that would have led us directly to the ferry crossing, across the river from where we viewed it yesterday, but we avoided the hostile owner of the private property by keeping our distance. We drove around a modest housing development that was the campground for the XI Corps. We drove on the edge of what became known as Smith Hill, but the road was too narrow to stop, so we drove to a Food Lion parking lot to discuss more of the battle. Hearing the sounds of battle, Hooker sent the XI Corps to Geary's aid, but because of micromanaging by Hooker and confusion in the dark, they were distracted by some Confederate units on the adjoining hills and never reached Geary. The overall judgment of the effect of the battle of Wauhatchie was that it doomed the Confederate army to defeat the following month and Len said that Bragg should have withdrawn his army at that point.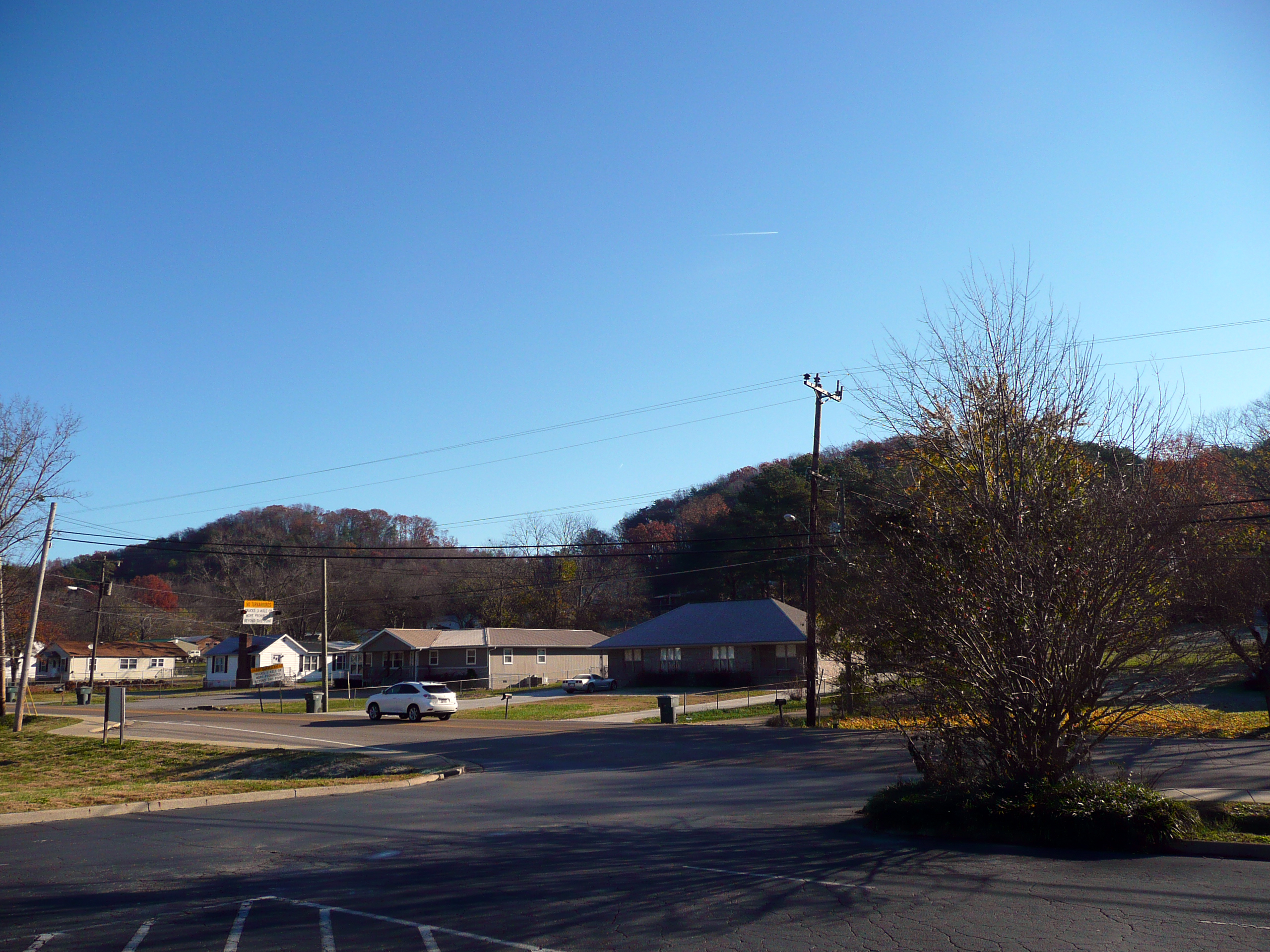 We drove to a small hill called Bald Knob, next to a civilian cemetery in the woods called Fryar's. From here we saw the exact view of Lookout Mountain that James Walker painted in his giant work at the visitor center. Then we entered the grounds of a private nature reserve called "Reflection Riding." (I have no idea what this name signifies.) Although the National Park Service has recently acquired a few hundred acres along the eastern side of the railroad that hugs up against the western slope of Lookout Mountain, it is currently not possible to cross the railroad and access this ground without going through this reserve (and paying admission for the privilege). In the reserve, we drove to Light's Mill, which is the place where Geary's men crossed Lookout Creek on the morning of November 24, leading to the Battle of Lookout Mountain. This was a very tranquil spot and we enjoyed picking out landmarks looming over us on Lookout Mountain, as well as marveling how the Union soldiers were able to sweep down the length of the mountain on the steep slope.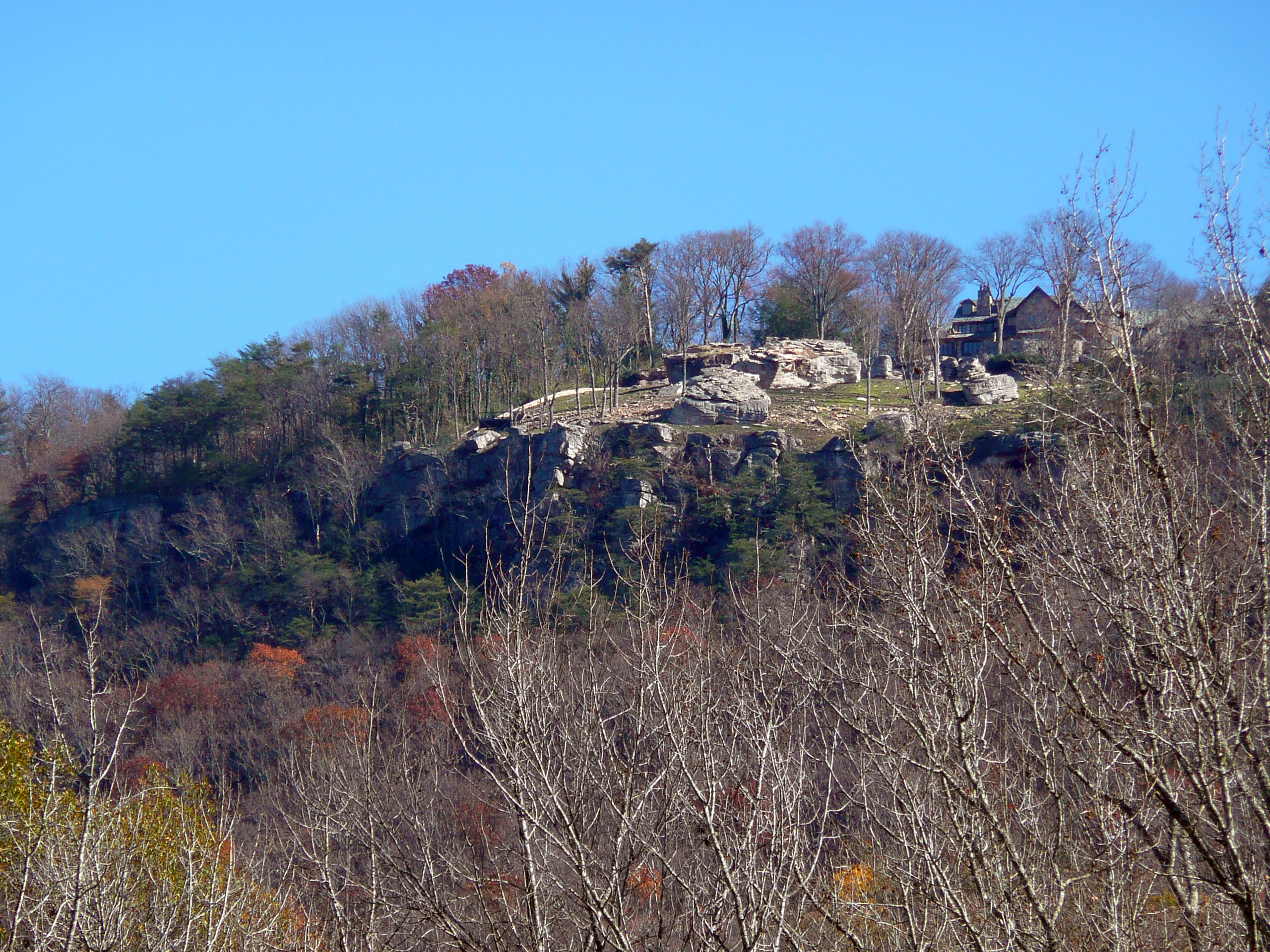 We drove to the Craven House, which is on the small plateau (the "bench") below the nose of the mountain. We examined the New York and Ohio monuments, as well as the Iowa monument 100 yards down the slope, and also took a brief walk on a trail to see some Confederate rifle pits. They were actually lines of rocks rather than the earthwork mounds you typically see. For some reason we did not discuss many of the details of the fighting in this area. I have a foggy memory from my previous visit (back when I was not so obsessive about recording details) in 2008 of an additional stop, an open field about 300 yards south of the Craven House, but all we found were some small roadside signs about the "final battle line."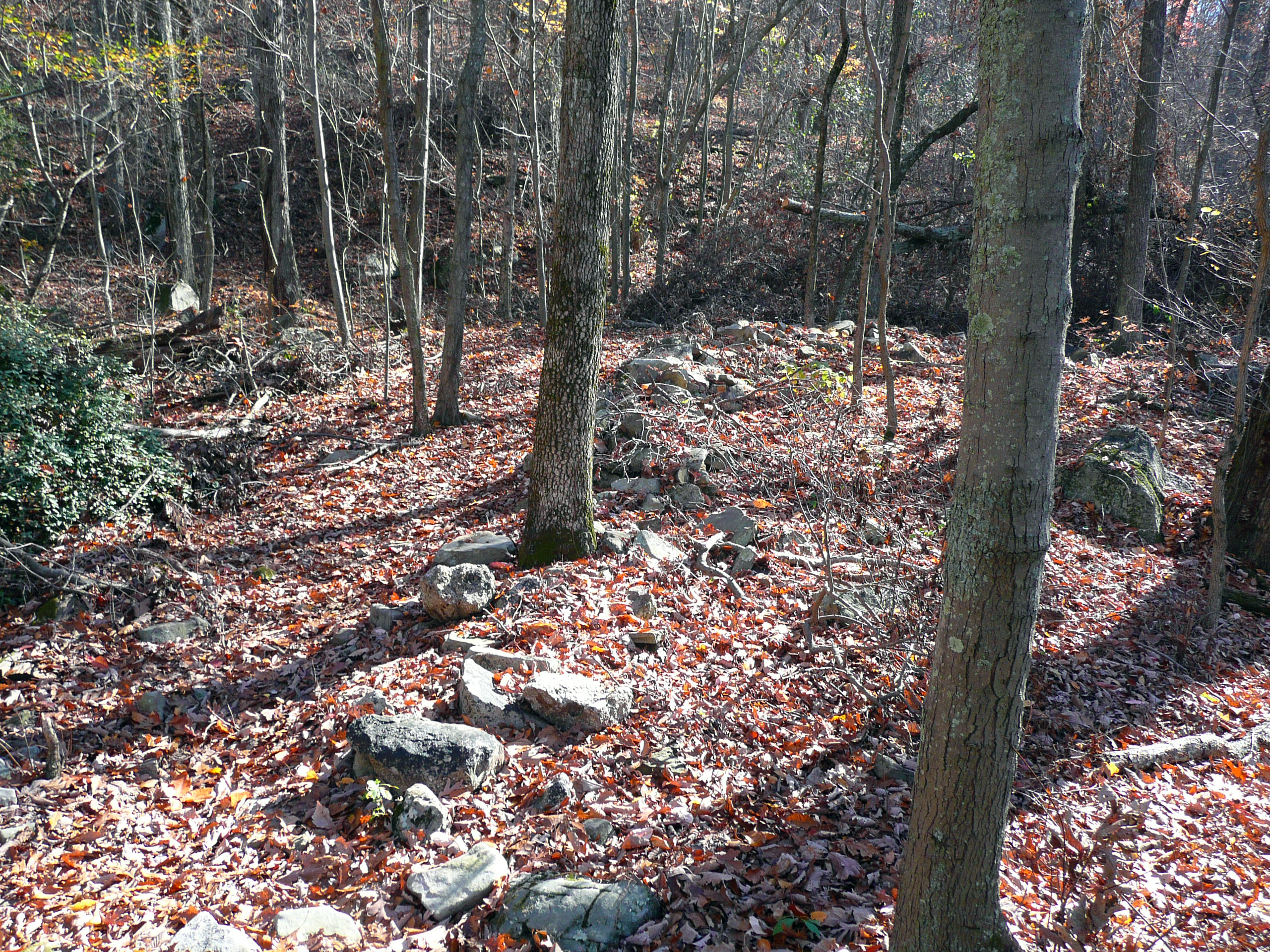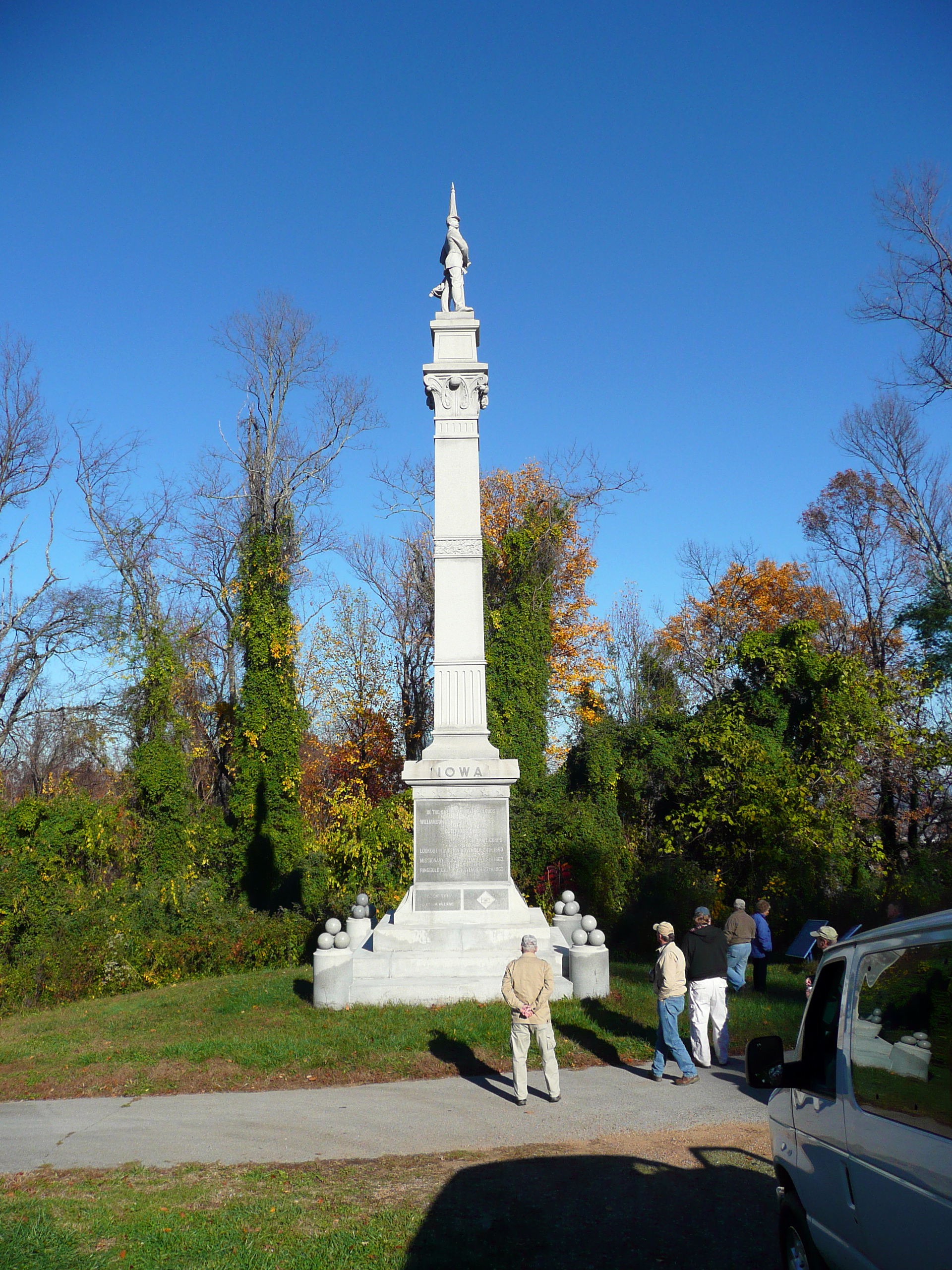 Next we followed Hooker on November 25 as he descended the mountain and headed east toward Rossville Gap. Because of housing and factory development, we had to take a rather indirect path. We stopped at the bridge over Chattanooga Creek, which was burned at the time and caused Hooker to be delayed by three hours while it was rebuilt. We stopped at a small park in downtown Rossville, Georgia, and discussed how Hooker's three divisions entered the gap and swung north, complementing the frontal assault by Thomas's army (which we will be discussing in more detail tomorrow). I started a discussion about historical disagreements of how far Peter J. Osterhaus's division advanced on the eastern slope of Missionary Ridge. We came to no conclusion, but my current Wikipedia article on this battle is currently leaning toward the notion that he advanced almost as far as Bragg's headquarters, making a very significant contribution to the Confederate defeat. We drove about a third of Missionary Ridge and then returned to the hotel. We had our "banquet" dinner tonight at the Melon Patch Diner restaurant in Chickamauga, Georgia.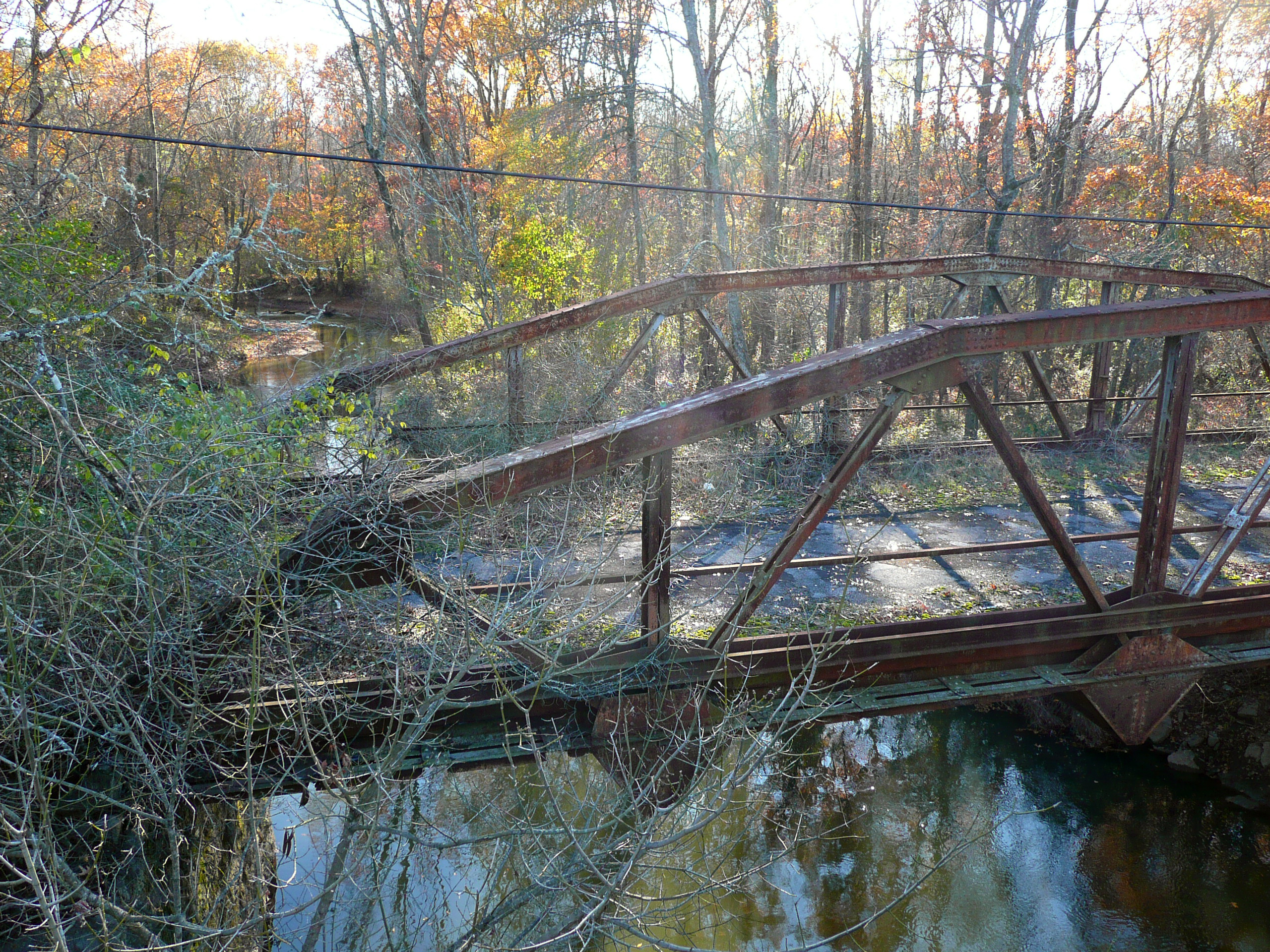 Saturday, November 19
For our final day, we crossed north over Stringer's Ridge, following the course of William T. Sherman's army after it proceeded up the Cracker Line and across Brown's Ferry. They were headed for the northern end of Missionary Ridge and wanted to avoid Confederate detection. It was interesting to note that when they reached the area called "Sherman's Hideout," masked by the ridge, they arrested all the local civilians so that they could not inform the Confederates of Sherman's plans. We stopped at the Chattanooga Memorial Park, a pretty little cemetery with lots of ducks waddling around a pond, to discuss this situation. We drove to where North Chickamauga Creek fed into the Tennessee River and where Sherman's men launched 116 boats after midnight early on November 24. When they had established a beachhead on the southern bank, at South Chickamauga Creek, they then built a pontoon bridge. To follow this action, we visited a couple of stops on the Tennessee Riverpark, which is an extensive park system of shoreline and running/bicycle paths.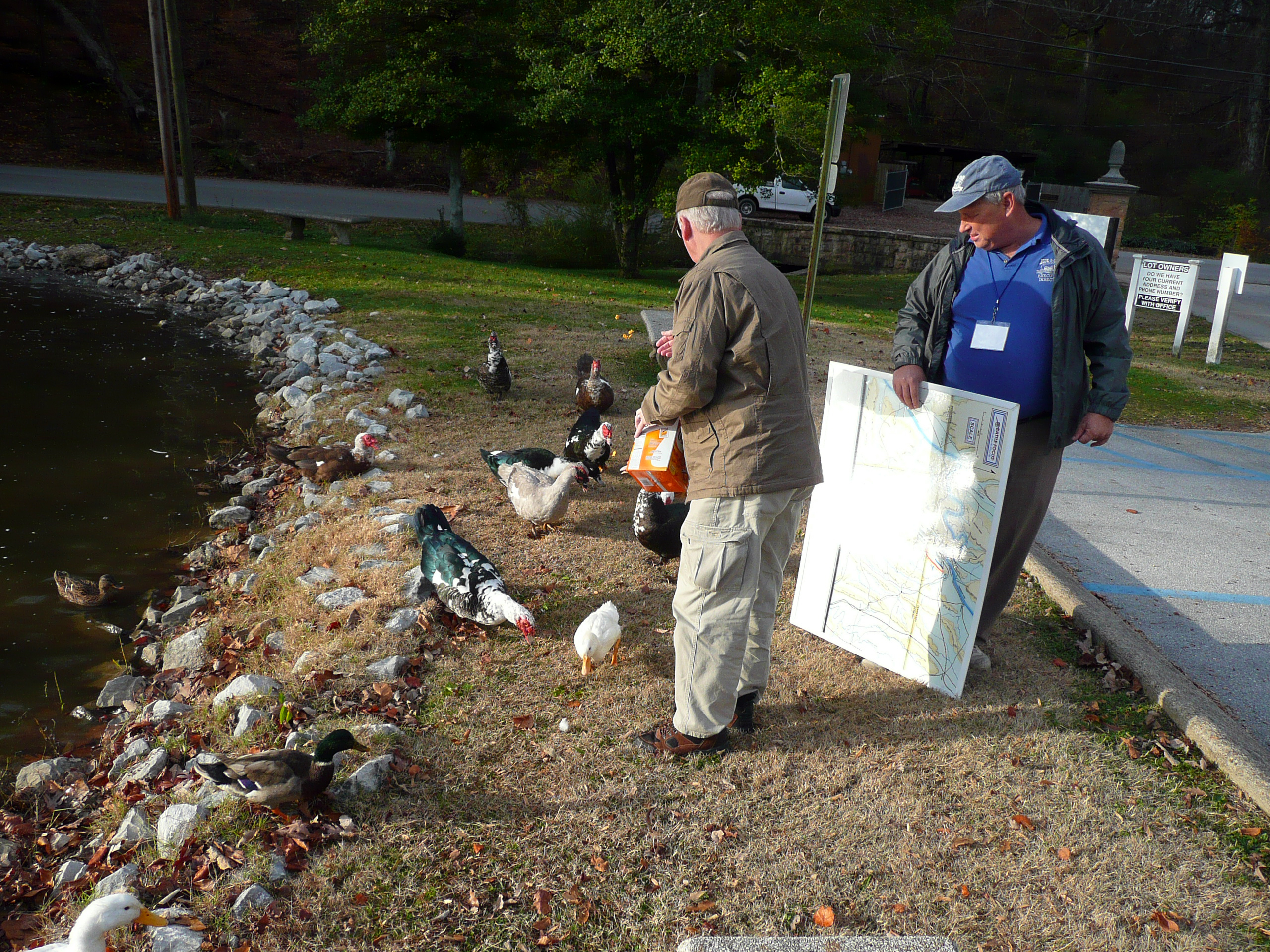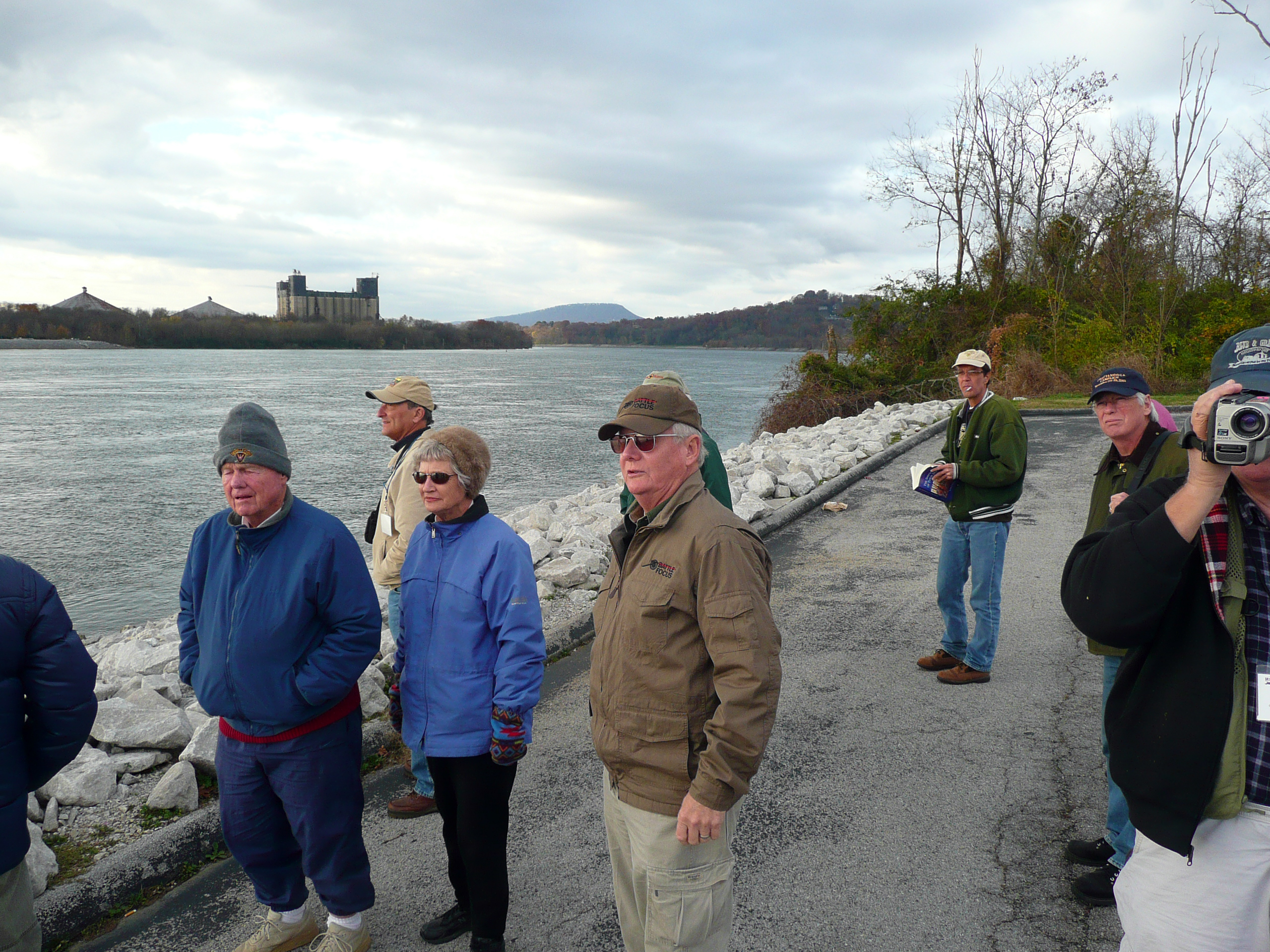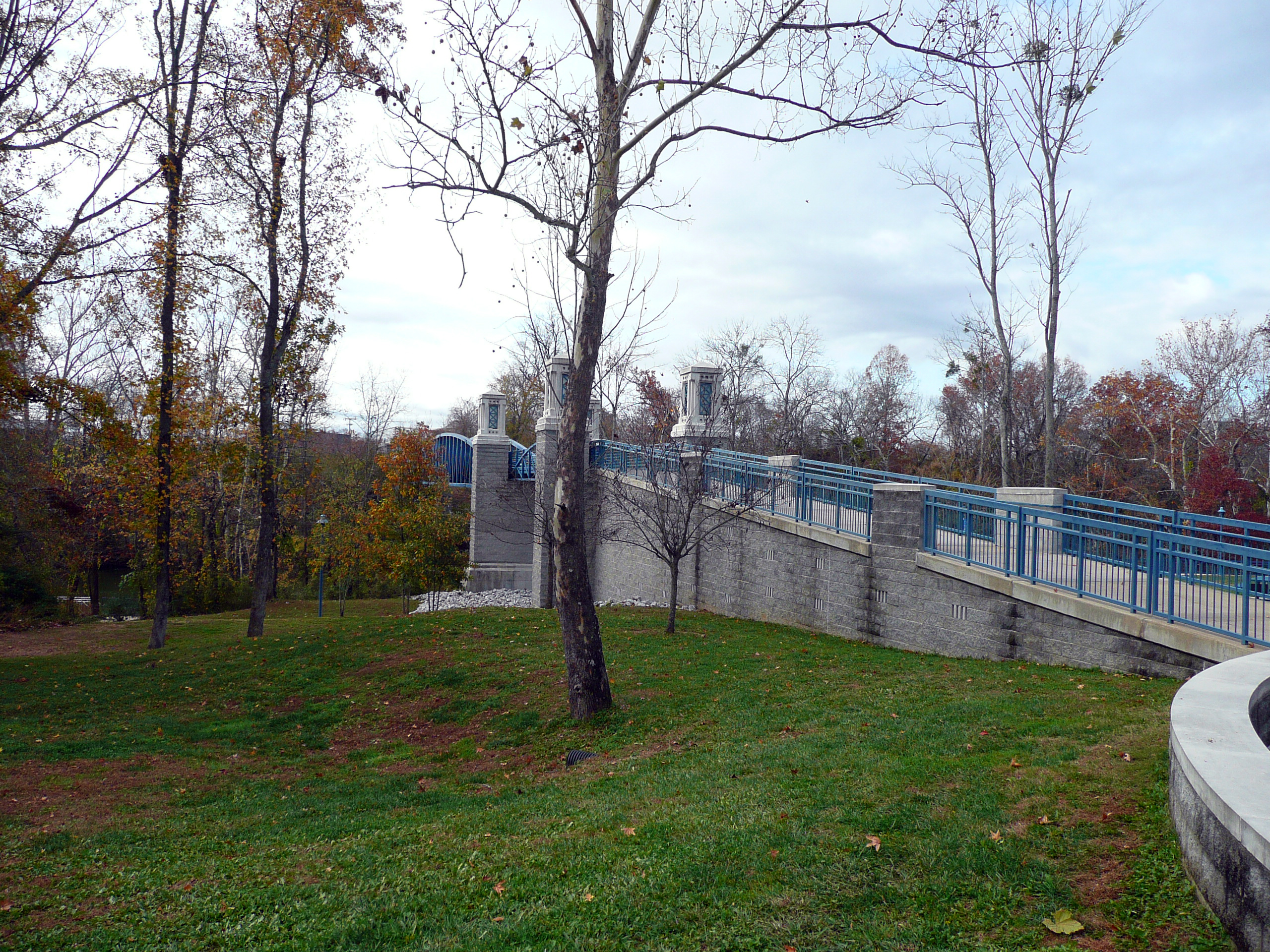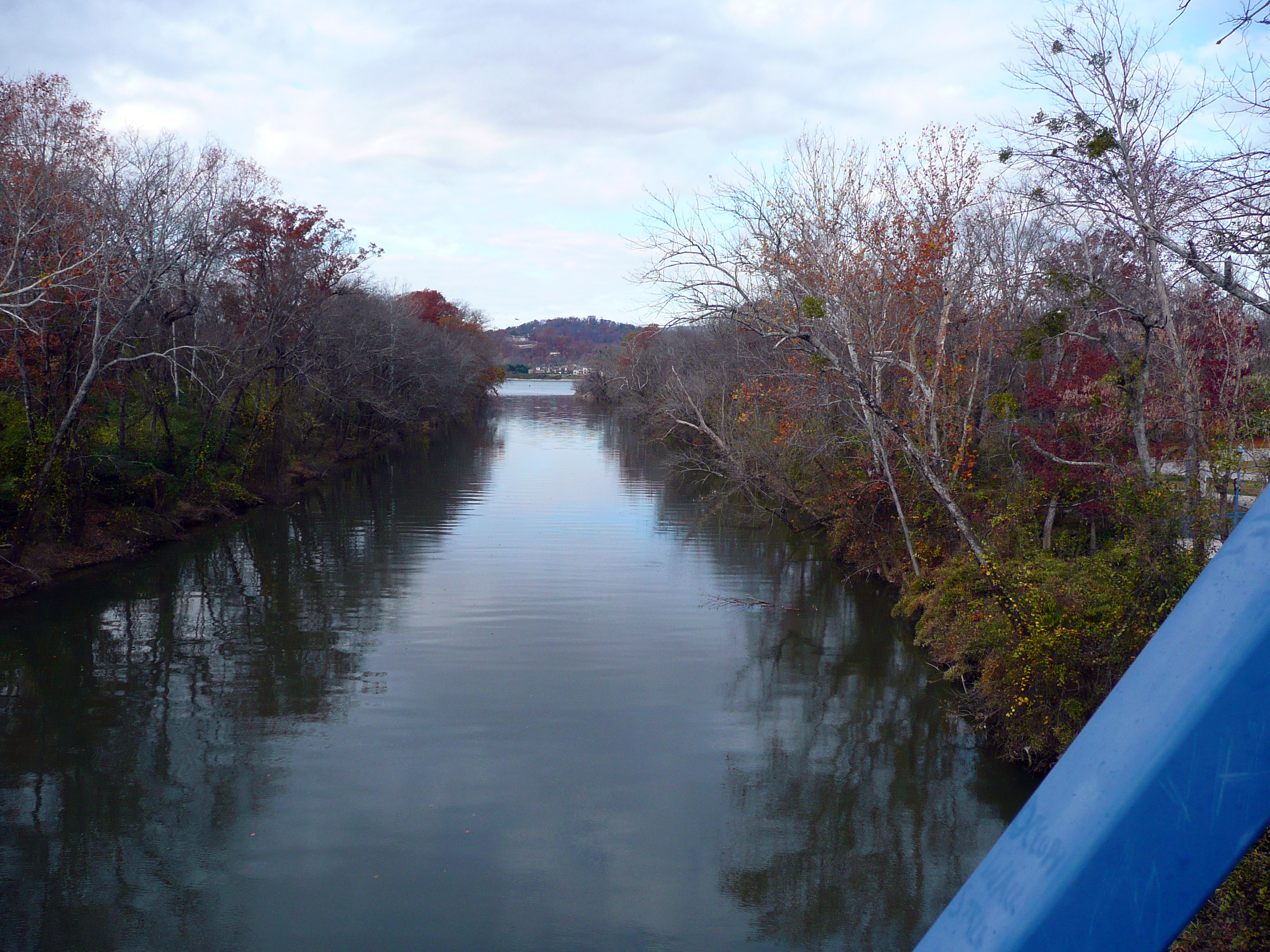 We stopped at the saddle between Billy Goat Hill and Lightburn Hill (on Fairview Dr.) and discussed Sherman's occupying this ground, mistakenly thinking that he had achieved a position to drive in the Confederate right flank on Missionary Ridge. What he could not see from across the river when he made his tactical plans was that there was a tremendous (750 yards wide) ravine separating these hills from the next one further south, called Tunnel Hill. It was not possible to see a good view of the ravine from this point, but it was quite apparent when we moved south after lunch. We drove to Glass Street and walked the short distance to see the famous railroad tunnel that gave the hill its name. We were lucky enough to see a tourist train come by.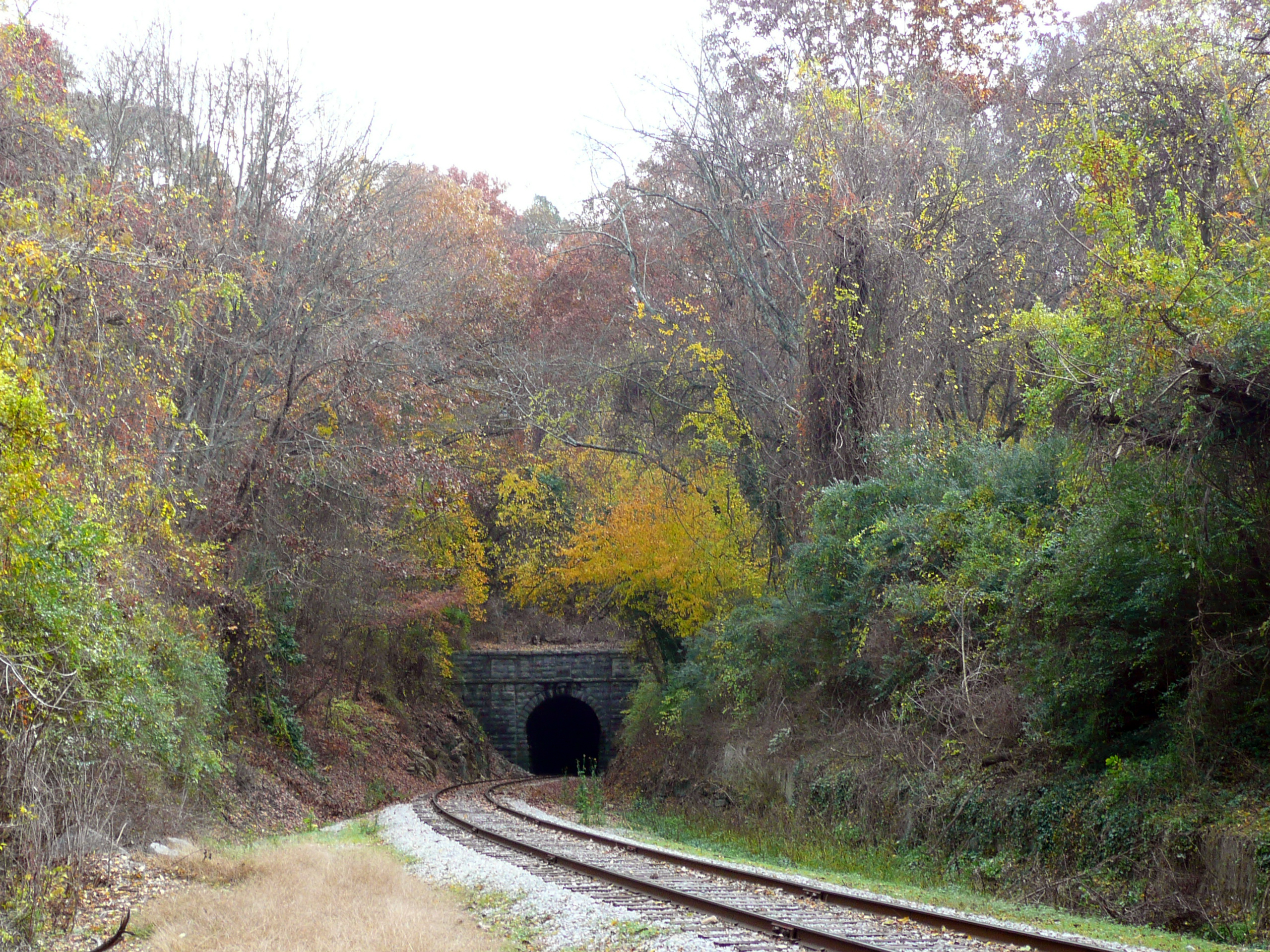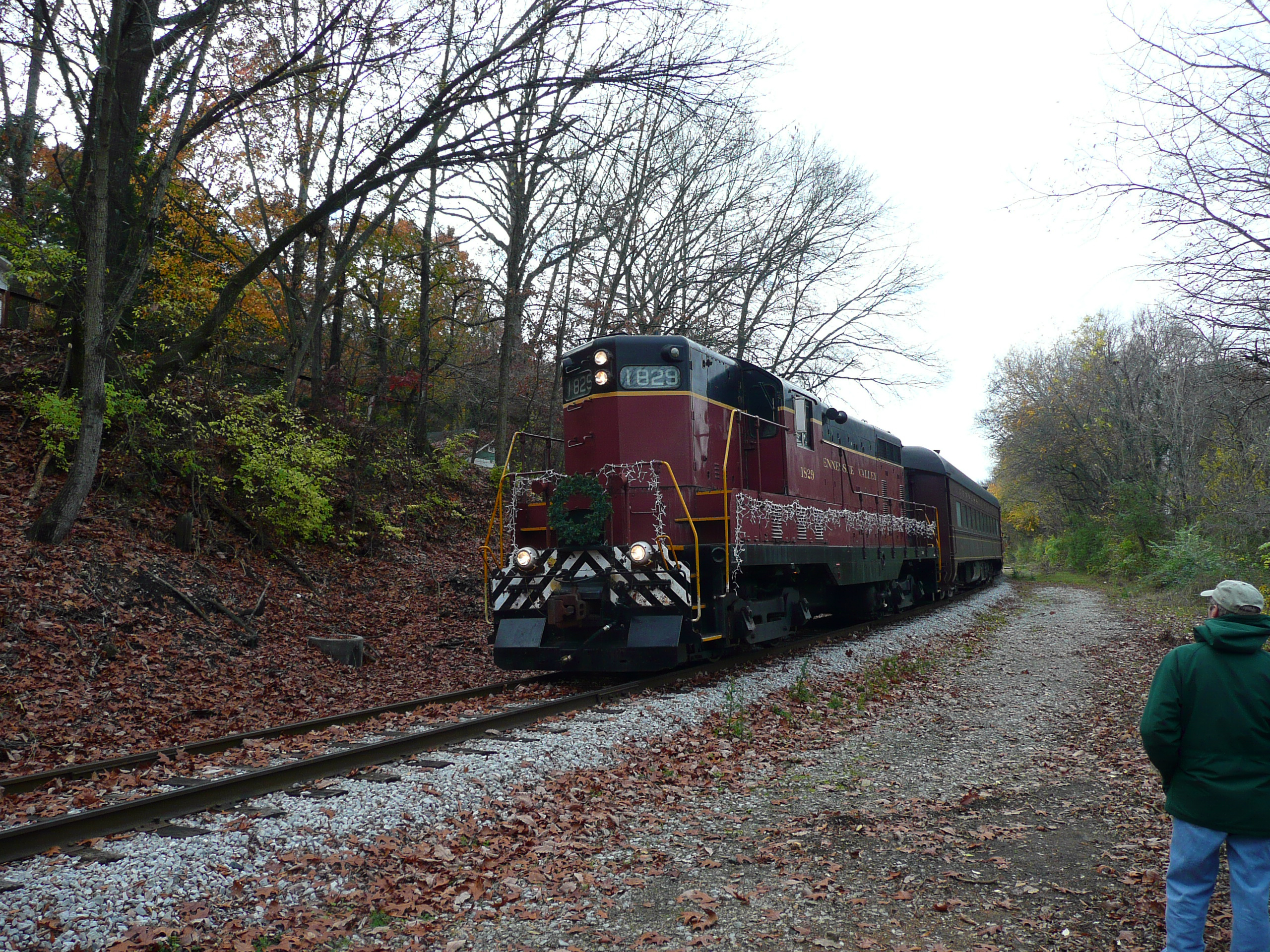 After lunch we went to the Sherman Reservation (at North Crest and Lightfoot Mill Roads). The military park uses this naming convention for its tiny properties on Missionary Ridge, which I do not recall seeing at other parks. This is the largest and encompasses virtually all of the top of Tunnel Hill. There is a long open area with a number of monuments. The state of Iowa seems to have spent a lot of money in Chattanooga putting up impressive columns with cookie-cutter Union soldier statues on top. It was disappointing to see that a number of the metal signs have been stolen from their pedestals, probably to feed someone's crack pipe. You have to park on the street at the bottom of the hill and walk up a long road rather than driving up. At one time this was open, but the Park Service closed it because of nighttime shenanigans in the neighborhood. We got a better view of the big ravine here, but it was still difficult to take a meaningful photograph with the foliage blocking it. The down slopes are quite serious on this hill, something you cannot fully appreciate simply by looking at topographic maps. We had a brief discussion of the battle, but it was rather nonspecific and I was disappointed we did not get into more detail.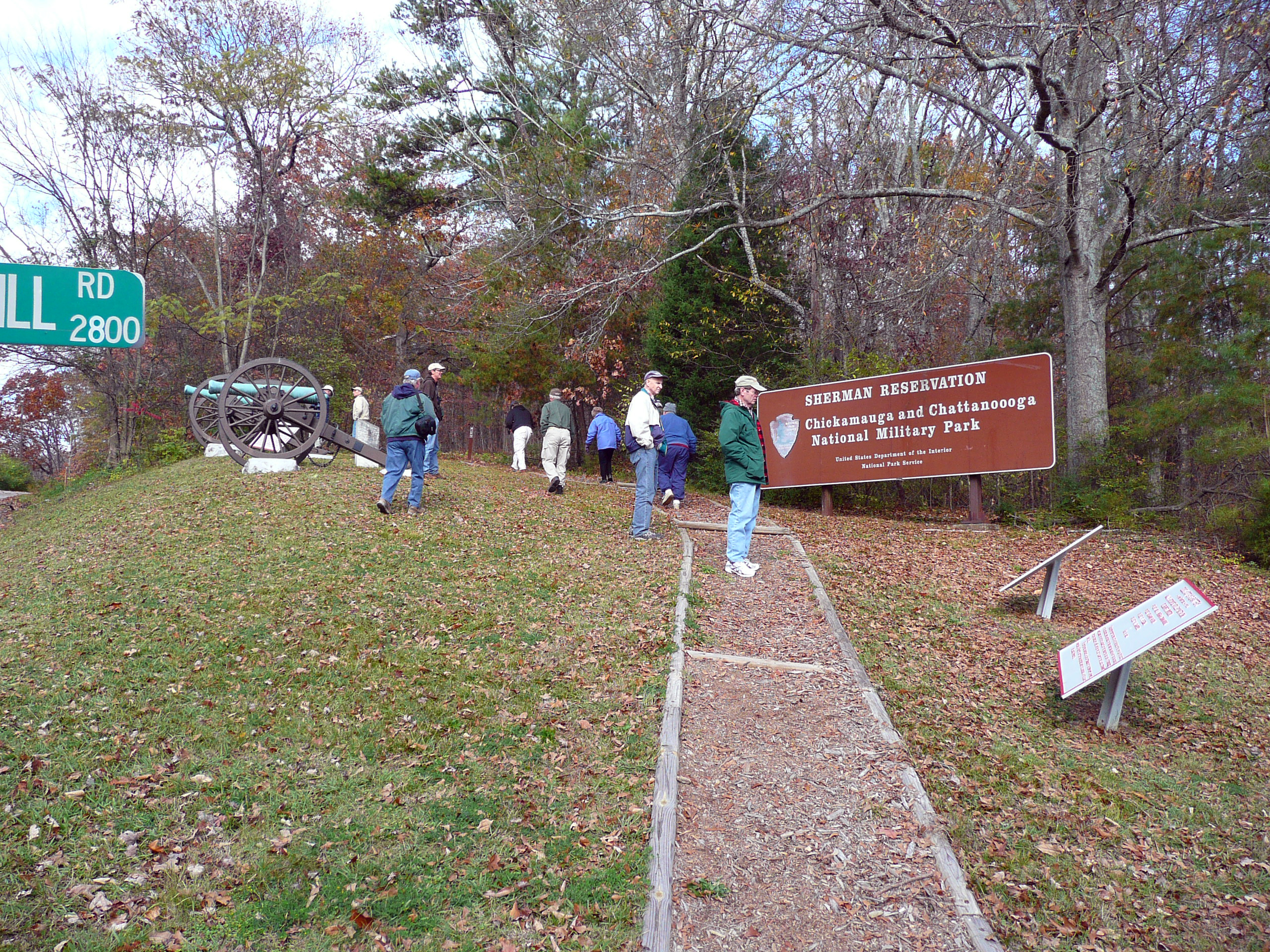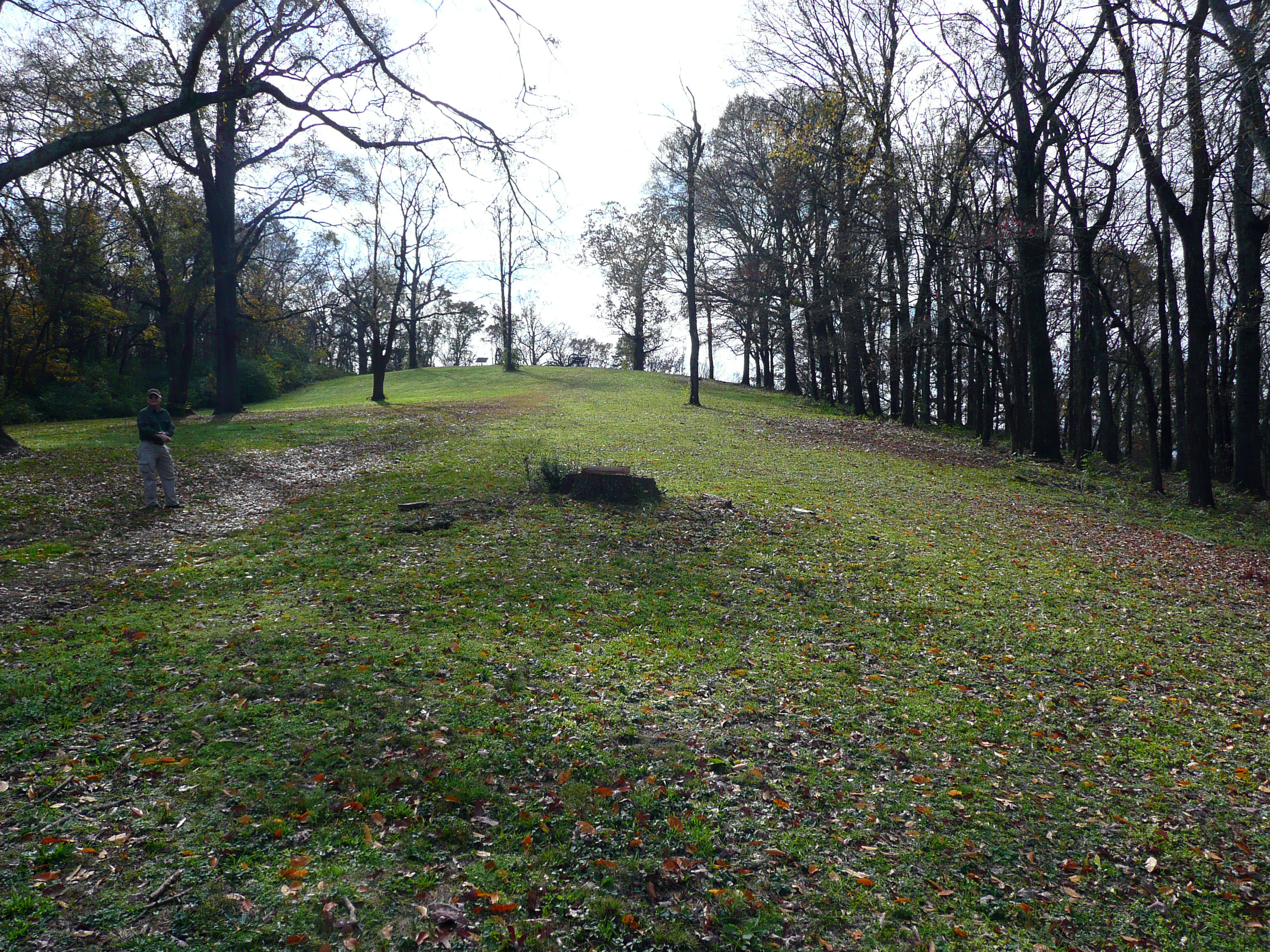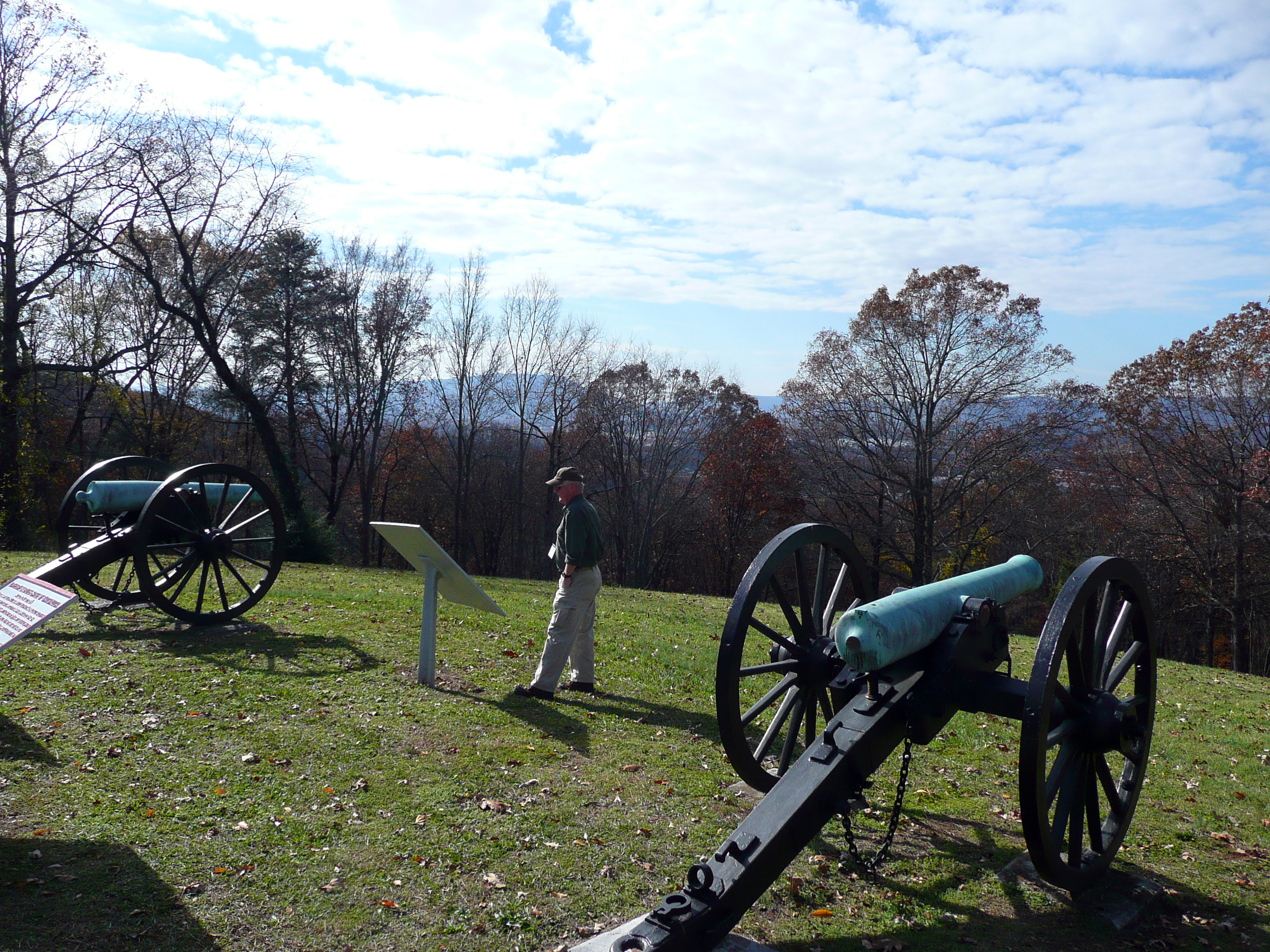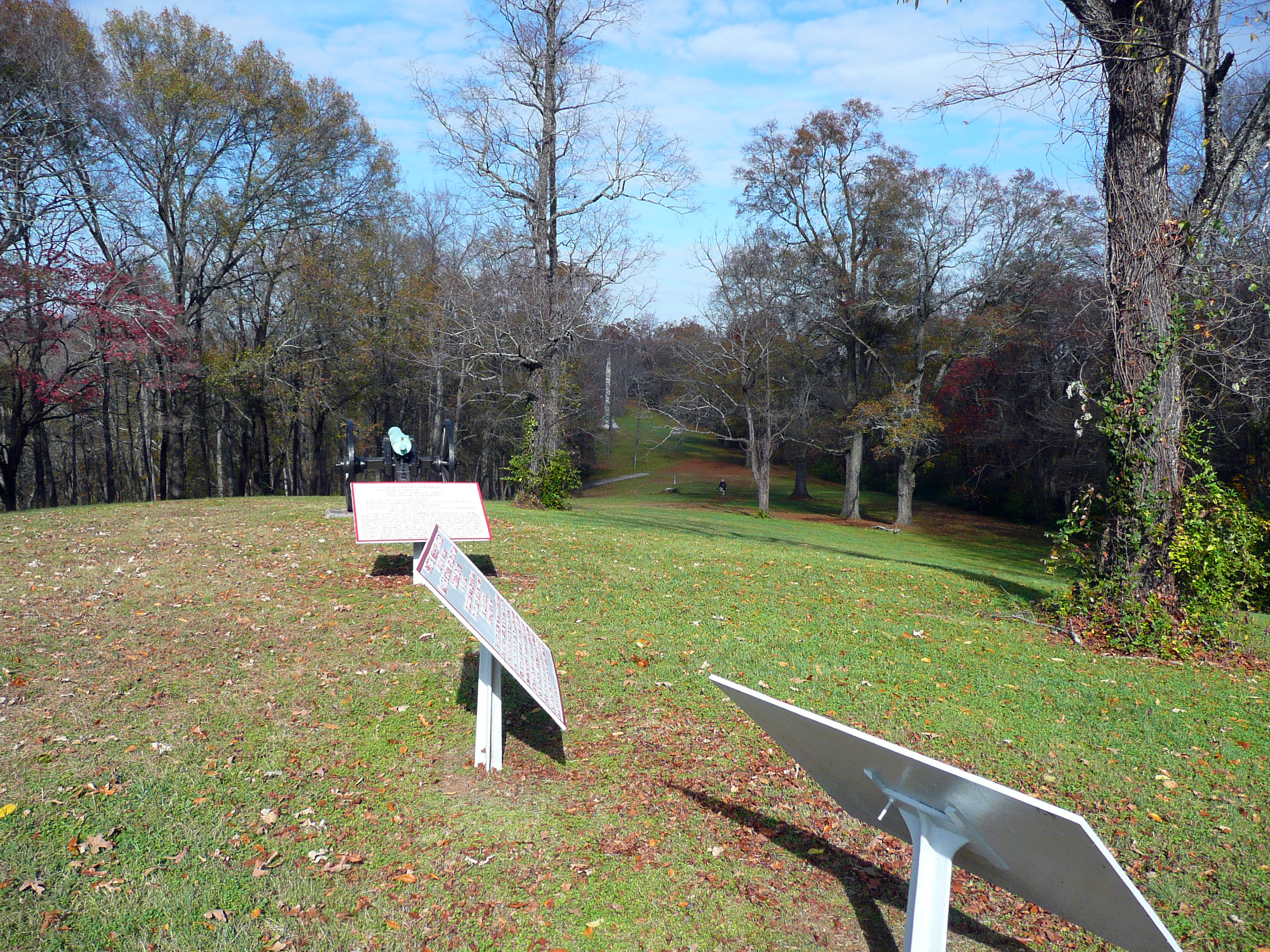 We drove down the Crest Road along Missionary Ridge and it was lamentable that the road is so narrow and there is no place to park to look at monuments or roadside signs. I will need to return someday and budget some time to walk the entire length at my own pace—it's only a few miles long. It will need to be in the winter because I have been here when the leaves were on the trees and you can't see a darn thing. Today it was pretty decent for views from the moving van. There are some very ritzy properties up here. We stopped at the Bragg Reservation, just south of where I-24 crosses the ridge, which is where Braxton Bragg had his headquarters on November 25. I was amused to see a building with "luxury condominium brownstones" offered called Bragg Point. They have stupendous views of the east of the ridge, but the building was really butt ugly. Once again we saw a few monuments, although did not get into much detail about the Union assault.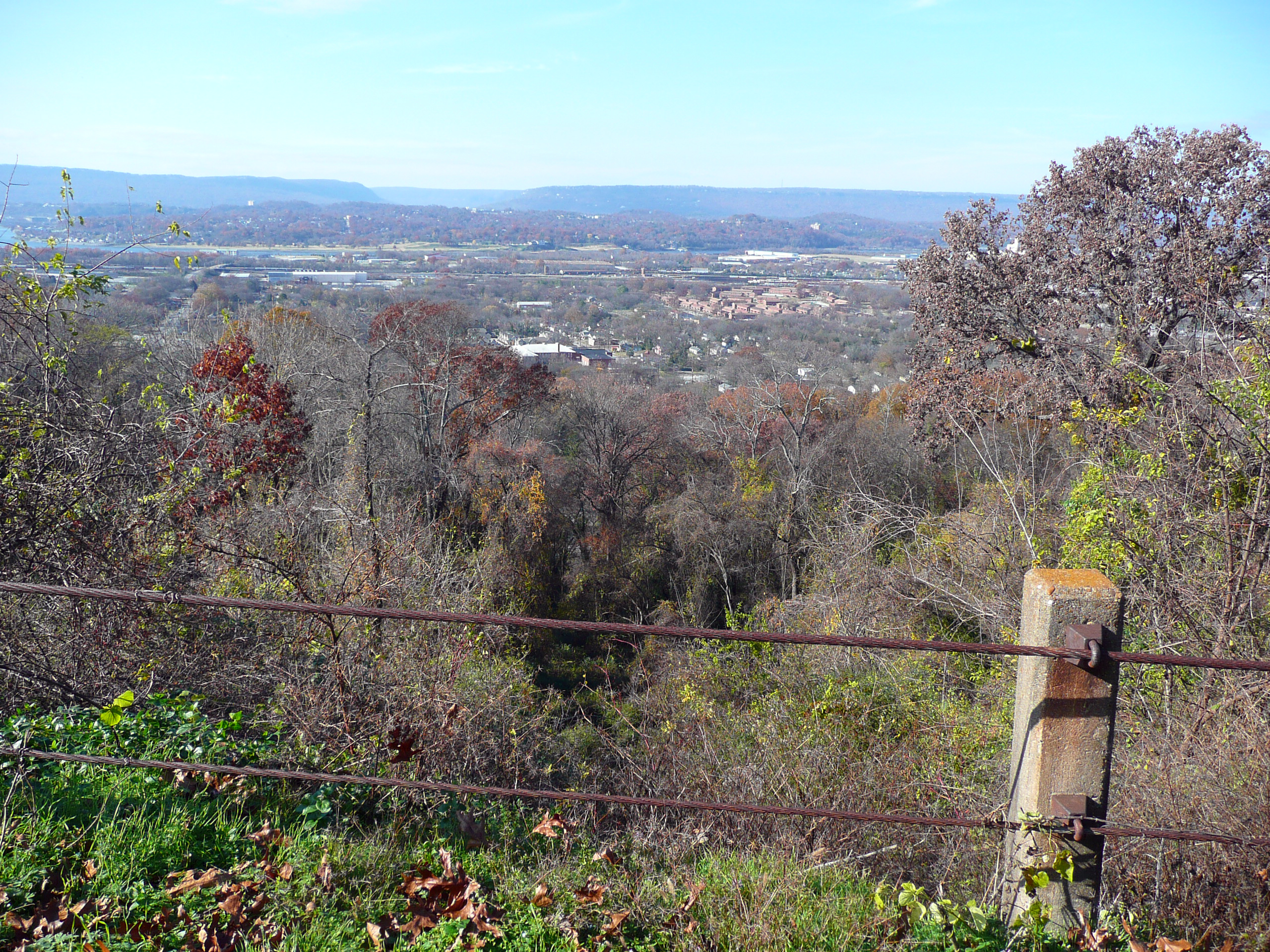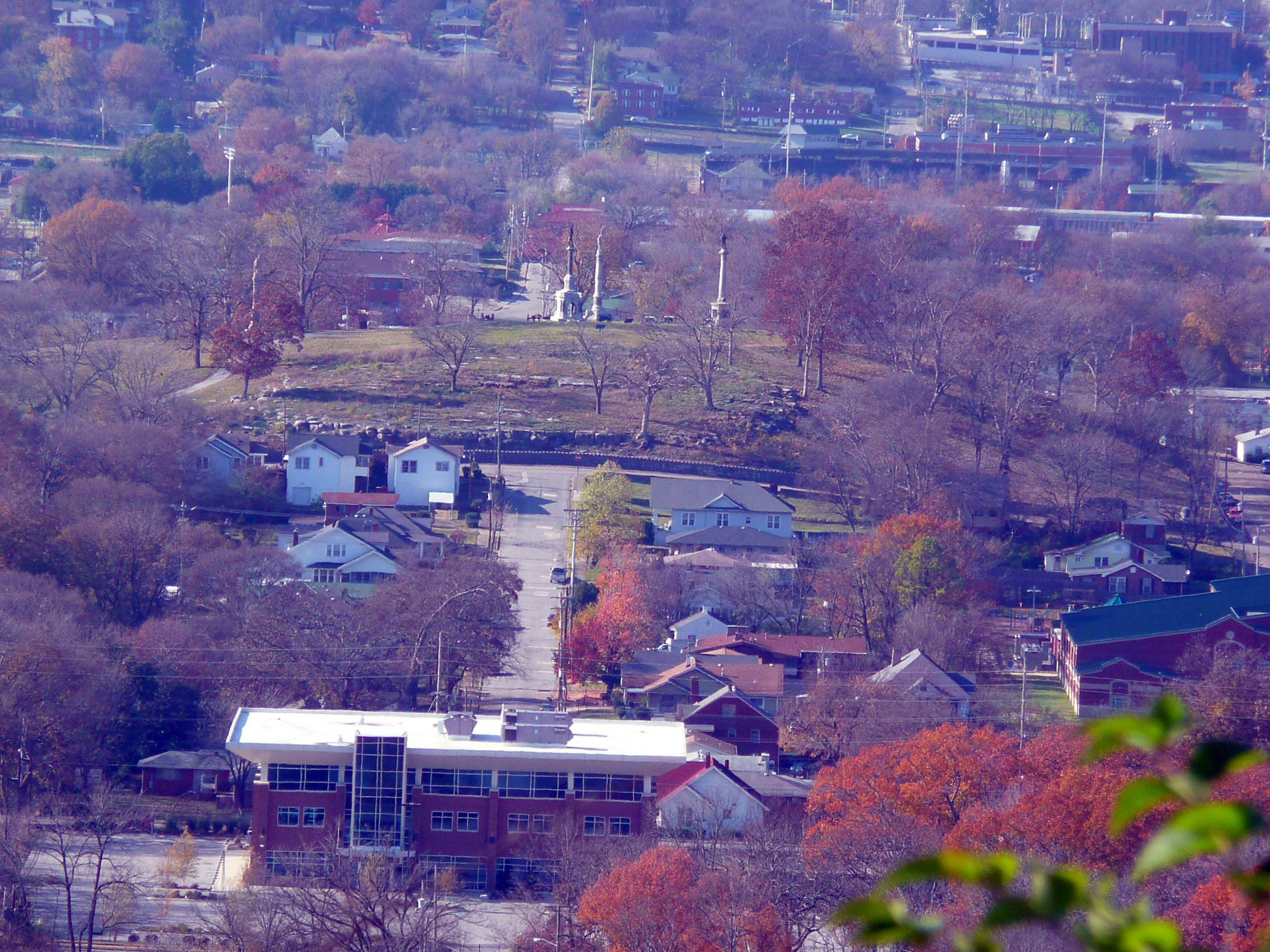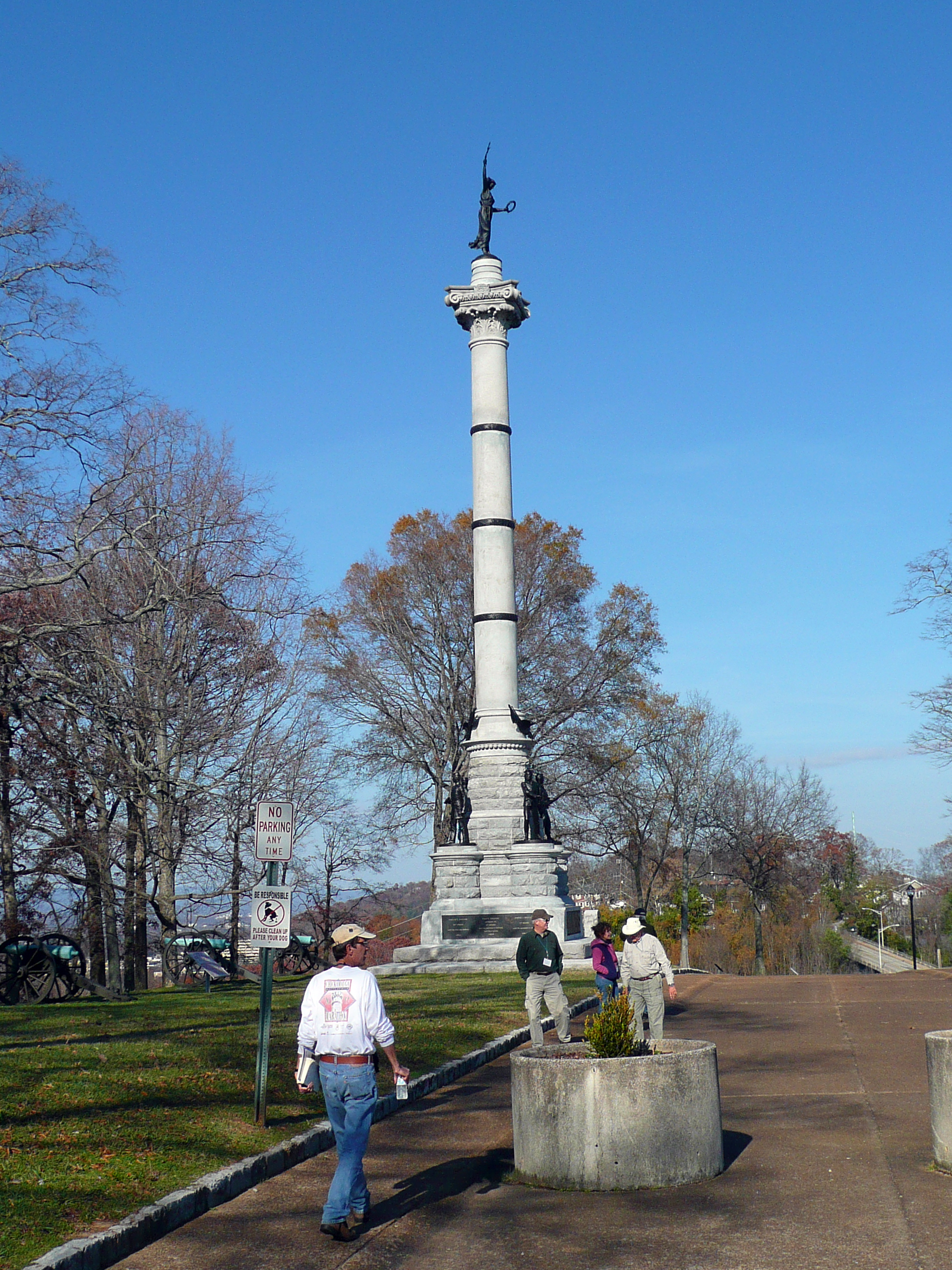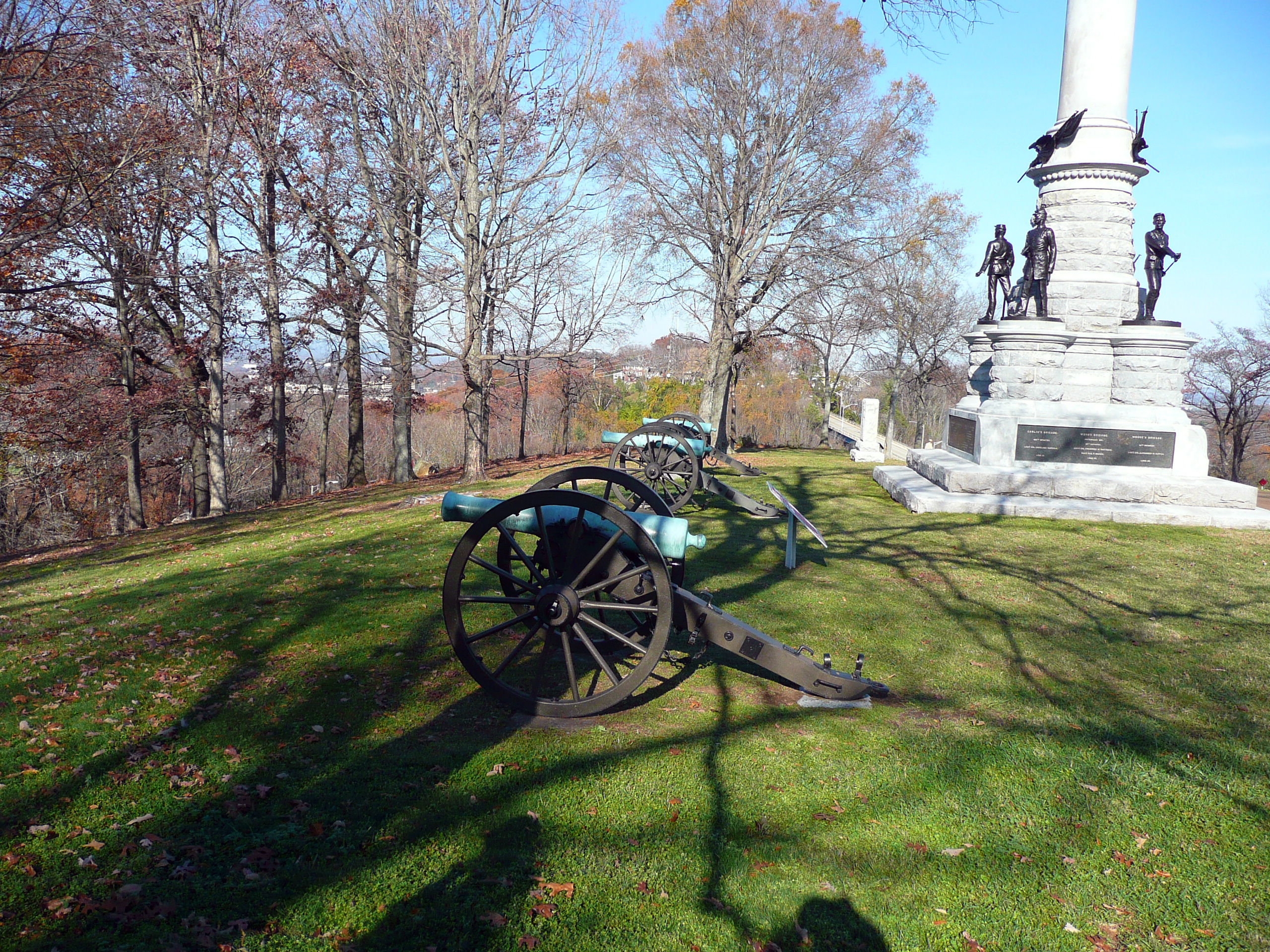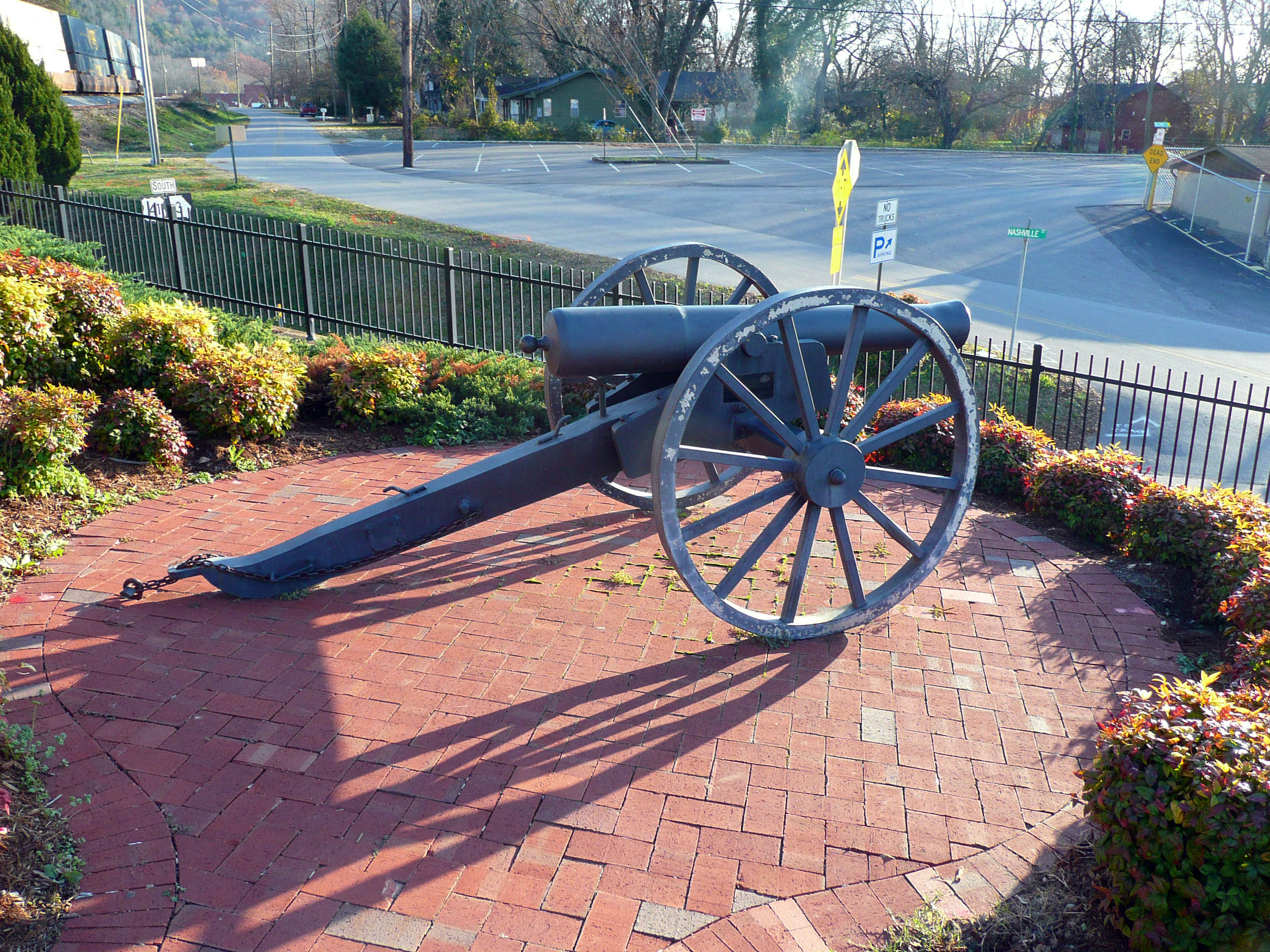 We finished up the day by following Hooker's pursuit of the Confederates toward Ringgold. We stopped at West Chickamauga Creek to see the bridge that was burned out and delayed the pursuit. We drove through Grayville where there was a cavalry action, and then stopped at the Ringgold railroad depot. We were amused to see the unusual manufactured cannon out front, which Parker said had been constructed by the same contractor who did the authentic cannon replicas in Raymond (but who had actual specifications for that job, which he did not for this one). We drove out into Ringgold Gap to a water treatment plant to see the creek, and then found the first pavilion for the Atlanta Campaign (the one I found earlier at Dalton was the second), which featured a great statue of Patrick Cleburne, recently dedicated. A small group of us had dinner downtown in Chattanooga. It is quite a lively place on a Saturday night. I have one more night in a hotel and then will fly back to San Francisco around noon on Sunday.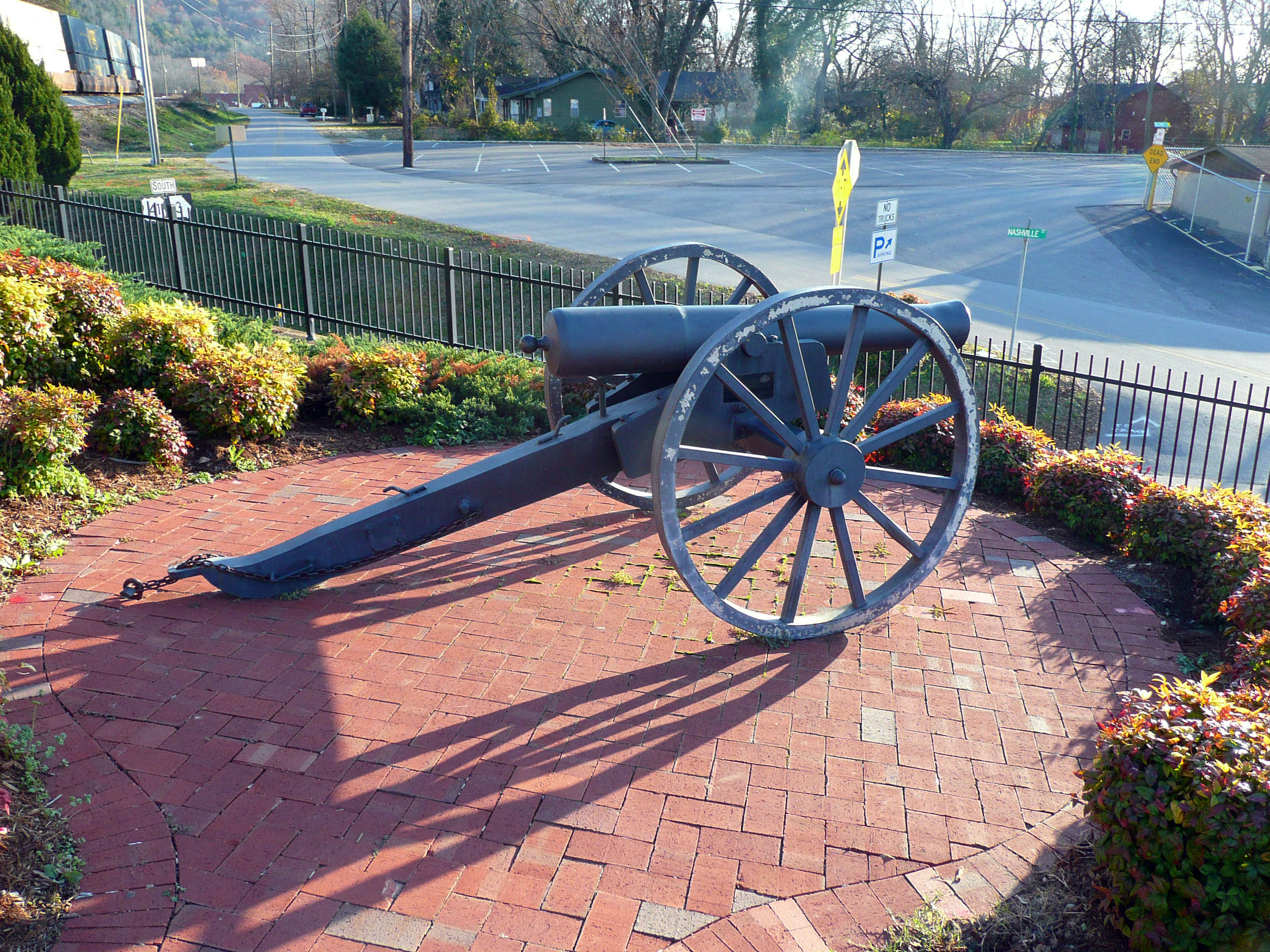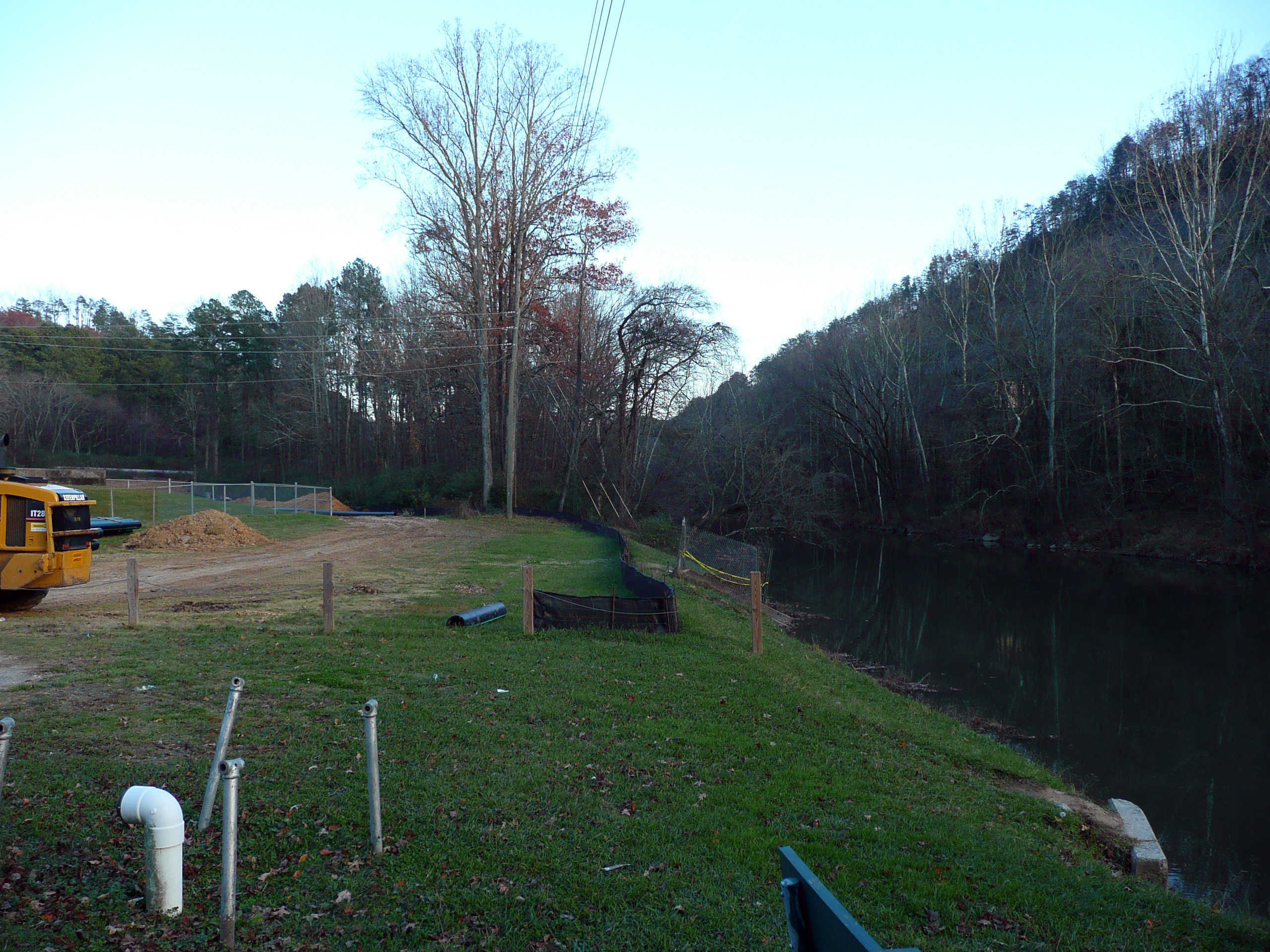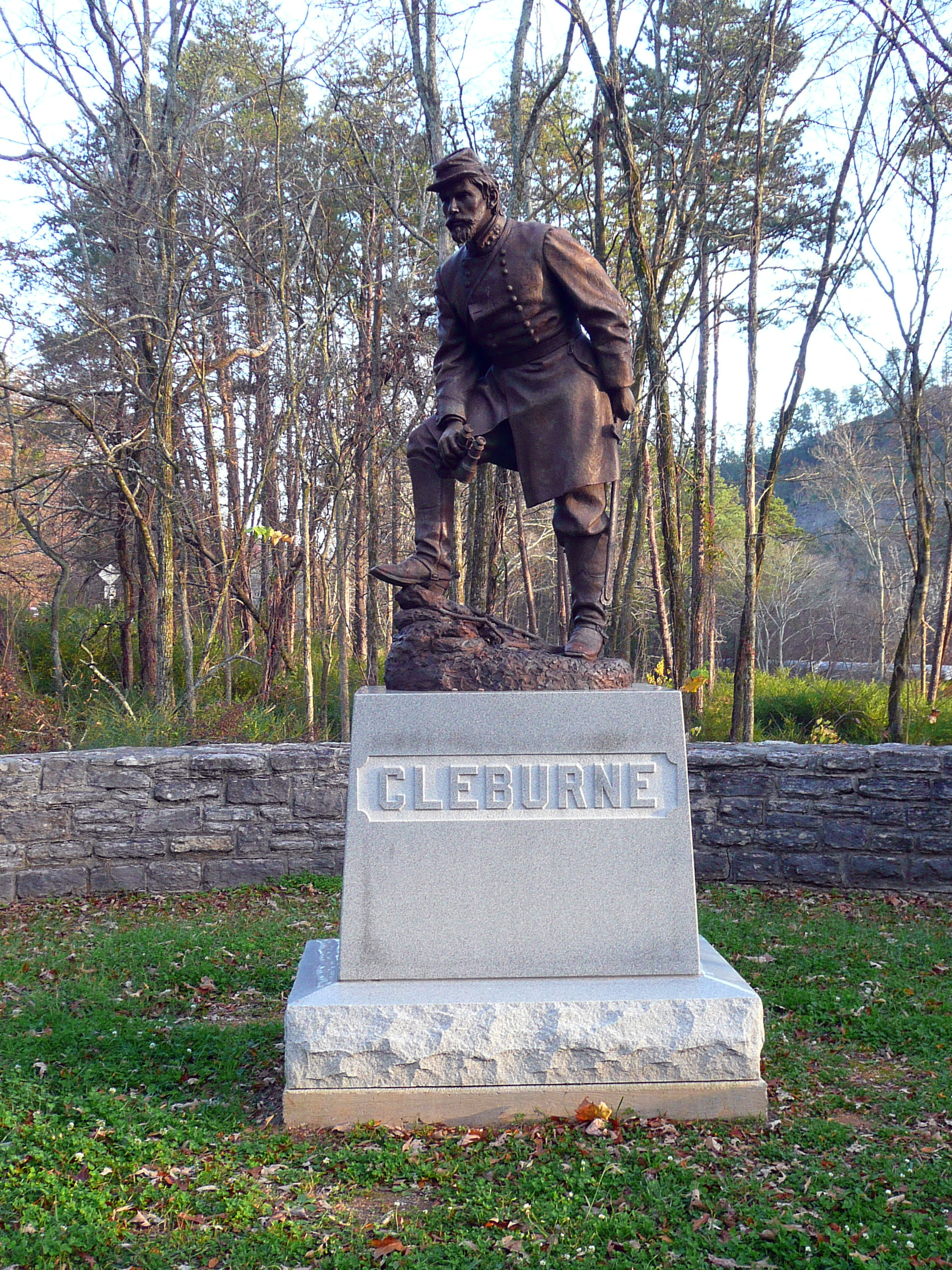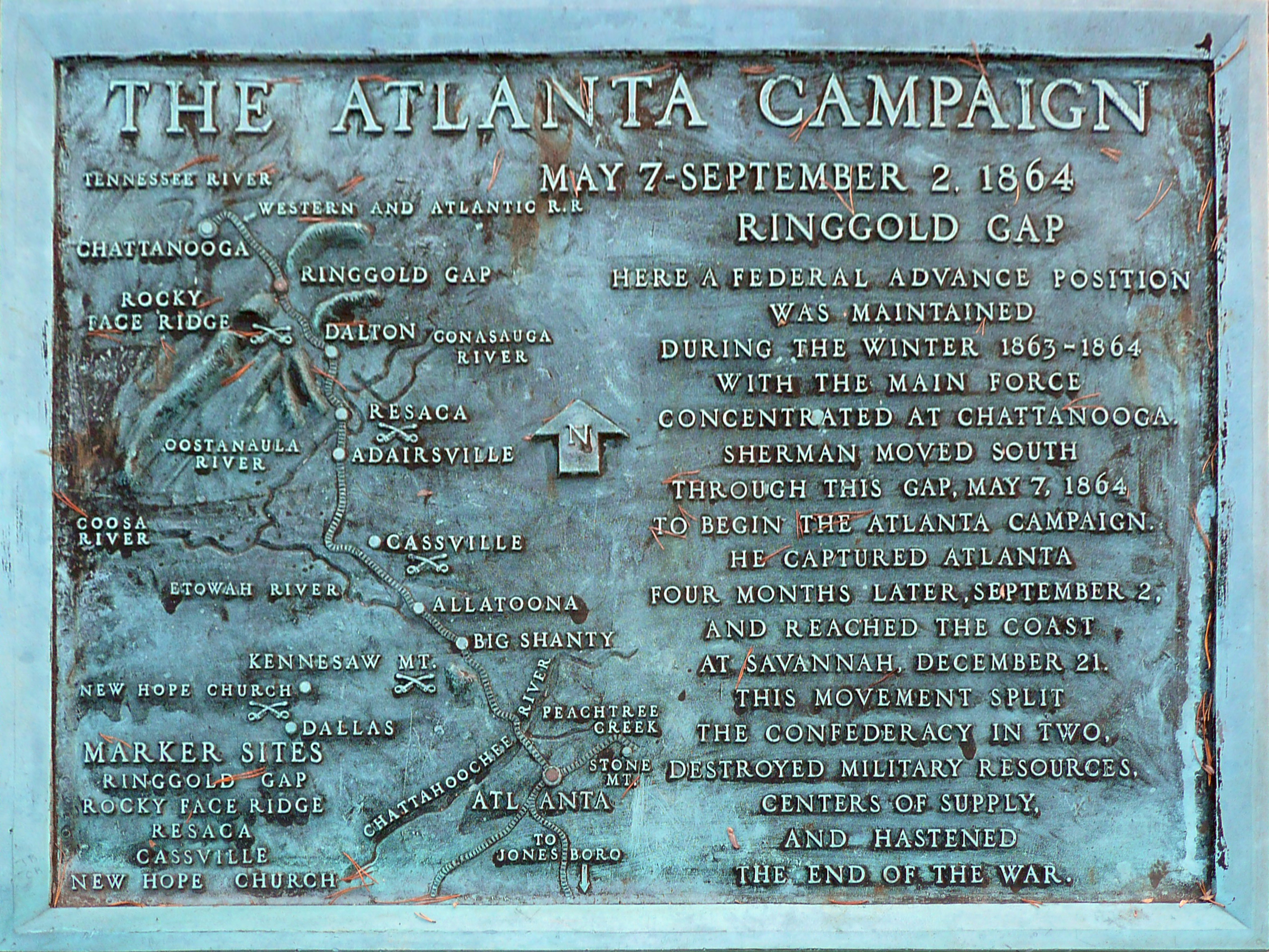 Once again it was a successful outing with the Blue and Gray Education Society. I learned a lot about the terrain and the campaign and it is always great to interact with Len and Parker. I also saw some old friends and met some new ones. I didn't lose any weight on the tour, so that's a negative that I will have to deal with, but I am sure I will be signing up for another outing in 2012. This is probably my last Civil War travelogue of 2011, so Happy Thanksgiving and Merry Christmas to anyone reading this. I have started a 2012 page, which currently consists only of future plans. See you next year.