2011 Civil War Travelogue, Part 4
Welcome to my 2011 travelogue page, commemorating the first year of the Civil War Sesquicentennial! This is Part 4 of 2011. Go to Part 1 (includes an index of all the 2011 trips). Go to Part 2. Go to Part 3. Go to Part 5.
Here is a reminder about the reason I write these pages the way I do. They record my experiences and impressions of Civil War trips primarily for my future use. Thus, they sometimes make assumptions about things I already know and focus on insights that I receive. They are not general-purpose descriptions for people unfamiliar with the Civil War, although I do link to various Wikipedia articles throughout. Apologies about the quality of interior photographs—I don't take fancy cameras with big flashes to these events. If you would like to be notified of new travelogues, connect to me via Facebook.
Mosby Heritage Area Association Conference: "Cavalry Command, North and South," September 30–October 2
I have just started my trip to Virginia. The first stop will be to attend the Mosby conference in Middleburg. I will continue with a couple of days in Richmond and then to Winchester for a tour of the 1864 Valley campaign, ending up on October 10. I will attempt to keep my travelogue at least partially updated with my progress on an overnight basis. The photography may lag behind the text. I should have the entire travelogue completed by October 11.
Thursday, September 29
I flew on United Airlines to Dulles and had dinner at a new favorite, The Dons' Wood Fired Pizza in Sterling, Virginia. (The Stromboli is excellent. My wife and I happened to eat dinner here exactly one week ago. If you are interested in non Civil War travel tales, check out my other travel page. Our recent trip to Chincoteague Island included a day of Civil War activities in Baltimore.) For the Mosby conference, I am staying in Chantilly, at the Courtyard by Marriott. I have stayed here in the past, but I am pleased to see that they must have remodeled recently because it is suddenly very nice. Unfortunately, is not easy to find a hotel room very close to Middleburg, so I will be doing hour round trips to the conference each day.
Friday, September 30
One of my missions on this trip was to do an 18-mile run as part of my marathon training for the Chickamauga Battlefield marathon coming up in November. However, I got cold feet when considering the logistical requirements (particularly hydration needs), so decided to break it up into two 12-mile runs somewhat close together and I did the first today, driving to Matthews Hill on the Manassas battlefield and doing a big loop. I headed south past the stone house to Henry Hill, passed by the Stonewall Jackson on steroids statue and the visitor center, over to Chinn Ridge, back up to Groveton, the railroad cut, and then back to Matthews Hill. That got me up to 7 miles (including some wrong turns and backtracking—it probably would have been closer to 6), so I repeated the first part until I could turn around to get back at 12. It was a slightly difficult run because there are a lot of hills and it was mostly on wet grass and trails, which is not like my usual running venues, so I ran relatively slowly. Don't ask.
After getting cleaned up, I ventured out to find the Bristoe Station Battlefield Heritage Park, an odd name for a small parcel that is the remnant of a larger property mostly gobbled up by a giant townhouse development. This was the site of the October 1863 battle that culminated the Bristoe Campaign. I did not manage my time finding it very well, so I only spent a few minutes there. There were two trails laid out over pretty rolling hills and you can choose to follow numbered stops with a printed handout or with a podcast that you can download from their website. Unfortunately, I did not have the foresight to visit the website before I visited the actual site. And with my limited time, I found nothing memorable enough to bother photographing.
I drove to Middleburg, which is always a treat because you get to ride through really luxurious horse country, where horses seem to have dozens of acres each of really luscious grass, something California horses can only dream about. The Mosby conference was once again in the Middleburg Community Center and they had a nice selection of drinks and hors d'oeuvres for the people after they registered, and of course the giant collection of used books for sale. I always marvel at these poor booksellers carting around what must be at least 1000 pounds of books and book shelves.
After introductory remarks by Childs Burden, there were two presentations from 5 to 7 PM. First was Horace Mewborn, whose presentation was entitled "Behind Enemy Lines with Rangers and Comanches! John Mosby and Elijah White!" (Yay! I love exclamation points!) Horace is a well-known historian who focuses on Mosby and the 43rd Virginia Cavalry Battalion. His talk about Mosby and White focused on those two remarkable cavalry/partisan-ranger leaders, both of whom reported to Jeb Stuart. It was a rather conventional presentation on their individual biographies and military histories, which could not talk much about how they interacted with each other, because in fact they rarely did. Despite both of them being in northern Virginia, their areas of operations differed. Horace thinks they met officially only once during the war. Both of them were noted for leading their battalions from the front, which unfortunately resulted in numerous wounds for each. White was a father figure, warm and admired by his men, whereas Mosby had a colder disposition. The latter had interesting, compelling eyes, deep blue, and his stare was somewhat hypnotic and added to his command presence. Horace thought that White was jealous of Mosby because the Gray Ghost was able to conduct numerous raids that White would've liked to have done himself. At the conclusion of the talk, Childs introduced the audience to White's great-grandson, who endeared himself to me by complaining about fellow Southerners who pronounce it Calvary.
Clark "Bud" Hall, arguably the most knowledgeable historian on the Battle of Brandy Station, presented "From Bull Run to Brandy Station: Jeb Stuart and the Emergence of the Confederate Cavalry." It was more of a biographical sketch of Stuart than about the cavalry, per se. He repeated one of my favorite quotations, from General John Sedgwick, that Stuart was "the greatest cavalryman ever foaled in this country." He said that Stuart was utterly without a dark side, but was ambitious as Caesar, believing that no one could be advanced in their careers unless they ask for it, or achieved something. He was "consciously indispensable." Bud judged that Stuart's charge against the 11th New York at First Manassas made his reputation, although he said soon afterwards that his 1862 ride around the Union Army on the Peninsula made his reputation nationally. He covered briefly the cavalry actions in 1862 and early 1863, saying that Chancellorsville was the zenith of Stuart's career, not Brandy Station. He proposed an interesting "what-if" scenario to consider: Stuart temporarily commanded the Second Corps at Chancellorsville after Jackson and Hill were wounded, and did an excellent job, but he was so indispensable as a cavalry commander that Lee did not consider making the appointment (and a promotion to lieutentant general) a permanent one. So, what if Stuart had been in command of the Second Corps at Gettysburg instead of Richard Ewell? Would he have charged up Culp's Hill? (I quipped that, no, he would have ridden around it.)
A nice surprise for the afternoon was that Childs identified the people traveling the farthest of the conference, and I was one of two from California and two from Oregon. We each received a gift book, John Hennessy's book on First Manassas. Thank you, Childs!
Saturday, October 1
Robert O'Neill spoke on "Col. Percy Wyndham, A Question of Loyalty." I was unfamiliar previously with Bob's work, but Childs indicated he was part of the mapping panel for the American Battlefield Protection Program, so that got my attention. I was also unfamiliar with Wyndham, a Union cavalry colonel and English immigrant. Bob started with an attempt to cast doubt on the frequent criticism of Alfred Pleasonton, that he was a notorious xenophobe. There were three senior foreign officers under Pleasonton when he was given command of the cavalry corps of the Army of the Potomac: Alfred N. Duffié, Luigi Di Cesnola, and Wyndham (who doesn't have a Wikipedia biography I can point to). Bob offered a variety of explanations other than animus to explain why Pleasonton did not favor these officers. Duffié did not do well at Brandy Station, Di Cesnola was bypassed when Kilpatrick was promoted, and a fourth officer, Hungarian Julius Stahel, was not a subordinate, but Pleasonton attempted to get his command assigned to him. Wyndham had an interesting background as a soldier of fortune, serving in the British Navy, the artillery, and the armies of Austria and Italy. Rather than someone who ardently supported the Union cause, he was perceived as an adventurer without care for which side he fought. John Mosby's famous raid against Fairfax Court House was supposedly targeted at Wyndham, although another brigadier general (Stoughton) was captured instead. Bob outlined a number of political maneuvers and disputes about command and dates of rank. Near the end of the war, Wyndham was accused of offering to surrender his brigade to the Confederates for $300,000 and he was mustered out. Eric Wittenberg chimed in to say that both Wyndham and Duffié were "frauds."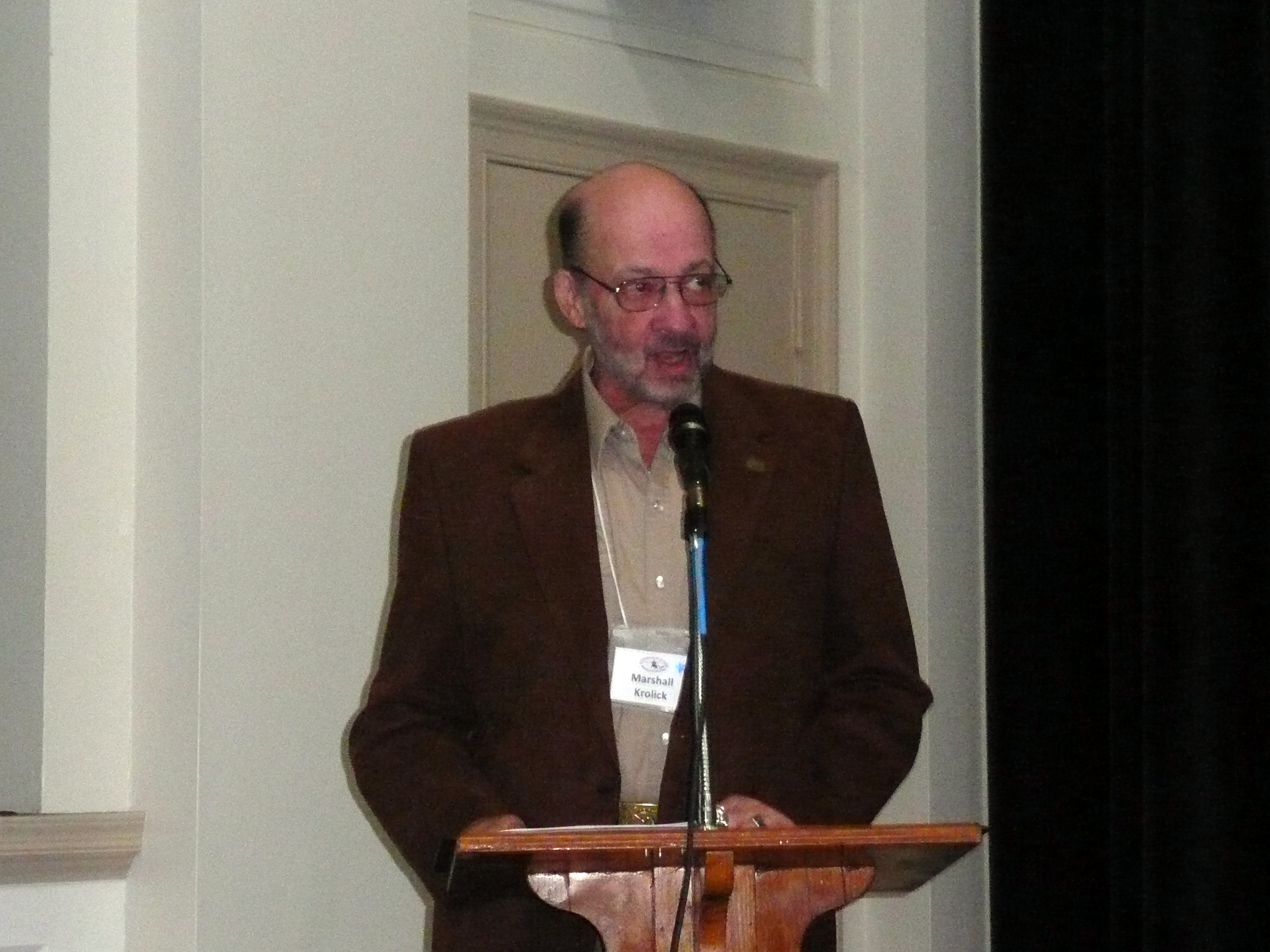 Marshall Krolick presented "Riding for the Union: Recollections from the Eighth Illinois Cavalry." Marshall gave a regimental history of the cavalry outfit that some of the Mosby soldiers called best in the Army. Its first colonel was John Farnsworth, who had been a member of the House of Representatives, and who left the role when he was reelected to Congress. He was also the uncle of Elon Farnsworth, who was promoted from captain to brigadier general and then almost immediately killed at Gettysburg. In Alexandria in 1861, the regiment's biggest enemy was disease, losing 25% while stationed at "Camp California." Marshall's presentation bordered frequently on the humorous, and he concentrated on letters from soldiers and descriptions of their camp life, rather than a traditional litany of battle and campaign descriptions. He had an amusing anecdote about an Episcopalian minister who was arrested by the regiment for refusing to offer prayers to the president and Congress. There was also an interesting reference to squirt gun fights in camp, a weapon I did not know existed in the 19th century. One of the most famous things the regiment did was to be the first engaged at Gettysburg, and Lt. Marcellus Jones of Company E claimed to be the first person to fire a shot in the battle.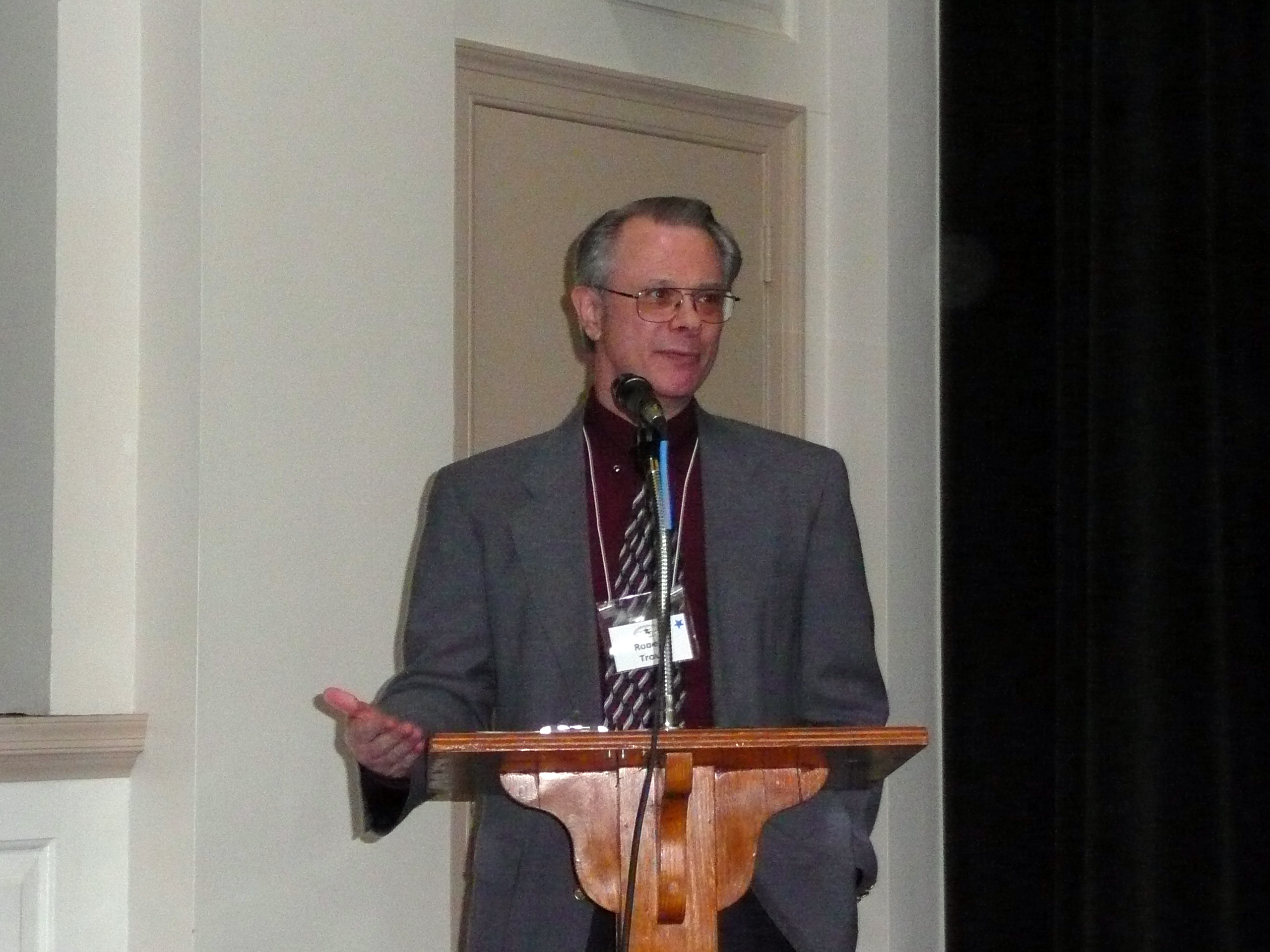 Robert Trout spoke on "In Pelham's Shadow: The Commanders of the Stuart Horse Artillery after John Pelham." Robert is the author of the recent book Galloping Thunder about the horse artillery, which quickly sold out from the little bookstore next to the meeting room. He remarked that the gallant John Pelham has had four biographies written about him, which is difficult because he left no letters. After he was killed on March 17, 1863, the average student has almost completely ignored the horse artillery, so Robert's presentation went into detail about his two successors, Major Robert F. Beckham and Lt. Col. Roger Preston Chew, both of whom were excellent leaders and artillerymen. Beckham did an outstanding job at Chancellorsville, where he was personally complemented by Stonewall Jackson. In November of that year, he was transferred to the artillery under John Bell Hood in Tennessee. Chew originally reported to Turner Ashby and is credited with creating the very first horse artillery battery for Stuart. He was promoted to lieutenant colonel at age 21, three years younger than Pelham became a major. Robert remarked that there is no formal history written of any of the Federal horse artillery units, so that is an opportunity for someone in the sesquicentennial.

Bruce Venter presented "General Insubordination: Custer Versus Kilpatrick in the Third Cavalry Division." Bruce is the owner of the touring company, America's History LLC, and is working on a book about the 1864 Kilpatrick-Dahlgren Raid on Richmond. He started with an audience quiz in which he read quotations about the two flamboyant generals and then flashed up the picture of the person he was referring to. The audience generally got each one of them wrong. There was a lot of jealousy between the two officers and their relationship was marred by command friction, such as Custer refusing to submit reports on the schedule that Kilpatrick demanded. I was surprised to hear a few things about Kilpatrick—there were many favorable comments from his soldiers, and after the war he was the first ever Civil War reenactor. Bruce said that part of the problem is that Kilpatrick's daughter burned all of his personal papers, and that there is no good biography written of him.
Bud Hall presented "Redemption Is at Hand! Emergence of the Federal Cavalry after the Battle of Brandy Station." Bud talked about how the Federals became more offensive and started doing raids after they gained confidence at Brandy Station. He said that the Confederate cavalry was the "best light cavalry on earth" up until that point, but starting on June 9, 1863, they fell into decline. He dismissed cavalry commander Stoneman as ineffective, but thought that was better than his successor, Pleasonton, who was duplicitous, malevolent, lying, and psychopathic. Whoa. He had some good things to say about Phil Sheridan, portraying his assumption of cavalry command as a very positive development.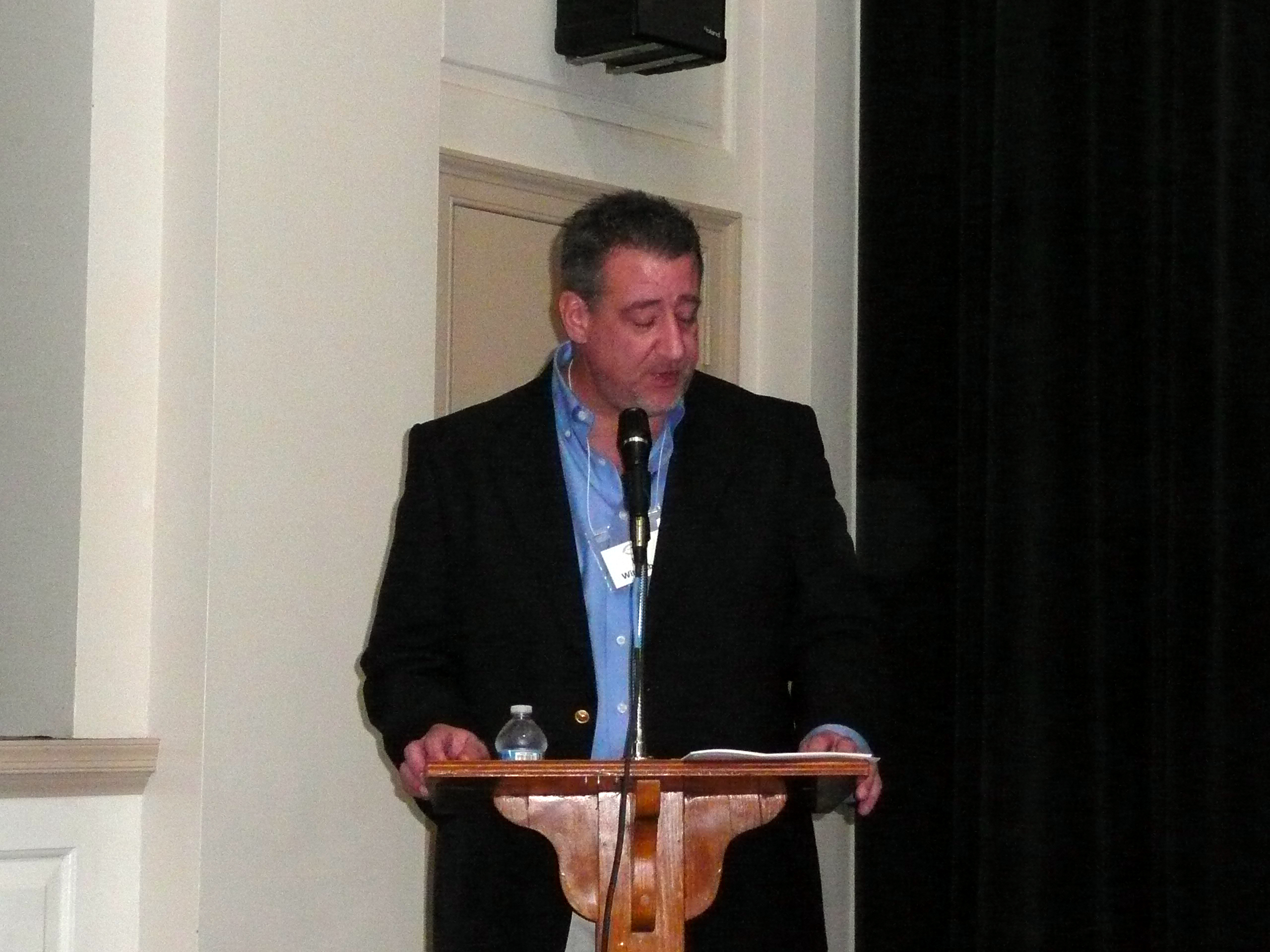 Eric Wittenberg presented "Plenty of Blame to Go Around: Jeb Stuart's Controversial Ride to Gettysburg," based on his book (with J. David Petruzzi) of the same name. I had read Eric's book previously, so there was not a lot of new insight for me. The talk gave biographical information on all of the key players and discussed the schedule of the ride and the small battles along the way in detail. Unlike the book, he did not spend much time discussing the postwar controversies about Stuart (such as Mosby's advocacy), jumping directly to his conclusion that all of the key players, including Lee, shouldered some of the blame.
The final session prior to dinner was a panel discussion with all of the presenters as well as Col. Jeb Stuart, IV, who would be the after dinner speaker. I wanted to ask the question "Were any of you guys aware that things happened west of the Appalachian mountains?" but Childs sheepishly admitted at the beginning of the session that they had ignored the cavalry outside of the Eastern theater, lamenting that they should've said something about Nathan Bedford Forrest. The question I asked instead was whether giving Sheridan a very independent cavalry assignment after the Battle of the Wilderness was actually good for the conduct of the Overland Campaign, prompting a tiny argument between Eric (no) and Bud (yes). Having read Eric's blistering book on Sheridan (Little Phil), I suspected that might happen. :-) The other questions to the panel were dominated by the Stuart Gettysburg ride discussion, with some of the speakers wanting to extend more blame to Stuart himself than Eric did, specifically accusing him of wanting to redeem himself after the embarrassment of being surprised at Brandy Station. Bob Trout soft-pedaled the surprise aspect of Brandy Station, indicating that many Civil War battles included surprises, so it is unfair to single this one out. There was an interesting discussion about John Buford, who everyone revered, and how he was scheduled to be transferred to run the Army of the Cumberland cavalry under William S. Rosecrans, which did not occur because he was held back in the East for the Bristoe Campaign and then he died of typhoid fever. Some interesting tidbits: the cavalry of the Army of the Potomac was about 12,000 men, and they required about 5000 new horses per month (!) as they wore out. Stuart had 12 to 14 horses during the war and many of them fell out of service because of a condition called the glanders. Eric said that Jeb's finest hour in the war was the retreat from Gettysburg and that the controversial 150 supply wagons that he captured on the way to Gettysburg contained fodder that was absolutely essential for enabling his horses to make it through the retreat.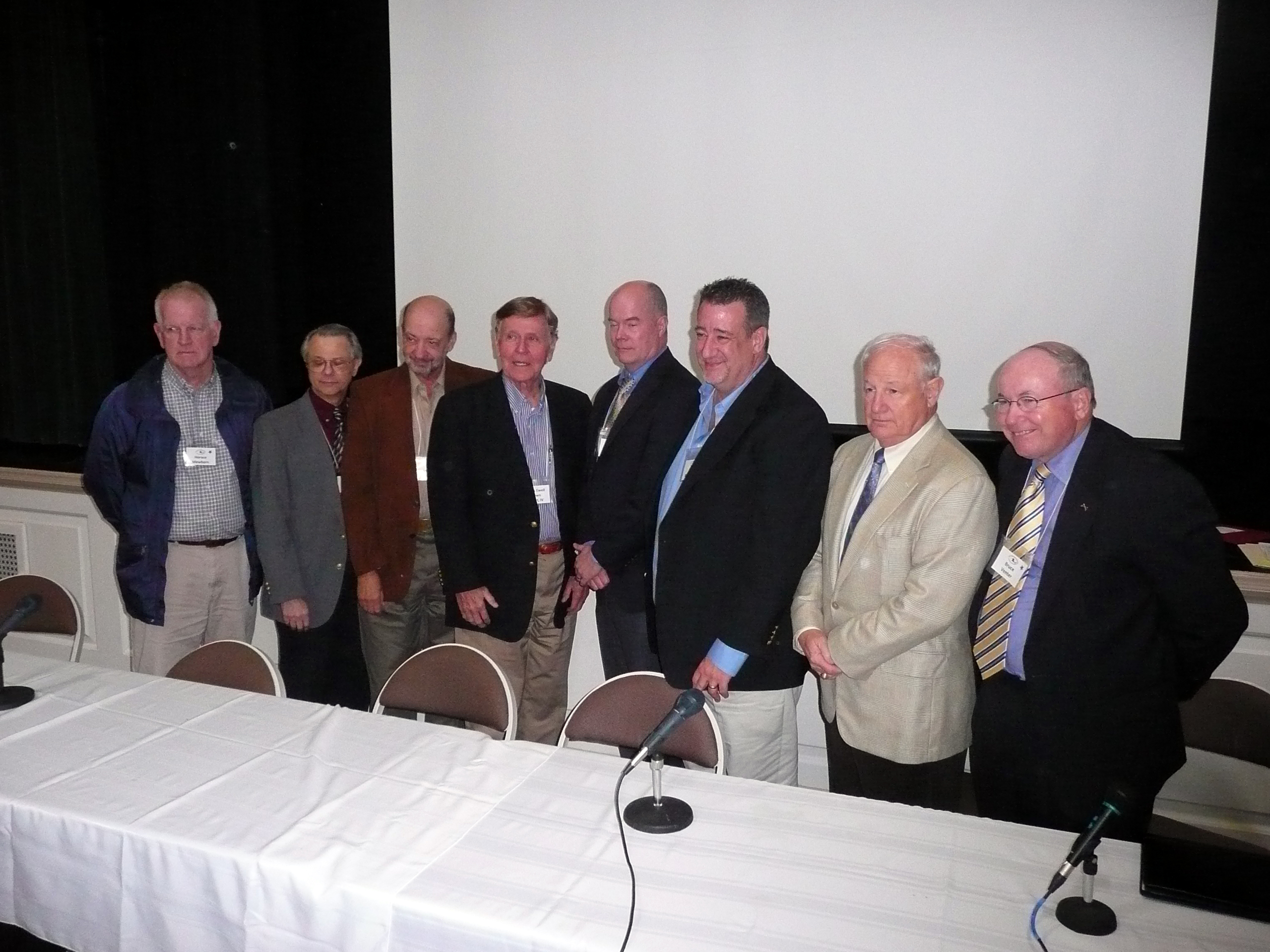 We had cocktails and a nice buffet dinner at the American Legion Hall a couple of blocks away. Our after dinner speaker was Jeb Stuart, IV, whose topic was "Jeb Stuart at West Point and in Federal Service out West." Col. Jeb was in the Army for 27 years and he talked about general characteristics of leadership and command as well as the Academy career and a little bit about his great-grandfather's service in Texas. We were given a memento paper with a small poem written by his ancestor accompanied by a pretty watercolor painting of the desert near El Paso by Col. Jeb's wife (who I believe is named Mary Louise, but was addressed as Weezy).
Sunday, October 2
Today we were on the bus to the Brandy Station battlefield, which is about an hour from Middleburg. There were two large buses and I rode on the "General Stuart" bus with Bud Hall; Eric Wittenberg led "General Pleasonton.". Bud told us some interesting stories along the way, including his friendship with Robert Duvall, who has an extremely large, beautifulfarm just outside of Middleburg. One day he invited Bud to visit and he had an elephant on the farm, although it is no longer there. ("Seeing the elephant" was a Civil War expression meaning experiencing combat for the first time.) He identified the route that James Longstreet used in heading toward Thoroughfare Gap in the Second Manassas Campaign. We saw a house that John Mosby lived in briefly after the war and he told us that he was widely hated by the locals for his cooperation with the Grant administration, so much so that he was even shot at. Our first stop was at a cemetery between Beverly's Ford and Kelly's Ford on the Rappahannock River. Bud described how Alfred Pleasonton divided his force to approach Brandy Station on two routes over 8 miles apart, which was obviously not an optimal tactical plan. I was disappointed in the weather for the day. Usually these Mosby conferences have good weather, and in fact I packed for the trip based on very rosy weather forecasts, but the day was quite chilly—low 40°s—with wind and periodic light rain.
We bussed and hiked to a small hill that Bud has named Buford's Knoll, where John Buford observed the opening of the battle against Rooney Lee. He told an amusing story about being approached by the actor Sam Elliott, who portrayed Buford in the movie Gettysburg, wanting to do some pre-filming research on the character. Elliott insisted on knowing the exact spot Buford occupied on the hill, stood there for a few minutes looking over the fields to the famous stone wall, and then said "Hot Damn." Bud is extremely active in battlefield preservation and he told us a number of stories about battling with developers who had purchased 6000 acres and wanted to create, first, an office park, and then a Formula One race track.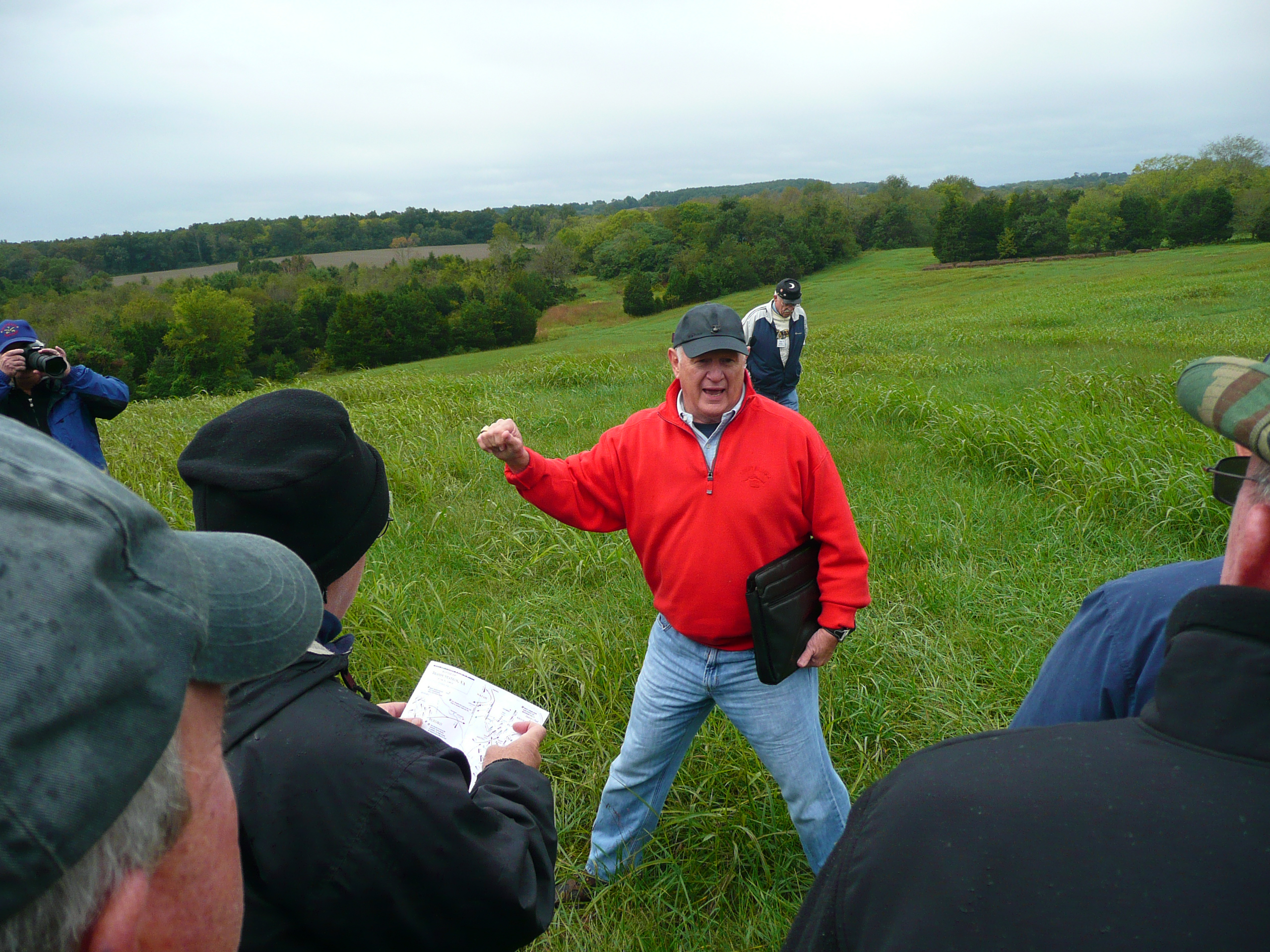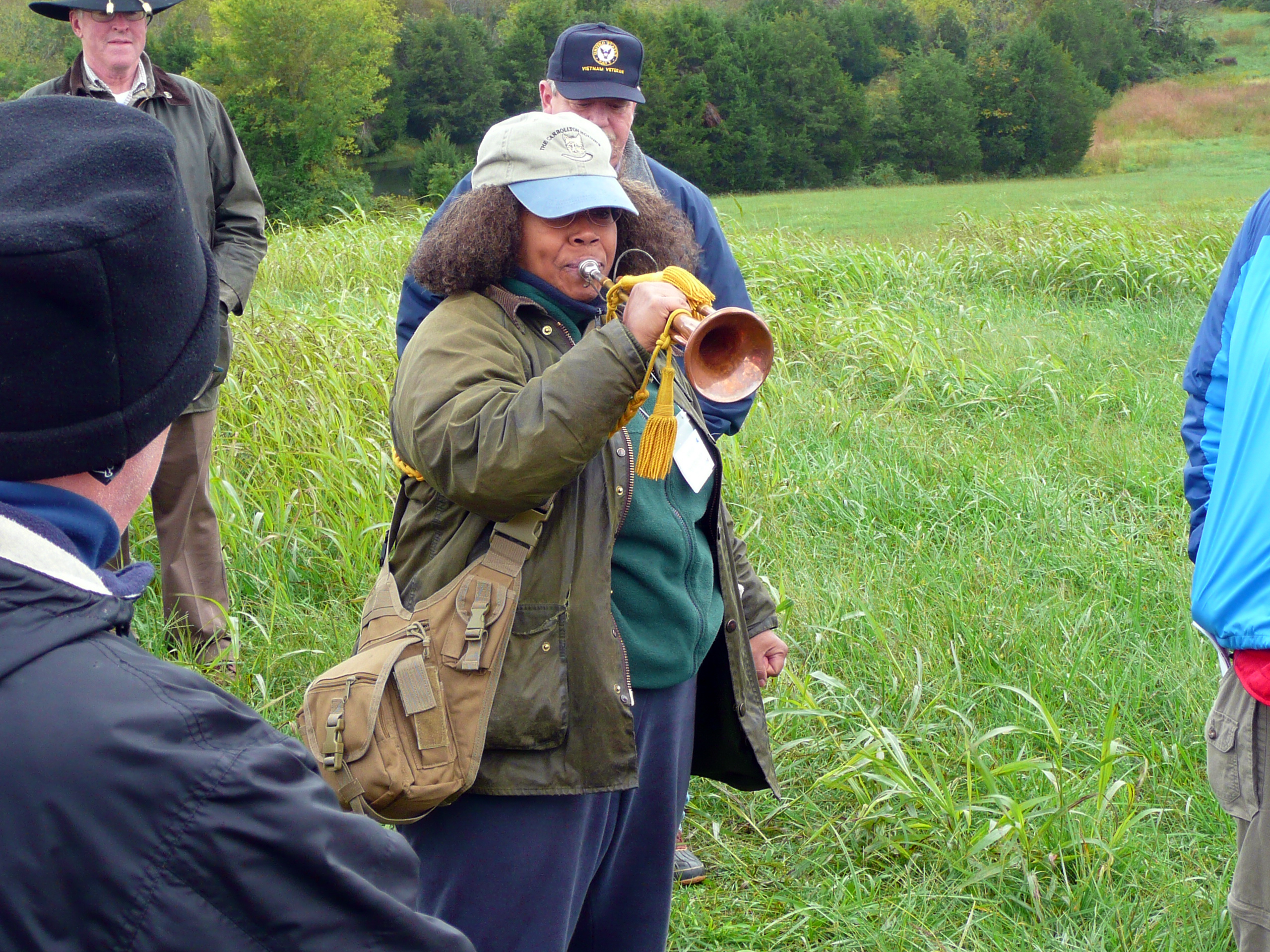 At the intersection near St. James Church, Eric Wittenberg told us about the gallant charge of the 6th Pennsylvania Cavalry. For lunch, we drove to the Auburn plantation, which had been the home of John Miner Botts, a prominent Virginia Unionist. We ate a bag lunch on the porch and viewed the bucolic scene, rolling hills with lots of cows grazing. This was the same building where a gala dinner was hosted for Ulysses S. Grant and many generals after he was promoted to command all of the armies in 1864. (Brandy Station was the site of the '63-'64 winter quarters of the Army of the Potomac before it departed for the Overland Campaign.)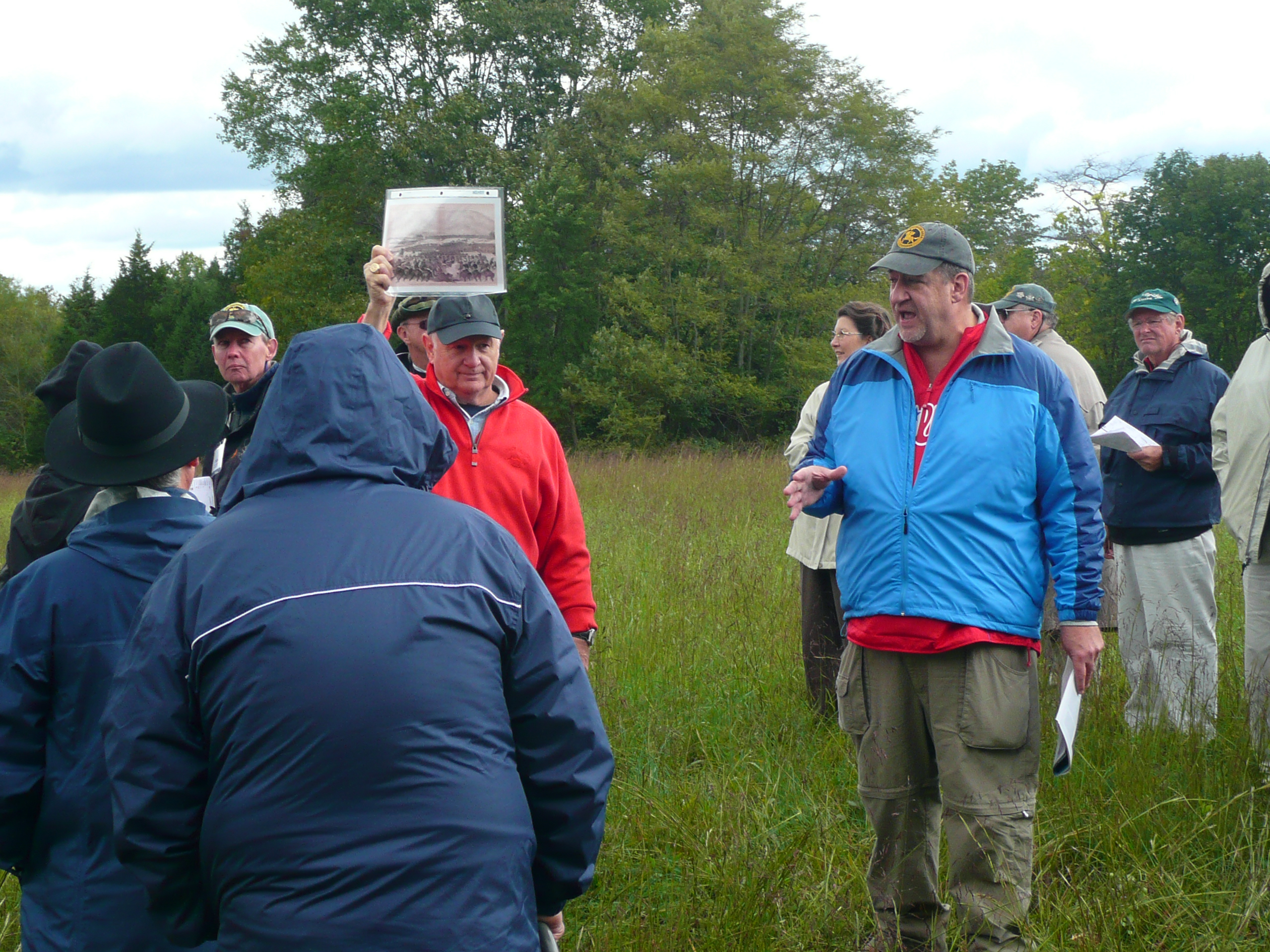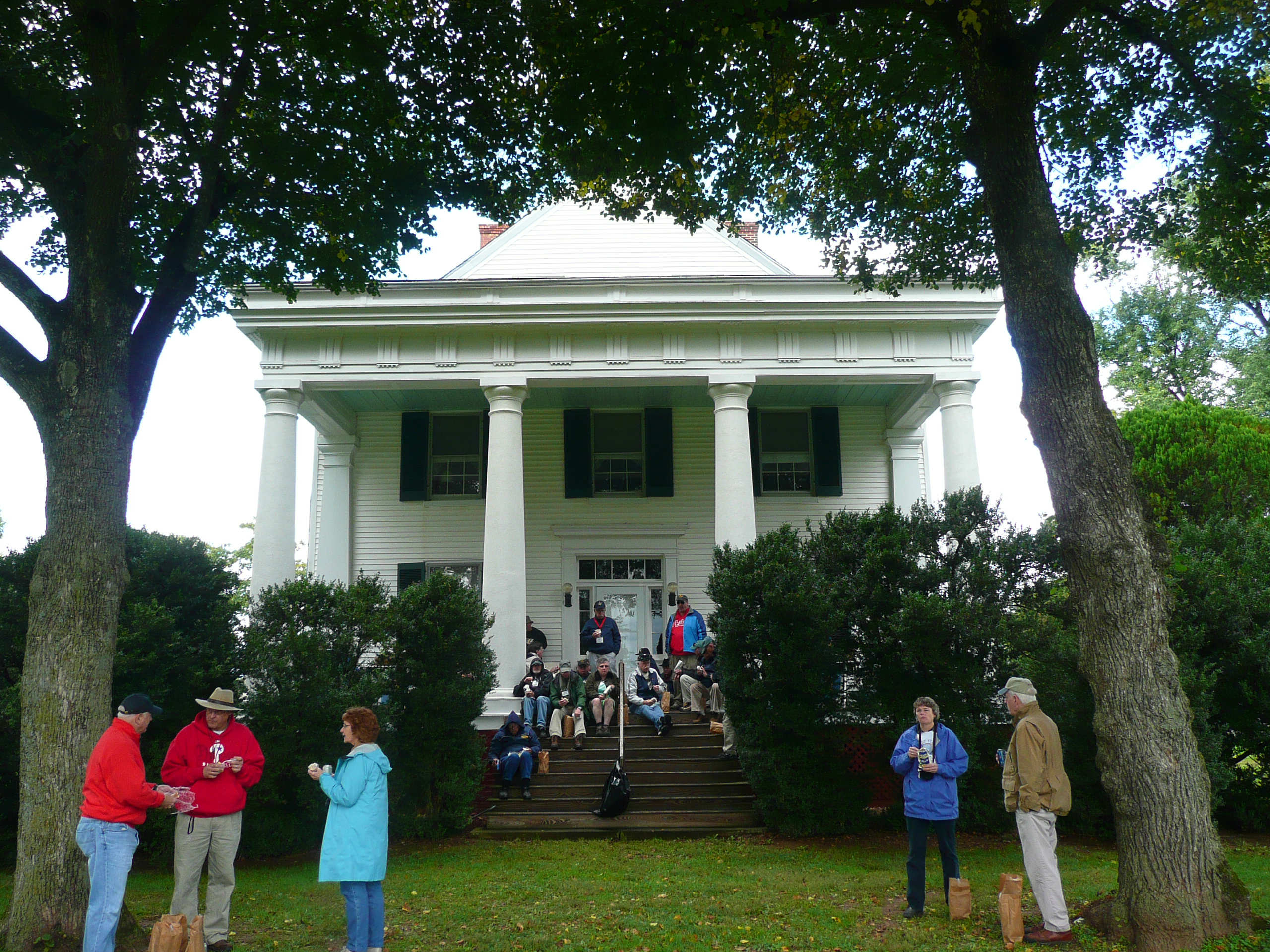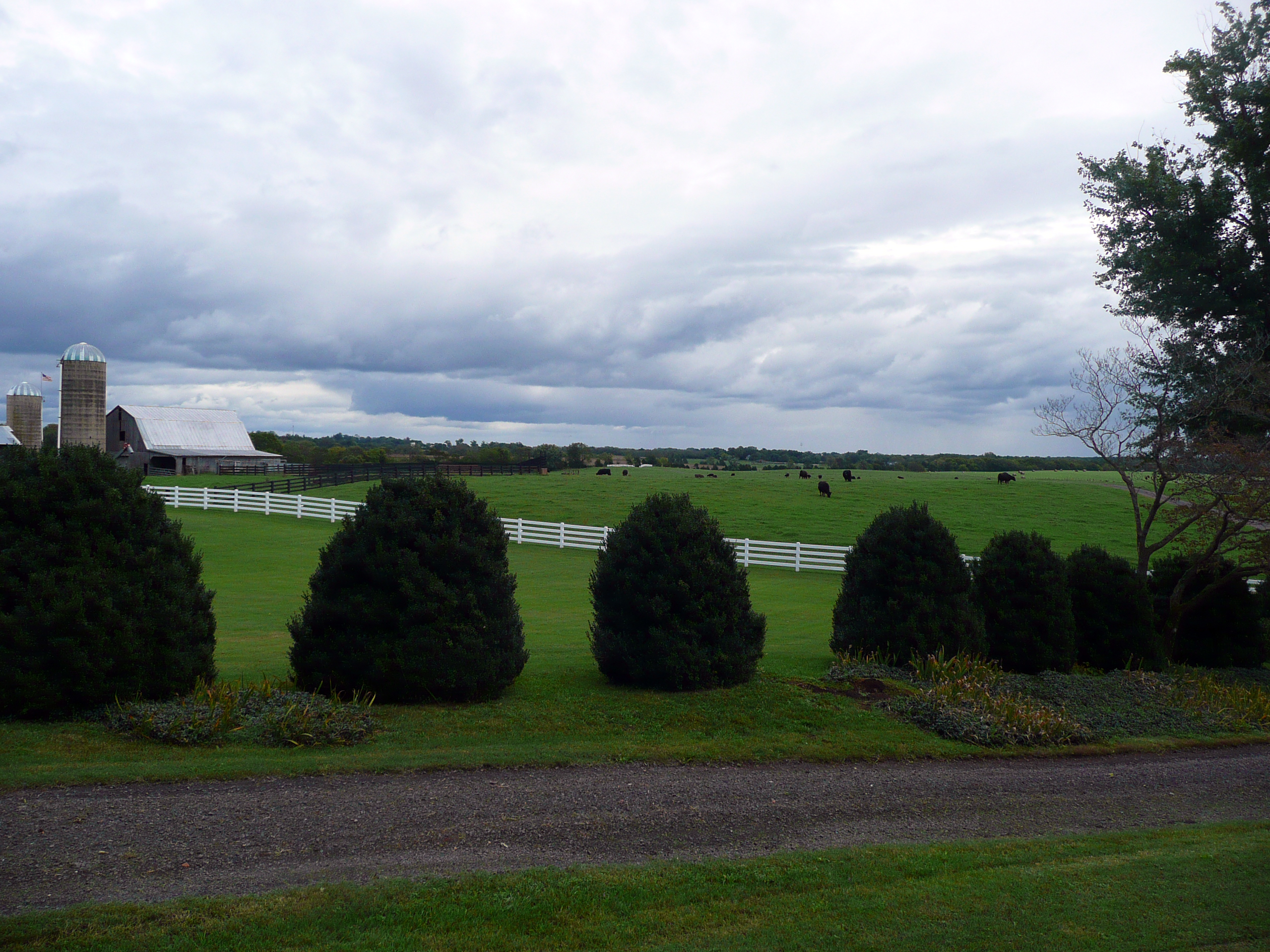 Next we drove to Stevensburg, where the southern part of the battle occurred, and visited the Rose Hill Farm, which features a lovely 200-year-old farmhouse in excellent condition. The owner gave us a presentation on his family history and Bruce Venter described how the house was used as a kicking off point for the Kilpatrick-Dahlgren Raid. In the rear, there was a great panoramic view of the Blue Ridge Mountains, as well as nearby Clark Mountain, Cedar Mountain, and Mount Pony. The latter, which Bud insisted should be named Pony Mountain, was the site of an active signal corps outpost and he said that there is a well preserved signal platform there, along with a well hidden but expertly carved bas relief of a pony, which he assumes was carved in the free time of a signalman. (It was likely not carved by an Indian because the Poni Indian tribe disappeared from the area before horses were introduced.)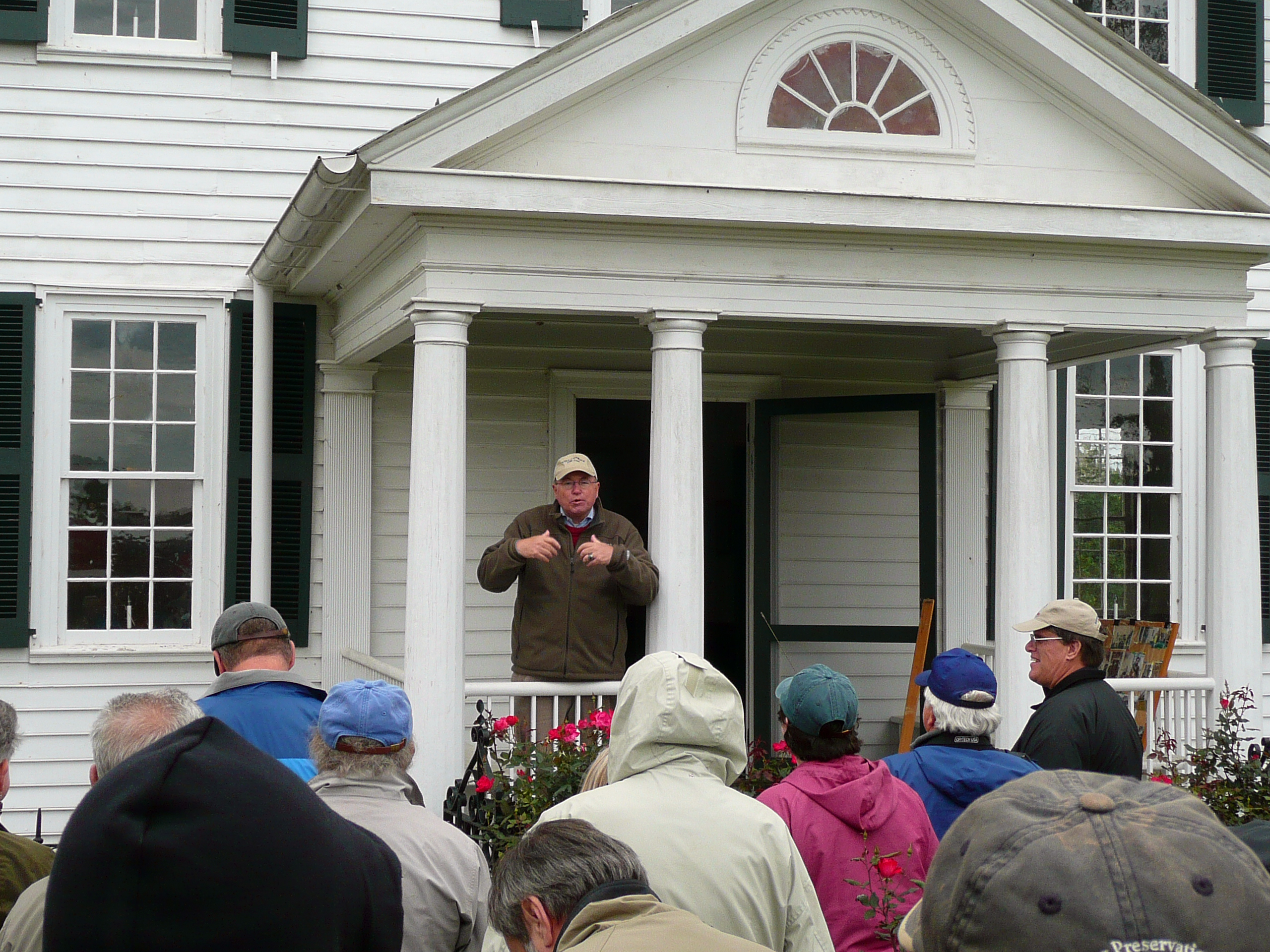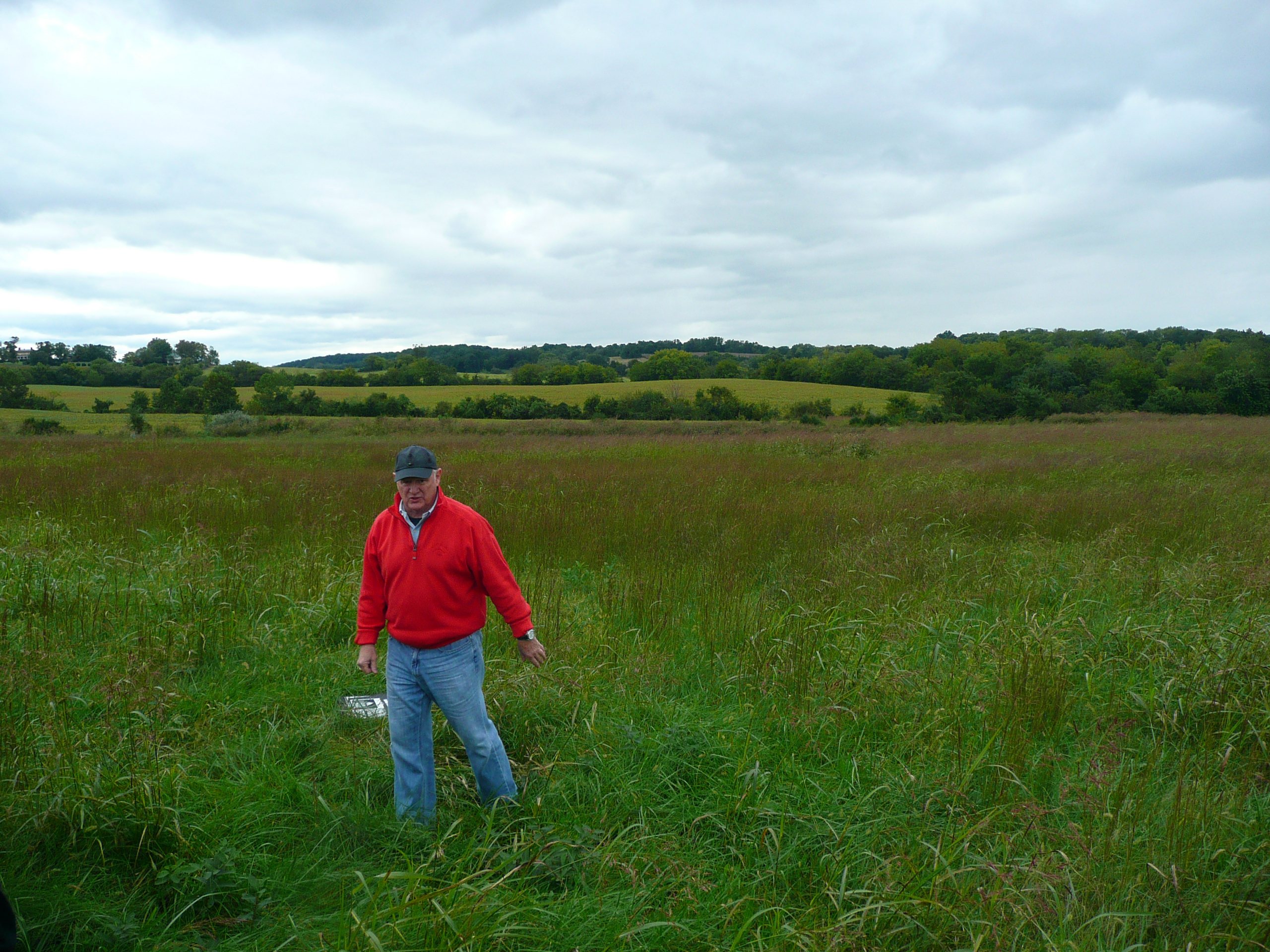 We drove back to a viewpoint from which we could see almost all of Fleetwood Hill, including the controversial giant mansion that a local developer built right on top. (This is the same guy who recently caused all the furor by damning up a creek on his property, causing Bud to open up a can of Army Corps of Engineers whup-ass on him.) Fleetwood Hill was one of the most important terrain features in the entire area and a number of significant Civil War actions occurred on it. During the Battle of Brandy Station, it is hard to imagine that the open hillside we saw was covered by 7000 men on horseback fighting with each other. It must've looked like a swarm of ants.
On the bus ride home, Horace Mewborn told us a number of stories about John Mosby, including a detailed timeline of how he resisted surrendering his partisan rangers because until he was able to verify that Robert E. Lee had actually surrendered at Appomattox Court House. He initially planned to move south to join Joseph E. Johnston in North Carolina, but old Joe surrendered himself before he could leave.
So once again I had a great time at a Mosby conference. They assembled a really expert collection of speakers—a number of whom were new to me—and all of the logistical features worked out well (except for the less than perfect weather on Sunday). The next conference is the first weekend of October in 2012 and the subject will be the battle of Chancellorsville, so I will certainly consider attending that if I can.
Richmond, October 3–5
Monday, October 3
On the way to Richmond, I sought to find the only significant battlefield in the Overland Campaign I had not already visited—Yellow Tavern. As I was led to expect by the guidebooks, this is pretty underwhelming because the area has been completely developed. However, I was able to find a tiny park that had a monument to Jeb Stuart, so it was worthwhile if only for that.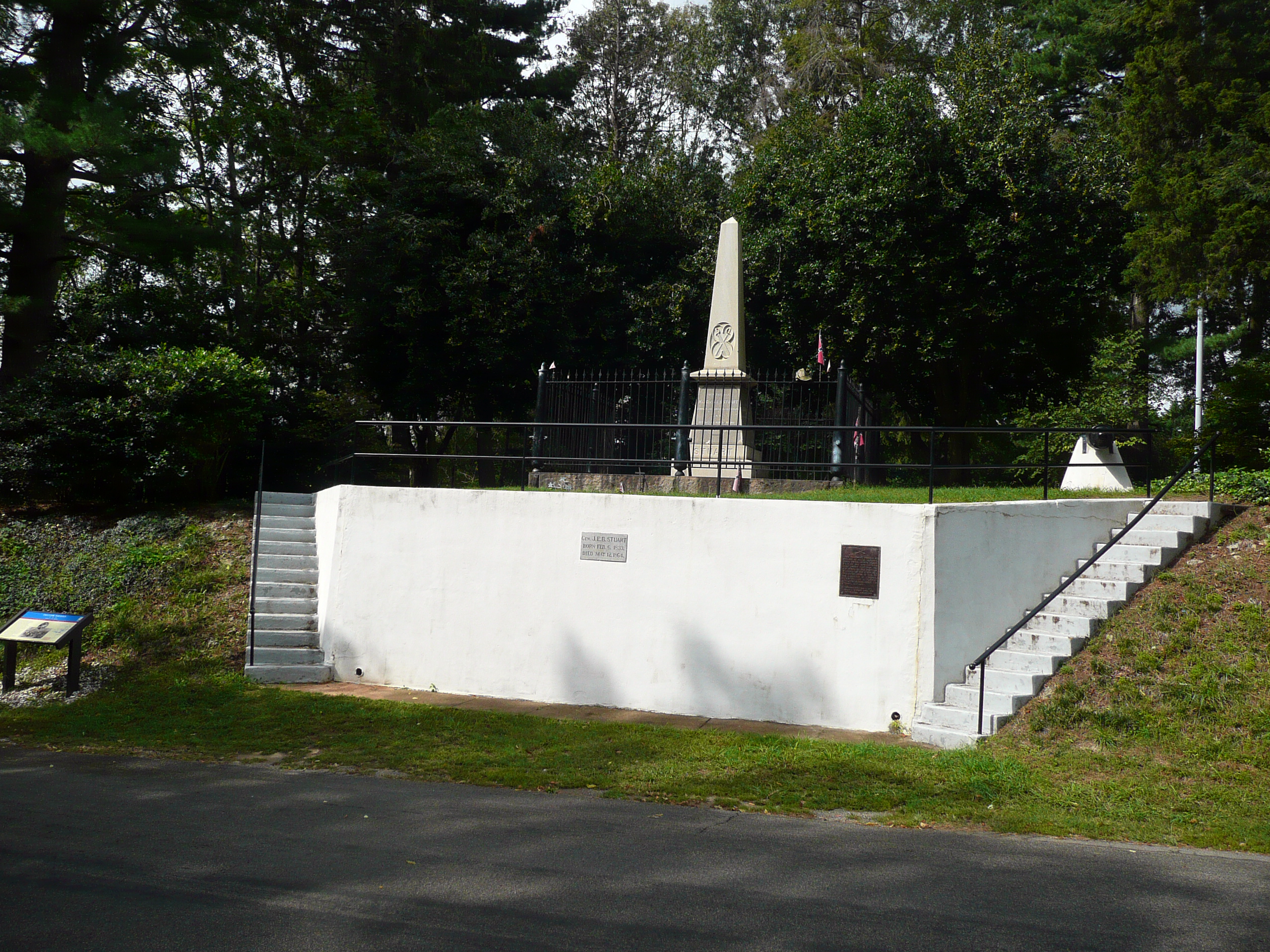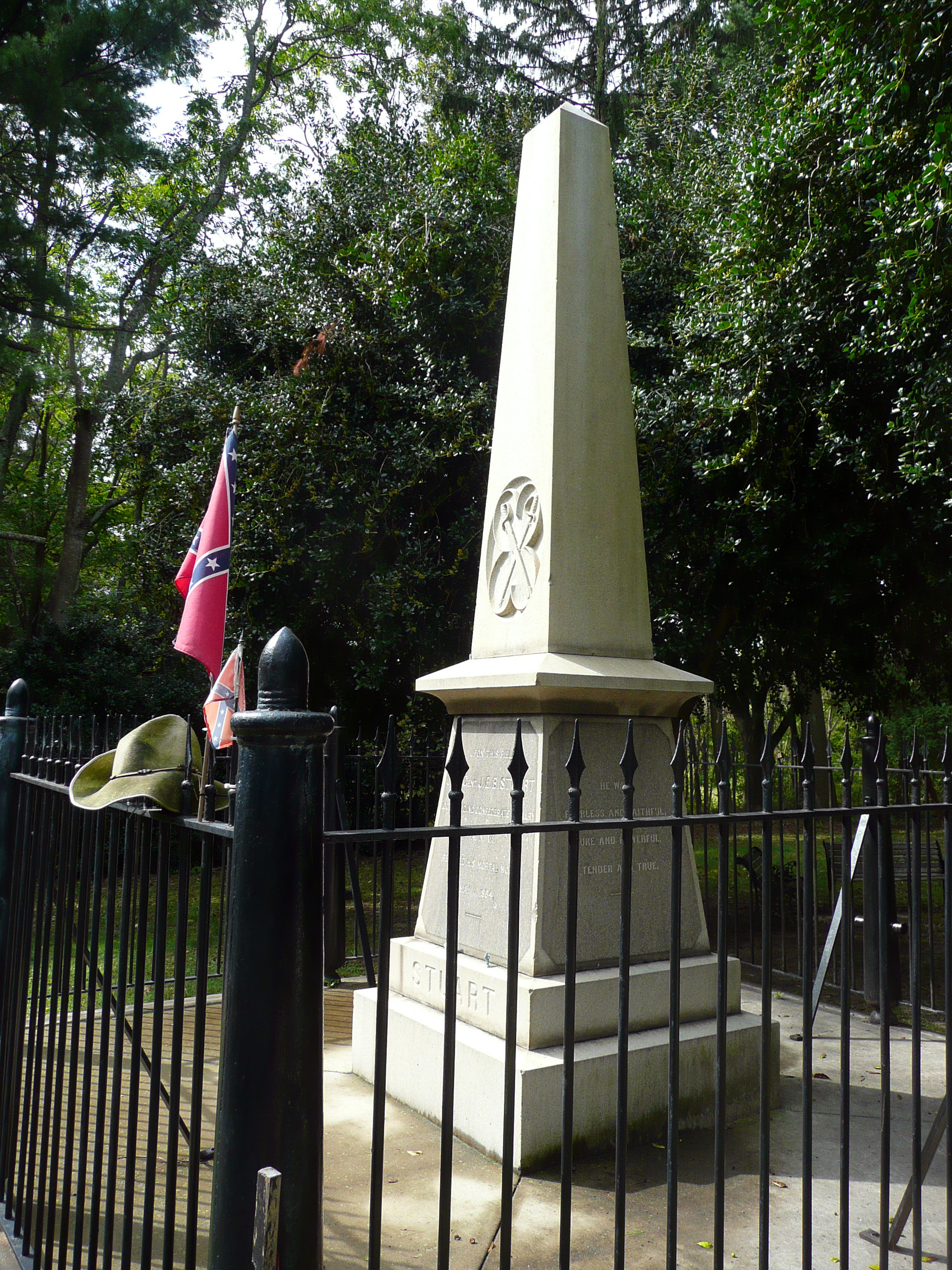 My first stop was the Tredegar Iron Works, which I have visited in the past, but I wanted to see if there were any updates. The NPS Richmond headquarters there has some new battle animations, which were pretty nice, although they were a bit more like video games (of the 80s) than serious battle depictions. For example, there are lots of little artillery firing animations, but no unit designations. I bought a sesquicentennial T-shirt for the Richmond battles. Since my T-shirt from Manassas was blue, I chose the gray version here for a little political balance.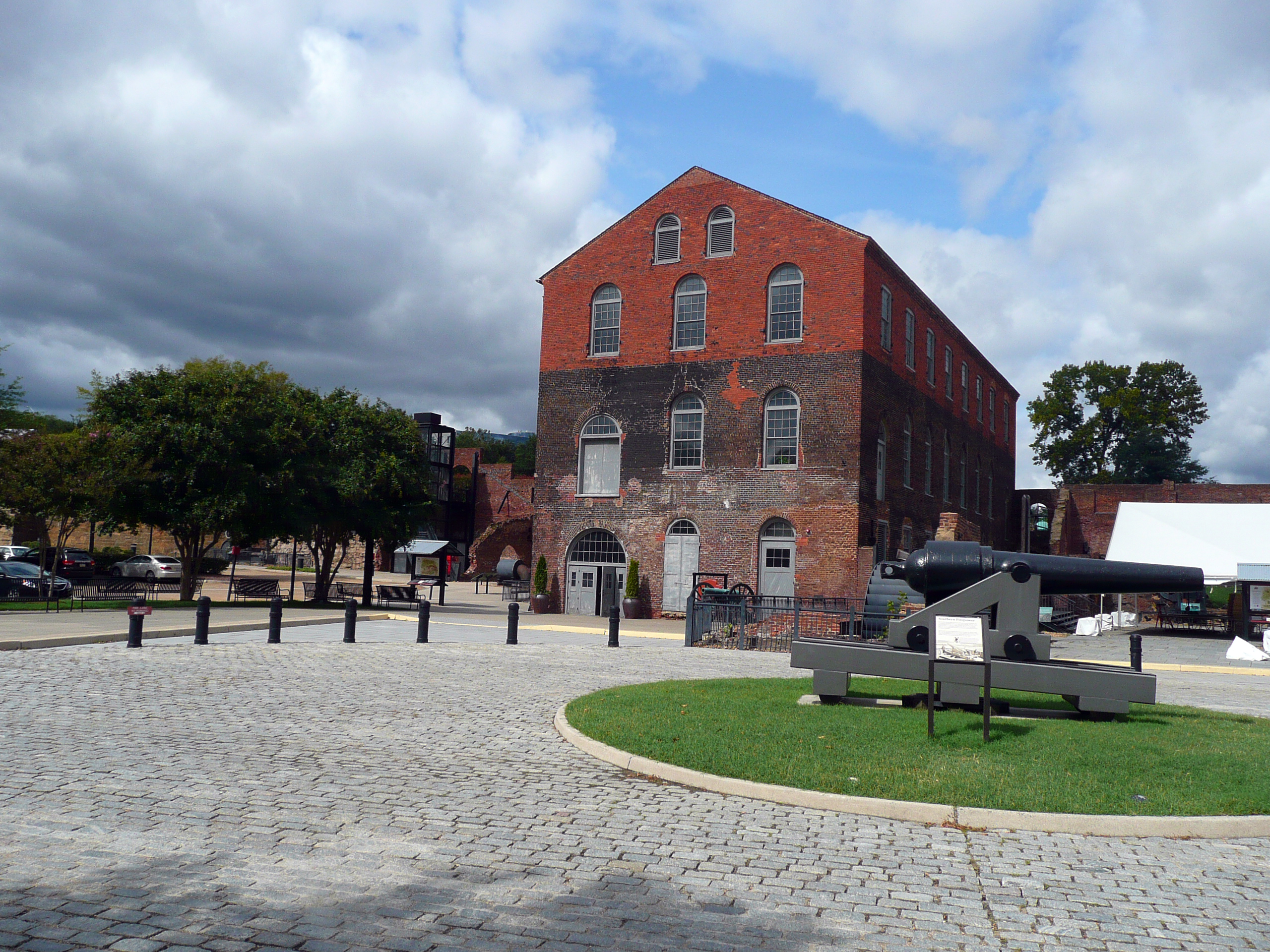 New to me was next door, the American Civil War Center. (It was there for my earlier visit, but I did not feel like popping for the admission charge. This time, however, I decided to take advantage of their parking validation offer.) This was a modest museum that covered the entire war, not simply the Richmond area, but it was obvious that they had a Southern audience in mind. They usually used the Confederate names for battles and they started off with an exhibit that promoted a relaxed view of secession legality. They used an odd formulation for each of the exhibits dealing with a year of the war, dividing their info into U/H/F categories: Union, Home, Freedom. It didn't really work for me. And there were not a lot of interesting artifacts.
Just down the street is a funky pedestrian suspension bridge hanging underneath a major highway bridge. I walked across and took a hike around Belle Isle, the largest island in the James River. This was the site of a Confederate POW camp for enlisted men, and one of the targets of the unsuccessful Kilpatrick-Dahgren Raid I mentioned earlier. It was a tent city surrounded by guards and artillery, not walls. If prisoners ventured beyond a "dead line" (the source of the modern word deadline, I'm told), they were shot. It was used in the summer of '62 and for most of '63 and was apparently quite brutal because of the winter weather. There was also an area the map said was a cemetery, but you'd never recognize it except for four stones in a cross shape. Walking around the perimeter gives you a number of pretty views of the river rapids. In one place you can see Hollywood Cemetery across the river.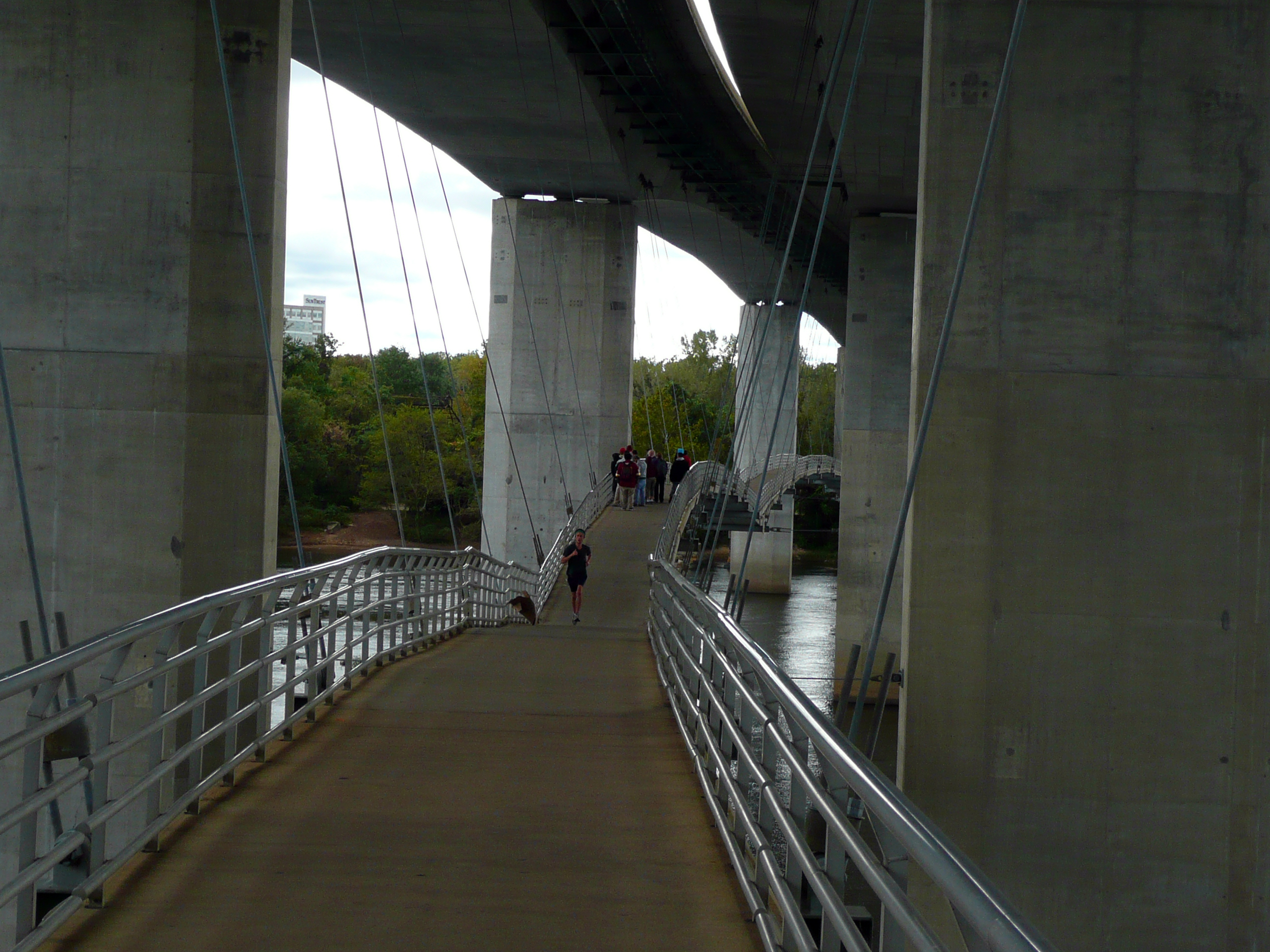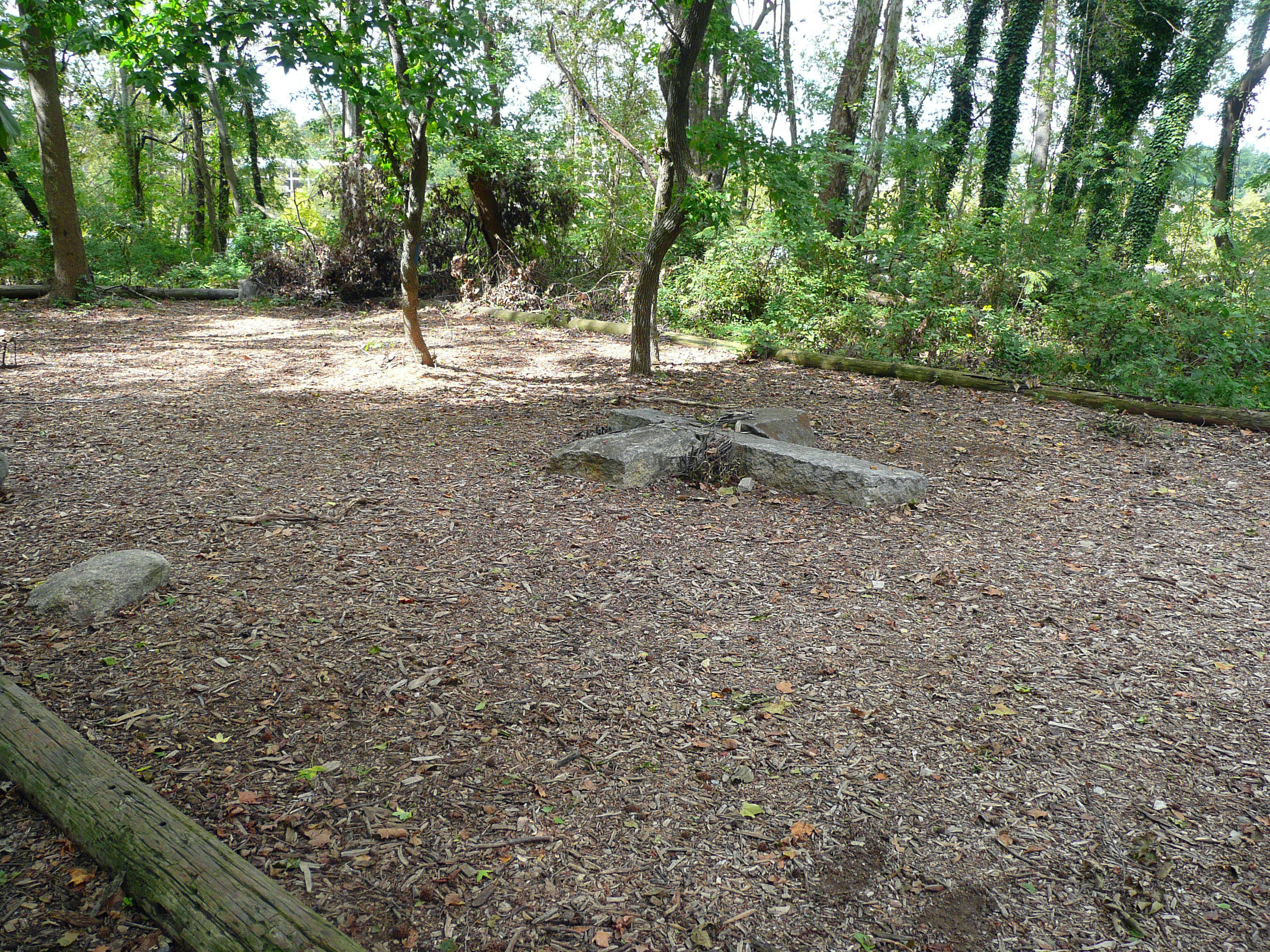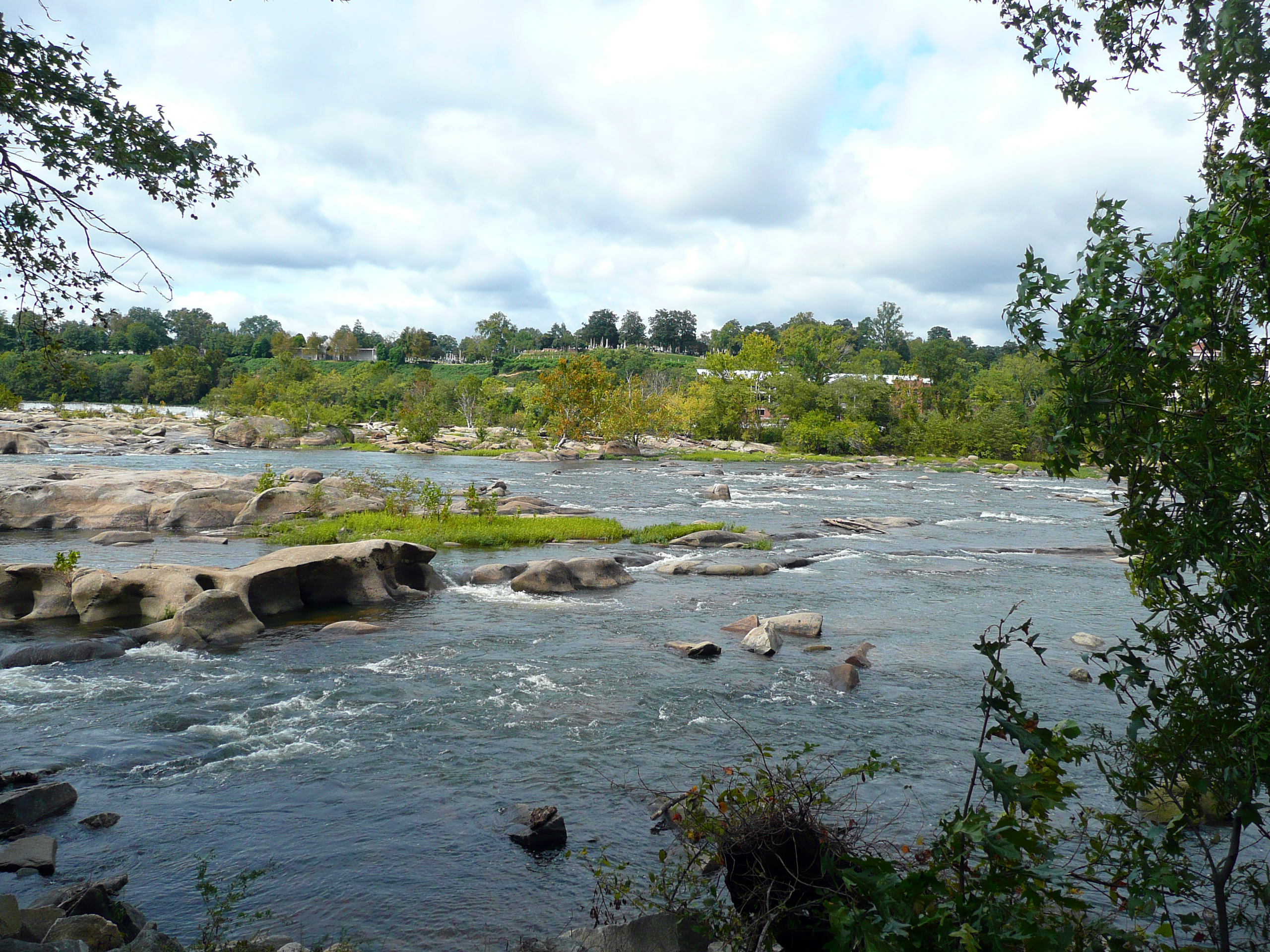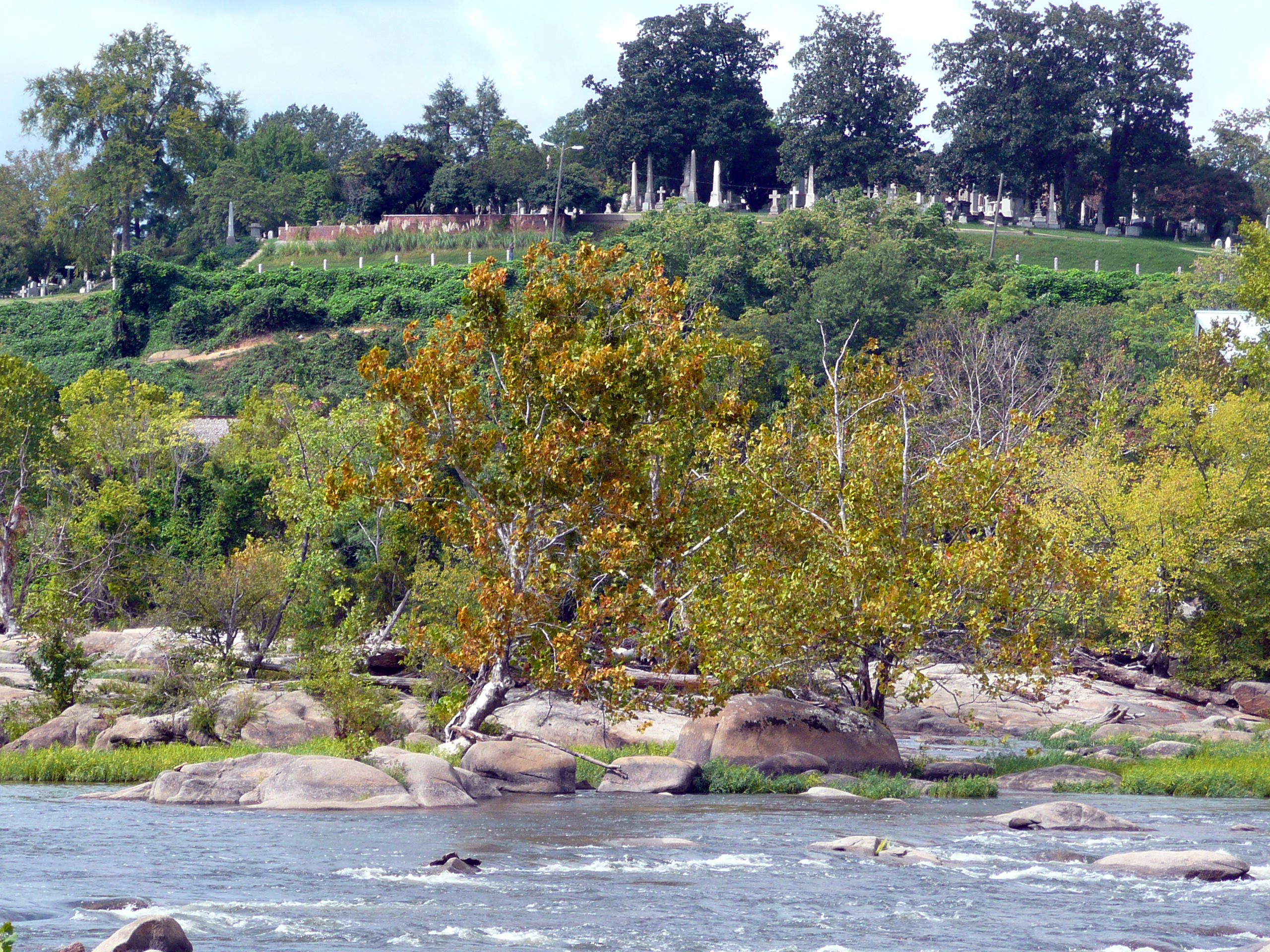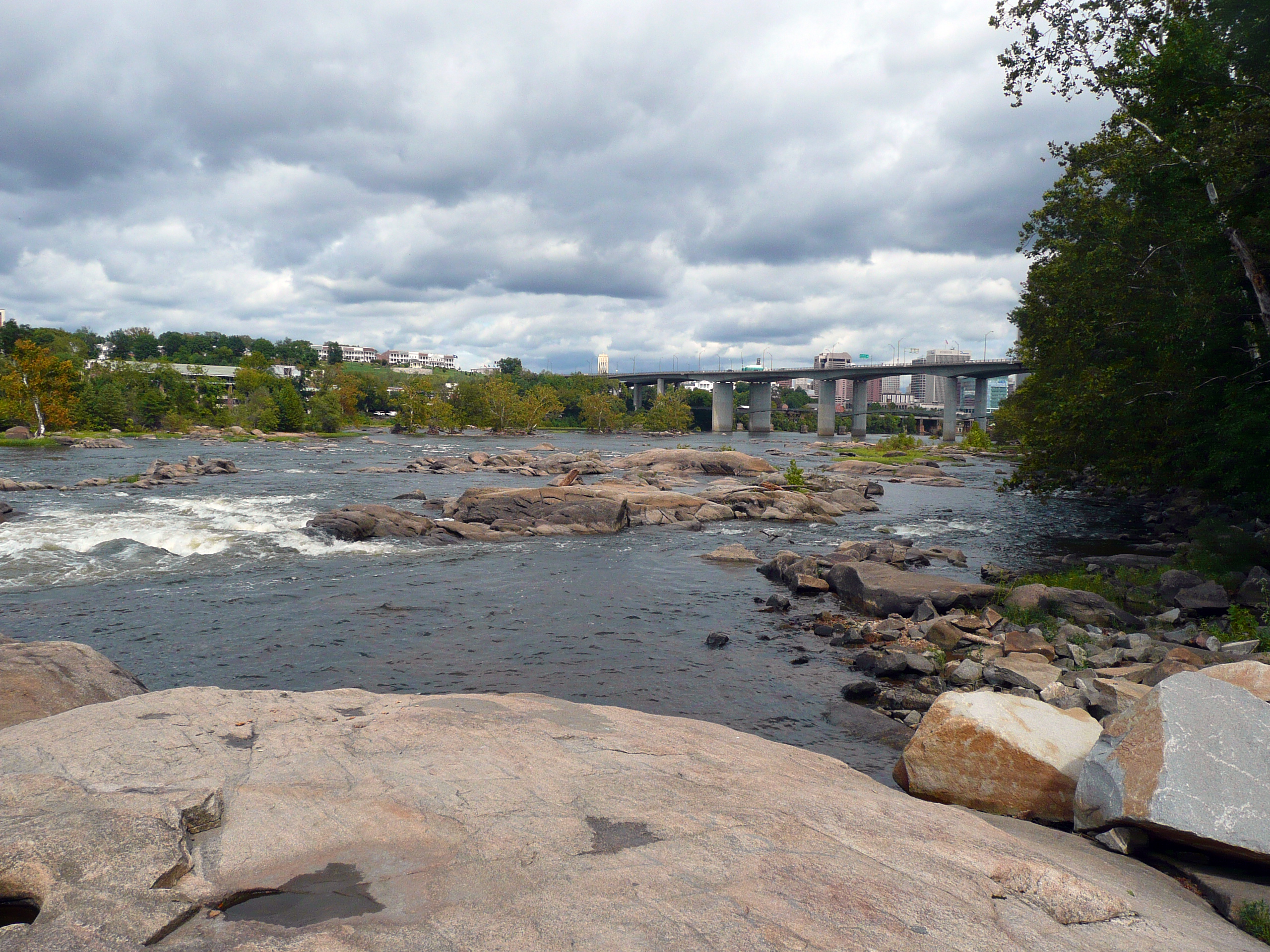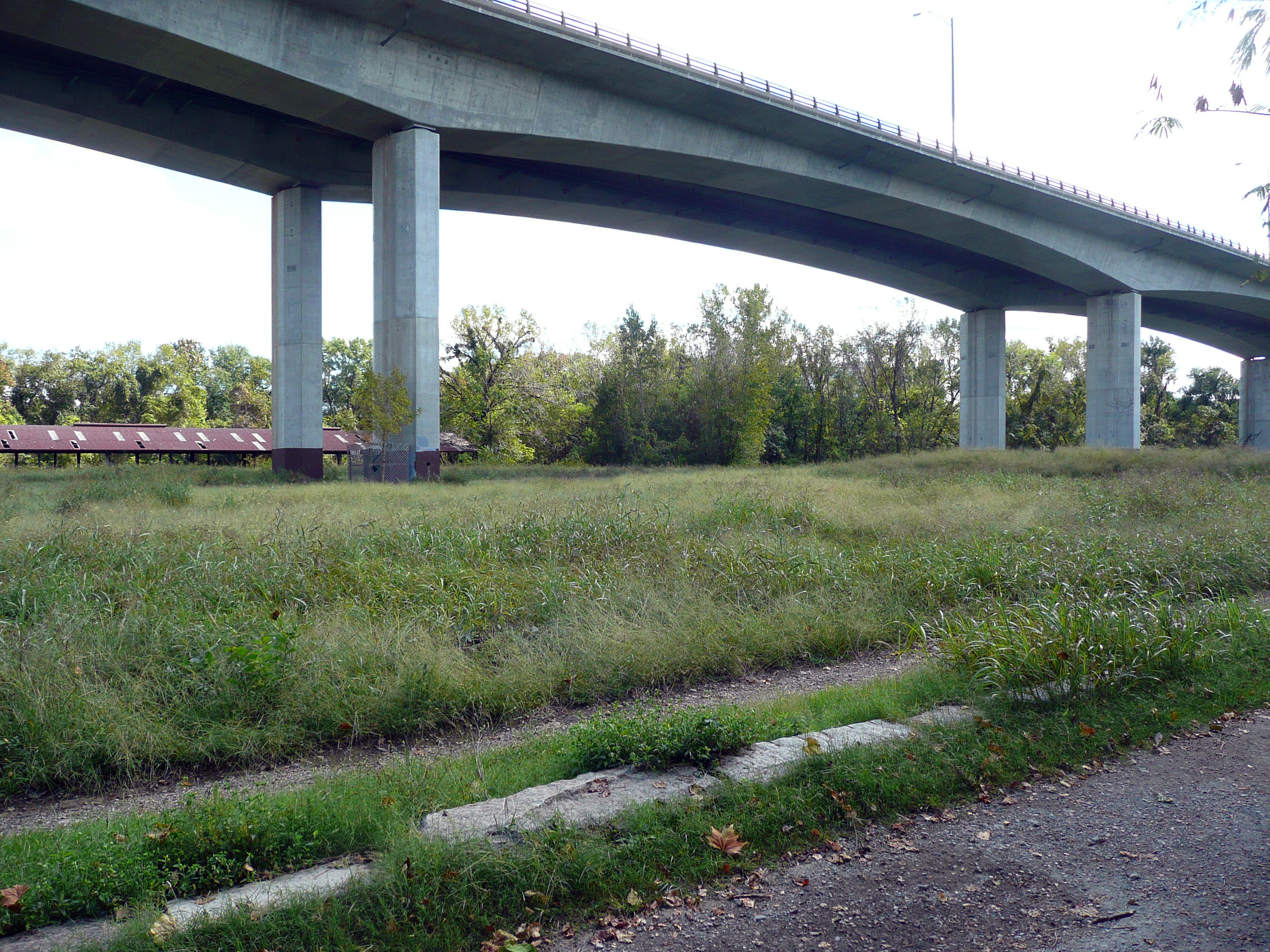 My final visit of the day was to the Virginia Historical Society. I was very impressed! They must spend a lot on graphic designers because the exhibits are really beautiful. I spent the most time in their temporary CW exhibit, An American Turning Point. Lots of well-designed video presentations and great static displays. Unfortunately, they did not allow photography. It was a very eclectic selection of topics, including technological innovation, medicine, civilians, African-Americans, and a little bit of Richmond content. Unlike the ACWC, they have a more mainstream view of the war and refreshingly have at least two exhibits that come out and say directly that slavery was the cause of the war. One odd thing was an interactive video unit that allowed you to find information about a couple of dozen major battles. They presented very interesting information, such as a map that was color-coded to show the number of casualties from every county in the country for each battle. They had Civil War Trust maps and really unusual animations that showed little men, horses, and artillery marching back and forth in formation, proportional to the state contributions.
Because I will be doing another longer run tomorrow on the eastern side of town, I selected a hotel near the airport, the Hyatt Place, which is a very, very comfortable modern hotel. Dinner at Carini's, once again a very decent Stromboli (much larger than the one in Sterling).
Tuesday, October 4
Today was running day again and I had an outstanding outing. Based on a recommendation from Bobby Krick of the National Park Service, I ran along the string of forts protecting the Chaffin's Bluff line, starting at Fort Gilmer, passing by Forts Gregg, Johnson, Harrison, Hoke, and eventually reaching Fort Brady right on the James River, where I turned around and ran back, for a total of 12 miles, which I did at a reasonable pace (faster than at Manassas last week). The weather was excellent—sunny and brisk without much humidity—and the course was shady and flat. The line of forts is intermixed with houses, but none of them intrude on the experience. It is really gratifying to run on a course where you can see interesting sights the entire way, namely the remains of relatively well preserved earthworks. At Forts Harrison and Brady, I ran inside along the walking trails. The photographs that I have below were taken later in the day as I retraced my steps in the car.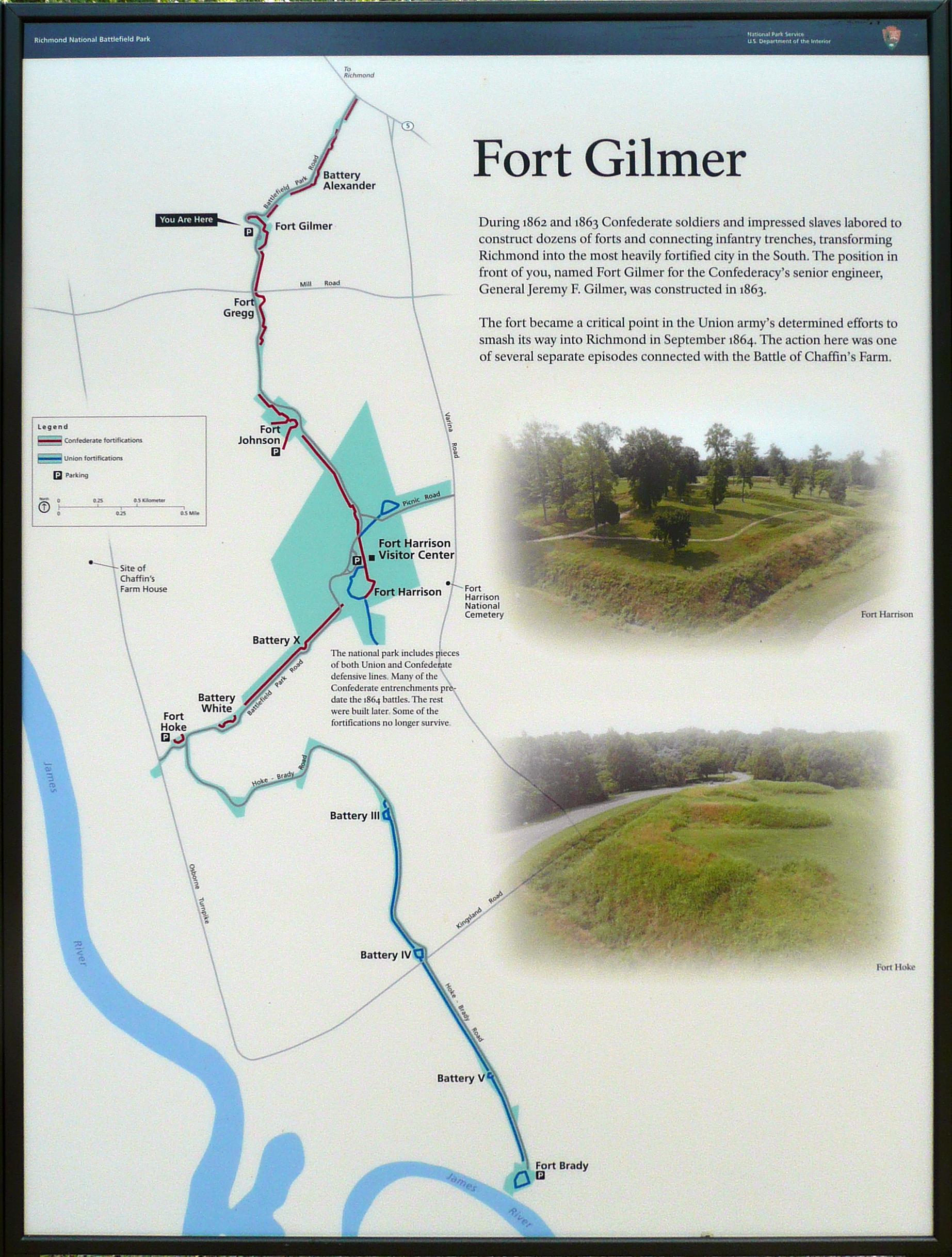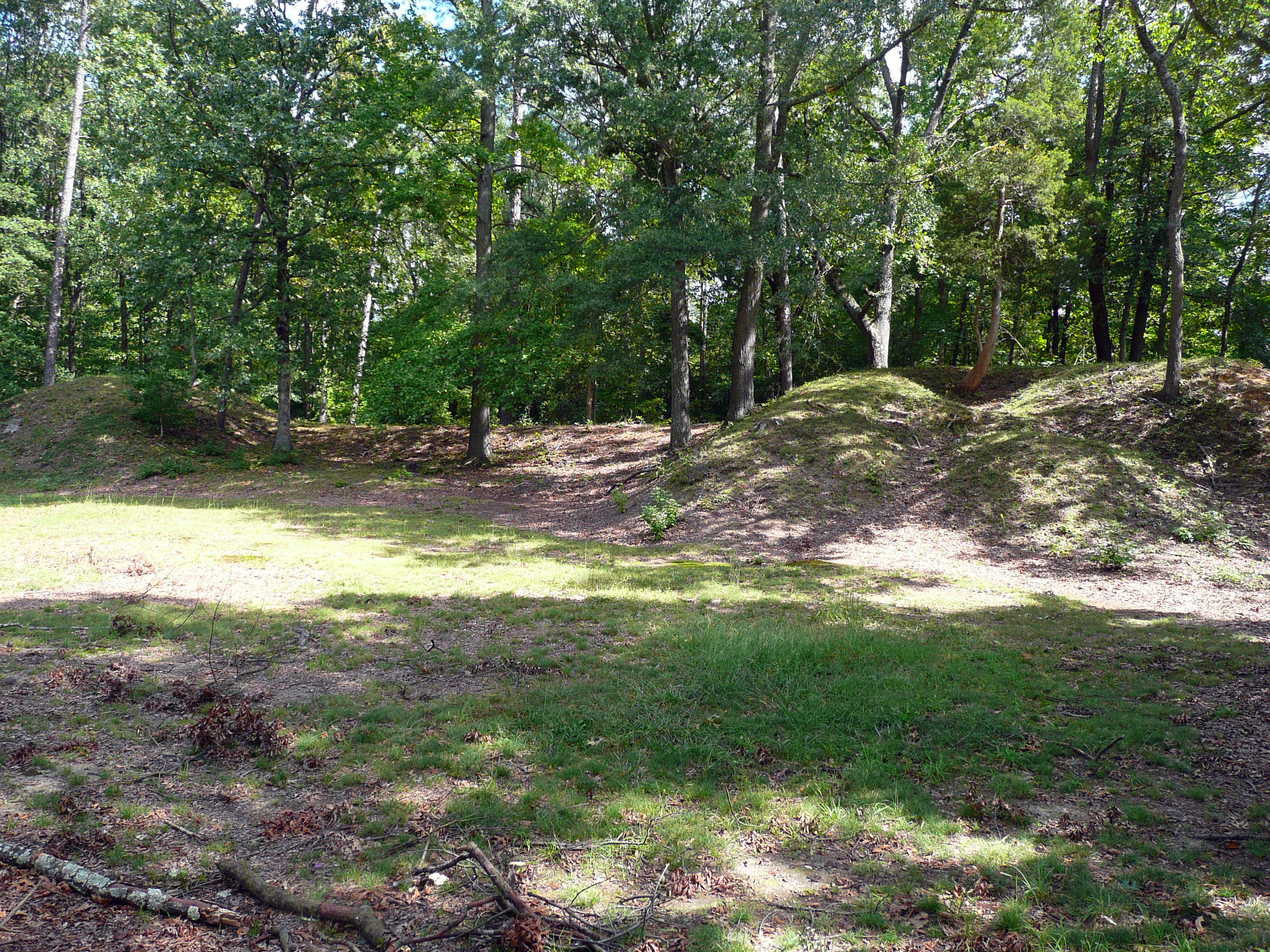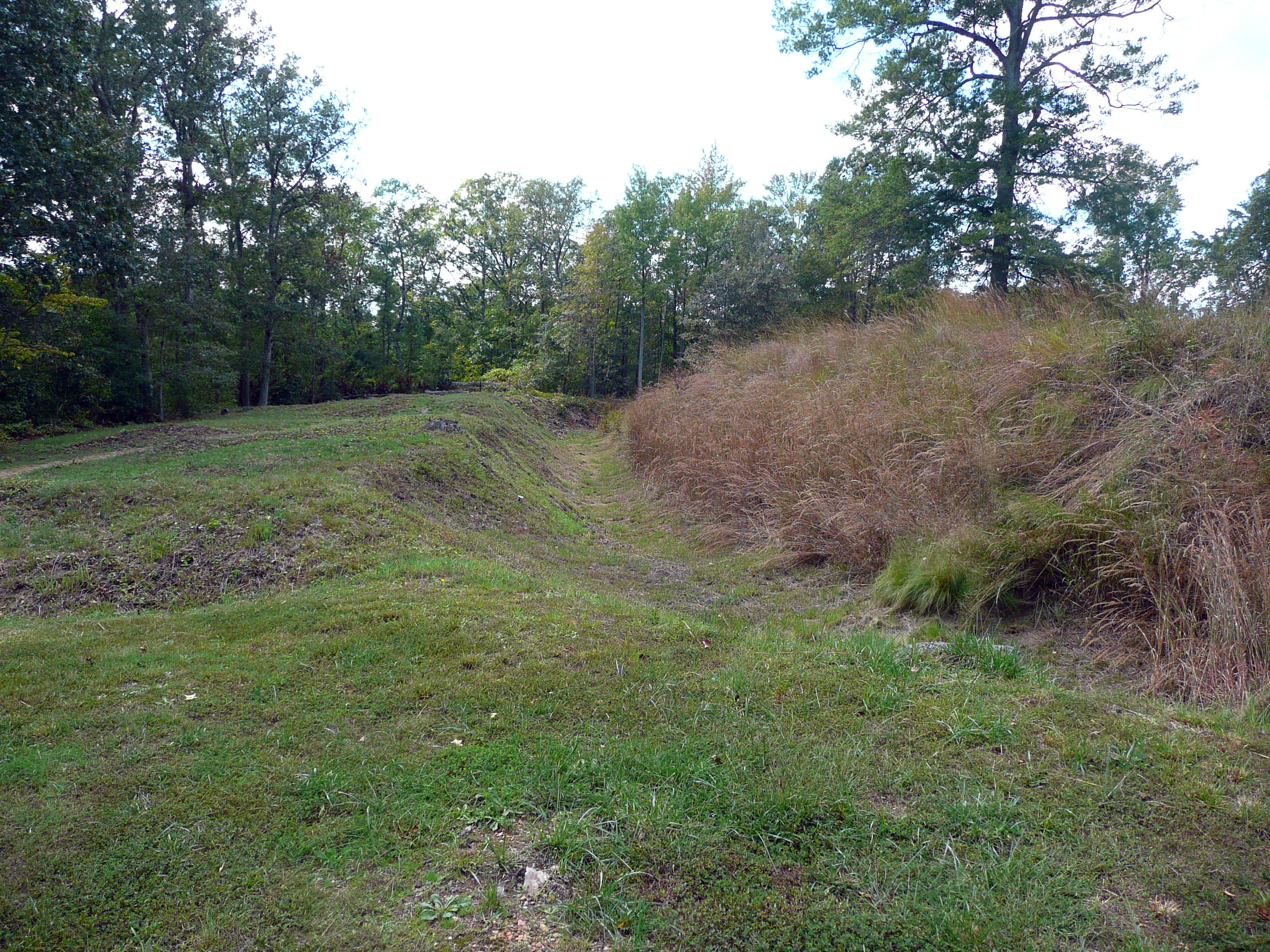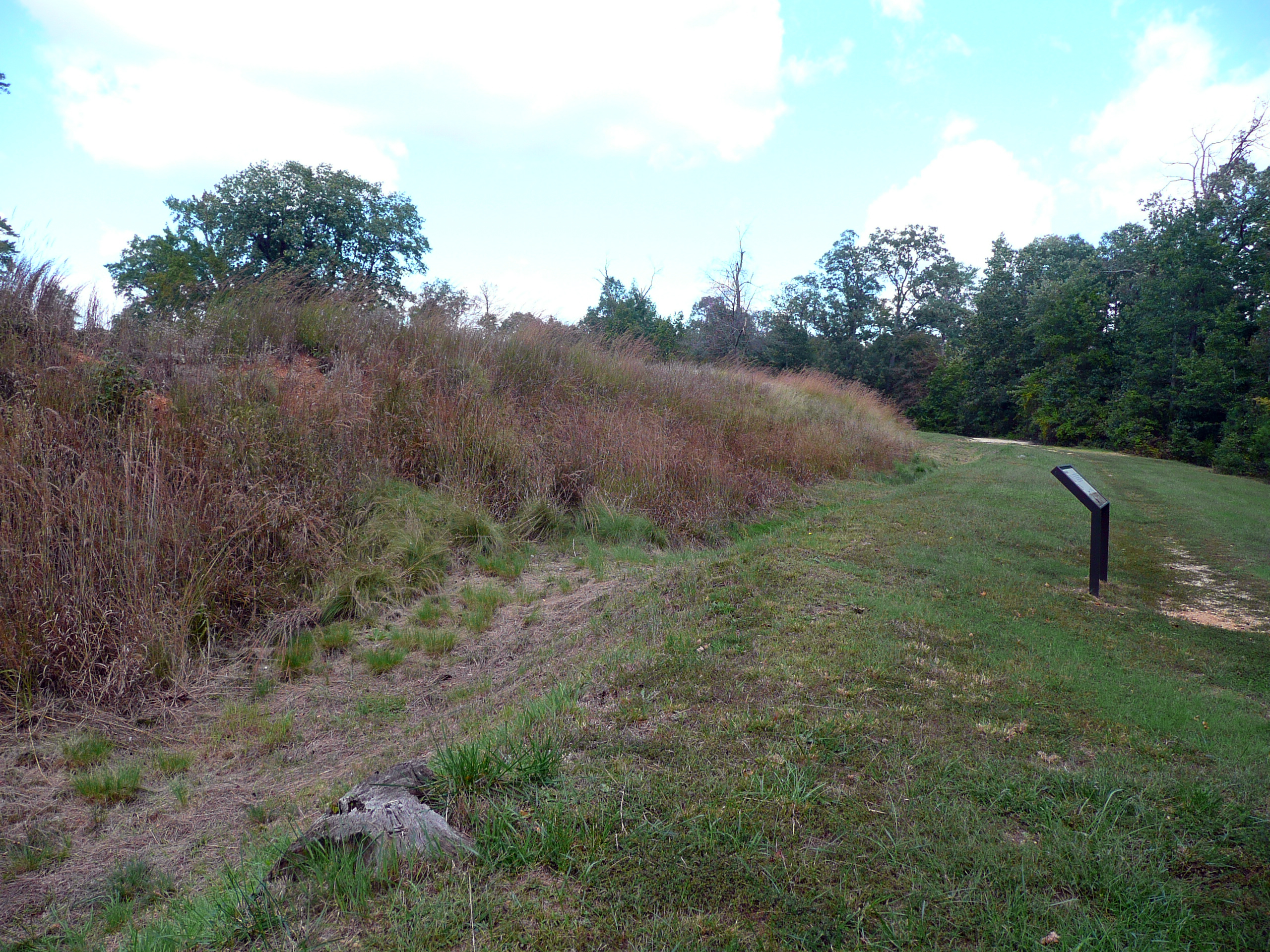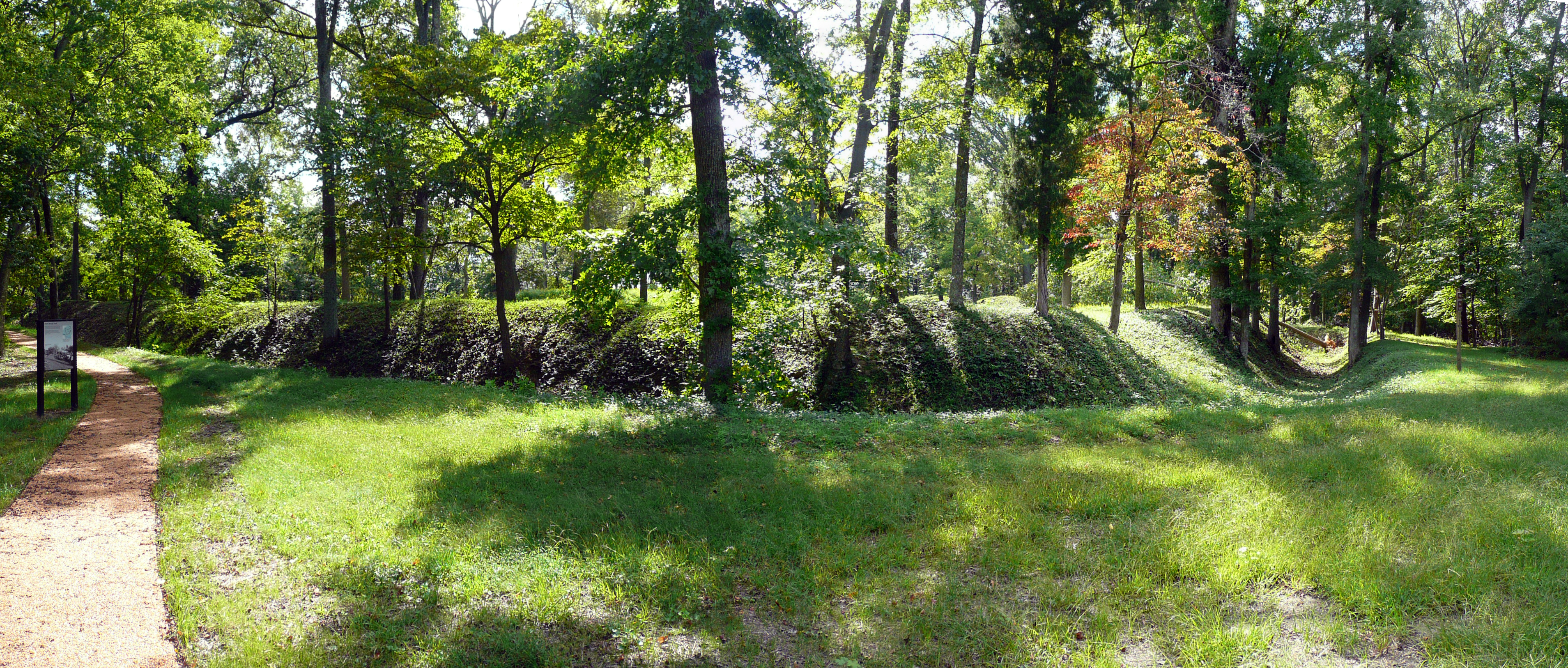 Fort Harrison was the most interesting of the forts because it played a key role in the important battle called Chaffin's Farm/New Market Heights, fought September 29-30, 1864, and featuring a significant contribution from African-American troops (although the majority of their effort was at New Market Heights, which I did not visit). But Fort Brady, a Union artillery fort, was also interesting because it is so well preserved. (I was disappointed that I could not see the James River through the trees.) After I retraced my steps, I drove over to Glendale, having not noticed on the map that the visitor center there is "open seasonally." This was not the season, apparently.
Not much else today other than relaxing and recovering from the run. Tomorrow I have a few more sights to see in Richmond, and then it is off to Winchester.
Wednesday, October 5
Today was a travel day, from Richmond to Winchester for my Valley tour starting tomorrow. I wanted to see some places along the way I had not visited before. My first stop was Chimborazo Hospital, the most famous of the Confederate hospitals in Richmond (of which there were more than 50). It was once a giant complex of wooden buildings on 40 acres, which treated more than 76,000 patients during the war, as many as 3000 at once. But today it is represented only by a single building—one that was actually built in 1909. Although the building is the headquarters for all of the Richmond battlefields, the small exhibit is entirely focused on medical issues. There is an interesting 15 minute film about the Confederate medical system and exhibits of various medical paraphernalia of the period.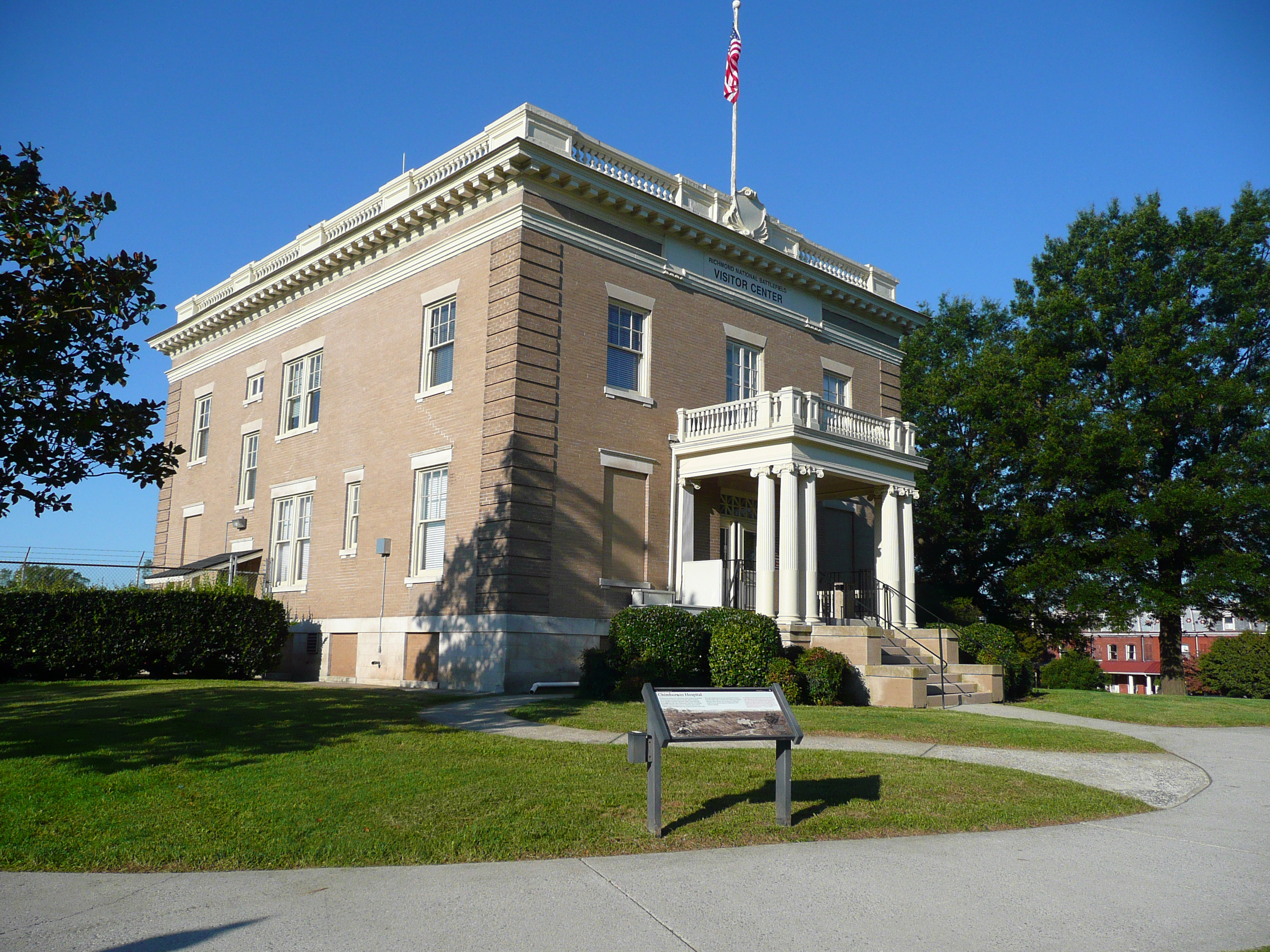 Earlier in this report I mentioned that I had seen everything in the Overland Campaign except for Yellow Tavern, but I just realized last night that I had also missed the largest cavalry battle of all: Trevilian Station. I blame the Mosby guys for not including this in their program or I certainly would have remembered earlier. :-) It is also odd that I forgot, because I recently rewrote the Wikipedia article about it, including the maps. So anyway, it was not far off my route to Winchester. I drove to Louisa Court House and followed the auto tour directions from the battlefield preservation group. It's pretty country, although rather heavily wooded in many areas (as it was at the time of the battle), so I found few opportunities to take meaningful photographs. I always end up disappointed when I take pictures of battlefield landscapes unless there is some dramatic landmark to include. Photos of woods and open fields don't do much for me. The tour heads north from Louisa up to Clayton's Store, where Sheridan encamped, and then down the road to the site of the former train station, where Custer had his first "last stand." Then it headed up the Gordonsville Road for the second day battle, around the Ogg farm. I found it nice to be able to walk the ground where an important battle occurred, I can't say that I got much insight from the terrain.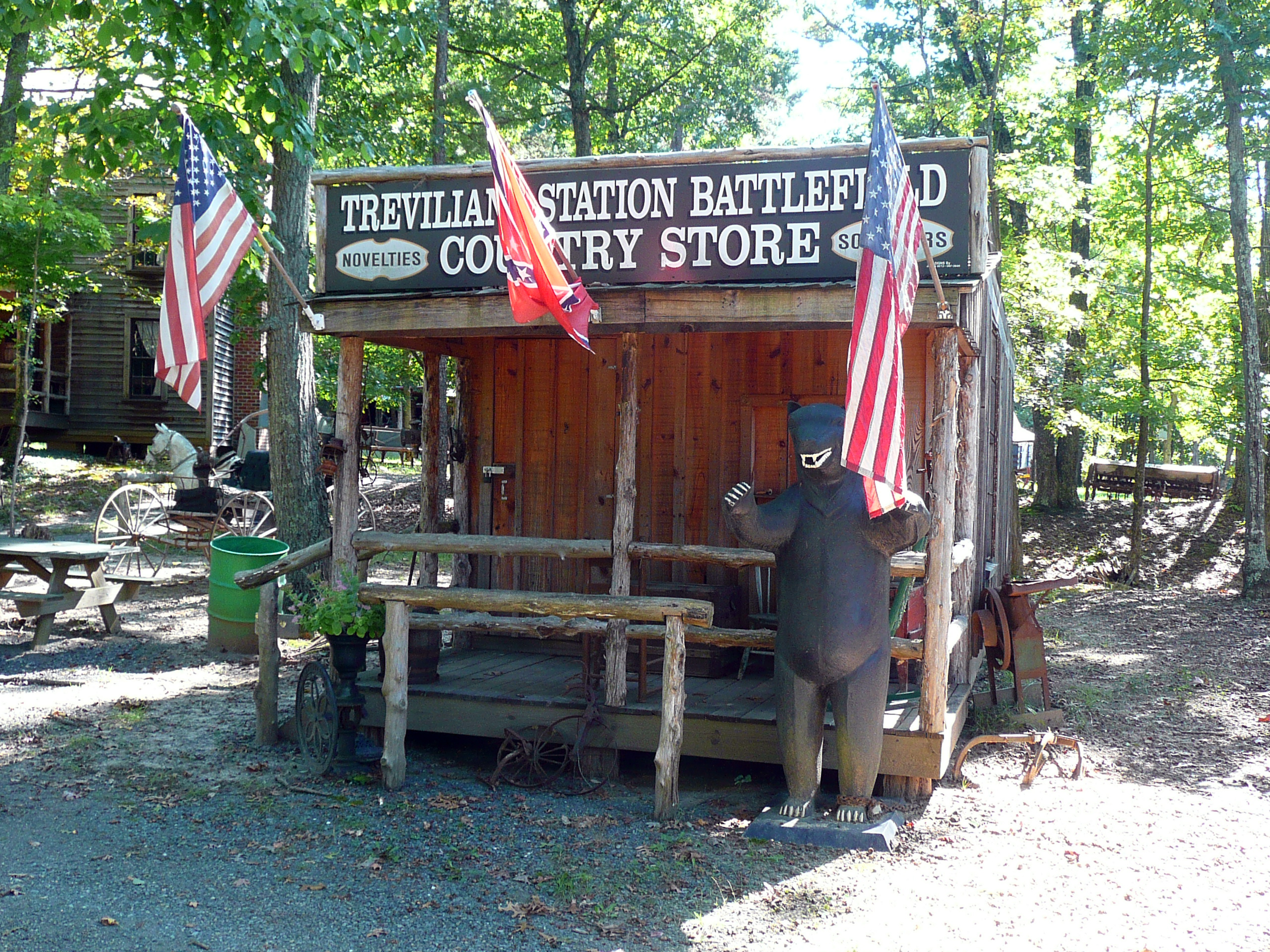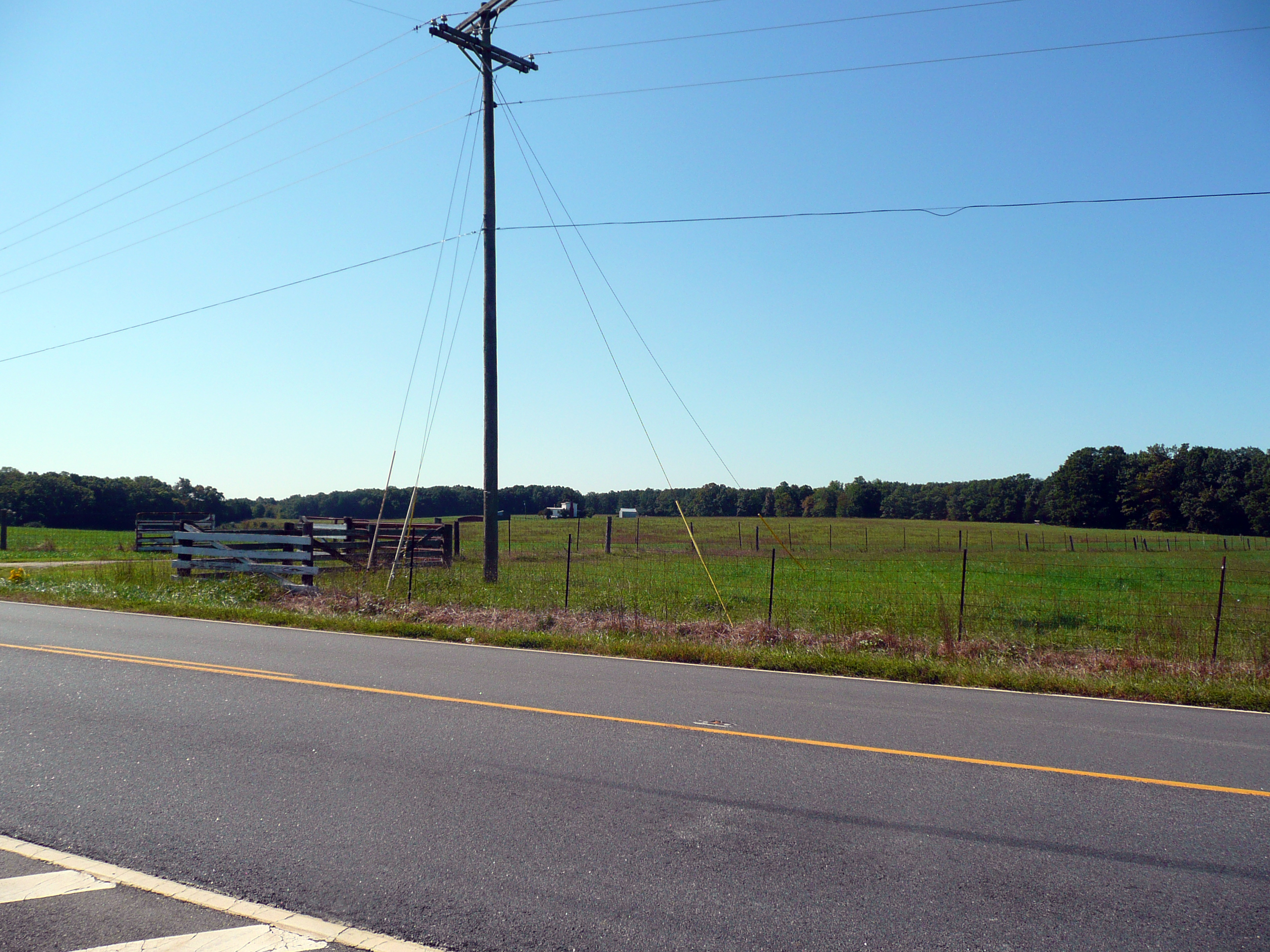 The auto tour recommended an optional stop in Gordonsville, so I drove there to the Exchange Hotel, which is now a Civil War museum. In March 1862, however, it was turned into the Gordonsville Receiving Hospital, processing incoming wounded and dying from many of the nearby battlefields, including Cedar Mountain, Chancellorsville, Trevilian Station, Mine Run, Brandy Station, and the Wilderness. During the war they received over 70,000 patients, supplementing the small hotel building with a vast sea of tents. The museum has quite an eclectic collection, ranging from railroad artifacts to ladies' dresses to Civil War personalities to Civil War medicine. I arrived just as a docent was beginning a guided tour, so I got a good overview and then went back through the collection take closer looks at items of interest. There was one disappointing aspect: Gordonsville is allegedly known as the Fried Chicken Capital of the World (because there used to be a thriving business of selling fried chicken dinners to train passengers making a quick stop), but the ladies running the museum were unaware of any fried chicken currently available other than at Hardee's!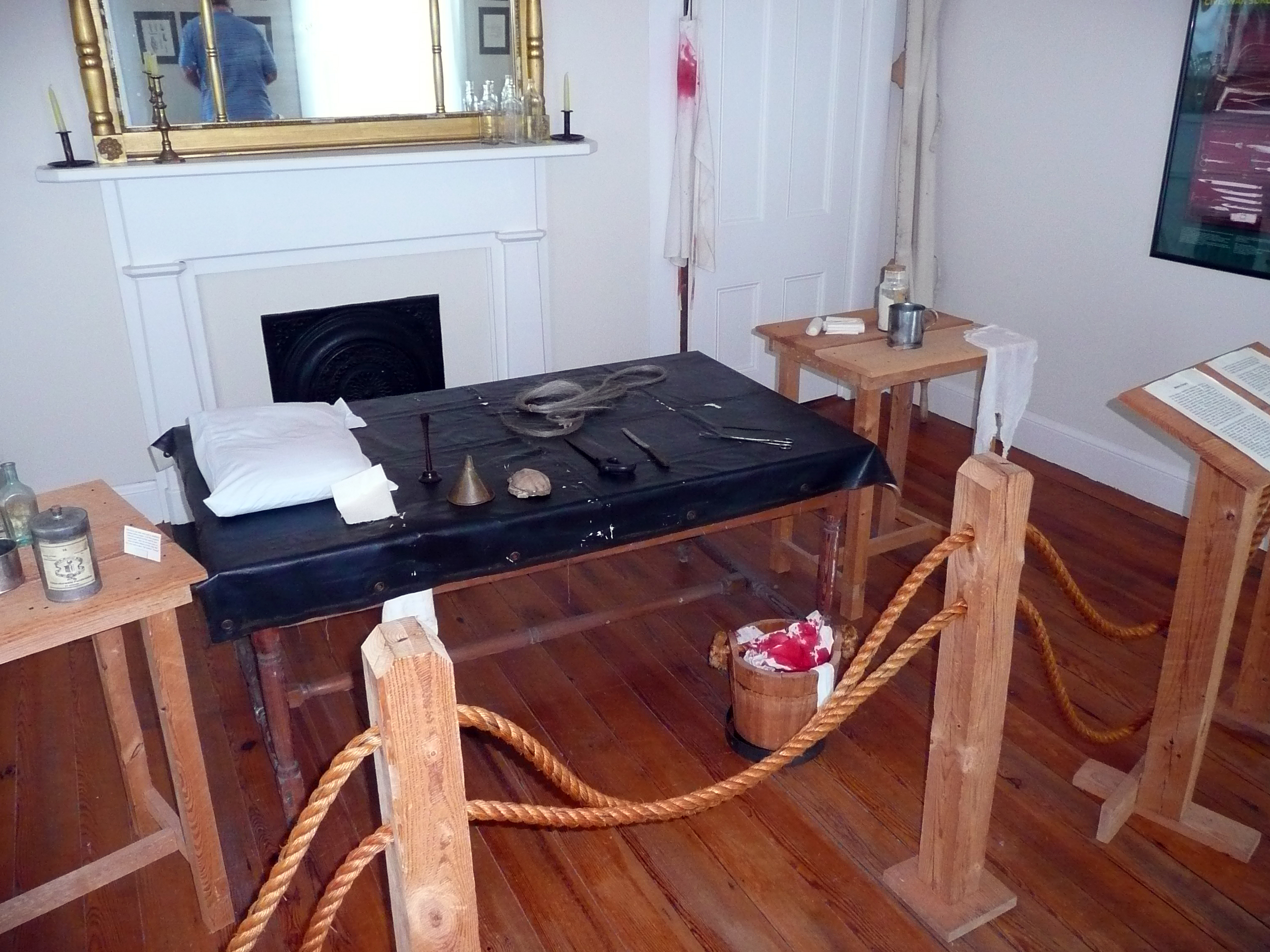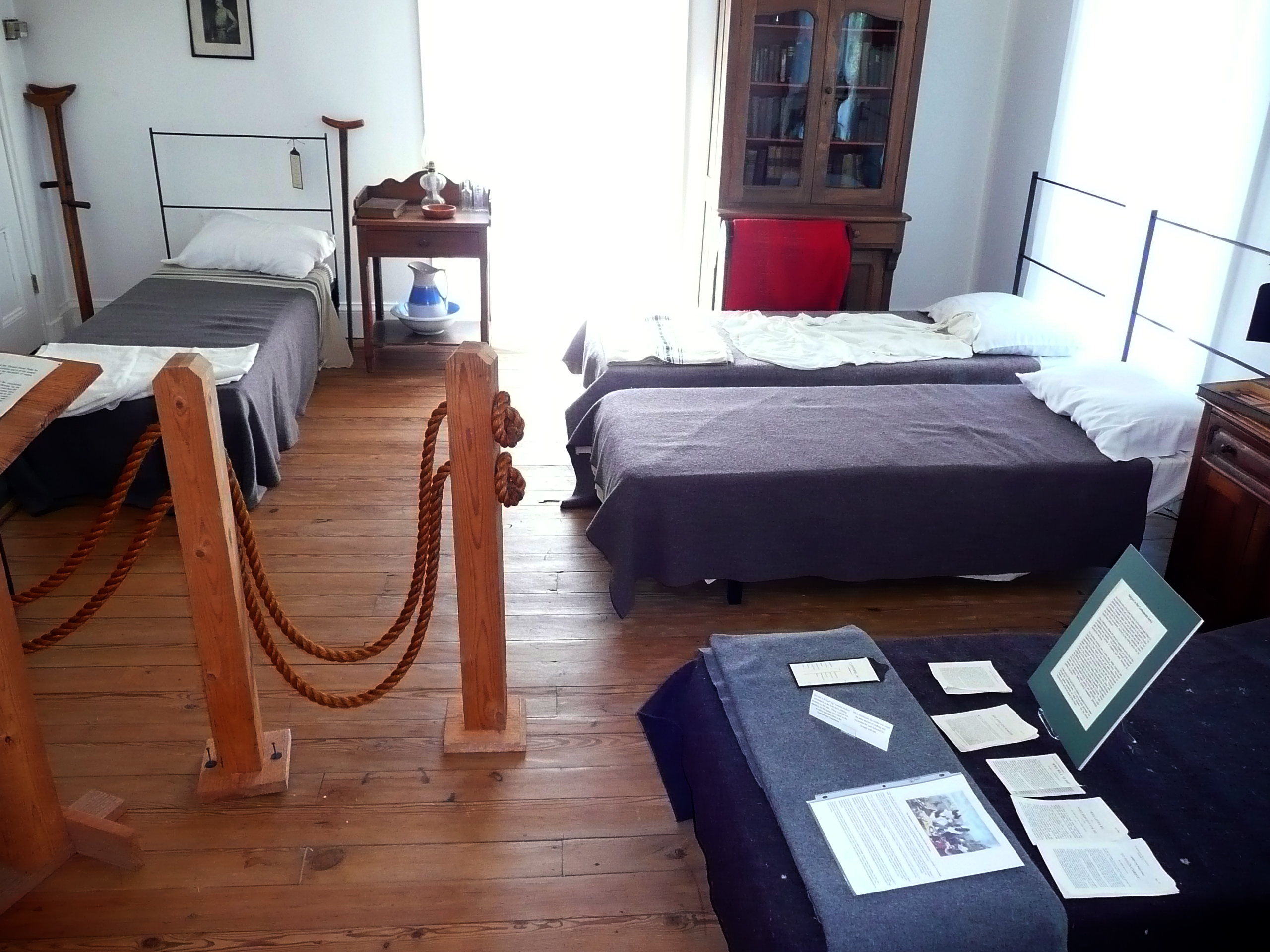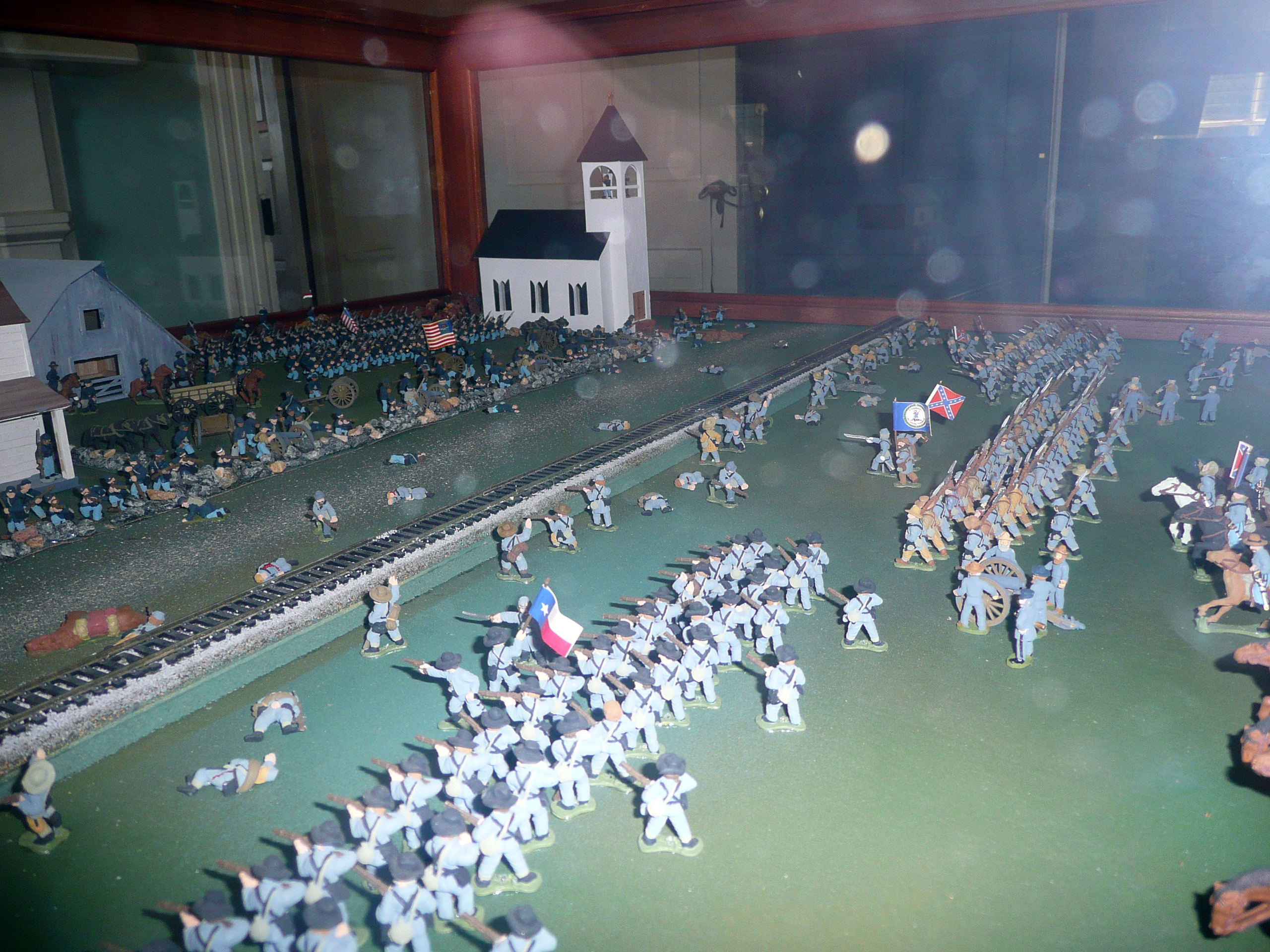 I hit the road for Winchester and checked in at the luxurious Travelodge southeast of town. Then I drove downtown and revisited the Old Courthouse Civil War museum. I had seen this on my previous visit to Winchester in 2010, although I am embarrassed to say that I did not remember it until after I had paid my admission. :-) From what I can recall, it looks like they have cleaned up the place quite a bit, improving the quality of the exhibits—signage, etc. but otherwise it is still the same, with an enormous collection of buttons, bullets, weapons, and other artifacts found on battlefields. They have case after case filled with artillery shells, both field and naval. They also, oddly, have a big collection of Mort Künstler prints. Nice to look at, but hardly museum selections. Probably the most interesting parts of the exhibit were the graffiti scrawled on the original walls upstairs by Union prisoners. new interior walls have been built, but they have added windows to allow the original graffiti to show through. I took a nice stroll up and down the pedestrian street, thinking about dinner options, but I ended up eating, believe it or not, at the Costco across the street from the hotel. (Two gigantic slices of pizza and a soda with endless refills for about five dollars cannot be beat.)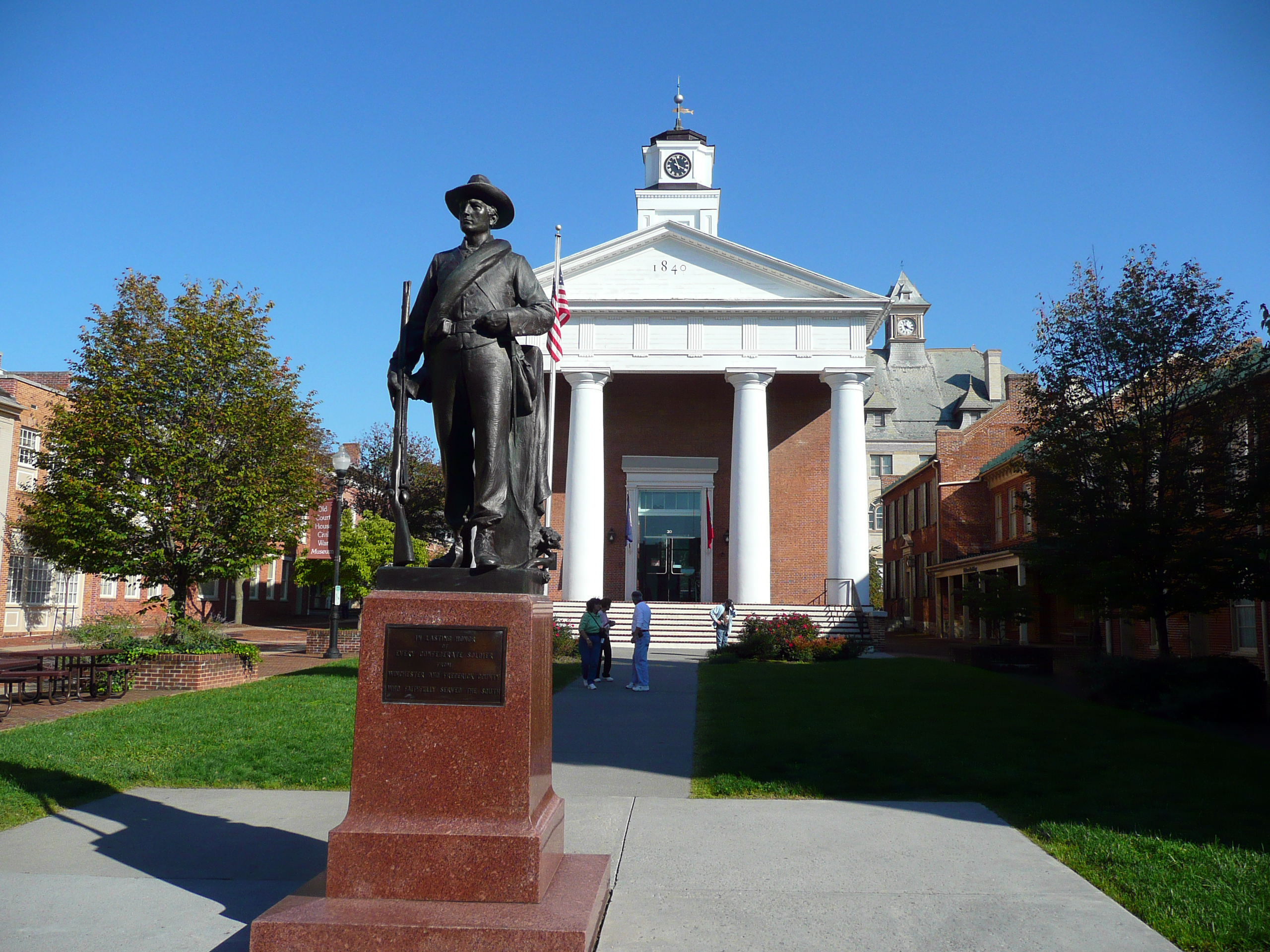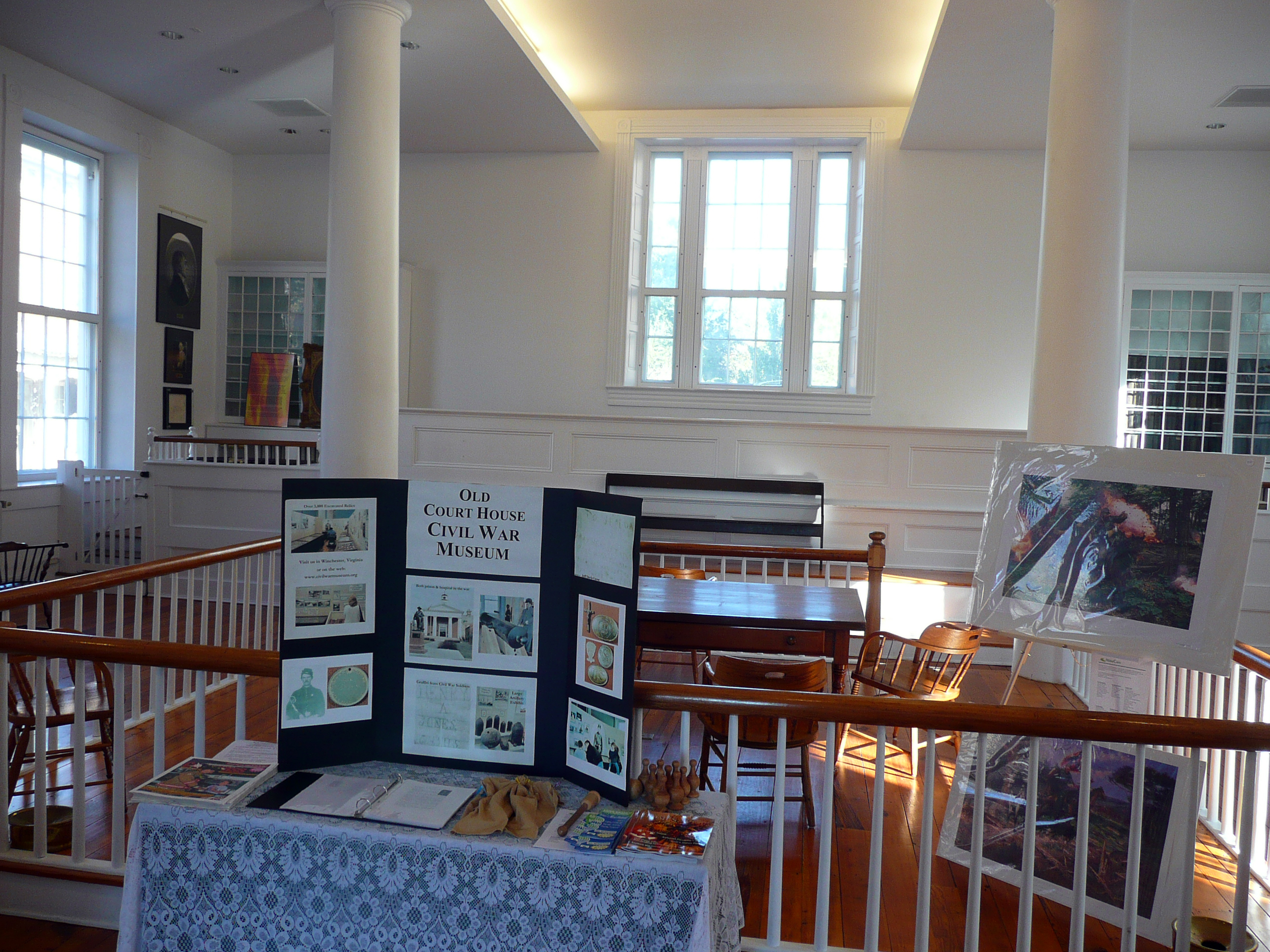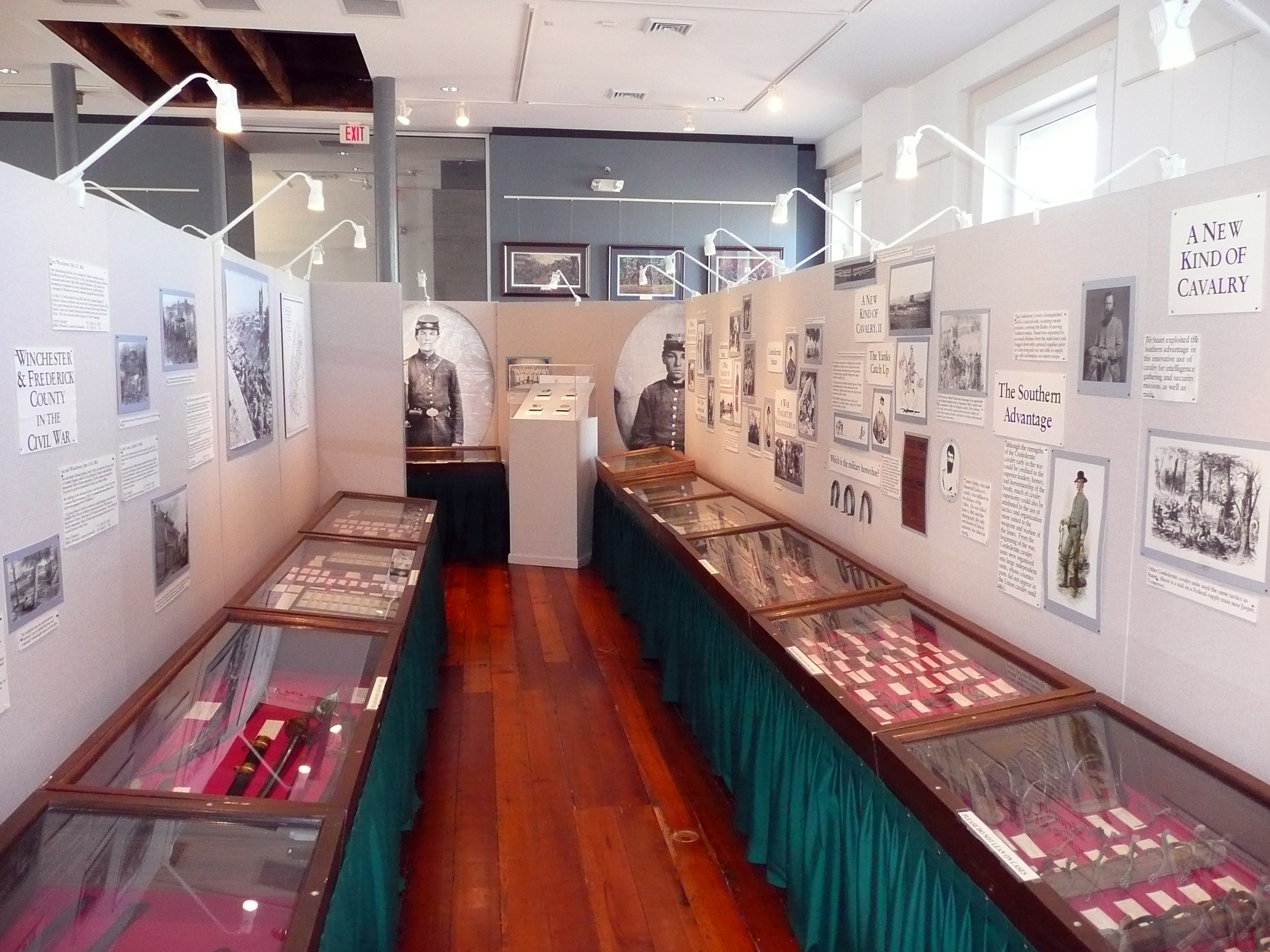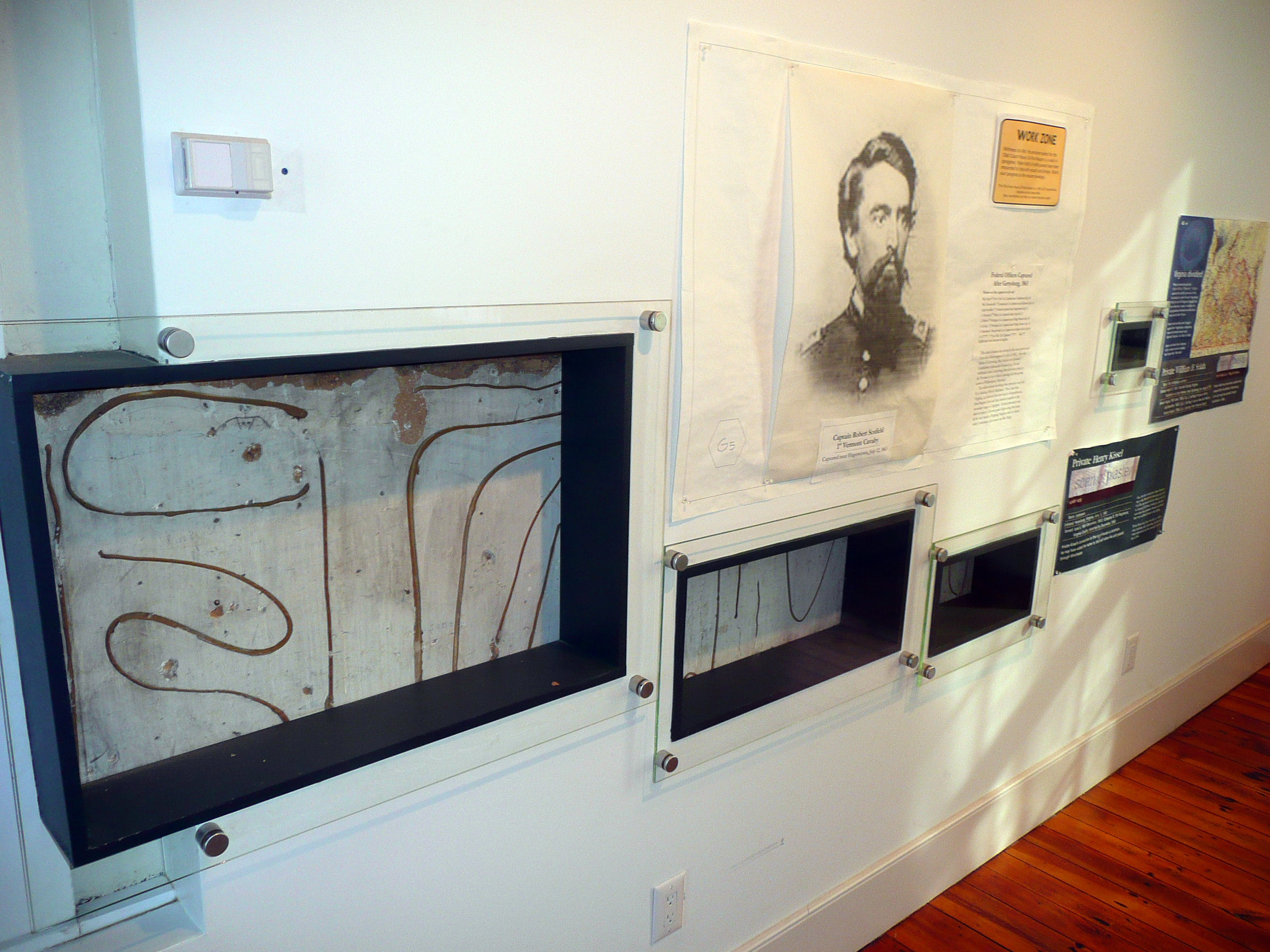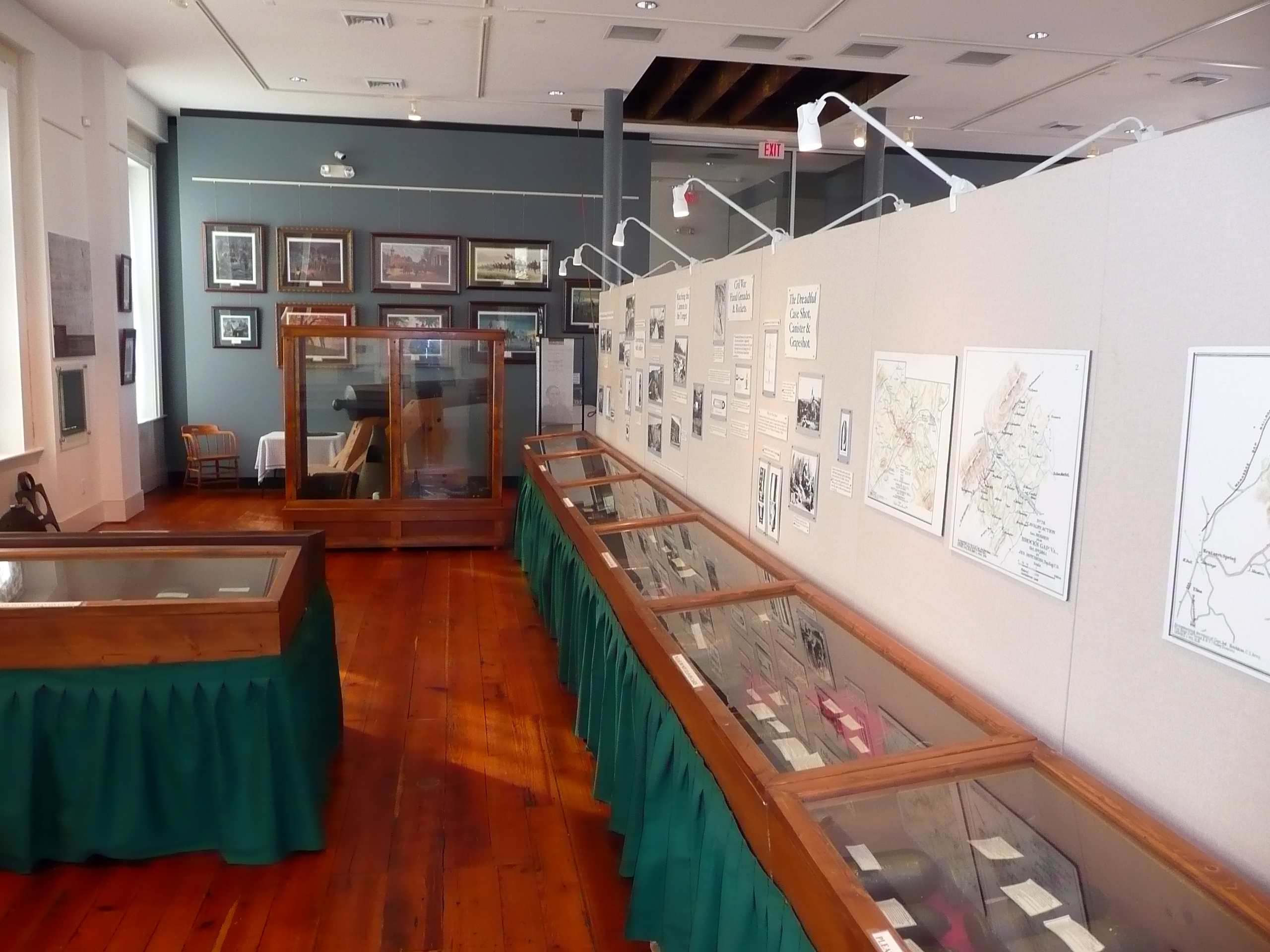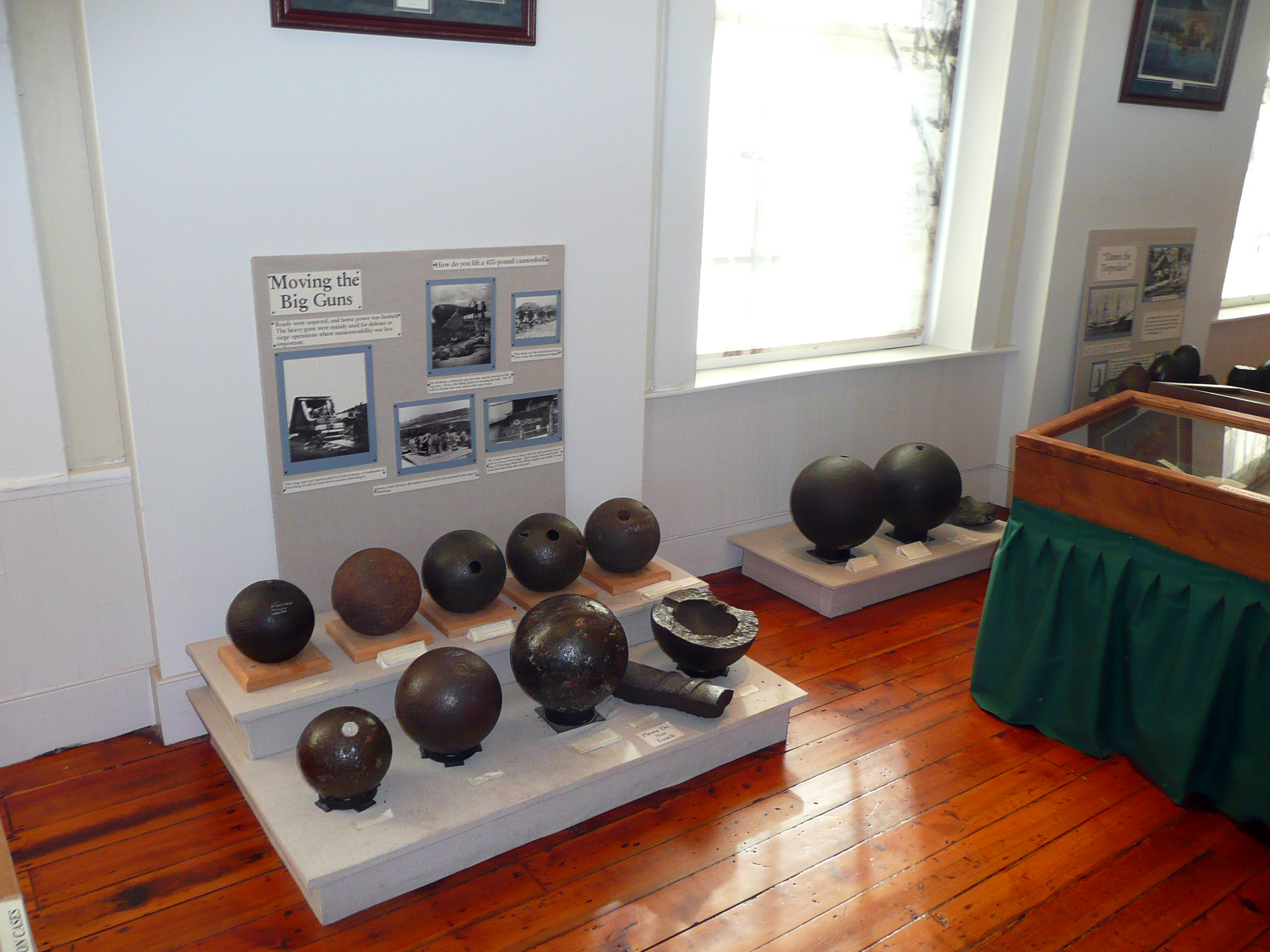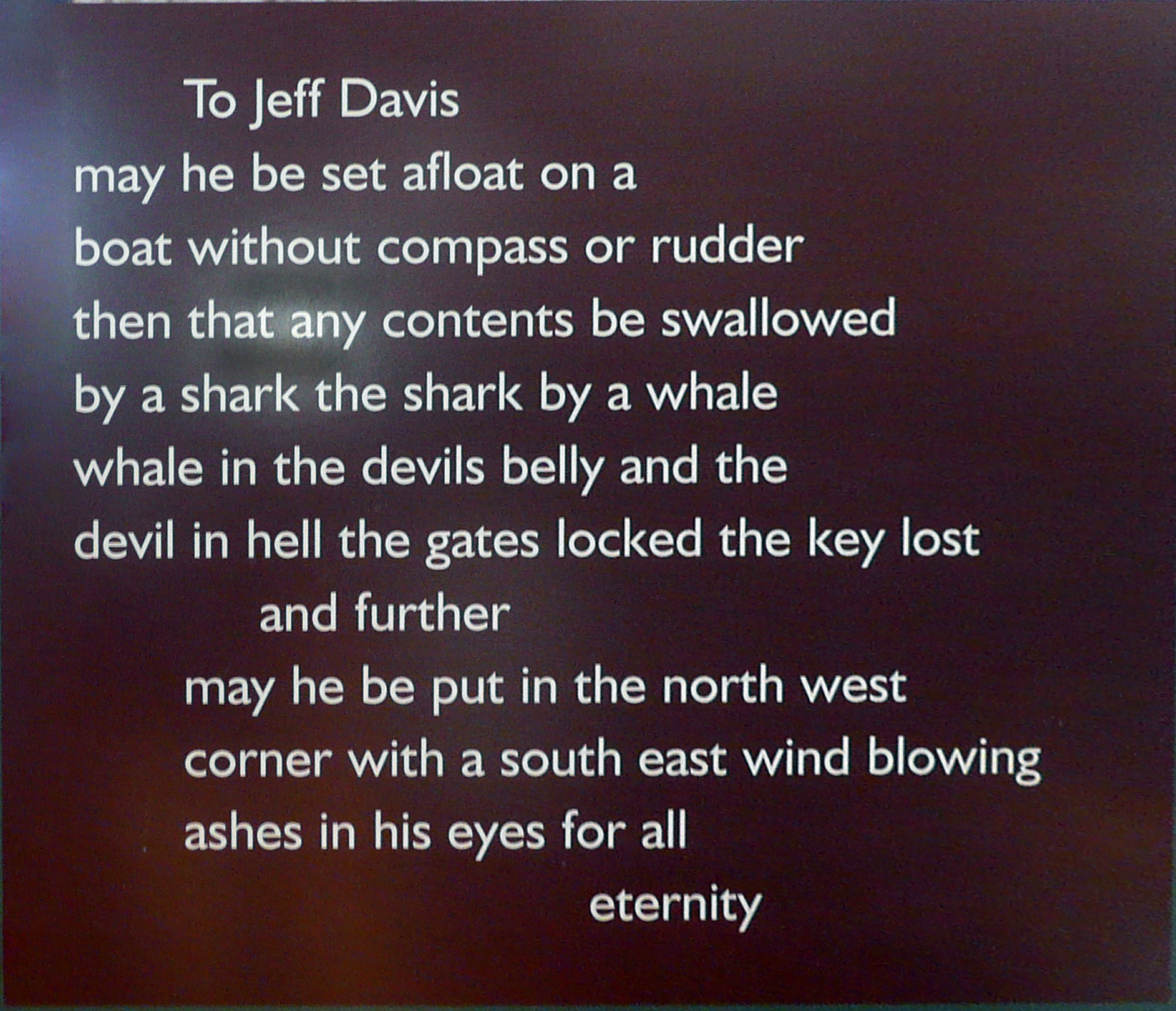 CWEA's "Shenandoah Showdown: The 1864 Valley Campaign Tour," October 6–9
Thursday, October 6
I have attended two other events with the Civil War Education Association and found that they do very good tours with expert historians and good logistical operations. This weekend's event is coordinated by Bob Maher and our expert is Scott Patchan, who is arguably the best-known historian of the 1864 Valley campaigns. I had met Scott once previously, a few years ago, on a tour of the Second Manassas battlefield, and I was surprised to find that he recognized me and greeted me by name. Perhaps it is our close friendship on Facebook, or perhaps Bob warned him about my prolific travelogues. :-) Other than Bob and Scott, I did not know any of the 20 or so participants. It was nice to see that we have a full-size bus so we had room to stretch out a bit. One point I should make to readers of this travelogue: I often link to Wikipedia articles I have written about battles, but it so happens that this particular campaign has very few articles written by me, and very few maps as well. I may use this trip as an excuse to go through and start working on them.
We jumped right on to the bus and headed to New Market, about an hour away. Scott gave us background on the 1864 campaign. He said that the common notion that the Shenandoah Valley was the bread basket of the Confederacy was a myth. Agricultural output dropped dramatically after 1861, due in no small part to shipping many of the farmers off into the Army. So the Valley was a strategic corridor into the North, but agriculture was not the sole reason for its importance. We left Interstate 81 to drive on the Valley Turnpike for a while. In Middletown, we passed by Belle Grove, which was the headquarters for a number of the Union generals. Franz Sigel was relieved here after he lost the Battle of New Market, replaced by David Hunter. In reviewing the operational situation, Scott made it clear that Franz Sigel, for whom historians have low regard, actually had a number of threats that he had to deal with in the Valley, making him understandably cautious in his movements. Cavalry under John D. Imboden and Mosby's Rangers caused him difficulty. We returned to 81 in Woodstock and drove to the New Market visitor center. I had been here once before, in one of my very early forays with the Civil War Preservation Trust, but I can't say I remembered much about the museum. They had a number of interesting maps about the campaigns in Virginia and a few prints by Kurz and Allison. They also had a very elaborate miniature scene that combined soldiers, railroad bridge construction, and an aerostat flying overhead, which stumped us about what battle it was portraying. Upon inquiring, we found out that it was a figment of someone's imagination.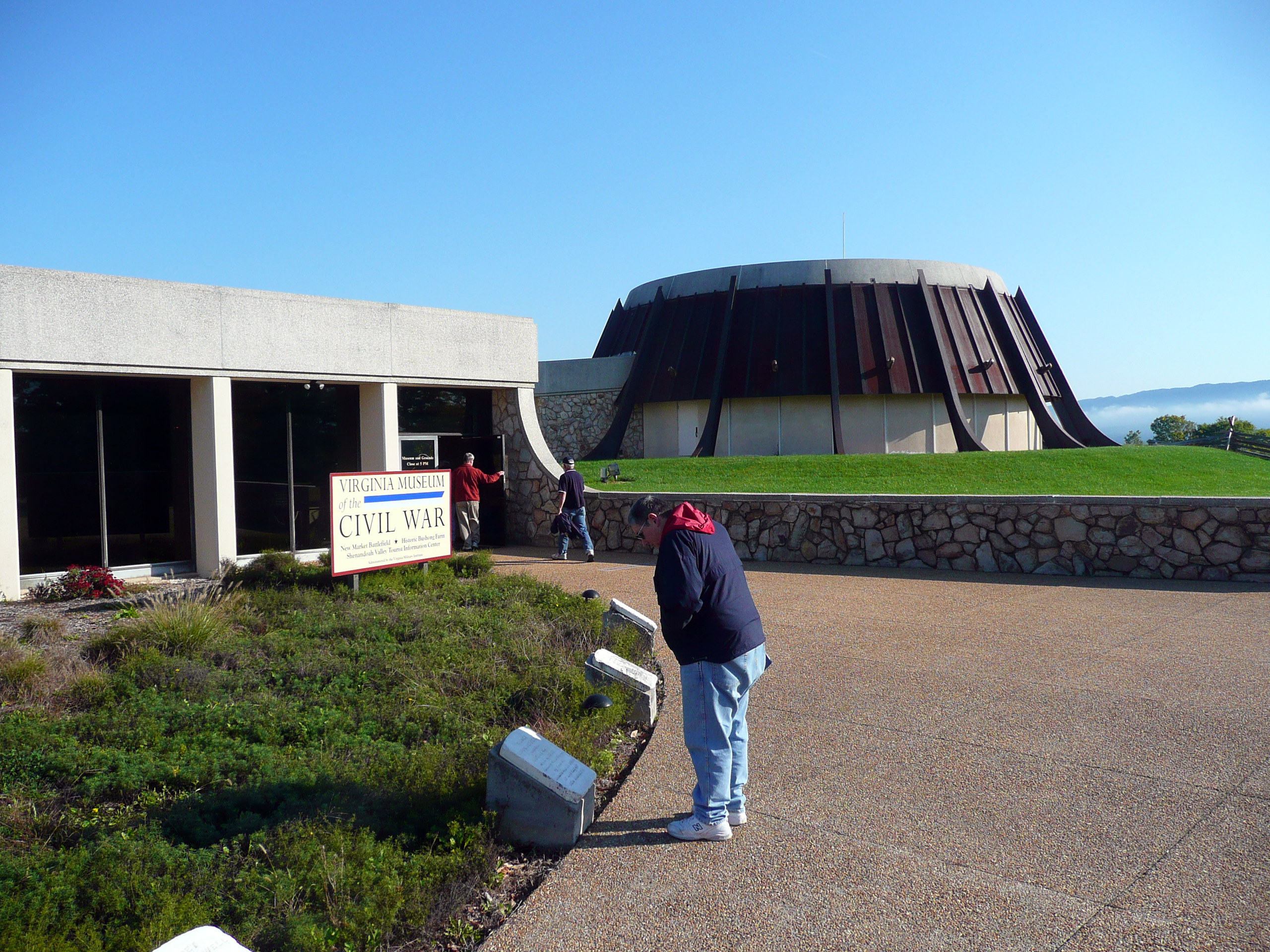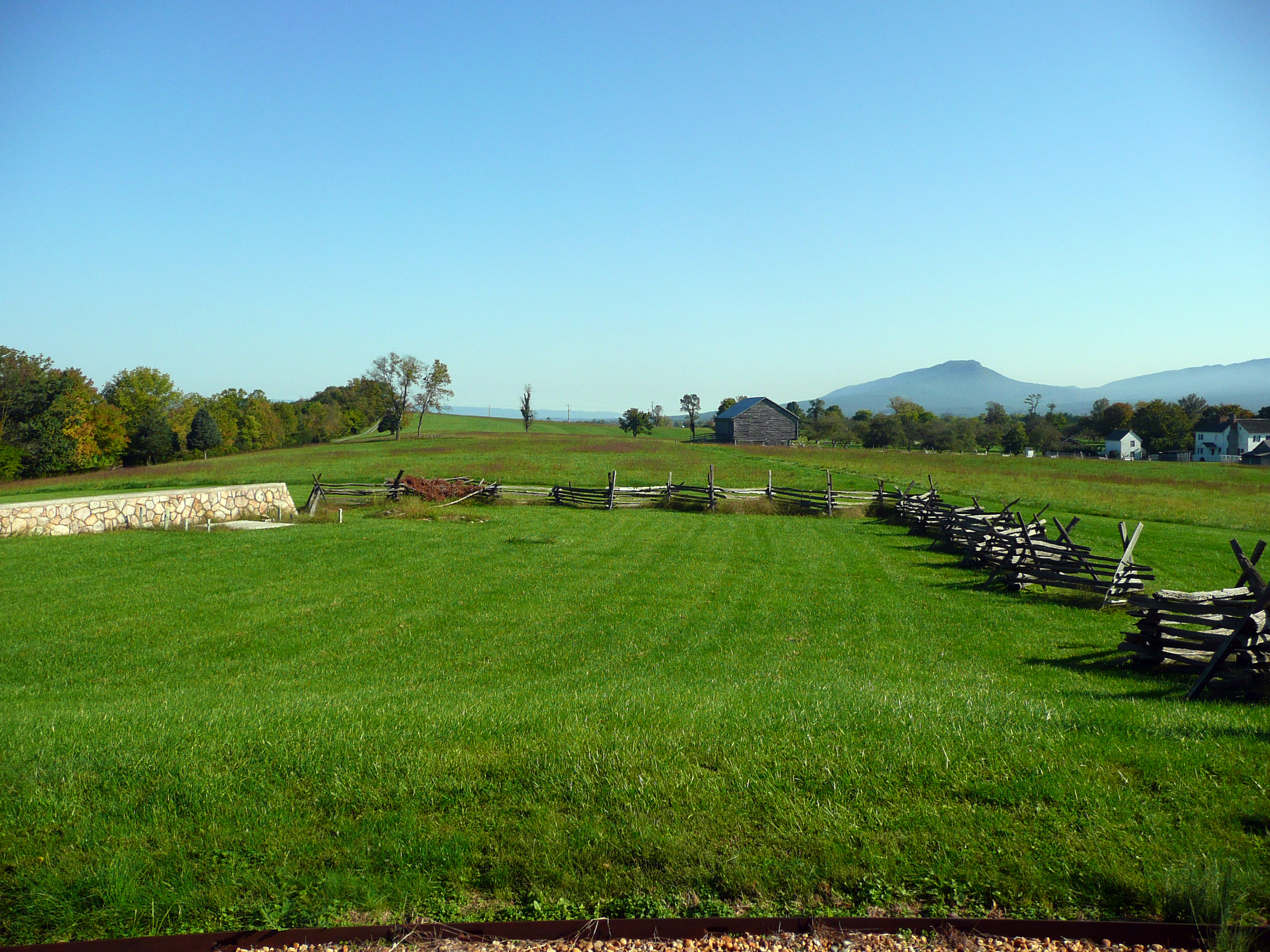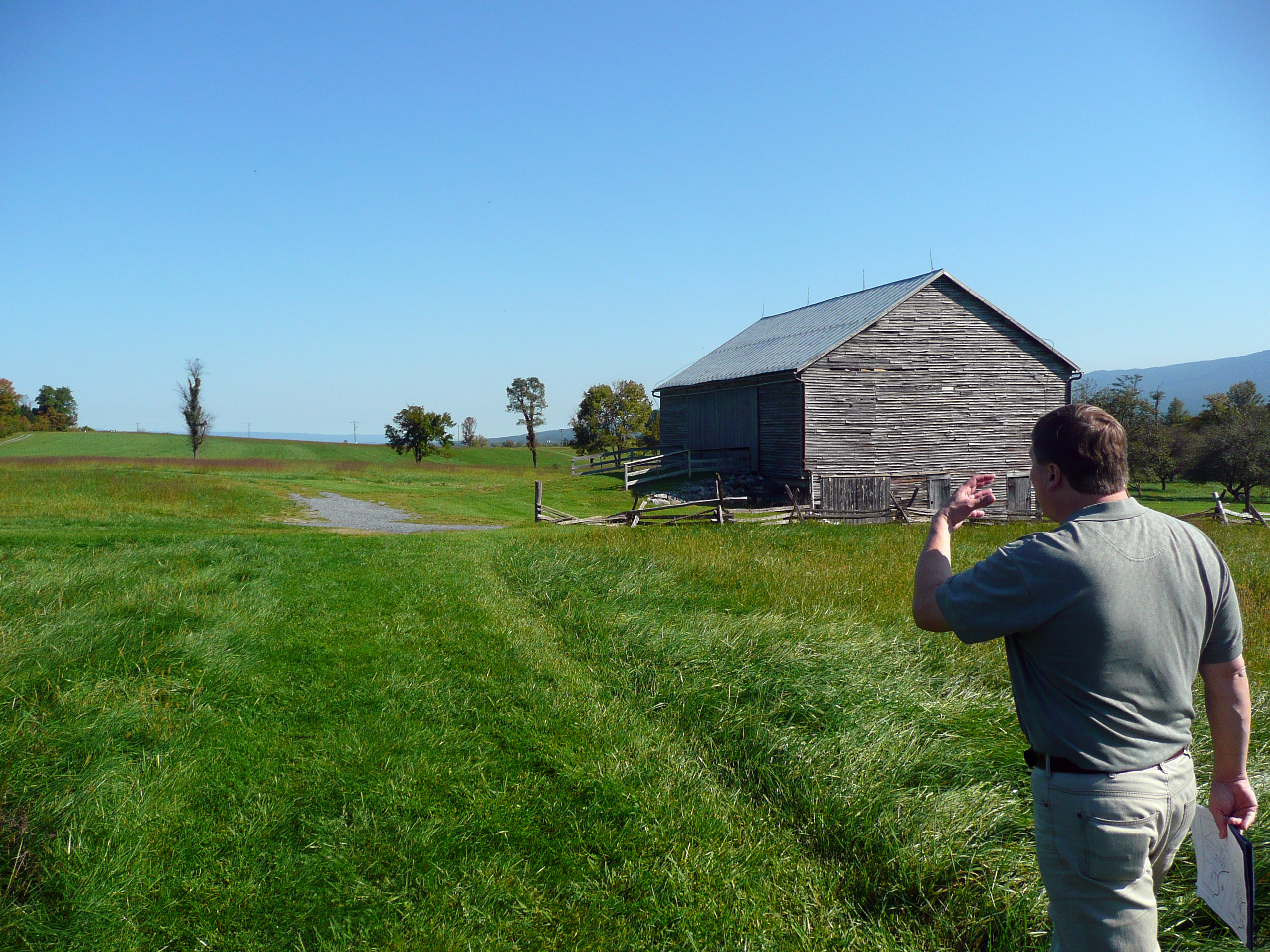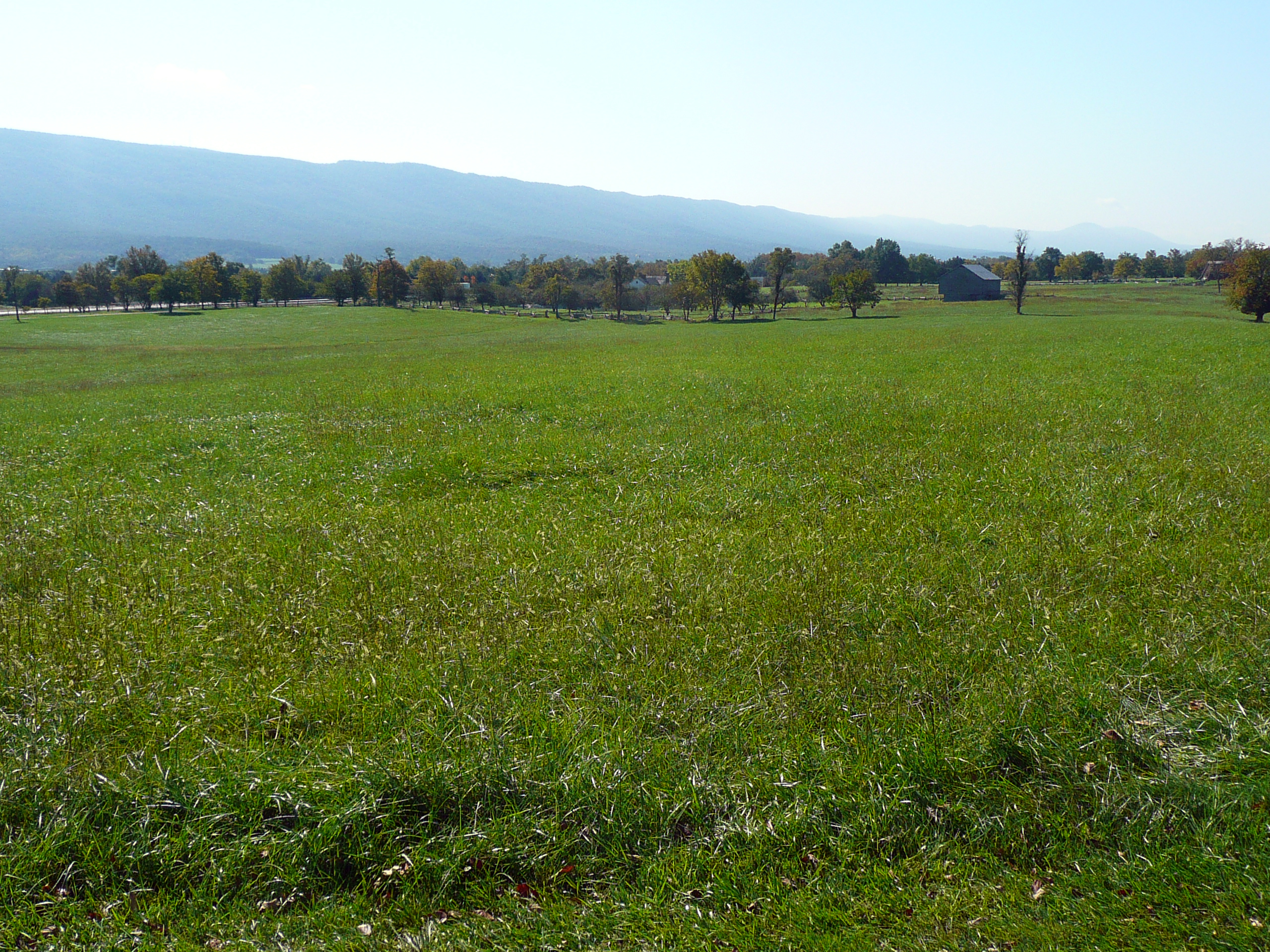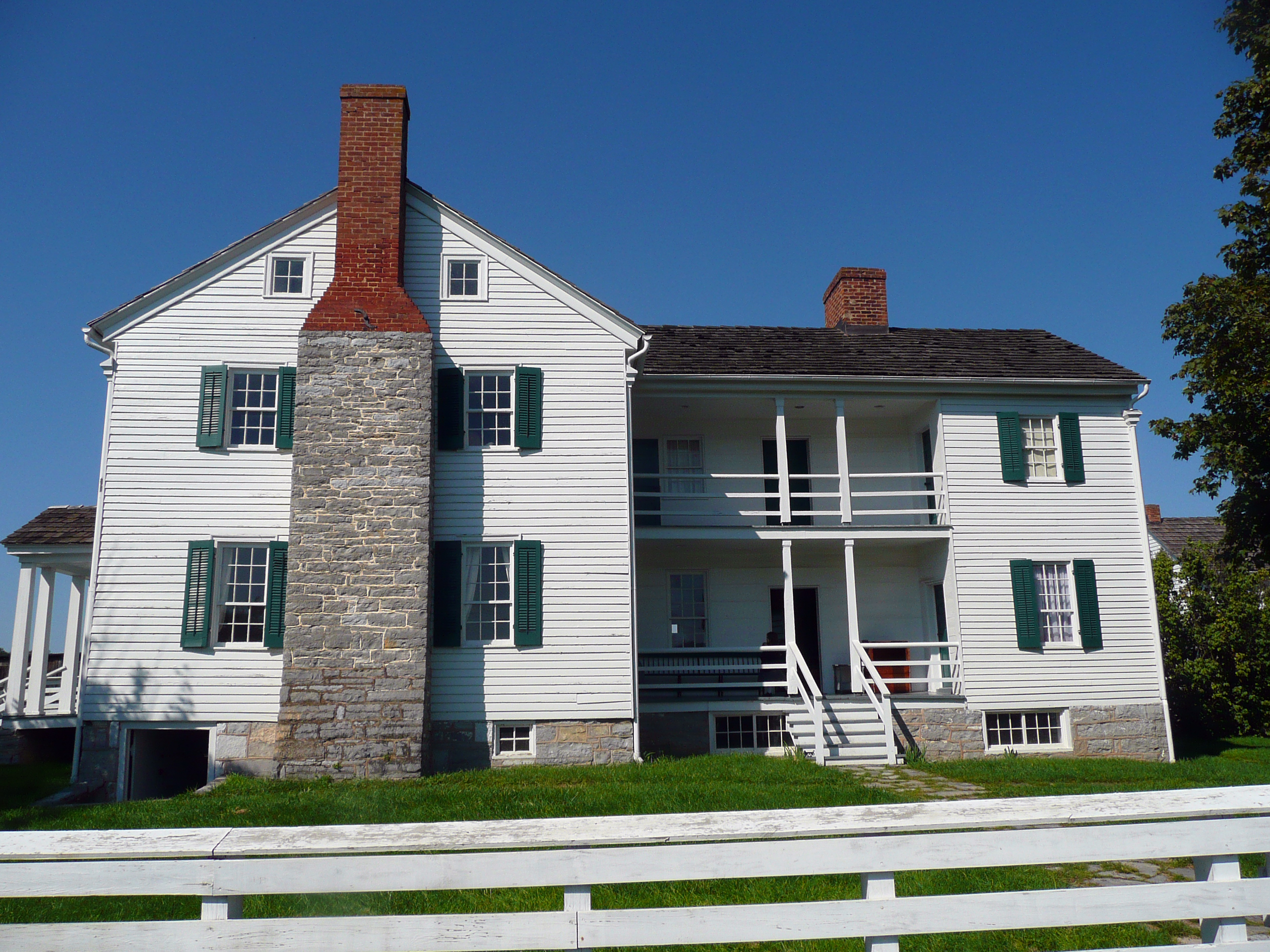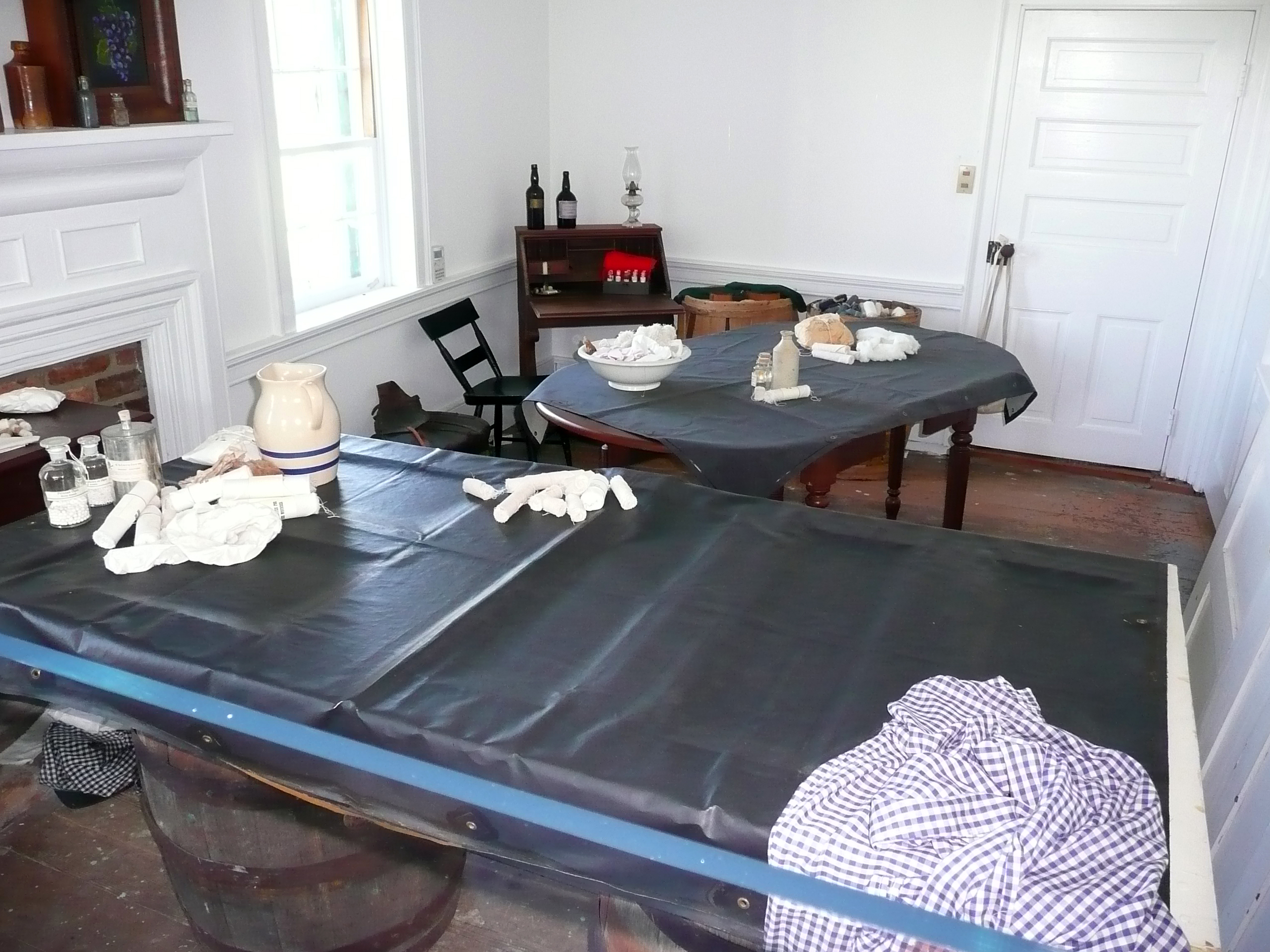 We drove into town and stopped at St. Matthew's cemetery to discuss the initial Union line and to get a snapshot of the commanders of the battle. We returned to the visitor center and started walking up the battlefield. We of course discussed the VMI cadets and Scott made the point that these "boys" for whom everyone has sympathy because they were only 17 or 18 were in fact not the only boys on this, or any, Civil War battlefield. We walked to the edge of the very narrow field and looked at the North Fork of the Shenandoah River from above a dramatic bluff. We walked into the depression in the ground that became the "fields of lost shoes." It is a naturally damp place, but the battle occurred in a thunderstorm, and many of the VMI cadets racing through the area lost their shoes in the mud. We found that the depression provided a sheltered avenue of approach to the Union line, and you cannot even see von Kleiser's guns up on the modest hill until you are pretty close to them. We visited the Bushong farmhouse, where reenactor ladies and little girls were dressed up in period costumes. The former were working on a quilt for eventual auction for charity. A docent taking us through the rooms told us that the family gave aid to wounded soldiers from both sides, and because of that, when Sheridan burned most of the Valley later in the year, the soldiers spared the town of New Market. Scott mentioned that David Hunter's reputation for widespread burning was overstated and that he burned primarily houses that fired on his troops, or in some cases belonged to prominent secessionists. He most famously burned VMI, but Scott said that was a legitimate military target.
We had lunch at a little retro restaurant in New Market called the Southern Kitchen and I had a very good plate of fried chicken, followed by a supremely delicious coconut cream pie. We got back on the bus and headed toward Piedmont. Along the way, we stopped at Port Republic. At the point where the North River meets the South River ("The Point"), we heard about David Hunter's delays in crossing the river. We passed by the Turner Ashby house, but did not stop. Our first stop directly related to the Battle of Piedmont was to see the cavalry action at Mount Meridian. This area of the Valley was really pristine, with very little commercial development, lots of beautiful rolling green hills. Oddly enough, most Civil War battlefields suffer from excessive forests that have grown up since the war, but this area has actually had a number of wooded areas removed for farming. Scott mentioned that the overall battle of Piedmont had more casualties on both sides than any of the battles in Stonewall Jackson's 1862 campaign (and that was one Wikipedia article I did write).
For the main part of the battle, we drove to a farm that Scott is allowed to traipse around, but I do not believe it is open to the general public, so that was pretty fortunate. We spent a good deal of time going over the tactical actions, using 13 different maps from Scott's book. The terrain was relatively easy to interpret, but I am sorry to say that my photographs are not very useful for that purpose. We finished up briefly with the rearguard action at New Hope and then took the long bus ride back to Winchester.

Friday, October 7
As we got ready to board the bus this morning, we found out that it was out of service with an oil leak. So we quickly arranged a carpooling convoy. I volunteered to be one of the drivers. We drove to Frederick, Maryland, and stopped at the Monocacy battlefield visitor center. They have relocated the visitor center and built a new building that looks like a barn, so it is quite appropriate to the area. We looked through the exhibits quickly and I was quite impressed with their electric map. It's much smaller than the famous Gettysburg map, but very clear and nicely done.
We visited three farms at Monocacy: Best, Worthington, and Thomas. At the Best Farm, which happens to be the location at which a Union soldier found the fabled lost orders of the Maryland campaign in 1862, Scott gave us the campaign overview that he had originally intended to do on the bus. We talked about David Hunter burning VMI at Lexington and then attempting to get as far as Lynchburg. Scott says that it is a myth that Hunter was delayed because he was doing so much burning in the Valley. In fact he was delayed by Confederate cavalry under John McCausland. He lost the Battle of Lynchburg to Jubal Early, whom Robert E. Lee had sent at from the Petersburg lines in an attempt to relieve the pressure that Grant was putting on him there. Hunter immediately withdrew into West Virginia. The Best farm was the scene of the initial action of the battle.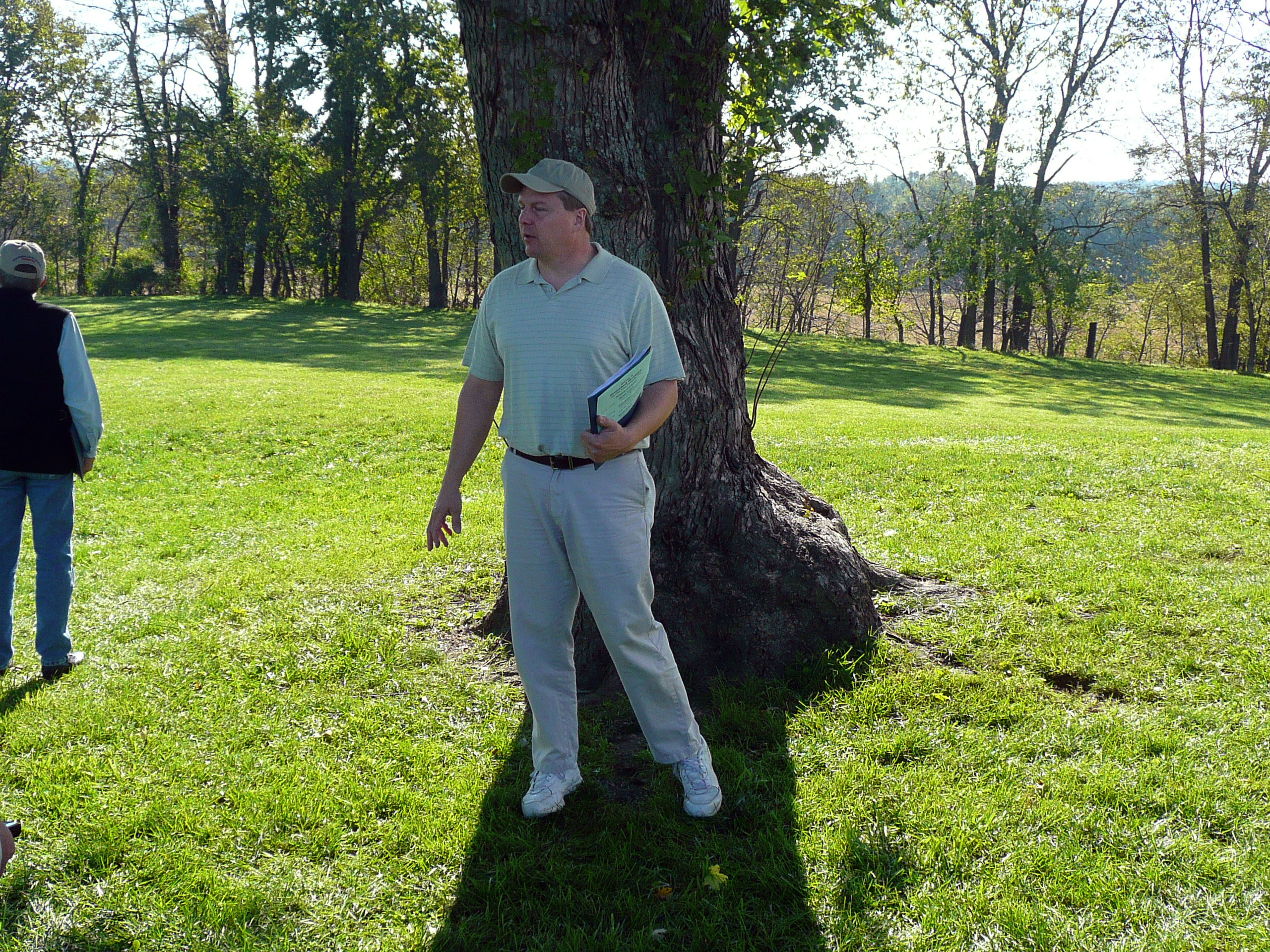 We drove over to nearby Monocacy Junction, which Scott said was the first Y railroad intersection in the United States, to discuss the key role it played in drawing the armies to this location. The Worthington farm was near the site of where McCausland crossed over the river to start a flanking attack. The main house has been recently restored and looks just immaculate. At the Thomas farm, the main attacks of the day took place, and we were able to get a really good understanding of the terrain. We finished up there with a description of the aftermath of the battle, Early's raid on Washington and the battle at Fort Stevens, and Gen. Bradley T. Johnson's failed cavalry raid toward Point Lookout, a large POW camp in Maryland. General Lee had hoped to free some of the 15,000 prisoners there, but since it was about 100 miles away and there was no means to transport the prisoners or arm them, it was really sort of a fanciful plan. Scott remarked about the overall success of Early's initial campaign: Lee had sent about 10,000 men on this expedition (Early 8000, Breckinridge 2000) and they were successfully able to divert over 30,000 Union soldiers from the Petersburg lines.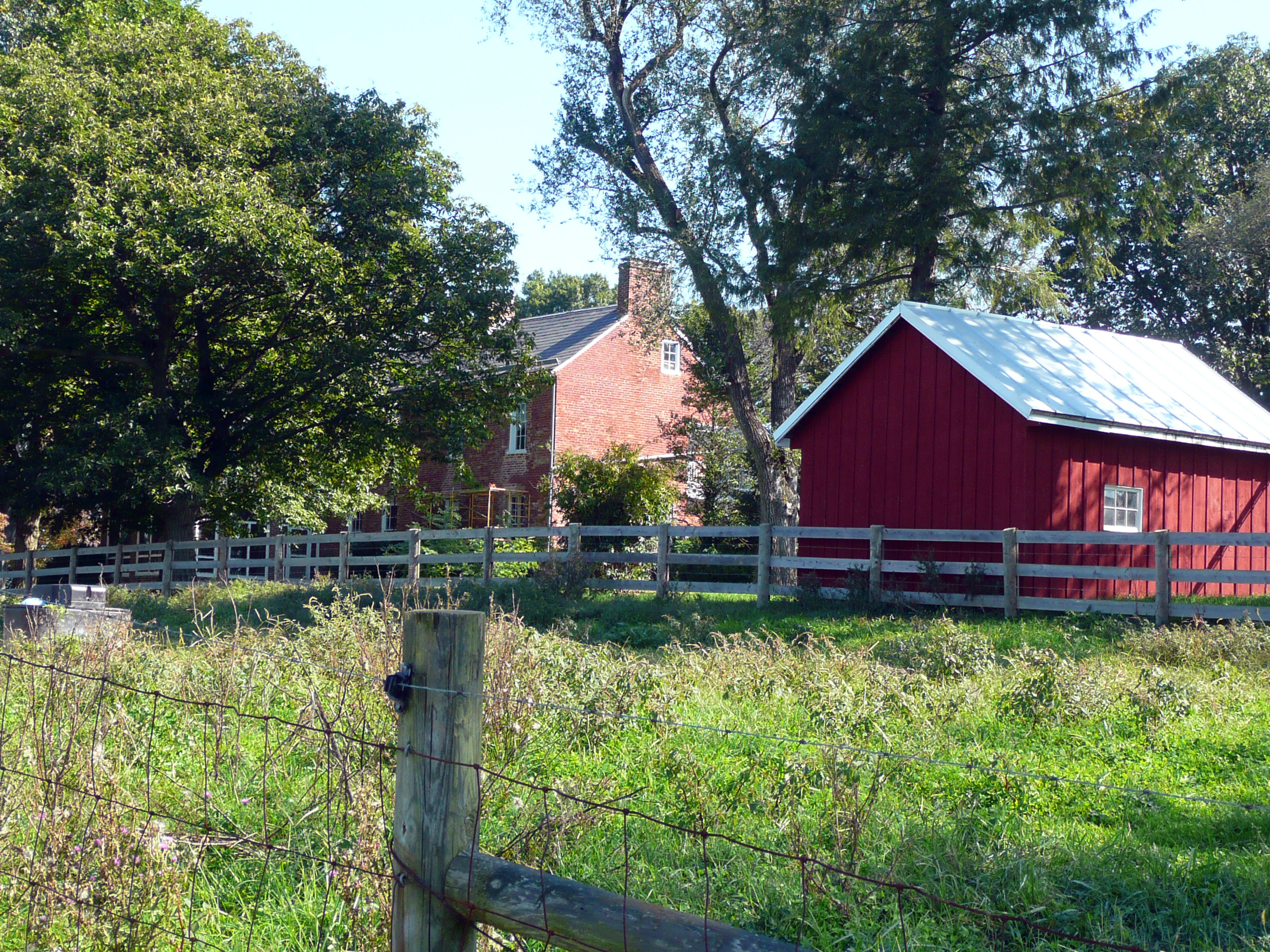 We headed back west to Snicker's Gap in the Blue Ridge and gathered at the bank of the Shenandoah River, underneath the highway 7 overpass. Here we discussed the pursuit of Early after he withdrew from the Washington defenses. Horatio G. Wright was behind Early by at least a day and he was criticized for his lackluster pursuit. We drove to the nearby Virginia National Golf Course to see the Judge Parker House. Parker was the presiding judge at the trial of John Brown in 1859. His house (mansion, which is currently for sale, by the way) overlooks the river at the southern end of the Cool Spring battlefield. We saw the area of the river in which the Union troops retreated at the end of the battle, as well as where James B. Ricketts halted and did not send his troops to reinforce those retreating men under Joseph Thoburn.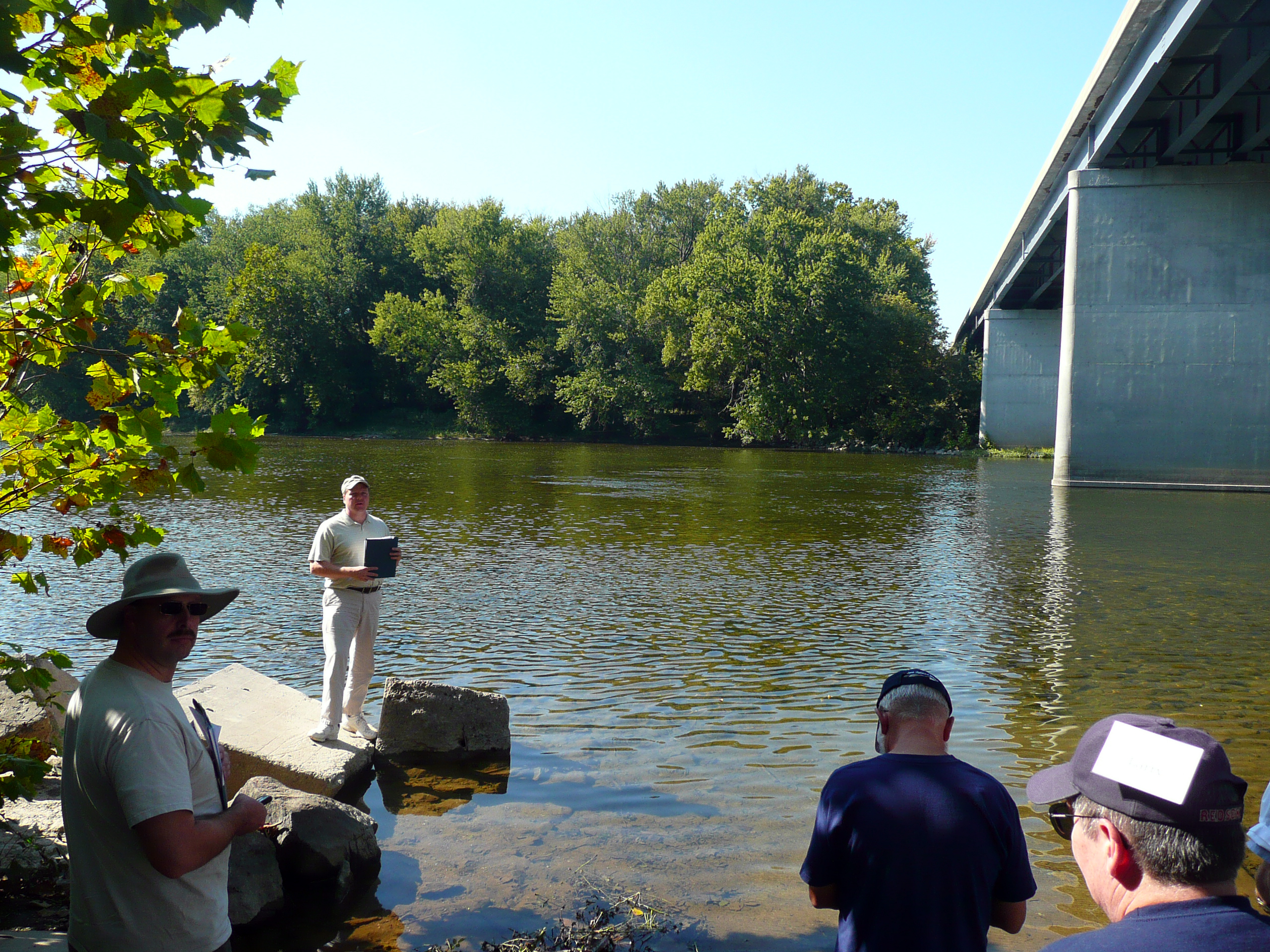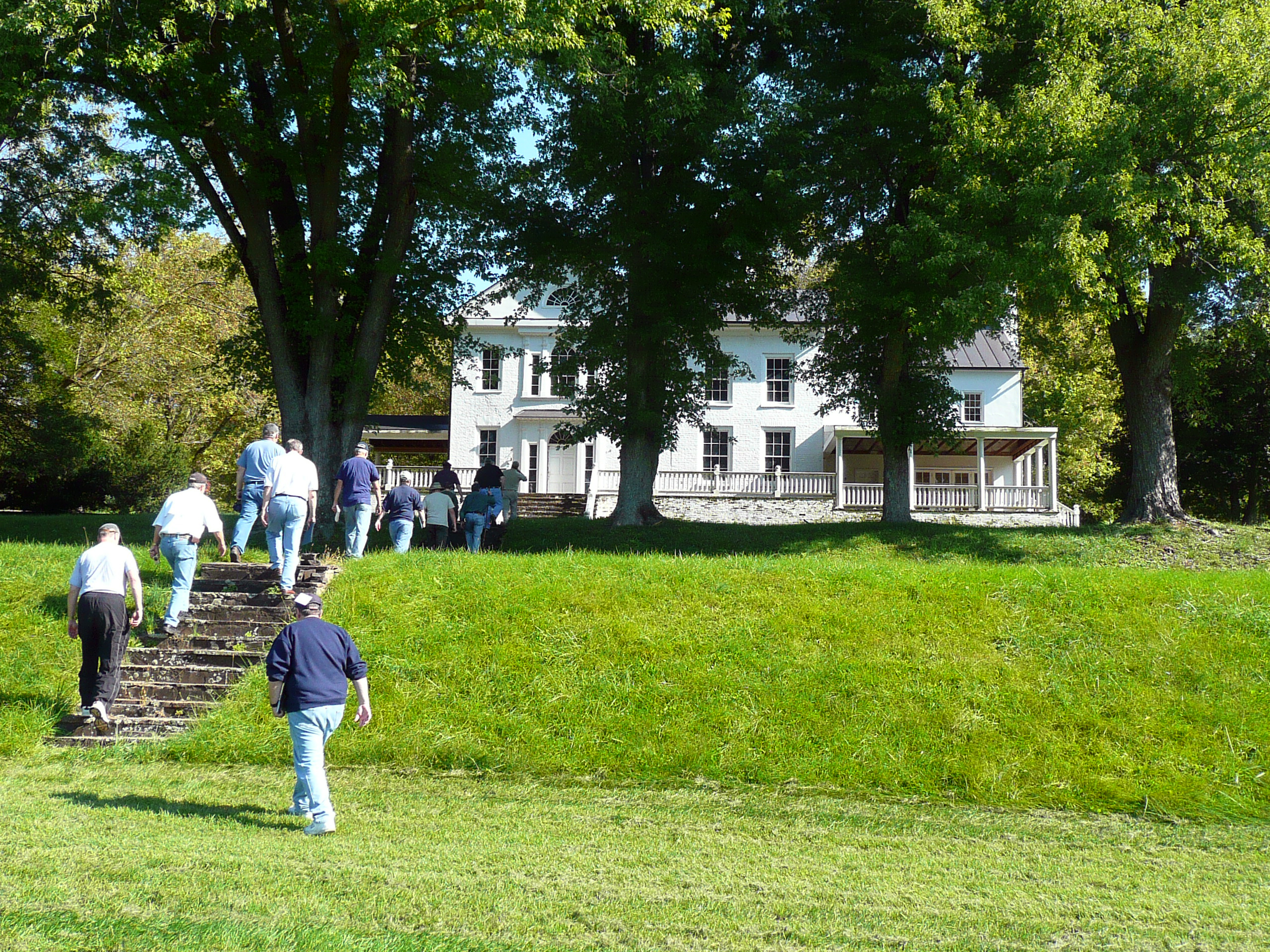 We drove to Wickliffe Church, which was the location that Robert E. Rodes's men camped before the battle and Scott gave us a biographical overview of the general, one of the best in the Confederate Army. Next was Holy Cross Abbey, the location of the "Cool Spring House" that shows up on battle maps. The senior monk was a historian with a keen interest in the local battle and even farther back. We went inside to see a collection of Indian arrowheads that were dated back as far as 8500 BC, and shells, bullets, and pieces of uniforms found on the battlefield. Walking out the back, we were on a pasture that sloped down to the river, standing about the place that Gabriel C. Wharton's Confederate brigade started in their attack. One of the interesting sidelights of visiting the Abbey was to see three mother cats with 8 kittens on the porch!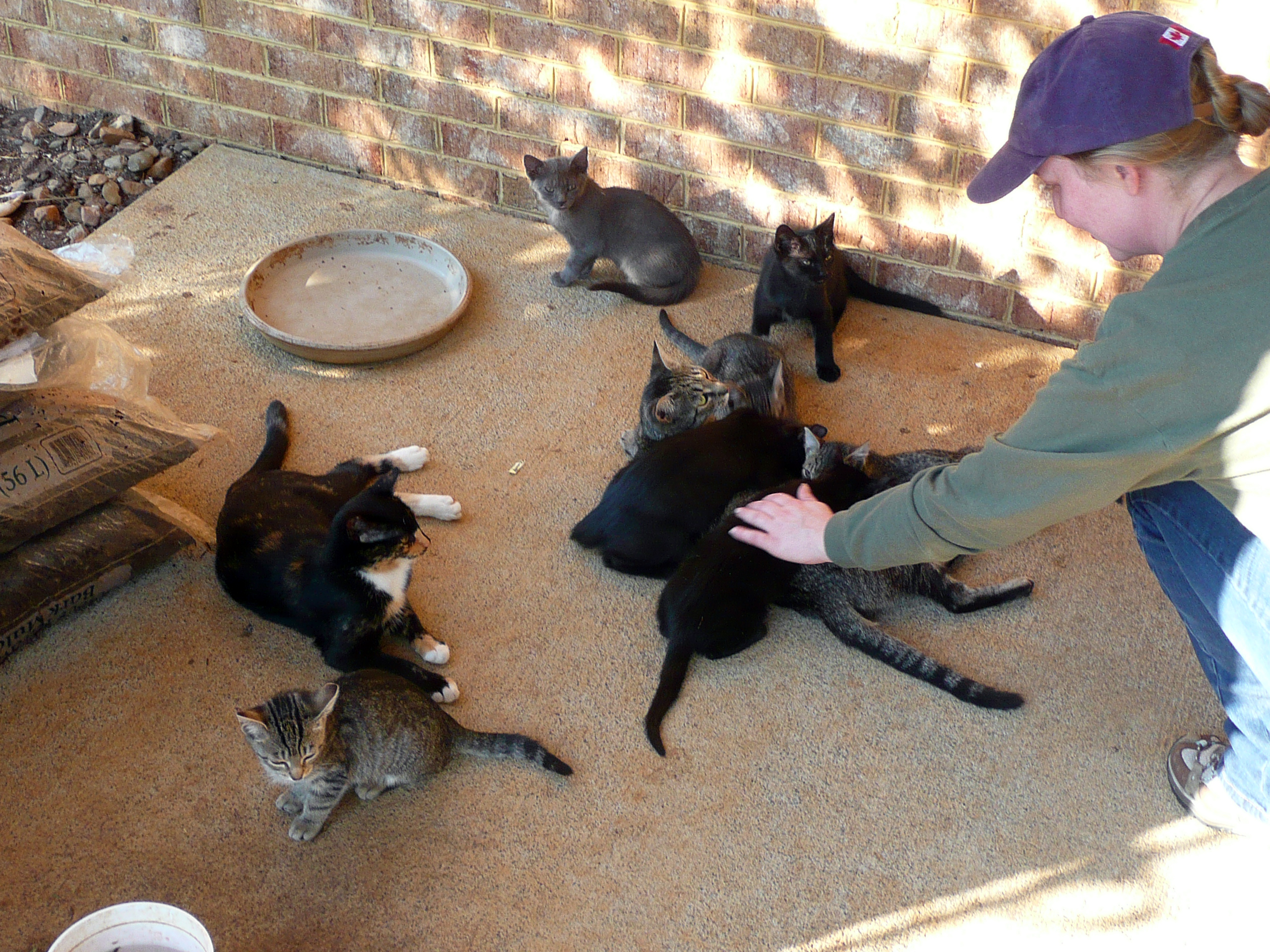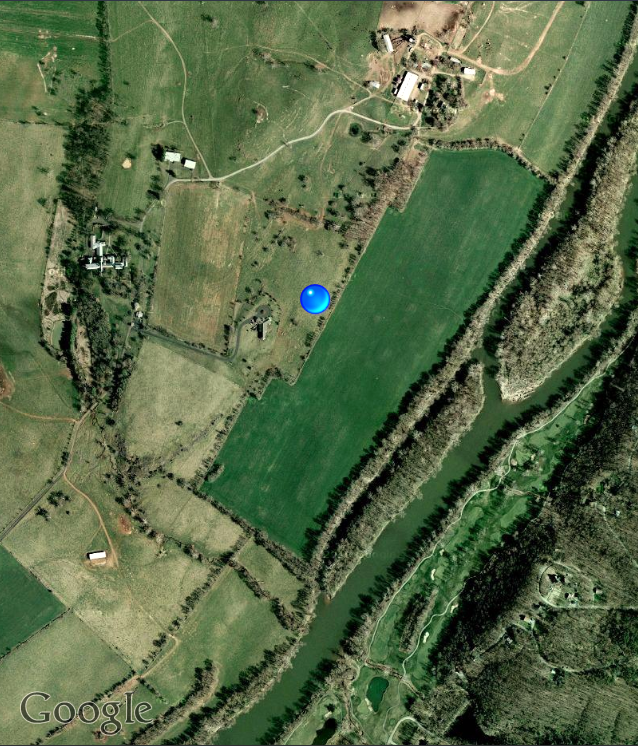 Saturday, October 8
Our bus is fixed! (It turned out to be a transmission fluid problem.) We drove a few miles northeast of Winchester to the former site of Rutherford's Farm, which is now a tiny enclave on the edge of a Lowe's parking lot. There is a pile of rubble that represents the ruins of the original Rutherford House. Here, two days after the battle of Cool Spring, William W. Averell's Union cavalry defeated the Confederate infantry under Stephen D. Ramseur, a big embarrassment for that very talented young general.
We drove south of Winchester to Kernstown, which today is technically within the Winchester city limits, to start our discussion of the Second Battle of Kernstown. We stopped at Opequon Church for a view of the Prichard House and hill to the north. We discussed the career of Col. James A. Mulligan, son of Irish immigrants, who was a big proponent of Irish participation on the Union side. He commanded an odd little division with only 1800 men at Kernstown and was mortally wounded here. Before leaving the church, which is a modern structure, we observed the only two remaining pieces of the original Civil War era building.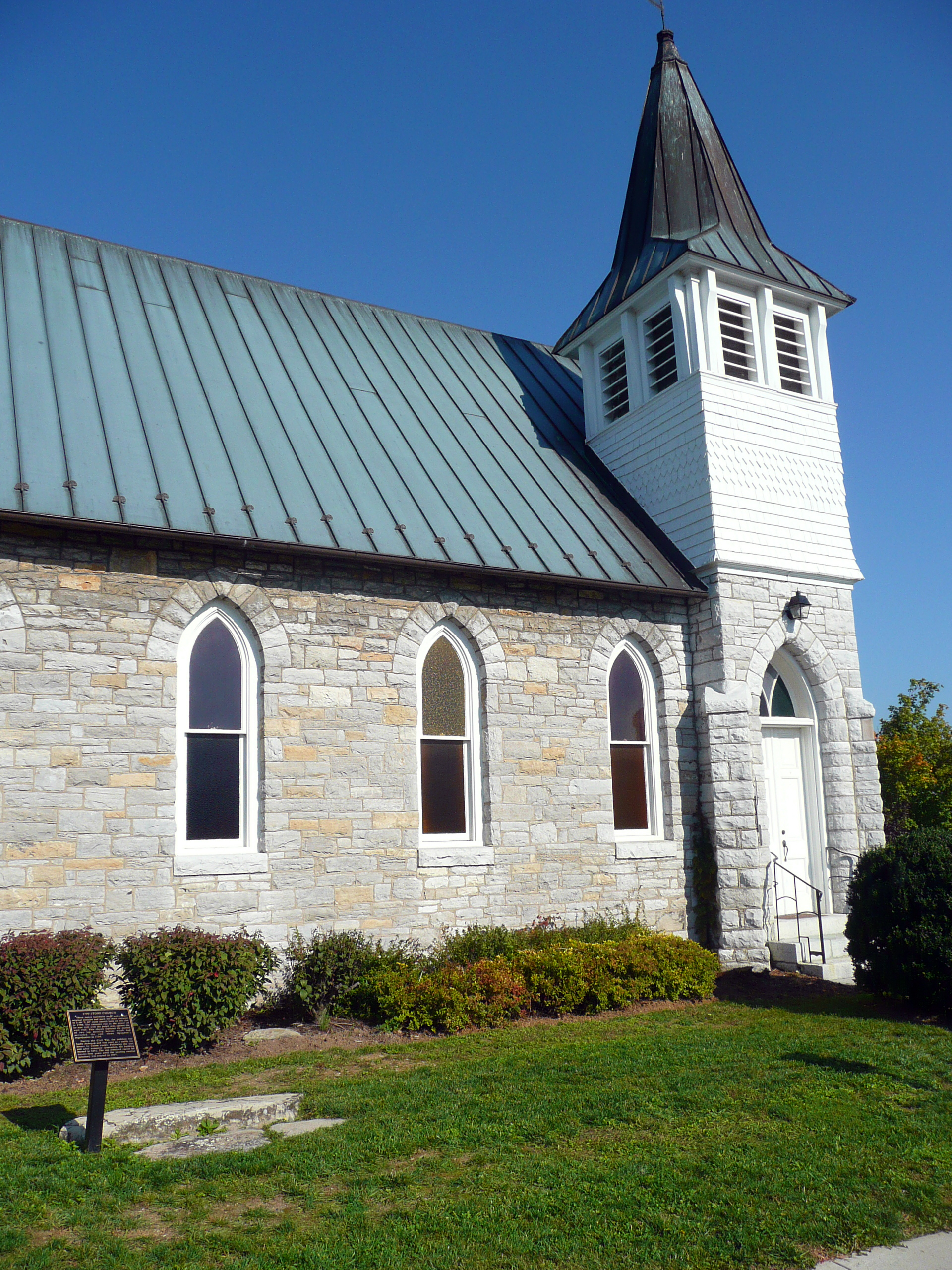 We drove south of town to a large factory called Trex (which I believe is a deck manufacturer), which gave us a good view of the area, including the low ground that hosted Hoge's Run. It was the general starting point for the Confederate attack by the division of Gabriel C. Wharton, which was able to move through a ravine and attack the flank of the brigade commanded by Rutherford B. Hayes.
Next was the Prichard House, which is managed by the Shenandoah Valley Battlefield Foundation. There was a small visitor center with a few interesting exhibits and paintings. We climbed up Prichard Hill, which was the starting off point for Mulligan's attack. Climbing back down, we visited Hoge's Run, a small stream, that gave us a good view of the Prichard house and the stone wall that was used as cover by Confederate sharpshooters. We discussed how John B. Gordon's attack smashed into Mulligan's division and mortally wounded Mulligan, who was taken to the Prichard house, where he was well cared for—he had established a reputation among the Confederates of being a kind officer. We also discussed the heroic exploits of William McKinley, one of two future presidents on the battlefield. Second Kernstown was a big Confederate victory, with over 6 to 1 casualties. Union general George Crook completely misread the tactical situation, thinking he was going to be attacking only bushwhackers, not Early's army. The door was now open for Early's second raid into the North, which included the burning of Chambersburg, Pennsylvania.

After lunch we drove to a church on the Berryville Pike (Route 7), which had been the site of the Eversole Farm, Phil Sheridan's headquarters for the Third Battle of Winchester. We discussed the aftermath of Second Kernstown and Ulysses S. Grant's desire for a new commander who would take care of the Shenandoah Valley once and for all, removing it as a source of raids against Washington, as well as destroying what agricultural production still existed. A variety of generals were discussed as replacements for David Hunter: George G. Meade, William B. Franklin, George B. McClellan, and Winfield S. Hancock. Scott gave a lengthy bio on Sheridan, indicating that he thought he was a better general commanding infantry than cavalry. There was a period of seeming inactivity after he took command, but this was due in part to orders from Grant not to attack aggressively until he had overwhelming force. It was not until Richard H. Anderson returned to Petersburg that Sheridan began his offensive. However, he skillfully kept up constant raiding of the Confederate lines, so that when the major attack finally came in Third Winchester, the Confederates were taken by surprise. Standing next to the Berryville Pike, we were able to see how the terrain created a bottleneck that delayed the arrival of Union troops for the battle.
We drove to a high school parking lot to start a walking tour of the Third Winchester battlefield, which features a number of wayside signs by the Civil War Trust. As I understood it, we were following the advance of Henry W. Birge's brigade. (I'm sorry say that I was a little confused during parts of this tour. We had rather inadequate maps and I had some difficulty keeping up with the firehose of information coming from Scott.) One confusing aspect is that wooded areas during his advance are now partially cleared, and some open areas are now wooded. We proceeded from the First Woods to the Second Woods, and neither was named accurately. Scott took us into a new parcel of land recently acquired by the SVBF, which leads right up to Red Bud Run. The volunteers intend to clear it out to its wartime appearance, which was open grassland; it is currently mostly shrubs and small trees. Down at the Run, which is a relatively small river, but one that is difficult to cross because of its slimy bottom, we discussed the successful flank attack under Crook, including the misadventures of Col. Rutherford B. Hayes and his horse getting stuck in the middle of the river. Scott gave a very positive view of Sheridan as a magnetic commander who inspired his troops by his personal bravery, and said that his daring ride along the front of his lines actually eclipsed his more famous ride from Winchester to Cedar Creek.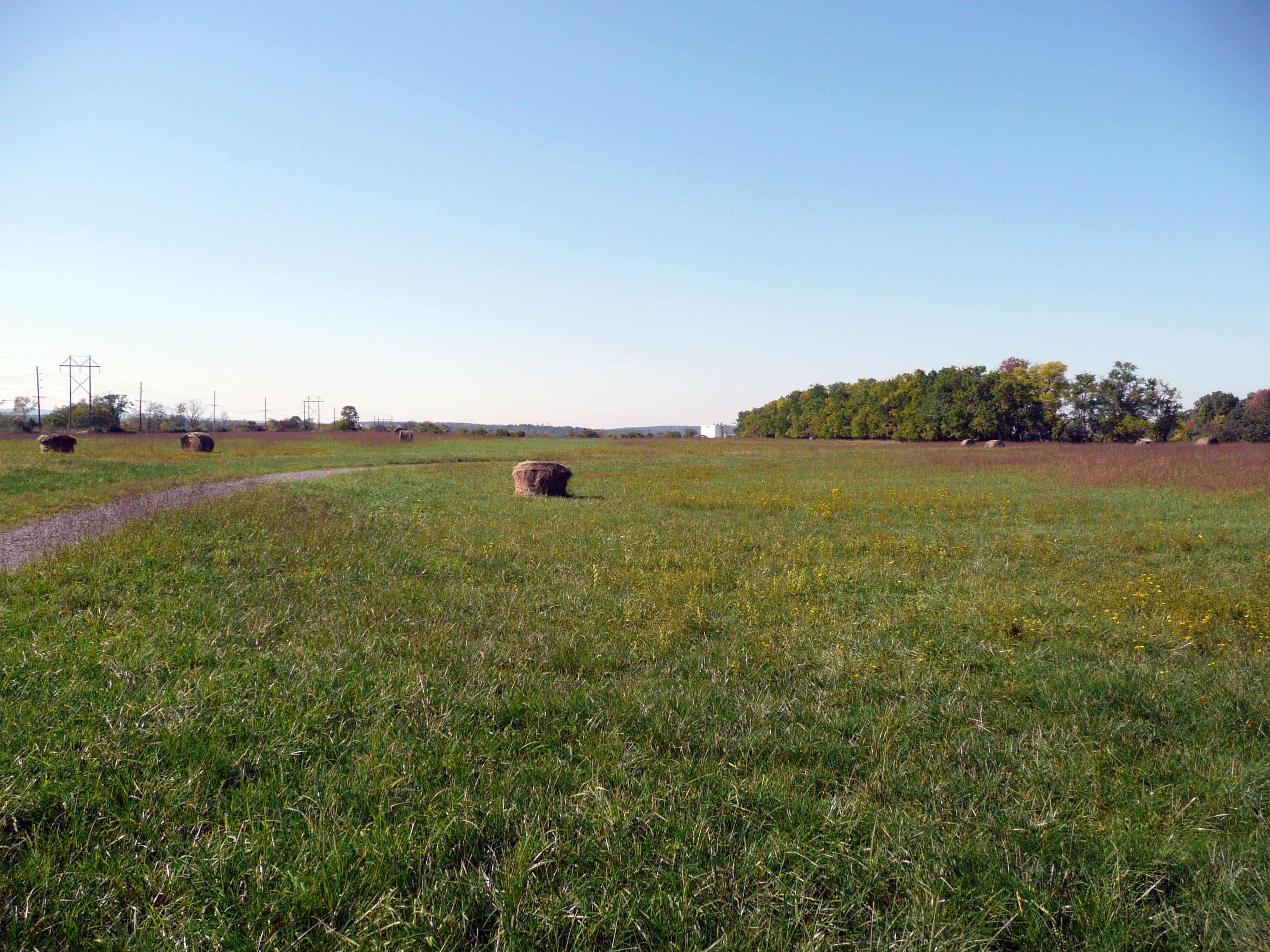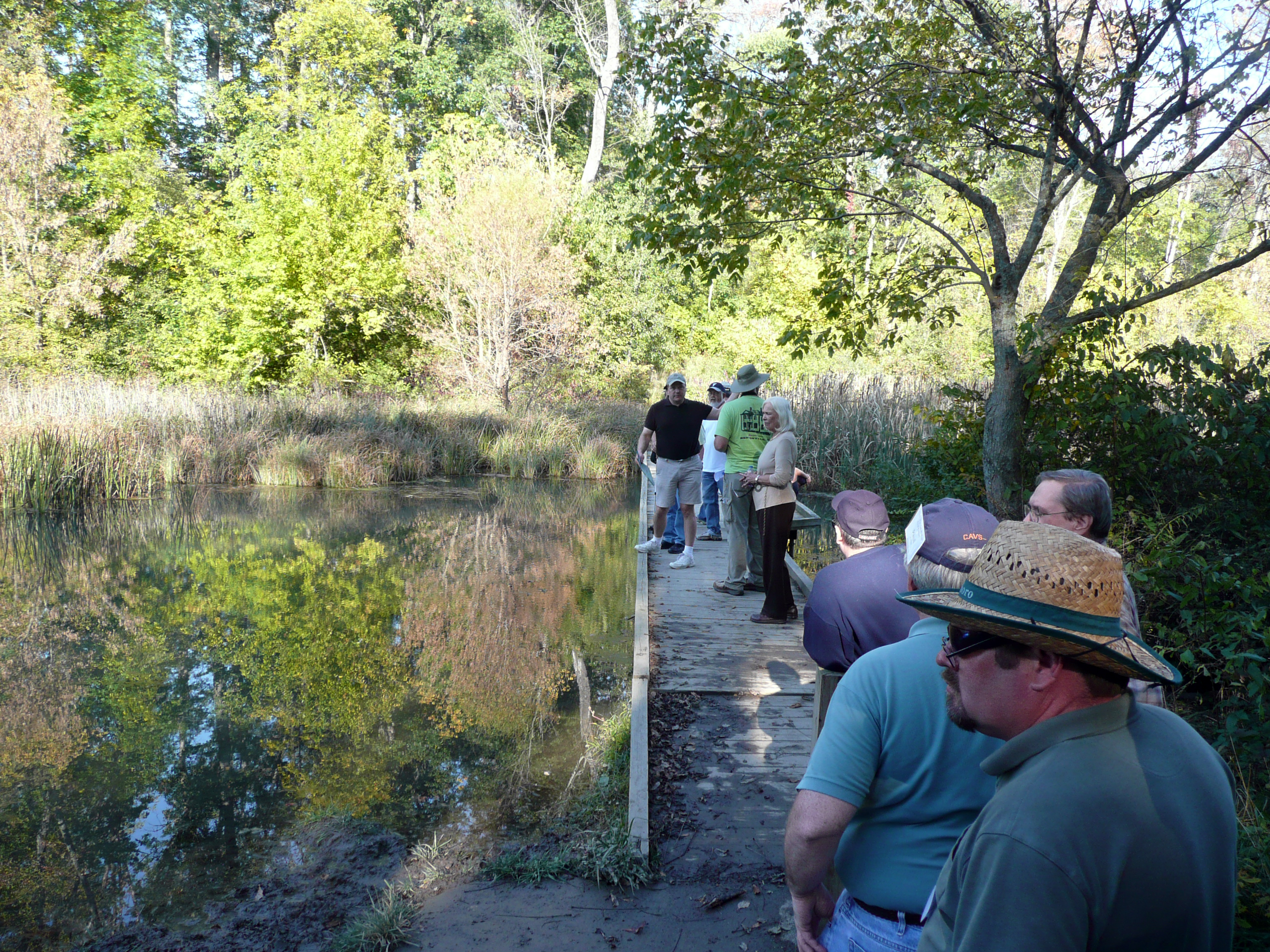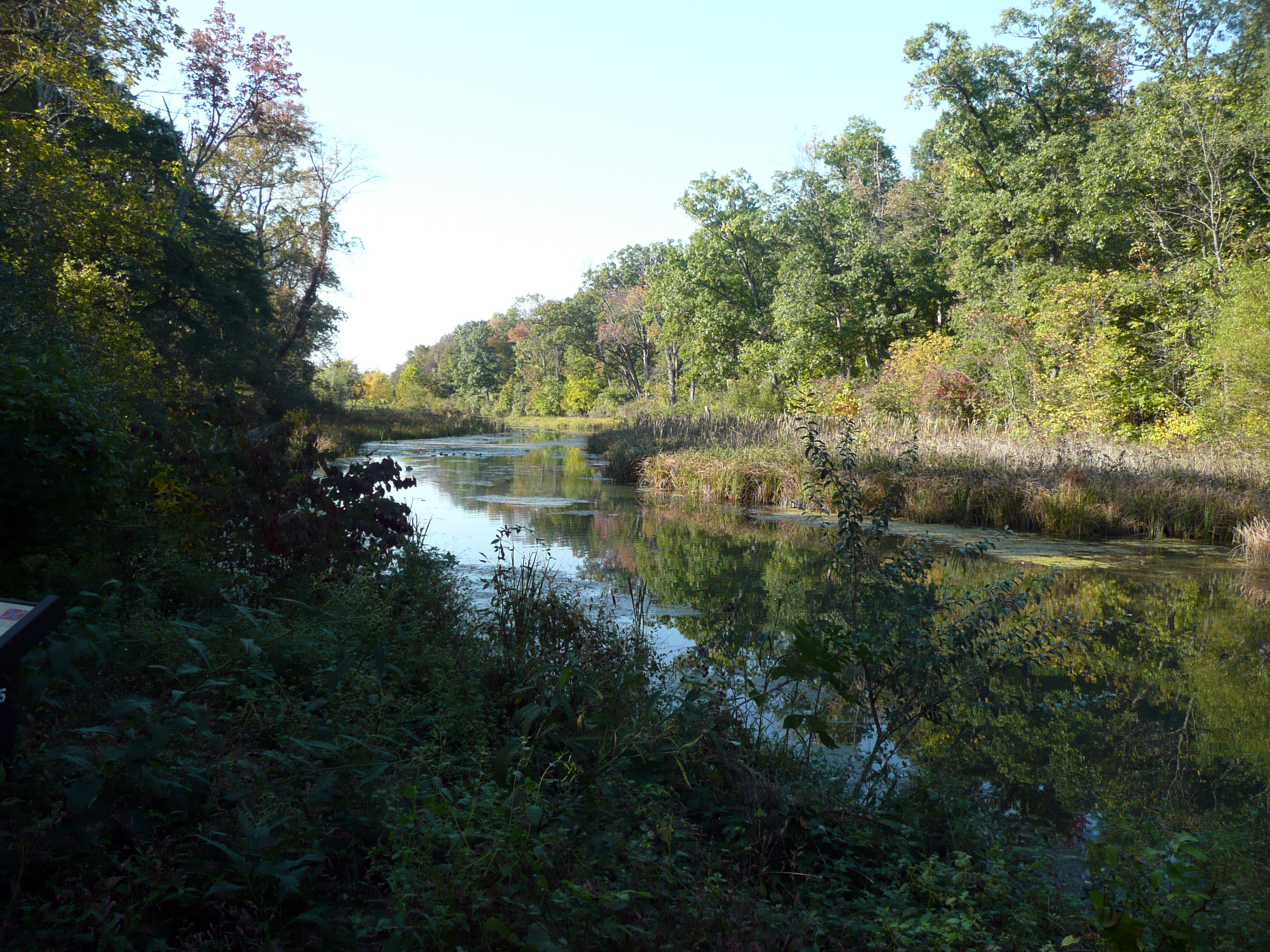 Our final stop of the day was the Star Fort. I had visited here once before, and did not realize that it was possible to go inside, but Scott knew where the gate was located (and it is not locked like that other parcel he took us to). Inside is a typical circle of weathered earthworks, but it remains in pretty good condition. We discussed the final cavalry attacks in that area and how the panicked retreat of Early's army was the worst so far for a unit in the Army of Northern Virginia.
Sunday, October 9
To start our final day, we drove up the Valley Pike, and as we passed through Stephens City (known as Newtown during the war), we discussed Sheridan's ride to reach the Battle of Cedar Creek. Next was Strasburg, which a Virginia local on the bus told us is pronounced like Strawsburg, stretching out the AW sound. We stopped at a stream called Tumbling Run to look at the right flank of the Confederate defensive line on Fisher's Hill. (The Hill is actually a string of hills.) Here the hill rose up very steeply and it was a strong position. Unfortunately, Jubal Early did not have sufficient men to occupy the entire string of hills adequately and we would find that he somehow put his cavalry under Lunsford L. Lomax on the left flank in the weakest position of all. However, for the area that he did defend, it was a defense in depth. This particular area was defended by Wharton and Gordon. Scott called the Battle of Fisher's Hill Phil Sheridan's best tactical plan during the Civil War. We discussed the similarities between this defensive position and the one Sheridan assaulted at Missionary Ridge in Chattanooga.
We drove northwest to somewhat parallel the root of George Crook's flanking march. On Battlefield Road, we passed by the Barb House, which was used as a hospital after the battle. Then we stopped at Ramseur's Hill. (The signage from the Civil War Trails people said this was Fisher's Hill, but as I said, that was actually a line of hills and this was just one of them. The sign also said that it was the Confederate Gibraltar, which is a serious overstatement.) We went through the tactical action of the battle in which Sheridan attacked Early's weakest flank and caused the entire Confederate line to collapse. Sheridan relieved one of his cavalry generals, William W. Averell, after the battle and we discussed the repercussions. Scott thought that Sheridan came to regret this action, although he certainly did not regret it when he relieved Gouverneur K. Warren after the Battle of Five Forks. The end of the battle also started the period known as The Burning, in which Sheridan withdrew slowly back down the Valley burning farms, although few civilian houses. Sheridan is sometimes criticized for his relative lack of activity over the next month, but he was acting under guidance from Secretary of War Edwin M. Stanton to avoid any action that could fail and have negative consequences on the upcoming election. One of the big problems for the Confederates was the loss of artillery in these battles. Scott told the story about a worker at the Tredegar Ironworks who wrote on a cannon "For Phil Sheridan, care of Jubal Early." The next battle was the Battle of Tom's Brook, also known as the Woodstock Races, in which Early's cavalry under Thomas L. Rosser was soundly defeated, but we did not visit this site.

We drove to the Shenandoah River in a park just east of Strasburg and discussed Early's situation and his plans for the upcoming battle of Cedar Creek. Then we visited the museum at Hupp's Hill. It has been a year since I was in this area and then the Cedar Creek visitor center was in a small house on the Valley Pike, but the Cedar Creek Battlefield Foundation has relocated and expanded it. This building used to be called the Stonewall Jackson Museum, which was a private venture, I think. We only had a few minutes to look around, but despite our assurances that we knew the background of Cedar Creek, a docent insisted on giving her speech. I was amused to hear that she described Phil Sheridan as a "small monkey-like man." Outside we saw some entrenchments, including an artillery lunette, although Scott said it was dug after the battle.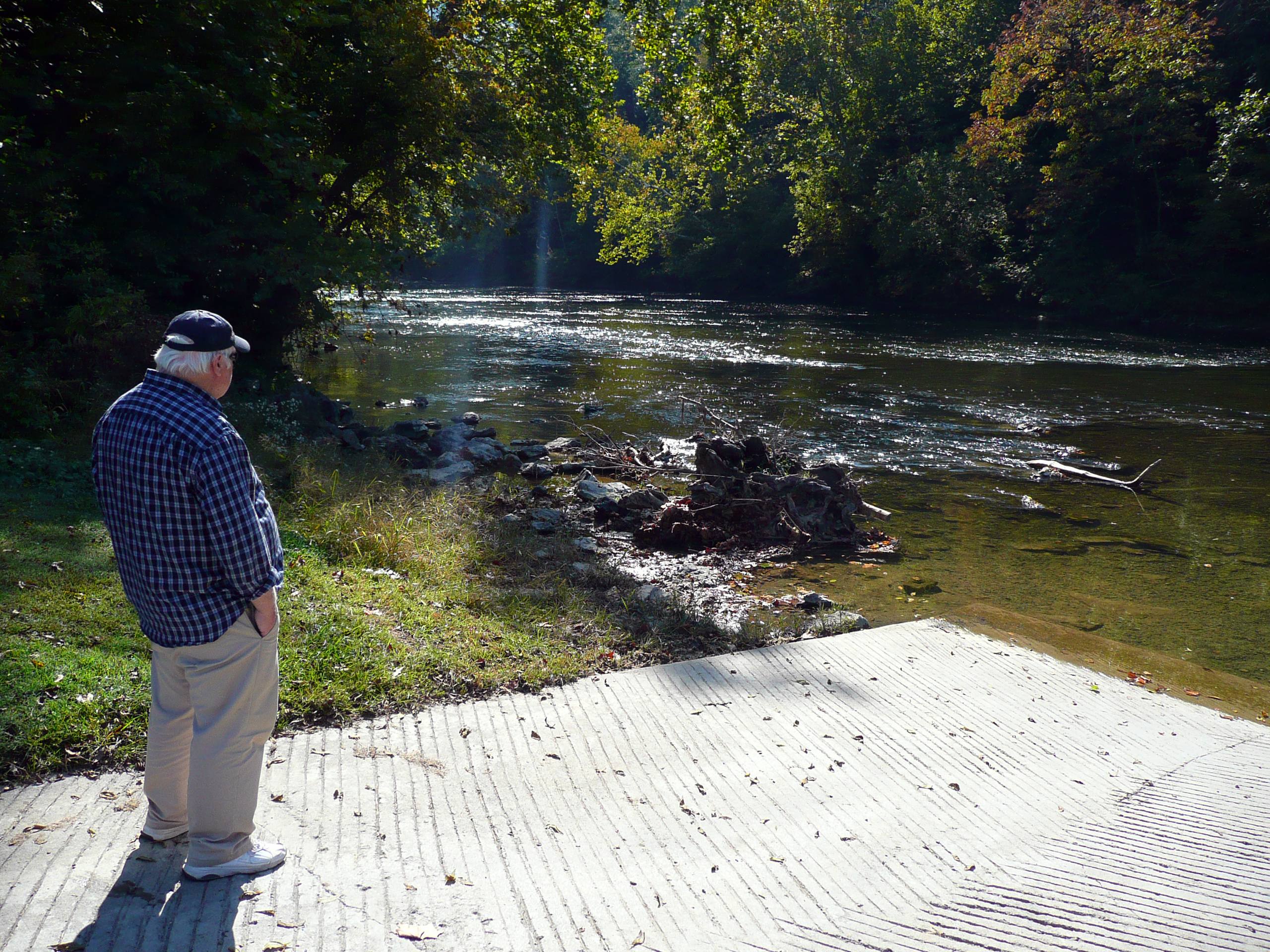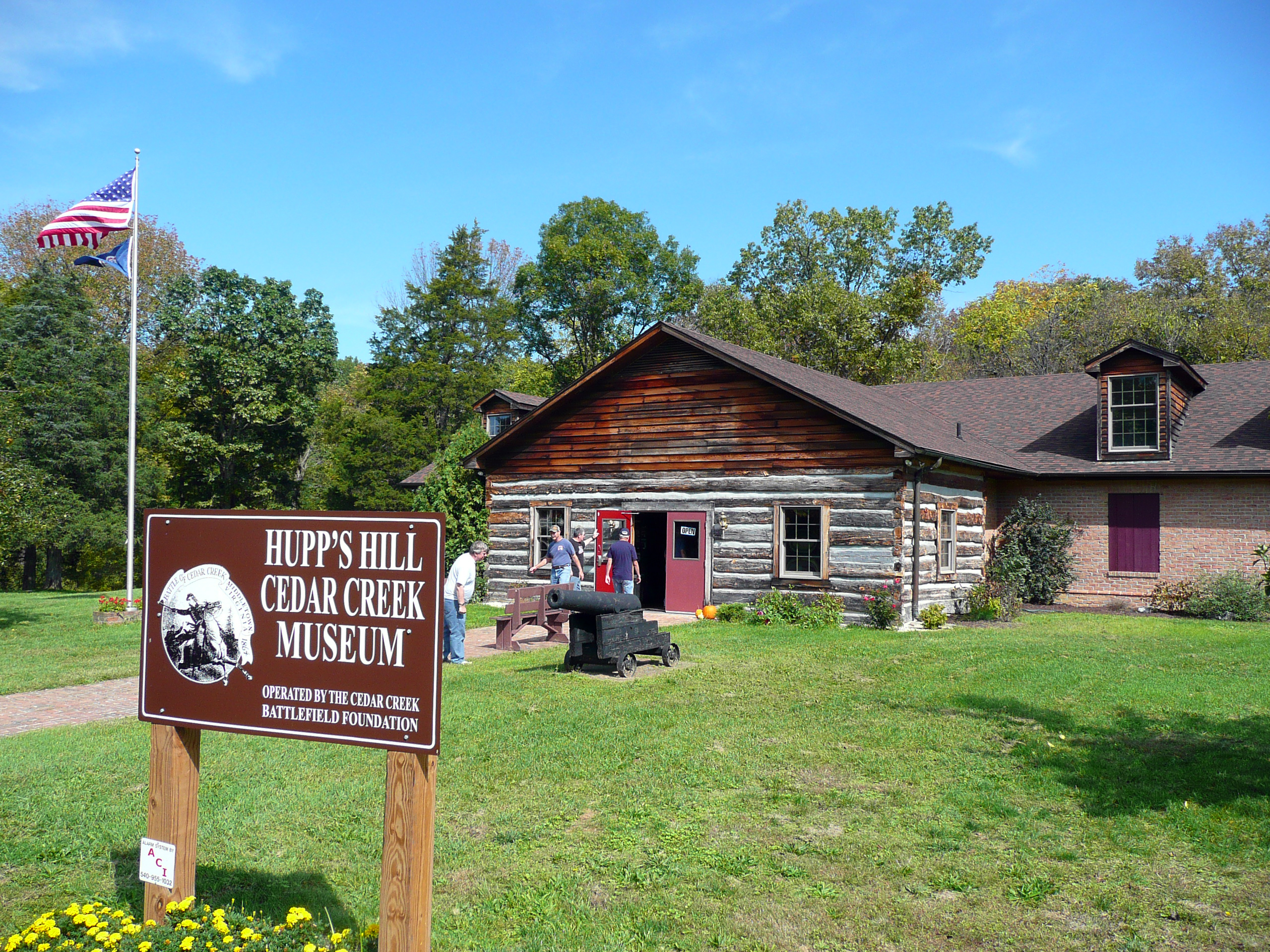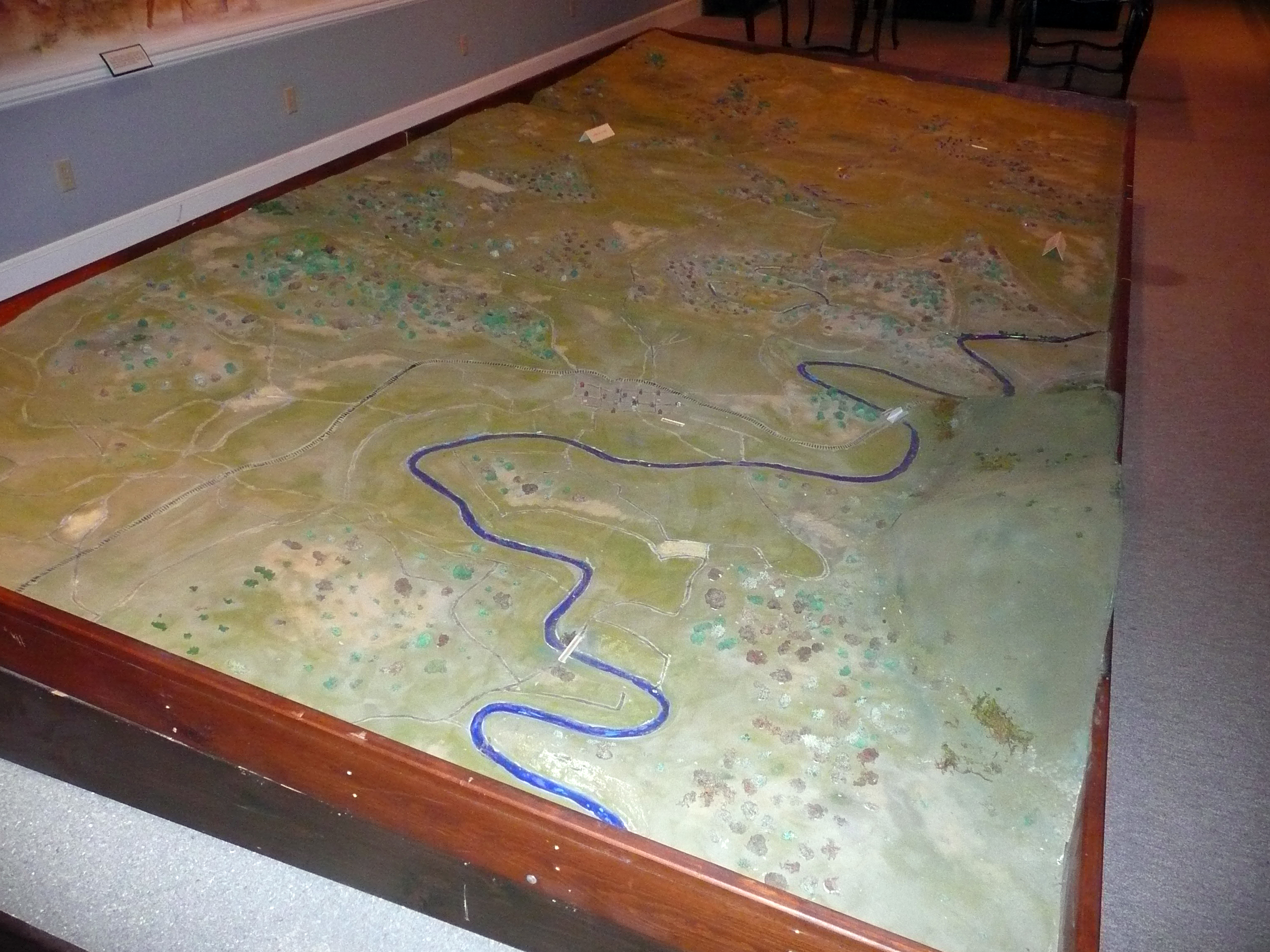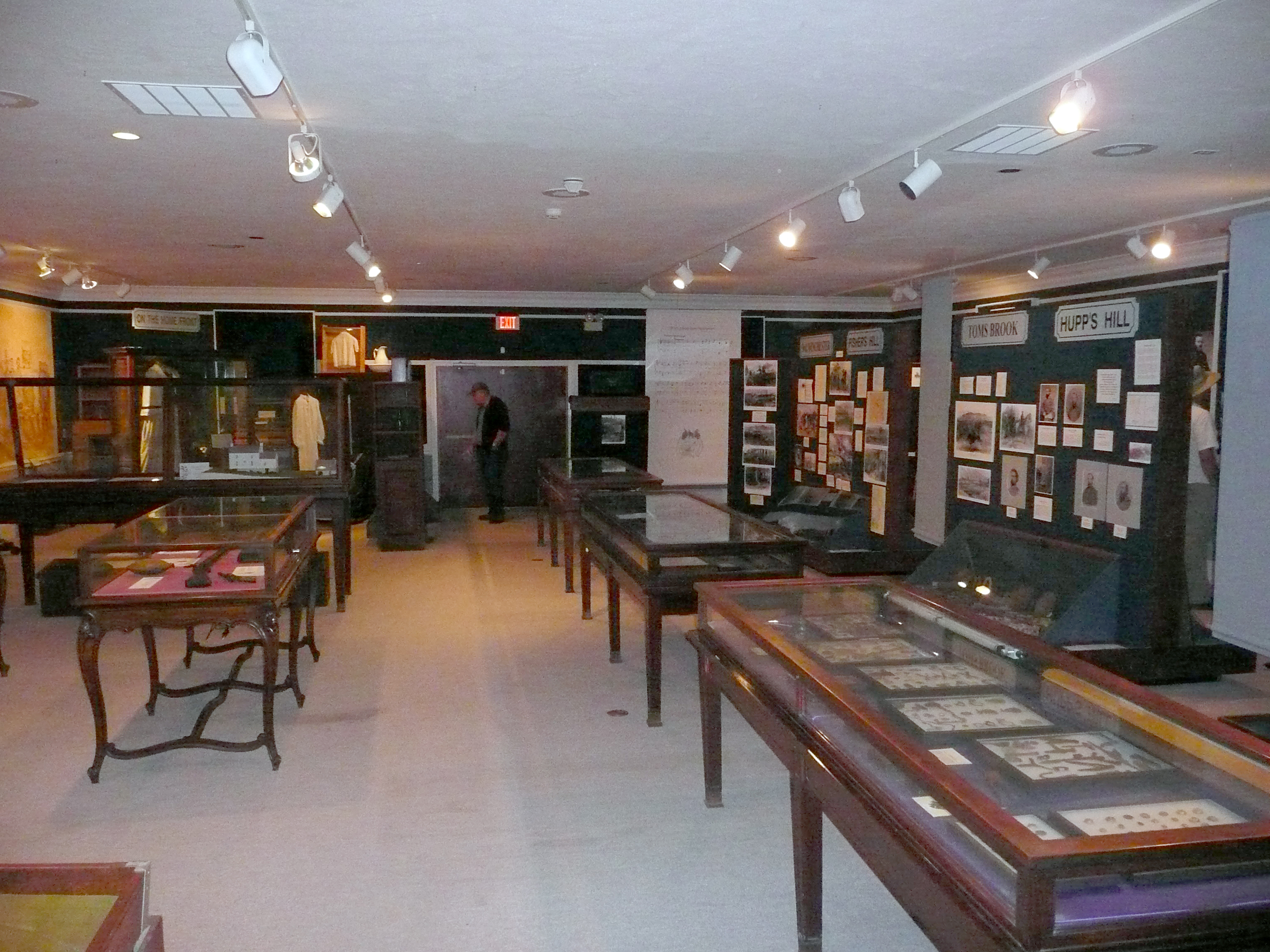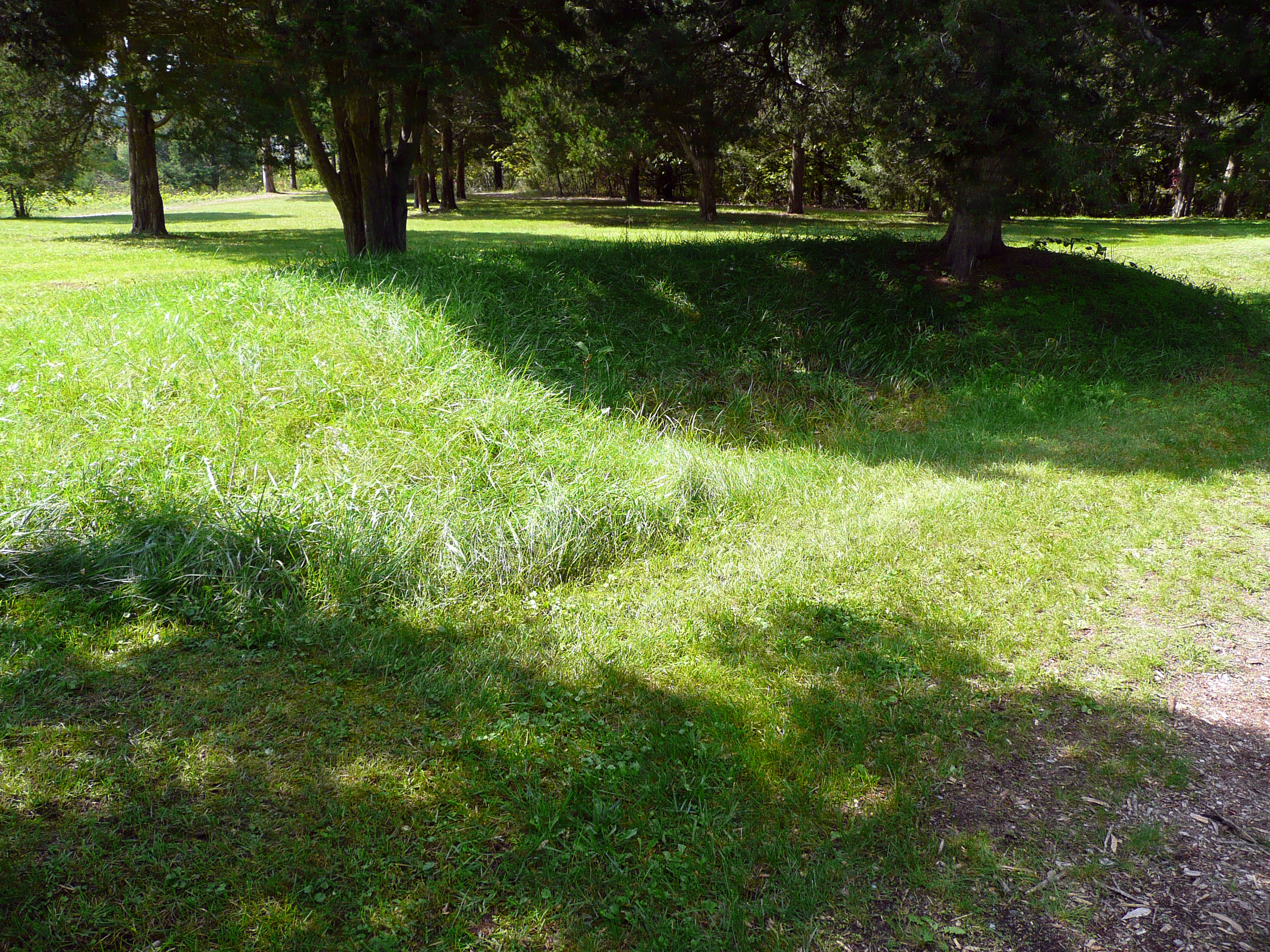 We drove to Bowman Mills Ford of Cedar Creek and saw the area in which Joseph B. Kershaw conducted his initial attack. Then we followed Long Meadow Road past the Bowman house to see John B. Gordon's approach. Then back to Bowman Mills Road to see the area in which James Thoburn's men camped, unaware that Confederates were approaching early that morning. On the Valley Pike, we stopped at the 128th New York monument, then walked back through the woods to see some trenches from Cuvier Grover's XIX Corps division. Unfortunately, they were too shallow to warrant a photograph. We discussed how Rutherford B. Hayes's brigade broke and ran. We drove to Belle Grove plantation, where the first Union lines actually began to hold, although only for about 30 minutes, with Kershaw flanking them. We did not stop at the plantation house because it would take too long. (On the final day of one of these tours, they attempt mightily to finish on time so that people do not miss their airplane flights. Earlier in the week they were pretty casual about getting back to the hotel on time.)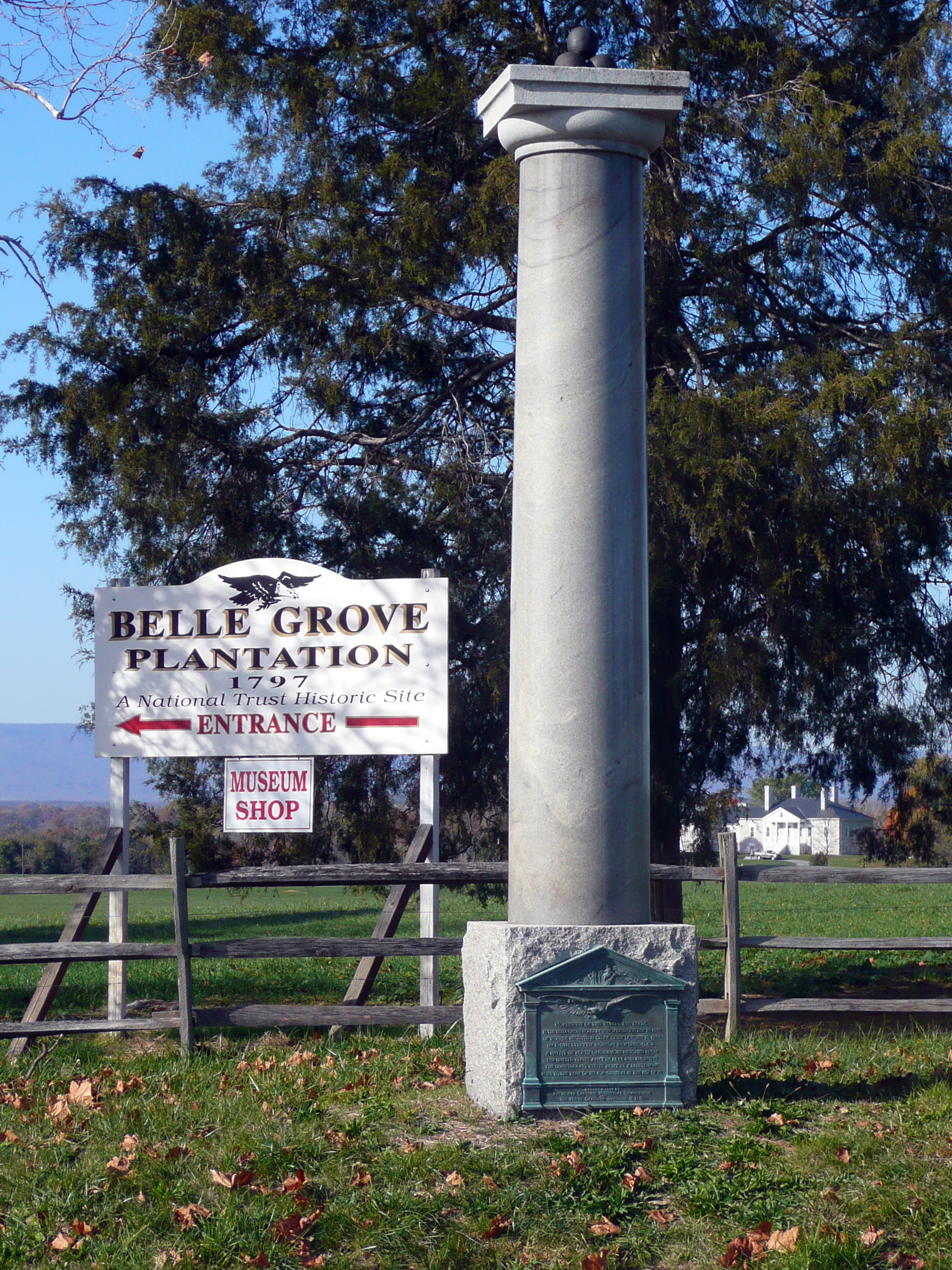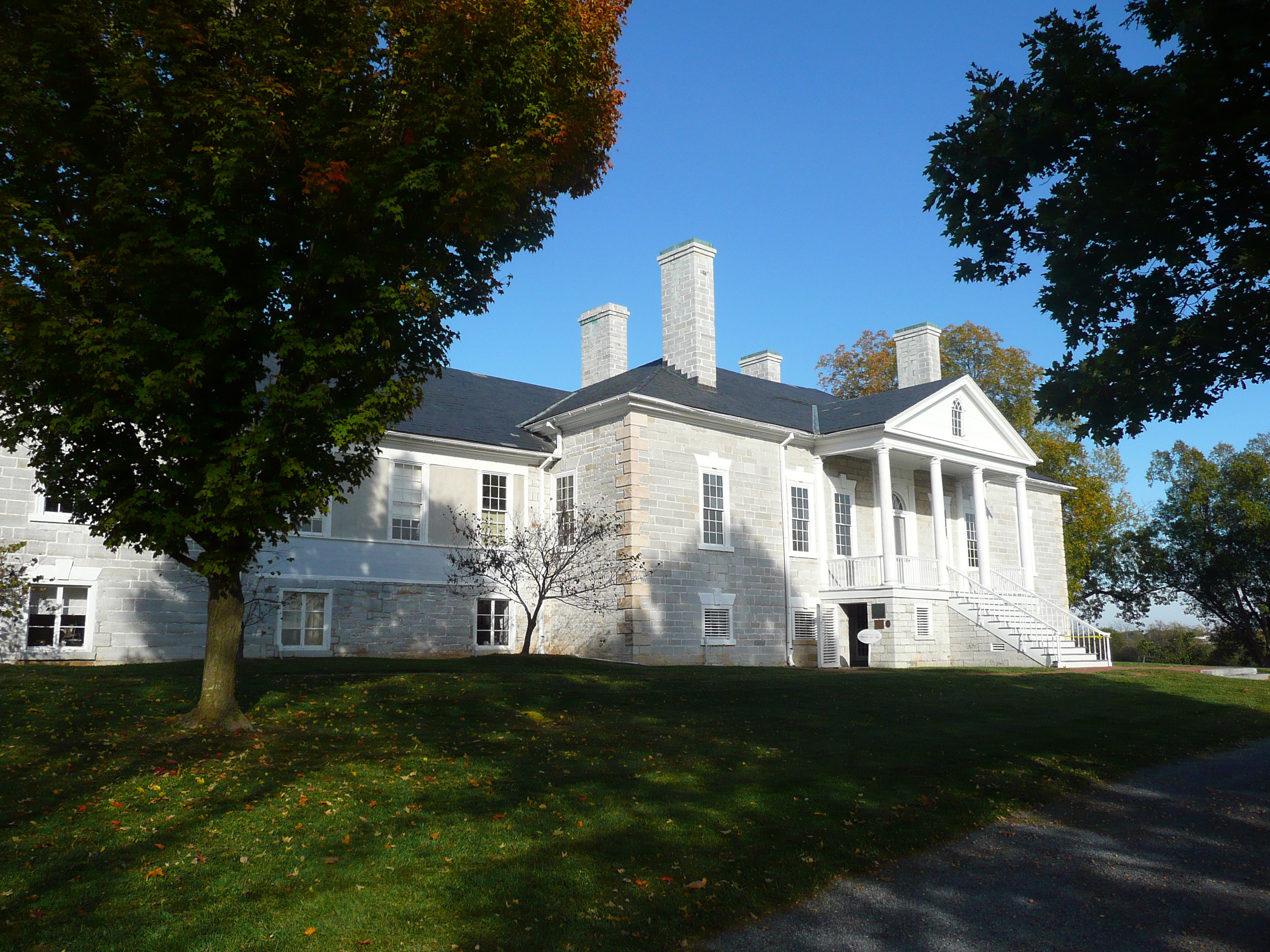 We drove to Middletown and stopped in the town cemetery, a site that some authors call Cemetery Hill (probably trying to capitalize on Gettysburg). Here George W. Getty fought a decisive stand that broke the momentum of the Confederate attack. Jubal Early decided at this point, since this attack had been so poorly organized and his men were so tired, to order a halt to his offensive so that they could rest and reorganize. This action was criticized by John B. Gordon after the war as the "fatal halt." Scott thought that Early's decision was prudent, although leaving his men out on the field for so long afterward turned out to be fatal indeed. The cemetery was also used as an artillery platform by the Confederates during their retreat. We jumped on the bus for the last time and drove along Cougall Road, parallel to the Union line from which Sheridan's counterattack started. We discussed Stephen D. Ramseur's mortal wounding, although we do not know the exact location. Early's subsequent defeat at Cedar Creek marked the end of his career and any effective Confederate operations in the Shenandoah Valley.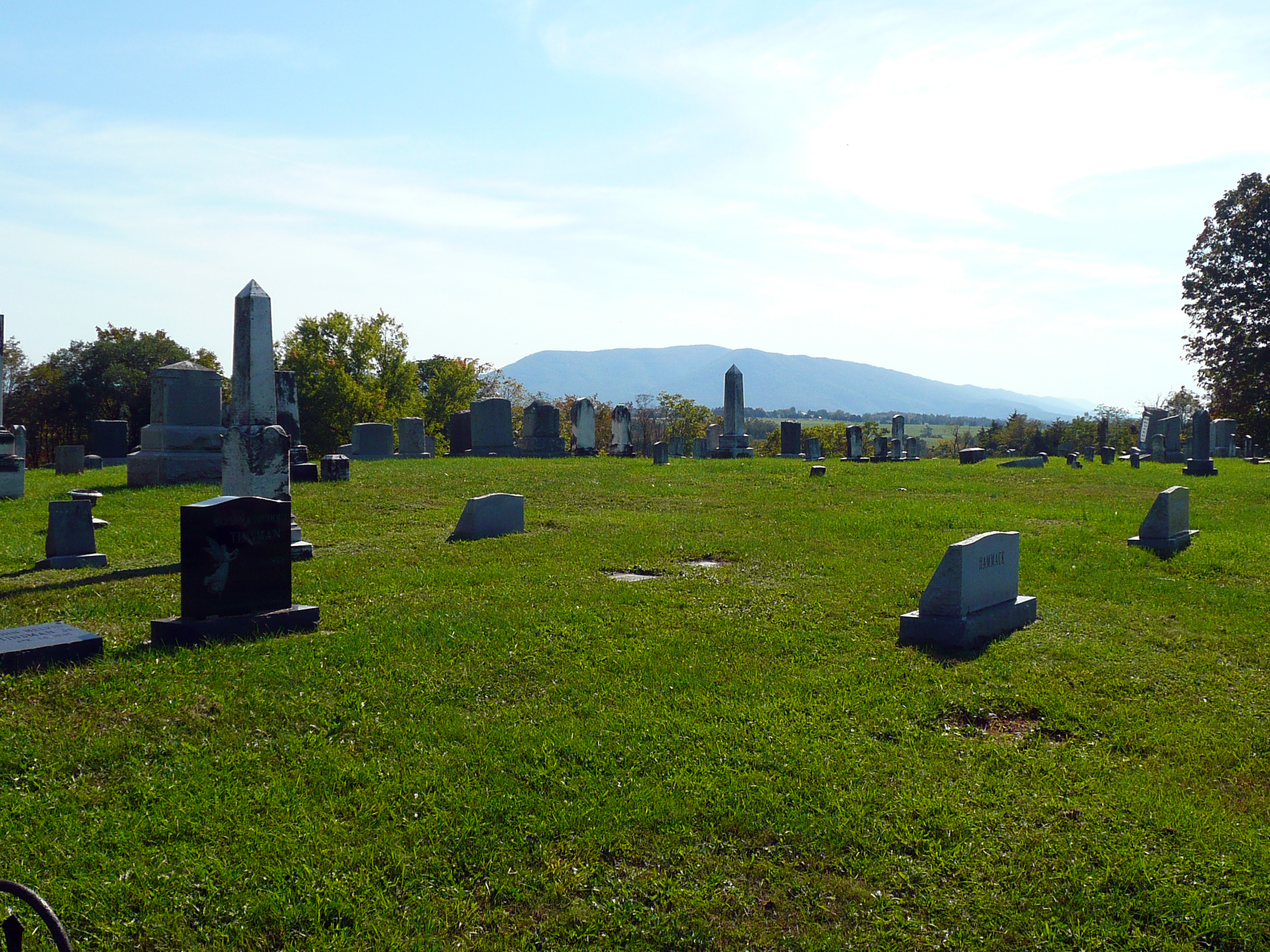 My flight back to San Francisco will be early on Monday morning. I generally do not like to stress myself by scheduling a late afternoon flight after a full day of tromping around in the woods. But the trade-off is another night in the hotel and waking up at 3:30 AM. :-) Once again I had a great time on a CWEA excursion. I thought that Scott Patchan did an outstanding job and, despite the bus breakdown one day, all of the logistical aspects were excellent, so kudos to Bob Maher and his team. And kudos to the Big Guy Upstairs who arranged absolutely fabulous weather for the entire tour.
"Civil War Lives" Conference at The Huntington, October 21–22
I had a very enjoyable long weekend at The Huntington in San Marino, California, to attend an interesting conference that consisted entirely of a Civil War biography lectures. The Huntington is a large complex of botanical gardens and museums as well as a noted research facility, The Huntington Library, that owns a number of archives of important Civil War papers, among other topics. My wife Nancy and I drove down to Pasadena on Thursday, October 20, stopping along the way at one of my favorite steak restaurants, The Hitching Post (II), in Buellton. Nancy amused herself with non-Civil War activities while I attended the lectures Friday and Saturday.
The conference started on the 150th anniversary of the Battle of Ball's Bluff, which I thought was rather significant, but none of the speakers chose to mention it. The conference was organized into sessions, each of which contained two or three lectures of 45-60 minutes, followed by a Q&A. We started with introductory remarks by Steve Hindle, director of research at the Huntington, Gary W. Gallagher of the University of Virginia, and Joan Waugh of UCLA. I have interacted a number of times with Gary and Joan (as well as Caroline Janney and Stephen Cushman, who spoke on Saturday) at seminars organized by the University of Virginia, and their names appear frequently in my travelogues over the years.
Session 1 (Friday, October 21): Revisiting Lincoln and Lee
Gary Gallagher spoke on "Robert E. Lee and the Question of Loyalty." Gary addressed the decision by Robert E. Lee to leave the U.S. Army and support his home state, which he described as not simply Virginia-ness, despite Douglas Southall Freeman's judgment that it was a "decision he was born to make." Lee supported a range of loyalties, which Gary enumerated as four, that alternatively gained prominence and receded at various times during the war. The first, of course, was his loyalty to Virginia. Something I was not aware of is that Lee accepted his promotion to colonel in the U.S. Army on March 30, the same day that he received a brigadier general offer from the Confederacy (which he did not accept, instead receiving a major general commission from the state of Virginia). About one third of the Virginia officers in the U.S. Army stayed in the Union and many of Lee's family were Unionists. His second loyalty was to the United States, in no small part because of his devotion to the memory of George Washington. His father, Light Horse Harry Lee, was a nationalist who opposed the concept of secession. The third loyalty was to the slaveholding Southern society. Lee was not a "closet abolitionist" and it is not possible to reach another conclusion "unless you ignore the evidence." He wrote about the Emancipation Proclamation as a "savage and brutal policy." His fourth loyalty was to the Confederate States as a nation, and he was a firm proponent of the idea that a nation does what it needs to do in order to survive, including conscription, impressing goods and slave labor from the civilian population, and enlisting and arming slaves. Gary took a brief aside to discuss the current public controversies about black Confederate soldiers and said that if any of them had actually served in noticeable numbers, Robert E. Lee would have said "Give me some of them for my Army."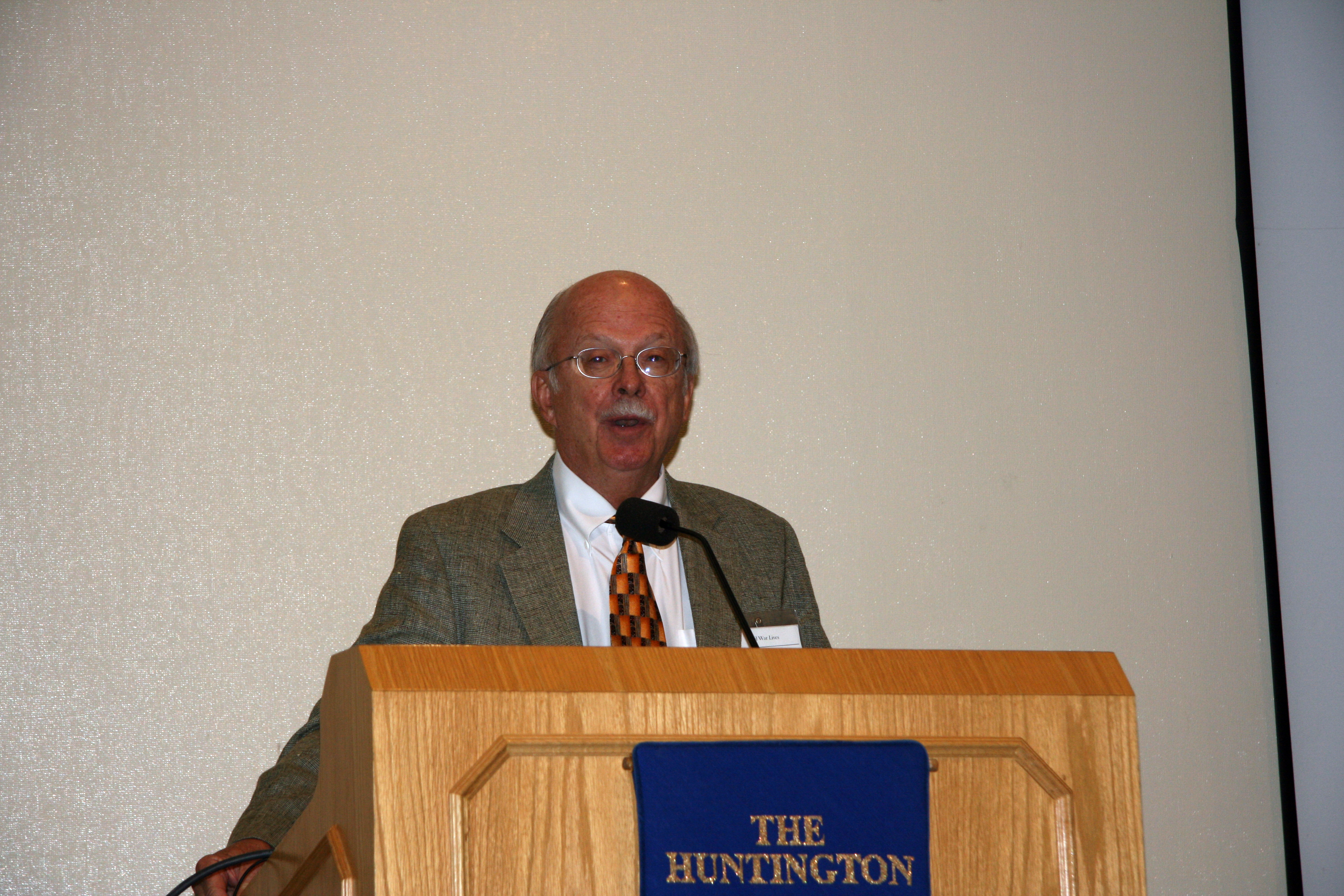 Ronald C. White, Jr., spoke on "'I'm Almost Ready to Say': Abraham Lincoln's Diary." Dr. White is the author of the 2009 work, A. Lincoln, A Biography. Lincoln did not leave a real diary, but White suggested that he kept an "intellectual diary" out of written "fragments," which were snippets of text scattered around that were untitled, unsigned, and undated. These are still being discovered today, although the scholars have to recognize his handwriting to realize their significance. Some were found in desk drawers, others literally inside hats. We were given a handout with six fragments, covering the topics of slavery, divine will, his thoughts about Stephen Douglas, and what it takes to be a lawyer. They give you an insight into a man struggling to develop his ideas. During the Q&A, White was asked about a letter from Lincoln praising Stonewall Jackson after the Confederate general's death, and he said he thought that might have been slyly directed at his own generals. David Blight asked a question about why there were not treason trials after the war and that started a discussion about the trials of Henry Wirz and the Lincoln conspirators, which at least partially satisfied the public's indignation. White said that an idea of trying Jefferson Davis for treason was abandoned because he would have had to have been tried at the scene of his crime, Richmond, and an impartial jury could not be assembled there.

Session 2: Behind the Lines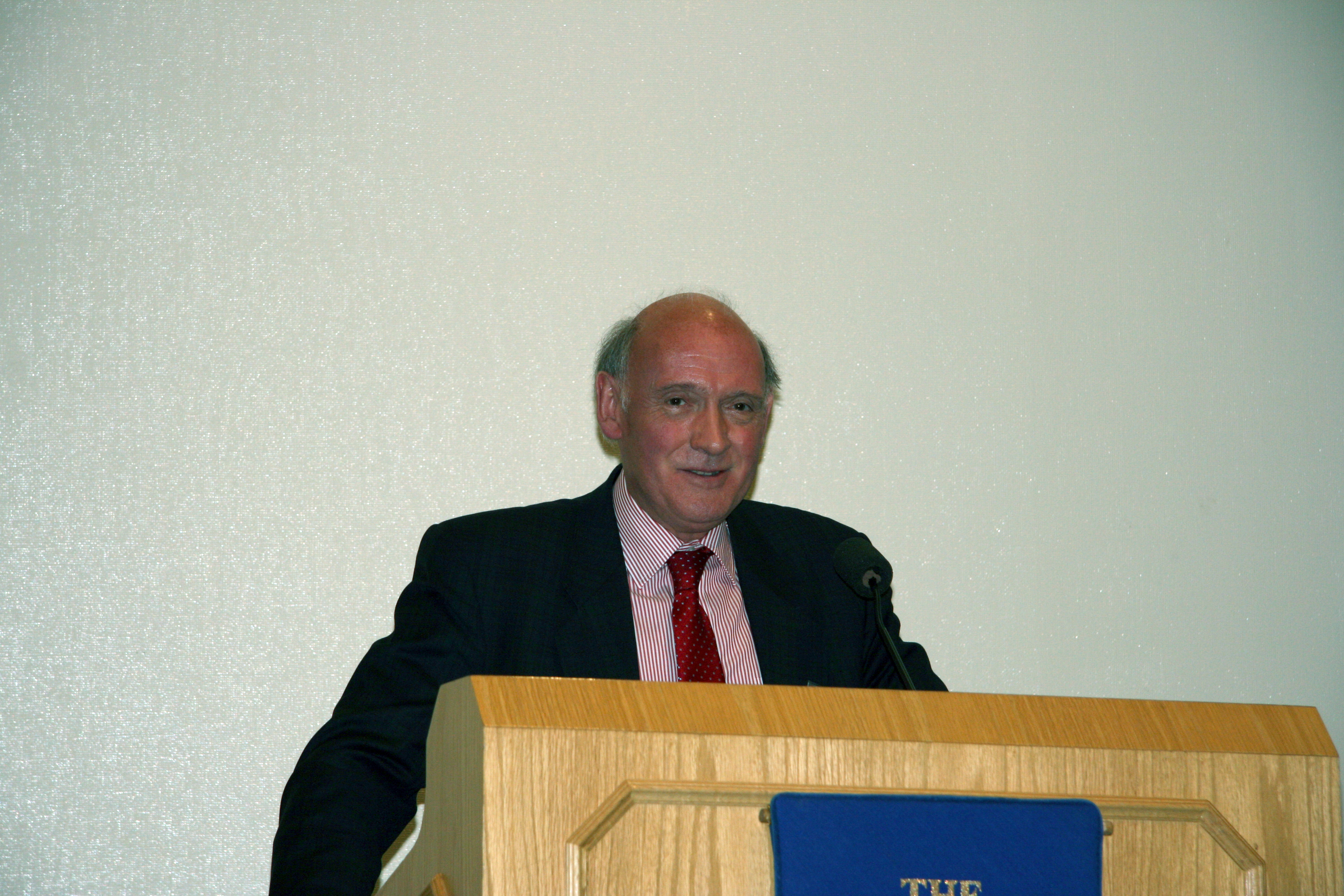 Richard Carwardine presented "The 'Fighting Parson': William G. Brownlow and the Union Cause." Dr. Carwardine is a professor at Corpus Christi College, Oxford University. I am always intrigued when I find people from outside of the United States who have a fascination with the Civil War, and Dr. Carwardine was a knowledgeable and enthusiastic speaker. This was an entertaining look at a man I had never heard of. Brownlow was a noted Methodist preacher in East Tennessee, and he also edited the Knoxville Whig newspaper, which was later renamed the Whig and Rebel Ventilator, which may give you an idea of the pastor's acerbic humor. Although originally a champion of slavery, he became a northern hero for his unvarnished Unionist views. Dr. Carwardine's talk was liberally sprinkled with many humorous, over the top incendiary quotations from Brownlow. (I would have liked to have recorded some for my notes, but they went by too quickly and I was chuckling too much.) The New York Times called him insane. Early in the war he was ejected from Tennessee to Kentucky. He supported the Emancipation Proclamation and enlisting blacks in the Army. After the war he served as governor of Tennessee as well as a United States senator.

Alice Fahs spoke on "Louisa May Alcott's Civil War." Dr. Fahs is a professor at the University of California, Irvine. She asked for a show of hands of who had read Little Women and did not get an overwhelming response, but she admitted that there is sometimes a gender dividing line for Alcott's audience. She said that her talk was a good complement to Carwardine's, because both Brownlow and Alcott were connected by their celebrity during the war. Alcott was briefly a nurse in a Washington, DC, hospital, from which experience she wrote her first popular book, Hospital Sketches, a lightly fictionalized account of her work there. She had to leave the nursing service because she suffered from a dual bout of typhoid fever and pneumonia. She was treated with calomel (mercury chloride), which may or may not have helped her recovery, but it eventually led to her death of mercury poisoning years later. Her Little Women was modeled on her own family, although the absent father in the book was away during the war as a soldier, whereas her own father in Concord, Massachusetts, was physically present, but not "there" for his family. Alcott yearned to be a man and march to war—"longs like a warhorse who smells the powder." She wanted to travel to Port Royal to teach freedmen, but could not arrange it. In addition to her famous Little Women, Alcott wrote "sensational potboilers," which Fahs described as "blood and thunder, revenge" stories.
There was a catered buffet lunch, which I in my impecunious wisdom had decided not to reserve in advance, so I wandered around the grounds of the Huntington and found a nice little outdoor café. (I saved very little money by this gambit.)
Session 3: Race, Slavery, and Emancipation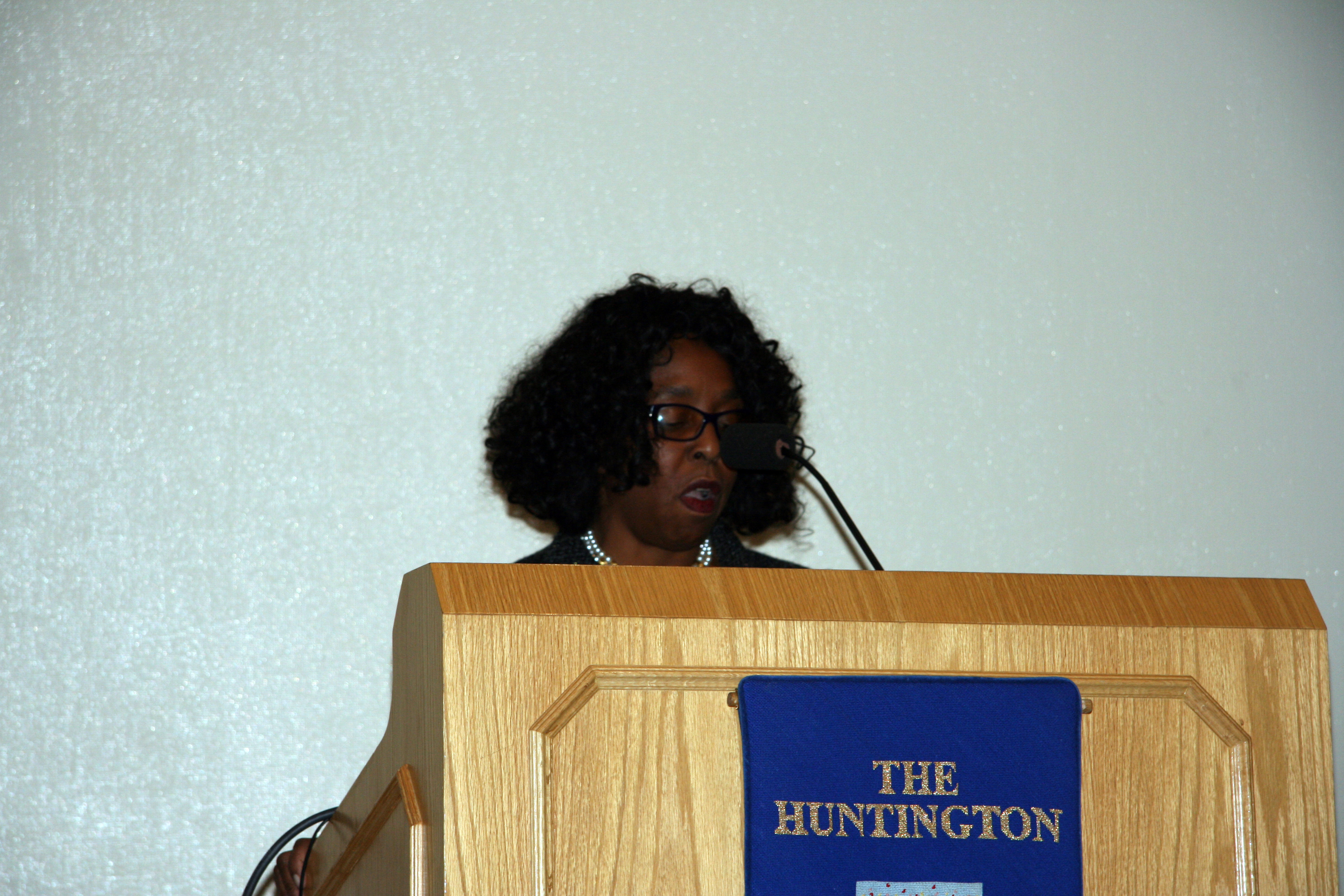 Brenda Stevenson spoke on "Finding Race and Romance: Charlotte Forten's Civil War Experiences in the Sea Islands." Dr. Stevenson is Chair, Interdepartmental Program in Afro-American Studies, at UCLA (and former chair of the Department of History). I am interested in Civil War strategy and tactics as well as biography, although the latter holds more interest for me if it is of the great men and women of history. Dr. Stevenson chose to read a lecture about a woman outside of that realm. Charlotte Forten was an African-American woman who traveled to Port Royal, South Carolina, to teach the freedmen and interacted with the Gullah people. She had an affair with a married doctor/major of the 1st South Carolina Volunteers, the first African-American regiment recruited for the war. (The famous 54th Massachusetts was the first Northern regiment.)

Brooks D. Simpson presented "The Divided House of Ulysses S. Grant." Dr. Simpson is a professor at Arizona State University and is the author of Triumph over Adversity, the first of a two-volume biography of Grant. (He also writes an occasionally snarky blog that I read every day, Crossroads.) The talk was focused entirely on family issues for Grant and he presented a number of interesting photographs along with the talk. Grant's life was intertwined with antislavery forces, although his wife Julia had a more romantic view of slavery. Grant, the last president of the United States to have been a slave holder, emancipated the single slave that he owned in his life, a William Jones. This was quite a sacrifice for Grant because during a period of his impoverished civilian life he could certainly have used the $1000-1500 if he had sold Jones. It was an interesting small world back then—the Grant family knew the owners of Dred Scott. Dr. Brooks talked about the Reconstruction period and before and after his presidency, when various members of Grant's family took advantage of him. He remarked that the Grants lived longer at the White House than in any other residence during their marriage. Dr. Simpson mentioned that Grant resigned from the U.S. Army on the same day he was promoted to captain, which was surprising news to me, because I think those events were about a year apart. (I did not write current version of the Grant biography on Wikipedia, so this level of detail is not something that I'm going to pursue.)

Session 4 (Saturday, October 22): Portraits of Union Officers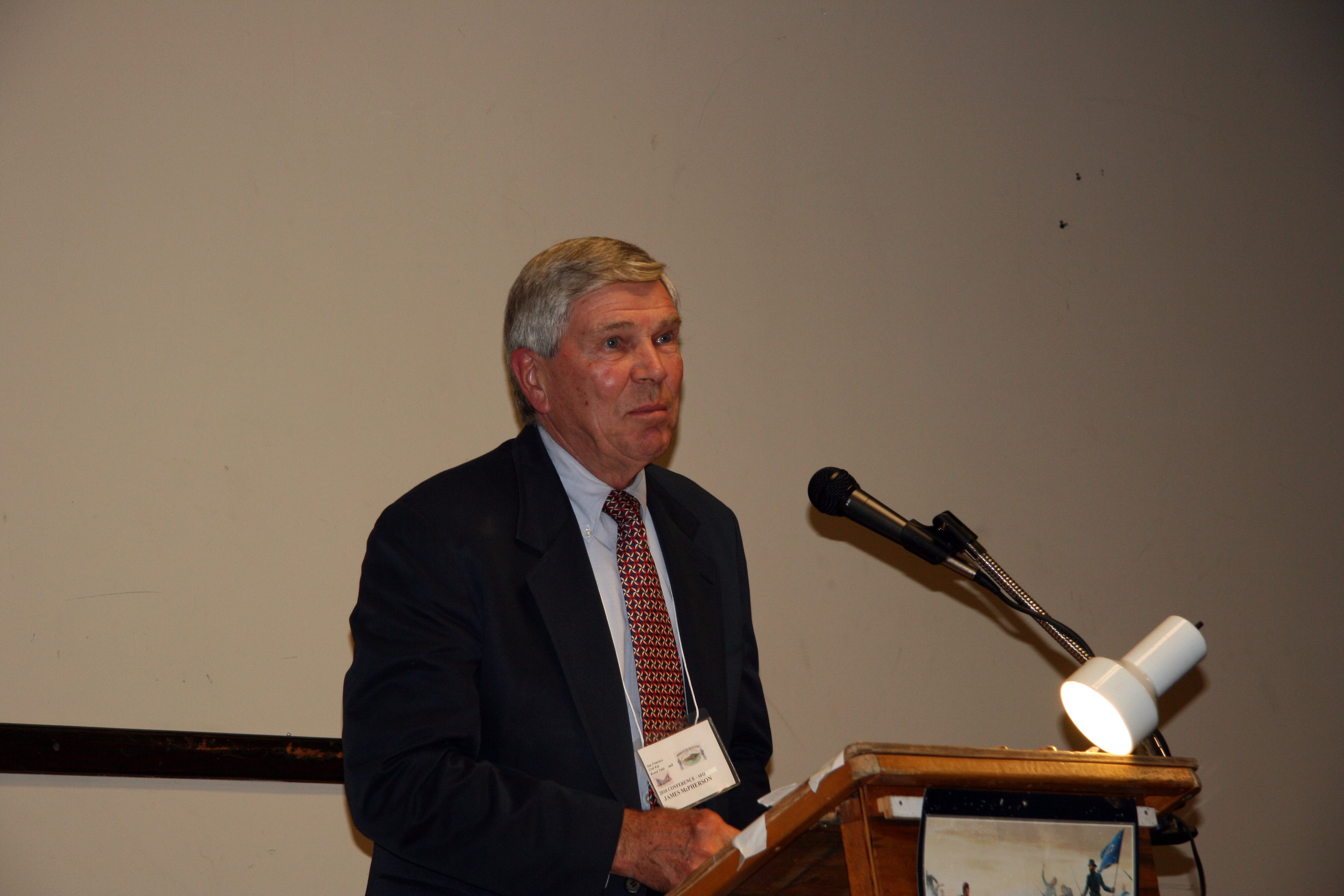 James M. McPherson presented "Farragut and Du Pont: Civil War Admirals." Dr. McPherson, whom I have seen on numerous prior occasions, is a professor emeritus at Princeton University and the author of the Pulitzer prize-winning Battle Cry of Freedom. Gary Gallagher introduced Dr. McPherson as the "Ulysses S. Grant of the Union Army—the Man." He is currently working on a naval history of the war and his lecture was undoubtedly based on that work, focusing on two admirals: Samuel Francis Du Pont and David Farragut. He was able to parlay his visit to the Huntington Library for some specific research because the papers of both officers are stored here. He said that the Union Navy did not get credit that it deserved for winning the war. Early in the war, both of these admirals were bumped up past a number of "deadwood" officers by Gideon Welles. He described actions at Port Royal, the expedition to capture New Orleans, the failed naval attack against Charleston in 1863, and the Battle of Mobile Bay. (In the latter battle, he said that the famous quotation "damn the torpedoes, full speed ahead!" was invented by a newspaperman.) While showering praise on Farragut, he portrayed the less successful career of Du Pont as being more akin to that of George B. McClellan, suggesting that it was a lack of aggressiveness or imagination that caused the Charleston attack to fail. (My personal opinion is that Du Pont was railroaded by Gustavus V. Fox into making that attack against his own better judgment and that a purely naval attack against Fort Sumter and the other surrounding forts was doomed to failure, regardless of the admiral involved. For those readers who follow the Wikipedia links in these travelogues, please note that I was not responsible for any of the articles related to these naval actions. It is not that I am not interested, but there is another prolific editor who jumped in to write these before I got around to it.)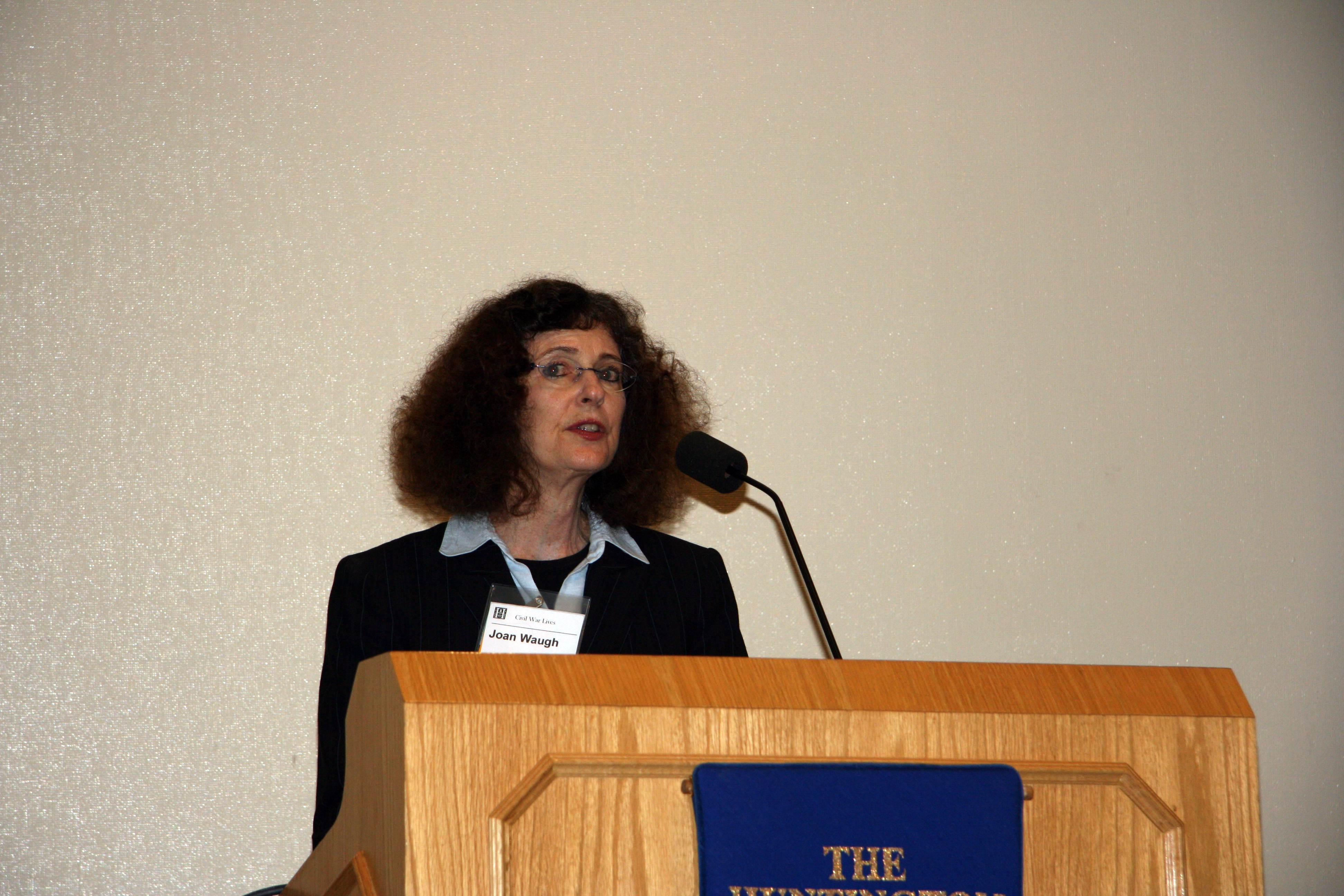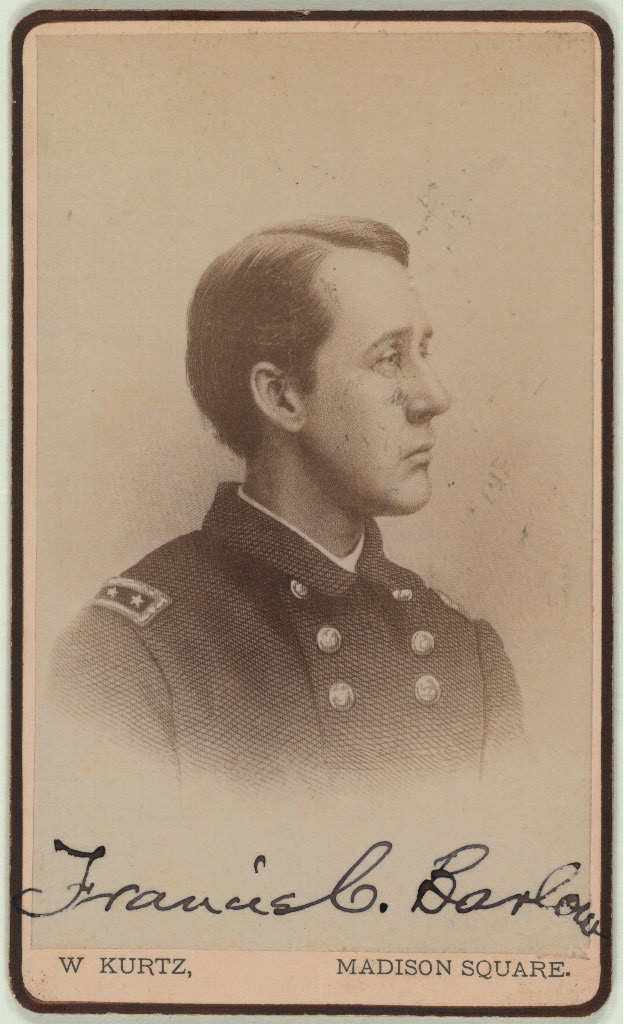 Joan Waugh spoke on "Francis Channing Barlow: Harvard's Troubled Warrior." (And here I thought Barack Obama would get that title.) Joan is working on a study of Union officers from Harvard and Frank Barlow (I had never heard him referred to by that nickname) was the highest ranking. She went through a full description of his military career, aided by numerous PowerPoint photographs and a number of my maps from Wikipedia! Reading some excerpts from his letters to his wife (Arabella, 10 years older than the youthfully appearing "Boy General," referred to by Joan as a "cougar"), Frank came off as an intellectual snob, denigrating not only the soldiers in his command, but also his fellow officers who did not have his same education. He was a strict disciplinarian and Joan praised his training methods. He was upset when he was transferred from his beloved II Corps to the XI Corps, which he criticized as having too many immigrants. She described the controversy over the famous Gordon–Barlow incident and was rather noncommittal about the veracity of John B. Gordon. (Once again, my personal opinion: although it is certainly conceivable that Gordon found and comforted the severely wounded Barlow on the Gettysburg battlefield, the chance that two division commanders in the opposing armies during 1864–65 did not know of the other was alive is virtually zero.) One of my favorite parts of her talk was seeing a carte de visite of Barlow in which he ran out of room for his signature and had to curve it down the side to fit—like one of those "plan ahead" joke signs. Well, I am easy to amuse. Another favorite moment was during the Q&A, where Joan referred to the myths of the Civil War as stories to make us feel better about history, whereas it is the job of historians to destroy those myths. :-)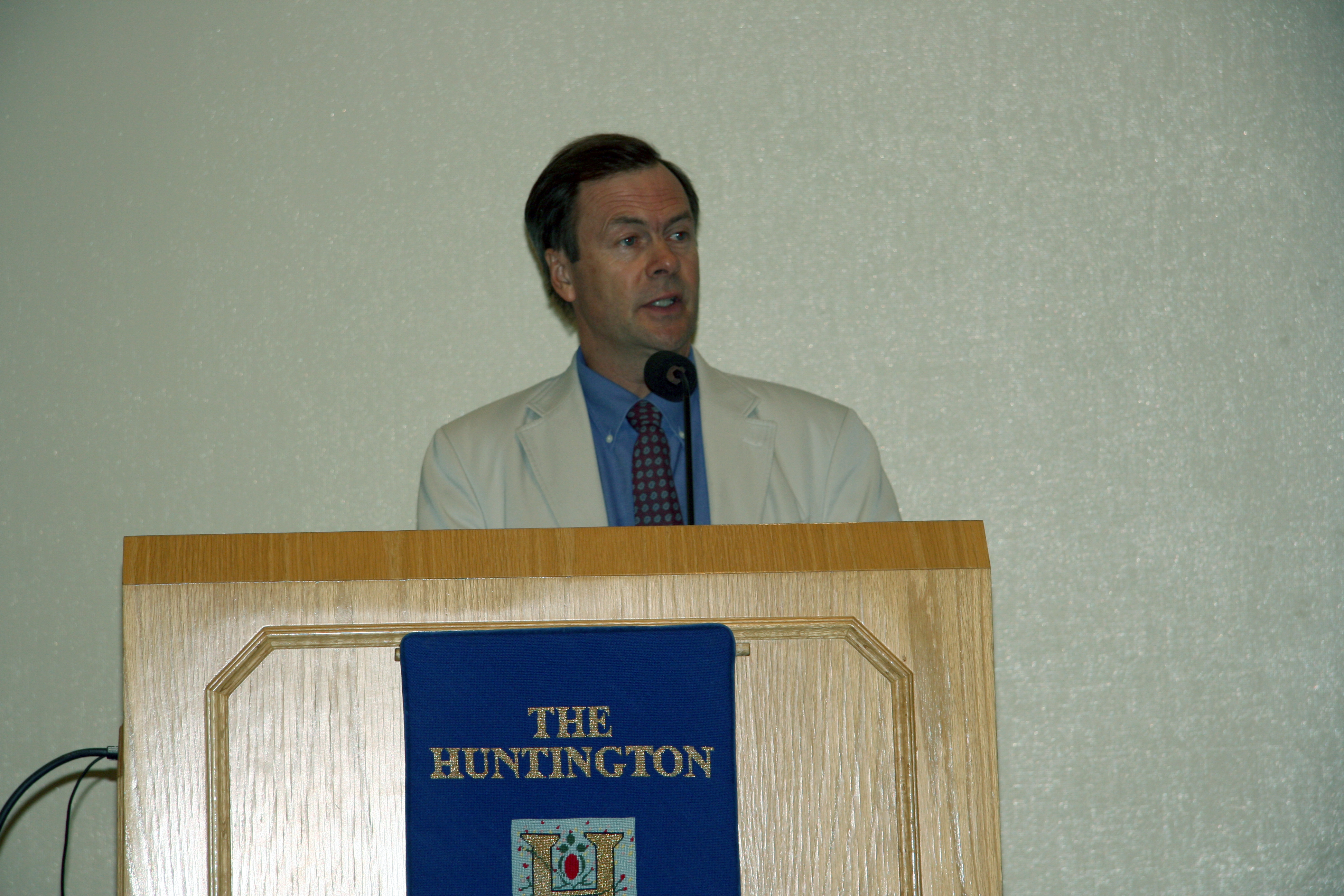 Stephen Cushman spoke on "Joshua Lawrence Chamberlain and the Story of Surrender." Dr. Cushman is a professor of English at the University of Virginia. This was a very interesting talk, but unfortunately I had heard it before! Stephen told me that he was counting on no one from the East Coast being here at the Huntington. I surprised him by revealing that I had traveled to the University of Richmond for one of the University of Virginia seminars. To save myself some typing, here is what I said in 2009:
Stephen Cushman, who is an English professor at the University of Virginia, gave a very interesting talk about Joshua Chamberlain and Appomattox. Chamberlain has a reputation as a serial exaggerator and self promoter and this talk looked into the claims he made over the years about ordering a salute to the Confederate troops as they marched by following the surrender. (Stephen offered an interesting aside that the word Appomattox is an Indian one for "sinuous tidal estuary.") He offered a document that showed six different versions of the story that Chamberlain wrote over a 50 year period. As they progressed, passive verbs turned active and responsibilities of unnamed plural individuals turned into first-persons. (An order was given, we gave an order, I gave an order.) Part of the controversy here is some very vituperative writing from William Marvel, who has lambasted Chamberlain in two books about Appomattox. Stephen did not render an absolute judgment, but seemed to be sympathetic to Chamberlain's veracity, suggesting that adding details over time does not necessarily indicate an intent to deceive, and in fact the minor variations over the years lend some credence to the story because they did not contain the lockstep recitation of identical claims that a falsehood might have. He offered an interesting quotation from Grant, which I think is appropriate for Chamberlain's case: "Wars produce many stories of fiction, some of which are told until they are believed to be true." And he gave me a good trivia item I will have to verify: Chamberlain was the only man in the V Corps to receive a Medal of Honor.
The one difference from the 2009 talk was that today Dr. Cushman made reference to three of the somewhat numerous modern works that report this incident as being true, including one about advice for corporate managers, and another about pastoral theology.
During the break I found an invaluable new piece of Civil War information! A lady sitting next to me and I were both munching on Necco wafers, and she informed me that the New England Confectionery Company invented these candies in the 1850s and that they were widely carried by (Northern) Civil War soldiers!
Session 5: Reconciliation, Memory, and History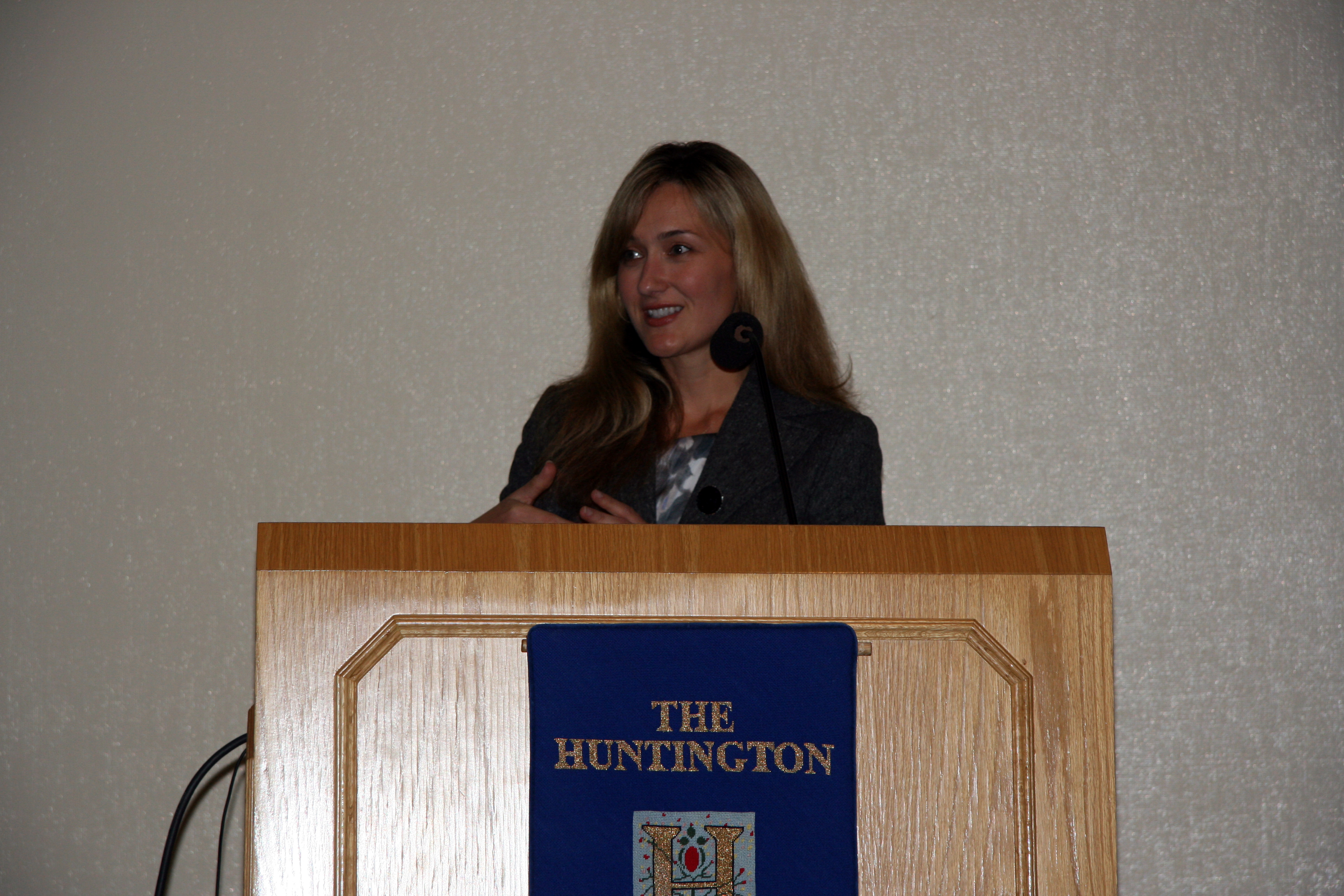 Caroline E. Janney presented "'One of the Best Loved, North and South': George E. Pickett's Widow and Civil War Reconciliation." Dr. Janney is an associate professor of history at Purdue University. I have enjoyed her presentations on Civil War memory topics at a couple of University of Virginia seminars. Carrie gave a very interesting talk about LaSalle Corbell Pickett, originally named Sallie (and then Sallé), that covered her entire life. It started with her marriage, which she claimed was at age 15, perhaps the first in a series of the dubious stories she spread throughout her life. She was a staunch reconciliationist, which was rather unusual for a woman of the time, because the Confederate women retained considerably more bitterness about the outcome of the war than the men seemed to. After the general died, Sallie parlayed the fame of her husband to obtain a low-paying job in the US Census Bureau, but she supplemented her income by traveling all over to address veterans' groups, and producing 11 books and 35 articles. Her big coming out was in the 1887 Gettysburg reunion (which seems odd, because that was the 24th anniversary of the battle). Her most successful book, Pickett and His Men, focused on George not as a Confederate, but as an American general. Despite its title, it included detailed information about their love affair, although the 1913 edition of the book omitted all of that. The connection with this conference was that Sallie sent a copy of that book to Henry Huntington and asked for assistance. He granted her a pension of $50 per month and left her $10,000 in his will. Carrie told some of the wild assertions that Sallie made over the years, such as the Pickett family's close friendship with Abraham Lincoln and the supposed visit of the president to visit Sallie after the fall of Richmond. She also claimed to have visited Lincoln in the White House in 1867! When Sallie died, Hollywood Cemetery in Richmond refused permission to bury her there near her husband, so she was entombed in a mausoleum near the national cemetery in Arlington, Virginia. However, in 1998 her ashes were reinterred in Hollywood.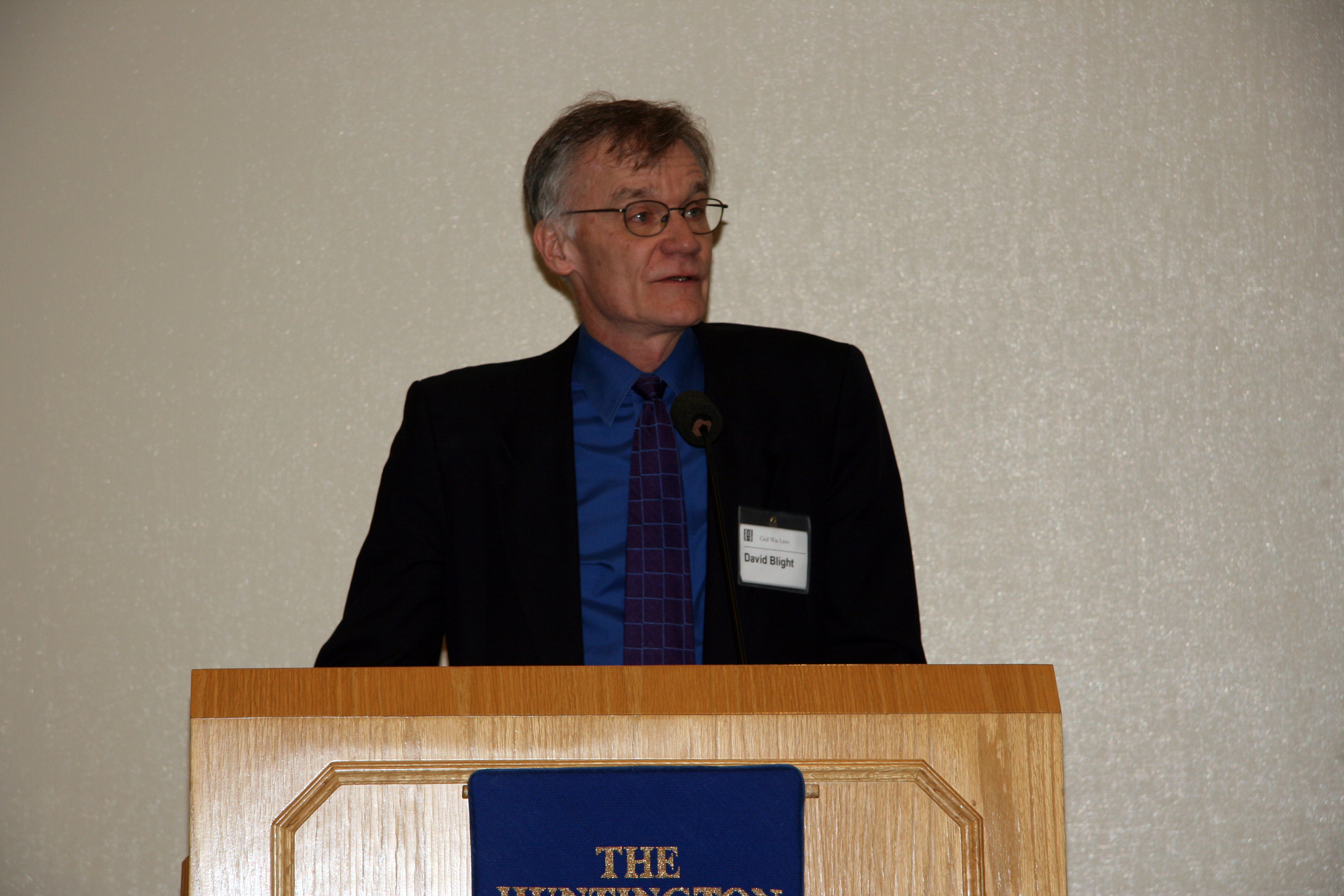 David W. Blight presented "Bruce Catton's Terrible Swift Pen." Dr. Blight is a professor at Yale University, the author of numerous works on the Civil War era, slavery, and Reconstruction. When Joan Waugh introduced him, she joked that all of the authors in the program had agreements with their publishers not to attempt to publish in the same year that Dr. Blight produced a book, because all of the industry awards would be taken. This was one of the best lectures in the conference, in my opinion. Dr. Blight has a wonderful speaking style that reminded me specifically of Garrison Keillor doing one of his long monologues. He spoke of Catton's portraying the romance and nostalgia of the war in the reconciliationist model, but tempered by historical realism. He "achieved a formula for enjoying the war." He was "mostly accurate" and possessed the skill of a dramatist. He had good relations with academic historians (although I recall Gary Gallagher being asked about Catton at a seminar and he said, "well, yes, he was a good narrative historian.") He began his career as a journalist, then as a press secretary and PR man in the FDR administration. Statements he made about almost losing the war because the government did not control industry enough caused accusations of being a communist to be directed against Catton. Dr. Blight assumes that one of the reasons biographers have not done much with Catton is that his papers are in Laramie, Wyoming, and the Citadel. He cited Catton's The Coming Fury as being a good summary of the causes of the war. He had great things to say about E.B. Long, Catton's research assistant, who helped Catton produce books annually, "like a new model of Chevy," becoming "Doubleday's meal ticket." Long was valuable enough that Doubleday paid him a salary of $18,000, which is quite unusual for a research assistant. Alfred Knopf called Catton the "last survivor of both sides." He was a racial moderate who could leave a meeting with Martin Luther King and drive over to a Sons of Confederate Veterans meeting and espouse memories of a "fuzzy lost cause." Dr. Blight told a story about a meeting of the New York Centennial committee in 1963, where the only speakers were King and Catton. Nevertheless, black writers generally criticized Catton's work. During the Q&A, Dr. Blight was asked why Catton's works were out of print and he lamented the fact, but suggested there might be a movement afoot to obtain the rights from Catton's estate. (I am glad that I own all of his books already.)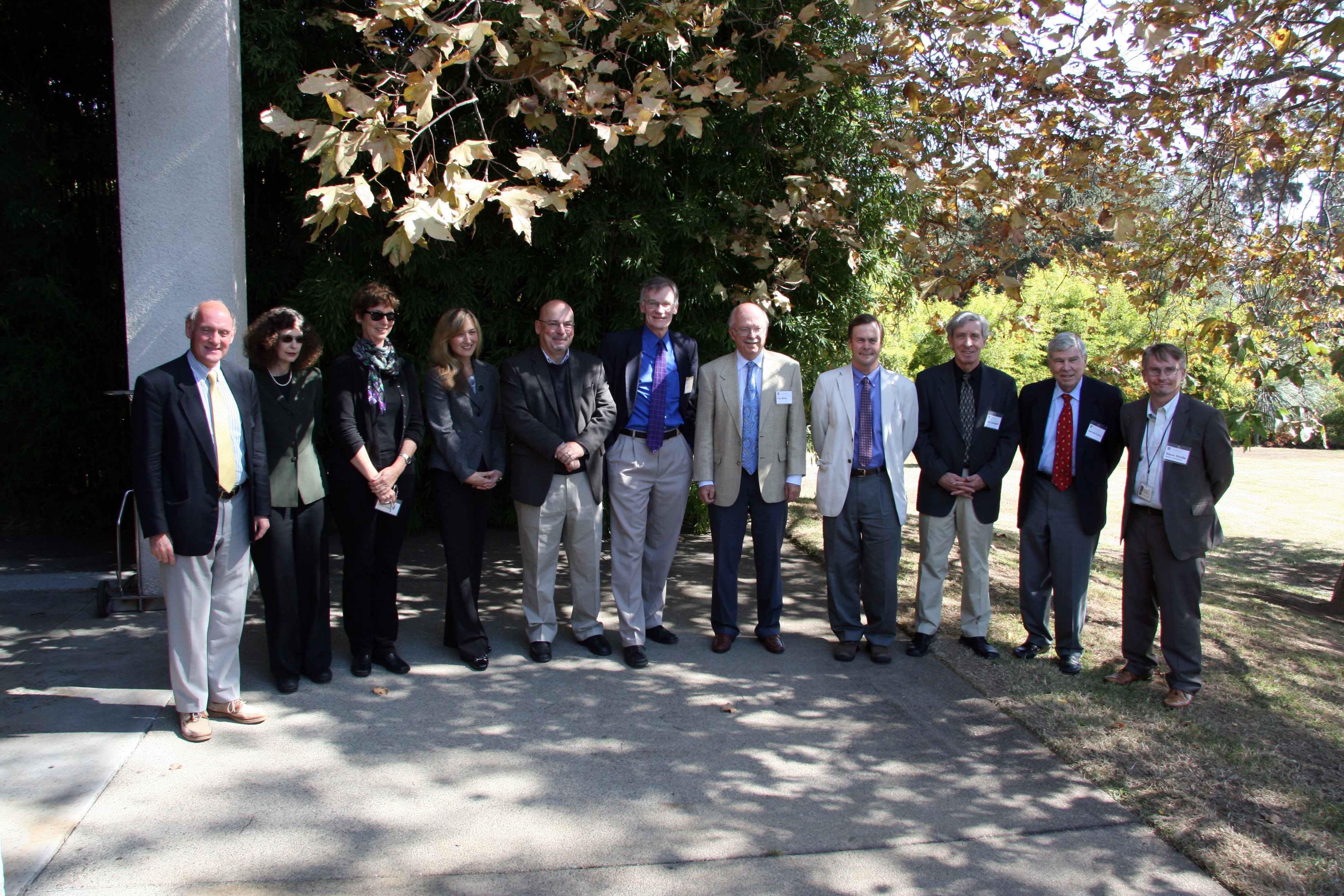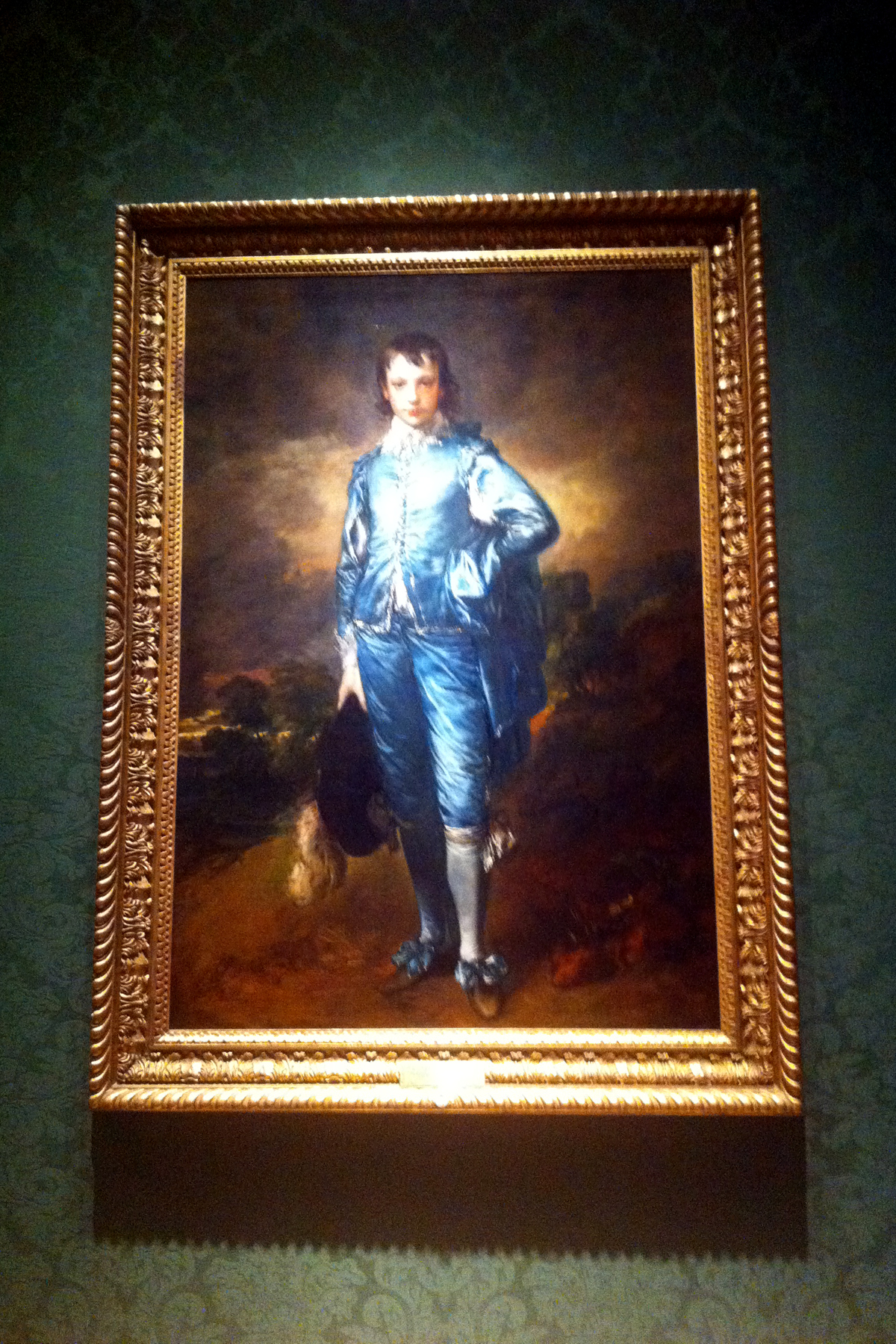 At the end of the program, Nancy and I toured around the art museum, rushing through before the 4:30 closing time. It is a magnificent building dominated by lots of 18th-century English portraiture, but I am sorry to say that there was very little of interest to me. We drove back to Redwood City on Sunday morning. I had a great time at the Huntington, meeting some interesting new historians, and hearing numerous excellent lectures. I also made a few contacts with historians who might make use of my freelance cartography services. If they manage to invite me for a future conference, I will be sure to attend if I can.
My next Civil War trip will (probably) be my final trip for 2011. I will be running in the Chickamauga Battlefield Marathon, visiting some sites in the Atlanta Campaign, and examining the Chattanooga Campaign with the Blue and Gray Education Society. I will resume my traveloguing around November 11, if you'd like to check back then. See Part 5.