National Review New England and Canada Cruise, August 2019
This is my travelogue of the National Review Cruise on the Holland America Lines cruise ship MS Zaandam. It won't be overly descriptive because most folks care little about my brand of politics, and because this was my second cruise on the same itinerary (albeit in reverse sequence). There is more detail about the ports in my 2015 cruise report. The most unusual aspect of the week is that my wife Nancy didn't accompany me, having almost no interest in politics, which left me free to immerse myself in political nerdery all the more.
Friday, August 23 — to Montréal
I flew AA to YUL via CLT. The planned four hour layover turned into seven with thunderstorm delays in Charlotte. I reached the hotel, Le Westin Montréal, at 2 am.
Saturday, August 24 — MS Zaandam
Our bus to the nearby cruise terminal left at 11. There were minimal check-in delays, but then we were seated for 20 minutes or so as we waited for the ship to open up. I immediately left the ship to walk through the tourist area of the old port. My target was Queues de Castor (Beavertails), my favorite pastry place in Montréal, and apparently now a Canadian chain. Then I wandered through a street market that had a number of historical booths—craftsmen, musicians, artisans, farmers, etc, in 16-17th century costumes, doing their ancient tasks and selling their wares.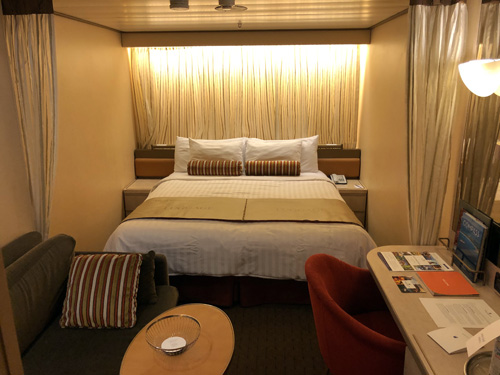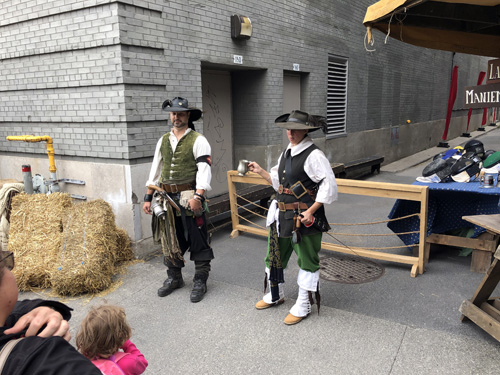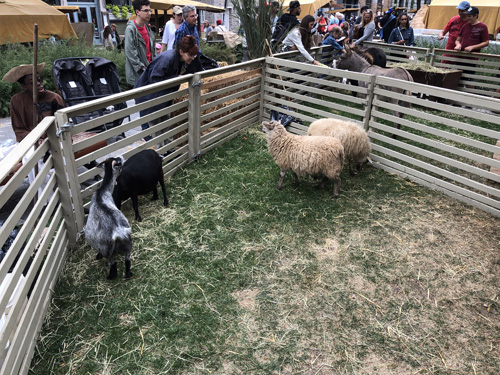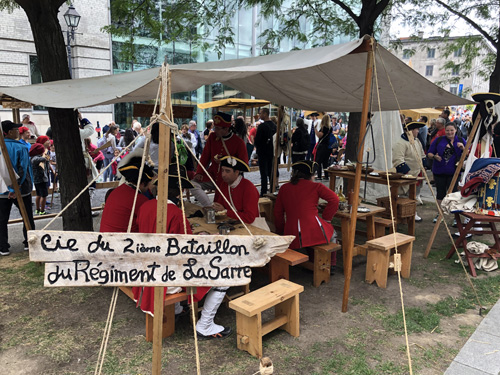 Back on the ship, we had the usual lifeboat drill and we departed about 6 pm. I found the Zaandam to be a bit worn down, a 19-year old ship. My single interior cabin was fine, with a bathroom larger than I'm used to, including a shower tall enough for me to stand in. (A cabin occupied by a single person is comparatively spacious.) The sail-away process was the most sedate I have ever experienced, with no traces of enthusiasm from the crew or passengers. I wonder if the ship is full—there are very few crowds anywhere.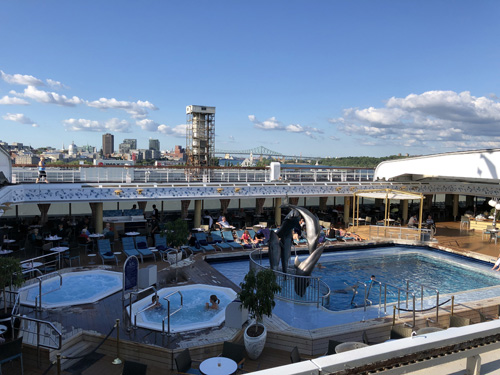 There was an NR reception at the pool at 6:30. There are about 120 attendees and I was surprised to see that about 35 are single-occupancy folks like me. Dinner in the dining room is at a different table each night, sometimes with a speaker or NR luminary assigned to mingle with the readers. Tonight was a table of six featuring Alexandra DeSanctis, an NR political correspondent. The conversation was excellent, without delving into politics much at all. There was also an informal gathering at 10:30 in the Crows Nest—the bar looking out over the bow—but I was pretty tired from a very long couple of days, so demurred. I also did not go to the evening show, usually a staple of cruise ship life. (I'm here for NR content, not HAL.)
Sunday, August 25 — Quebec City
My interior cabin allowed not even a photon of light in, so I slept until after 8, having missed our arrival in Quebec City around 7. After a light breakfast I wandered around downtown in the touristy area, up the rather steep hill and stairs, past the Château Frontenac, and to the Citadel, where I took an hour guided tour. It was moderately interesting. The fort is the home of the French-speaking Royal 22nd Regiment, which has a history of service mostly from WW I—battle of Vimy, notably—and then in the Sicily and Italian campaigns of WW II. Lots of beautiful views from up on the ramparts, particularly the water battery. Gorgeous weather today. There is also a modest museum about the regiment. On the way back I found another Beavertails and had the Caramel Salé (salted caramel) variety, which was really decadent. The real lunch was a hotdog and fries on the ship.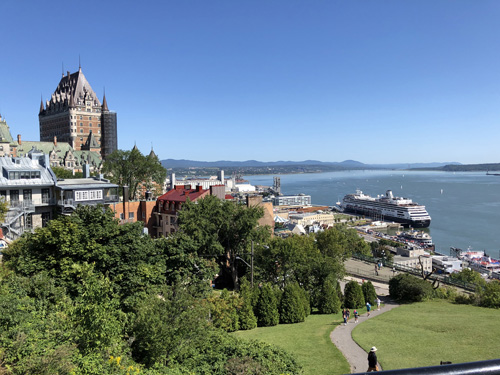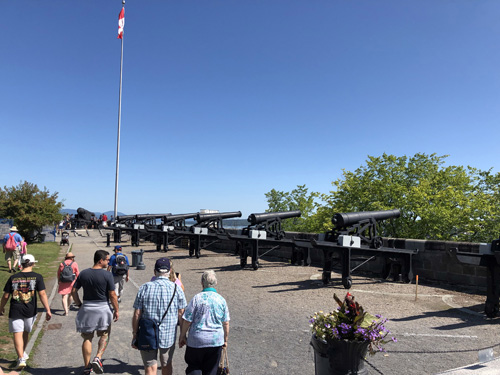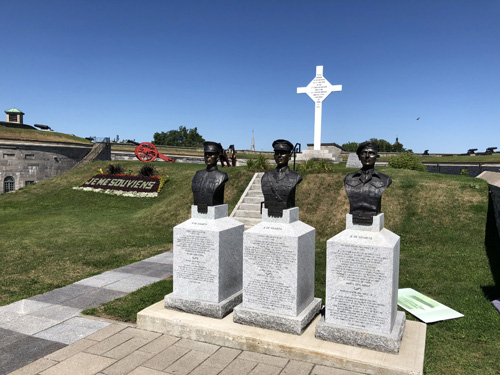 The NR program started at 3 on the "main stage." I will comment on some highlights of the following, without attempting a full summary.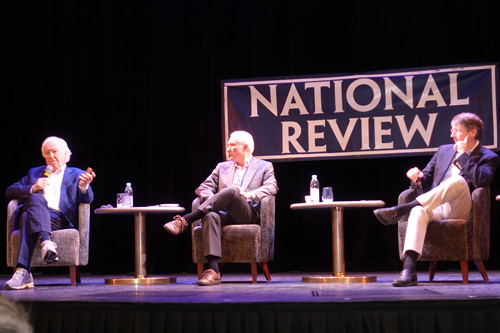 Bordering on Insanity: Will America Reform Immigration? Rich Lowry, Jeff Sessions, John O'Sullivan. I thought John made an interesting comparison of immigrants versus settlers, and noted that over 50% of current Americans are descended from the latter. He also said that the popular notion of immigration improving the GDP is not true on a per-capital basis and it is really the immigrant who benefits from his arrival, not the current residents. He proposed that Republicans attempt to prioritize the immigration of people who would be likely Republican voters, similar to the Vietnamese in the 70s, such as Venezuelans and Middle East Christians. There was no Q&A, so no one got to ask Sessions anything about Trump controversies or his possible future Senate plans.
The Relentless Multicultural Offensive. Jay Nordlinger, Christina Hoff Sommers, Brian Anderson, Fr. Robert Sirico. This was a rather rambling discussion for which I have no notes recorded. I thought Fr. Sirico was an interesting character, involved in a group called the Acton Foundation for Entrepreneurial Excellence.
The final session of the day was attorney Cleta Mitchell giving a rather dry PowerPoint presentation about how many leftist dark-money political committees are operating with billions of dollars to influence local elections and promoting leftist causes using 501c(3) and (4) methods. She did do a very lively Q&A and it was much more interesting than her slides.
In the two hours before dinner, I had a pleasant time on the promenade deck watching the nearby shoreline as we cruised down the St. Lawrence River. Dinner was at a table of six without a named speaker. I got to sit with a WWII vet (although he was drafted in May 1945 and trained as a company clerk at Fort Oglethorpe, so was unscathed).
The Night Owl session at 10:15 in the Crows Nest was a live recording of the Mad Dogs and Englishmen podcast with Kevin Williamson and Charlie Cooke, two of my favorite NR authors and commentators. A rollicking good time was had by all. Charlie professed to remembering me from the 2015 cruise. (Height does have some benefits..)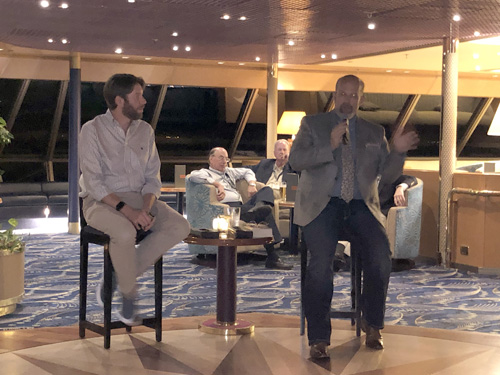 Monday, August 26 — St. Lawrence River
The inconvenience of the morning is that the ship set the clocks ahead to the Atlantic time zone last night, but our iPhones are still on Eastern, so the schedule is off all day. I had the presence of mind to request a wake up call from the ship computer, but a number of fellow passengers are wandering around in a daze. While I'm on technical issues… I purchased the full week of unlimited Wifi—about $120 when ordered in advance—which is partially satisfactory. It's pretty sluggish and the service does drop out periodically, although not as bad as service used to be on cruise ships. The irritant is that it's limited to a single device, so you need to login in a multistep process each time you want to change from iPhone to iPad and back. It's a good service because regular cell coverage does not reach very far off shore, where the ship mostly travels, but when in a port area, the cellular LTE service is superior. (I found out later that if you leave your Data Roaming on, you start picking up the "At Sea" service, which is super expensive and not covered by the regular AT&T International Day Pass. I got a message that I had exceeded $100 in charges so I called them and they signed me up for a sea package for $100 that covers my calls and texts for a month, although data is limited to 200MB. To avoid hitting that limit, I have to turn Data Roaming off, or go to Airplane Mode, as soon as the ship gets underway.)
I attended the "Regional Fellows at Sea" breakfast seminar, helping to educate folks on conservative foundational principals, which is something NR usually does in eight on-land seminars. Rich Lowry led the first discussion on Abraham Lincoln. We covered his views on labor, property (both of which were Locke-ian), slavery, markets, and innovation, reading a number of snippets from speeches and letters. Then we moved to the main stage for a full day of sessions.
The Case for Free Markets and Against Socialism. Jay Nordlinger, Kevin Williamson, Charlie Cooke, Fr. Robert Sirico. It started with reminiscing about how the panelists came to their conservative views, but then devolved onto an entertaining grab bag of topics that evaded my note-taking abilities to summarize.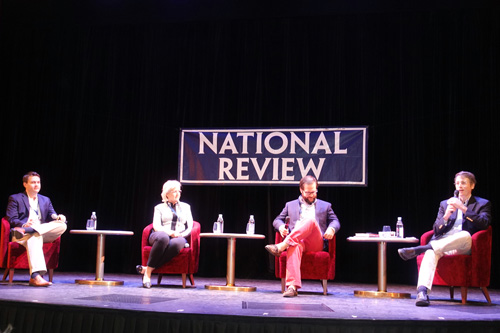 The GOP in the Era of Trump. Rich Lowry, Cleta Mitchell, Luke Thompson, John McCormack. They didn't spend too much time of GOP futures, but this was a surprisingly positive assessment of the candidate and president. He was described as the first TV president and we heard a number of examples of how he owned the media and his rivals. Cleta, who was the most bullish, said that his biggest problem has been the ineffective GOP congress, with Paul Ryan due for a lot of criticism. But Congress has been unified by the craziness of the left. Luke thought that some of the suburban folks we lost in 2018 protest votes will come back when there is a direct leftist opponent on the ballot, but that it's worrying that young and fringe voters have come out in presidential-level turnout in 2018 and other by-elections. In a final stab at punditry, the panelists said the president would win re-election at odds of 50%, 60%, 50%, and 50%.
If Bill Buckley Were Here, Reflections on the WFB Legacy. Lindsay Craig, Rich Lowry, John O'Sullivan, Kathryn Lopez. This was a series of rather hagiographic remembrances of Buckley's career and celebrity, highlighting his civility and his desire to debate only worthy adversaries.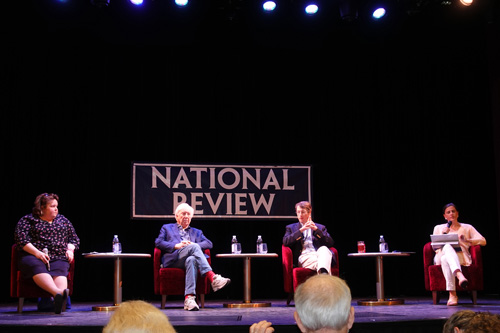 Our Constitution and Rights Under Attack. Jay Nordlinger, Jeff Sessions, Charlie Cooke, Cleta Mitchell, Mark Janus. This started with a chatty intro in which each was asked about early life backgrounds and how they became interested in the Constitution. The discussion became interesting when Jay got A.G. Sessions to admit that the three federal branches were co-equal and Charlie went ballistic with a learned objection that in fact the Congress is the pre-eminent branch, with vast powers over the other two, but which they have not exercised much in 70-80 years. Cleta vociferously agreed and they both indicated that Congress's failures in this regard—the empowerment of the so-called Administrative State—are the biggest threat to the original idea of the Constitution and should be the conservative priority to correct over the next 20 years. I wholeheartedly concur with this judgment.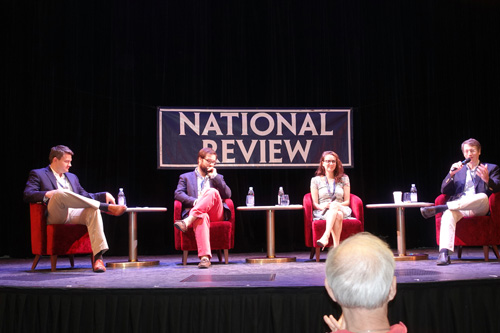 The Democratic Party and Field, Veering Ever Left. Rich Lowry, Luke Thompson, Alexandra DeSanctis, John McCormack. This was a session jam-packed with punditry of the snarkiest kinds. All agreed that if Biden wins Iowa, the nomination is over, but if he loses, he's over. Dems who like frost belt liberals with Brahmin pretensions will support Warren. Harris is the most Hillary-esque. Bernie is boring and repetitive. Buttigieg is a fraud (per Alexandra, who seems to go by "Zand," and who experienced Mayor Pete's mal-administration while she studied at Notre Dame), but Luke said he was "made in a Petri dish to raise money from white coastal liberals." Andrew Yang is underrated, but sticks like glue to his UBI ideas. John and Rich see some minor potential in Cory Booker, but Zand clearly despises him. There was a discussion of a list of hot-button leftist issues and the panel was asked about the chance the Dems would eliminate the filibuster if they won the presidency and the Senate. John said no, Luke yes—to enact some gun control issue. There was agreement that only two will exit the Iowa caucuses—one moderate, one progressive. Weakest candidate (left to right in photo): Bernie, Pete, Bernie, Pete. Strongest: Biden, Bernie, Biden, Warren. Percent chance Biden will be nominated: 45, 15, 35, 15.
Before dinner I was invited to attend a reception for the 1955 Society, which is for NR Institute donors, and I had fun talking with Kevin Williamson and a number of other speakers. Dinner was at a table for 8 and we had both Mark Janus and Rich Lowry with us. Rich sat near me and we spent quite a lot of the dinner talking about the Civil War, believe it or not. There was a gathering at the Crows Nest at 10:30, but when I arrived about a dozen folks had maneuvered their chairs into a tight circle, so I didn't see a way to join them and retired instead.
Tuesday, August 27 — Charlottetown, Prince Edward Island
We arrived around 9 am and were greeted by light rain. I have no shore excursions planned for the week and have been hoping to walk around and get some exercise no luck today.
Sessions started at 2:30.
Oh Boy, Oh Boys, and Much More. Kathryn Lopez, Christina Hoff Sommers. This was an entertaining (albeit sobering) look at radical feminism's affect on the education of boys. Kathryn led Christina through a lengthy discussion of her background in analytic philosophy, her personal journey from a liberal/socialist view, and some of her experiences on college campuses. I particularly enjoyed a story about Oberlin, I think she said, where her words were so hurtful that 30 women and one therapy dog had to retreat to a safe room.
This Ain't Your Father's Vatican: The Church in Tumult. Alexandra DeSanctis, Fr. Robert Sirico, Kathryn Lopez, John O'Sullivan. I didn't have a lot of interest in this topic. Fr. Sirico said that the church is not in a theological crisis; the current pope has problems with the imprecision of his writings, but he is not heretical. He also opined that the decades of sex scandal were no worse than what happens in schools (without the publicity) and that there are so many safeguards in place now that it is an issue of the past.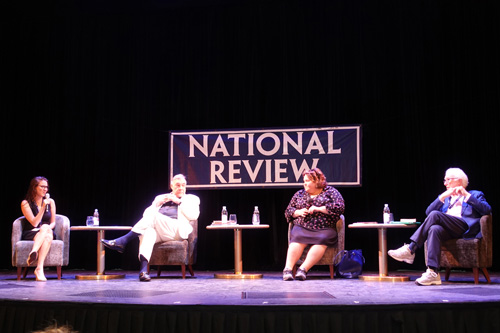 Just What is Conservatism? Rich Lowry, Cleta Mitchell, Charlie Cooke, John O'Sullivan. This was a rather jumbled discussion that suffered from a topic that was a bit too broad. Cleta kept presenting practical points, whereas the others tried to be more theoretical, so they clashed a bit. Cleta defined conservatism as love of country, traditional Christian values, and preserving the ideals of the founders. Charlie said among other things that it is a desire to keep government from crowding out traditional values and activities, so there was agreement on that point.
There was another reception at 6:30 and I had an excellent time interacting with a number of the speakers and attendees. The Zaandam also has excellent hors d'oeuvres. Dinner was at a table for eight with Kathryn Lopez, but four people didn't show up, so we had an intimate conversation, one main topic of which was a couple from Montana who cooked real beaver tails! Savages! (Kathryn was very uneasy about my affection for large rodents and even expressed disgust about the famous NYC Pizza Rat.) I once again did not attend the informal get together in the Crows Nest.
Wednesday, August 28 — Sydney, Nova Scotia.
We started with another Regional Fellows seminar at 7:30, today led by John O'Sullivan. We discussed a bit of Buckley bringing together "new conservatives" with "neoconservatives," and also some Burke, but then we bogged down arguing about whether Putin was the biggest threat that would cause conservatives to rally against it (versus China, the Administrative State, or attacks on traditional values).
We docked in Sydney around 8 and I took a 3-mile walk in cool, overcast weather. I'm sorry to say that this is a completely uninteresting town, with a small, tired downtown and a small residential area. There are a few historic houses that are open, but I saw them on our previous trip. It's a wonder that cruise ships stop here at all. The best part was returning to the ship to find a Beavertails Pastry food truck just opening up. I had the Pecan Pie variety, which was actually more maple flavored than traditional PP. These guys have about 15 flavors (as well as poutines and hot dogs) and I truly regret not trying them all.
Sessions started at 2:30.
Mark Janus Did What? Jack Fowler, Mark Janus. Mark was the plaintiff in the famous Supreme Court case, Janus v. AFSCME, which curtailed the power of government unions to extract dues that would be used for political spending. Jack and Mark had a very detailed recounting of the case and its aftermath, which includes ongoing union intimidation and obstruction.
Our Troubled Big Cities, and Our Troubled Biggest State. Jay Nordlinger, Kevin Williamson, Luke Thompson. This discussion drifted back and forth between generic identity politics and the actual situations in troubled cities and California. Some tidbits: Kevin implored us to not treat city dwellers as our enemies, as we'll forever lose their votes, and to avoid the term "real Americans," which he hates. Luke talked about California's declining population and huge pension obligations. Kevin said that Texas has 9 of the top 25 cities and most are risking bankruptcy. Luke discussed radical Latinos who are strong supporters of charter schools, but Kevin warned against treating various ethnicities as homogeneous blocks. Political identity. Is not correlated with income or the economy (except that all Subaru drivers are democrats). There was a discussion of problems in SF and LA of the homeless and out of control garbage, and the general problem of rent control. The two were asked how they would campaign for mayor of Baltimore and governor of California…. (Luke replied to the latter that he'd run as an independent with the object of hitting the Democrats hard, like a suicide bomber, and hope that the next election was more amenable for a different Republican.)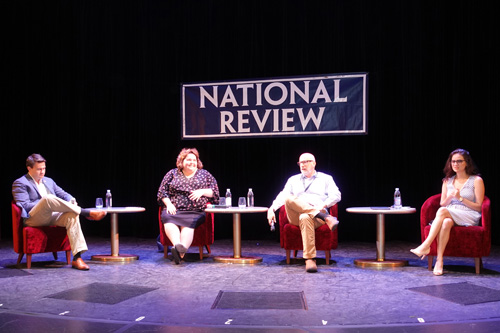 The Abortion Wars. John McCormack, Kathryn Lopez, David French, Alexandra DeSanctis. This was the best session so far because of how focused and organized it was. They started with why there's room for hope, and there were lots of reasons. The crazy leftists are turning people off. Poll numbers are improving. The overall abortion rate has plummeted steadily since 1981 and is in fact lower than it was when Roe was handed down. Young people are less amenable to abortion since they've been seeing ultrasounds since they were kids. A vast geographic area, covering over 50 million people, has voted by supermajorities to restrict. Crisis pregnancy centers are springing up, often right next to abortion clinics, and in those areas the abortion rate often falls by 50%. David reviewed the judicial progress of some heartbeat bills, but he said that if Roe were overturned today, existing state laws would prevent more than a 13% decrease. David also reviewed the adoption situation , which he said was broke. Infant adoptions are very rare and foster adoptions are risky and very frustrating to achieve. All lamented the stances of the 2020 Dems, and criticized Biden specifically for his retreat after 40 years from the Hyde Amendment.
Dinner was at a table of eight, hosted by former senator and US Attorney General Jeff Sessions.
The late night event was a Cigars and Cognac session at the small pool at the stern. This was an excellent gathering, with top-rated Cognacs and an Armagnac, and the light breeze made the cigar smoke tolerable. They even had blankets for the delicate attendees. I talked with Fr. Sirico and learned that his brother Tony was the actor who played Paulie Walnuts on the Sopranos! The fraternal resemblance is pretty strong. And Fr. Sirico was offered a small role in season 5 as a priest, but he demurred.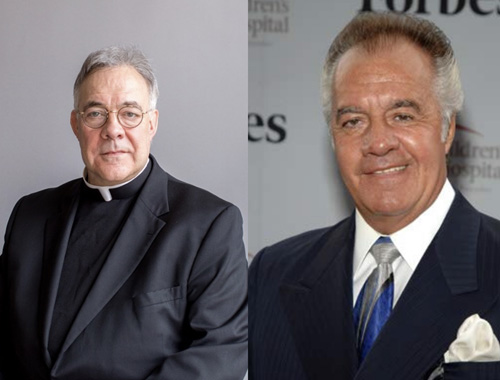 Thursday, August 29 — Halifax, Nova Scotia
The final Regional Fellows session was at 7:30 and I'll have to say I was disappointed in it. Today was with Charlie Cooke on fusionism, or the combination/differences of conservatism and libertarianism. The group is too large and unfocused to have a real discussion of academic/philosophical issues, other than about two minutes mentioning Murray Rothbard. A few loudmouths dominated the conversation, steering away from concepts to the specifics of issues like drugs and gay marriage. And anyone who read the 100 pages of pre-reading materials wasted their time because it wasn't referred to (except the brief Lincoln excerpts used by Rich Lowry the first day).
I was looking forward to Halifax because it was the best port on our previous version of this cruise. I emerged in a very light rain and the forecast was heavier rain after noon, so I walked down the waterfront and aimed for the Citadel. A serious deluge began and I retreated to a coffee shop to dry off. My weather backup plan was to get an Uber back to the ship, but I found they don't have service here! So I dodged the rain and got back on board at 10:30. The other disappointment was that two tourist snack shops of interest—Beavertails and COWS ice cream—were both closed that early.
The sessions once again started at 2:30.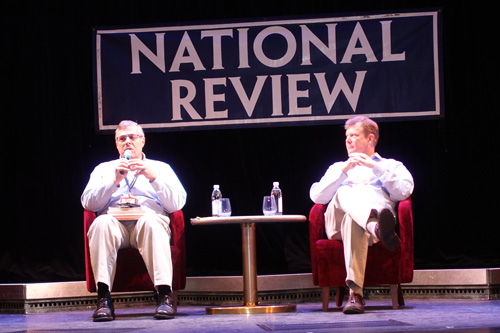 Tales of Corruption. Jack Fowler, Peter Schweizer. Peter is the president of the Government Accountability Institute and an editor at Breitbart. He is also the author of the book Clinton Cash, so he talked through some of the corruption issues with the Clinton Foundation's pay-for-play actions while Hillary was SecState. He also described dubious conduct b Mitch McConnell and his wife in regards to Chinese state shipping interests, Barack Obama's shady dealings regarding for-profit education companies, Joe Biden's son Hunter and a $1.5B bank deal, and a few other members of Congress from both sides of the aisle.
The Creepy Line Movie. Peter's institute produced this movie about the shady influences of Google and Facebook that could tip elections by manipulating search results. We saw the full-length movie and I thought it was rather hyperbolic, accompanied by constant ominous, creepy background music like a cheap conspiracy video. It was a bit misleading about how searches work and also described only part of the Communications Decency Act, section 230, implying that no content moderation to remove the vaguely worded "objectionable content" was allowed. It was fun to see a number of computer guys I knew personally—and the Menlo Park office building in which I used to work—and I wondered if anyone else in the audience had the first idea how this technology works.
Free Speech and Privacy with Liberal Big Brother Watching (and Censoring). Jay Nordlinger, David French, Peter Schweizer, Charlie Cooke, Jeff Sessions. This session was essentially about the movie we just saw and got rather heated at times, particularly David French's comments. David and Charlie argued that public proposals to regulate this issue are probably worse than the underlying problem. Jeff Sessions indicated that he was clueless about the issue, but that a number of states' attorneys general had complained to him about it and he was glad that Bill Barr has expressed an interest in investigating. He also was incensed that a company could have even a 1% effect on an election, whereas Charlie pointed out that lots of companies can quite legally influence things.
Dinner was at a table of eight and featured John O'Sullivan and his wife (who has a completely different accent, from Decatur, Alabama).
The late night session in the Crows Nest was a live taping of the Ordered Liberty podcast, starring David French and Alexandra DeSanctis. (I wonder what the regular passengers on this ship think about all the public spaces that have been roped off as private parties this week.)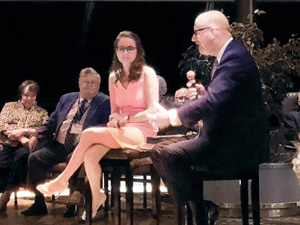 Friday, August 30 — Bar Harbor, Maine
Today was a cruising first for me (after 15+ cruises over 35 years): We had to line up inside the ship with our passports. I guess this was the first time I reached a US port that was not the final stop. Beautiful sunny weather has returned and it's great to be back in the USA! Bar Harbor is a tender port. It's a delightful little tourist town with a beautiful harbor. I had nothing on my agenda and just walked around for 3 miles, including the pretty Shore Path. Lots of attractive small hotels and B&Bs, many shops, taverns, and restaurants, not a chain among them. Back on the ship, relaxing on a deck chair was nice for the first time in a week.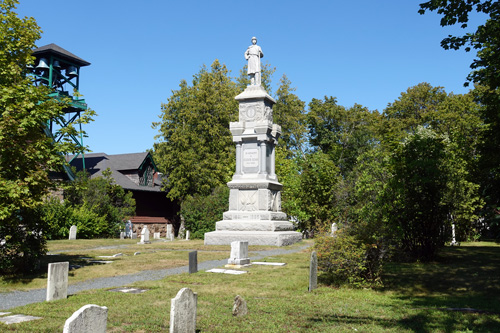 Only two sessions today.
Social Media, Battleground for the Culture Wars. Charlie Cooke, Kevin Williamson, Alexandra DeSanctis, Christina Hoff Sommers. Twitter is a source of distraction and procrastination for the authors. Kevin's take on journalists: too dumb for law school, too lazy to sell real estate. He described schools as the battles between bullies and hall monitors, but on Twitter the hall monitors are the bullies. There was amusement about the hypocrisy regarding Cambridge Analytics style data harvesting by the trump and Obama campaigns. Christina would not eliminate Twitter if given the power to do so because it does empower conservative voices. Alexandra wouldn't either, but has concerns about mental health issues for some users. They concluded with comments about Deep Fake videos, and Kevin is encouraged by the emergence of celebrity pornography because it will call attention to this technology threat.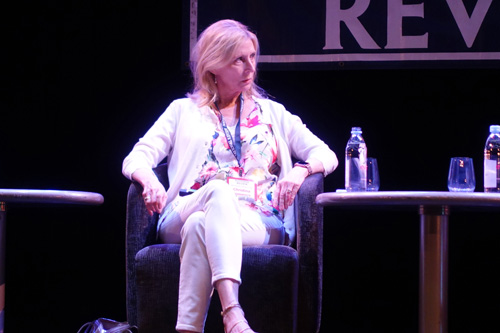 Boris, Brexit, and All Things UK. Jay Nordlinger, Charlie Cooke, John O'Sullivan. I had hoped for more talk about the parliamentary maneuvering, but the "all things" took over with reminiscing about living conditions between the US and UK, journalism, pubs, films, novels, poetry, and the Beatles. On Brexit, John supports the hard exit option, downplaying the exaggerated fears of disruption. Charlie would prefer some sort of deal, but recognizes that the hard exit might be the only way forward. Both consider Boris a showman who has stepped up to the challenge and told some funny stories about him.
Our final reception at the Lido pool was as good as usual. Dinner was at an unhosted table for six.
Saturday, August 31 — Boston and Home
We docked at 7 and I had arranged for "expedited departure," so I rolled my bag off the ship after 8 and taxied a short drive to Logan airport. I had a really excellent time on the NR portions of the week—particularly the receptions, where everyone was so friendly—and look forward to a future experience. (The next one will be a Rhine River cruise in April 2020 and I am not planning to take that one, so we'll see what the future brings.)